A comprehensive review of SalonTouch, a full service salon management software solution.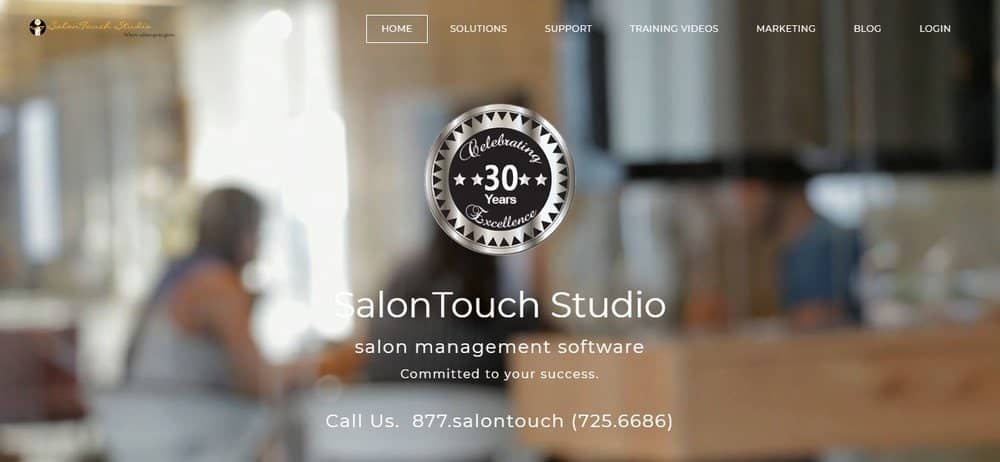 A salon management system helps professionals in the world of beauty take control over every aspect of managing their salon so they can focus on their customers. It can do everything from book appointments, manage inventory, print reports and allow employees to clock in and out. These management systems have a wide range of features that provide salons the tools they need to run the day to day business of a salon.
Many salons lack the ability to analyze their data to understand what their customers want. With the proper tools, a salon can study the behavior of their customers and predict their buying habits. When they have this data, the salon owner is able to personalize the experience for each customer. They can also create promotions that appeal to their current customers.
SalonTouch
SalonTouch is an all in one salon management for beauty professionals. It has a comprehensive user interface that is simple to use and offers full service features that help any salon or studio grow. It does not matter how many options your salon offers, this tool can handle all of them from yoga to massage to hair styling. It can do anything from creating databases for your customers to controlling your inventory. You can create a staff directory and even use fingerprint technology to make changes.
This management system allows you to take many different payment methods, including Apple, Google, and Android Pay. You can also swipe all credit and debit cards with the point of sale technology. The token encryption keeps your and your customer information safe. It even allows you to send text messages in groups sot hat you can run a promotion via text. This software has everything you need to run a salon.
This software gives you access to your business from anywhere, even when you are on the go. All you have to do is use your mobile devices to make any changes, update information and control other aspects of your business. You can generate reports to review sales data, business performance, and profits.
Who Can Use
SalonTouch

?

SalonTouch is the perfect software for small and medium sized businesses. This software is perfect for salons offering multiple services, or even offering just one service. It is designed specifically to handle a full service salon, spa and massage, tanning studio, dance, yoga and even a fitness studio. No matter which services you offer, this application is for you. It is completely customizable so you can modify it to meet your exact needs. It is cloud based so you do not have to worry about storing anything on a local server. You are also able to access all of your data from any location.
How Do I Set It Up?
SalonTouch is incredibly easy to set up. The user interface is intuitive and it comes with everything you need. All you simply have to do is enter in your specific information. Within minutes, you can have all the information you need in the application and be ready for business.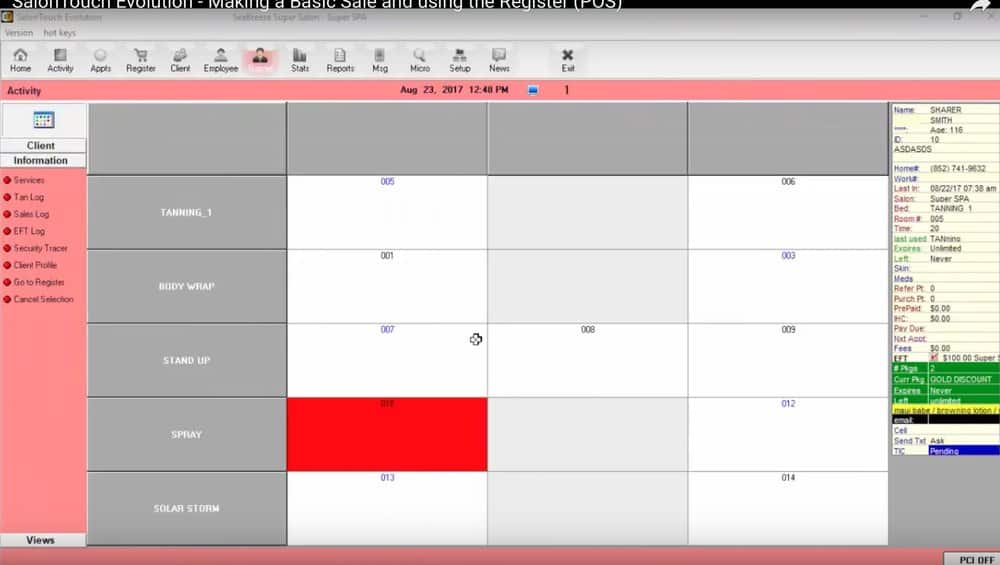 The main screen provides you the ability to add services, clients, employees, and inventory. You do not have to set up the interface because it has already been created for you.
From the home screen, there are icons across the top allowing you access to clients, employees, and inventory. When you click on the Client button, it opens up a new screen to add a client.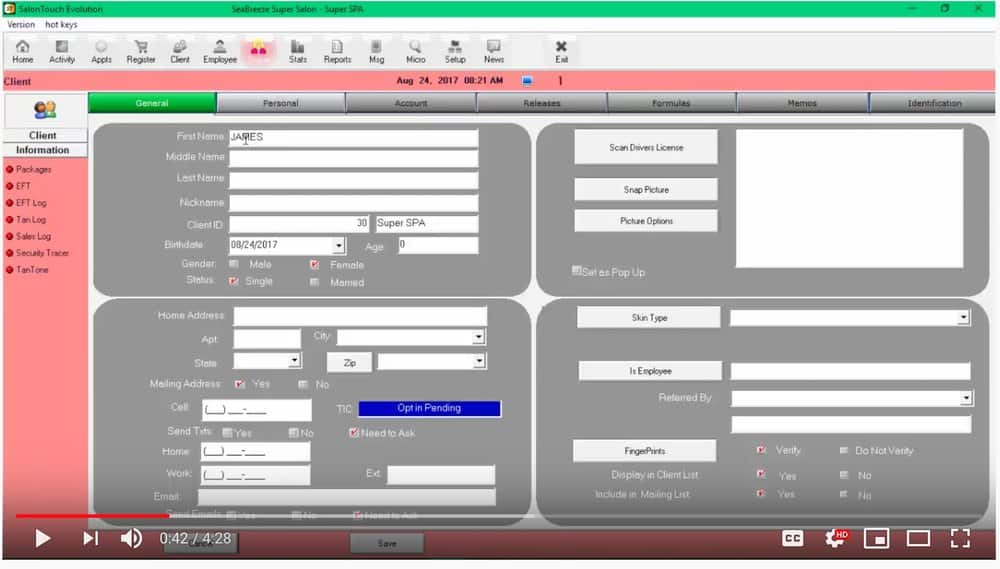 You are able to add new inventory, which allows you to sell it as well as control the inventory you have in your salon. This allows you to know how much you have on hand and the cost of all of the goods in your inventory.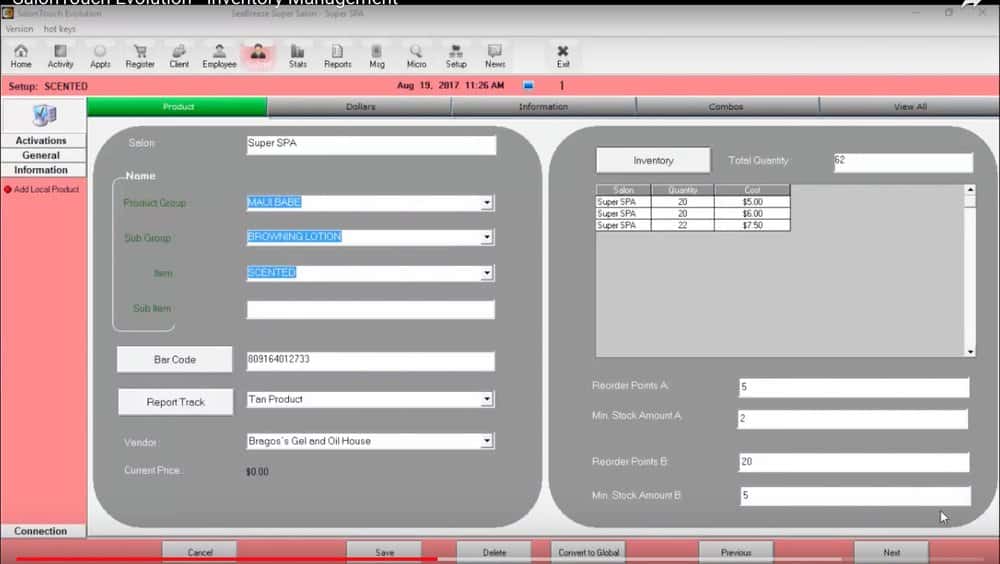 When you click on the Employee button at the top, this allows you to add your employees. From here, you can control your employee list and profiles.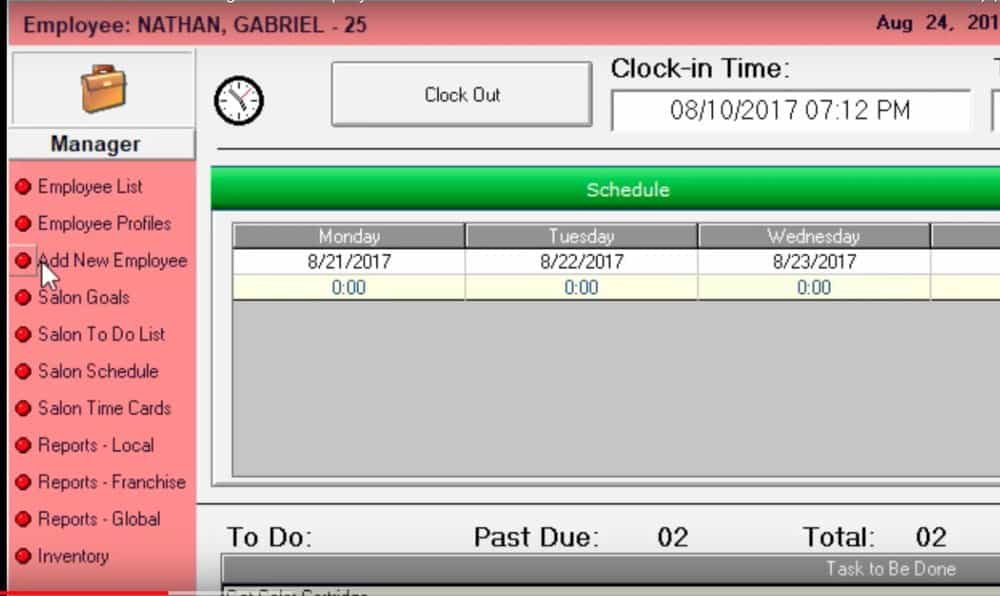 Device Capability
This software is completely versatile and can be used across many device platforms. You can use it on your computer, Apple device, or Android. SalonTouch has a mobile app that you can download to any of your devices, phone or tablet. You can handle all of your business from this mobile app so you do not have to be in front of your computer to be able to handle your business.
There is also a customer mobile app available so that your clients are able to schedule appointments via the app so it is convenient for them to schedule appointments. They have the ability to see the calendar and reach out to you via the mobile app. It is intuitive and easy for anyone to use.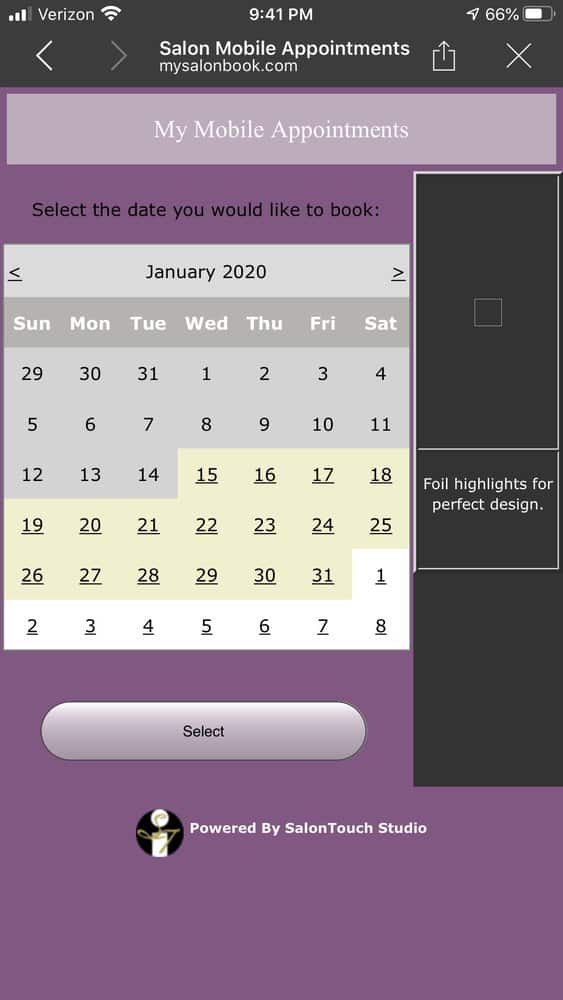 Marketing Options
SalonTouch offers a text messaging and mobile marketing package. There is a cost for this depending on the number of texts that you send per month. They do offer an introductory period where they offer text messaging for free. It has been proven that over 90 percent of text messages are read. Even better, just about 90 percent of them are opened within moments of being delivered. This package gives you a space where you can create and schedule your text campaigns. It allows you to have automated loyalty and rewards, including a birthday club.
You can allow new customers to opt in to text messaging. You are able to send appointment reminders and renewal information. This system also allows customers to sign up and opt in on websites and other social media platforms because it fully integrates with all platforms.
Features
There are so many features available to you in SalonTouch. Of course it offers all the typical bells and whistles that you would expect, such as appointment scheduling, appointment reminders, and referral programs. Many of them I mentioned above, but there are others that you might not even realize you need.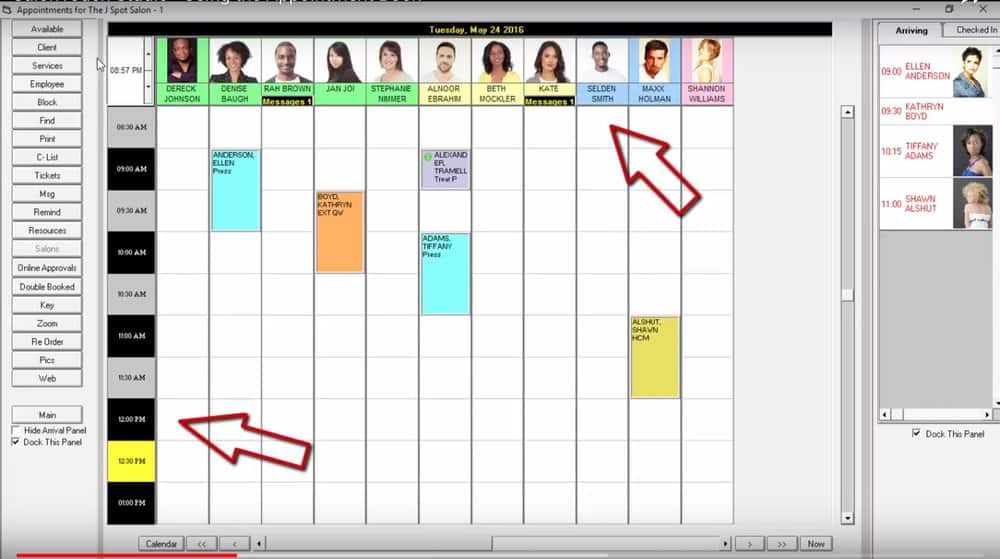 One of the key features is the employee portal and the controls it offers to you. You are able to enter employees and their information. You can control payroll and commission for employees. Employees are able to clock in and out through SalonTouch.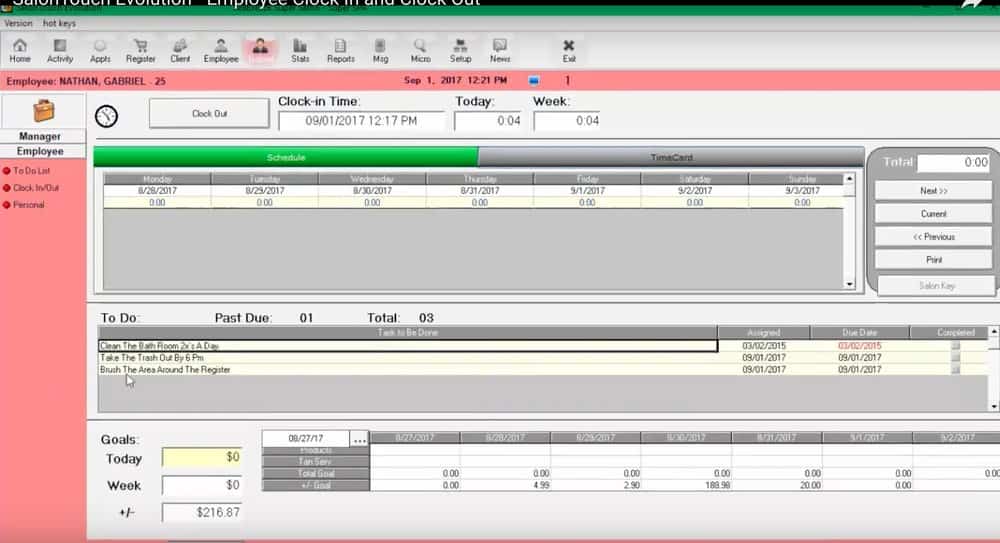 This software integrates with the time clock and employees must clock in through the application to be able to do anything within it. You can view and have control of your employees vacation and sick time. Employees are able to change and update their own passwords in the employee portal.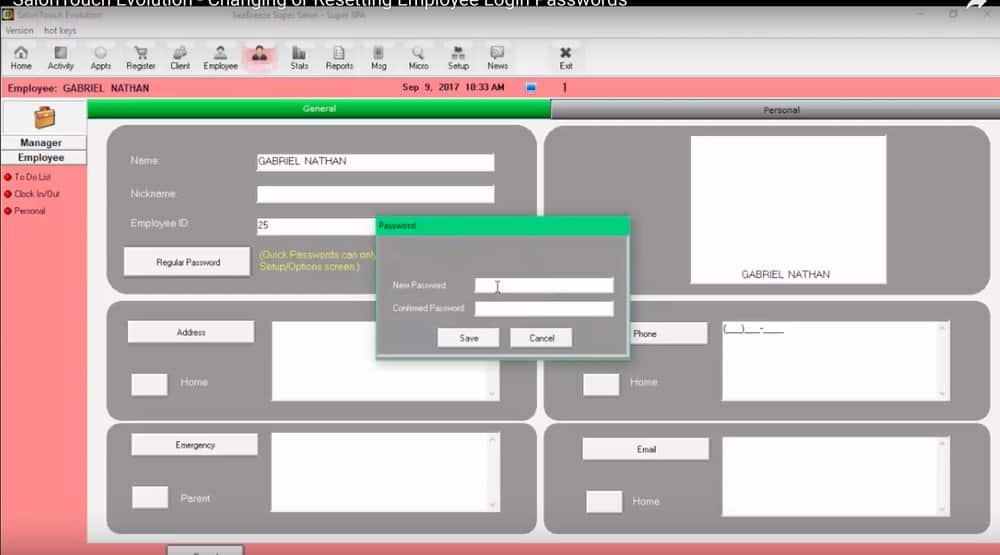 SalonTopic also gives you accounting integration including the ability to set up payment information. You can add in any way that you want to allow your clients to make payment, including credit card integration.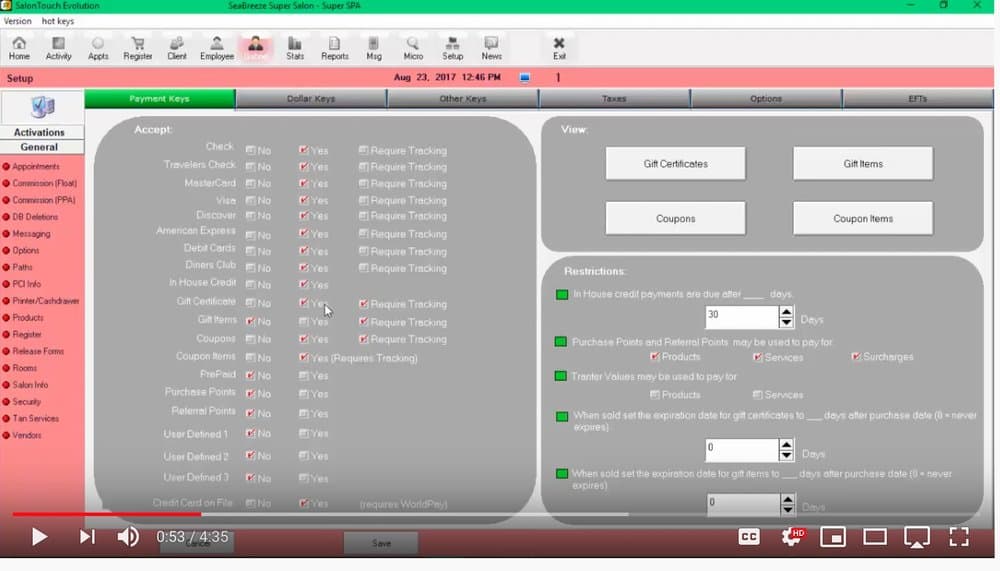 This also provides you a way to set up automated billing to your clients. You have the ability to point of sale (POS) integration, as well as setting up the tax liability. Most states have sales tax, so you can set up your application to automatically add the tax to all transactions.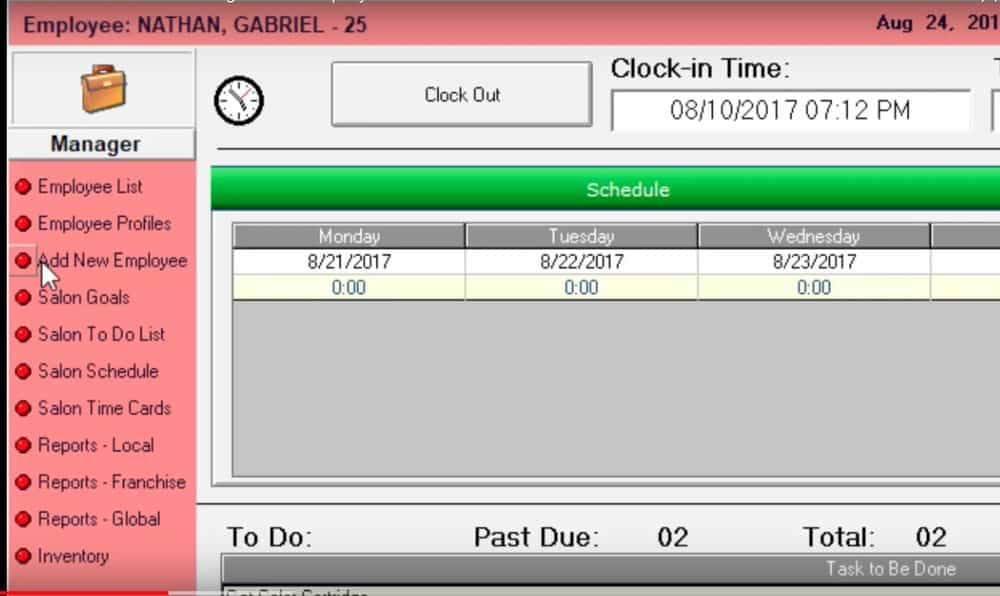 You can use this application as a register to ring up transactions and sales. The first screen shows the main register screen.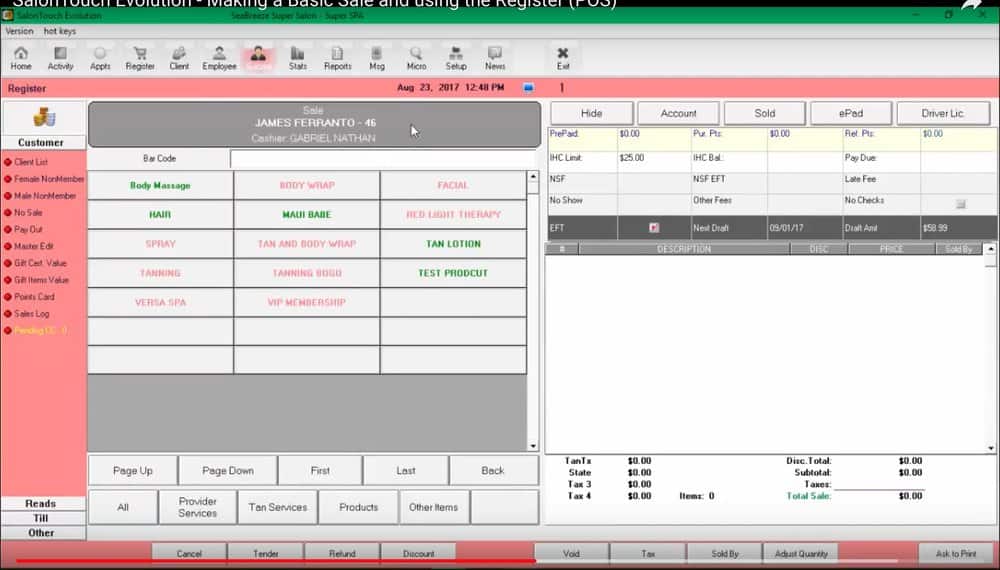 The second screen shows items being rung up for sale.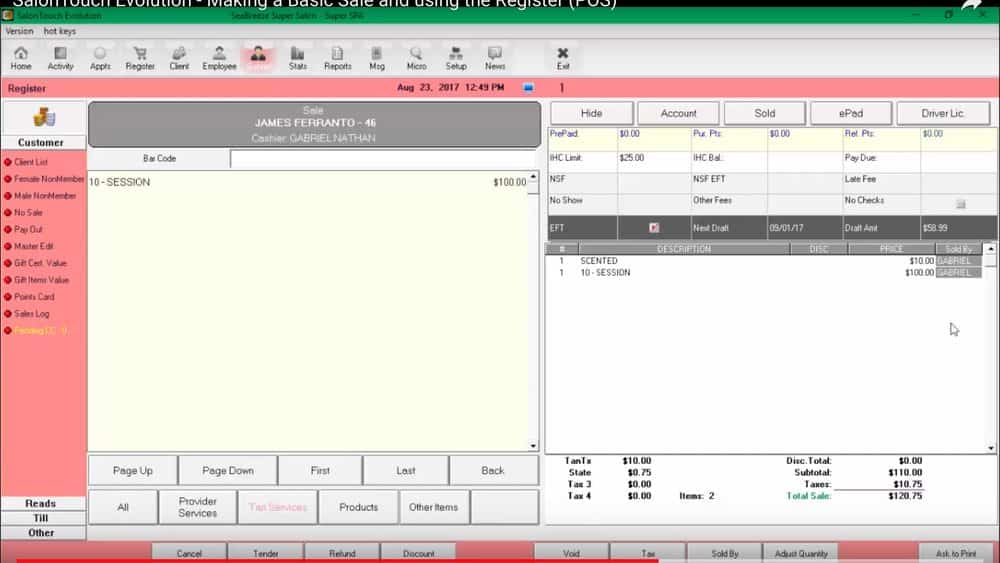 Another key feature of this application is the reporting abilities. It has more than 250 reports that can be exported to excel, word, and other applications. These reports allow you to do a proper cost analysis, see a detail of your daily sales, an inventory listing and all credit card activities. The reports allow you to see your employee's sale items, commissions, and schedules.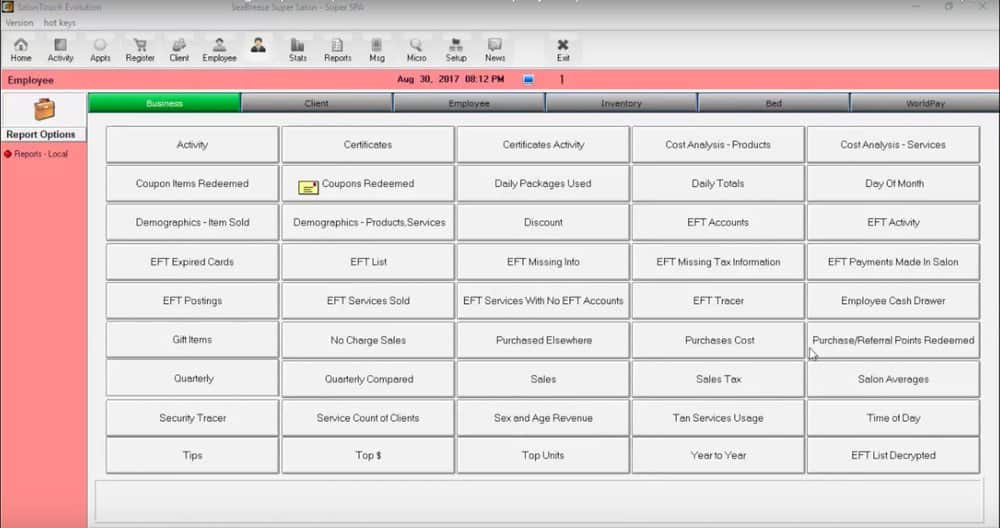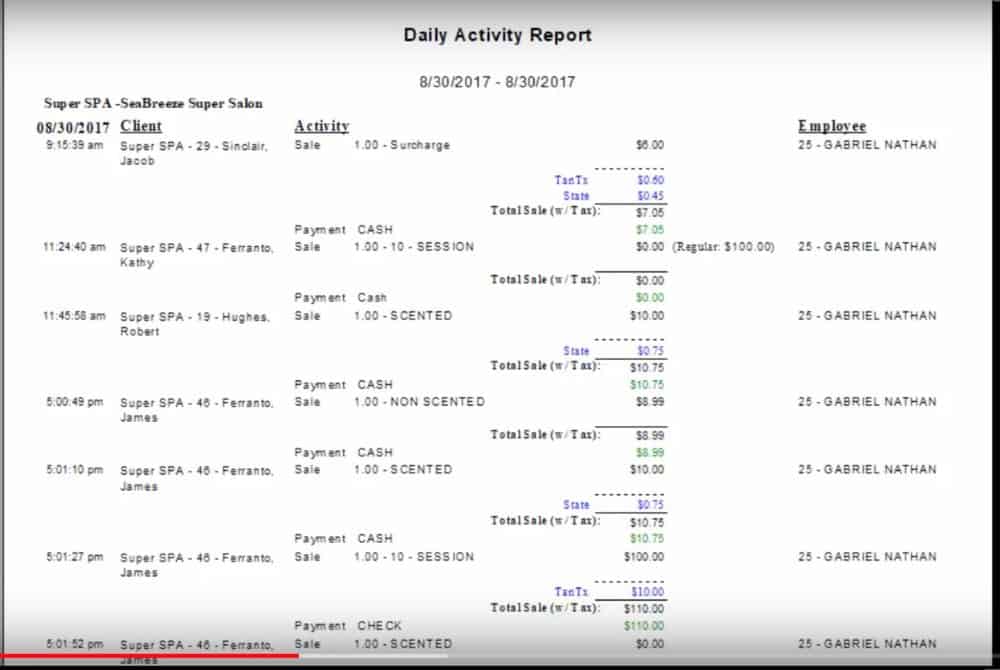 You also have the ability to control who has access to which capabilities within the application. You can set up your own security by controlling who is allowed to make changes within the application.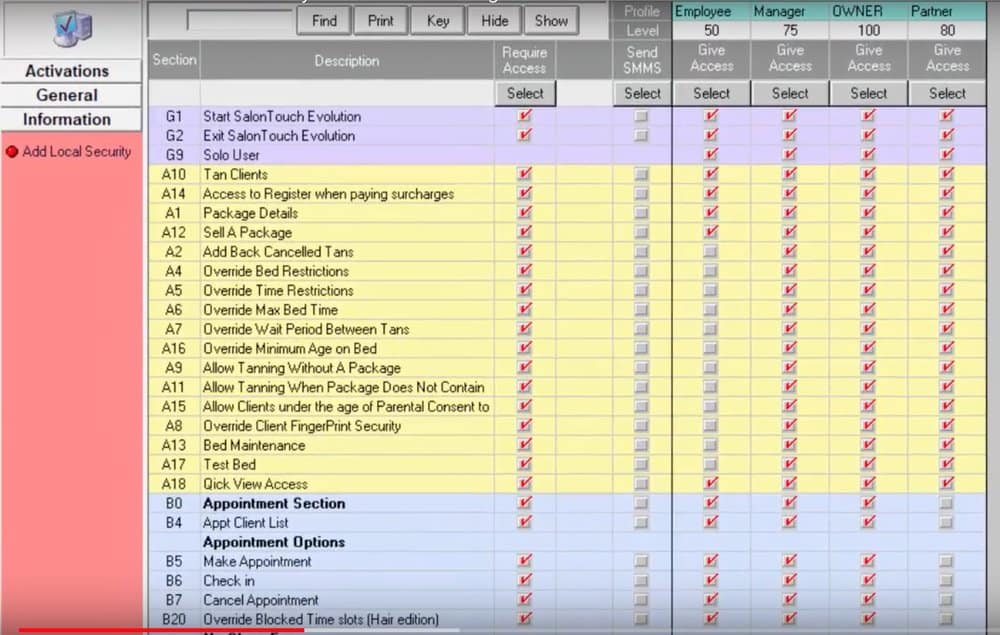 Pros And Cons
There are many benefits you receive from using the SalonTouch application. Out of the box, it is ready to go and available for you to use. You only have to spend a few minutes of time to set up the application to meet your needs. There is a cost involved with using this application. While there is a charge for the application, the price is in line with competitor pricing. It is less than many of its competitors. You can use all of the features available within the application for a small fee each month. There is a free trial available to you so you can play with all the features.
This application does have some downsides to it also. The free trail does not give you access to every aspect of the application. You can only use about 85 percent of it with the free trial. There is no free version of SalonTouch. If you want to use it, you must pay for it. This software does not integrate with any other applications.
Automation Capabilities
There is no shortage of automation potential with this software. It has a large volume of built in features that allows you to save time while running your business. You can send thank you messages, reminders about appointments, activate accounts, birthday messages, and membership discounts all in an automated fashion. You can use SalonTouch in combination with current marketing automation solutions like ConstantContact and Demandforce, you can use automated marketing to gain new clients and use targeted email campaigns.
You also have the ability to send automated coupons and discounts on specific services and products which can help you save time during the point of sale at the register. The discount is automatically added so you will not have to remember to do it or spend time adding it. This also helps with your customer satisfaction by giving them discounts and saving them time.
Integrations
There are many great features that come with this salon management system. However one thing it does not do it integrate with other platforms. Even though there are some popular software packages, such email and Quickbooks, this application does not integrate with any of them. You may find that you do not need any of those other platforms because this is a comprehensive package that handles all of the actions that you want to take on a daily basis in your salon. You may find that you do not even miss any integration with other software platforms because this software may meet all of your needs even without the ability to use those other platforms.
Customer Support
SalonTouch has quality customer service. They have standard hours for customer service. You can contact them via phone during business hours, which are until 7:00 pm eastern. You can also utilize live chat during those hours. You can access live chat anywhere on the website. You can also send questions via an email form. You submit the form with your questions and they are supposed to respond via email. I submitted several questions via this format and I did not get one response. If you have a technical question, you can visit My Support Center which provides a large number of FAQs, as well as informational videos, and a blog and forums to answer any of your questions. SalonTouch also has Saturday hours to answer your question on an incident basis. They have a fee schedule that lists the cost of services available on the weekends. SalonTouch offers an active support plan that gives you access to all levels of support, including support over the weekend.
Overall Rating
SalonTouch is incredibly simple to use. After moving around the application, I give the application a 5 out 5 for ease of use.
It compares well to other types of similar software. It has a lot of value for the money you pay. You receive a large number of features for a fee that compares well to its competitors. You pay the same price for more features. I give the application a 5 out of 5 for value for money.
I did not have the best luck with their customer service. They were not responsive to me. I did not have a software license number to provide when they asked. I believe that if I had that number, I would have had better responses because I would have paid for the application. As a result, I give the customer service 3 out of 5.
This software offers a large number of features and I give that application is 5 out of 5 for its features.