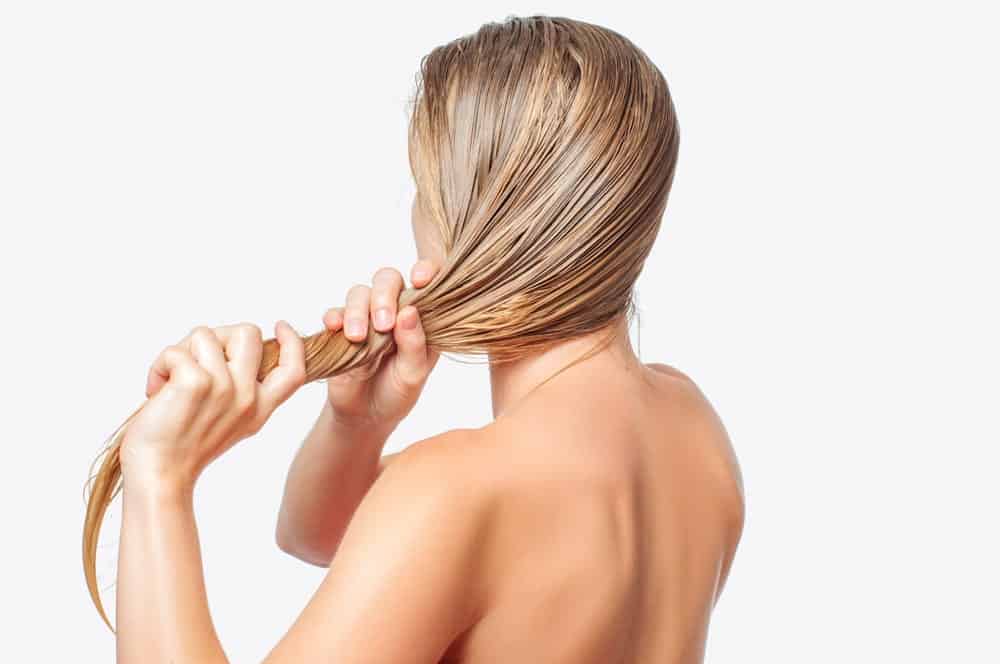 While bleaching is a classic ritual of summer-kissed locks and wedding season highlights, it does a number on your hair. Bleaching causes levels of dryness that can lead to frizziness, split-ends, and overall damaged-looking hair that loses its brilliant luster quickly.
Chances are good if you're regularly getting your hair bleached or colored – even if it's just some streaks and highlights – you're doing cumulative damage that normal conditioners just can't handle.
With that in mind, we've researched some of the best conditioners for bleached hair on the market. With glowing reviews from customers, critics and stylists alike, you'll find something here that will help tame your mane and keep it healthy.
1. Sachajuan Moisturizing Conditioner
At first glance, Sachajuan products are starkly simple in their design and boast "ocean silk technology" which at best sounds like nonsense. On closer inspection, however, it becomes clear that their ocean silk is derived from sea algae and is exceptionally good for your hair.
Their line of products can be incredibly specific; there's an "anti-pollution" shampoo, for instance, but it's got all the bases covered as far as effectiveness. With scores of 5-star reviews across the web and an impressive lineup of products aimed at bleach-damaged hair, Sachajuan is a fantastic choice for your coif.
Pros
An extensive line of products practically

ensures

there's a perfect item just for your hair
Their conditioners smell great and heal hair with a perfect balance of sea-based keratin and moisturize without leaving hair greasy
Cons
The fact that the line of products is so large means it might take some trial and error to find the perfect one for you
The bottles are small and pricey for the amount you get
One of the unique comments we found reviewing the product was from a man, who stated he "hates his curls, and that Sachajuan keeps them and the frizz at bay". While we cannot imagine hating our curls, it's nice he found a product that plays well with his hair.
2. Olaplex No. 5
Olaplex has been a working salon staple for years but they've recently branched out into at-home hair care products. Their flagship products – creatively titled No. 1, 2, and 3 – are go-to's for stylists but the reviews on their consumer conditioners like No. 5 are stellar.
One reviewer stated that "after only a couple uses of the conditioner…my hair went from a fried mess to a smoother finish". Fried sounds like the absolute worst-case scenario for bleaching but Olaplex No. 5 can handle it.
It's interesting to note that Olaplex as a company not only employs beauty experts but also chemists who work with hair, preventing a schism in vision that might keep their product from reaching its peak.
Pros
Olaplex

No. 5 and all of their products are silicone, sulfate, and phthalate-free
While it's formulated for damaged hair, it's exceptional at taming curly, coiled hair as well
The product is virtually scent-free – they're (largely) committed to avoiding any unnecessary ingredients
Cons
The biggest complaint we found during research is that, while the product is free of silicone, sulfate, dyes, and other harmful ingredients, this particular conditioner contains

dimethicone

. While it's not dangerous, some users reported that it made their curls feel "rubbery", though this was a minority of users.
3. DevaCurl Heaven in Hair
What started in a New York City hair salon in 1994 has turned into a full product line, primarily aimed at the curly-haired person who has to fight frizz every step of the way. In particular, their Divine Deep conditioner is formulated with cupuacu, murumuru, and cacao butter which not only tame frizz but also saturate, heal, and moisturize bleached hair.
This particular conditioner is a cream base, so it's thick and adheres fully to hair to hydrate and heal. Most of the reviews that talk about how best to use the product suggest that it should be applied to slightly dampened hair, and left in for 20 minutes before rinsing out. With the fact that DevaCurl's basis was textured hair from the outset, their products are tailored to curls and all the difficulties that can accompany them.
Pros
The thick, leave-in conditioner does a number on frizz and dryness.

DevaCurl

is free from fillers, harmful chemicals and is fully vegan, and entails no animal testing.
Cons
Due to the pomade-style thickness of Heaven In Hair, you need a relatively large amount for your treatment, which if you have a lot of hair, could be expensive over time.
This conditioner seems to function best when left in for a while before being rinsed out, which can be time-prohibitive for a lot of people.
4. Shea Moisture Strengthen and Restore
Made from Jamaican black castor oil and raw shea butter, this is a leave-in conditioner that is affordable, accessible, and wonderful at repairing color-damaged hair. The best part is that castor oil is derived from castor beans instead of castoreum, which if you don't know why that matters, ask your grandmother.
The larger point here is that this particular conditioner is designed specifically for chemically damaged hair, with apple cider vinegar and peppermint to promote scalp health while healing hair. Additionally, Shea Moisture as a brand has been fixing hair since 1912, so they're either great at their jobs or incredibly tenacious.
Pros
The product is incredibly effective and wonderfully affordable.
Shea Moisture's website will help you determine which of their products is right for your specific hair type, which is nice.
Cons
This conditioner, while extremely effective for damaged hair, is more suited for curly, textured, or coiled hair types. That's not to say it won't work for others, but it's best for these.
5. Davines OI Conditioner
Winner of In Style's 2017 Best Beauty Buys award, Davines OI Conditioner is formulated to heal all hair types from all types of hair damage. Simple to use, you simply comb the rich roucou oil conditioner through your hair, work it into the tips and let it sit before rinsing out under cool water.
Healing and hydrating, this particular conditioner leaves hair voluminous and shiny, which is perfect for bleach-damaged hair.
Pros
Easy-to-use and fragrant without being cloying.
Italian-formulation moisturizes without over-hydrating.
Cons
Davines

products tend to be on the pricier side, but not prohibitively so.
6. Bumble and Bumble Color-Minded
Never has such a fun name had such a tight game for hair restoration, but Bumble and Bumble have created a conditioner that is perfect for color-treated and bleached hair that slays the competition.
This product heals hair and detangles while preserving your color, which is great because the last thing you want when your hair is bleach-damaged is to have to damage it further unnecessarily. It's also worth noting that this conditioner is an Amazon Choice and favored among hairstylists for its efficacy.
Pros
Great for color-treated and highlighted hair because it is designed to heal while still preserving color and shine.
One of the highest-ranked conditioners for perms, color-treated and styled hair on Amazon.
Cons
The thickness of the product coupled with the small size of the bottle can be less useful for someone with a lot of hair.
7. Aveda damage remedy
This product focuses on the protein-enrichment and damage restoration aspect of conditioning we spoke about before while still touching on hydration. This creates the perfect blend of strength and suppleness, which is perfect for healing damaged hair.
Interestingly this conditioner gets is protein from quinoa, which is a grain that's also incredibly healthy to eat. Not that you should eat this conditioner though; it's expensive!
Pros
Protein-rich restoration matrix fixes hair from the shaft-out and smooths tips to reduce frizzing.
Cons
Contains sulfates and

trimethicone

in small amounts.
8. Nexxus Humectress
This conditioner is exceptionally affordable and accessible, offering salon-quality restoration to consumers. A fun fact is that caviar is part of the protein complex, so you can feel fancy while you fix your bleach-damaged hair! Nexxus as a company has been used in salons for decades, so they have that clout as well to back up their claims.
Pros
Affordable and extremely well-reviewed.
Caviar-based protein complex heals hair without weighing it down or over-enriching it
Cons
Contains sulfates.
Isn't vegan.
9. ApHogee Intensive Two Minute Keratin Reconstructor
This product is designed specifically to enhance the keratin matrix and strengthen your hair, even when it's significantly damaged from bleaching or coloring. ApHogee was designed for sun-and-chlorine-bleached hair and works so well that it founds its way into salons and has been a fixture ever since.
Pros
This

2-minute

treatment doesn't need daily routines; once every week or two is enough to combat damage.
Won't gum hair down or leave it heavy afterward.
Cons
Contains mineral oil, so you should use another moisturizer to balance out the heaviness.
10. Advanced Color Care By Arvazallia
This system consists of conditioner, leave-in, and a mask that works together to repair, hydrate, and then seal your hair to prevent further damage. For bleached hair, this is a life-saver and a game-changer, but for anyone with colored, frizzy, or otherwise damaged hair, it can be valuable as well.
Pros
Arvazallia's

system prevents the washing out of color while still healing your hair. Customers on Amazon reported that they maintained their color's vibrancy two weeks or more beyond what they expected while using these products.
Won't tint or otherwise lessen highlights while still keeping hair smooth and supple.
Cons
Not everyone has the time or patience for a three-step system, and for the conditioner to work best, you need to use the other two products regularly.