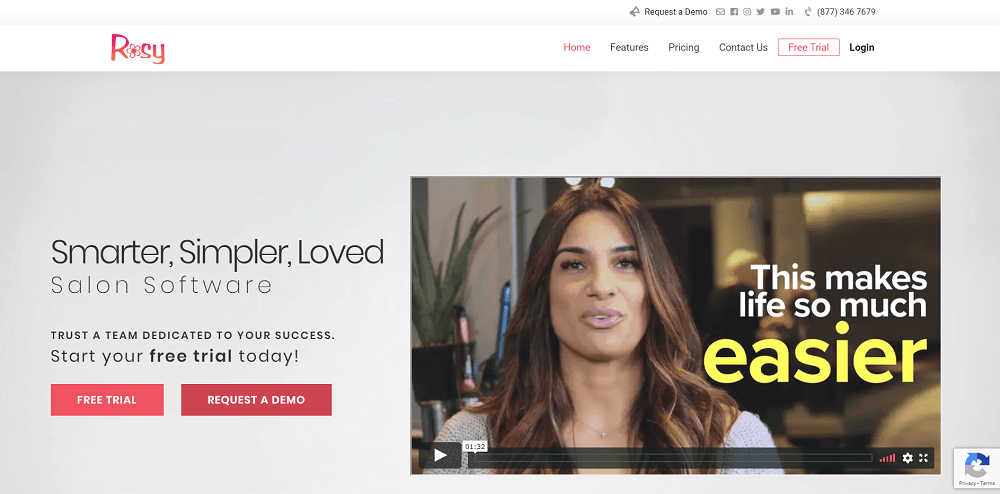 Industry research from IBIS World says that the market size for hair salons in the United States in 2019 was slightly over $47 billion. The hair salon business grew at a modest rate of 1.5% during the year. The average annual growth rate over the past five years since 2014 has been 2.1%. This is a greater increase than the average rate for the American economy as a whole.
IBIS World also reports that although the spa business is smaller at $18 billion, it is growing faster than the hair salon business. The growth rate during 2018 for spas was 2.6%. Over the past five years, it averaged 2.9%. The upward growth trend for the spa market is expected to continue.
Combination businesses that offer both spa services and hair salon services are likely to prosper. Many people are spending a half or a full day at these facilities to get a body and hair makeover.
Companies that coordinate their service offerings with automatic digital marketing and online scheduling usually do better than those that try to manage the business using legacy methods such as hand-written appointment books.
I wanted to take a look at comprehensive software solutions for the management of a hair salon and spa business. In that regard, I was attracted to the Rosy Salon Software made by SalonRunner because it seemed to hit the main points necessary to run a salon/spa business effectively.
I signed up for the 30-day free trial to do a deep dive into the software to see how it works. If I wanted to continue using the software after the free-trial period ends, I simply click on the activate button to subscribe to the service that starts at $29 per month for a single user. I was surprised that the cost was so low. I expected it to be higher. There is no contract to sign and the service can be canceled at any time.
I like free trials and usually will not consider buying any software that does not offer a free trial. I used to be a beta-tester for major software review magazine, so I got to try all kinds of software without ever paying for it. I used to say, I pay for the software by giving it attention, writing about it, and with the headaches it gives me when I use it! I learned that just because some software is pricey, this does not guarantee that it works well
I have a special skill of being able to break software when I first try it. I do things that no software developers expect. Much like a little kid who tries every door to find a way in, I start clicking on everything. I found some goofy stuff in this software, which I reveal at the end of my report.
Here is my review of Rosy Salon Software, which I hope gives you enough information to help you decide if it is the right solution for your salon or spa.
What is this software?
Rosy Salon Software was developed by former salon and spa owners who know what is needed to keep a busy operation going and how to maximize the utilization, revenues, and profits.
It handles staff scheduling, client bookings, marketing, accounting, inventory, business management, and point-of-sale transactions. This system is used by over 24,000 salons. It was first offered over 17 years ago and has been continuously improved since then, although it could use an upgrade.
This software is hosted on the cloud. It is sold as software as a service (SaaS) that is paid for on a monthly subscription basis. Upgrades are automatically performed as new versions of the software are developed and released.
Which small business industries is this software geared toward?
Rosy Salon Software is a complete solution for nearly all the needs of a salon, a spa, or a business that combines both service offerings. The standard setup focuses on the needs of a hair salon or a spa. It has a list of common services that can be assigned to each worker with one-click, which makes setup very easy.
This software is designed for the small salon/spa with just one owner/operator and easily scales up to large salons with dozens of stylists or workers. It works well for chain stores due to its centralized cloud storage and processing of information.
Pricing and Features
The price for this software makes it very easy to get started at $29 per month for a single user desiring the basic services and $37 per month for a single user desiring the premium level of services.
Features
Basic service is provided to everyone who signs up for a monthly subscription. Premium service is also available that adds enhanced marketing efforts and enhanced appointment reminders/confirmation by text messages.
Basic Service
The basic service includes:
Online Client Scheduling: This is a time-saver because clients can book their appointments online.
Appointment Scheduling: This is the master calendar for all employees.
Text Messaging and Email Communications: I like this system's capability for handling automatic reminders.
Mobile Access: Both clients and workers have mobile access from any device connected to the Internet.
Mobile App: A downloadable app to be used by a smartphone is available.
Social Media Integration: This includes the ability to make appointments using Facebook.
Inventory Management: Inventory management can reserve products for repeat customers.
Custom Report Generator: This allows creating custom reports for specific needs.
Point Of Sale: There is the integration with a point-of-sale system for bank card processing.
Loyalty Program: The system manages rewards and referrals.
For the basic service, every additional worker added to the system, up to five, adds $10 per month, thereafter, every five more workers adds another $10 a month, up to a maximum charge of $99 per month for 21 workers or more. This makes a nice pattern of incremental increases of $10 per month as the group gets larger so the pattern, including the increases, is 29-39-49-59-69-79-89-99, which is nicely-balanced incremental pricing that makes it easy to scale up.
Premium Level Additional Services
The premium level includes all the basic services plus additional marketing services that I find interesting.
The premium services include:
Automated Email Marketing: Automated emails are sent on birthdays and as reminders to make an appointment.
Enhanced Text (SMS) Messaging: Automated text messages go out when you want them sent, on a pre-defined schedule.
Text Confirmations: When appointments are confirmed by text, the master calendar changes color for that appointment.
Mass Email Marketing: This makes it easy to send out mass emails to clients for newsletters and discounts.
Client Images: This keeps the photos taken of clients for documentation of their styles and cuts.
Salon Image Library: Custom images can be uploaded to become part of the client emails.
The premium level has a sliding scale for pricing that goes up as workers are added to the system, to a maximum charge of $192 per month for 21 workers or more.
The monthly subscription fee goes up like this: one user = $37, two = $55 ($18 more), three = $65 ($10 more), four = $75 ($10 more), five to 10 = $101 ($26 more), 11 to 15 = $127 ($26 more), 16 to 20 = $156 ($28 more), 21+ = $192 ($36 more).
The incremental pricing for this level is dorky. The increases make an unbalanced pattern of starting with $37 for a single user and then adding to that price 18-10-10-26-26-28-36. This pattern offends my mild obsessive-compulsive disorder (OCD). For example, 10 users pay $101 = $10.10 each; however, 11 users pay $127 = $11.55 each which seems unfair. Hey, I am a geek. I notice these things.
Automation Capabilities 
The automation offered by this system includes automatic text messaging, automatic appointment confirmation, automatic email marketing, automatic commission calculations plus the management of set time (downtime) between clients.
Marketing Features
The marketing features include point-of-sale integration, product reservations, a rewards and loyalty program, storage for a client photo library, and the ability to upload photos to a library for use with emails. The full system offers suggestive marketing based on a client's history, style, and previous product purchases.
What's involved with setting it up?
The convenience of using a cloud-based SaaS solution is that no special computer equipment is needed except for the optional point-of-sale bank card processing equipment if desired. Anyone who has access to the Internet and an authorized account can sign in to the system from anywhere. Clients can sign up and make appointments online. They can make appointments on the salon's Facebook page or by using a downloadable smartphone app.
The quickest way to get started is to use the guided setup. Do not worry if you screw up like I did because you can go back and start the guided setup again until you get it filled out correctly. You do not have to start completely over with the guided setup, unless you want to, because the system remembers what you entered before.
I am not very patient, so I clicked through all the setup screens without adding any workers. Then, later I tried to add some workers, which was fine except BUG ALERT, I was not able to set their working schedule. The days of the week were given for the workers I added but I could not change the hours from "off" to set the start and end times for each weekday.
I spent about a half-hour trying to figure out why I could not set the workers' schedules. Maybe the system guessed how lazy my workers are and that they are always asking for extra days off, but nothing in the system calendar would work if they were always set to "off."
I finally figured out that if I went back through the guided setup and, when asked to add workers, added them there, then I was able to change their work schedules.
Easy Guided Setup 
The step-by-step guided setup process is easy to follow:
Step One — Register for a Free Trial and check your email for account information.+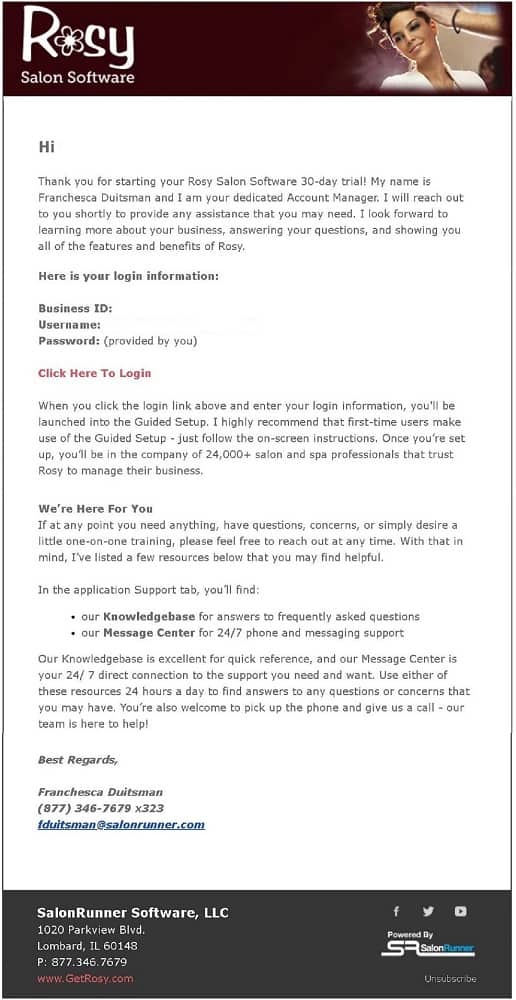 Step Two — Answer a few setup questions.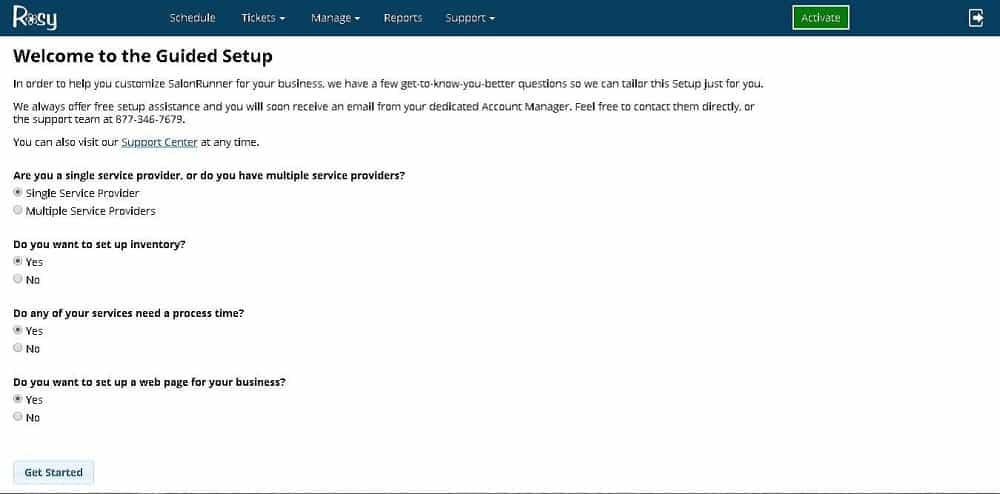 Step Three — Fill in the information about the business.
Step Four — Setup services and assign them to workers. Choose from the list of services and add custom services as required.

Step Five — Setup product inventory.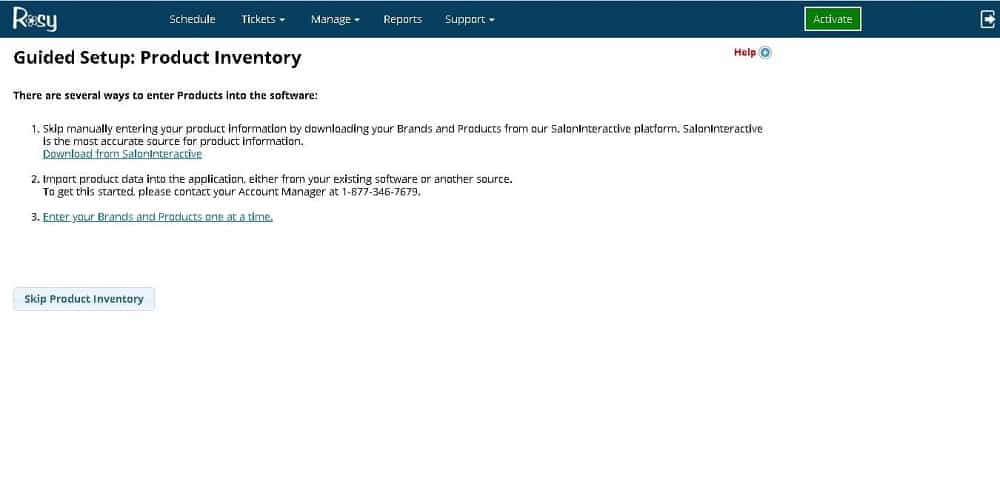 Step Six — Add existing clients.

Step Seven — Add a new client.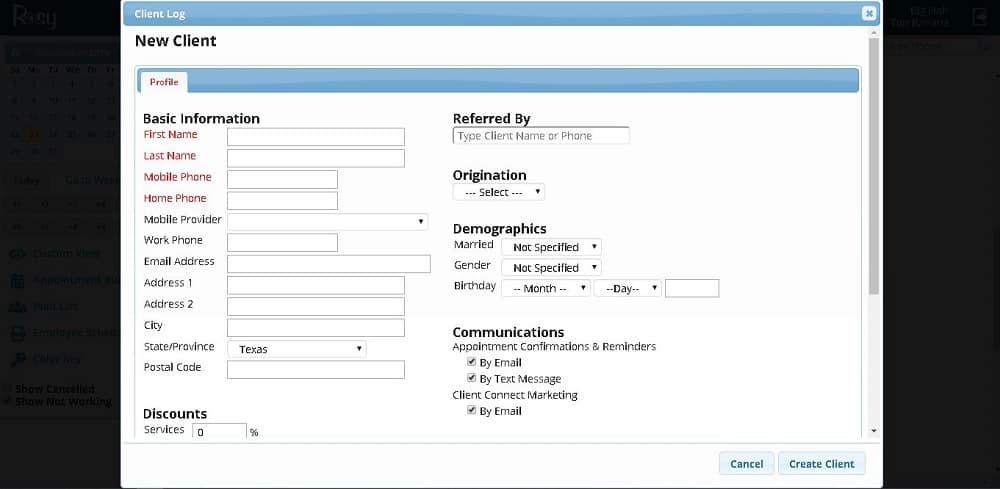 Step Eight — Setup a single-page website if needed.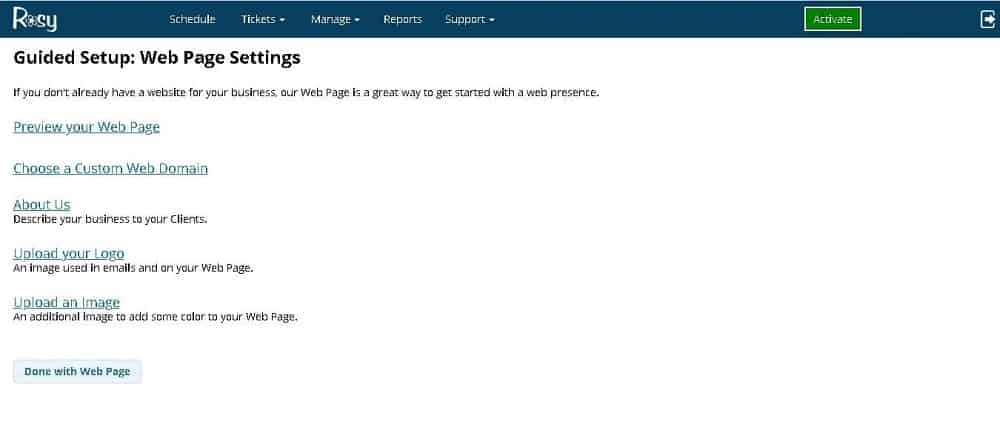 Step Nine — Setup is complete. Use the software or re-start the guided setup if needed.
Compatible Devices
This system works well on any computer, laptop, notepad, smartphone, or other mobile devices. The web page design is responsive, which means it displays properly on any device.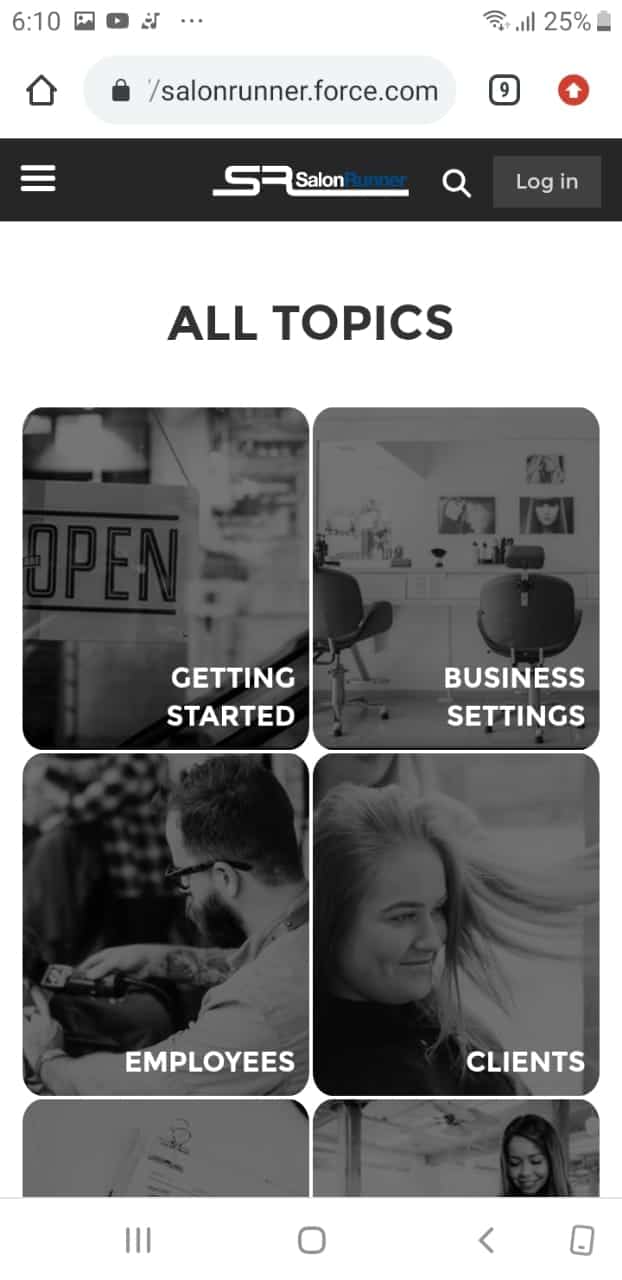 Pros and Cons
Here is the list of pros and cons for a quick summary of this software:
Pros
Low-priced.
No long-term commitment required.
Good reputation, with a fairly-wide user base (24,000+ users) in this niche market.
Cons
Some features need to be updated.

GUIs

are somewhat dated-looking for the online client scheduling (OCS) system.
All cloud-based services require a stable Internet connection with decent bandwidth to work correctly. Latency is sometimes a problem with a poor Internet connection.
Software Integrations
This system integrates with FullSteam bank card processing from CardConnect. There is the optional Salon Website Builder for an extra $19 per month, which is a WordPress themed website-creation and hosting system. The Rosy Salon system integrates with BoothRunner that is software for an extra monthly fee ($19 basic service, plus $8 extra for premium service) used to manage the process of renting out booths in a salon to independent operators.
Customer Support
Customer support is offered by phone, email, and support request form submission.
Sales Call Is Not Desirable
I was turned off that I had to give my telephone number to register for the free trial. This immediately triggered a sales call, which normally would STOP me from buying this service. I do not like to talk to the sales staff at all until I have a chance to evaluate the software.
If I wanted to waste time talking to a human, then, I would have just called the company's telephone number. To me, it is far too aggressive to get a telephone call right away after signing up for a free trial.
Ask any millennial, and they will likely tell you that they hate talking on the phone and vastly prefer texting, webchats, and emails in that order. A sales call, made by telephone, may result in the loss of a sale more likely than making one.
Customer Service Request Test
I submitted a customer service request and asked a high-level question about chatbots.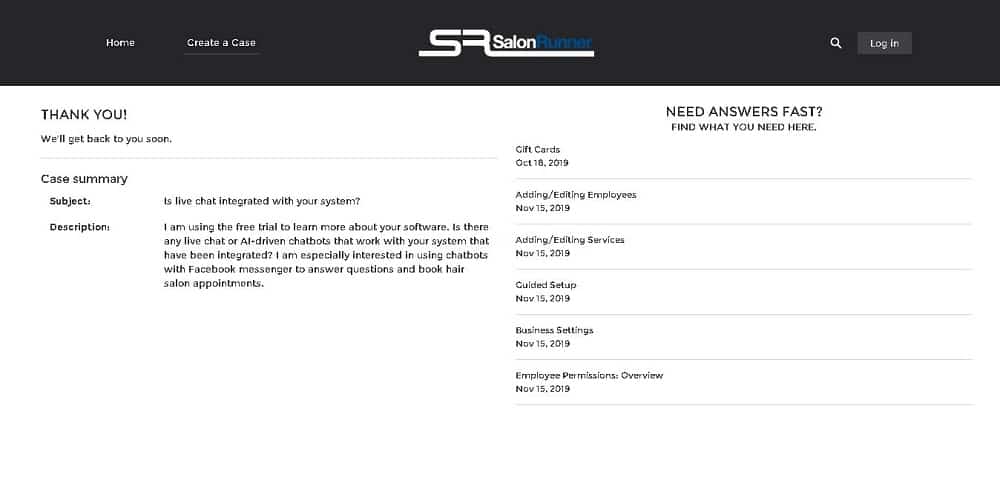 I got an immediate automatic email response. It is right before a holiday so this is a difficult test. If there was a response that answers such a sophisticated question in detail, during a holiday period, this would be amazing.
Software Could Use Newer Features
This software is missing many useful things that are already available on the cloud as SaaS services, like artificial intelligence (AI) driven chatbots. The graphical user interface (GUI) for part of this system looked newly designed. For other parts, such as the scheduling calendar, the GUI does not match the same style and it looks like it is decades old.
Inventory Management
I did not fully populate the inventory database with product information that would be needed to see how well it handles inventory control. However, one this I noticed is this system gives access to a digital product catalog of salon products to use for inventory setup, which should make this part of the process easier.
I like the product reservation feature that allows products to be set aside for salon clients who are repeat customers. This deals with a significant problem that might occur, which is specific to the salon business.
When a good customer makes an appointment for special treatment, the salon must have the product needed to do the work. Not having the product on hand when a client comes in is a costly mistake. This problem is avoided by having the products reserved in inventory and on hand for all the upcoming scheduled procedures.
Generating Loyalty and Up-Selling
I like the loyalty program that is integrated with the point-of-sale system. I also like that it makes product suggestions based on a client's history for an up-sell when they are checking out and paying their bill.
I would like to know if the point-of-sale system can be used with other bank card processing companies, in addition to the one they selected. Their only choice offered is a PCI-compliant payment processing solution from CardConnect. It has a simple flat-rate charge of 2.65% plus $0.15 per transaction.
Goofy Stuff
I told you, in the beginning, I found some goofy stuff. There are theme choices in the calendaring and scheduling section that allow color changes and font changes. There are many choices but the themes are not very impressive. The choices for some of them have options for three sections labeled as Section Uno, Section Dos, and Section Tres. That part of the program has the numbers in Spanish while all the rest is in English.
Try the 30-day free trial to see if you can find the hidden Spanish that was mistakenly left untranslated. This is not much of a mistake. It is not so prominent and does not cause problems. It's just goofy. Like I said in the beginning, I am like a little kid that tries everything to see what it does.
Overall Rating: 4
Rosy Salon and Spa Software Ratings
Ease-of-Use

Value for Money

Customer Support

Features
=> Click here for Rosy Salon and Spa Software
Ease-of-Use: 5 — I felt like I could be up and running on this system very quickly.
Value For the Money: 5 — This software is very well-priced if you can excuse the stupid premium-level scale for additional people. I am not sure if the 21+ person maximum pricing is for good for multiple locations. If so, an owner with many stores could use this for all of their stores for a very low monthly fee.
Customer Support: 3 — I took off one point for the annoying sales call. This company would get a better score if they answered a challenging techie question the night before a major holiday. However, they did not. If they used an AI chatbot it would answer my question automatically. That is why they need an upgrade to incorporate the newest tools.
Features: 3 — This software has a comprehensive set of features but is missing the newest stuff like AI-driven chatbots that integrate with Facebook Messenger.