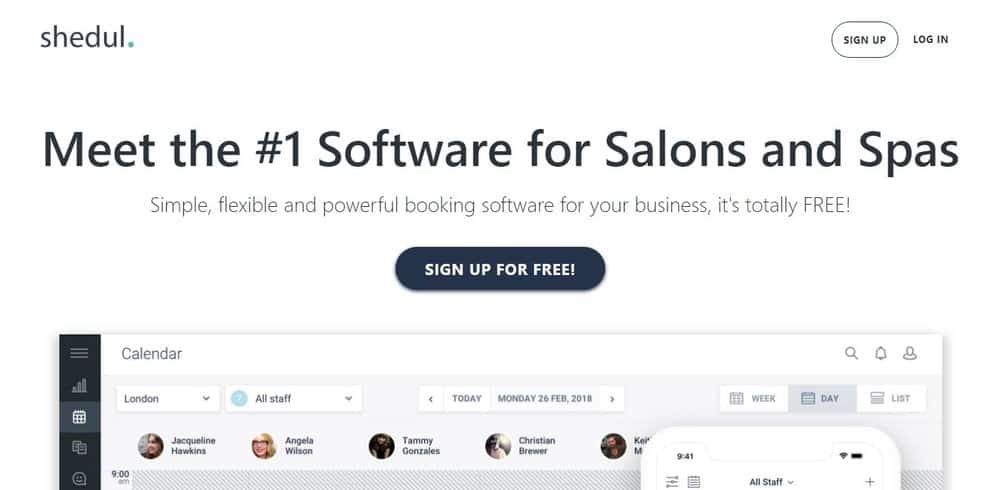 Schedul is a trustworthy software that helps in booking solutions for hair salons. You can set client bookings, automatic reminders, and even POS. With its extensive use, it gains popularity among people.
While it's free and easy to use, some users found lacking features that's why we collect hefty alternatives that you can choose from.
1. MINDBODY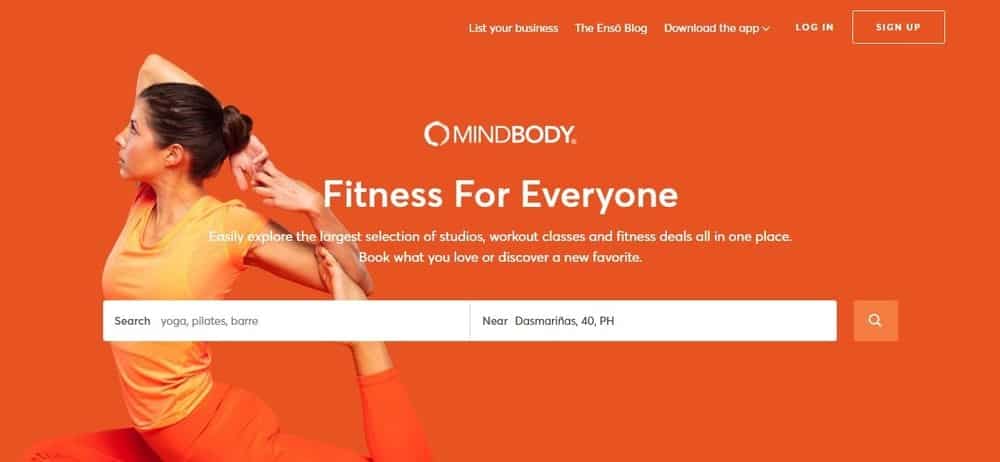 If you're willing to make the jump to a paid scheduling software, MINDBODY is one of the best Shedul alternatives on the market. Their booking software connects directly with their map interface so that new customers can discover how conveniently located you are, and they even handle payments.
2. ChiDesk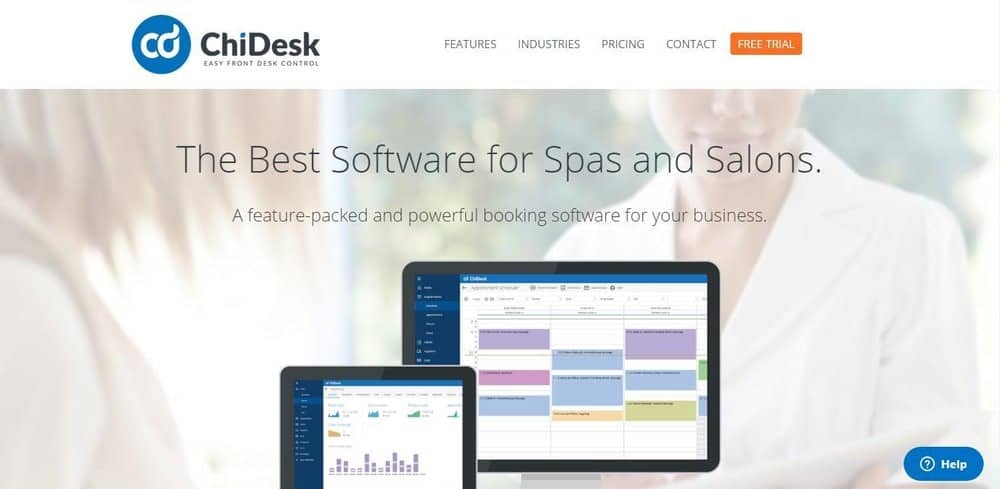 Simplicity is the name of the game as far as ChiDesk is performed. Your customers can schedule bookings 24 hours a day, while you'll have all the tools you need to track individual and group appointments and allocate your resources appropriately to each task.
3. Zenoti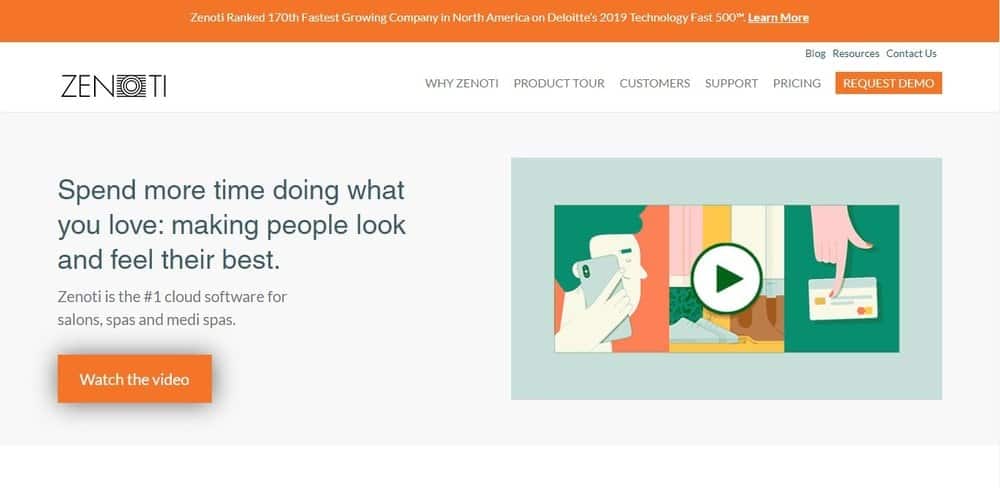 Zenoti is an all-in-one platform for salon and spa owners, but scheduling is one of the core components of their experience. Their booking calendars can scale to businesses of any size and provide all the information you need in one clean interface.
4. SimpleSpa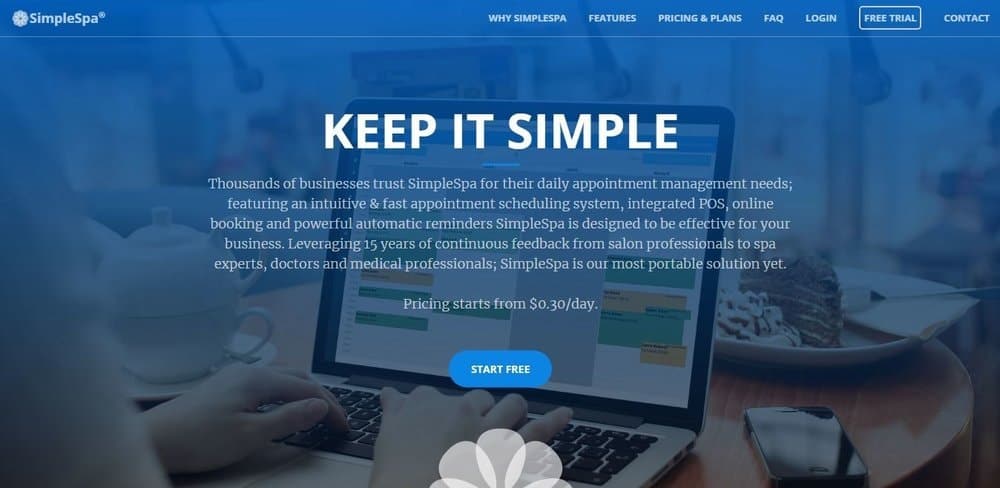 The software you'll find at SimpleSpa allows your customers to book an appointment with you 24 hours a day, and it can even set reminders via SMS text messages to reduce the number of no-shows.
5. Transcend
Transcend is a cloud-based platform for hair salons and spas is distributed as different modules so that you can buy in only to the features that matter to you. Their booking module does an impressive amount of legwork by handling appointment confirmations and reminders and making sure you always have the information you need.
6. Salon Advance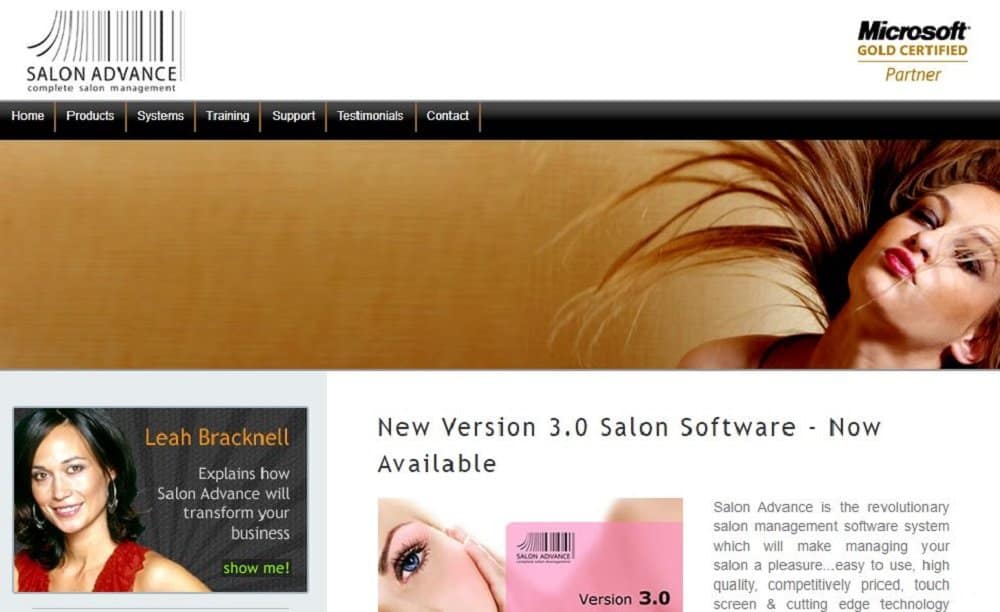 Salon Advance offers all of the standard booking options you'll find in a typical hair salon management platform, but they also provide information on your clients so that you can manage each customer to their preferred stylist.
7. Stylie One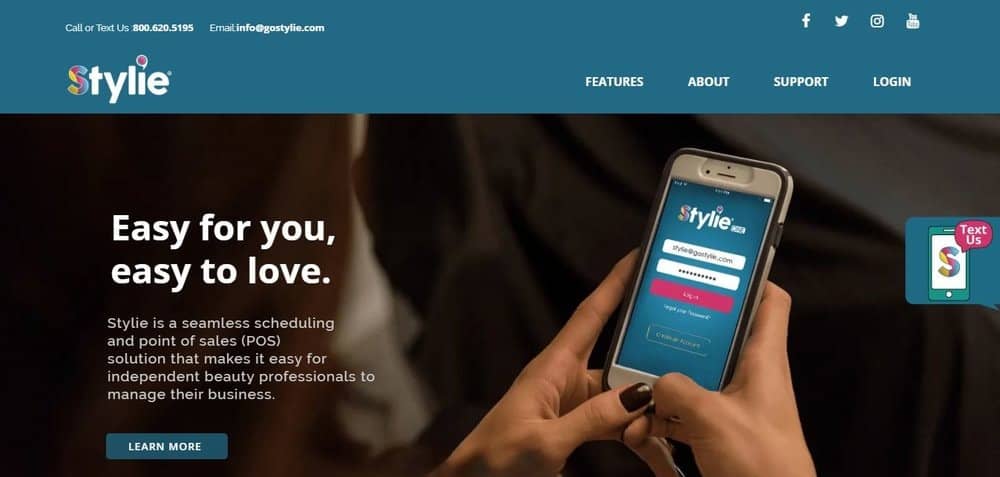 You can handle all your online bookings with ease through Stylie One, but that's just one aspect of their comprehensive management platform. They also offer everything from automated marketing campaigns to inventory control.
8. Booker for Salons and Booker for Spas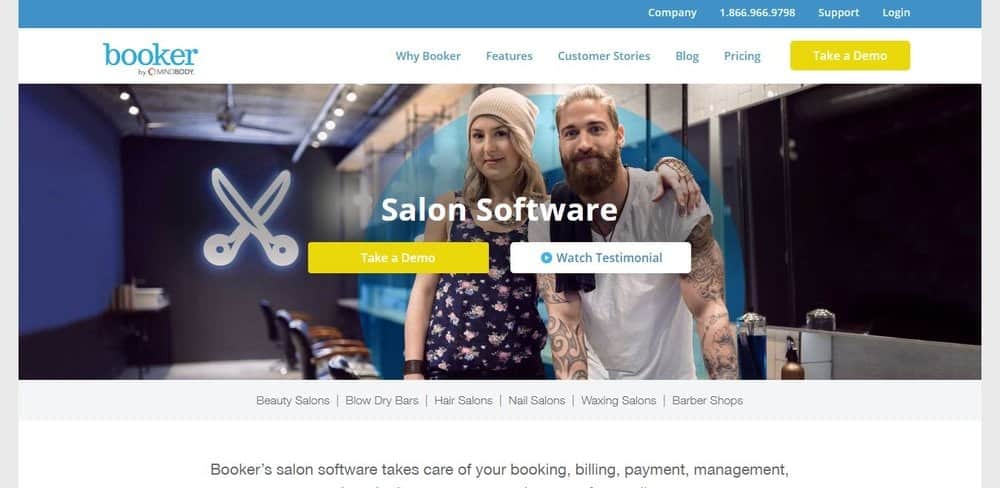 Booker offers different platforms for different businesses, and their salon and spa modules are impressive pieces of software built for the specific needs of these businesses. Their booking software helps you build more direct and meaningful relationships with your clients.
9. Setmore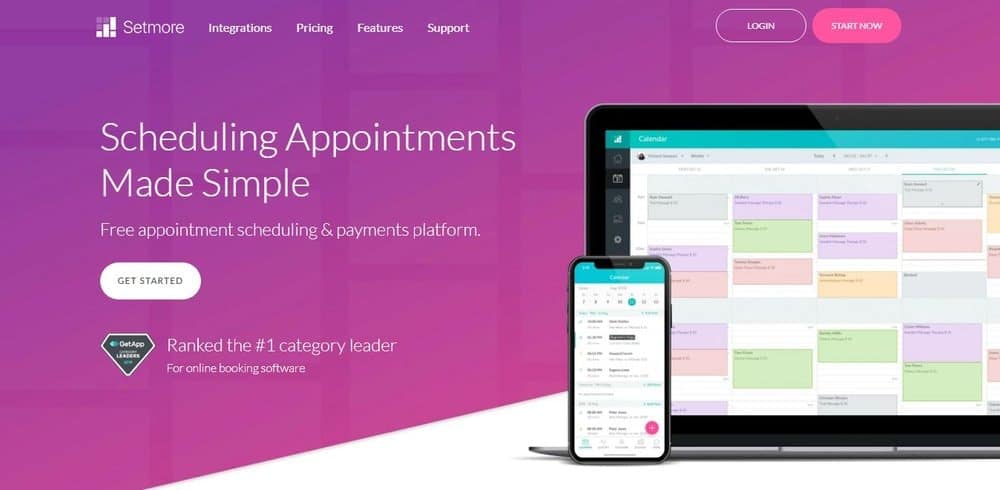 Setmore's scheduling software is completely free to use, but that doesn't mean that there's a lack of meaningful features. Up to 20 staff members can log in using their own accounts, and you have control over how you manage your email alerts and reminders.
10. Belliata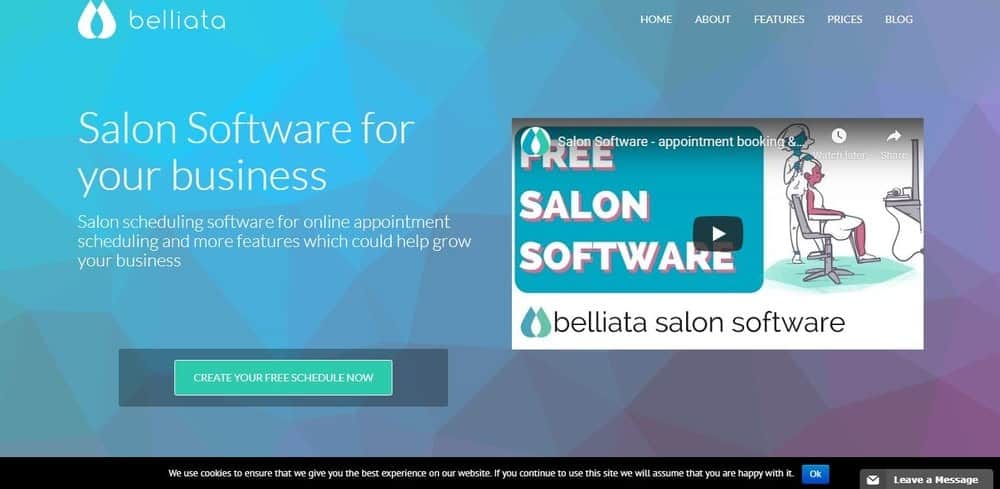 When you sign up with Belliata, you don't just get access to one of the most professional booking platforms around. Your business also becomes a member of its comprehensive online salon directory.
11. Plandok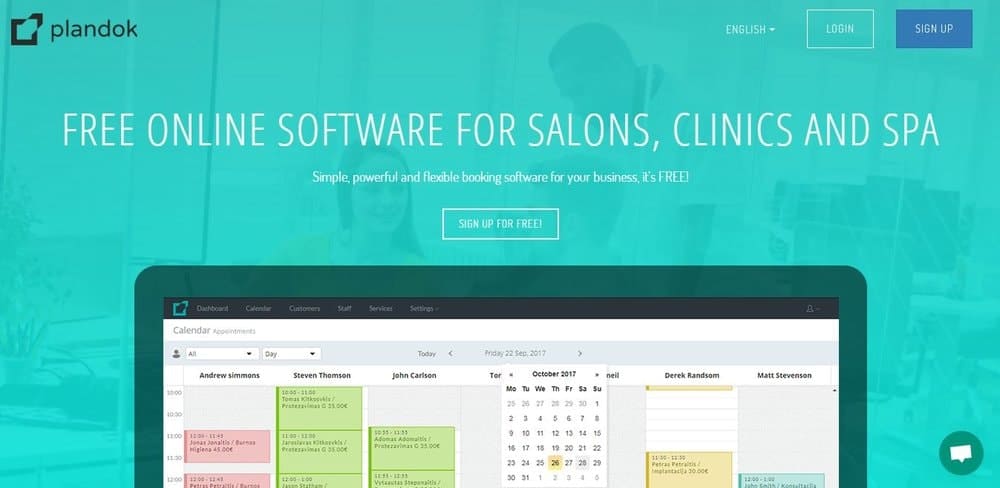 Plandok is completely free to use. Their simple appointment scheduling software is easy to pick up, and it comes partnered with a management tool that lets you track and respond to the preferences of your clients.
12. Smart Scheduling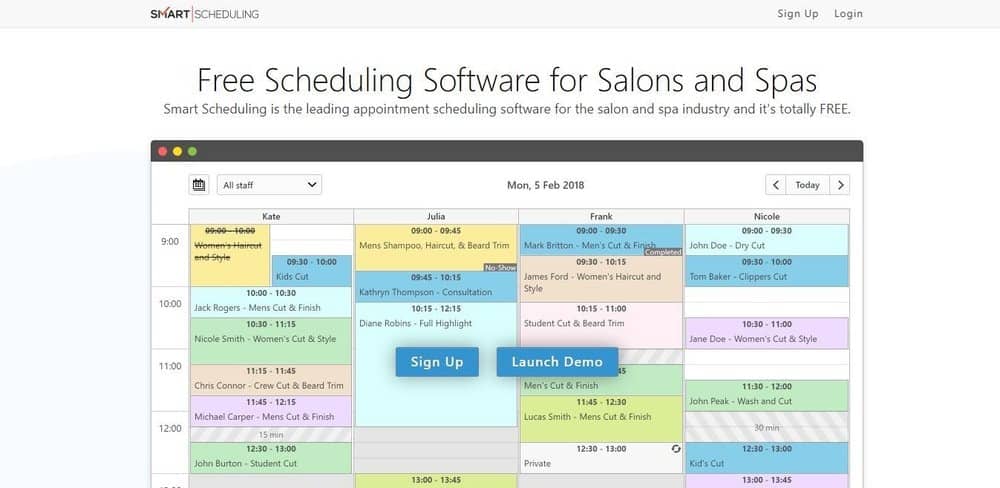 Another free booking options, Smart Scheduling makes use of a drag and drop interface to simplify the booking process. This makes it easy to adjust your schedule and account for rescheduled appointments and cancellations on the fly.
13. Picktime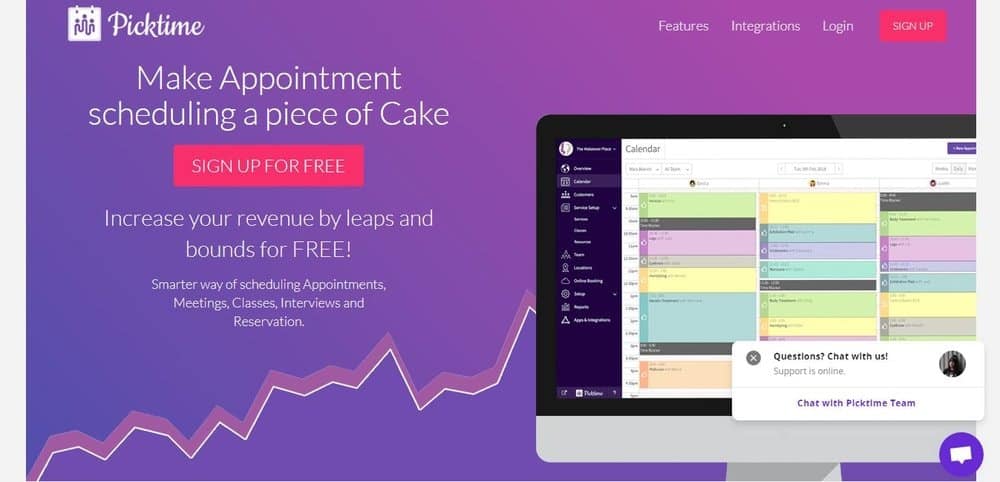 When you use this free platform, Picktime, you get access to a professional calendar system that connects you with your clients, but it also syncs up with a staff management module so you'll never have to worry about being undermanned.
14. Rosy Salon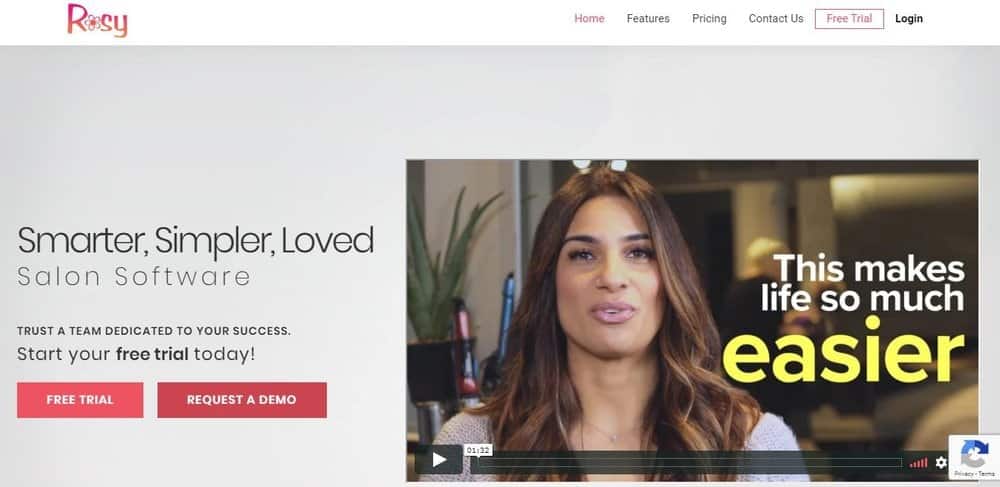 As one of the first cloud-based salon management platforms, Rosy is exceedingly well polished. Users can set up personalized automated reminders, check out client history with a click of a button, and manage multiple bookings simply and efficiently.
15. Salon Iris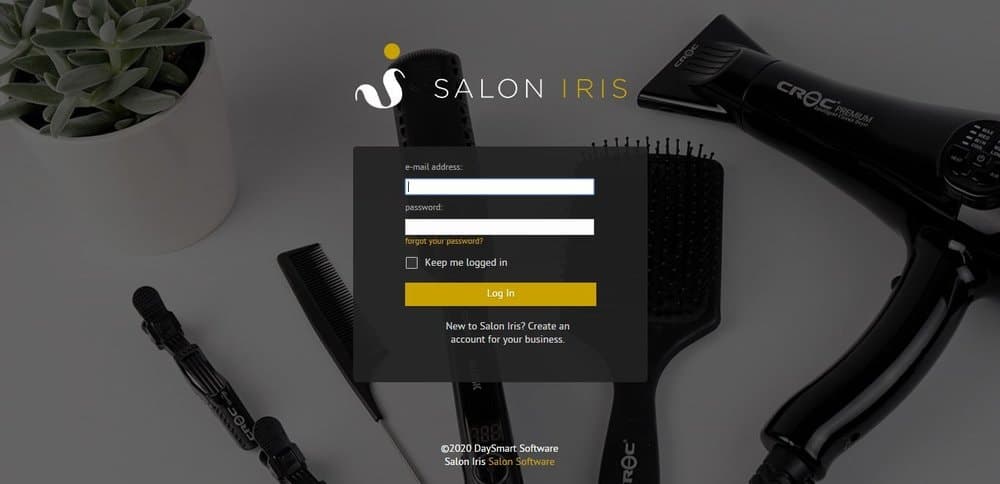 Whether you're renting a booth, managing a reasonably sized salon, or overseeing the operation at multiple operations, Salon Iris can provide you with the services you need. Their cloud-based platform allows you to integrate all of your stores in a single place and access the information you need anywhere.
16. Super Salon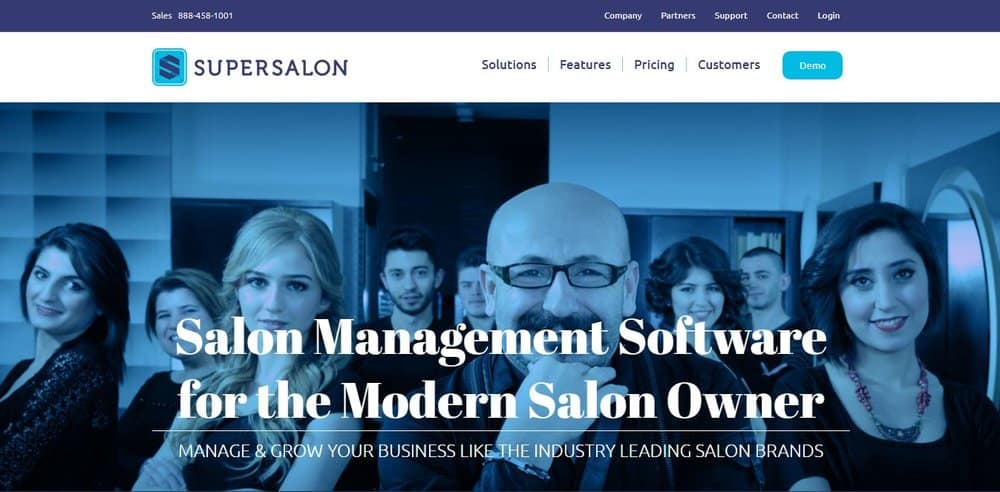 Super Salon offers both cloud-based and local solutions, and that means that you don't need to worry about losing track of the scheduling information you need even if you're having trouble with your internet connection. Their scheduling software is supported by staffing and inventory features.
17. Baxus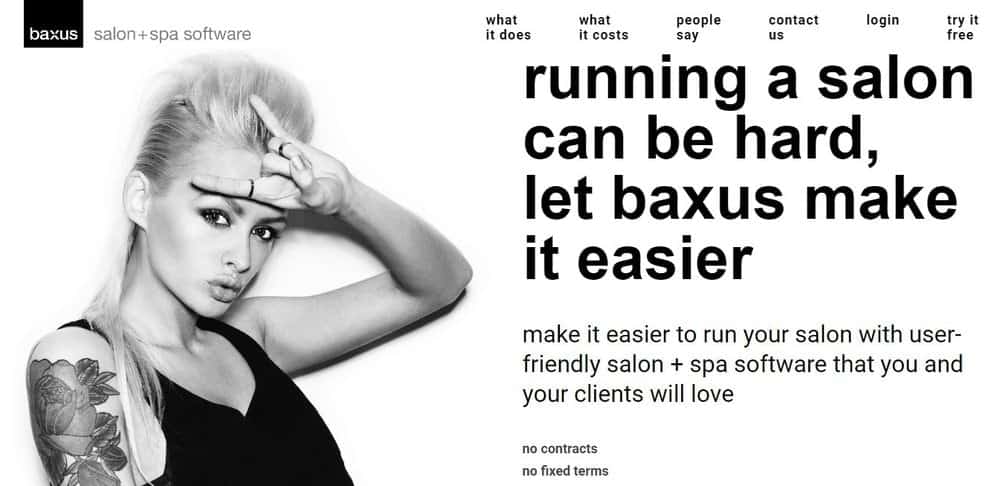 Baxus charges you by the bookable staff member, and that makes it one of the most affordable paid options for smaller salon or spa owners. It also gives the workers at your business more control over their client relationships with their detailed client cards.
18. Neko Salon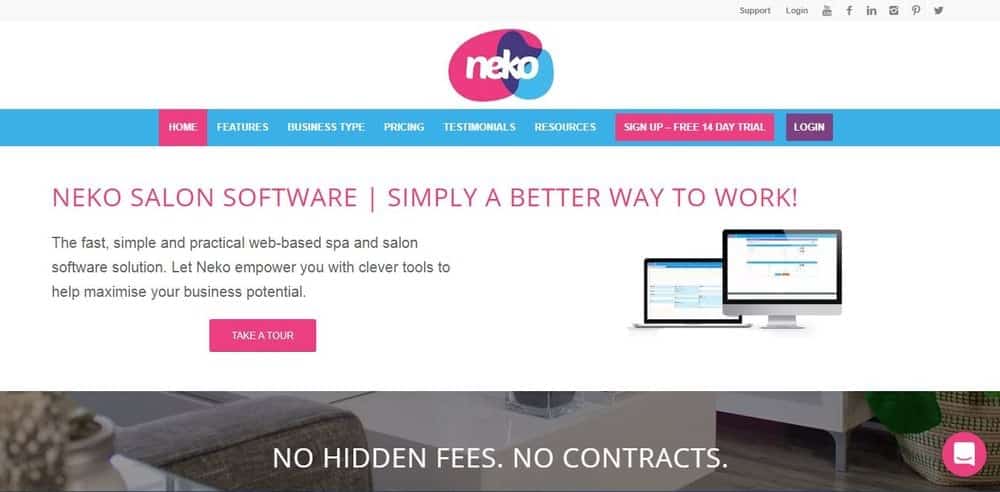 Neko is a refreshingly simple platform to use. Its calendar system is cloud-based so that you can check out your schedule from anywhere, and it integrates client cards and reminders seamlessly into its interface. Regardless of the stripped-down design, you get a lot of options. You can customize the look and layout of your calendar, manually add new clients, and split your bookings among existing staff.
19. Simple Salon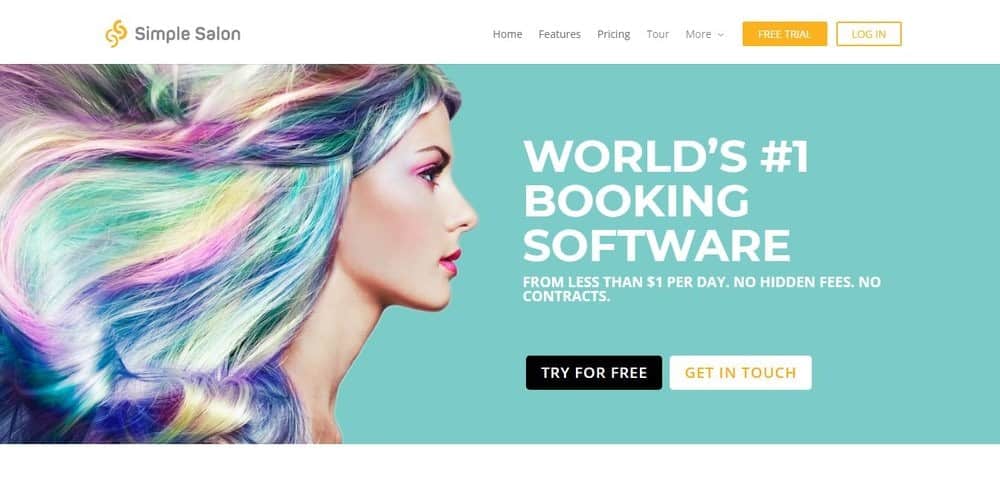 Simple Salon's color-coded scheduling system lets you oversee your day's operations with a glance, and that intuitively designed system is especially useful for franchise owners. Simple Spa can scale to the needs of customers overseeing even hundreds of salons.
20. Phorest Salon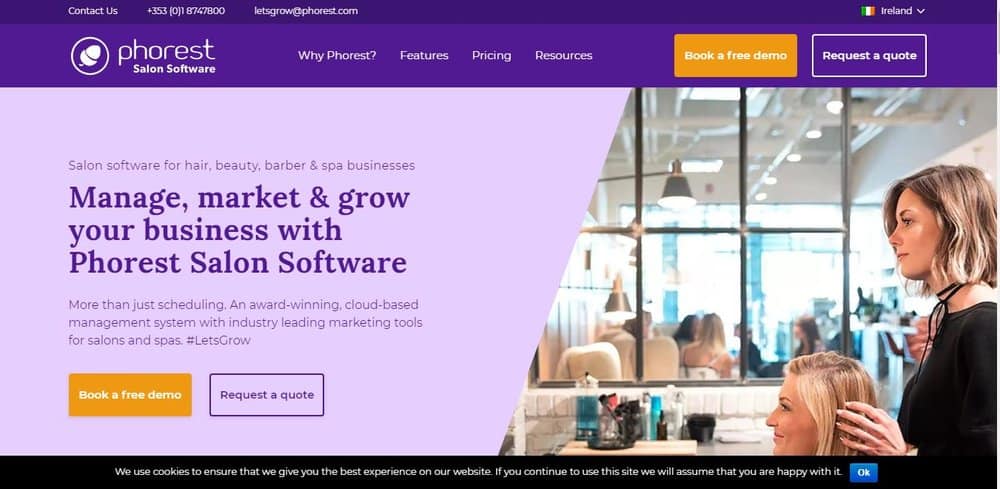 The way that customers communicate with the world around them is changing, and that's where Phorest really thrives. You can integrate their booking calendar directly into your website and make it accessible through your social media channels. They even include a tool you can use to quickly put together a branded app for your clients.
21. Salonist by Shrivra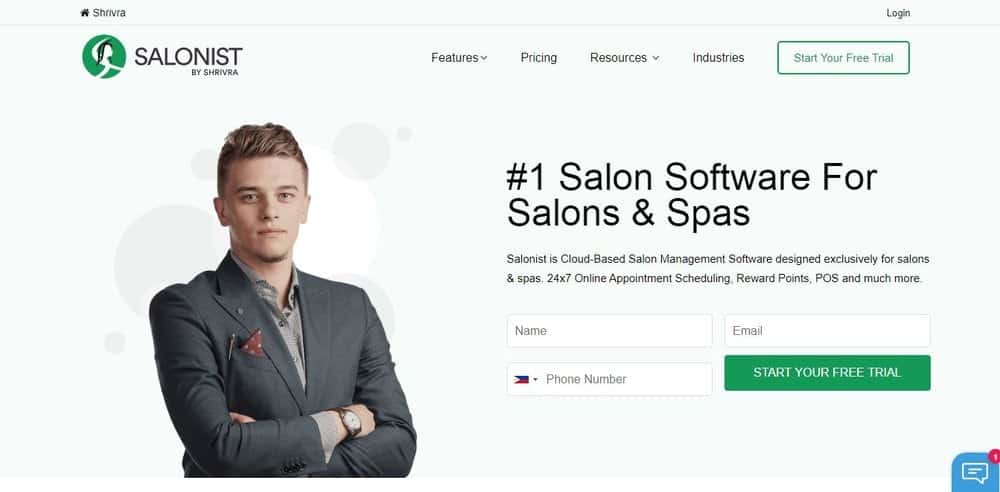 The cloud-based technology that powers Salonist keeps you and your clients in communications with one another 24/7. They can also export all of your bookings and scheduling information to a number of different formats so you can better archive, manage, and examine it.
22. Salonware/Spaware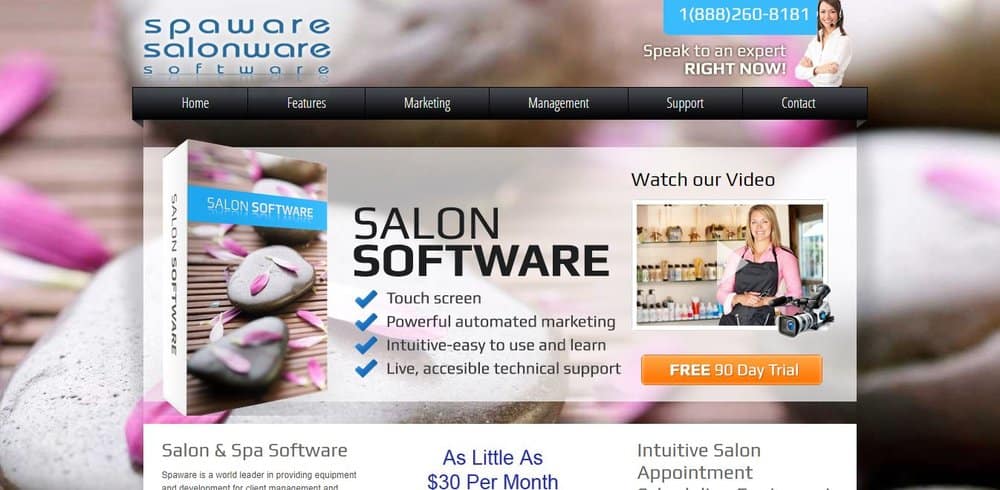 While Salonware and Spaware have their own eccentricities, they're very similar programs. The appointment scheduling aspect of this management system is intuitively designed. They also employ a unique lease to own a system that splits the difference between traditional retail software and the software as a service model.
23. GSI Spa – Salon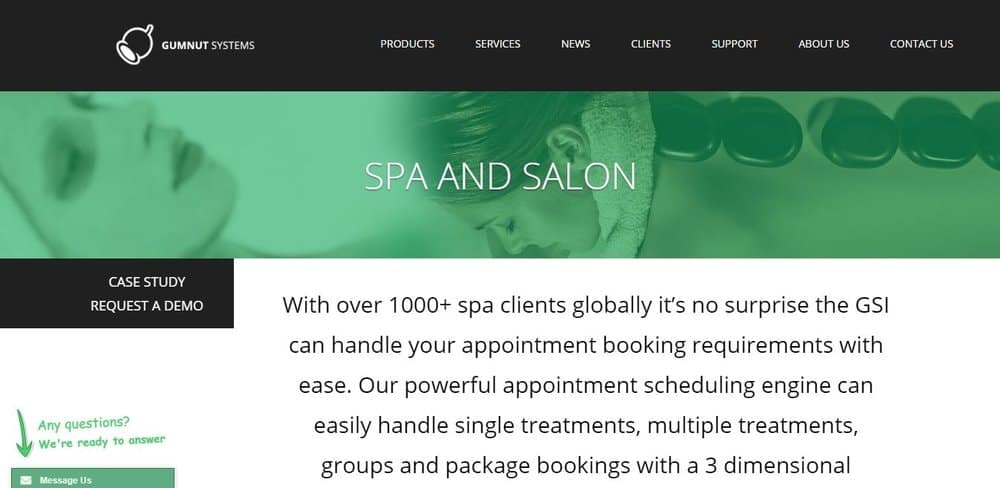 Gumnut Systems' spa and salon management platform has buy-in from thousands of clients, and they can ensure that your booking system is accessible to your clients across multiple channels with their app creation system. Their scheduling engine lets customers make appointments for one or multiple sessions, and it allows for group and package bookings as well.
24. MioSalon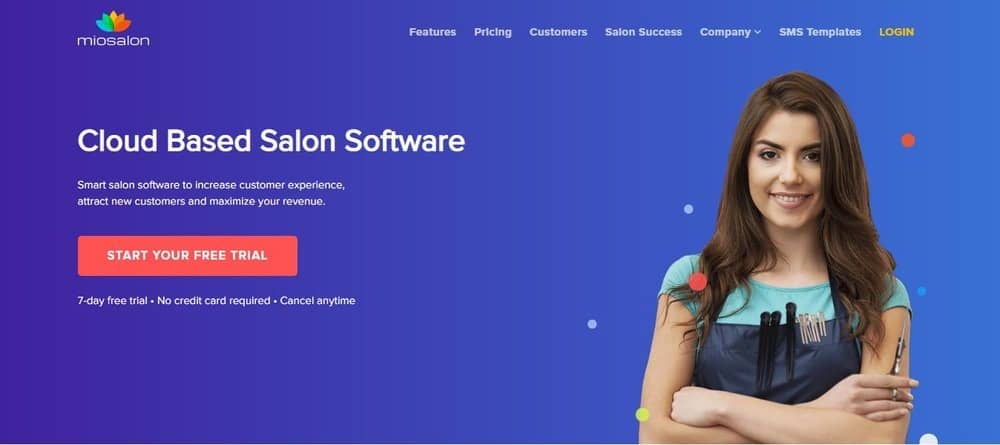 The versatility inherent in the MioSalon package is particularly worthy of note. Your clients can establish recurring appointments or sittings for groups 24 hours a day. A color coding system assists with overseeing your bookings, and the automated appointment reminders and two-way text options can help reduce the risk of no-shows and late minute cancellations.
25. Orchid Spa Software
Orchid's calendar syncs seamlessly with your customizable appointment book, and users have a lot of options in terms of how the calendar information displays with a flexible color-coding system. They also offer a number of standard features like recurring appointment scheduling and automated reminders for both spa owners and their clients.
26. WellnessLiving
There aren't many platforms on the market that support the sort of broad integration that WellnessLiving does. You can embed your booking calendar into your website and easily create a proprietary app for mobile users, but they also support integration with Facebook, Google search, and Google Maps.
27. Bobile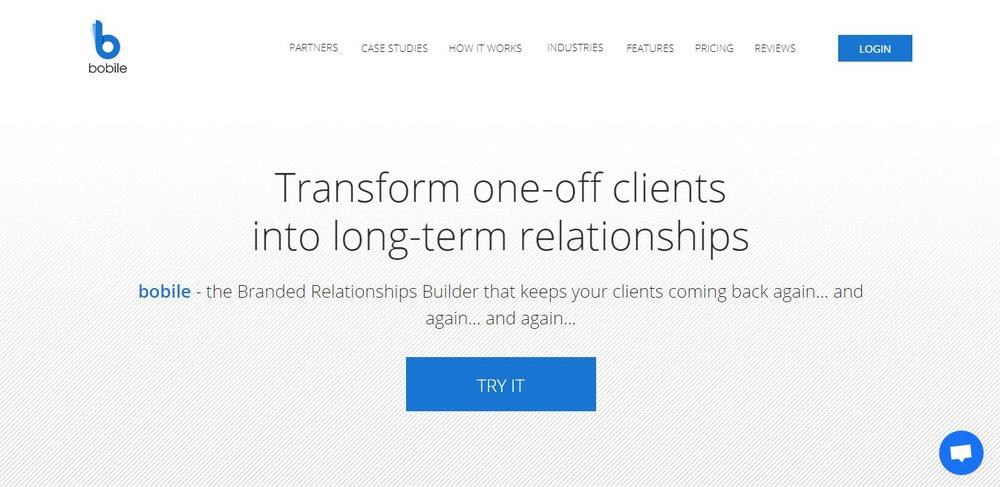 Bobile specializes in helping spa and salon owners create their own proprietary apps, but if you're looking for an alternative to traditional browser-based scheduling options, they have you covered. They can help you create an entire mobile ecosystem for your salon or spa with a booking calendar built-in.
28. BookSteam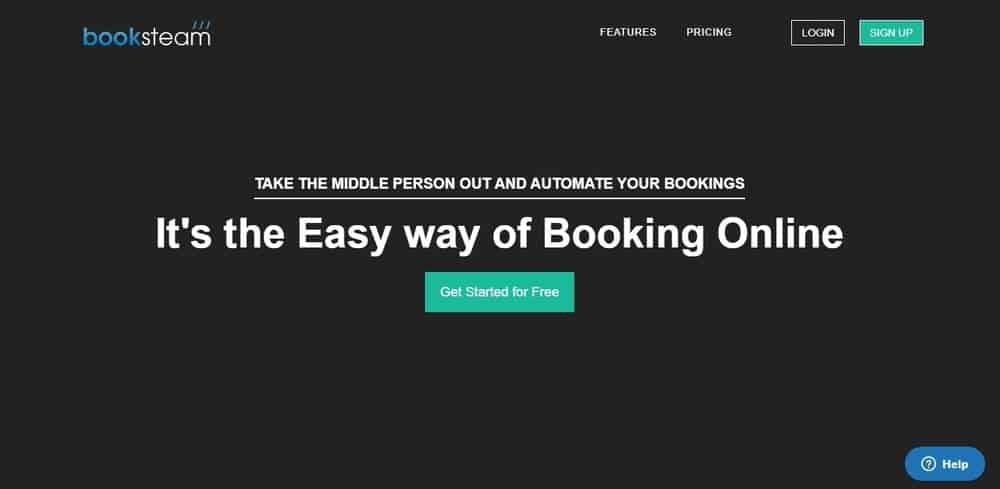 BookSteam allows you to create your own scheduling web page that can either stand by itself or be folded into the existing site for your spa or salon. The customer end of the real time booking system is especially slick looking, and business users have a lot of control over the design of their page.
29. MassageBook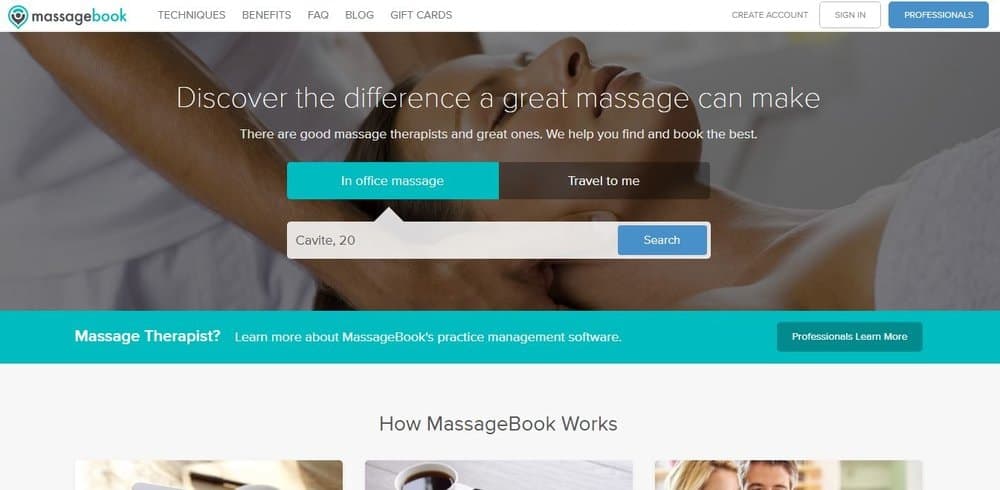 MassageBook is an online directory service that spa owners can use to more effectively draw in customers. All you have to do is set your terms and rates and do a bit of work to put together your directory page, and MassageBook's search and booking options will draw customers directly to you without you needing to do anything.
30. Frederick's Spa Marketing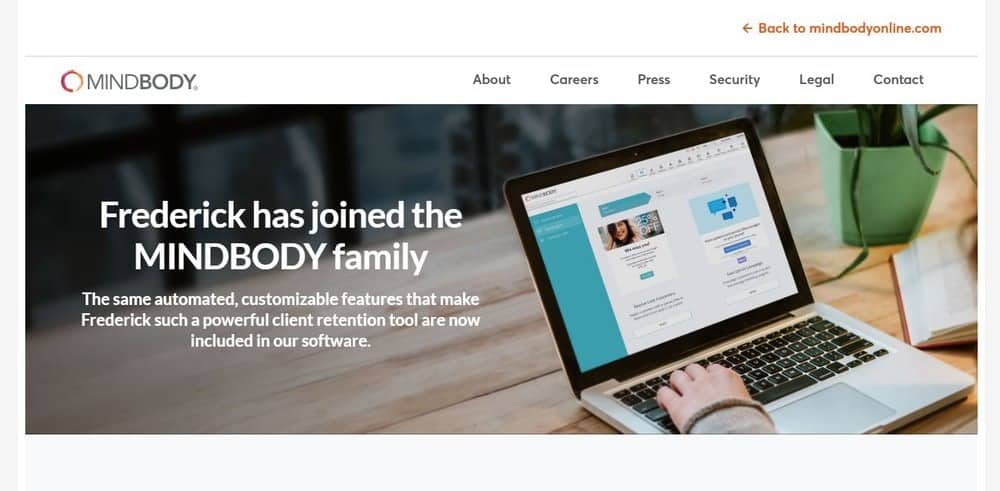 While Frederick's is primarily a marketing platform, that's what makes their booking services stand out from the crowd. It takes a proactive approach to draw in customers by syncing up with your schedule and automating marketing campaigns to fill out any holes in your schedule. Rather than having to navigate to a site with your calendar booking system, they'll receive the option to book appointments with you directly via SMS message or email.
31. Shortcuts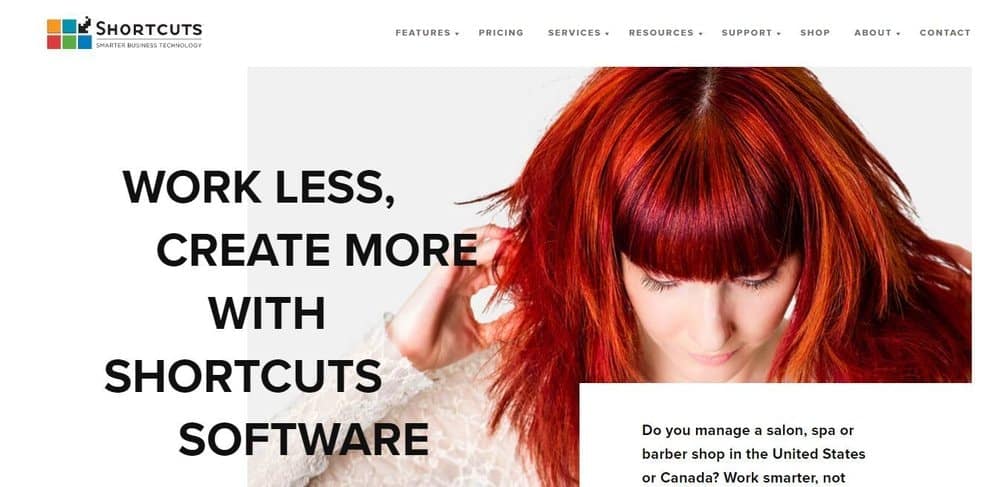 The booking platform available through Shortcuts syncs together with the schedule of your staff and the client's front end so that you can properly match the right customer to the right employee. Rescheduling and adjusting appointments or setting up recurring services are especially simple with their streamlined appointment book.