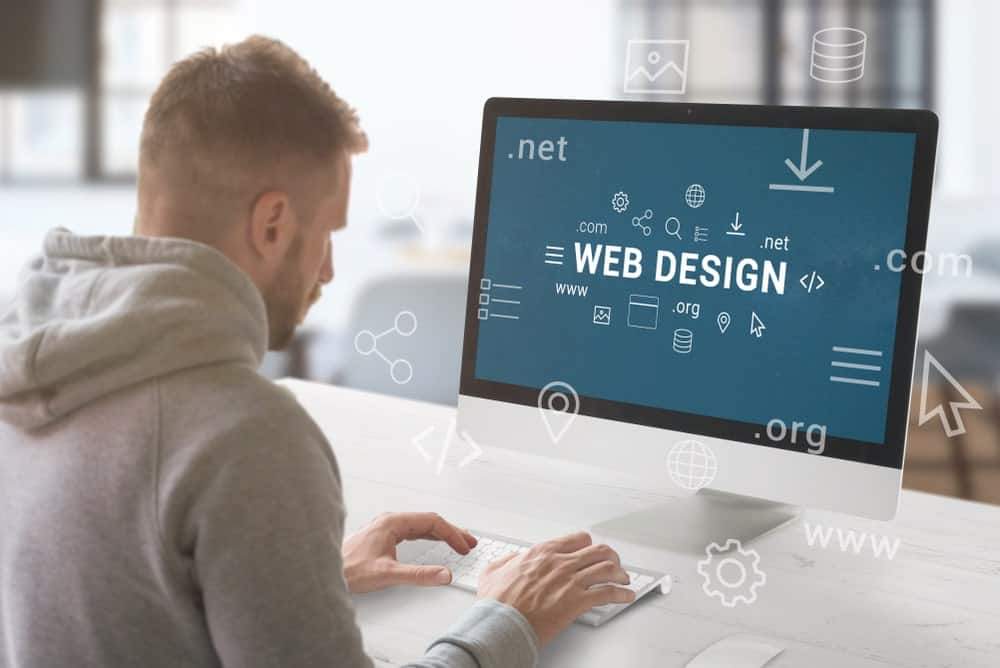 There's no better way to reach out and connect with clients than with a stunning website. With a quality WordPress theme, barbers can display their work, offer the convenience of online booking, and display their services without paying over-the-top advertising fees or hiring an outside firm. The following WordPress themes are affordable and easy to use. Not to mention, they offer attractive layouts that help solidify your barbershop brand and take it beyond the competition.
Divi

Divi is a fully customizable WordPress theme builder available on ElegantThemes. With its visual drag-and-drop editor and other easy-to-use design elements, in-line editing has never been easier. Users can choose from a variety of fonts, colors, and styles to make a completely unique barbershop website. Divi also boasts a wide range of built-in elements, including audio players, bar counters, and call to actions. Not to mention, you can choose between 20 stylish layouts or design and save your own.
Besides dragging and dropping elements, Divi lets you click and type content to quickly and effectively edit your site. You can also simply highlight a section of the script to change its font, color, sizing, and more. Divi even allows you to directly shrink and expand the widths and heights of elements to find the perfect balance in realtime. Not to mention, it is the first WordPress page builder to offer a fully customizable interface. You can even toggle between mobile and tablet views to tailor each display.
Beyond that, you can use Divi lets you build an unlimited number of WordPress sites. This means you can make more than one website without having to purchase additional licenses, which is fairly common in WordPress themes. On top of that, Divi provides its users with dedicated support for troubleshooting issues every step of the way. As a result, they've developed quite an extensive and committed client base.
Kallyas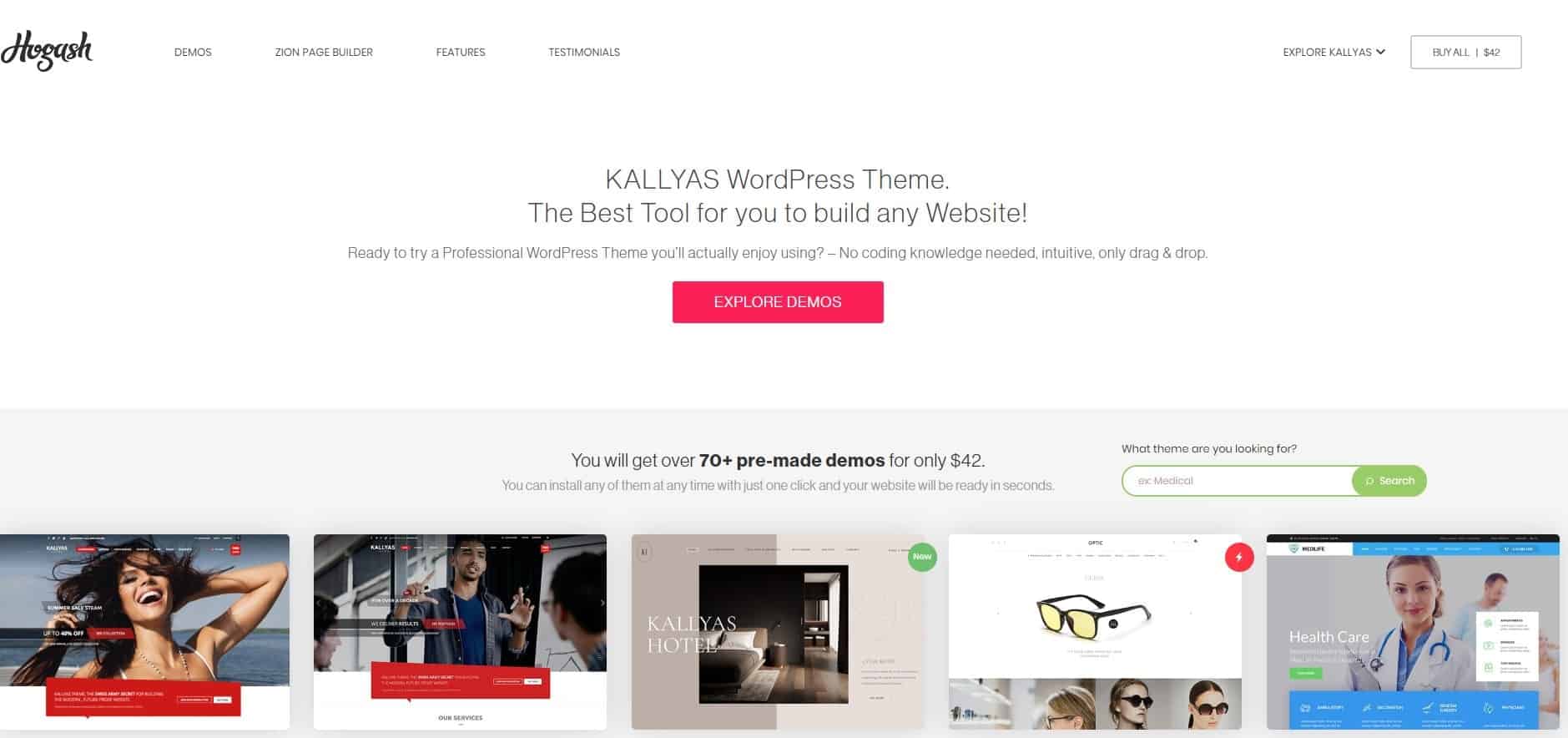 Kallayas is a super responsive WordPress theme that allows you to extensively edit your webpage without entering a single line of code. It also offers over 150 elements for building a modern and easy-to-navigate barbershop site. Not to mention, it enables you to instantly toggle between desktop, tablet, and smartphone displays to create an incredibly fluid cross-device experience for your users. What's more, it lets you store content and templates for rapid implementation at any time.
Kallyas comes with 60 premade demos that can be installed in a matter of seconds. One of these is the "Barber" demo which is loaded with integral features, like a F.A.Q. page, a revolving portfolio, and staff profiles. Kallayas's visual builder is so smooth and easy to use, we're confident a child could figure it out. As if that's not enough, the Kallyas theme is compatible with WooCommerce and other useful business-geared plugins.
Barber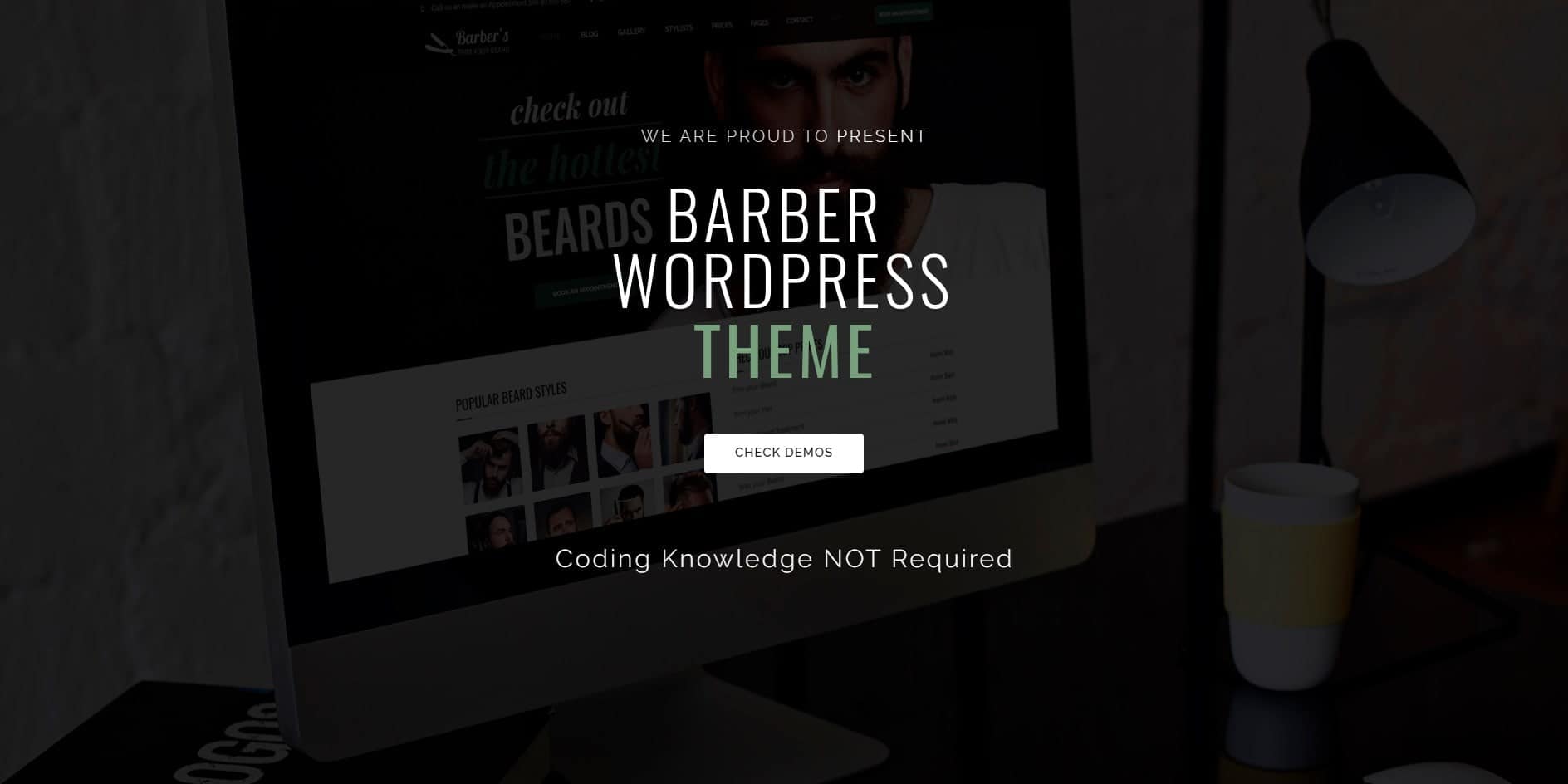 Barber is a stunning WordPress theme that is well-suited for Barbershops and salons. The blueprint catalog consists of a price guide, style galleries, coupons, and much more. For a low additional price, users can purchase the Codecanyon plugin for online booking and comprehensive scheduling. Barber offers unlimited color combos and plenty of chic fonts. It's also highly responsive across different devices.
We love that Barber offers the option to save themes implementation. Not to mention, it comes with three unique sliders for attractive and accessible images and product guides. Sliders can be customized using the drag-and-drop editor, an image preloader, and other special effects. Overall, Barber is a fast and fully functional theme with flawless retina-ready shortcodes.
You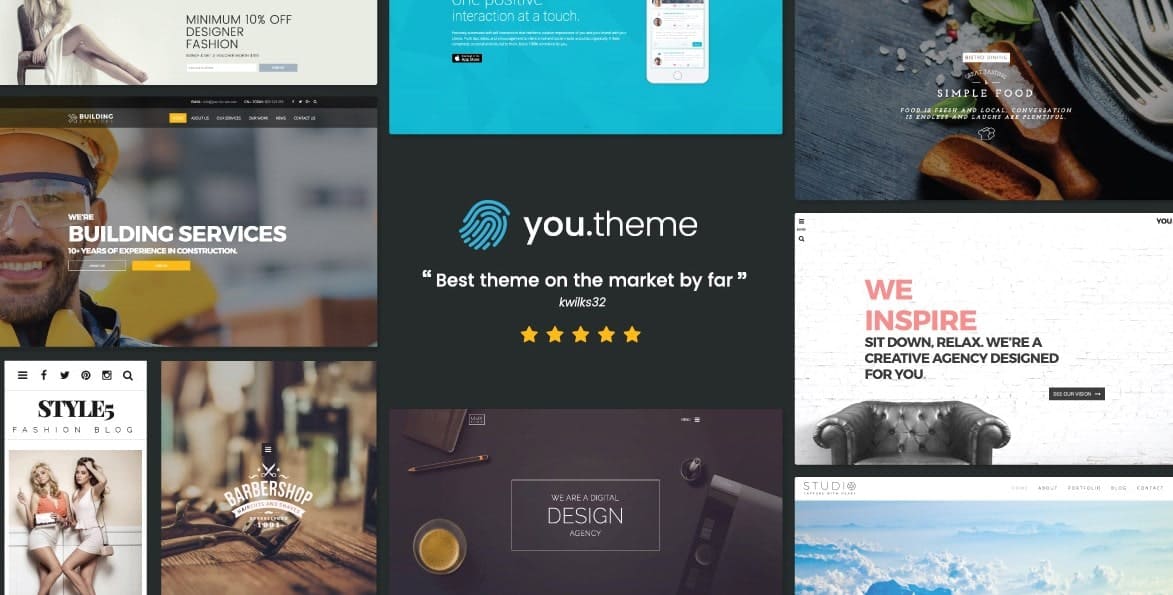 You is yet another gorgeous ThemeForest WordPress theme developed for businesses and creative portfolios. It is a multipurpose theme, designed for unmatched flexibility and responsiveness. The visual page editor offers plenty of flexible shapes, fonts, and colors. Users may also use prebuilt page layouts and content demos for quick and easy results. It's easy to streamline templates by adding your own logo, fonts, and, of course, content. This theme also compatible with popular business plugins, such as WooCommerce, bbPress, and Contact Form 7.
StyleShop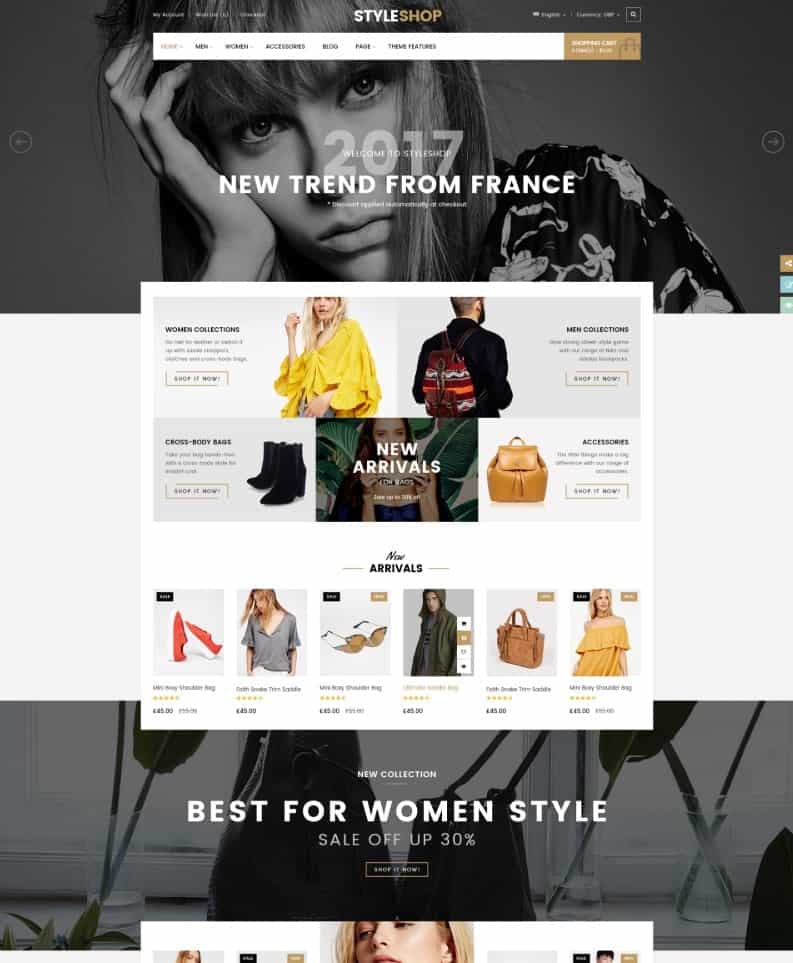 StyleShop is an immensely responsive WordPress theme that displays well on a variety of devices. It boasts ePanel theme options that let you customize every corner of your webpage without entering any code. Whether you want to change the colors, layout, or optimize your SEO, StyleShop's dashboard is one of the easiest to use. It also boasts plenty of go-to page templates and pre-made styles that are well-suited for barbershops and salons. These include revolving galleries, blog feeds, service pages, and more.
Parlour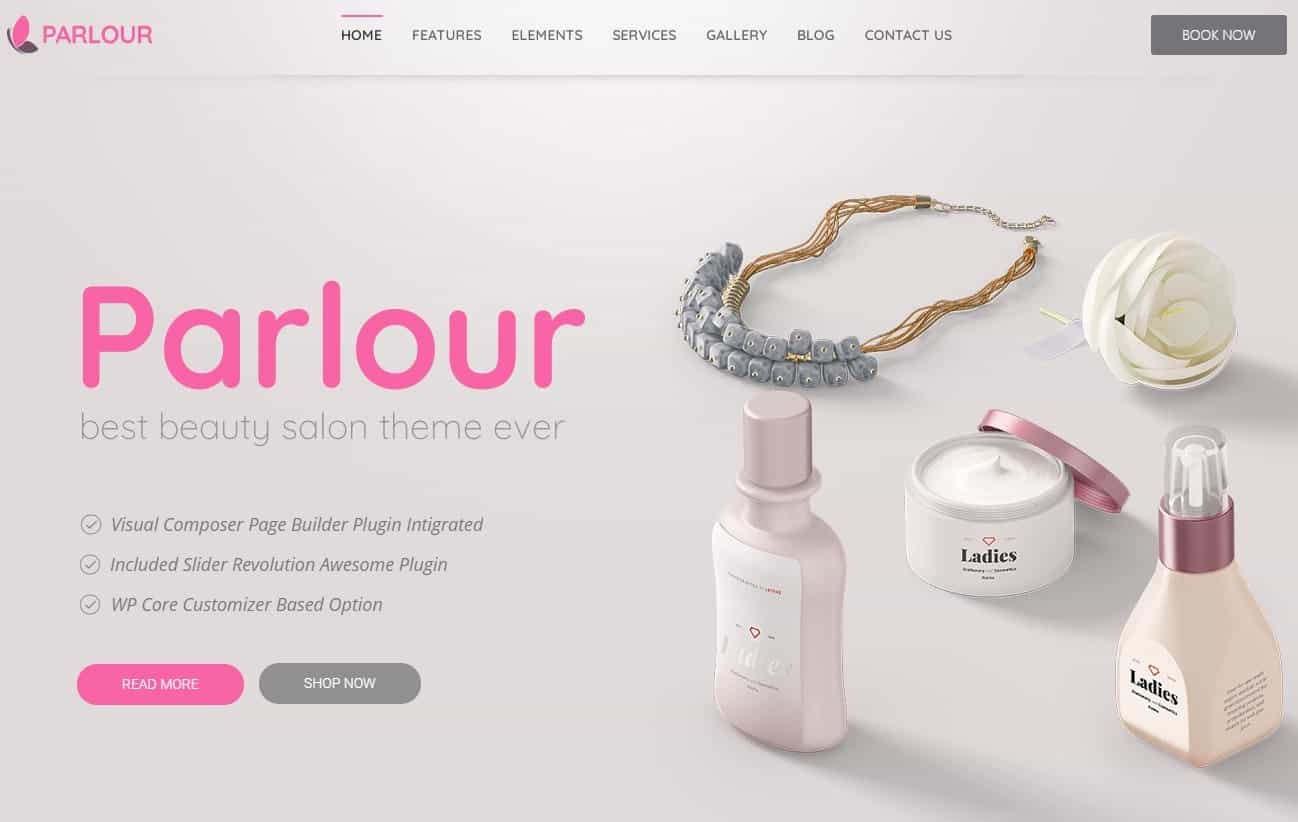 Parlour is an expertly crafted WordPress theme designed for beauty salons, barbershops, spas, and more. We love that it features an integrated booking system as well as a service management system. ThemeForest offers live support for any theme-related issue. Not to mention, it has a PageSpeed score of 95 percent. Slider revolution is included in the purchase of the Parlour theme, making it easy to insert code-free animations. What's more, it includes a one-click orphan WordPress installation for hassle-free data transfers.
Lemon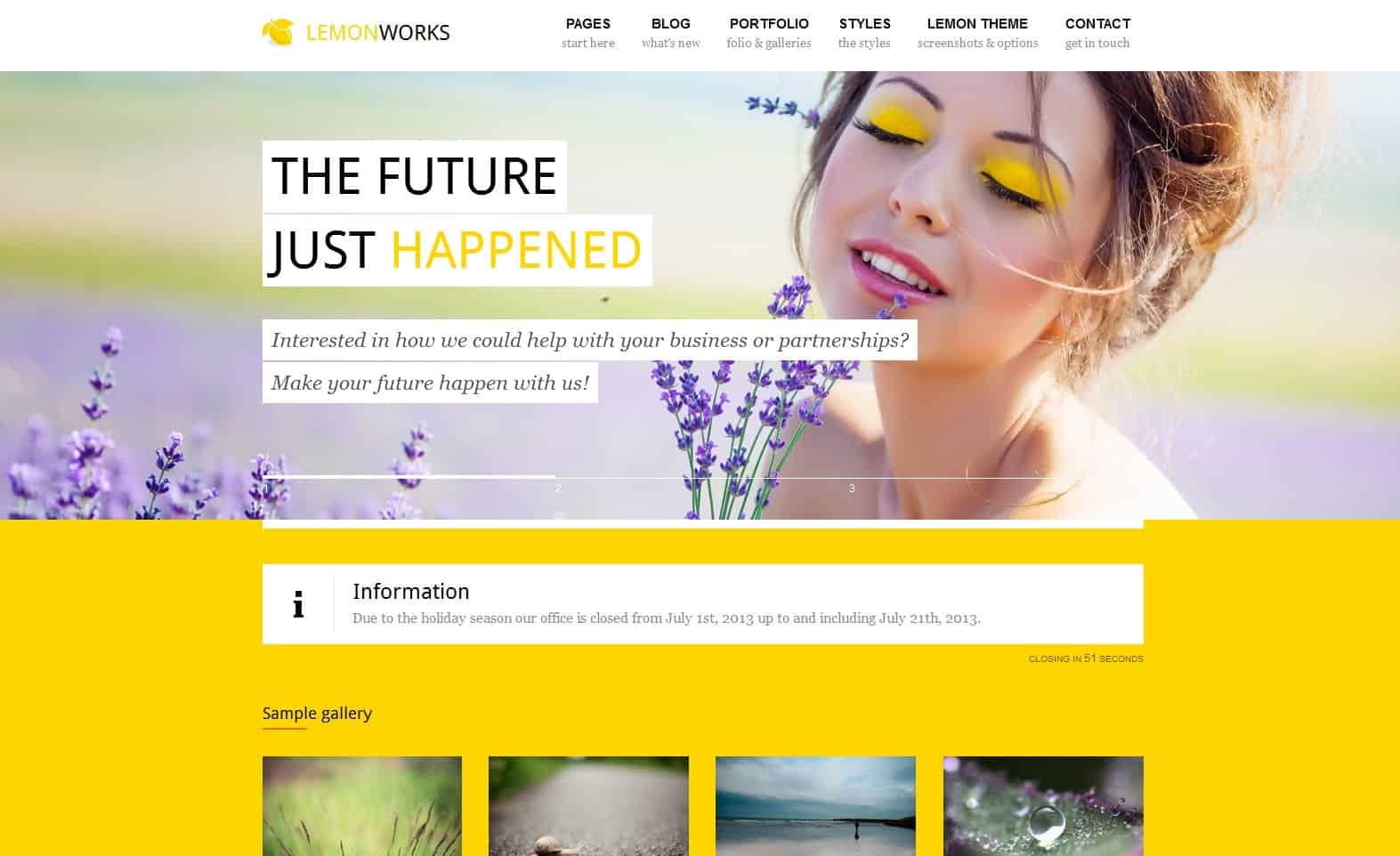 Lemon offers clean minimalistic portfolio-driven designs that are great for barbershops and personal stylists. It also has a stunning contact and map page for seamless connections. Users can add an unlimited number of carousels, testimonials, feature icons, and more. Overall, this theme is super responsive and adapts well to mobile devices and screens of varying sizes.
Bevan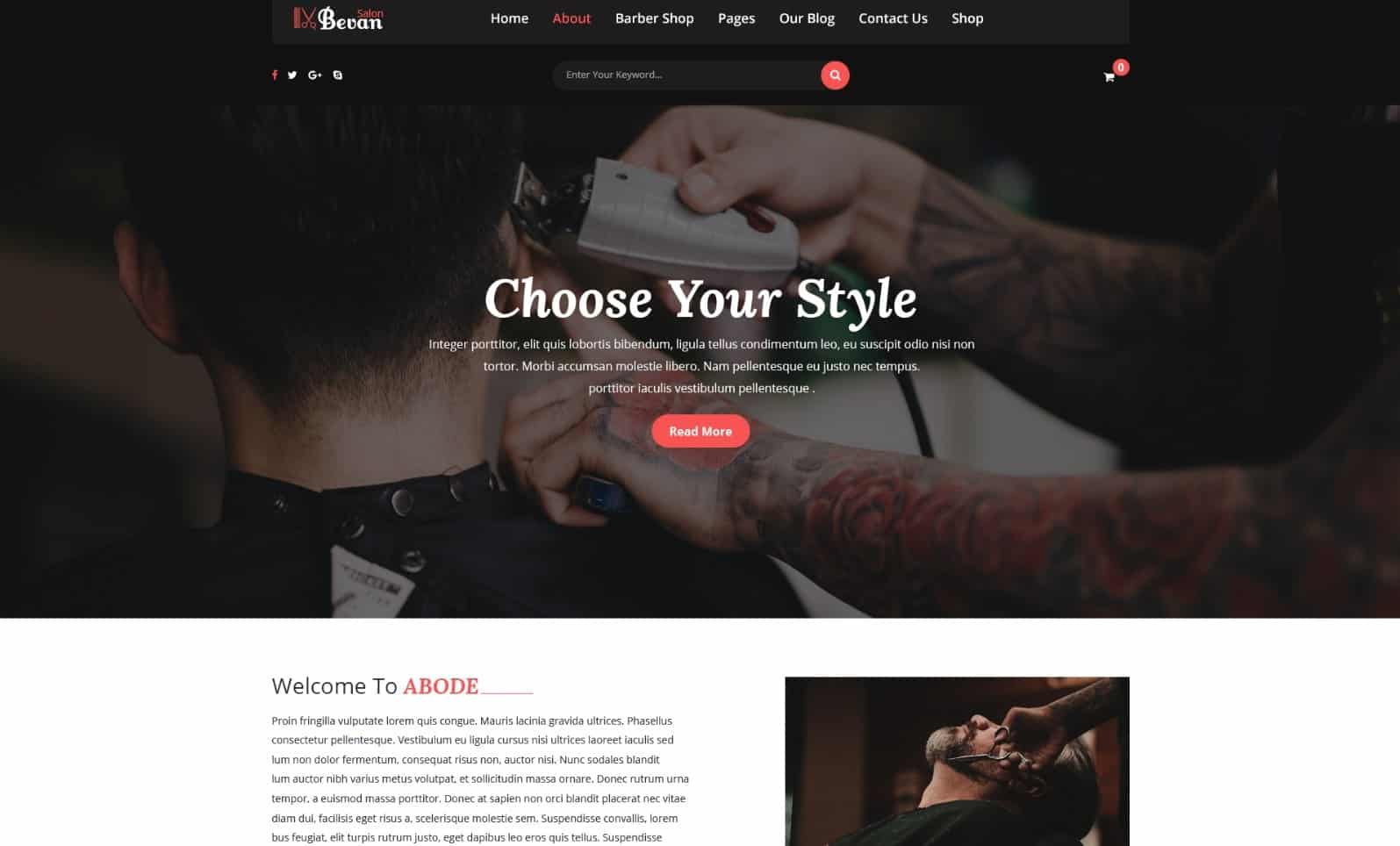 Bevan is an inexpensive and attractive barbershop/salon theme available at ThemeForest. It features a 12-column responsive grid template with a PSD (Photoshop design file) template. It boasts a unique design with plenty of modern style elements. All file names, folders, layers, and other elements are easy to find. The theme includes a location page, gallery page, blog page, and more.
Montblanc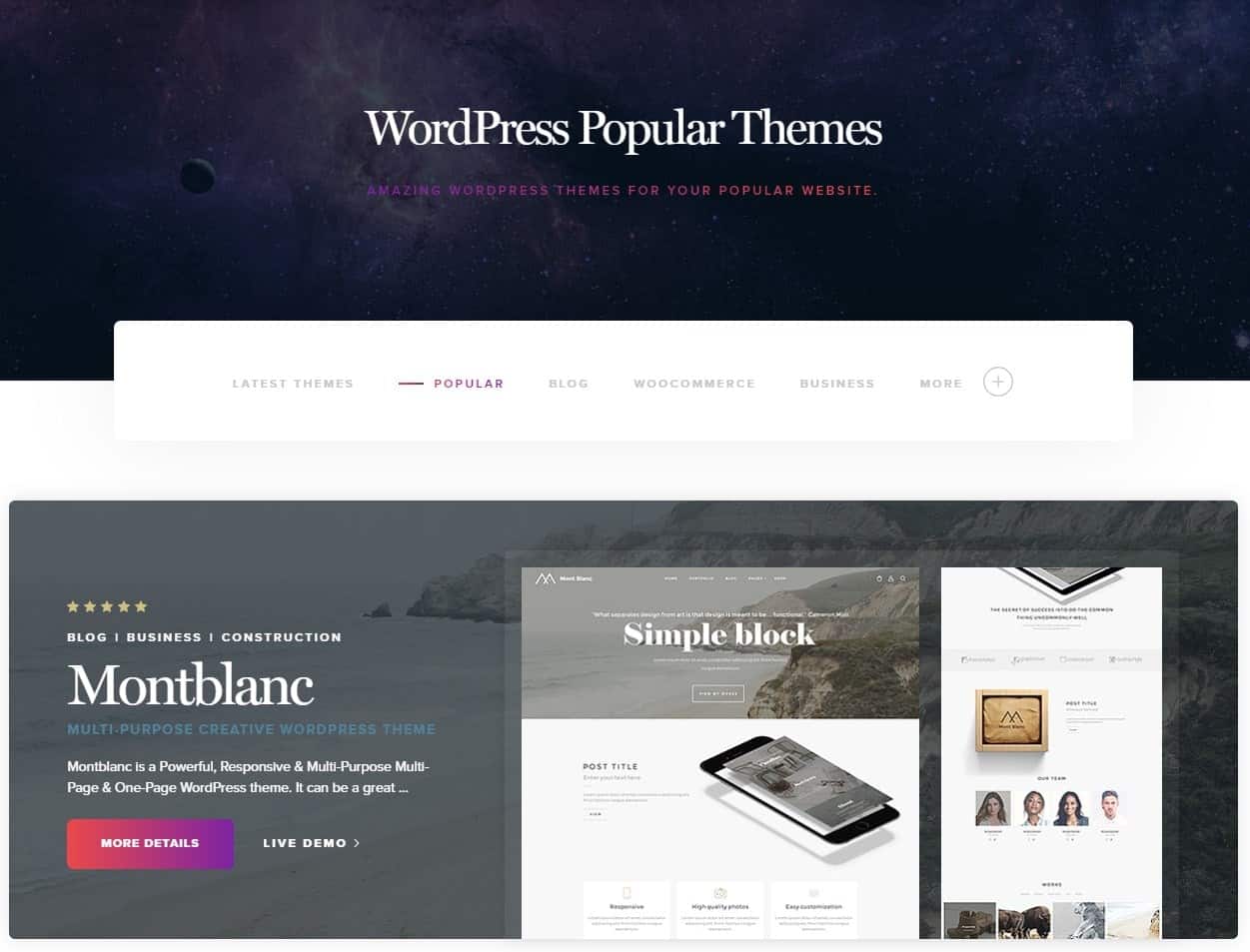 Montblanc is a clean block-style multipurpose WordPress theme. It features responsive single and multi-page templates for barbershop portfolios and business pages big and small. Montblanc gives users access to expertly coded drag-and-drop elements for easy code-free editing. Montblanc is an SEO-friendly theme backed by ongoing technical support and free intermittent updates. The theme is easy to customize, with plenty of styles, color, and font options.
Resume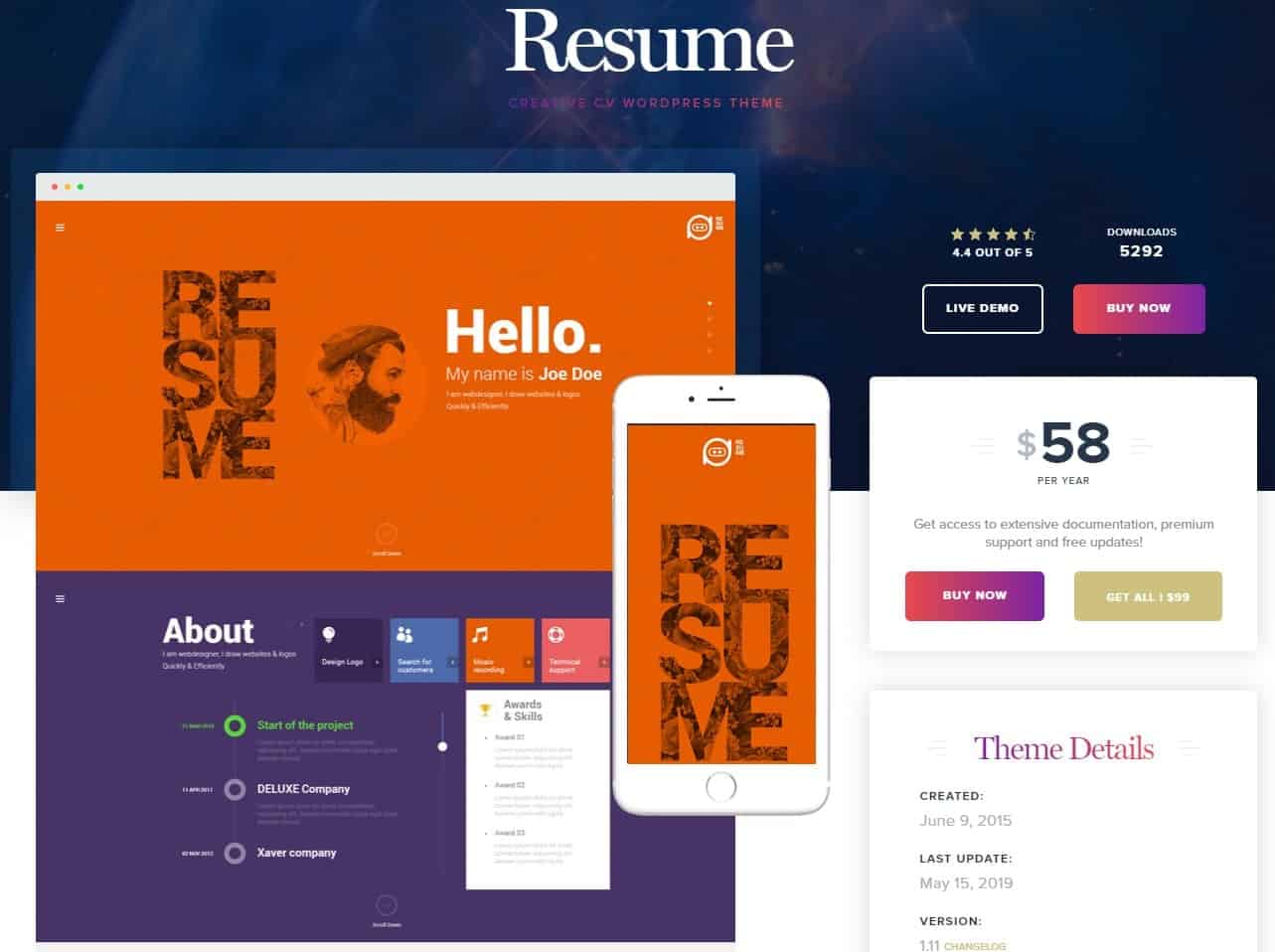 Resume is a portfolio-based WordPress theme available at TeslaThemes. This theme is super responsive and elegant. It is a CV template comprised of bold fonts, smooth transitions, and plenty of special effects. It's a great option for displaying your work and connecting with potential customers. While Resume doesn't offer online bookings, it's a great theme for budding barbers to develop their brand and amplify their online influence. Built-in shortcodes, perpetual updates, and online support make it an even better selection for newbie site developers.
Online Blog Pro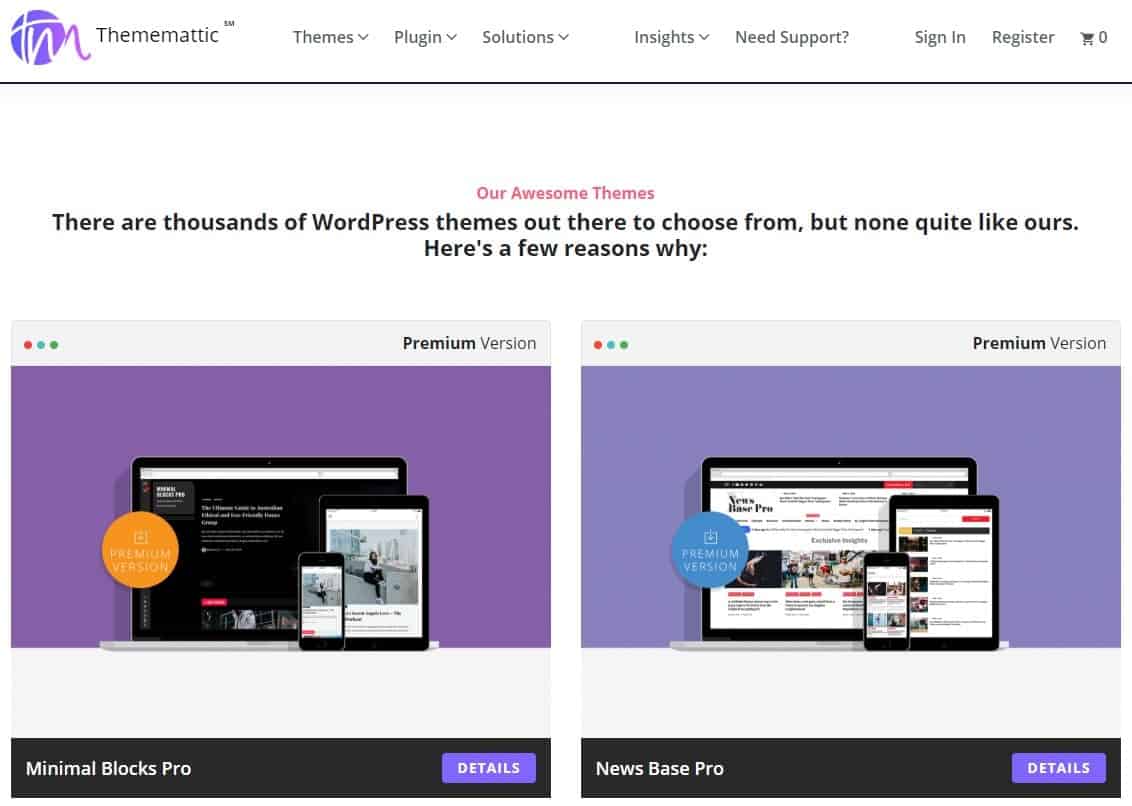 Online Blog Pro is an incredibly clean WordPress theme that utilizes simple, modern design elements that are perfect for barbershops and salons. The theme offers seamless cross-device compatibility, meaning it looks great on everything from mobile devices to desktops of varying sizes. While there is a free version of Thememattic's Online Blog, the pay versions offer high-priority dedicated support and a far greater range of typography and color options.
Jericho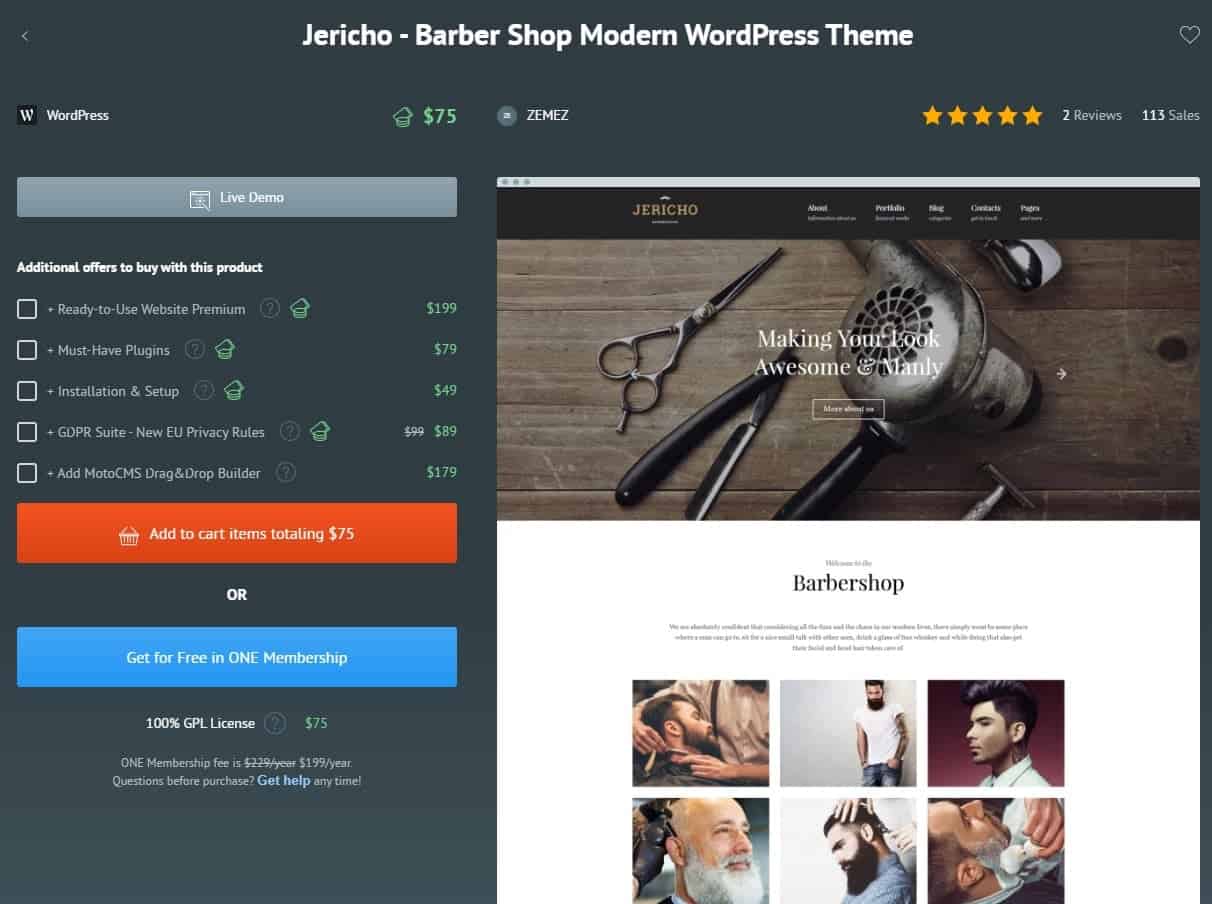 Jericho is a convenient barbershop-compatible WordPress template. It's a drag-and-drop page builder with a generous amount of presents and modules. This theme gives business owners full control, giving them tinkering powering over everything from fronts to dividers. It even comes with a built-in library for saving your favorite layouts. Jericho makes it easy to insert pricing tables, testimonials, and portfolio images, and even video demonstrations. Not to mention, you can use the Template Monster gallery feature to choose from a wide variety of custom layouts.
Salon
Salon is a splendid barbershop and otherwise beauty-geared WordPress Theme available at ThemeForest. It's compatible with the GDPR framework and Gutenberg for optimized data protection and privacy. It boasts an attractive high-resolution template with loads of customizable settings. It also boasts an easy-to-edit staff page, price tables, testimonials, and online booking plugin. This simple theme is easy to navigate and fun to edit. It's also multifunctional and can be used for both single and multi-page websites.
CutStyle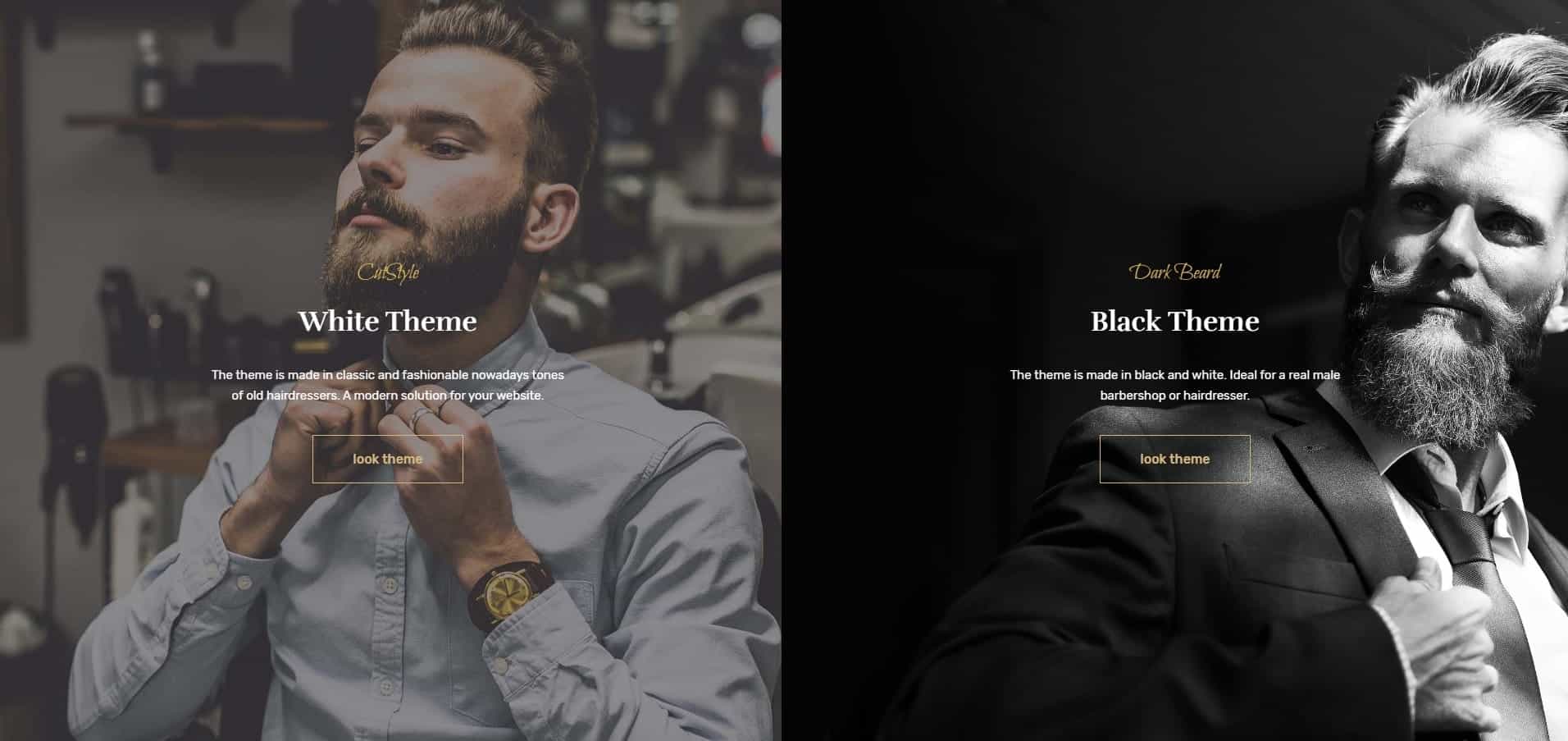 CutStyle is a modern WordPress theme oriented toward beauty and style. The magic starts with WPBakery's innovative drag-and-drop builder. Users can use the WordPress slider plugin to expertly display their portfolio or service catalog. CutStyle is also compatible with the popular eCommerce platform, WooCommerce, which makes online business transactions easy and risk-free.
CutStyle also comes with Slider Revolution and Booking, making it perfectly suited for all your barbershop needs. Of course, you don't need extensive coding knowledge to build a stunning custom barbershop site with CutStyle. It's already equipped with advanced shortcodes and all the style elements you will ever need.
Oshine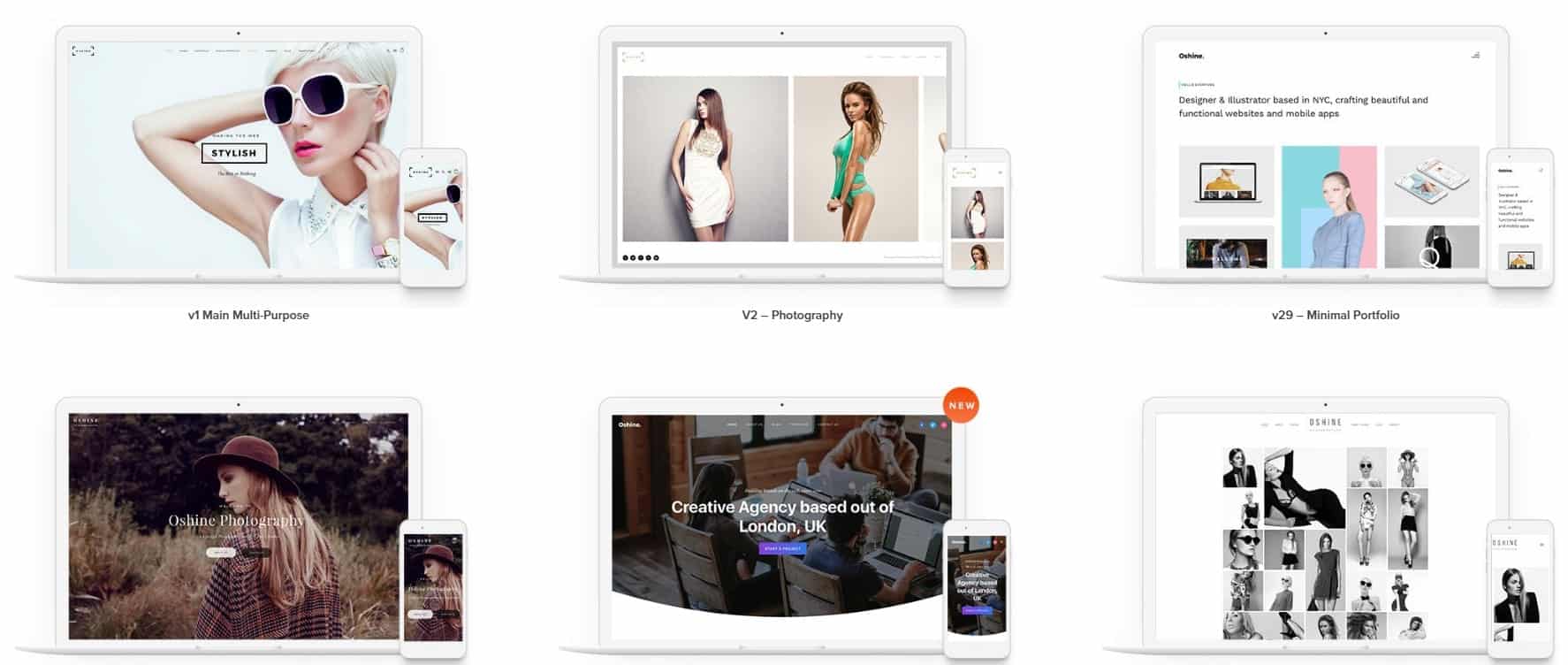 Oshine is a popular creative Wordpress Theme that boasts a high-quality design and intuitive page builder. The theme has 45 demos as well as hundreds of prebuilt page templates. It also enables customers to try out a functional site in real time before going live. Oshine is perfect for barbershops, as it offers unlimited options for displaying a portfolio. Paired with a surplus of fonts, colors, and layouts, this theme lets users create a custom look that is built around their brand. Oshine is also a smooth performer with regularly available updates and bug fixes.
CrazyGun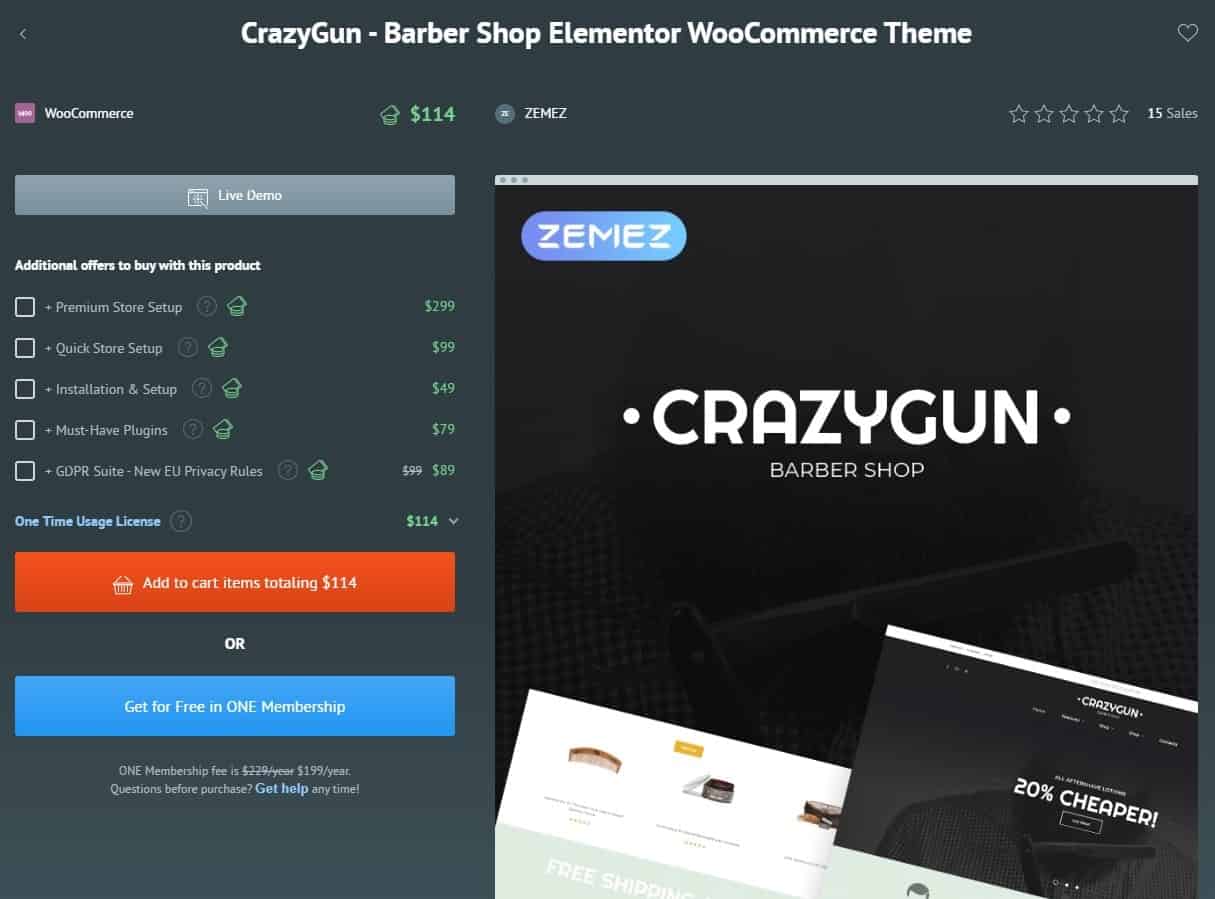 CrazyGun is a premium WordPress theme available from TemplateMonster. It consists of an elegant design paired with a fully functional online WooCommerce store. It offers several engaging page templates with hundreds of customizable elements. Edits are made through the Elementor page developer, which is a user-friendly drag-and-drop program. CrazyGun prioritizes its display on mobile devices, ensuring that the theme is easy to access from a wide variety of devices.
We love that CrazyGun also comes with a large collection of high-quality barbershop-themed images. This means you'll be able to avoid additional fees without having to purchase stock images from a third party. You also get a generous bundle of elements thanks to the inclusion of the Jet Elements plugin. Finally, CrazyGun features accurate documentation and a lifetime of 24/7 support.
Bleute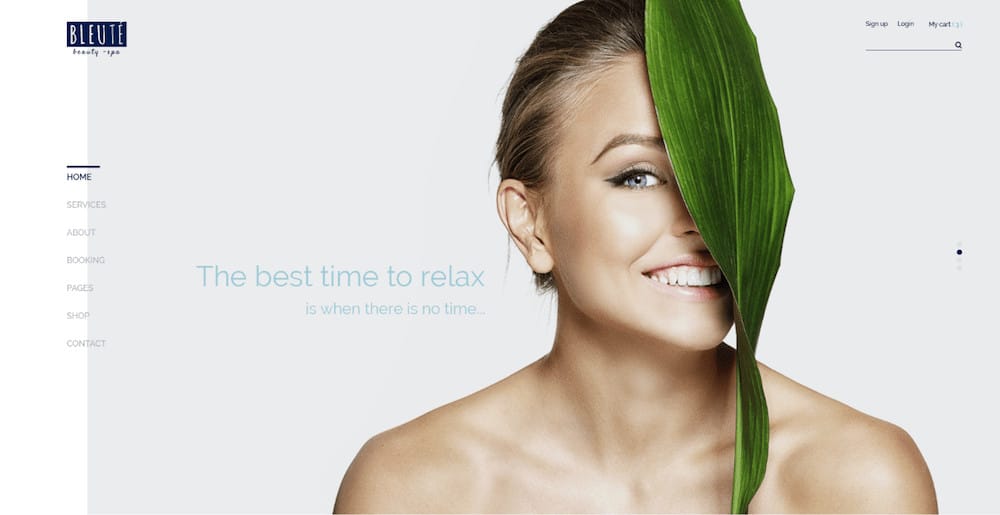 Bleute is a fresh and stylish WordPress theme designed with hair salons and barbers in mind. It features WooCommerce booking for easy online scheduling. Meanwhile, it also has several prebuilt templates and demos to get you started. Not to mention, it enables you to use several distinct and stylish layouts when displaying your services. On top of that, the theme comes with detail-oriented page templates for developing extended information links and accordion menus. Bleute also offers galleries, employee profile pages, contact pages, and other useful templates. Of course, you also get access to a custom color palette and typography choices. Beyond that, the Bleute theme is super responsive and comes with several complementary business plugins.
Durand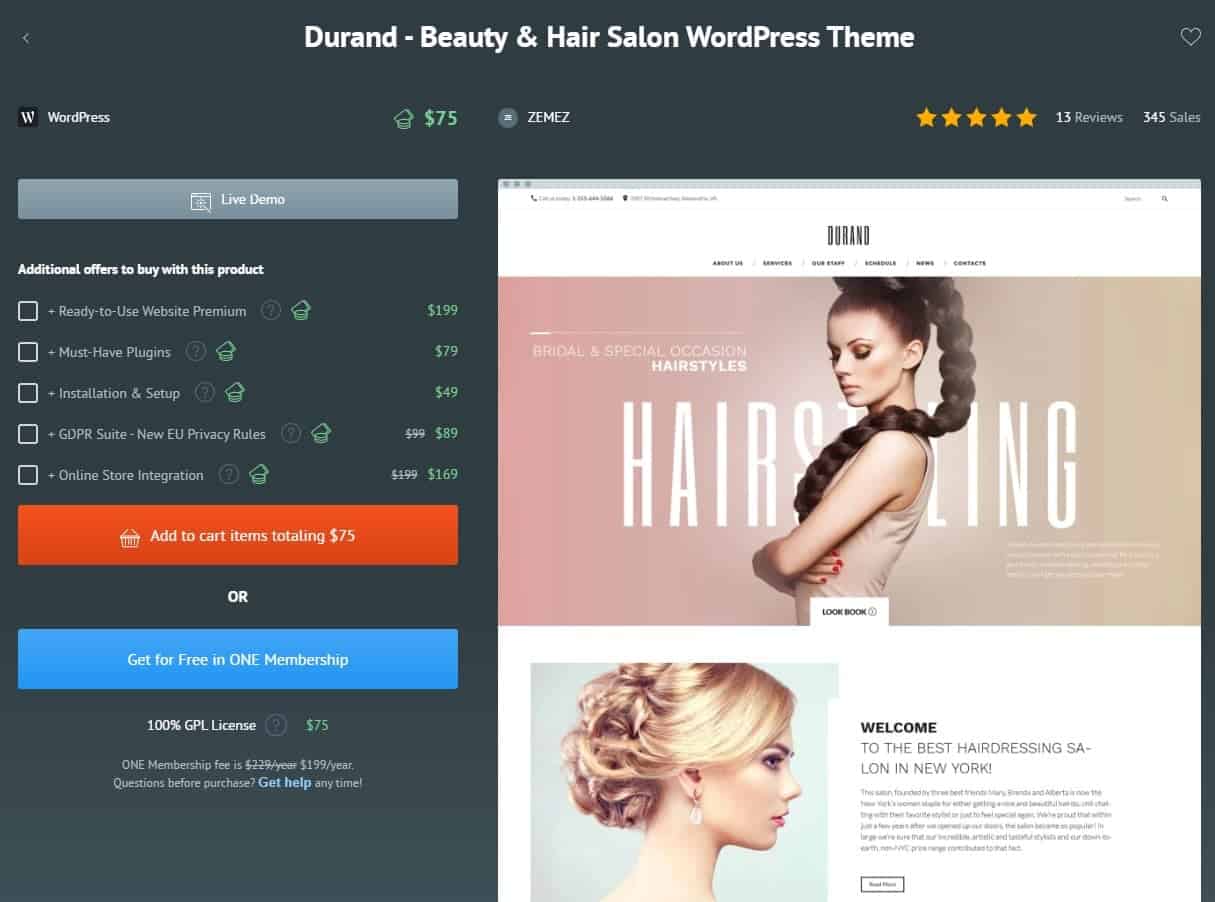 Durand is a stunning beauty and hair salon Wordpress Theme that is perfect for promoting a barbershop. It is also ideal for individuals who want to have creative control over their websites. Its comprehensive TemplateMonster drag-and-drop page builder enables you to alternate between modules, presets, ad other configurations. With a large collection of presets to choose from and the option to save configurations in a library, Durand offers unmatched access to layouts.
This theme also has several salon-friendly content modules to choose from, including pricing tables, contact forms, sliders, and more. We are also big fans of Durand's appointment manager, as it enables customers to book appointments online. Shop owners can also use the plugin to directly edit and organize their schedules, including blocking out appointment times and setting staff schedules. Finally, we love that Durand is a live editor, which means you can view your edits without ever refreshing the page.
Entrepreneur
If you're looking to establish an online presence for your budding barbershop, nothing says business like EnvataMarket's Entrepreneur WordPress theme. It offers online booking and scheduling with plugins such as ELementor and Booked. Not to mention, customers can make secure online payments thanks to the built-in WooCommerce plugin.
Entrepreneur offers a wide range of templates, including "The Barber." This particular template comes with a preset testimonial, service, contact, and booking pages. Users can also use the live drag-and-drop site builder to add elements and alter the layout of a page. The best part is that once a site is set to go, it takes a mere 3 minutes to install.
Trimmer
Trimmer is a premium WordPress theme that has been created for barbers and hairdressers. It features a sleek homepage with advanced sliders backed by a fantastic array of color combinations and fonts. It also features a revolving WooCommerce-compatible product page. Trimmer is SEO optimized so that it won't get dismissed by picky search engine algorithms. Not to mention, it features super-fast loading times.
Coiffeur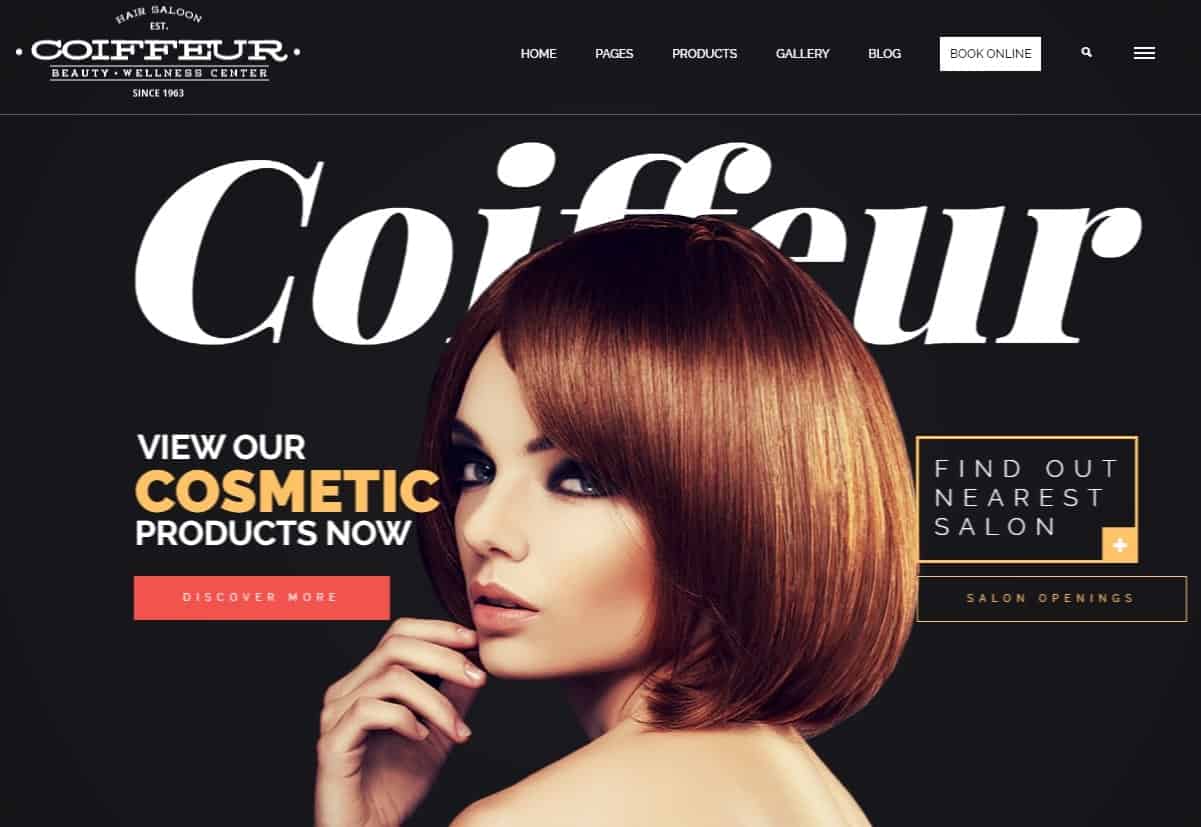 Coiffeur is yet another attractive WordPress theme geared toward hair salons and barbershops. Well-known for its stunning code, Coiffeur was once nominated for the CSS Design Awards. The theme offers six customizable homepages, more than 20-page templates, and 300 custom hair business icons. It also has a wide range of specialty sliders, custom widgets, smart galleries, and background slideshows. Of course, it's not without standard barbershop features either. In fact, Coiffeur comes with a custom online booking form, customizable pricing menus, and the WooCommerce plugin.
We were also happy to discover that the layout adapted well to a vast number of screen sizes. What's more, Coiffeur gives users access to a visual composer page builder that enables them to drag and drop elements for quick and easy alterations. It also boasts several advanced typography options, specialty colors, and custom backgrounds. Not to mention, it uses well-organized HTML5 and CSS3 to ensure its successful implementation amidst strict search engine credentials.
Barberia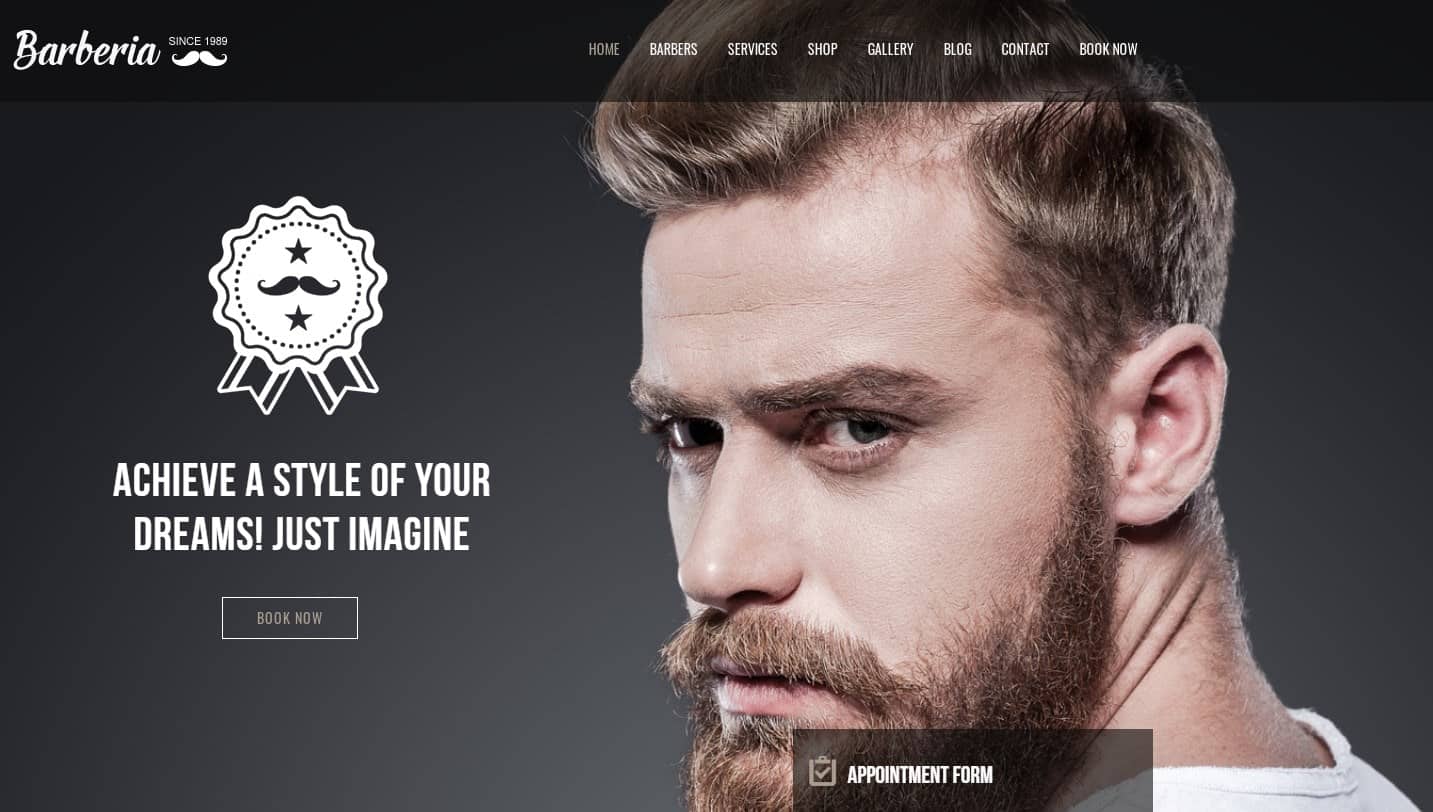 Barberia is a WordPress theme designed with creative barbers and hairstylists in mind. It boasts a sleek design with a fully customizable layout. Users can drag and dropbox elements to ensure they display nicely on a wide variety of devices. What's more, the quick preview mode enables users to test-run layouts through the Bootstrap modal. With all that being said, the highlight of Barberia is probably the mega menu option which features a customizable dropdown menu that can be used for everything from services to blog posts.
Of course, Barberia is not without barbershop standards either. It has a sleek "book now" form for online appointment inquires. Not to mention, it comes with five unique gallery styles for displaying work. Plus, it offers detailed documentation and full support that is ideal for first-time site builders.
Blade
Our last theme is Blade, an ultra-responsive multi-functional WordPress theme available at ThemeForest. Blade has a simple, straightforward design that is great for first-time site developers. Visual Composer by WPBakery is included with the Blade theme, making it easy for users to edit and tweak the layout of their pages without typing code. It also boasts a powerful Redux Framework options panel, an innovative revolution slider, and one-click dummy data. Overall, Blade is a well0-rounded and attractive WordPress theme for anyone looking to bring their barbershop into the digital realm.
Blade offers a vast range of preset layouts too. Users can choose from single service pages, portfolios, and WooCommerce pages to get started. All the while, Blade provides premium multilingual support and extensive documentation updates to constantly improve users' experiences. Overall, the theme boasts a high-pixel density and responsive look that translates well between smartphones, tablets, and desktops. It also has a large user base that can vouch for its use of clean SEO-friendly code.