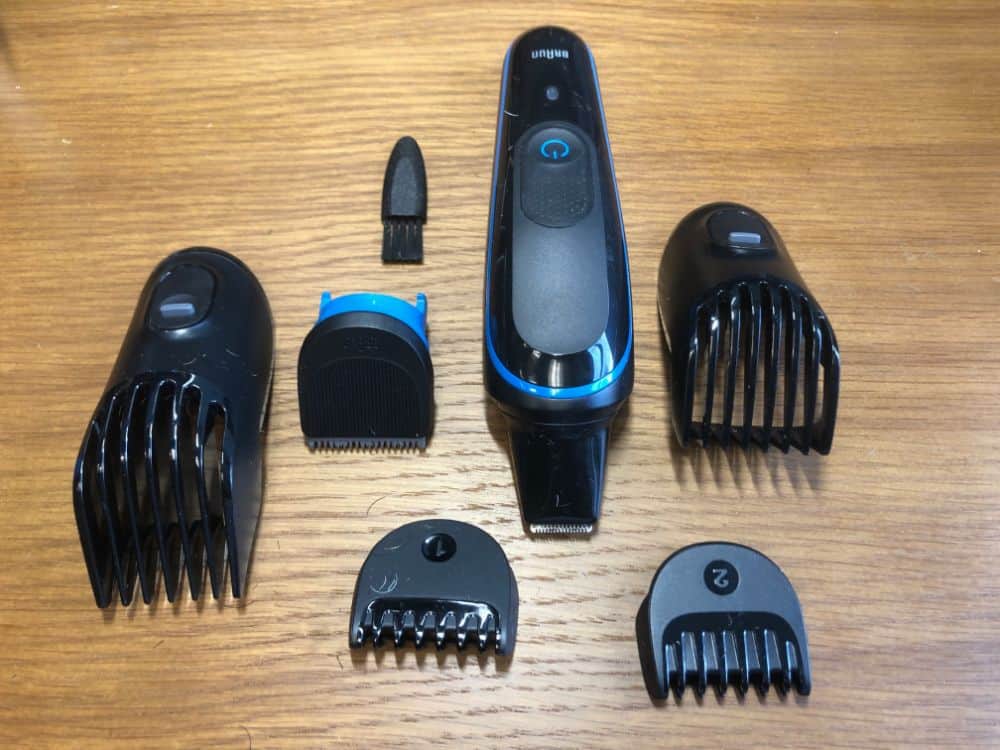 I'll come out and say it straight.
I had a hard time trimming my bushy beard with the Braun Multi-Grooming Kit trimmer. I have the MGK3045. Related models include the MGK5080, MGK5045 and the MGK3060.
I admit my beard was somewhat longish (about an inch), but this Braun trimmer simply couldn't manage. I spent way longer than I wanted and even then it was still uneven.
I had to go over and over over the entire beard to get some semblance of a decent trim.
The teeth constantly got caught in the curls which hurt and made the entire task unpleasant.
It's too bad because the unit and attachments are super user-friendly.
It did a nice job trim maintenance
Once my beard was shorter, this unit does a nice job keeping it trim. It quickly takes off a millimeter of length. The precision trimmer is okay too.
However, if you're dealing with a longer beard this is not the trimmer for you.
Related: My Philips Norelco Multigroom 7000 Review | Wahl Beard Trimmer Review
Review specifics
In this section, I'll give you a play by play for each feature.
PLEASE NOTE: I only bought this for trimming facial hair. I did not use it for hair on my head, nose hair, ear hair or body hair. My comments are restricted to facial hair trimming.
Trimming efficiency – longer beard hair
This is arguably the most important consideration and this unit, unless you're doing short trims (beard maintenance), simply didn't perform. The blades couldn't cut evenly or consistently. I missed patches constantly. It was very frustrating.
Trimming efficiency – shorter beard hair/maintenance
As for short trims, this unit did a pretty good job. It cut quickly, consistently and didn't snag.
Precision trimming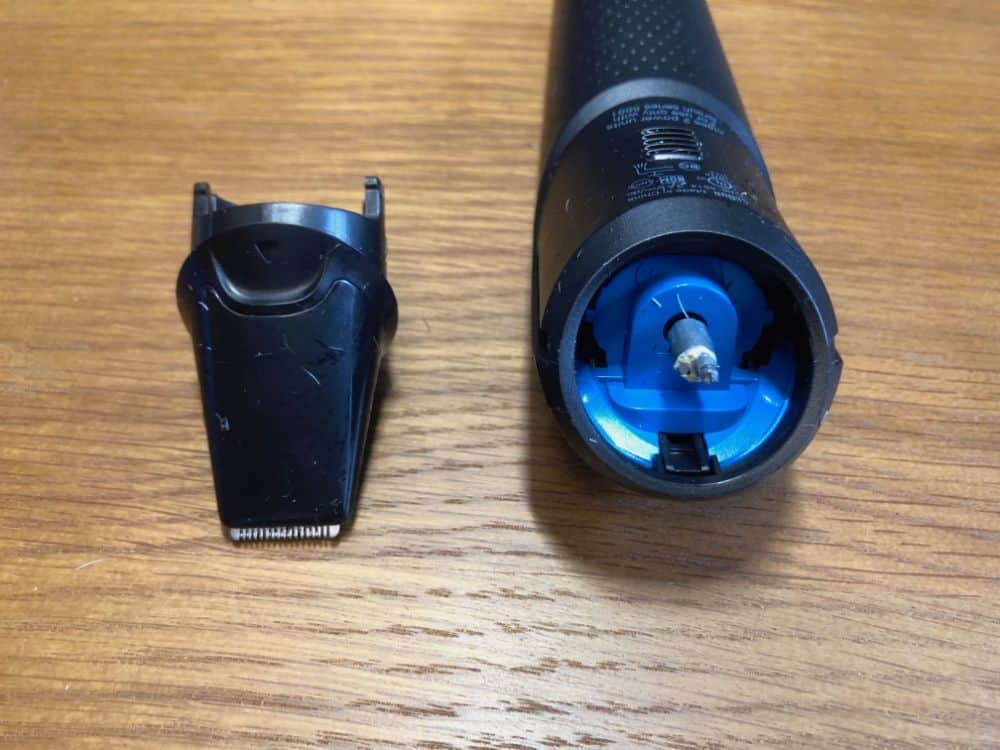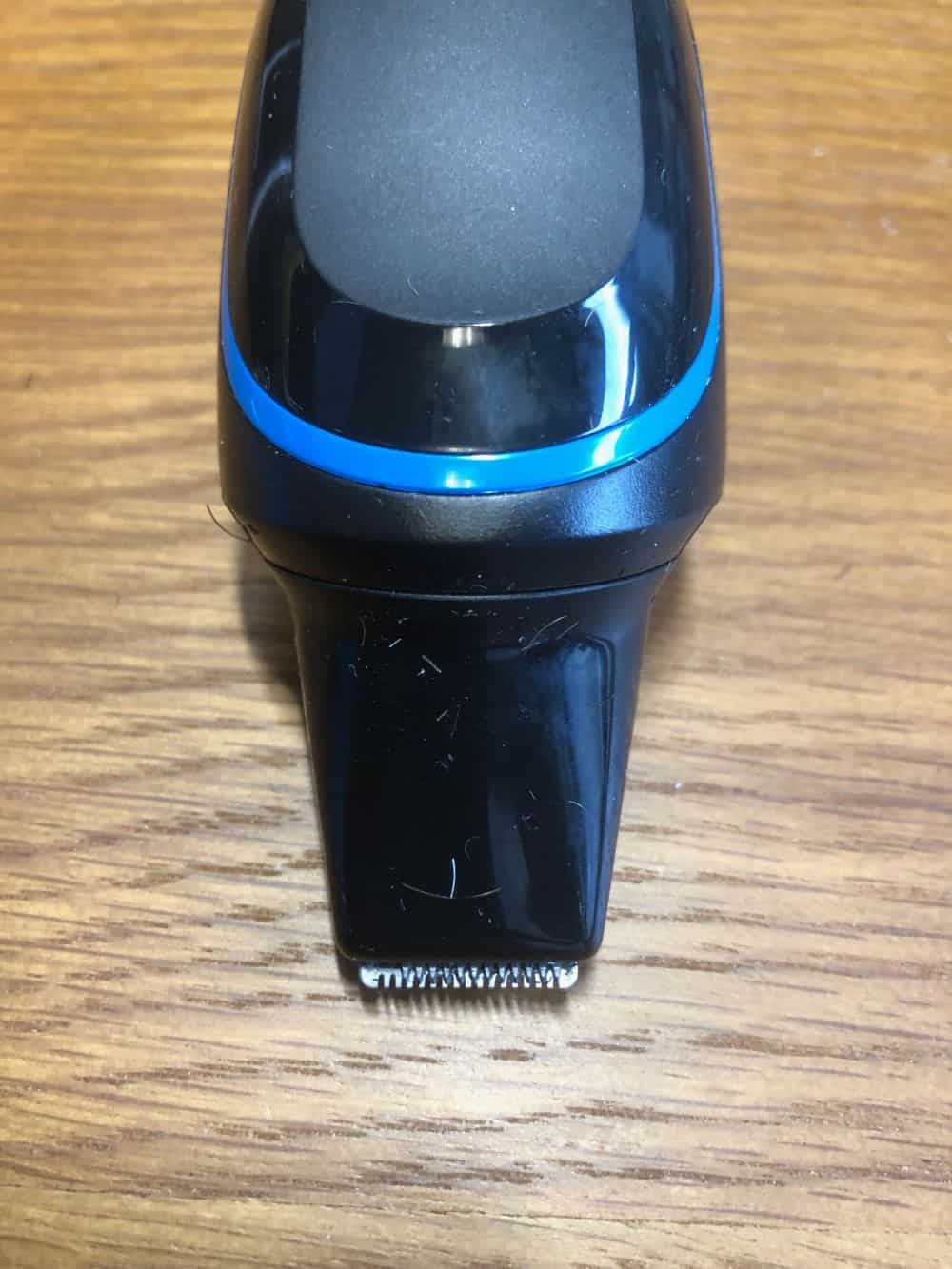 The precision trimmer attachment did an okay job. Don't expect a clean shave, but it will create the clean lines you're looking for to create your preferred beard shape.
One nice aspect of swapping out the trimming shears for the precision trimmer is it's very easy to do. The pieces detach and attach very easily.
Adjustable guards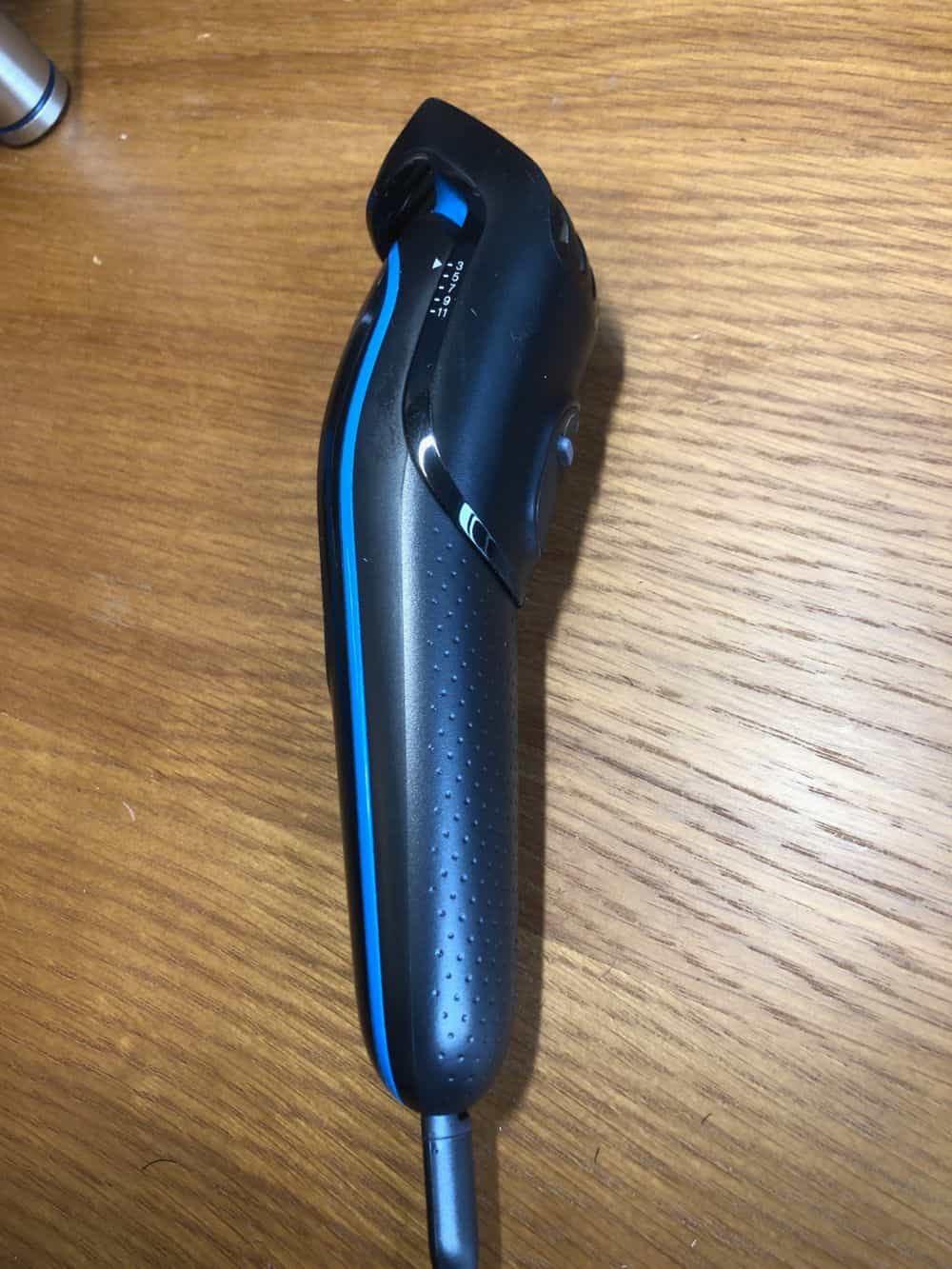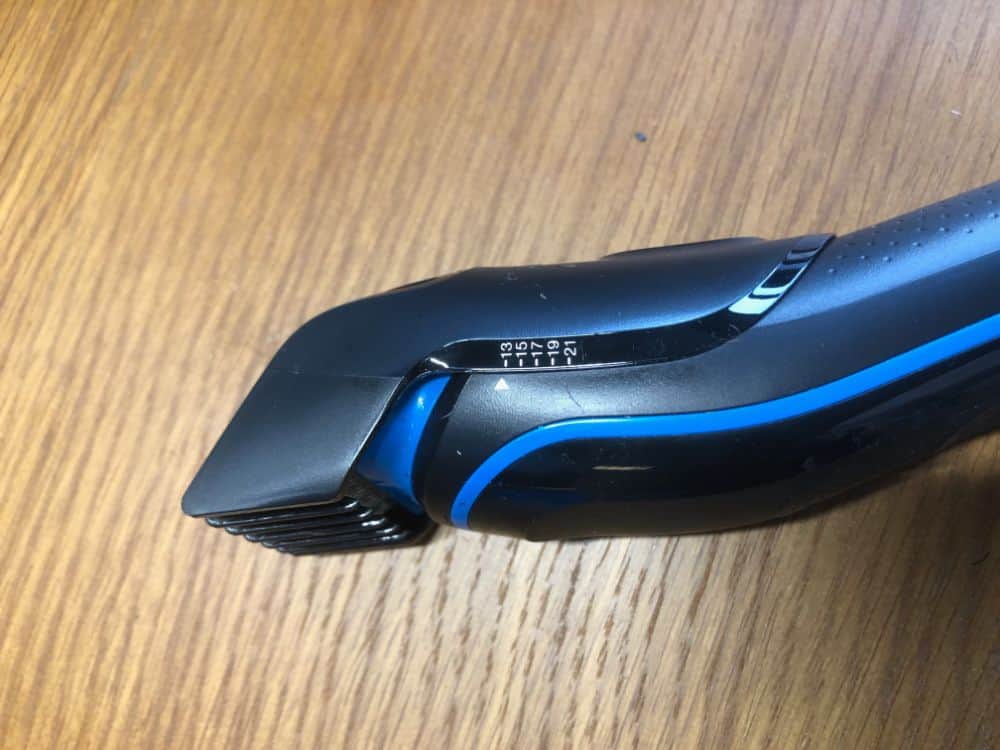 I love how this kit comes with only 4 attachments plus the precision trimmer. Two of the attachments adjust for varying lengths and they adjust very easily and smoothly. Once locked into length placement, they stay in place. There's nothing worse than a guard sliding up or down when you don't want it to.
The shortest two guards are separate and then settings 3 to 11 are on adjustable guard and 13 to 21 another guard.
The guards are very easy to remove and put on. Everything slides into place nice and smooth. The locking system works great too.
The guard edges are slightly rounded so that they glide along nicely. If only the shears themselves could cut well enought to keep up.
Works without a charge
While it's cordless, if it doesn't have a charge, you can use it by plugging it in. Please note that not all Braun Multi-Grooming kids do this. You'll want to consult the Braun trimmer comparison chart here (scroll down the page) before buying. I would not want a charger that doesn't work with the cord because I'm terrible at remembering to plug things in.
No pouch
Even though it doesn't have many pieces, any trimmer worth its salt needs a pouch to put everything into it. I use the plastic molded case it came in which isn't that great. As for travel, forget about it. That said, the MGK5080 does come with a pouch. Instead, I got a free Gilette Flexball shaving blade. I'd rather have the pouch.
Compact and lightweight
This is a compact and lightweight trimmer compared to others on the market, but that may account for its poor trimming capabilities with longer facial hair.
Almost no clean up
The way the shears attach to the unit, pretty much no hair gets inside the unit itself (unlike other trimmers). This makes it very easy to clean after every use (it comes with a small brush). Overall, I found this trimmer very easy to keep clean. I'm not a fan of having hair all over my trimmers.
Who is it for
If you grow long beards or need to do some serious hair clipping, this is not for you.
If, however, you like to keep your facial hair trim and need to take very little off with each use, this unit will do the job.
VERDICT
Overview and Ratings
Quality (as in how well it trims and cuts)

Ease-of-Use

Features

Value for Money
This is an inexpensive trimming kit. For the right person (see Who is it for above), it's a decent deal. For the wrong person, it'll frustrate you and waste your money.
=> Click here for the Braun Multi Grooming Kit
More Photos