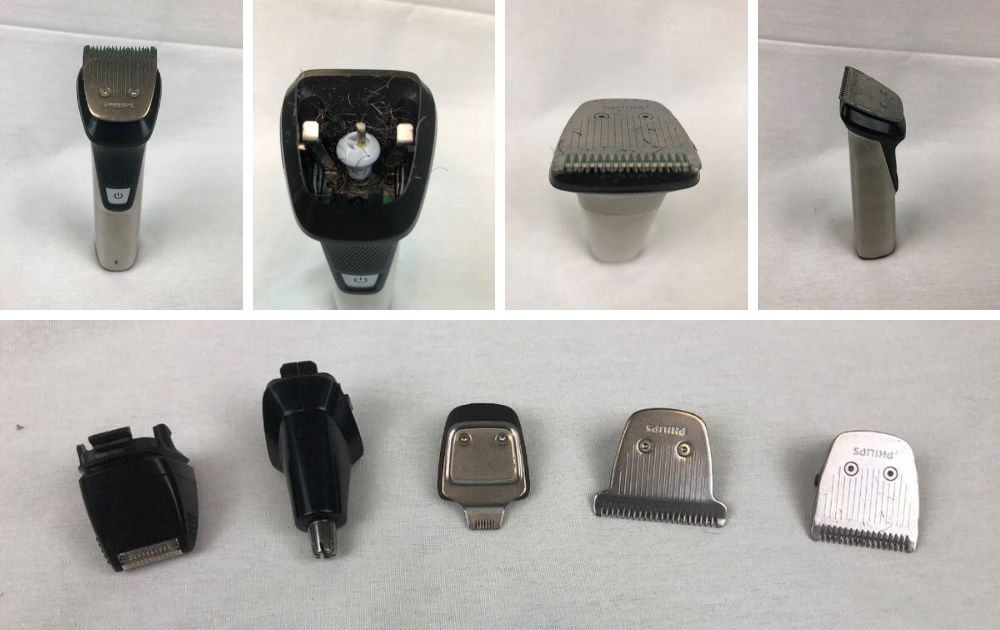 This past summer I grew a beard while camping.
It had been a long time since I grew a beard.
My wife loves it so I kept it. I like it too. With a bald head, the beard offers some much-needed hair above the shoulders.
Since early August it grew and grew until it got too bushy. It was time to trim it up.
The issue was which beard trimmer should I get. I had never bought such a device so had to start from scratch.
As a writer, it occurred to me that I could try several brands and get a series on beard trimmers published, so that's what I did. This is the first of what will be many beard trimmer reviews.
Here goes…
Related: Wahl Bead Trimmer Review| Braun Beard Trimmer Review | Remington Trimmer Review
Where did I buy the Philips Multigroom 7000?
I bought it on Amazon. We have a Prime account so it was purchased with the click of a few buttons and then delivered quickly. The price was good too. I didn't want to spend too much time hunting down a convenient place to buy it. Amazon is as good as any.
Here's is the Amazon listing:
What does this trimmer all trim, clip and cut?
While I bought it for beard trimming, this is Philip's all-in-one trimmer. It does it all including:
Facial hair
Nose hair
Ear hair
Detail trimming
Hair clipping
Eyebrow trimming
Body hair trimming
Here are two photos of the packaging which pretty much says it all: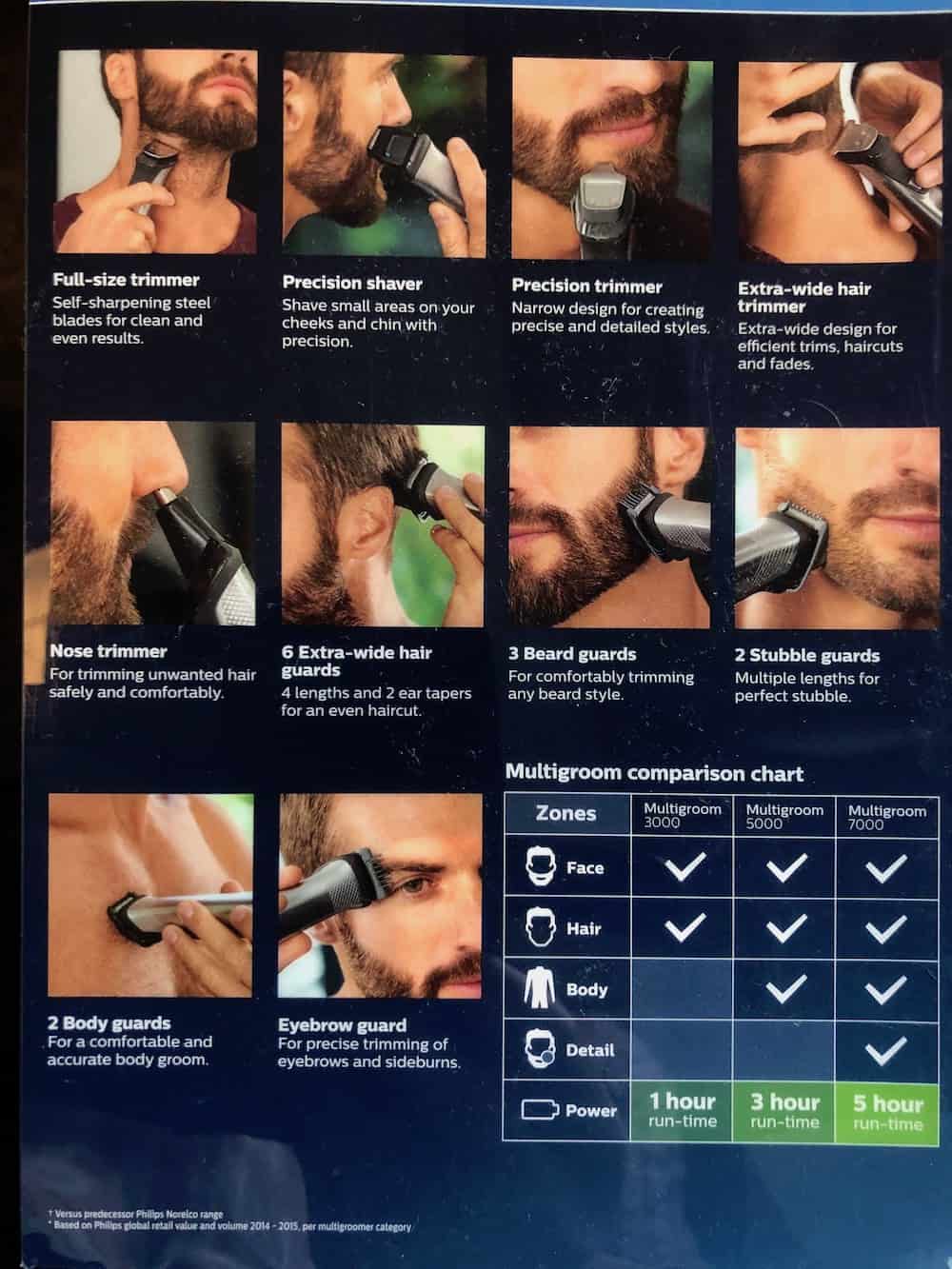 Philips Multigroom 7000 vs 5000 vs 3000 (chart)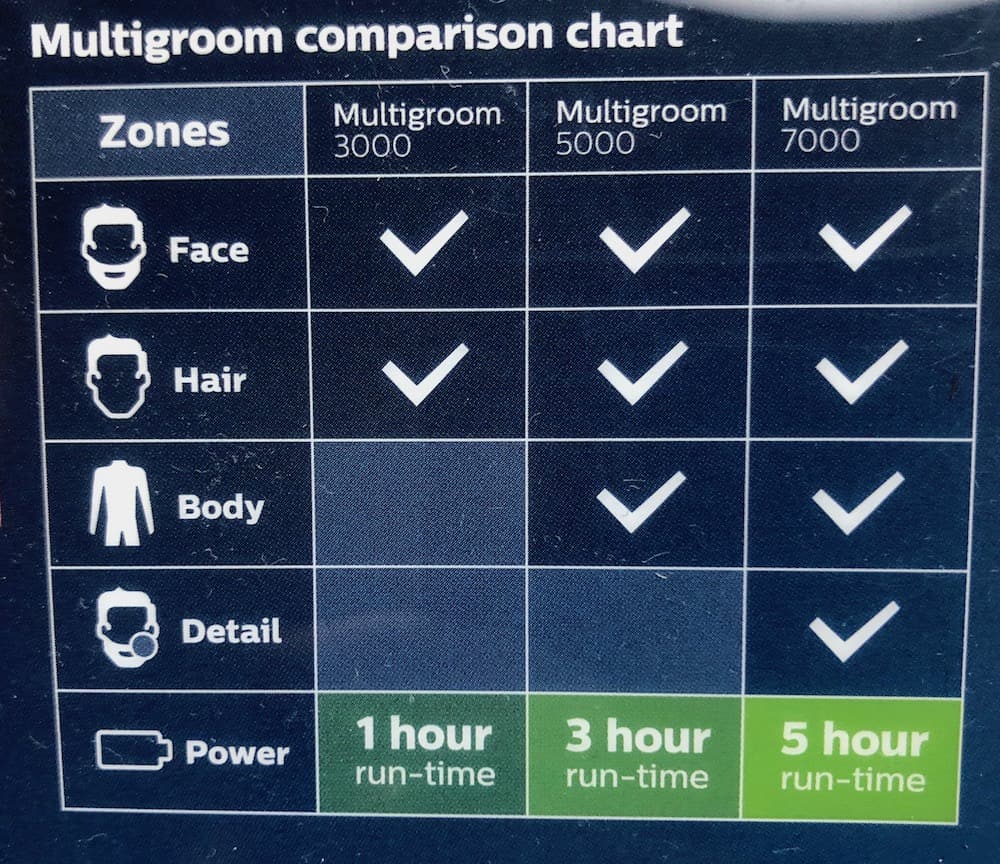 Let's get to it – is it good?
Yes, this trimmer rocks. It's way better than others I bought and used.
It offers many attachments which dictate length. More importantly, this thing shears hair smoothly and efficiently. I seldom had to go over spots more than once for a thorough trim.
Solid
This unit has some heft to it, which I like. It's a long, narrow design offering plenty of length for a good grip. It fits well in my hand.
Multiple shears
What's interesting is there are different shears for different trimming purposes. It took me a bit to figure out how to change out the shears, but once I did, the rest of it was easy to use.
There are wider shears for head hair and narrower shears for facial hair.
Each shear has its own set of clip-on attachments. Be sure to choose length wisely. It's better to start too long and go shorter than attempt the other way Haha. Here are the attachments for different trimming jobs:
Beard trimmer shears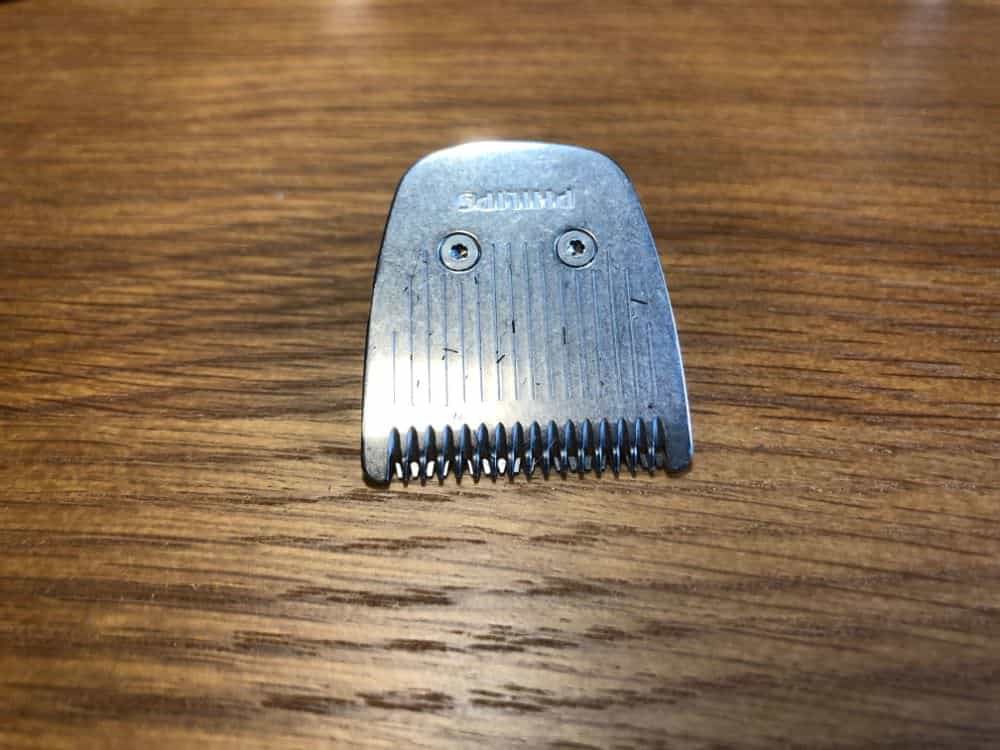 Hair clipping shears attachment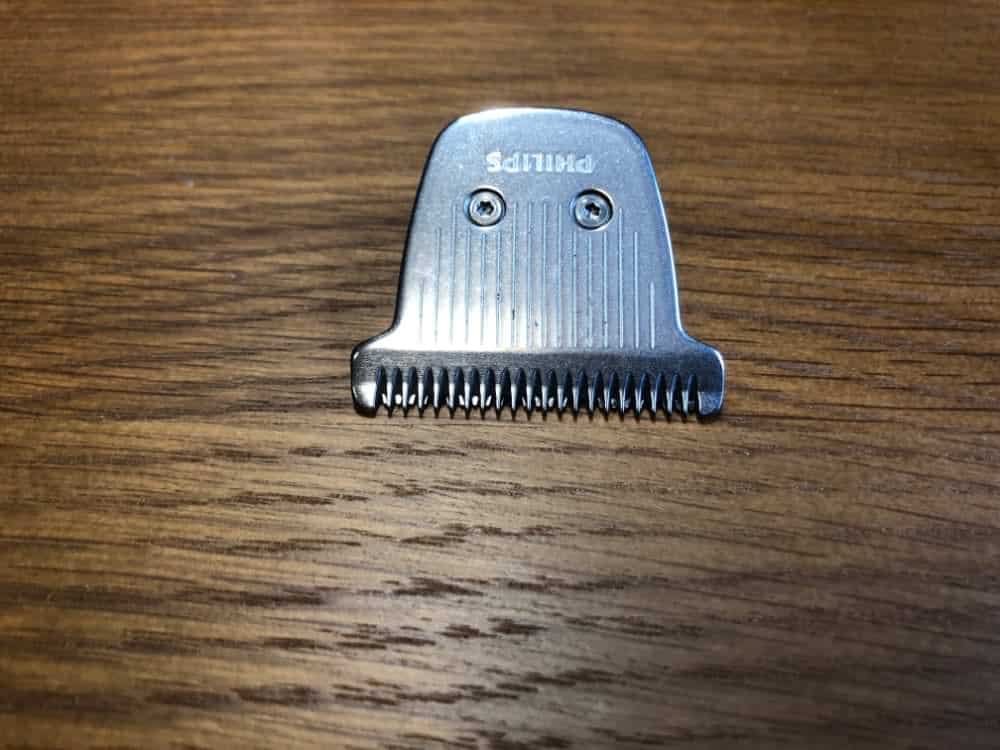 Shaver attachment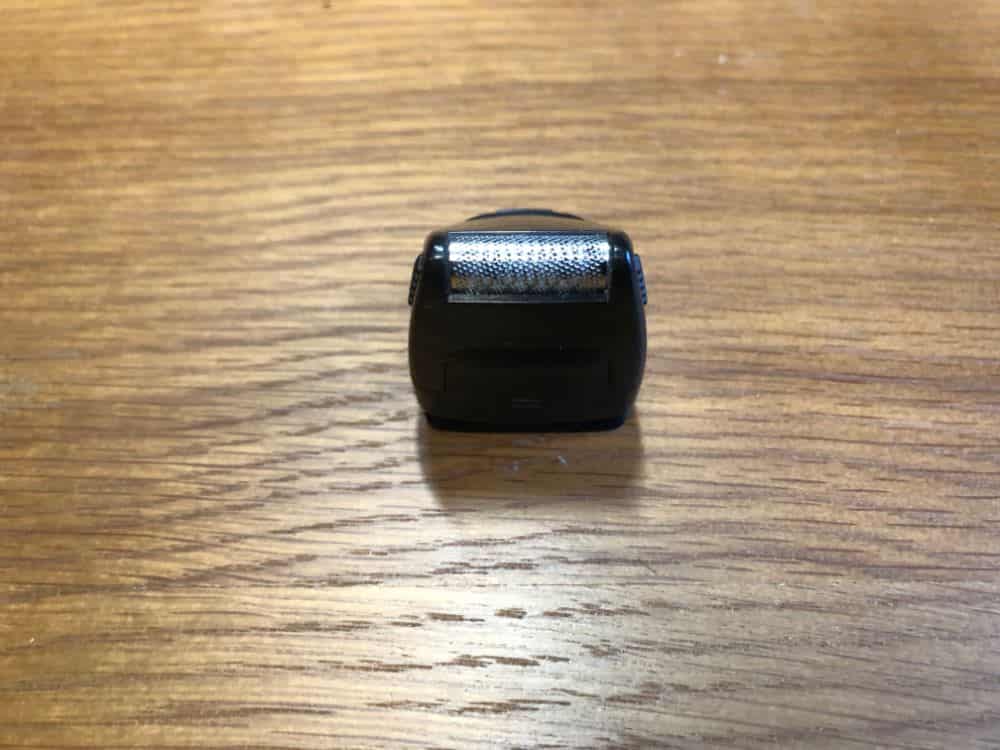 Precision trimmer attachment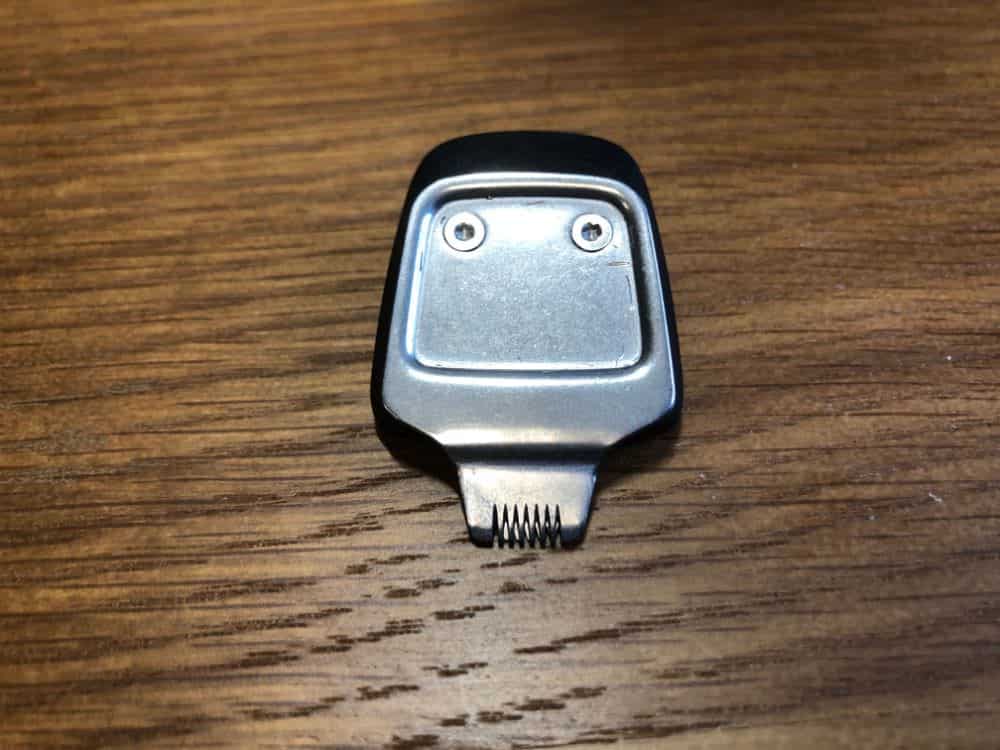 There's also a nose and ears attachment.
Room for Improvement?
While this sucker is good, primarily because it shears hair like a hot knife through butter, there are some annoying aspects to it. Here they are:
1. Not intuitive
I had a hard time figuring out how to remove the shears. I didn't want to break it. I even checked the instruction manual but found nothing to explain how to do this. Here's a photo of the shears attachment disengaged from the body: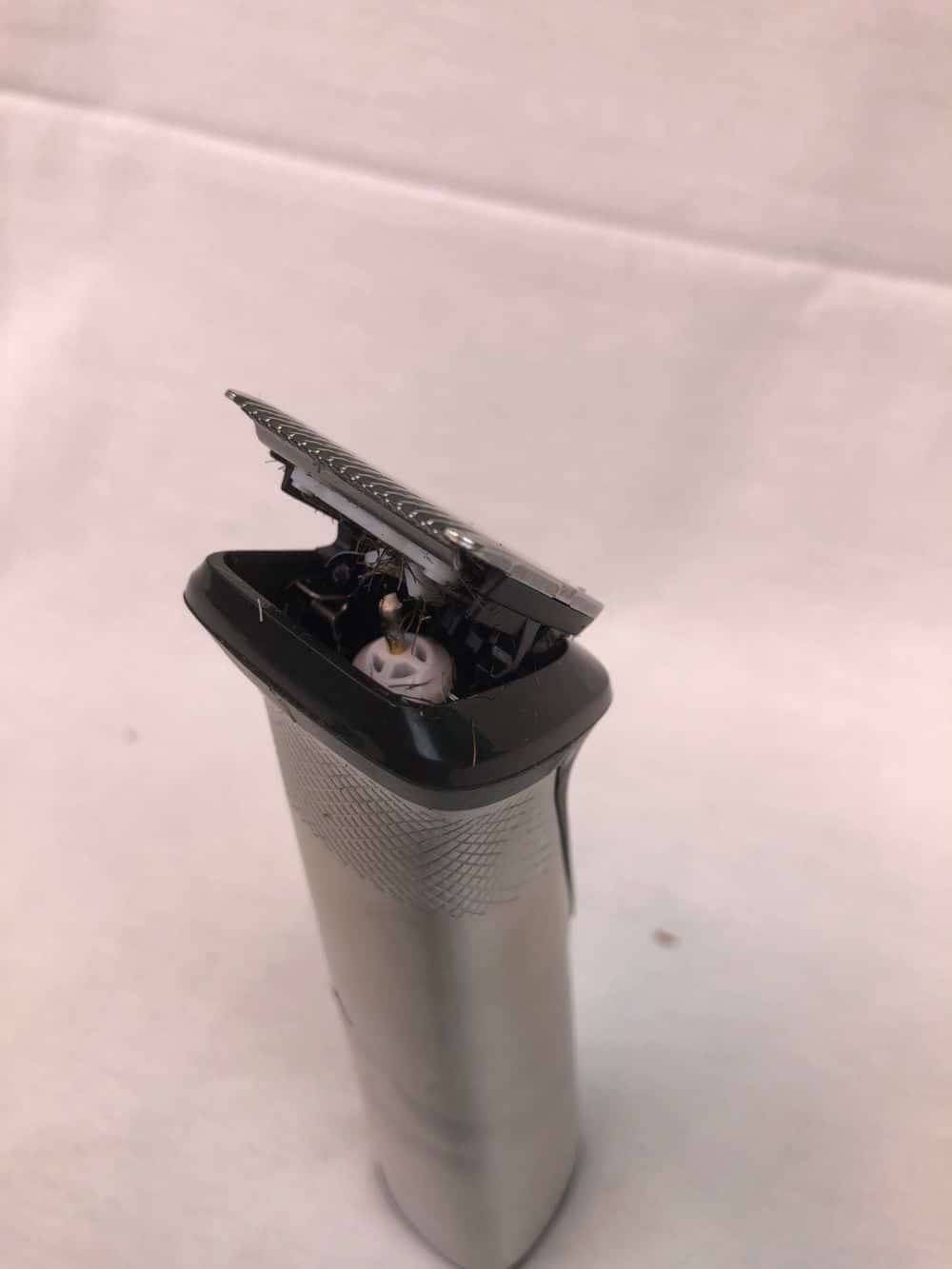 2. Guards not clearly labeled
You're kinda flying blind as to the length of the guards unless you look really, really closely for the lengths. They aren't labeled well so you have to strain your eyes to figure out the length of the guards.
3. Guards not adjustable
I do prefer adjustable guards just because you don't have so many pieces. This thing is like a jigsaw puzzle with many, many attachments (23 pieces) which could have been avoided had the attachment been adjustable. That said, it comes with a pouch in which to store all the pieces.
However, it comes with a bag that fits everything including the cord and the trimmer itself. Check it out: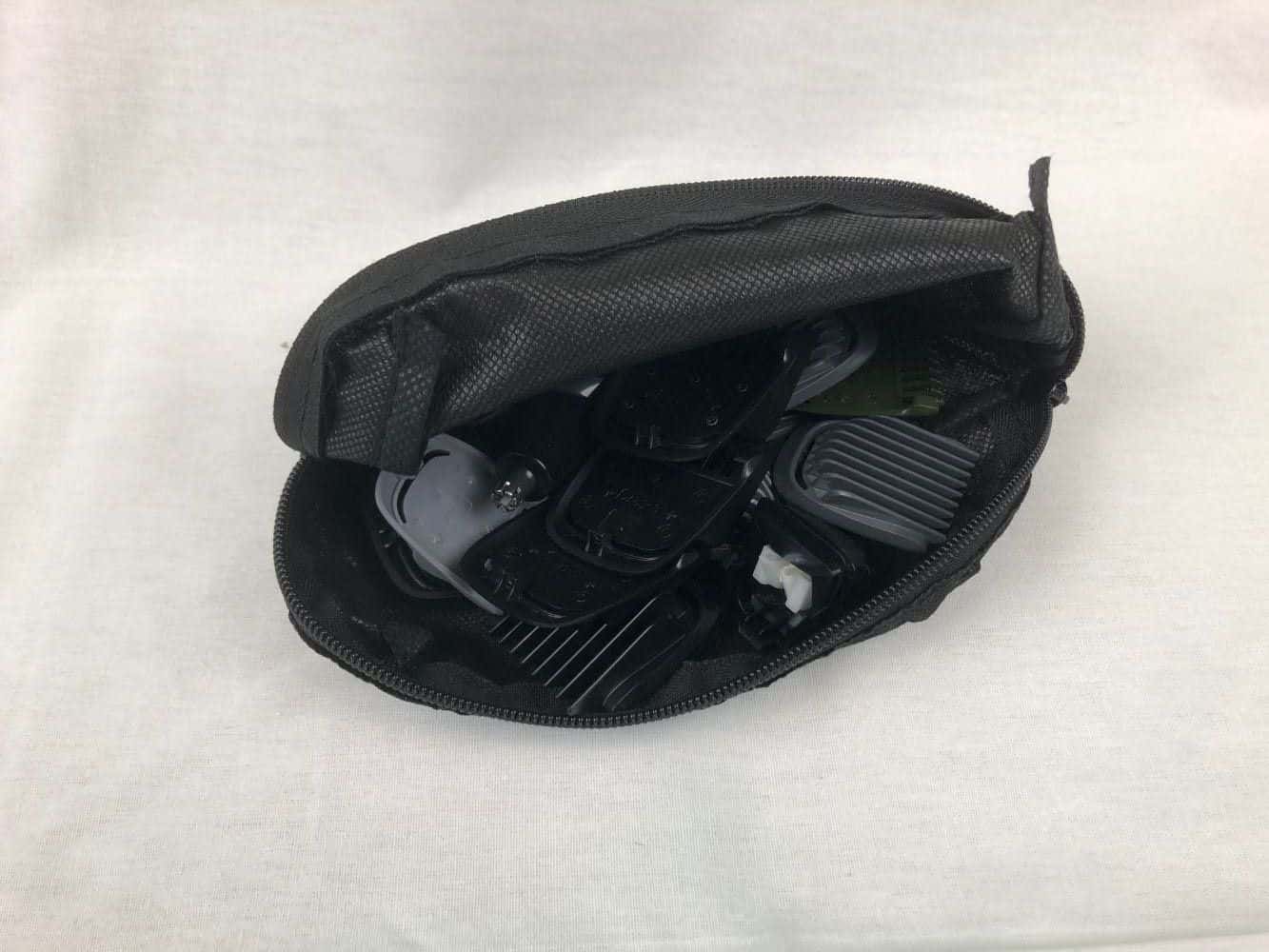 4. Power button in a poor location
When you grip this trimmer in certain ways, you can accidentally turn it off. I adapted but you'd think this type of thing would be avoided by a company that's designed many beard trimmers. Check it out: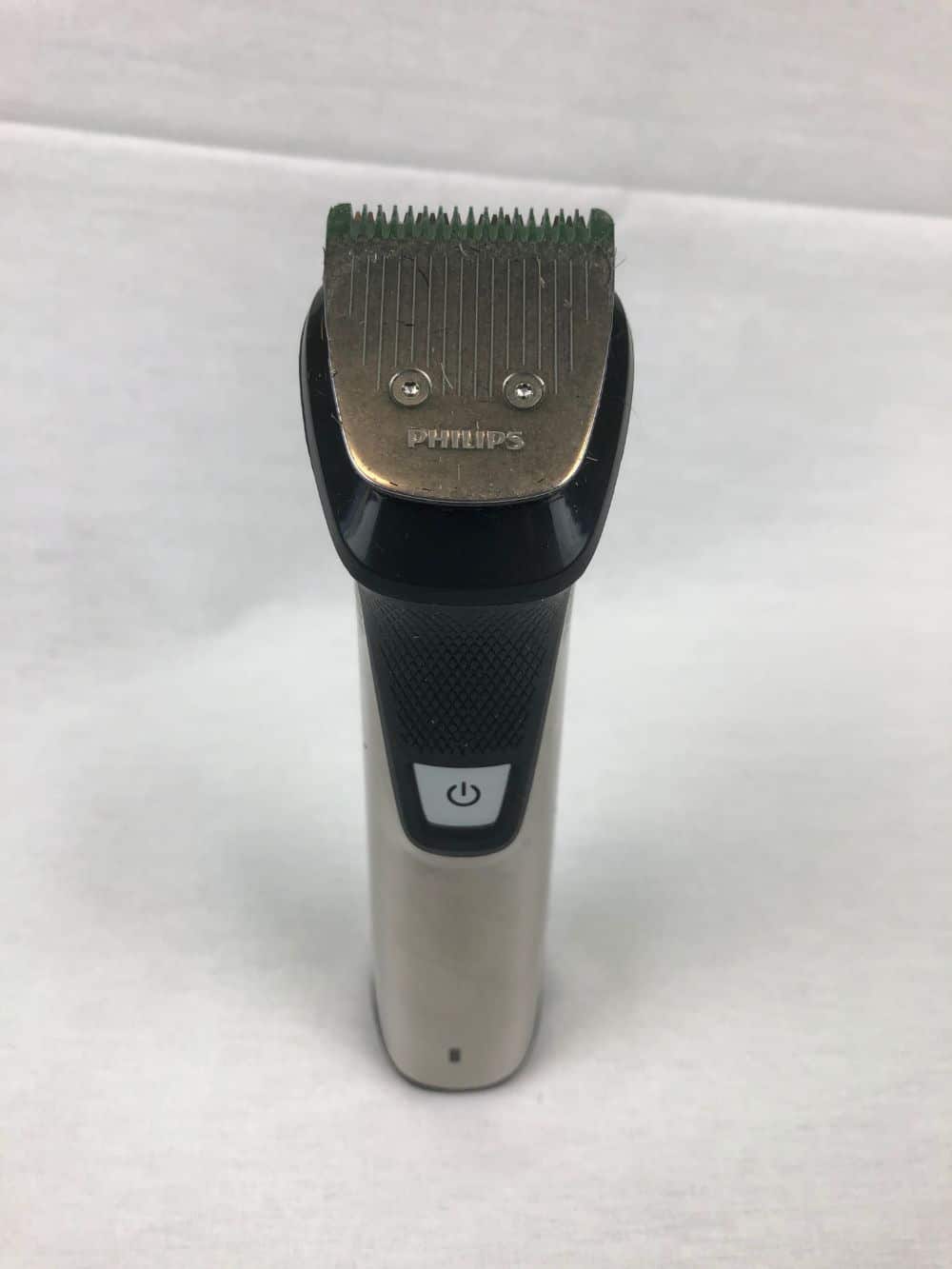 Gets hair inside
The product comes with a brush for cleaning but that's a pain in the butt. As you can see, hair gets inside: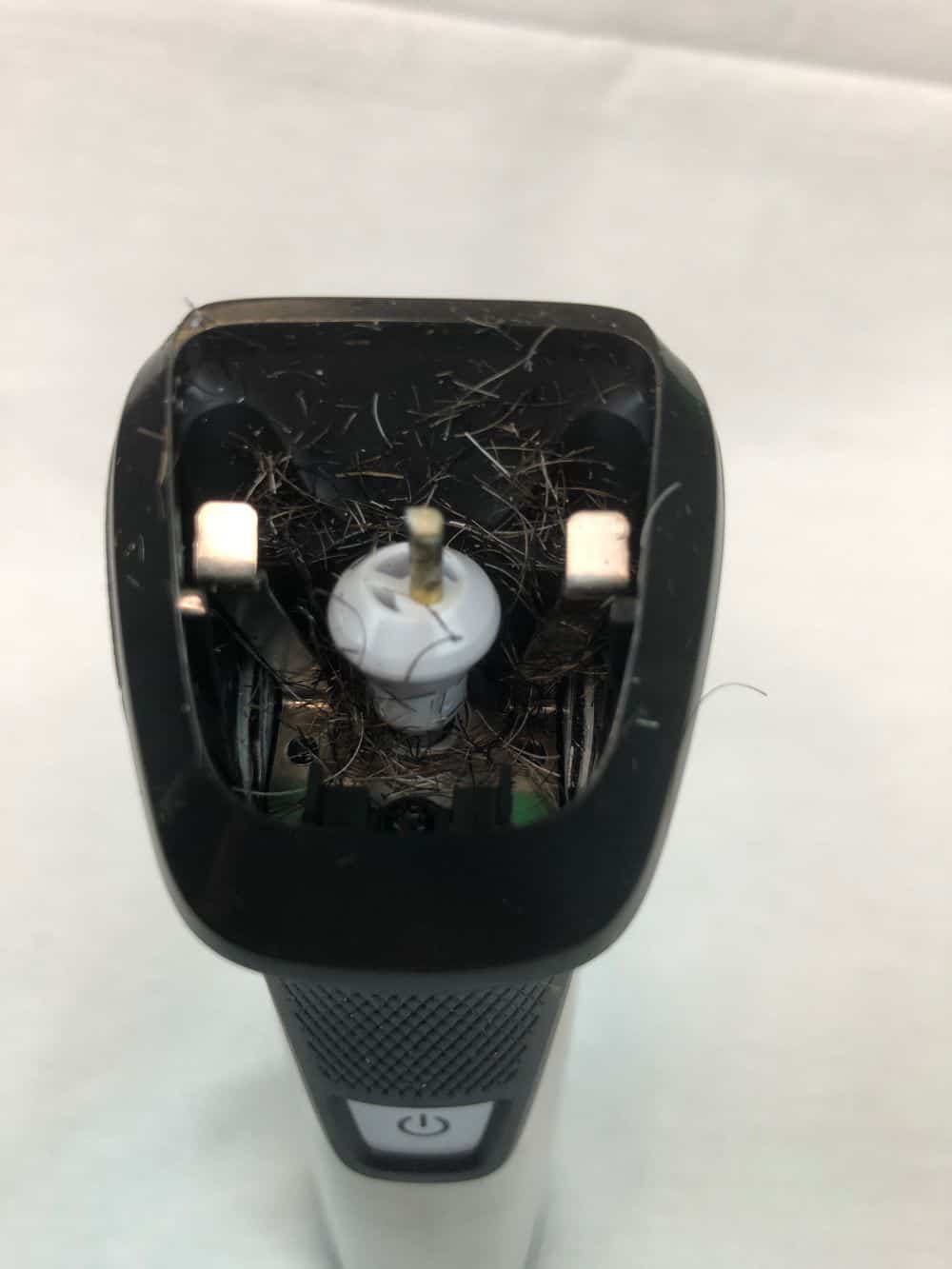 Odds n' Ends
At the end of the day, what I want most in a beard trimmer, or any hair trimmer for that matter, is that it trims smoothly and efficiently and precisely. I don't want to end up with a patchy beard with long and short hair. I want a groomed look so that I don't look like a doofus.
However, there is more to today's beard trimmers than just cutting and trimming. Here's what I'm talking about.
Battery life
Once fully charged, you get around 5 hours of use. That's a good number of trims. It takes me about 5 minutes to trim my beard. A bit longer if I get really precise.
Can you use it with no charge if you plug it in?
Yes, but you have to wait a bit which is SUPER ANNOYING. It's a few minutes but you know how it is… you decide at the last minute to trim up and the dang thing won't fire up right away. For the life of me I don't understand why any hair appliance or anything for that matter can't be used plugged into an outlet with a dead battery. Talk about annoying.
Want to know why it's annoying?
Cause I'm getting tired of charging stuff. Sometimes I just want to plug something in and use. I have way too much stuff that requires an outlet. I bet you do too. It's not like I trim my beard daily. I use it every couple of weeks then stash it away. I don't want it taking up an outlet and getting in the way.
Can you shave with it?
Yes and no. There's a shaving attachment but it's small. If you're shaving, you're better off with a full blown electric shaver or old school blade. However, if at the end of the trim, you want to get rid of stubble, this attachment does the job. Here's a picture: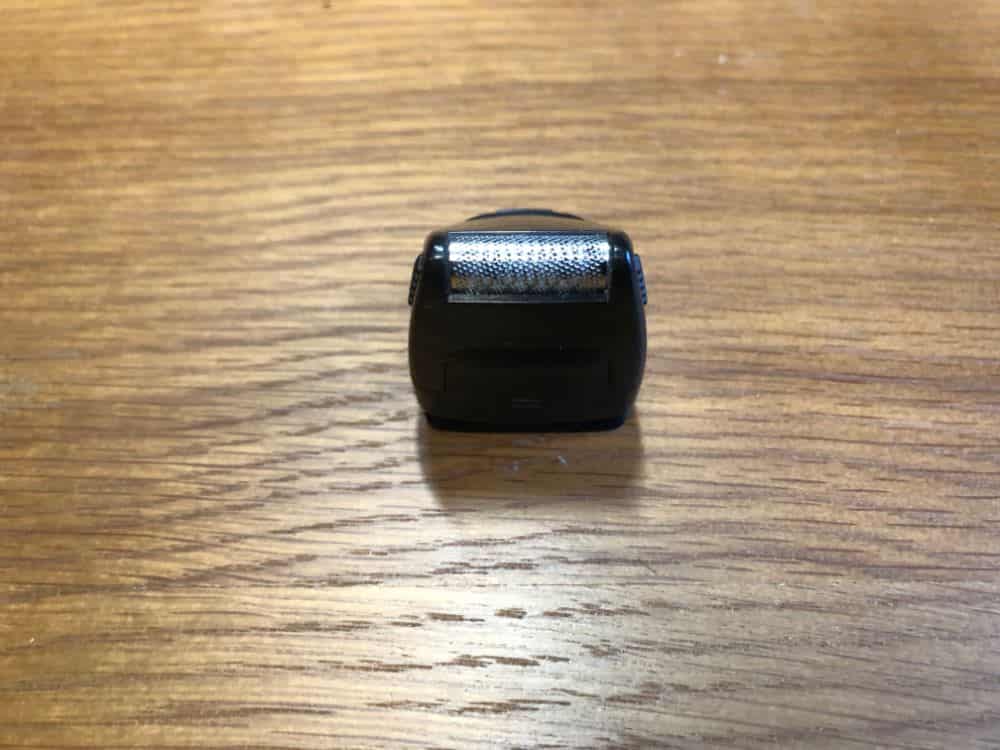 Can you use it in the shower?
I've not tried this because I prefer using a mirror. However, it says it's washable which means it can handle water on it. The question is whether it will continue working if you use extensively under a full spray. I'm not sure… I certainly don't want to try when it's plugged in. I can't help but think that its lifetime will be reduced if used under running water all the time, but I could be wrong.
Is it noisy?
No. It's pretty quiet. There is a hum or buzz, but I've used louder trimmers and clippers in the past. You probably don't want to use right next to someone sleeping, but you won't annoy the neighbors either.
Verdict
Ratings
Quality (as in how well it trims and cuts)

Ease-of-Use

Features

Value for Money
=> Click here for the Philips Multigroom 7000
This trimmer does the most important exceedingly well – it trims hair very, very well. So much better than other trimmers I've used. It's not frightfully expensive either.
However, as pointed out under "Room for Improvement" above, it's not perfect.
Overall, I like it. I usually use the same length guard so I don't have to change them out. However, if you use different lengths regularly, you have dig around for each.
I like the heft of this unit. It feels solid and sits well in my hand, but the power button is in a clumsy position.
All in all, if you want a trimmer that trims, this is good.