I just finished giving this Remington Vacuum Beard Trimmer a spin. Here's a breakdown of what I like and dont' like about this beard trimmer.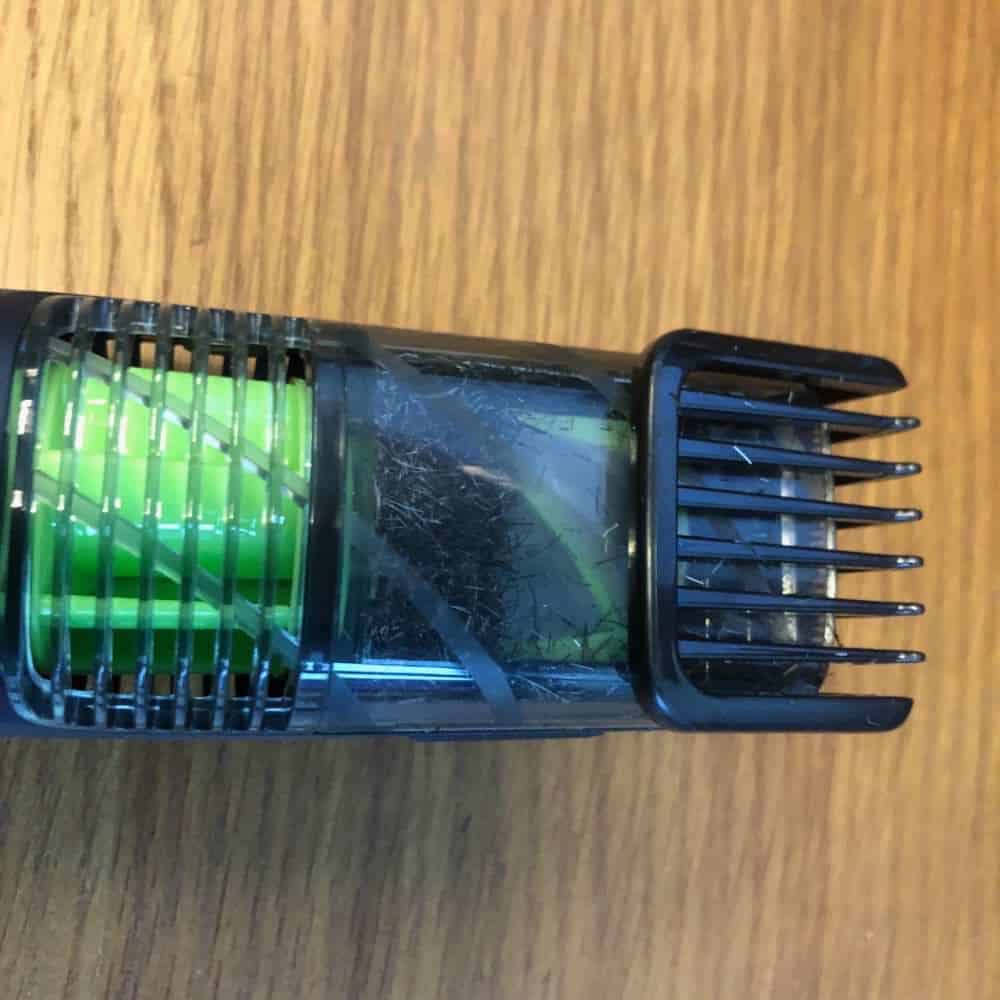 I had high hopes for this clever beard trimmer because of the vacuum stubble collector. Trimming beards is a messy business so any gizmo that reduces mess is a great idea.
However, I'll get straight to the point. This trimmer performed merely okay. It did the job but didn't cut as easily as other trimmers.
The vacuum stubble collector worked reasonably well but some stubble managed to escape. In all fairness to Remington, it doesn't claim to collect 100% of the stubble. It claims 95% which is about right.
One other thing I did like about this trimmer is there is only one attachment which adjusts for many different beard lengths. This is most convenient.
All-in-all, this is the most convenient beard trimmer I've used by far. In fact, it's ideal for travel because of the vacuum stubble collector and one-piece attachment.
However, if you like quality trimming capability above all else, this is not the trimmer for you.
Let's dig into the features and performance.
Related: Braun Multi Grooming Kit Review | Philips Norelco Multigroom Beard Trimmer Review | Wahl Beard Trimmer Review
Vacuum Stubble Collector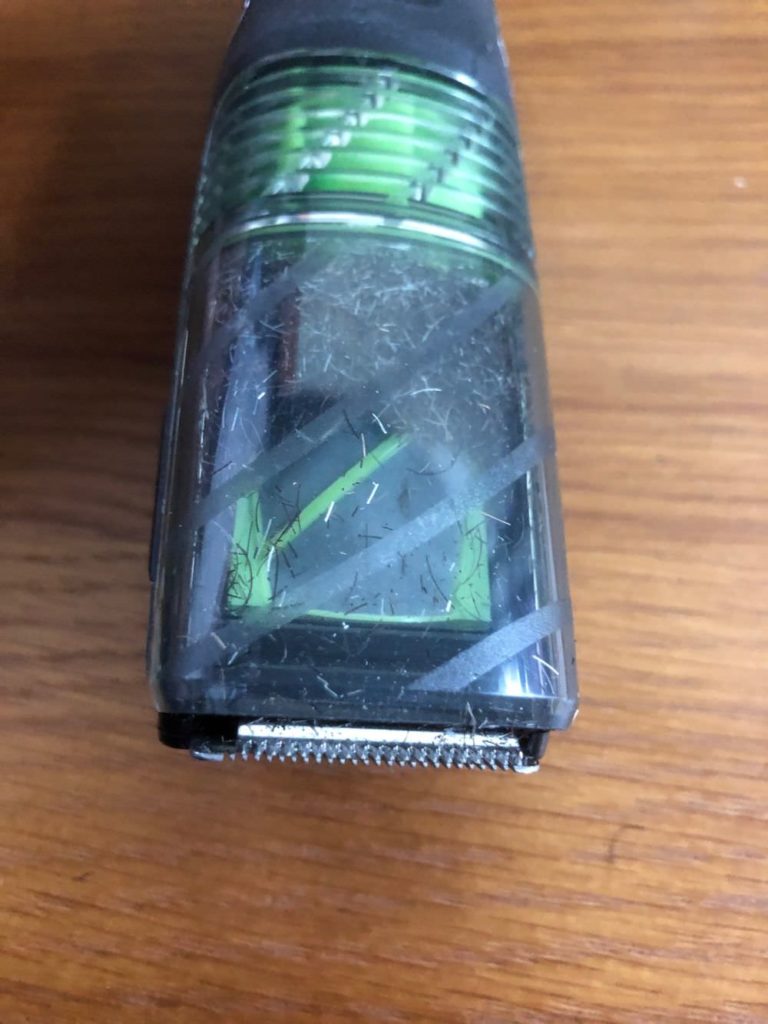 As you can see it actually collects trimmings and does a good job.
Remington claims it collects 95% of trimmings. That's a decent estimate.
Below is a photo of the sink with some trimmings that weren't caught by the Remington.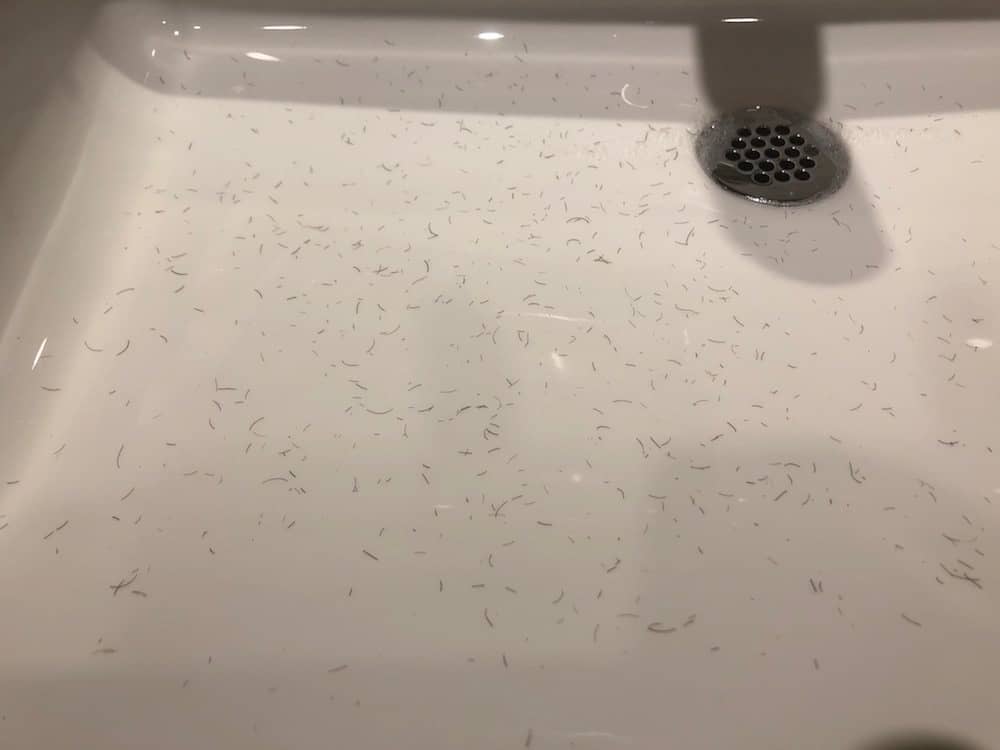 I can tell you that when I use other trimmers without a collection feature, there is way more trimmings in the sink.
The collected trimmings in the Remington above is from one trim job.
Overall I'm reasonably impressed with the vacuum feature. I still had to clean up the sink but it was easier than had there not been a vacuum collector. That said, now I have to clean out the beard trimmer.
I guess the biggest issue with this feature is whether it collects enough so that you don't have trim over a sink. In my experience, you still need to do this over a sink or tub as you can see it's definitely not mess-free.
Cleaning the vacuum cannister: There's a small button that releases the cannister that catches the trimmings. Simply empty into garbage then wash out the remnants with water. It's pretty simple to do. The cannister is large enough to hold trimmings from one to three trims, depending of course on how much you clip off and how bushy your beard is.
Trimming Quality
While it trimmed my beard reasonably well I was hoping for better just because the other features are so cool and not found on other trimmers. Those other features I speak of are the vacuum trimmings collector and how one attachment can be adjusted for all lengths.
Despite the cool bells and whistles, the trim quality was just okay.
How do I assess trimming/cutting quality?
Generally, I assess by how quickly I get an even trim. If I have to go over spots multiple times, that's a strike. With the Remington I had to glide over pretty much every spot two to three times (sometimes more). The shears simply weren't cleanly cutting the first time across.
While this doesn't render this trimmer useless. I managed to get a nice trim after all, it does make me wonder why a company would sell a trimmer when it could be better.
And my beard didn't need all that much of a trim. It's not like I was lopping 3 inches off which is definitely more work for any trimmer. My trim was a couple to a few millimeters as you can see by the clippings in the sink above.
1-Piece Attachment to Rule 'Em All
The fact there is one attachment that adjusts to all lengths is awesome. No more stashing 7 to 14 attachments in a bag. This thing is super travel friendly or convenient at home with the single attachment. Adjusting the length is super easy. You simply press the green button and the guard slides up or down (longer to shorter).
Trimming lengths: 2 mm to 18 mm.
Here's a photo: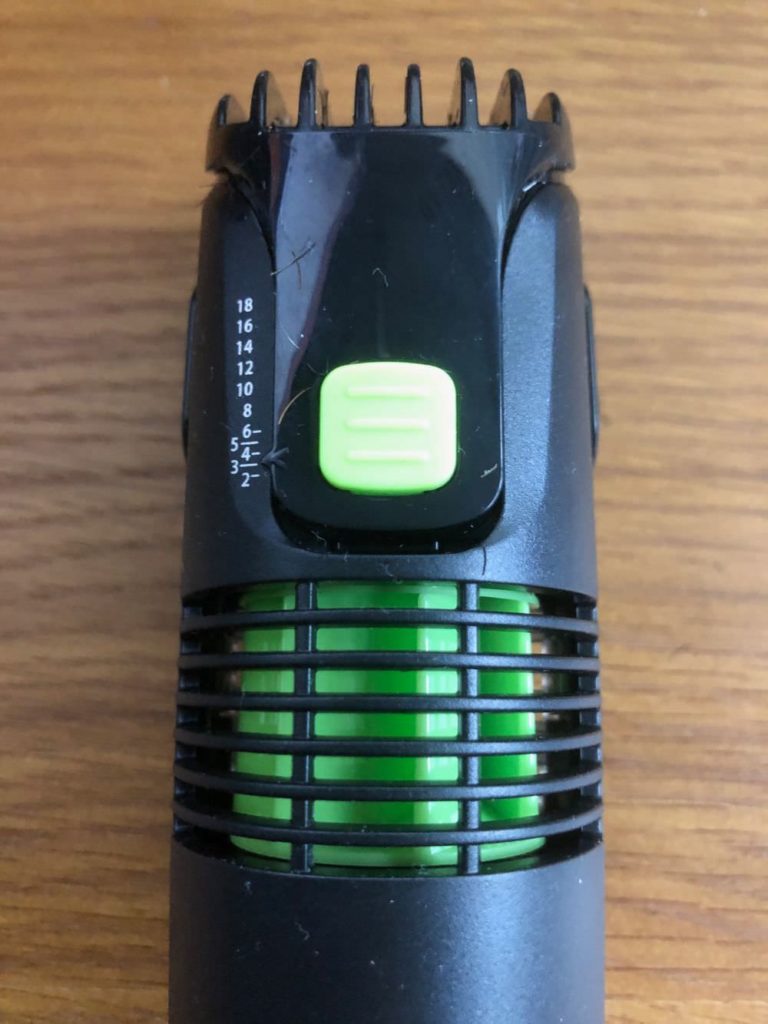 Here's a photo of the guard so that you can see how it's designed, which is unique from all other beard trimmers I've used: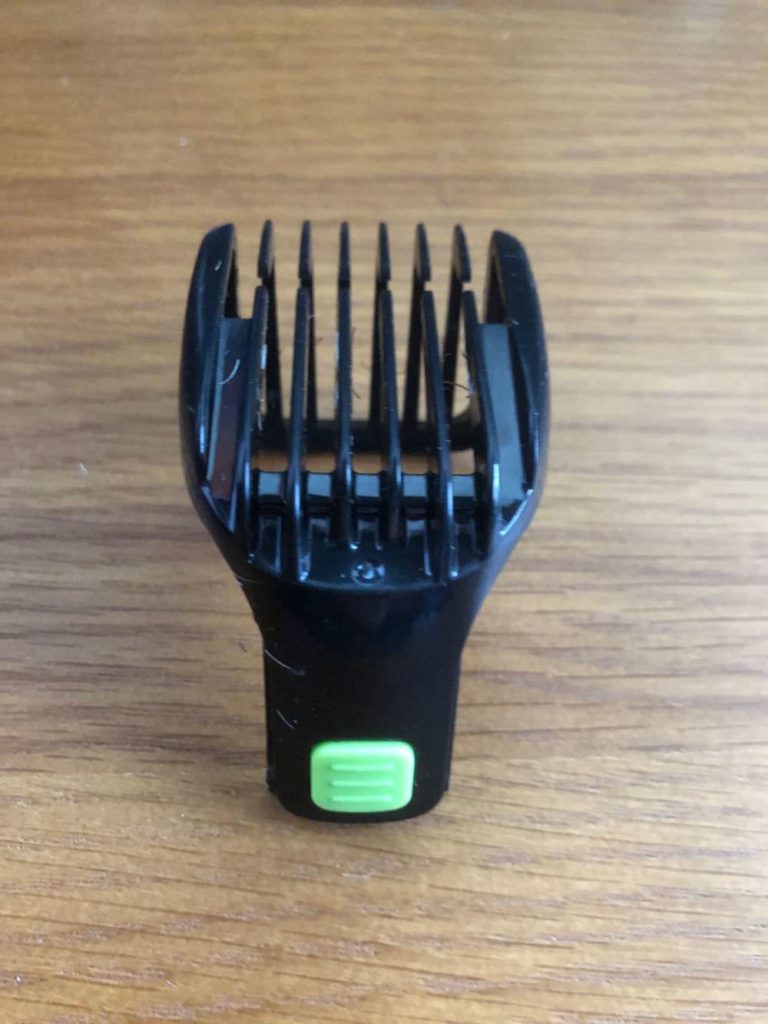 The guard slides on top of the shears and clicks into place. The green button in the above image releases the lock so you can adjust the length. It's very easy to use.
Wireless (with cord option)
Like most beard trimmers these days, this trimmer is cordless. I didn't run it until it ran out but Remington says you get 90 minutes from a single charge. It took me about 7 minutes to trim my beard so that's about 10 trims which isn't bad at all.
The top side (side that shears) has a rubber grip which I really like. It helps keep it from slipping in your hand. However, I wish they used the same rubber coating on the other side too. Here's a photo: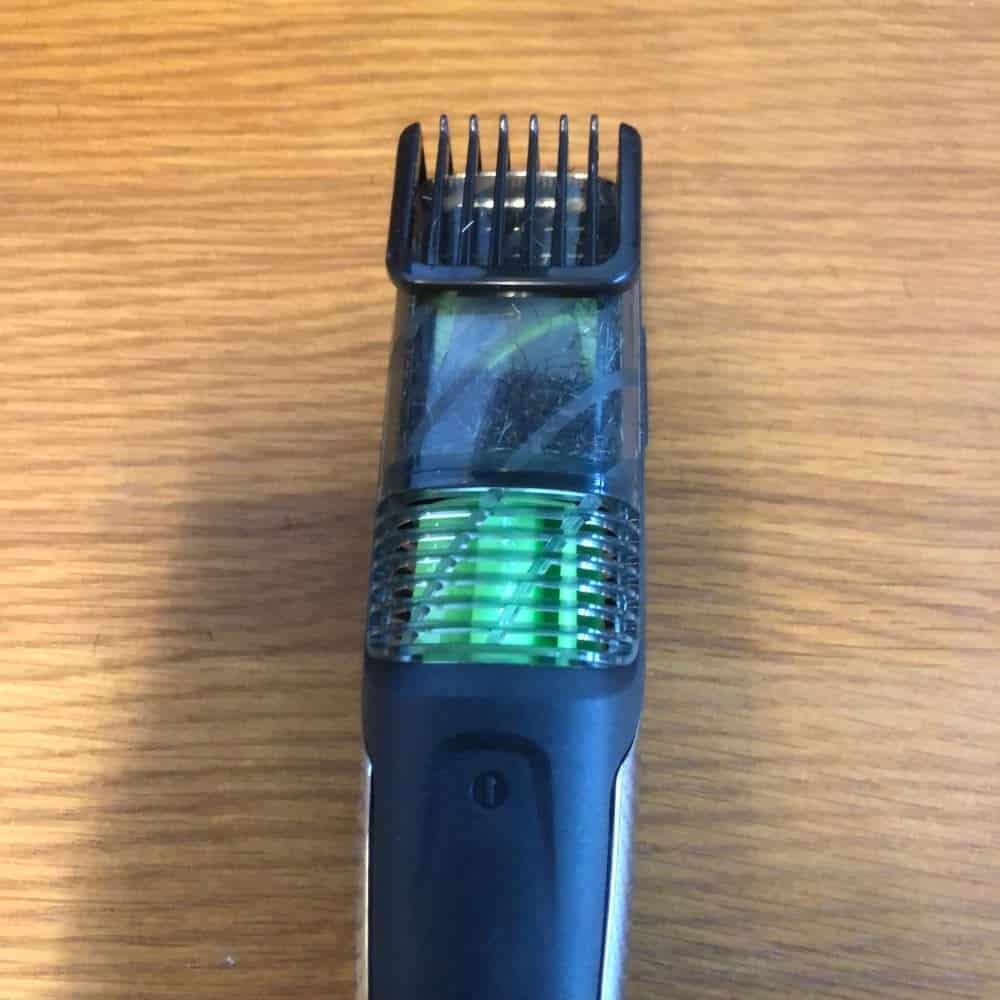 I can't speak to how durable it is because I haven't had it all that long, but it feels durable and is solid.
The precision attachment
Like most beard trimmers, there's an additional precision attachment for grooming. This one worked reasonably well – about as well as most beard trimmers I've used. FYI, I've found that the precision shears aren't all that great to be used as an electric shaver. They're designed to create the sharp lines – edging the beard so-to-speak.
Lacks a storage pouch
While I love the fact this thing only has one attachment, I do appreciate the trimmers that include a pouch for putting the trimmer and attachments in. Sadly, the Remington doesn't come with such a pouch. Trying to store the trimmer in the original packaging is a real hassle.
Conclusion
Ratings
Quality (as in how well it trims)

Ease-of-Use

Features

Value for Money
This beard trimmer offers some great features. To date, it's the best travel trimmer I've used, but it's not the best trimmer overall due not shearing as quickly or smoothly as I'd like or that other trimmers achieve.