Explore our collections of useful and personalized gifts for hairdressers that they'll surely love. Thank them with our 30 gift ideas that are best for any season.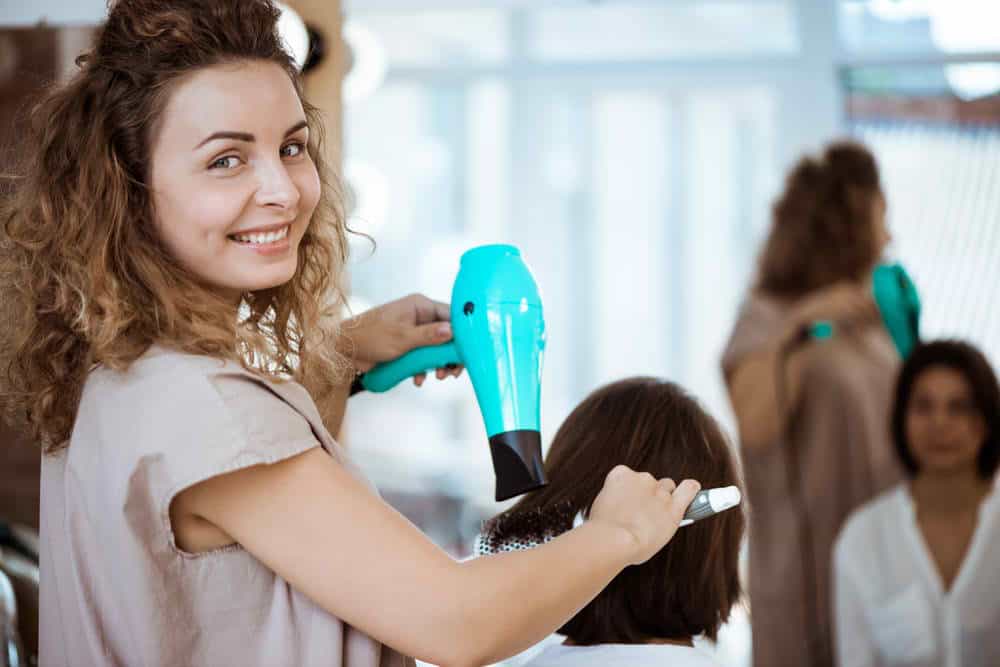 Hairdressers play a vital role in our crowning glory. We placed our trust in them to make us look our best hence it is just right to remember them during the holidays or any season like birthdays and anniversaries.
While it's okay to give them monetary tips, personalized gifts are way special and thoughtful. We know the struggle is real when it comes to searching for the appropriate gift. There are endless options but how sure are you that they're going to be pleased.
Let us ease your pain in finding meaningful gifts for them. Check our collections below that will help you out.
Gifts Under $20
Hairdresser clock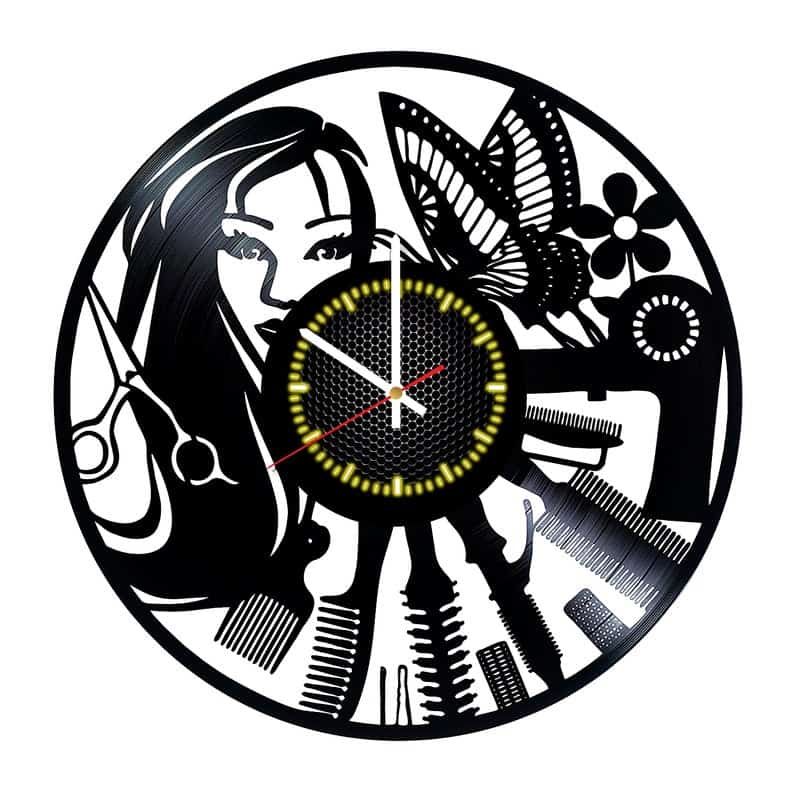 This truly unique timepiece is one of the coolest gift ideas for hairdressers! It depicts several different salon tools around a funky center with exposed gears. It will make a great statement piece for any salon. Plus, it will help your hairdresser stay on schedule on those busy days around the holidays!
Funky scissor earrings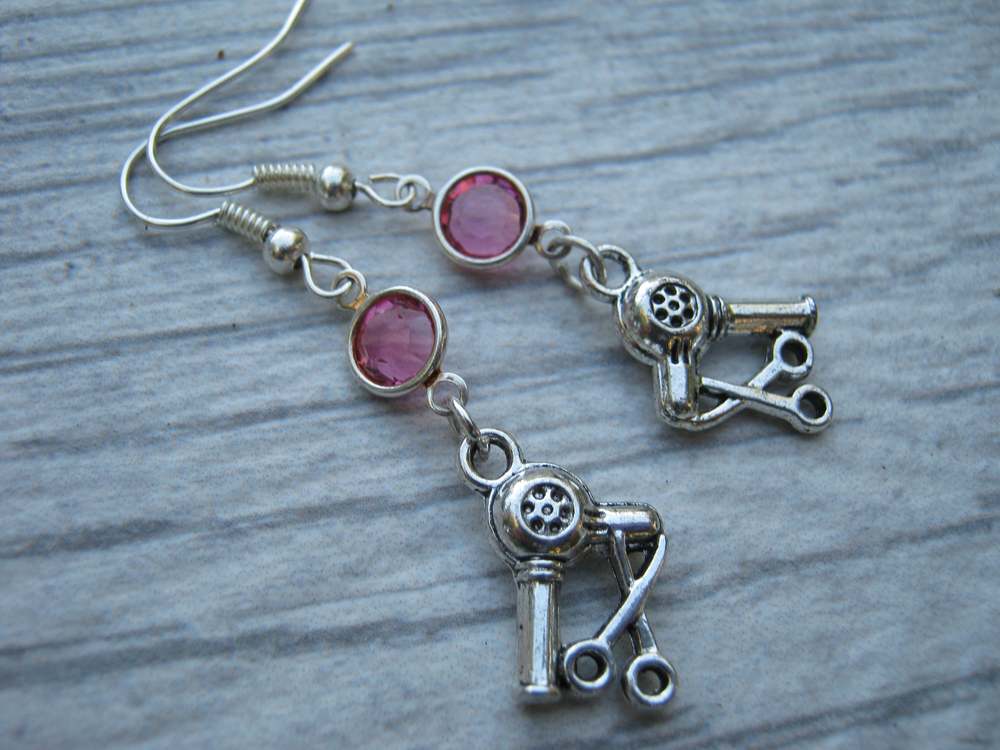 Let's face it: hairdressers are some of the most stylish people around. Why not help them show off their style in a way that also advertises their profession? These lovely dangle earrings some in either silver plate or sterling and can be customized with your stylist's birthstone. They will certainly appreciate the personal touch!
Salon chocolates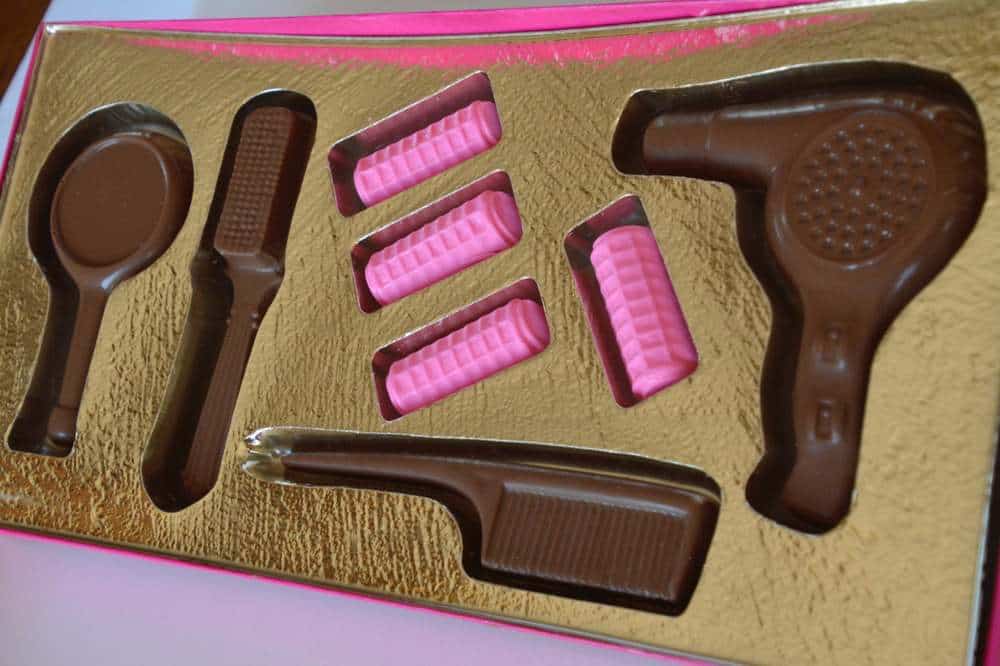 Styling hair all day can certainly work up an appetite! If your stylist has a sweet tooth, these cute chocolates would make a great gift! Made to look like salon tools like blow dryers and curlers, these chocolates come in milk, dark, and white chocolate, so you can find an option to fit any craving.
Scissor scarf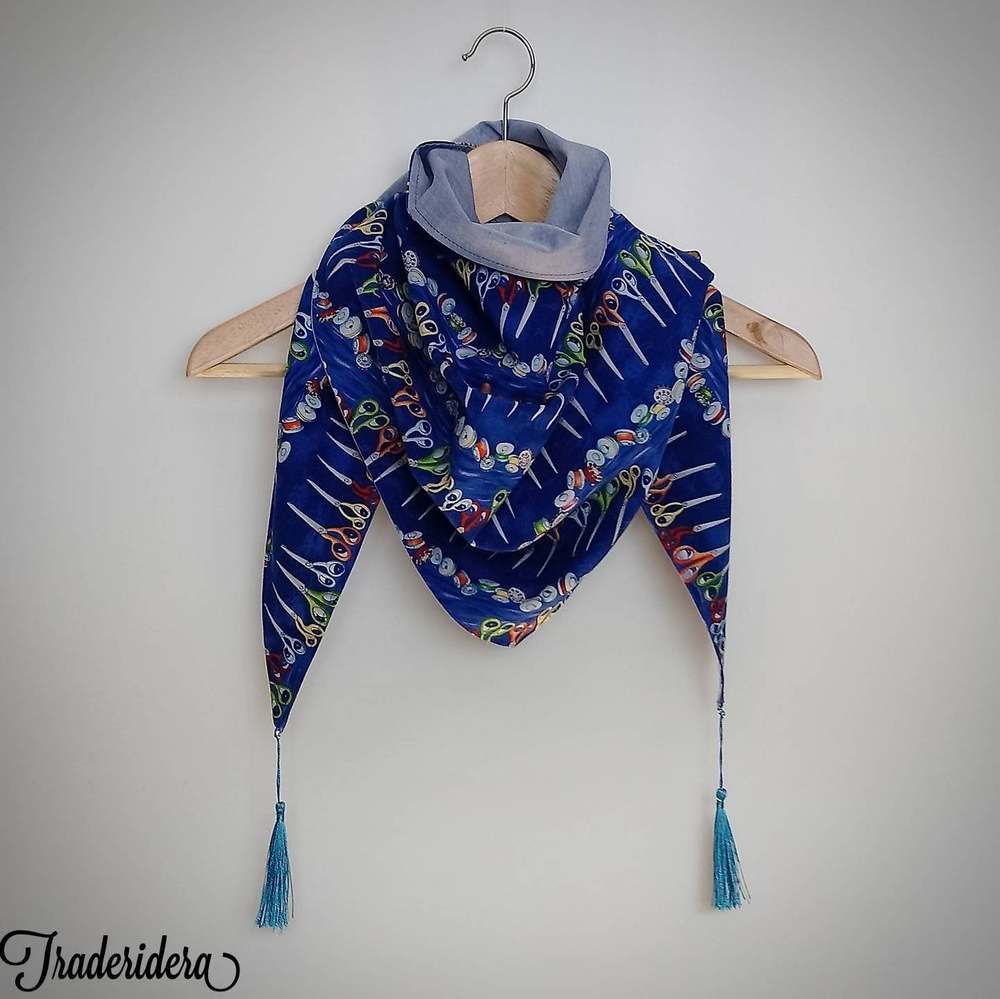 Here's another unique gift to help the hairdresser in your life flaunt their unique sense of style! This cool chiffon scarf will make the perfect complement to any outfit. This accessory comes in black or white and measures 35 x 72. The material is light and flowy, so it won't be too hot for long days in the salon.
Kabul Beauty School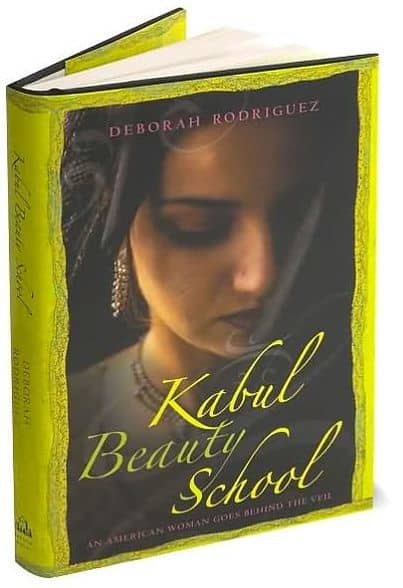 If your hairdresser is a bookworm, they might be interested in reading this compelling novel about their chosen profession. Kabul Beauty School: An American Woman Goes Behind the Veil tells the story of an American hairdresser who travels to Afghanistan to help women achieve financial independence by training them to own and operate hair salons. This moving story will certainly touch your stylist and let them know just how important their profession really is.
Custom Christmas ornament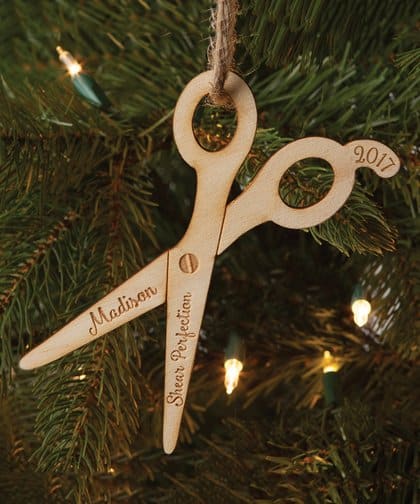 If you're looking for a gift that captures the spirit of the holiday season, consider this lovely wooden Christmas tree ornament. Shaped like a pair of salon scissors, this unique gift can be customized with your stylist's name and the year. This classy gift will look amazing on any Christmas tree.
Secret flask
Some days, working in a salon can be long and hard, especially around the busy holiday season. This novelty flask is a great way to help your hairdresser take the edge off. Shaped like an ordinary paddle brush, this secret flask is perfect for taking a quick nip when no one is looking!
Hairapist wine glass
This pretty laser-cut stemless wine glass is the perfect gift idea if you'd rather not encourage your stylist to drink on the job. This glass is etched with the word "Hairapist," because, let's face it, a hairdresser provides some of the best therapy you're ever going to get!
Coloring book
If you want to help your hairstylist take the edge off without resorting to booze, this adult coloring book could be the answer. The "How Hairdressers Swear" coloring book is hilarious, and studies have shown that coloring is a great stress reliever.
Soy candle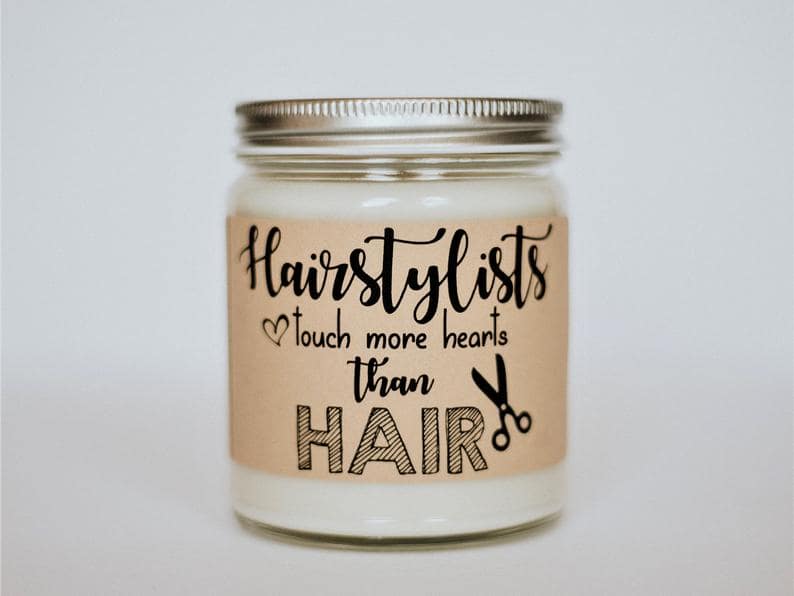 Candles make great gifts, and this one, in particular, is perfect for any hairdresser. The candle is made of natural soy, so it burns stronger longer and comes in 10 different lovely scents. The label also contains a heartwarming message that is sure to let your hairdresser know just how important they are to you.
F.R.I.E.N.D.S.-Style T-Shirt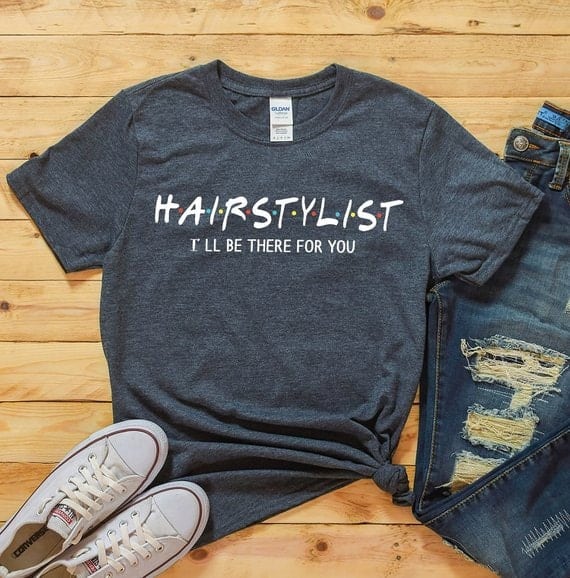 This novelty t-shirt is a great way for your stylist to represent their profession and one of the best TV shows the 90s had to offer. This shirt comes in 4 different colors and depicts the word "Hairstylist" in the style of the "Friends" TV logo: because your hairdresser is always there for you!
Gifts Under $50
Abstract wall art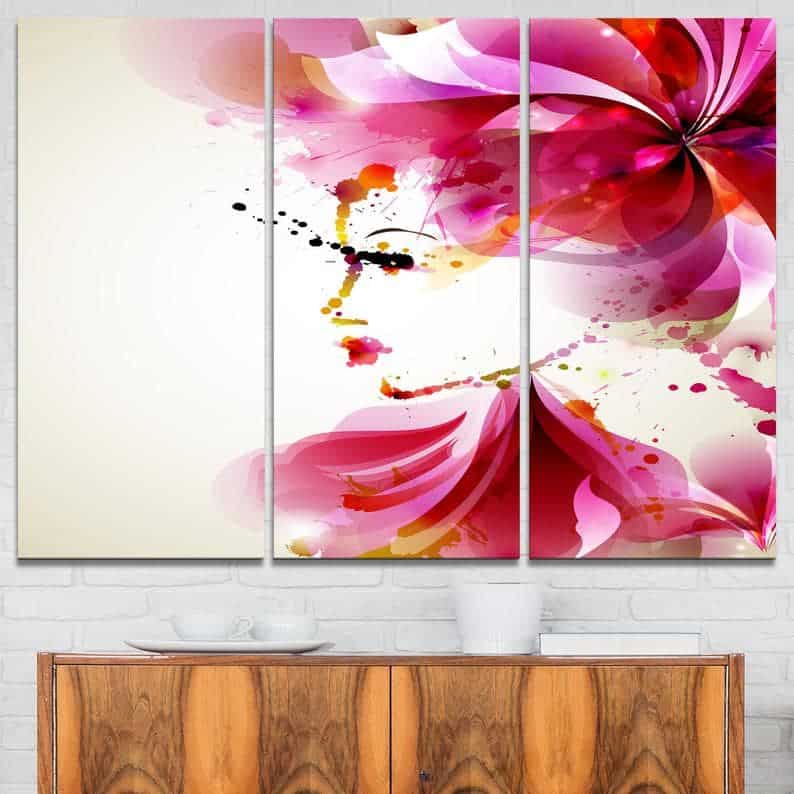 Every stylist wants their salon to sparkle. Help them spruce up the place with this beautiful art piece. This piece depicts a woman with lovely, flowing hair, so it's perfect for a stylish salon. The piece can be made on either canvas or metal, in 1 piece or 3, and in multiple different sizes. There are options to fit any salon and any budget.
Edgy planner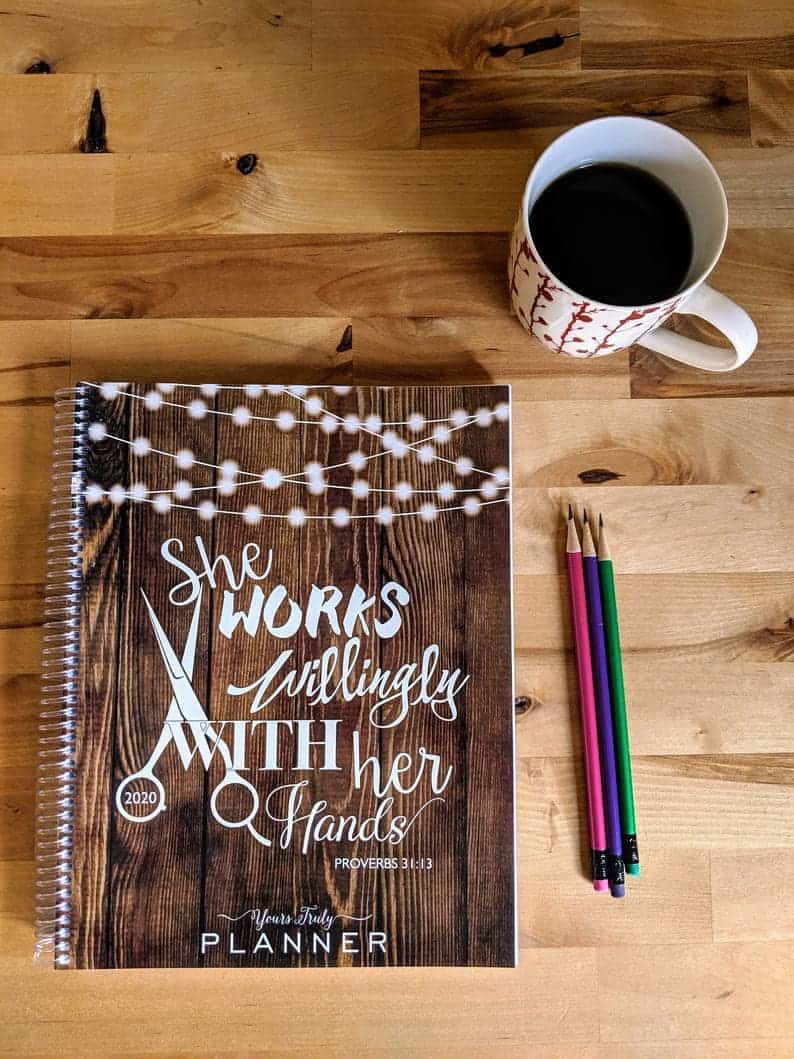 Managing a schedule can be tricky for a hairdresser. Help them start off the new year right with this fun and funky planner. The cover material is water-resistant, so they can keep organized even while washing hair! With this gift, you can be sure your appointment will never get lost in the shuffle!
Bedazzled leggings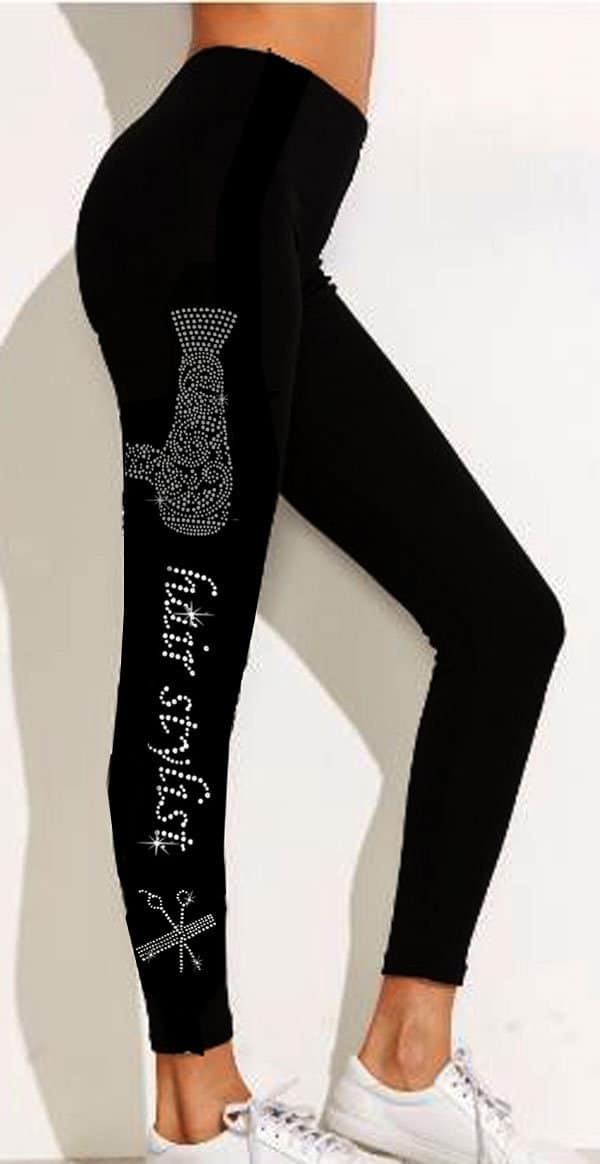 Your stylist wants to be comfy at work while still looking fierce, right? If so, these jeweled leggings might be the perfect gift! These black cotton leggings have "hair stylist" spelled out in rhinestones surrounded by salon tools. With this gift, you'll make your hairdresser's holiday sparkle!
Custom apron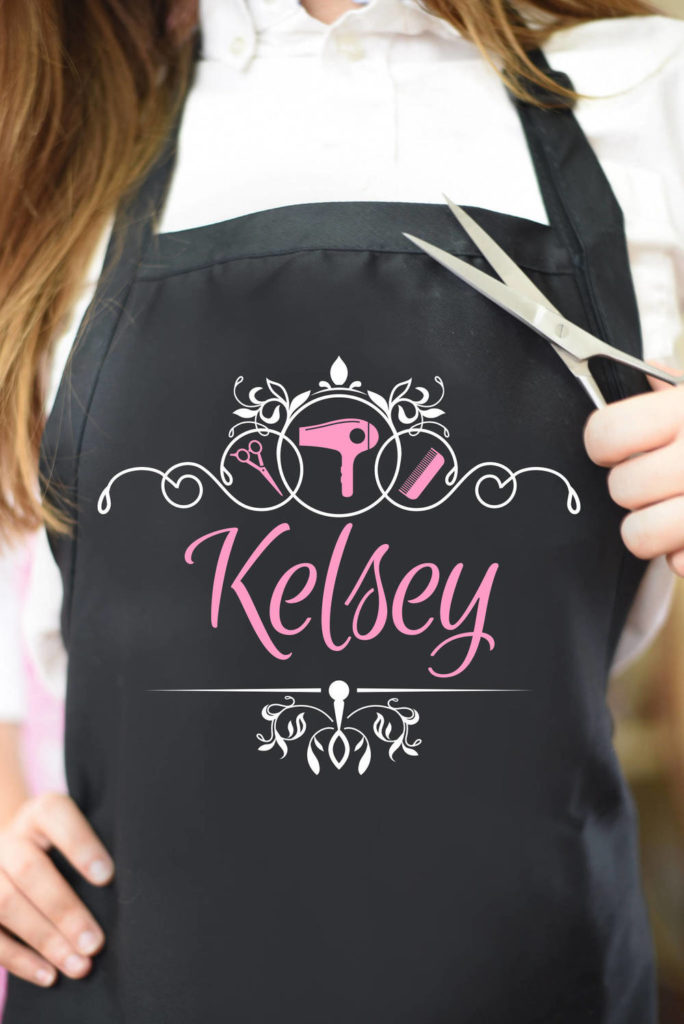 Your stylish hairdresser probably wants to keep their wardrobe on point. Help protect them from hair dying accidents with this beautiful apron. This apron can be personalized with your hairdresser's name. It comes in 16 different color combinations (you can even request a different combination if you can't find exactly what you're looking for).
Travel mug
It's not always easy getting going in the morning. Help them put a pep in their step with this hairstylist travel mug. With this thoughtful gift, they can sip on their morning coffee while they snip your hair.
Business card holder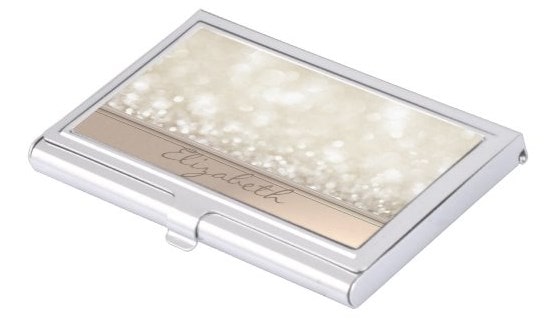 Hairdressers are always looking for new clients, so having business cards on-hand is essential. Help them out with this lovely business card holder. It's shiny and glittery and can be customized with their name.
Magnetic bracelet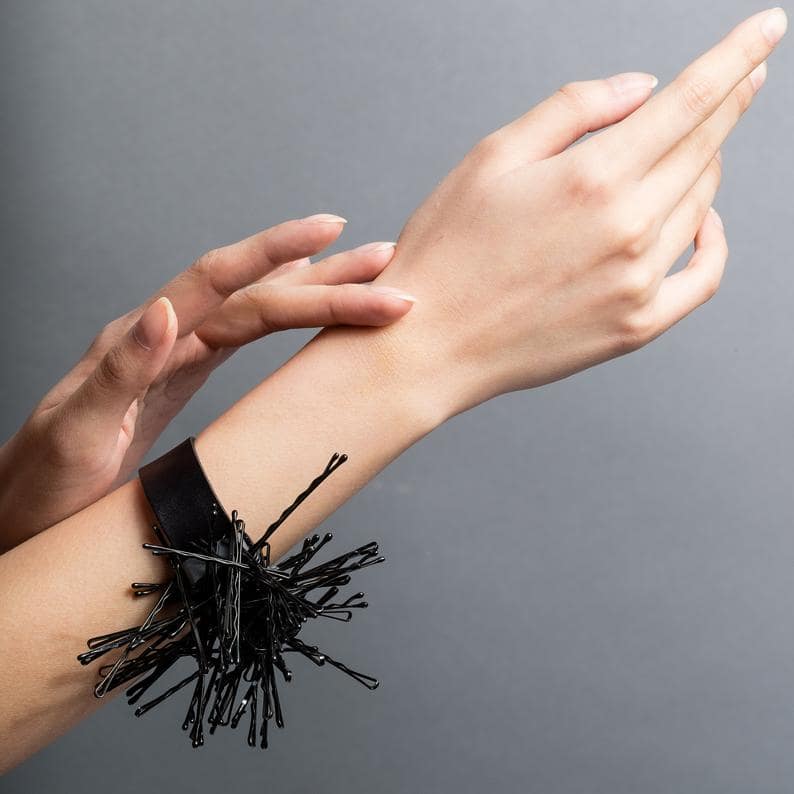 Bobby pins can be the bane of any stylist's existence. They're small and easy to drop and can end up everywhere. However, with this magnetic leather cuff bracelet, they can keep their bobby pins secured to their wrist. Any hairdresser is sure to appreciate this stylish and practical accessory.
Pillow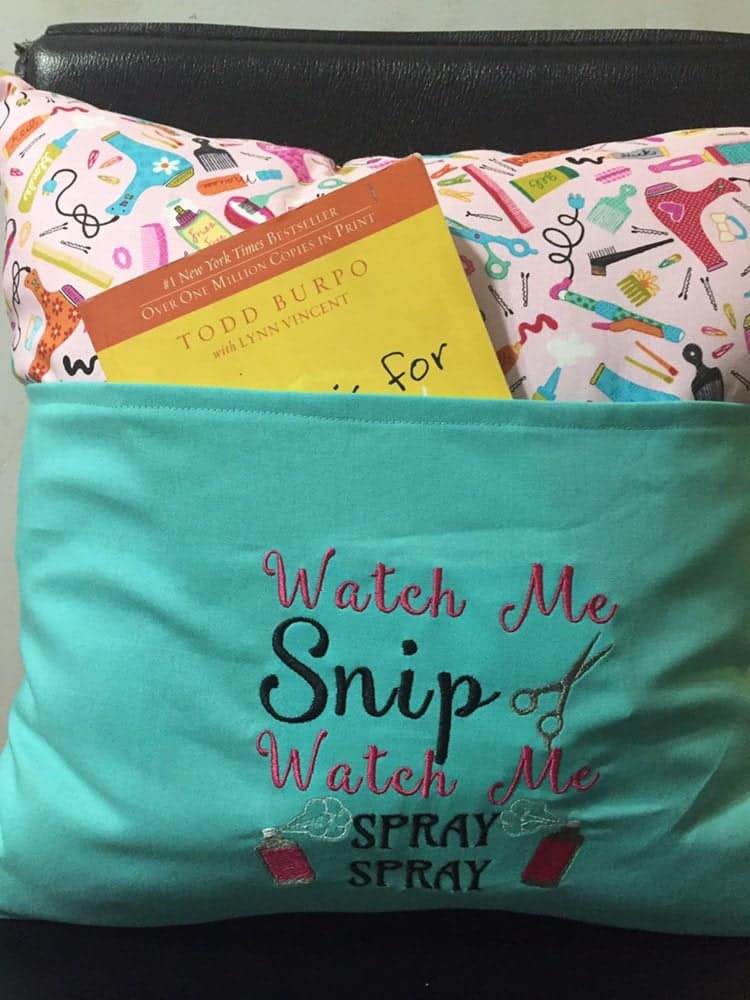 At the end of a long day of cutting and dying, your hairdresser probably wants to go home and kick back. Help them relax with this cute and thoughtful pillow. You can buy just the pillowcase or include stuffing, and it comes in in 40 amazing colors!
Gifts Under $100
Comfy shoes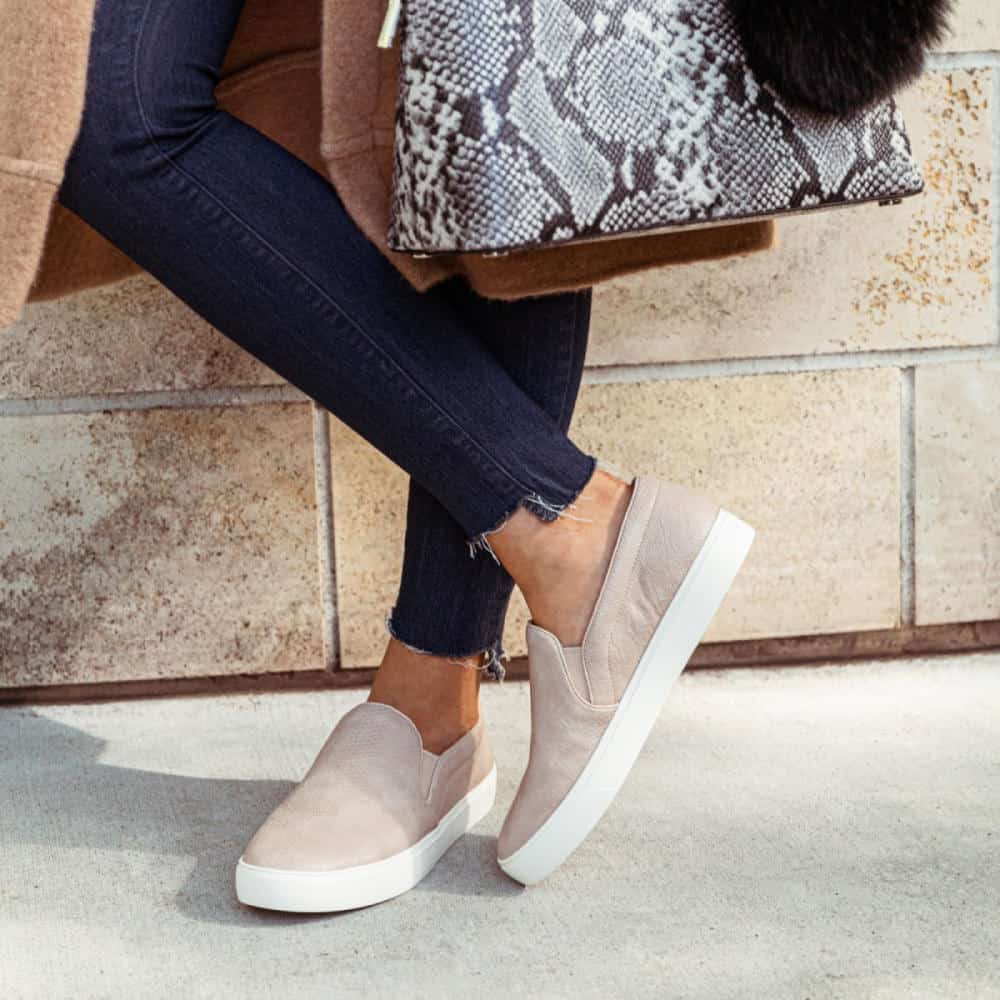 Being on your feet all day is tough. Help your favorite hairdresser be comfy and stylish with these fierce leopard-print shoes. They have the feel of a sneaker, but with way more style!
Custom TOMS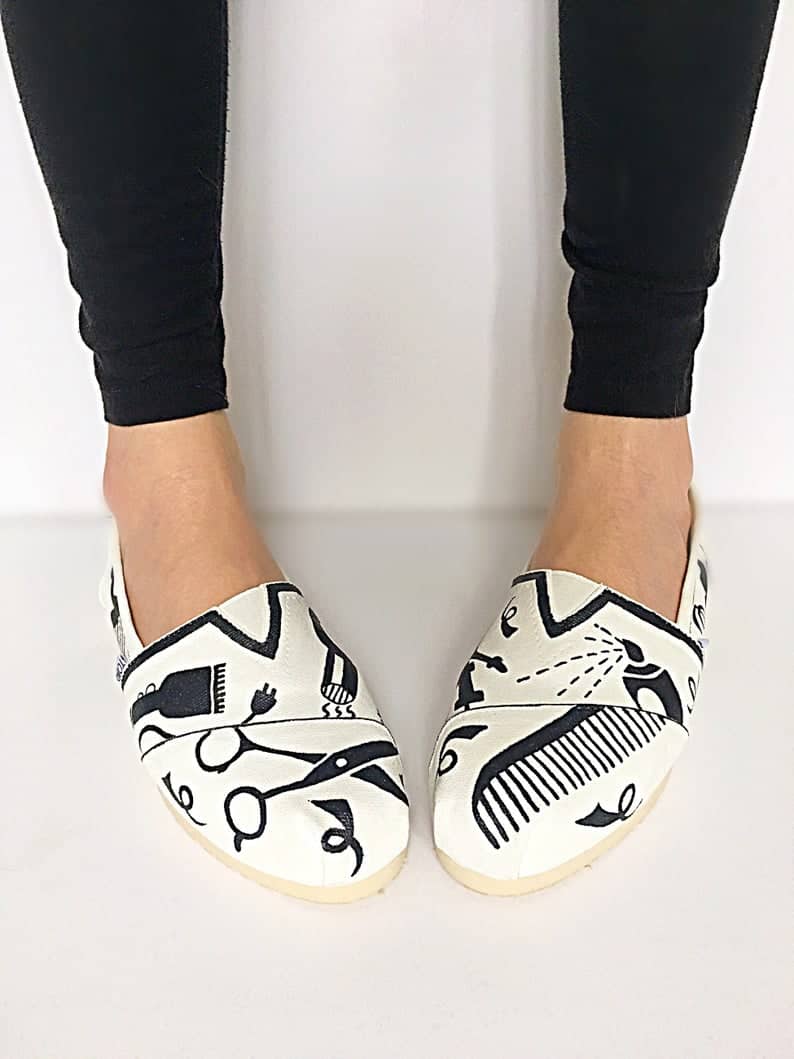 If you like the idea of a comfy shoe, but want something that represents the stylist life, look no further than these custom slipons. These TOMS are hand-painted with styling tools to keep their feet comfy and stylish in the salon.
Leather scissor cuff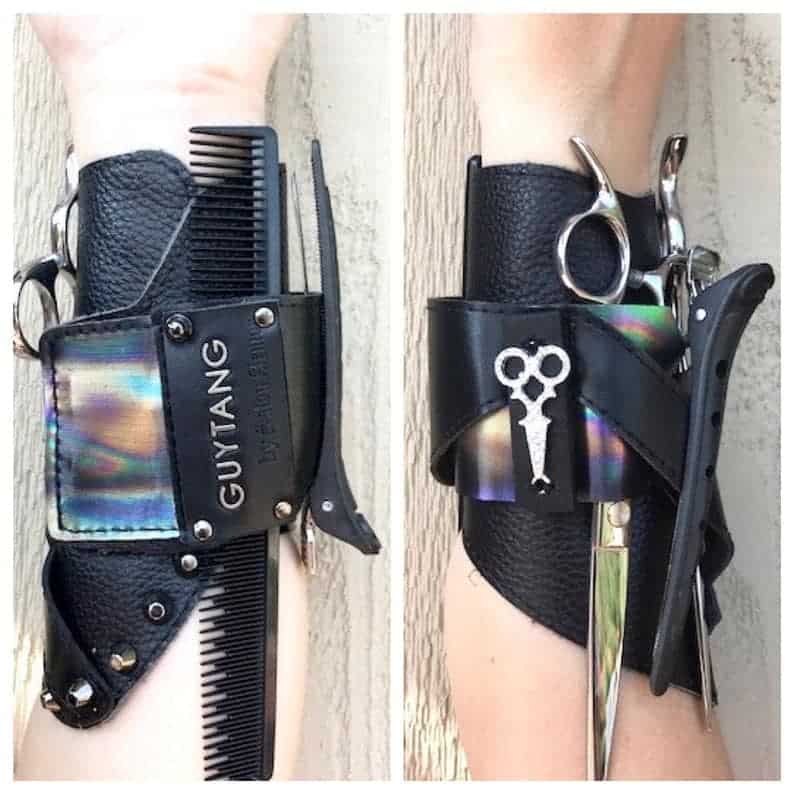 This is a stylish and practical gift that will make your hairdresser's day at work go more smoothly. This leather cuff has 8 different slots that can be used to store different styling tools as they work, keeping everything within easy reach.
Fancy Shears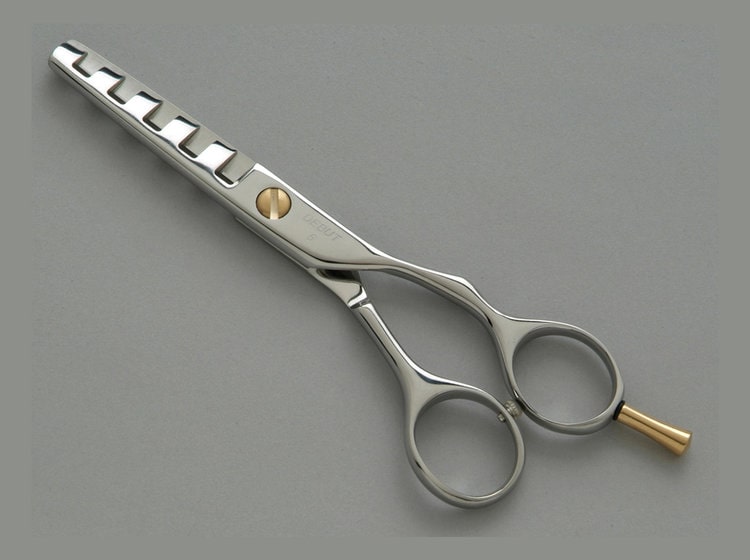 Every stylist needs a good set of scissors. These colorful thinning shears are made from high-quality Japanese steel and come with a case to keep them sharp for a long time.
Custom bobblehead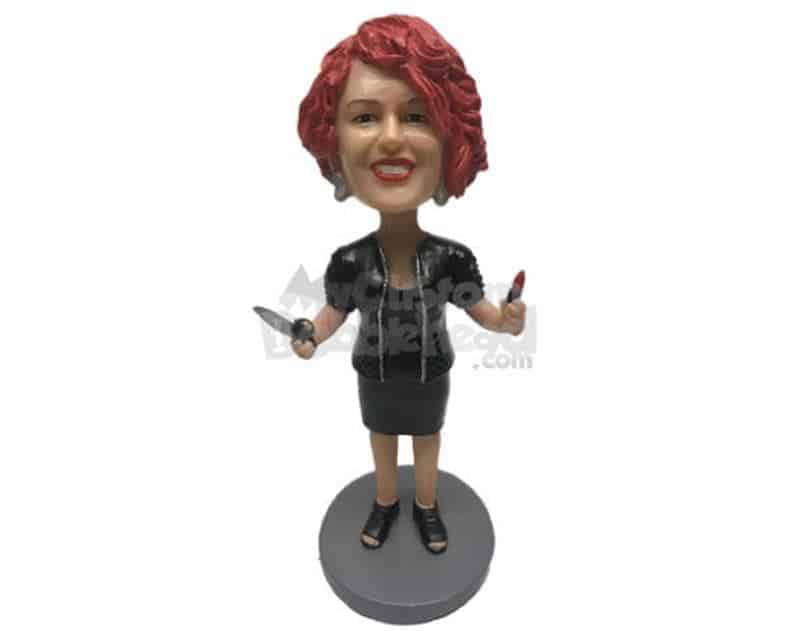 If your hairdresser is into kitsch, this may be the perfect gift for them! The face and head of this adorable bobblehead can be customized to look just like your favorite stylist. This is the perfect gift to help them spruce up their work station.
Goody basket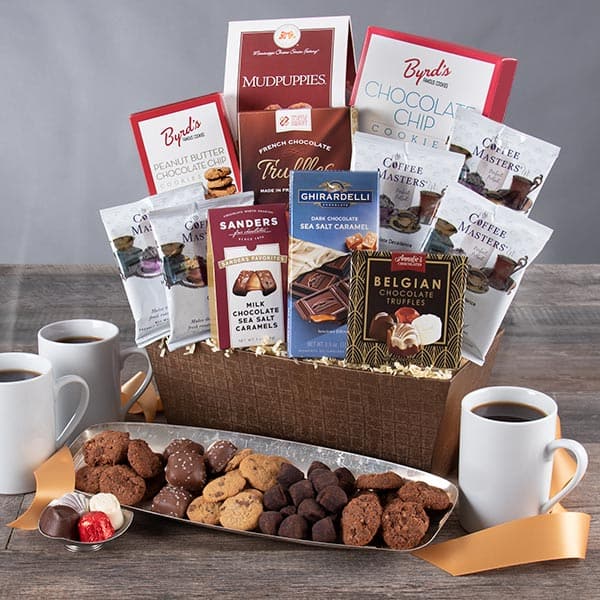 This amazing gift basket combines two things that your hairdresser needs most: coffee to get going and chocolate to unwind. This delectable basket contains premium coffees and 7 different chocolate treats to make their tastebuds soar!
Gifts Under $200
Cosmetic case
If your hairdresser takes their business out of the salon, they may be in need of a convenient case to carry all of their equipment. This rolling bag is the perfect solution. It has tons of compartments and pockets to store all of their tools. It's made of sturdy material that will last and conveniently rolls to make transporting easy.
Flat iron
A good hairdresser needs good tools. The Neuro Smooth Flat Iron was voted one of 2018's best styling products. Help your stylist take their business to the next level with this top-of-the-line tool.
Gourmet wine basket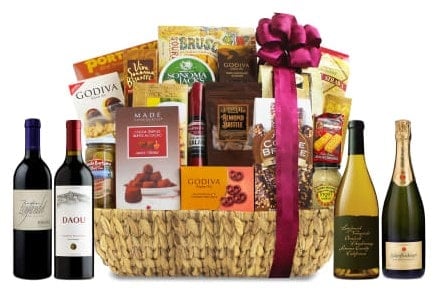 Nothing helps a hairdresser unwind at the end of the day like a glass of wine. Or how about a whole basket? This lovely gift basket contains 4 gourmet wines and a huge assortment of yummy snacks to pair them with.
Foot Massager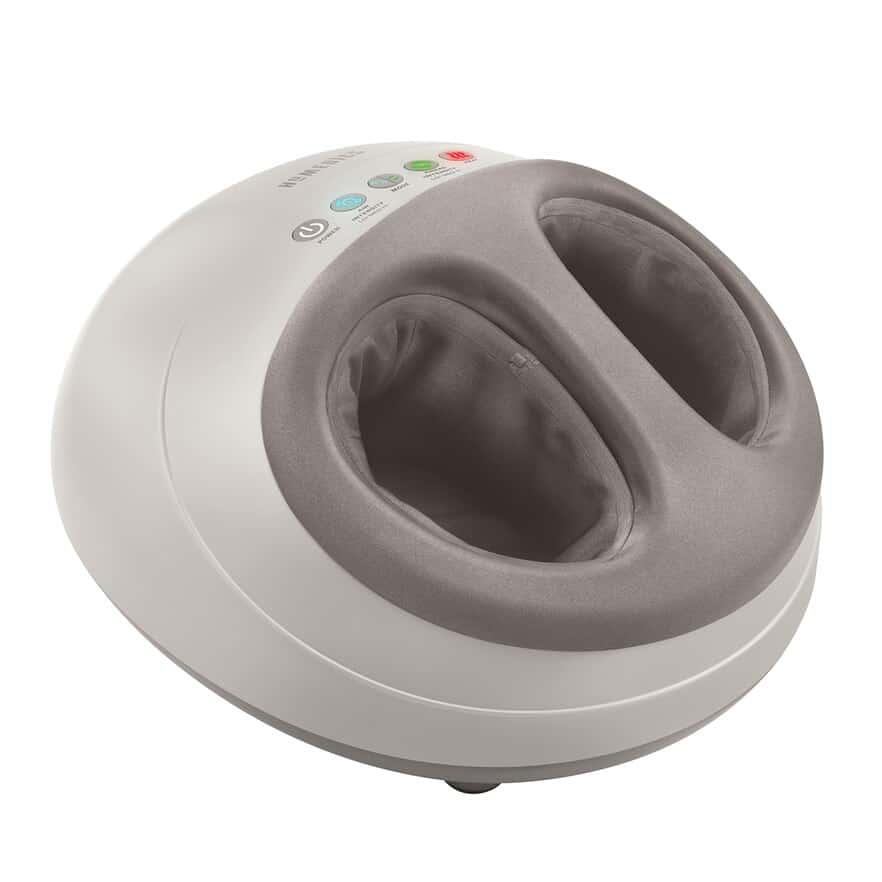 Hairdressers spend most of the day on their feet. Help them soothe their aching soles with this Shiatsu foot massager. This adjustable massager uses air compression to massage their feet, so they can avoid the mess of water massagers while still getting high-quality pain relief.
Massage gift certificate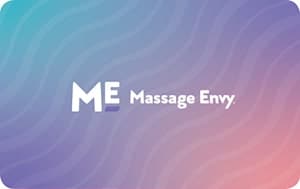 If you think your stylist needs even more pampering, consider a gift certificate for a full-body massage. Allow them to relax and work out the back and shoulder tension that comes with a long day at the salon by letting someone else attend to them for a change!