Check out these examples of women with different types curly hairstyles. Includes many hair colors. Celebrity women included. All kinds of hair types and curls.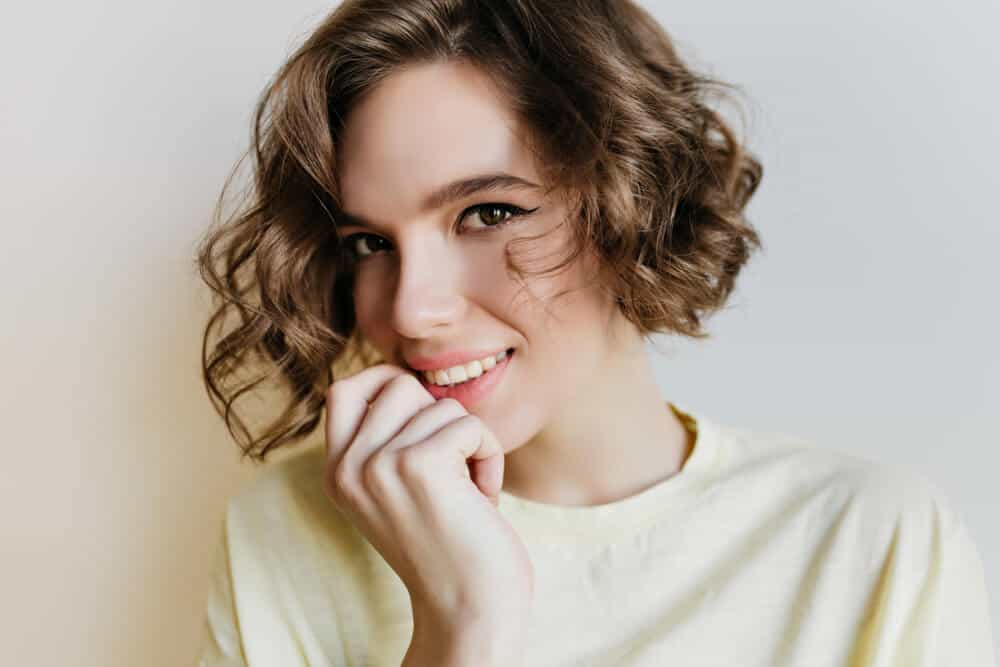 Here's our main gallery featuring women with curly hair.  You can get great ideas for all types of hair colors, lengths and hair types.
Curly Women Hairstyles
Curly hair as an amazing texture and there are many hairstyles that allow you to take advantage of your natural curls and volume. The downside of curly hair is that it requires more maintenance.
Learn how to properly take care of your curls and choose the perfect hairstyle for your hair type and texture!
When it comes to the ideal hair type, silky and straight hair might be revered by the vast majority, but the fact is that curly hair is equally ( if not more) stunning.
Curly hair has a unique texture and a certain charm that has a beauty of its own. For some people with naturally curly hair, managing and maintaining it might prove challenging at times, but once you are done styling it, the results are surely worth the effort. And if you don't have curly hair but use a curling iron to achieve the look anyway, then we surely understand the reason behind doing so. However, as far as styling curly hair is concerned, many women seem in a fix because they can't think ways to style it.
If you are facing a similar problem, then dive into our gallery below. Gain some inspiration from these gorgeous celebrities who have come up with brilliant ideas to rock these curly hairstyles for women.
Photos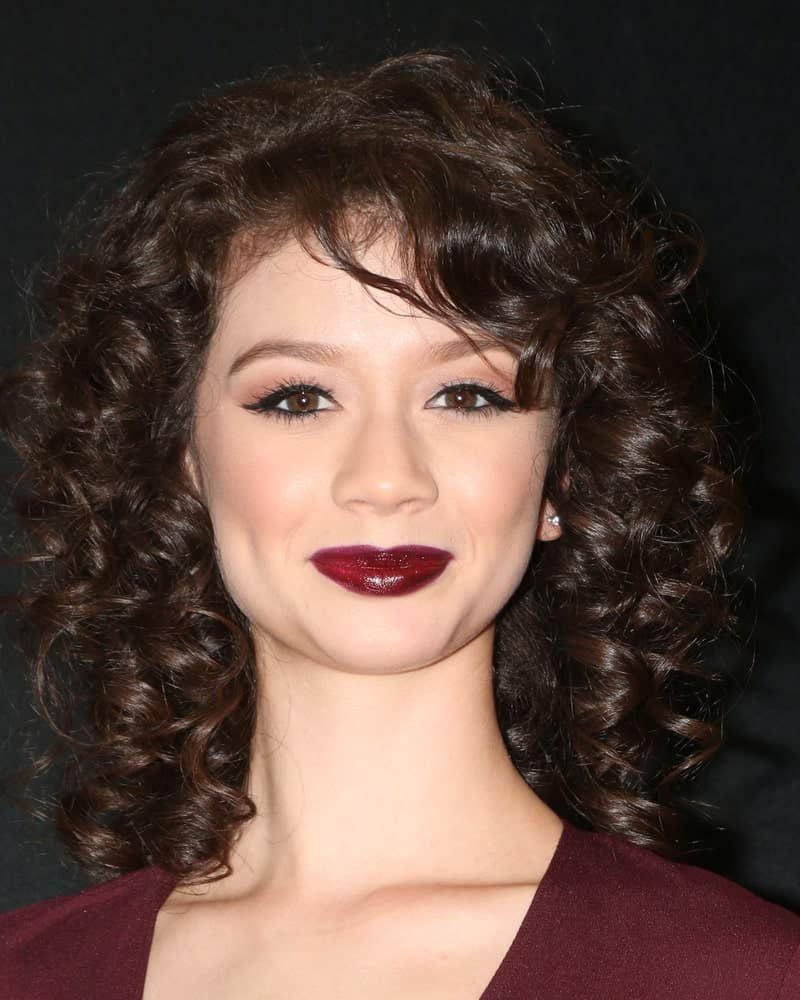 While a half-straight half-curly hairstyle is a common choice for many women, Paige Searcy confidently breaks away from the majority by discarding the straightening iron completely. And it's great because she proves that be it wearing your curly hair down, in a side-part, opting for short baby bangs or combining them all, there are literally no obstacles when it comes to styling curly hair.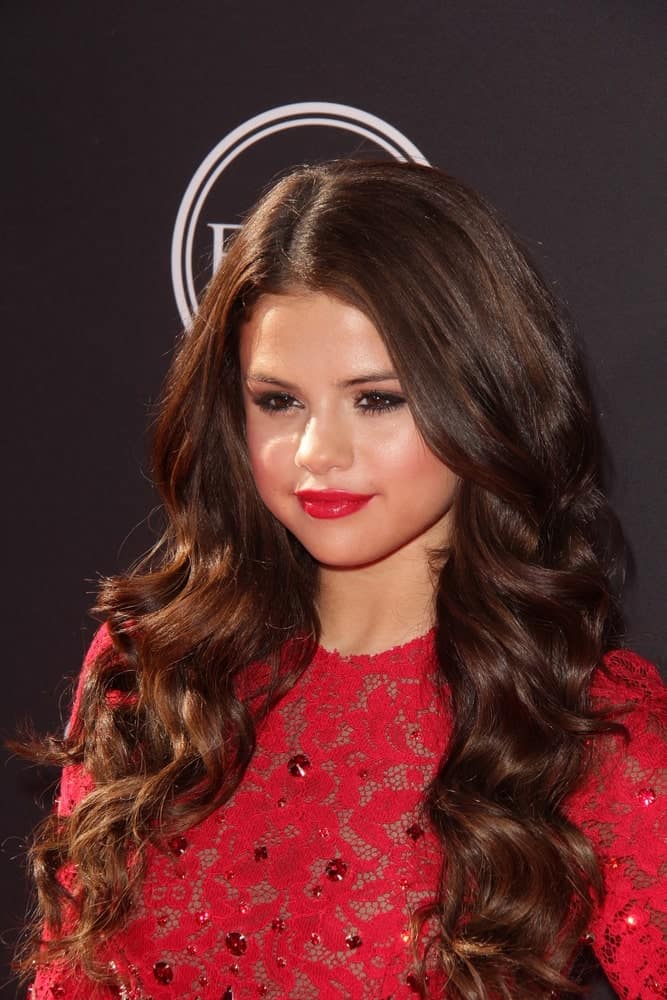 Over the years since she made her first appearance, this young singer has shown her fans that there are countless ways to rock a curly hair type. Here we see the pretty Selena Gomez look stunning with beach waves flowing down from her half-straightened hair. A brief touch of highlights is a good way to accentuate the loose locks.
Click here for Selena Gomez's hairstyles over the years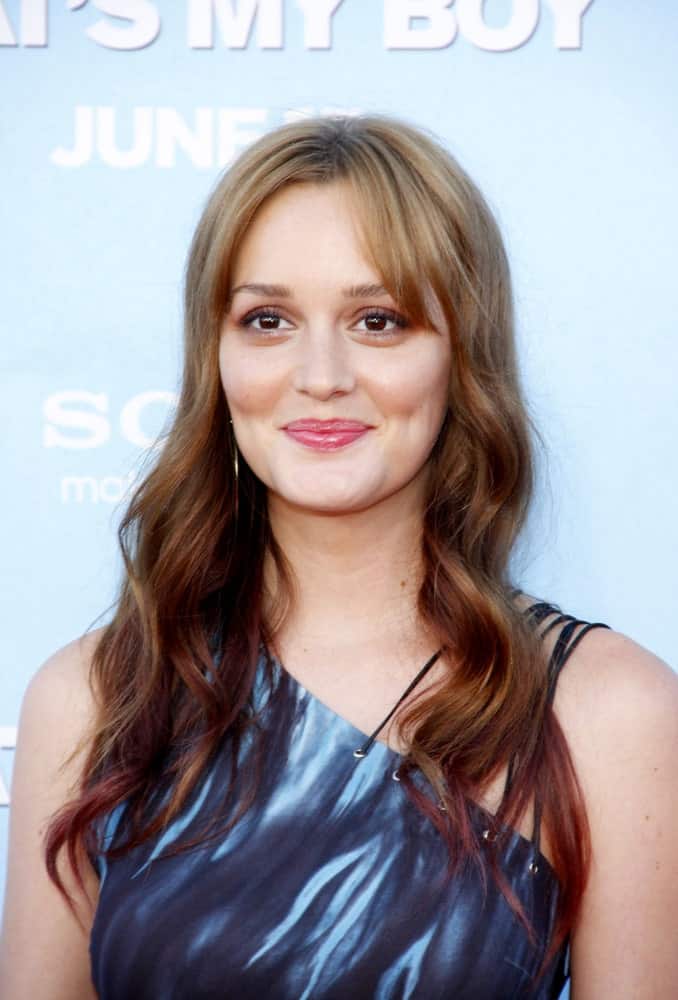 She might be famous for playing the snooty rich girl in Gossip Girl, but the fact is that everyone loves Leighton Meester nonetheless. Here we see the charming beauty sporting a really fascinating hairstyle for women with curly hair. While she merely wears the loose curls on both sides, what makes her look unique is the distances eyebrow-level bangs combined with a trendy hair color that starts out as pale blonde near the roots and gradually darken into mahogany brown at the tips.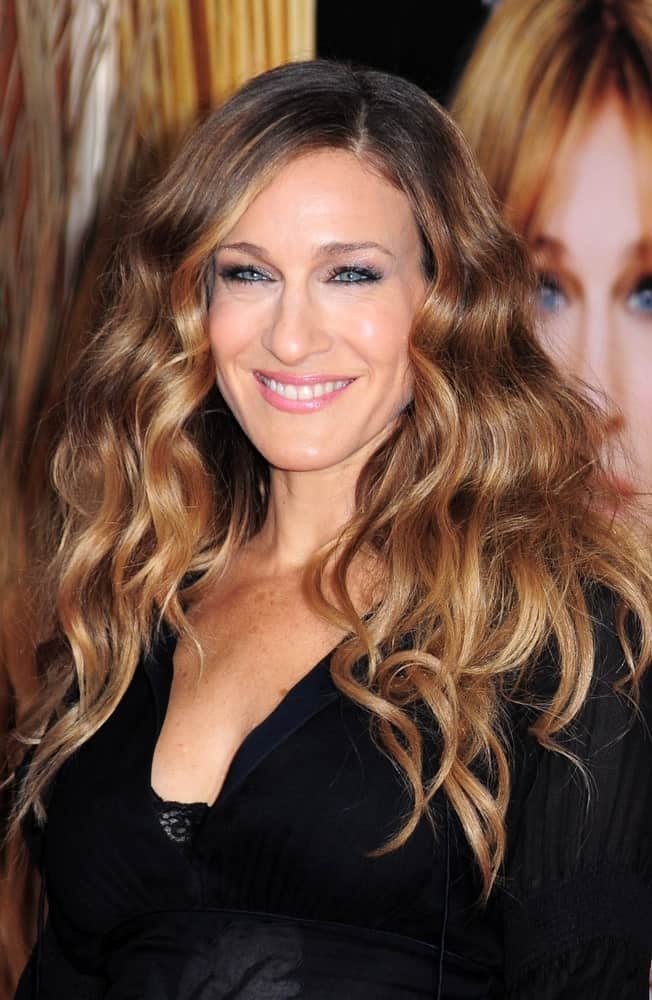 If you love Sarah Jessica Parker, then you will also love the way she embraces her curly hair and lets them lose every now and then to look well-groomed and attractive.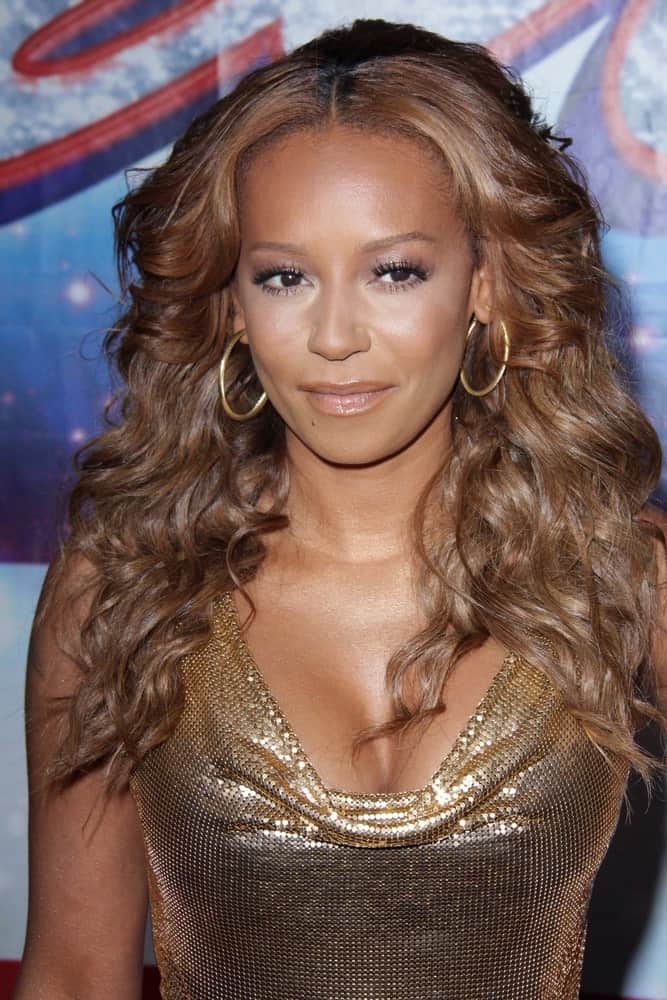 Extra-long and curly hair? That just means extra ease in styling it. Wondering how's that possible? Well, don't style it at all! Go for a simple center-part and wear your hair down just like because you are sure to look attractive just like Melanie Brown looks here.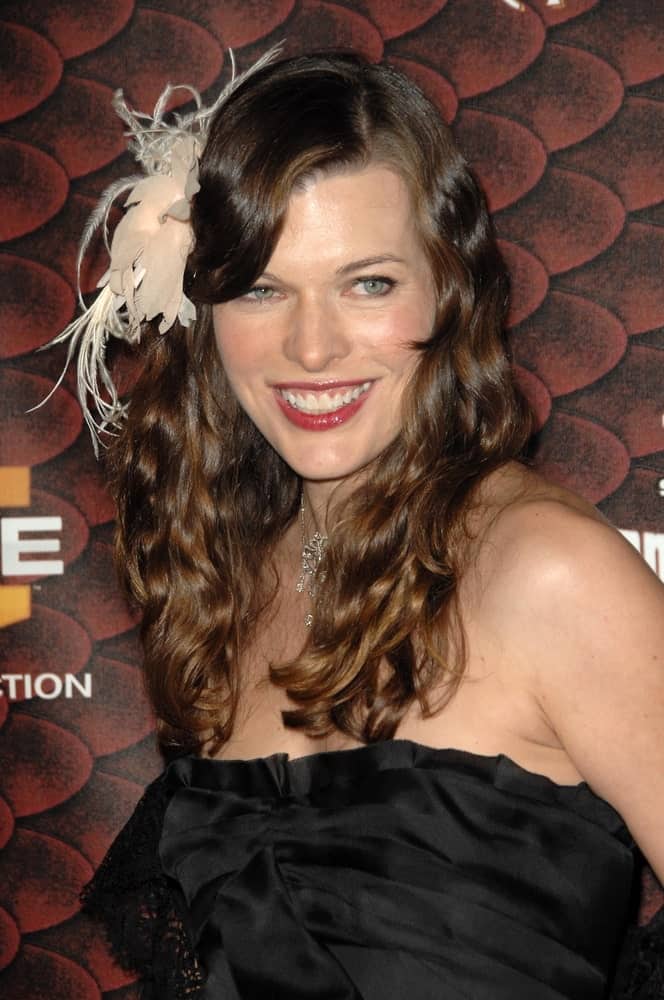 This style is usually the go-to option for many women with curly hair who want a slight touch of silky straightness yet don't want to part with their naturally curly hair altogether. Milla Jovovich has flattened just the hair at the top while letting the rest as it is. Clipping the bangs to the side in this retro style gives a nod to the old world charm.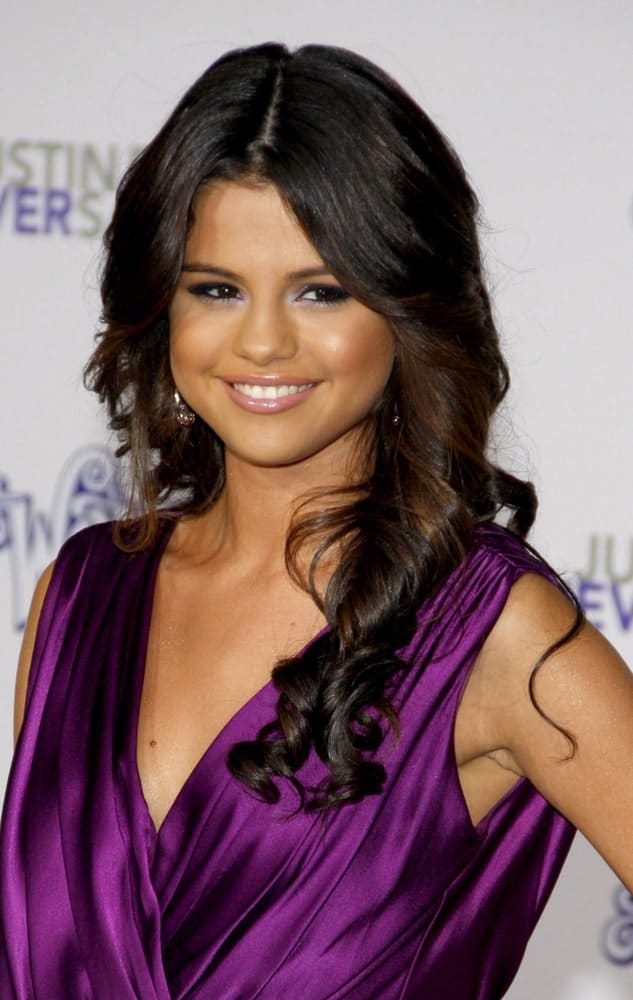 Truly coiled locks like these are simply to die for. So, if you have such a texture naturally, then consider yourself blessed because many women spent hours and hours treating their hair with harsh chemicals to get such soft and fluffy curls.
Click here for Selena Gomez's hairstyles over the years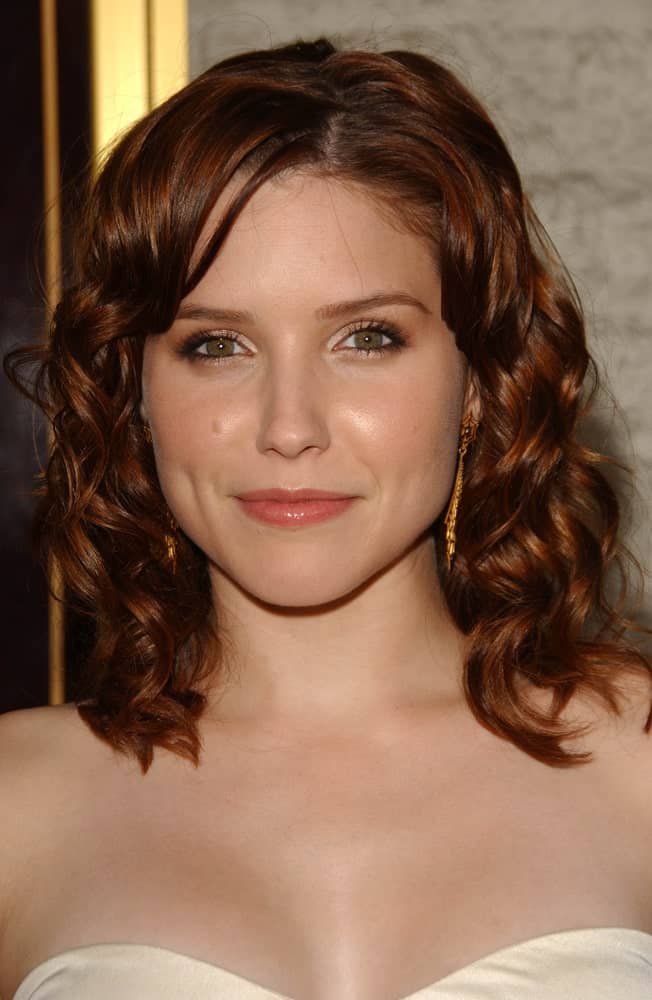 Sophia Bush demonstrates a genius style for women with curly hair. A bob cut that features tousled hair is a decent and sophisticated hairstyle that will look good regardless of the various factors such as your face profile, hair color or even skin tone.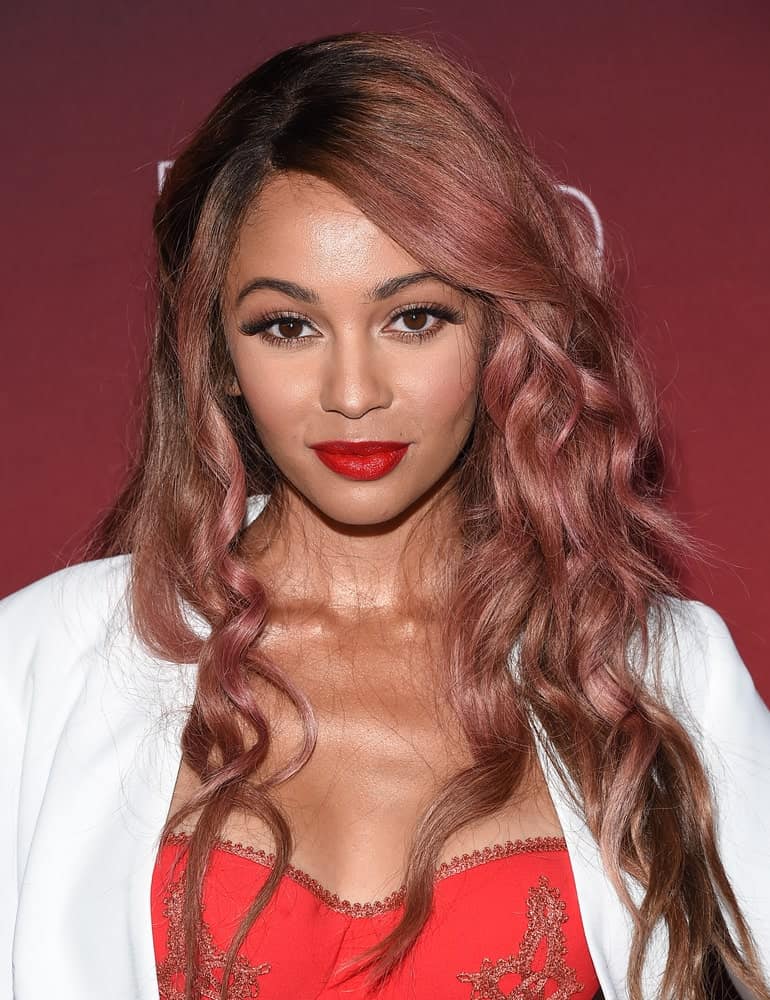 If you are planning to dye your curly hair, then this shade is a good one to consider as it suits almost all skin tones. A blend of faded crimson and ash brown hues will look really fascinating if you have curly hair like Vanessa Morgan.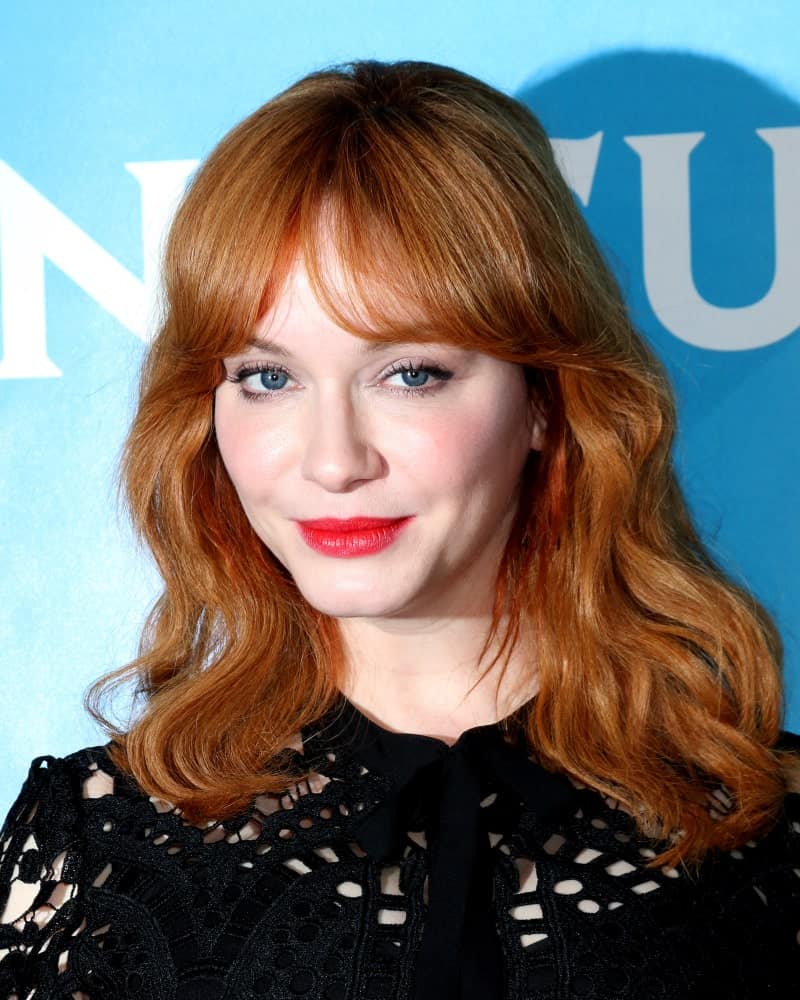 Natural redhead Christina Hendricks sports this uncomplicated hairstyle for women with slightly curled hair type. Curtain-style center-parted bangs coupled with curly hair divided and sported on both shoulder will look intense despite the simplicity if you have eye-catching auburn hair like hers.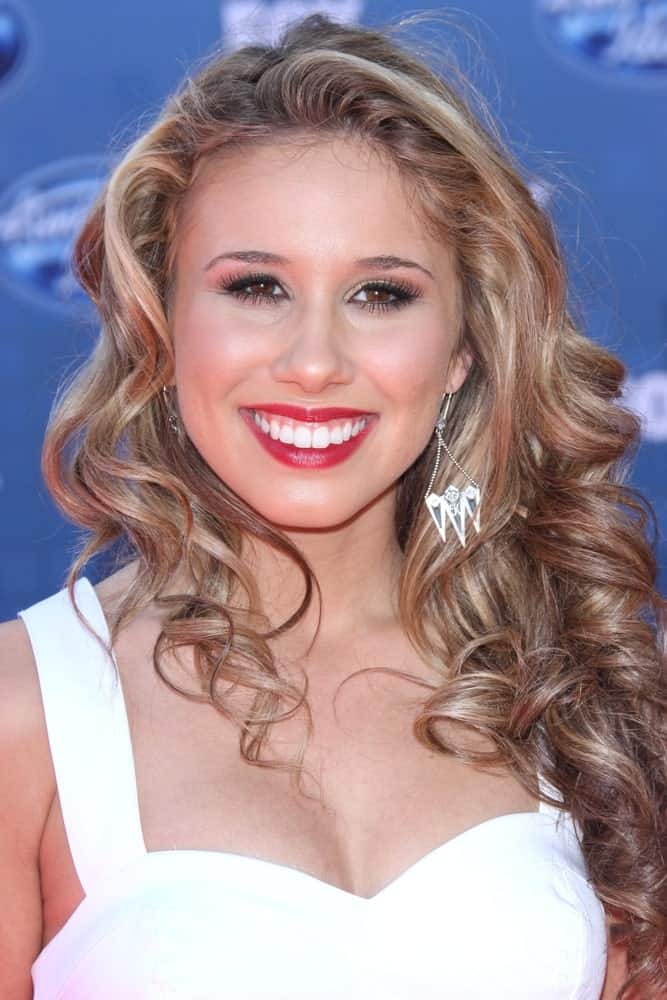 Take notes from Haley Reinhart on how to rock highly curly hair in a casual and trouble-free manner that looks stylish despite the messy touch. Subtle highlights that are just a bit darker the actual base color adds a ton more beauty.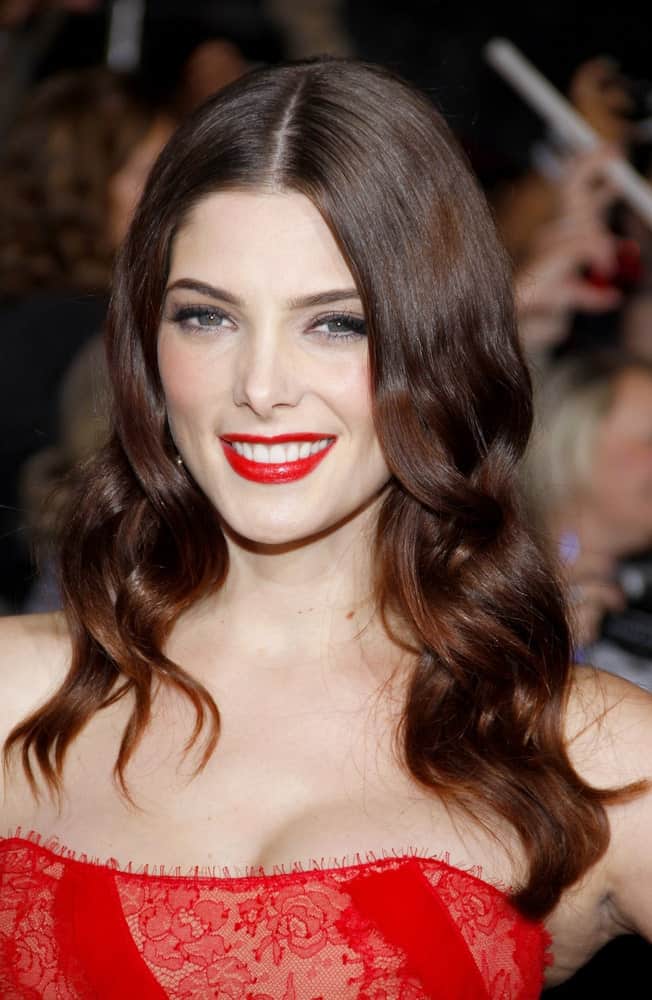 Here we see the charming Ashley Greene sporting an easy-going curly hairstyle for women. Her middle length hair has been loosely tousled to achieve a faux curly hair texture in her otherwise straight hair. The tips seem to have been dipped in a light caramel shade for a fancier finish.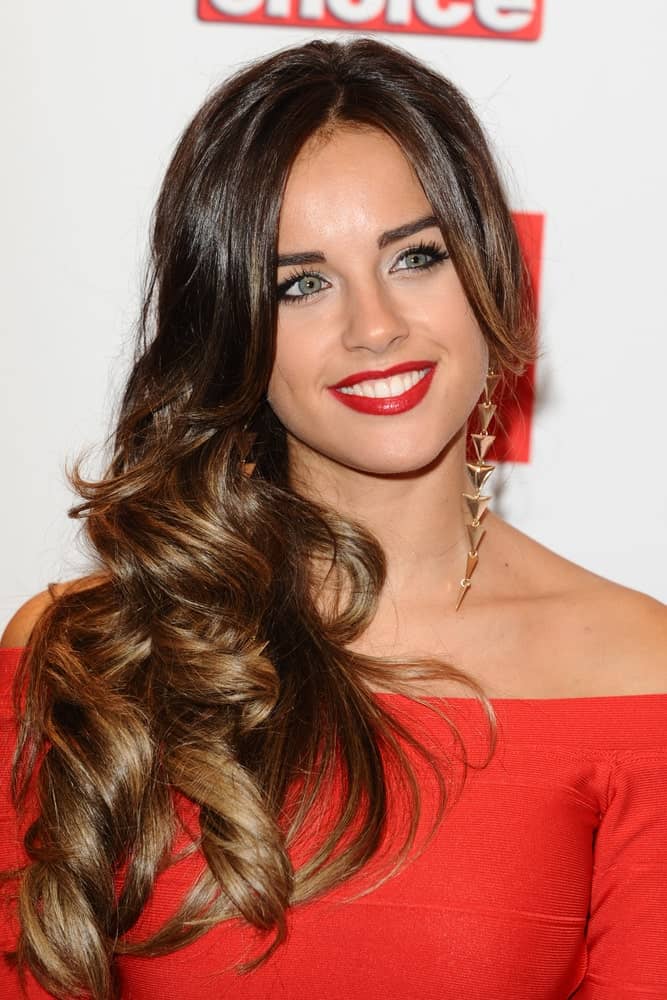 Curls that stand out loud and bold are guaranteed to turn a lot of heads their way. Take a look at Georgia May Foote sporting this impressive hairstyle for women with curly hair. Nesting the volumized and bouncy curls on one shoulder, she looks magnificent with those streaked locks. Loose curls can't get more dramatic than this.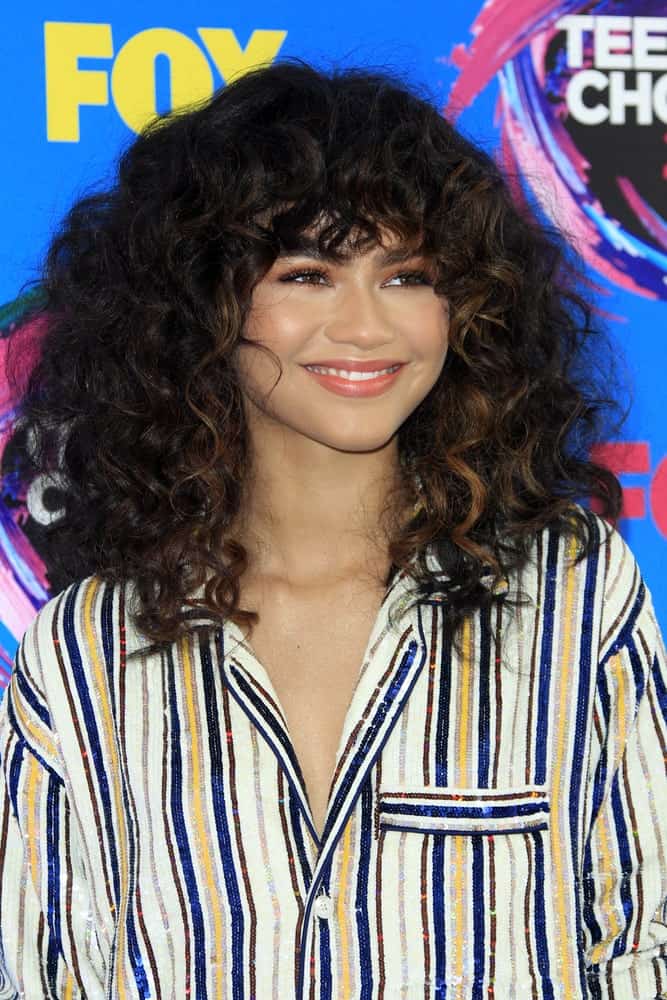 Zendaya provides major inspiration for women with extremely curly hair by conveying that you shouldn't be afraid to hide your gift even if it seems odd in a world where people are crazy for straight hair. Go for some baby bangs, and you (and everyone else) will love the way your twisted hair frames your face.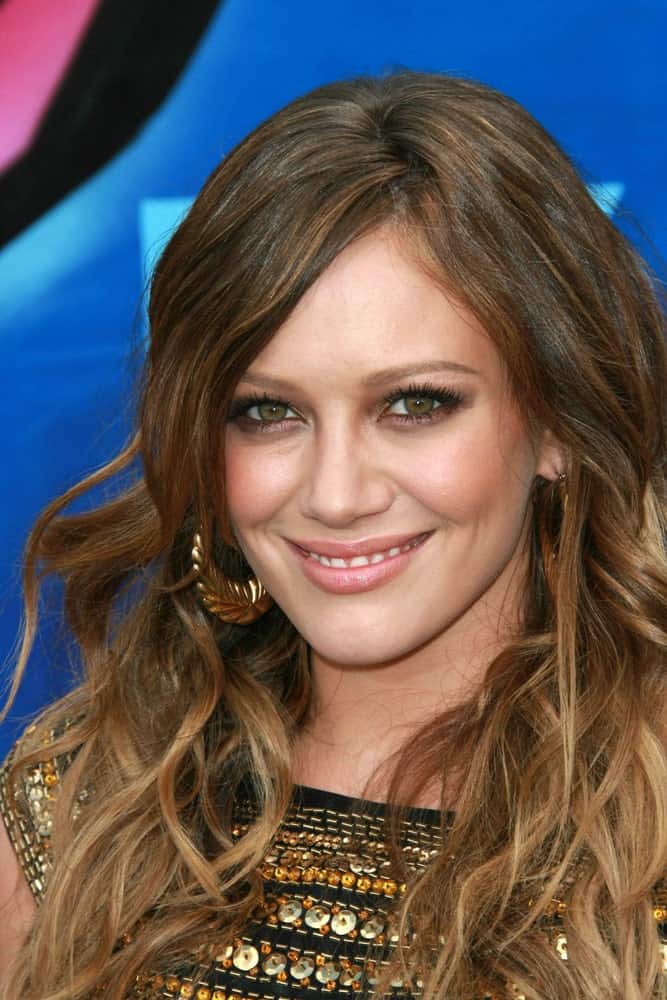 Wispy tousled strands that feature a spectrum of brown and dull brown shades make Hilary Duff look chic in this trendy hairstyle for women with curly hair.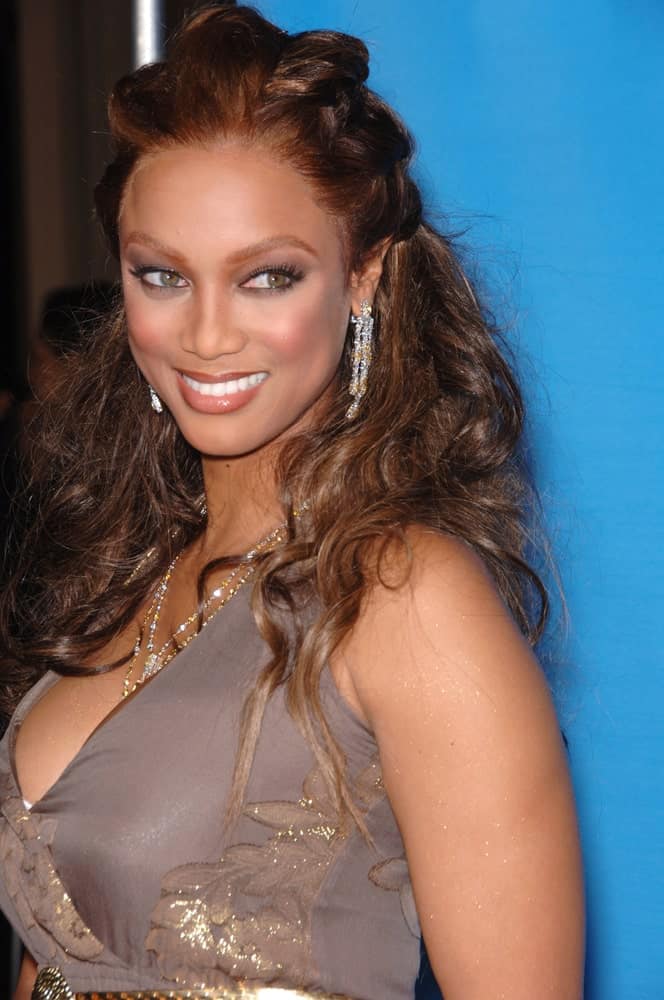 Tyra banks sports this elaborate hairstyle for curly hair in which her wavy locks have been pulled back in a half-up hairdo whereas the remaining hair is worn down in a simple style. The segmented puff at the top is a smart technique to frame the face and grab attention her way.
Click here for Tyra Banks' hairstyles over the years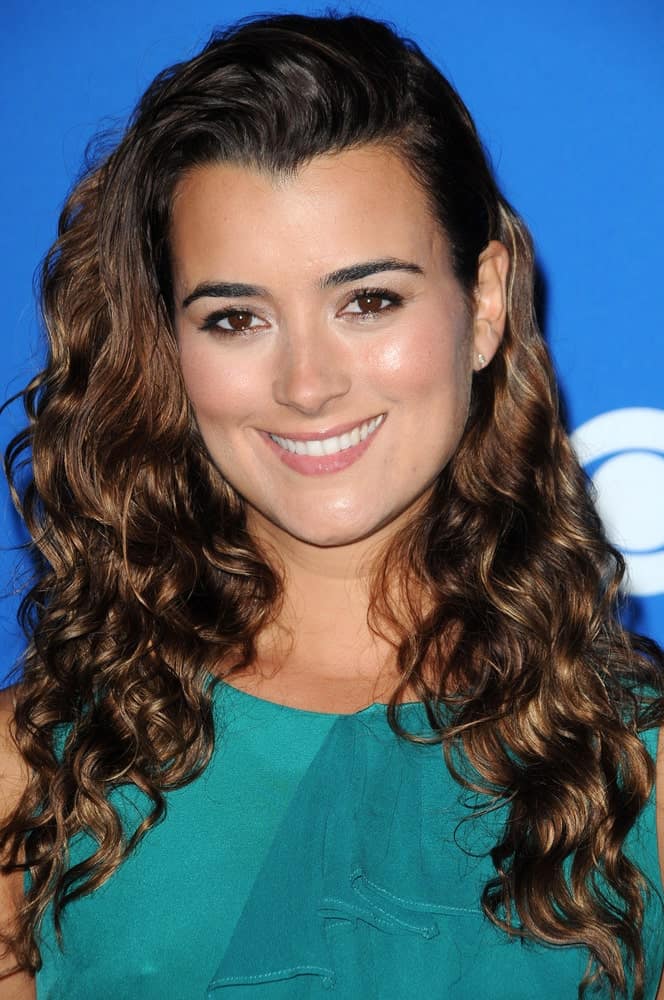 Cote de Pablo rocks a casual hairstyle for women with curly hair in which she has opted for subtle baby lights to bring out to call attention to her coily strands. Brushing the hair side-ways in a comb-backed style makes her look lively and energetic.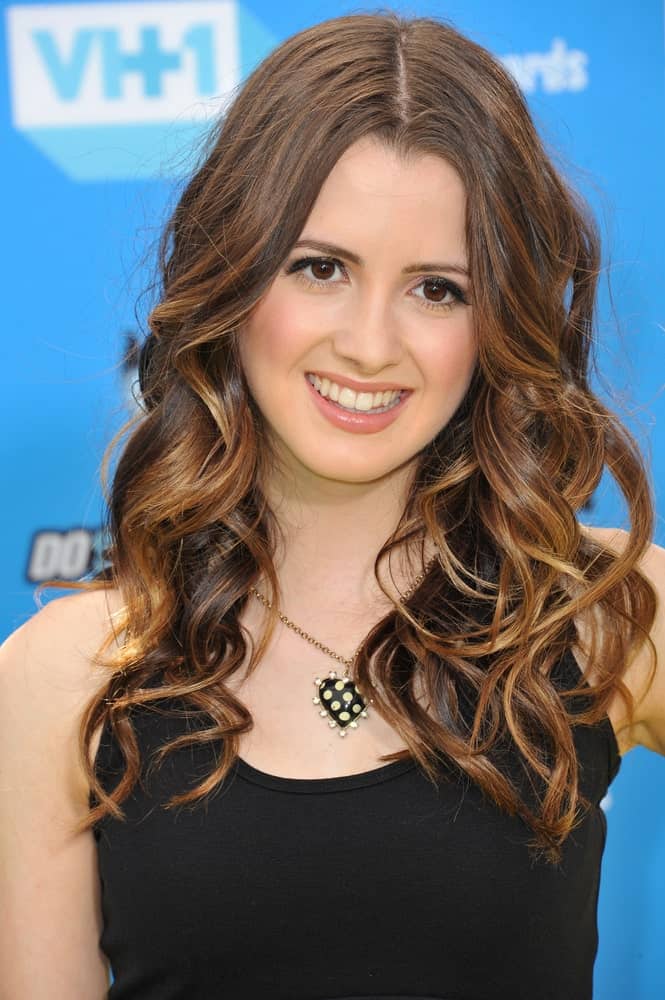 Laura Marano's hairstyle for women with curly hair might not be something very new but what makes it super chic is the addition of light honey-golden and caramel highlights that shine out on the chestnut brown base.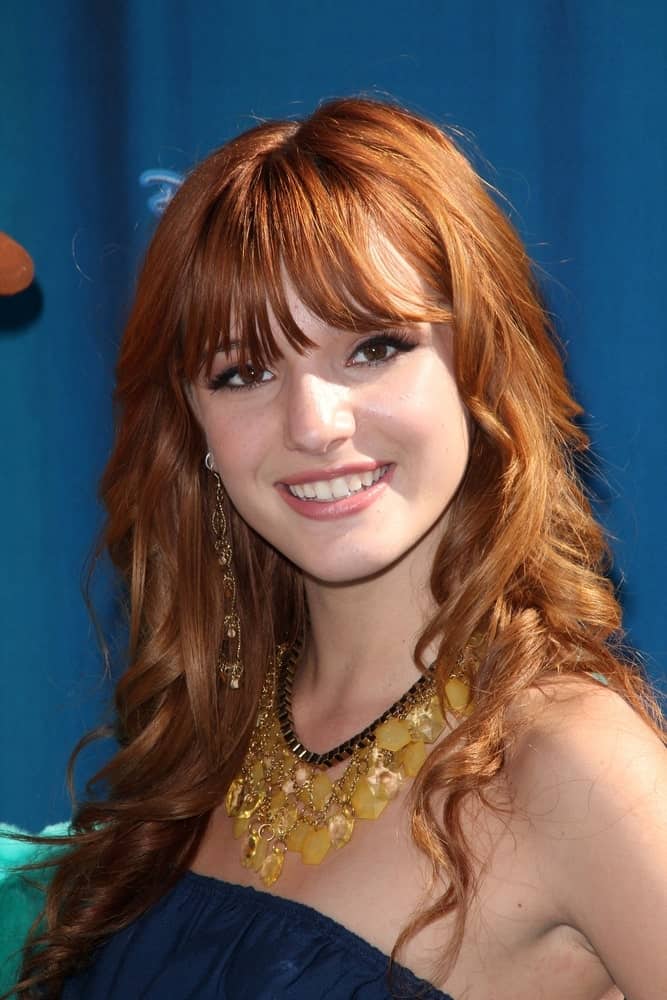 Here we see Christina Hendricks look young and playful in this casual hairstyle for women with curly hair. Blunt, eye-skimming and airy separated bangs compliment the wispy locks in a good way.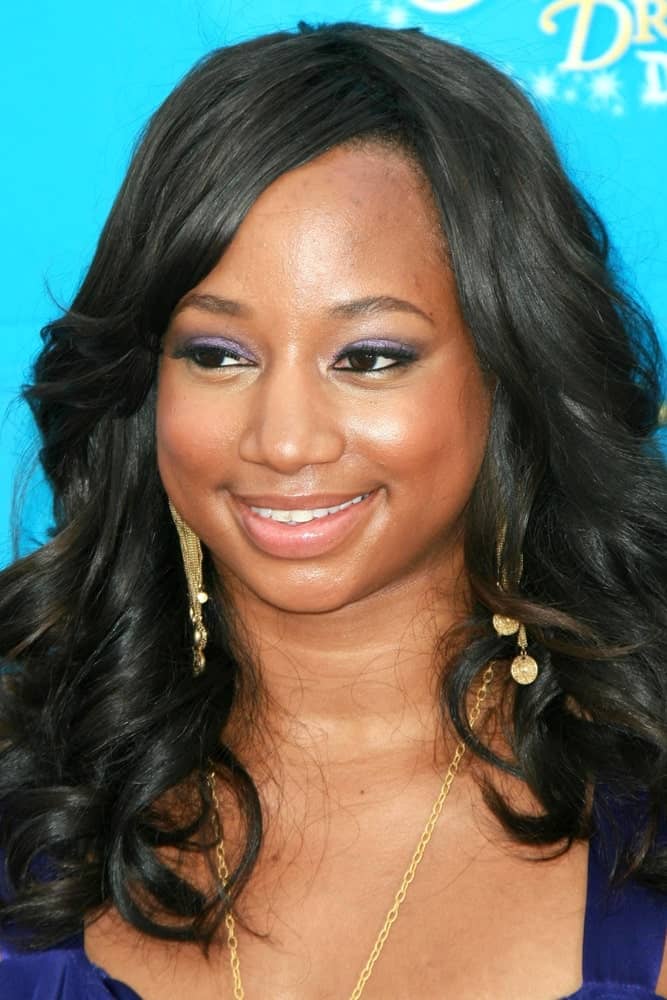 Monique Coleman sports this curly hairstyle that is just the right mix of casual and professional. A prominent side-part emphasize by extra longs bangs and jet black locks that end in a bouncy, springy style will definitely look mod is you have really dark hair color.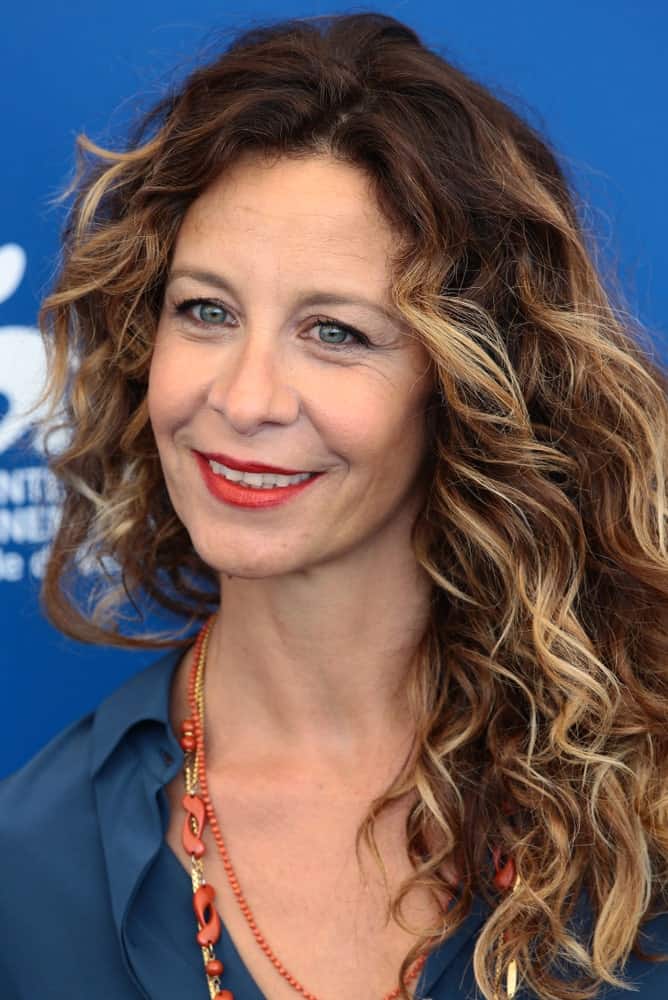 Carlotta Natoli proves that curly hair makes women look gorgeous no matter what their age might be. Gracing her hair with ash gold streaks against the Havana brown shade further cuts down on her years, making her look fashionable.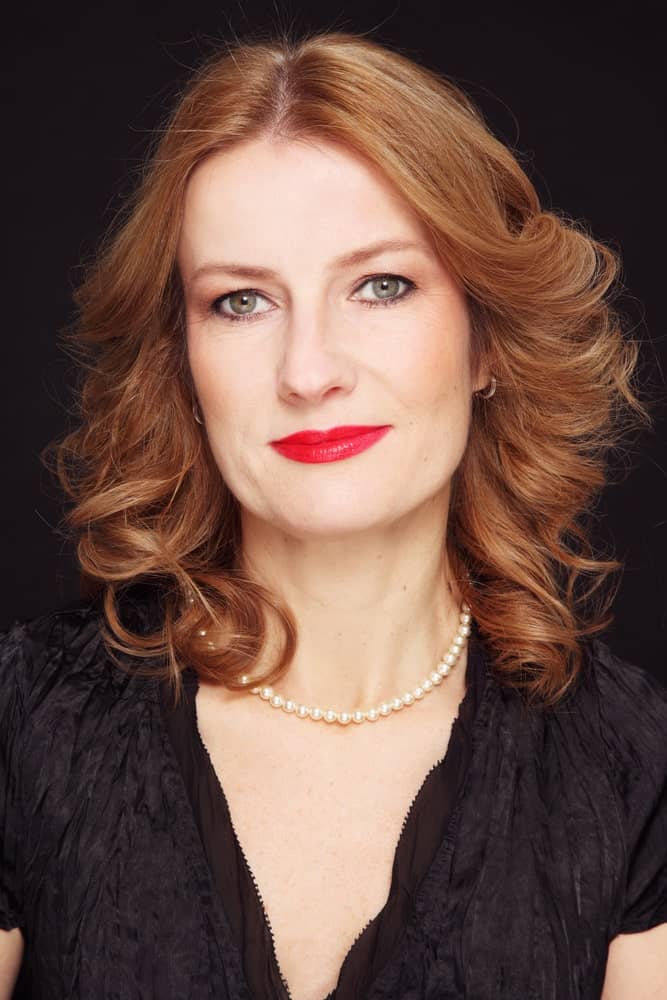 Chin to collarbone hair length always look good on women of all ages, but if you have curly hair, then short hair like this is bound to look even more stunning.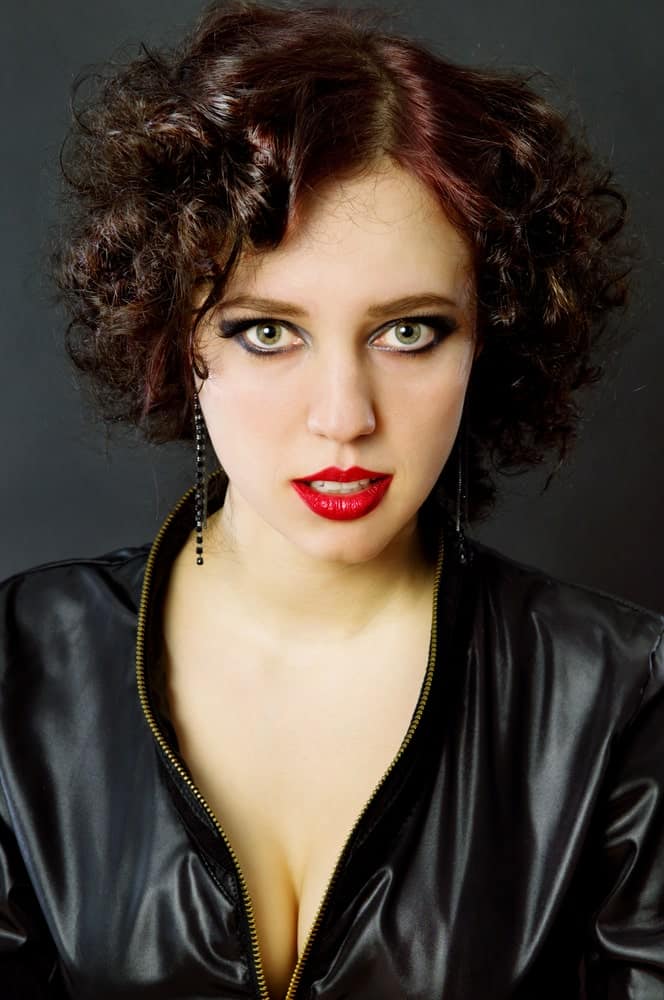 If managing extra long curly hair seems too much work for you, then consider getting a pixie cut because it will look superb.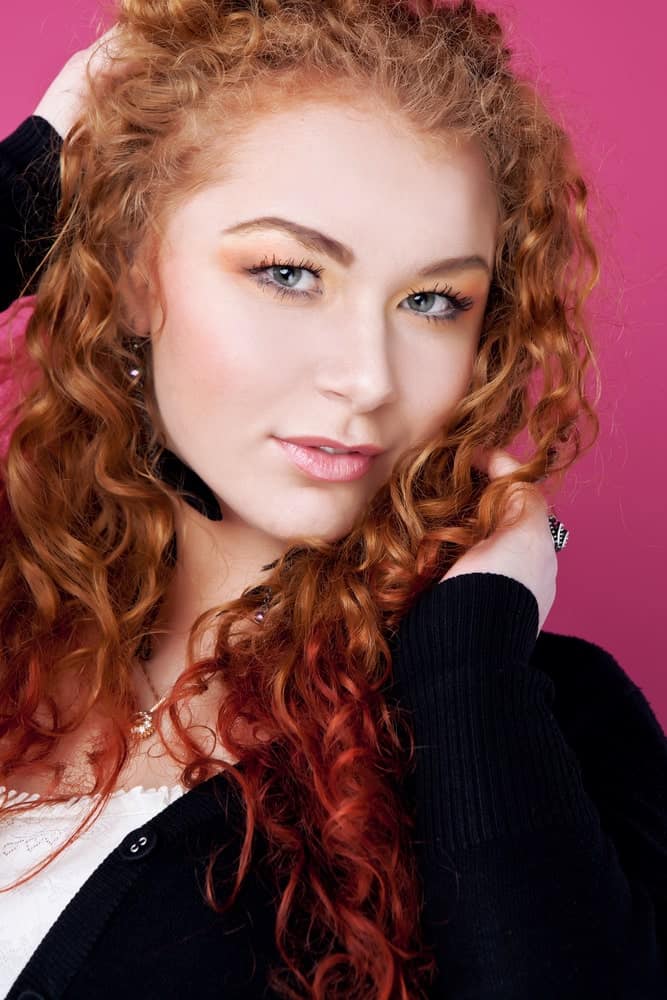 Curly hair that has been dyed a fun shade near the tips is another brilliant way to accentuate the coily texture.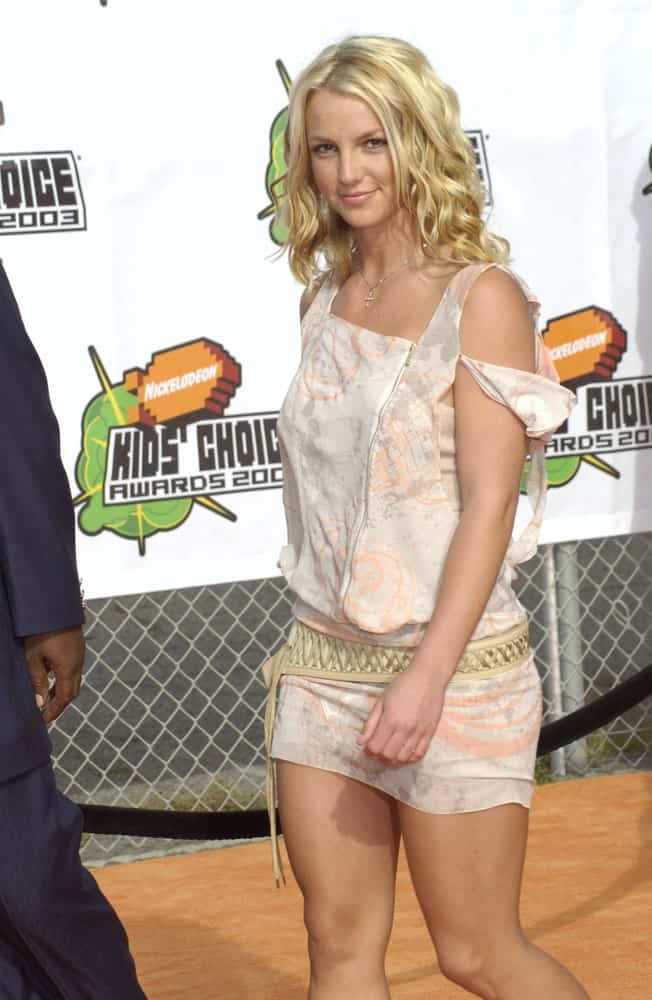 Teen Britney had blonde mid-length hair styled with defined curls during Nickelodeon's 16th Annual Kids' Choice Awards on April 12, 2003.
Click here for Britney Spears' hairstyles over the years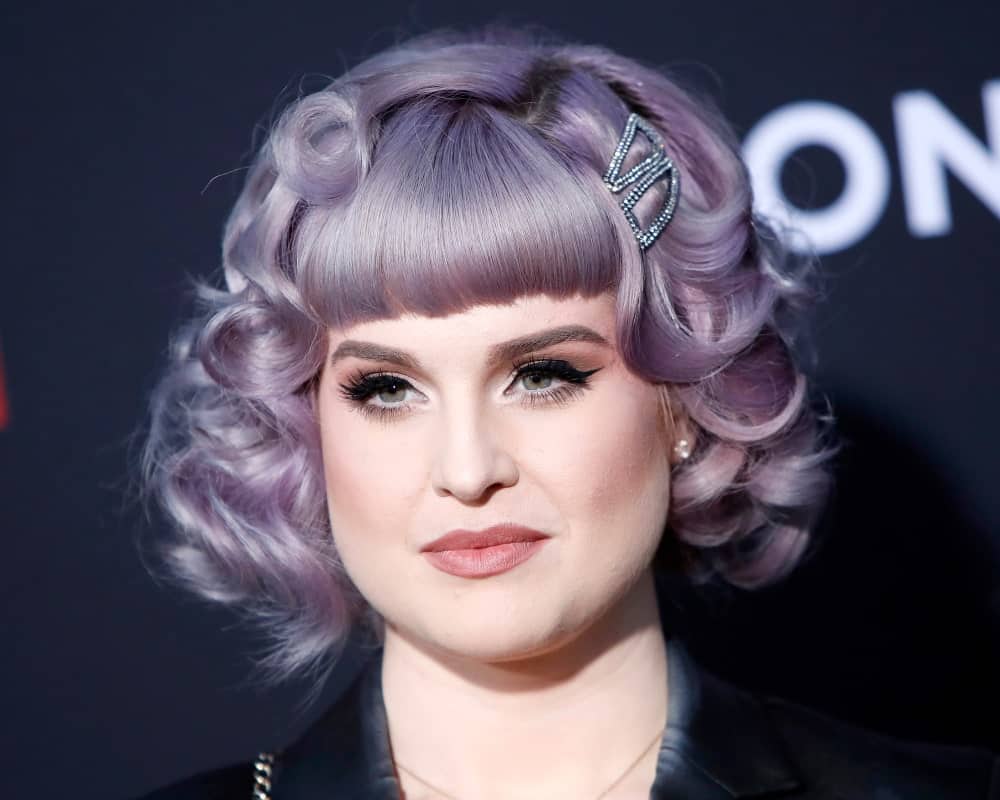 A headshot of Kelly Osbourne on August 21, 2019, showcasing her stunning purple hairstyle. She looks absolutely cute with this hairstyle and hair color.
Click here for Kelly Osbourne's hairstyles over the years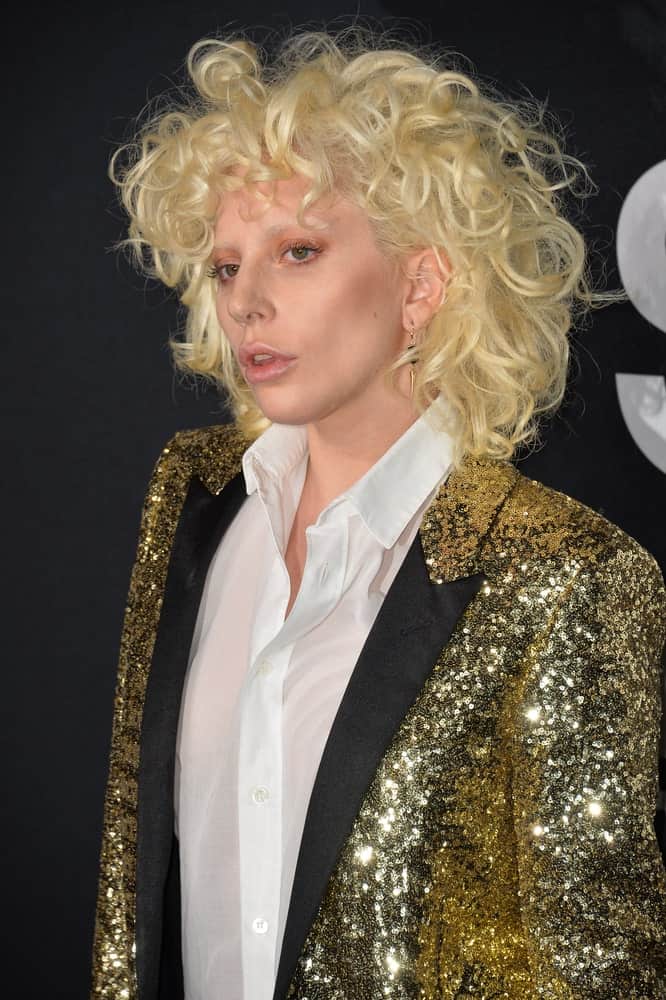 On February 10, 2016, singer Lady Gaga attended the Saint Laurent at the Palladium fashion show at the Hollywood Palladium. She was seen wearing a golden sequined jacket topped with a tousled curly hairstyle almost like an afro.
Click here for Lady Gaga's hairstyles over the years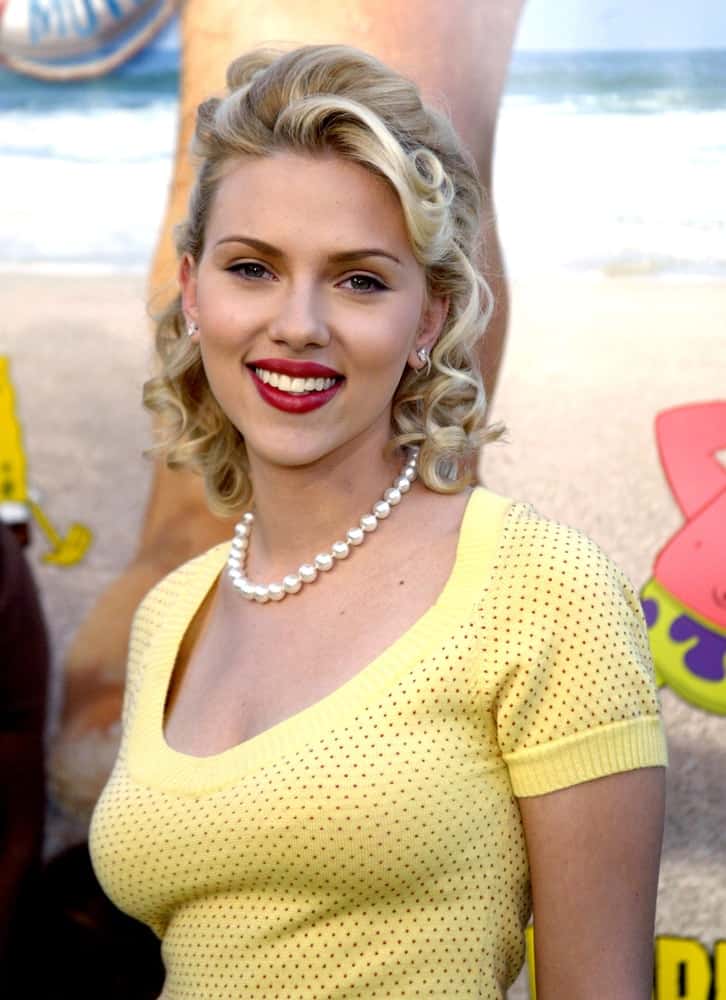 Scarlett Johansson was at the premiere of "The Spongebob Squarepants Movie"  at the Grauman's Chinese Theatre in Hollywood, CA on November 14, 2004. She came wearing a yellow casual shirt to pair with her side-swept curly half-up hairstyle that has a vintage look.
Click here for Scarlett Johansson's hairstyles over the years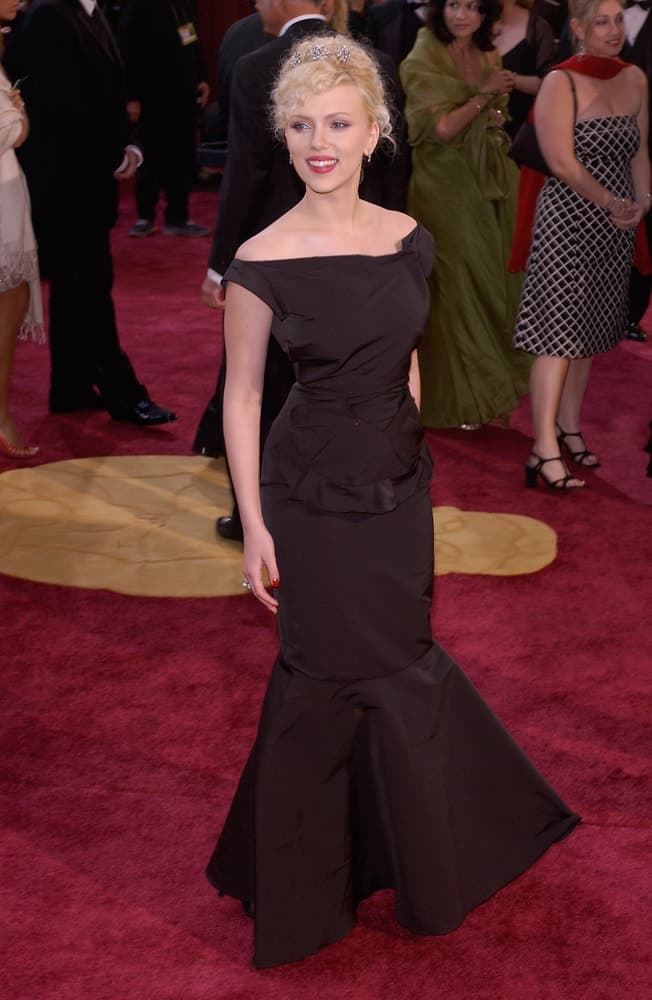 Scarlett Johansson paired her elegant black long dress with a gorgeous curly upstyle with floral pins at the 77th Annual Academy Awards at the Kodak Theatre in Hollywood, CA on February 27, 2005.
Click here for Scarlett Johansson's hairstyles over the years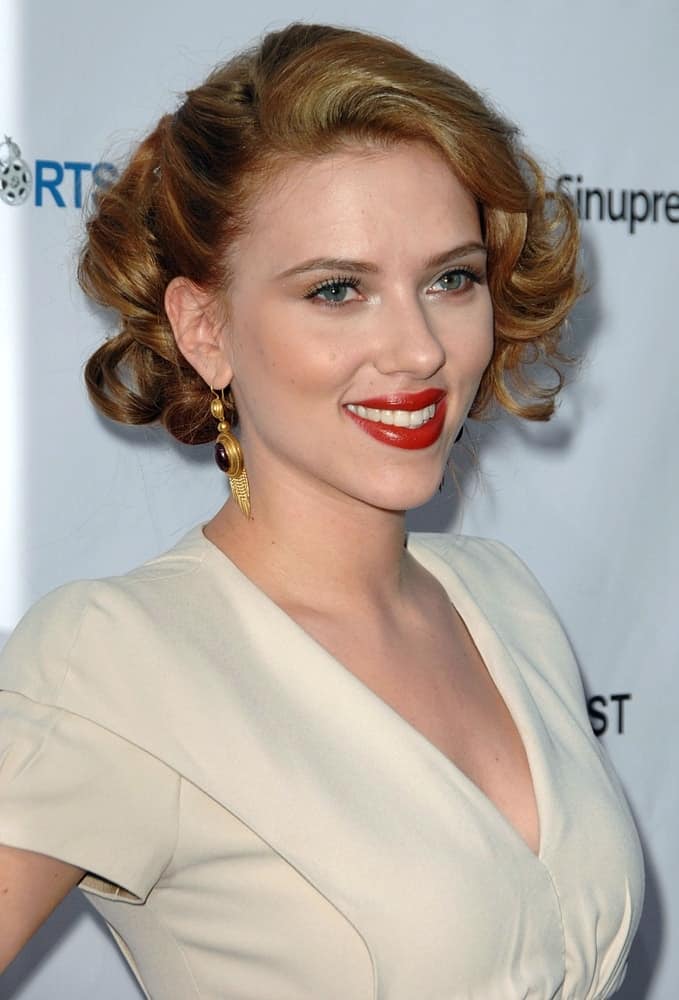 Scarlett Johansson channeled her inner Marilyn Monroe with her white dress, red lips and short curly hairstyle at the 13th Annual Los Angeles Shorts Festival Opening Night, Laemmle's Sunset 5, West Hollywood in Los Angeles, CA on July 23, 2009.
Click here for Scarlett Johansson's hairstyles over the years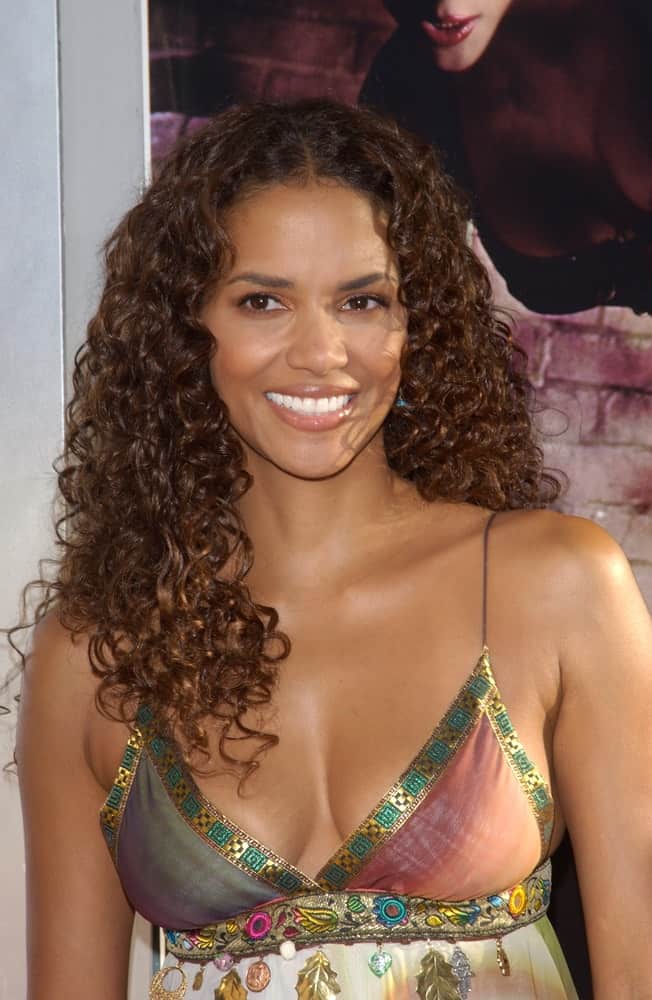 Actress Halle Berry was quite stunning in her colorful sexy dress and loose tousled long curly hairstyle at the world premiere of her new movie Catwoman in Hollywood on July 19, 2004.
Click here for Halle Berry's hairstyles over the years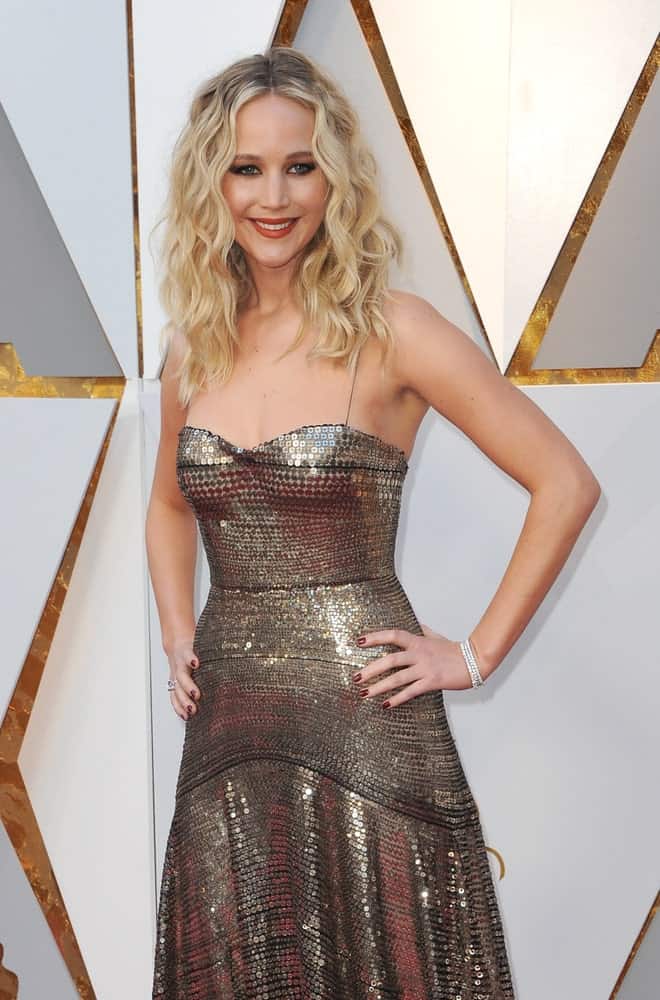 Jennifer Lawrence paired her fashionable sequined dress with a wavy and tousled blond hairstyle with highlights resting on her shoulders at the 90th Annual Academy Awards held at the Dolby Theatre in Hollywood on March 4, 2018.
Click here for Jennifer Lawrence's hairstyles over the years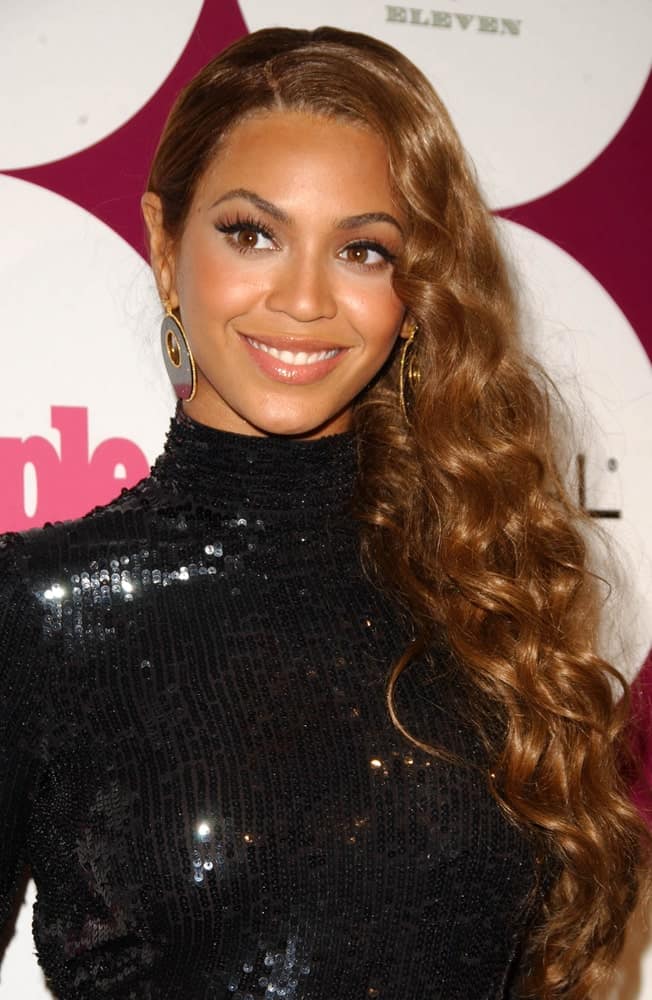 Beyonce rocked a long side-parted hairdo styled with defined curls at the 2007 Sony/BMG Grammy After Party at Beverly Hills Hotel on February 11, 2007.
Click here for Beyonce Knowles' hairstyles over the years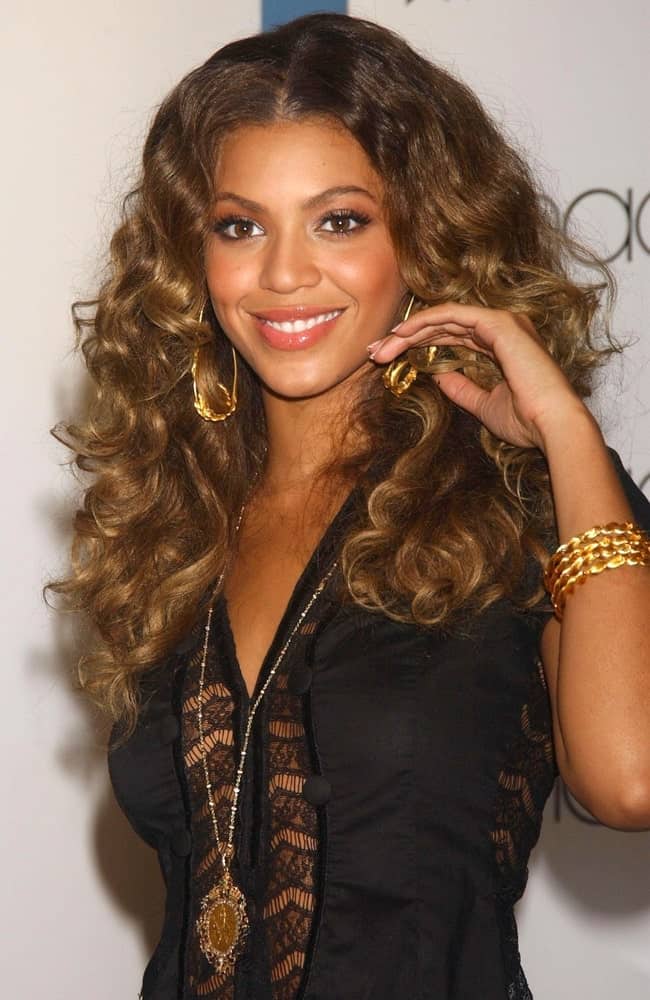 Beyonce Knowles during an in-store appearance for Beyonce Knowles Releases Solo Album B'DAY on September 8, 2006. She wore a lacy black dress and a center-parted curly hairstyle.
Click here for Beyonce Knowles' hairstyles over the years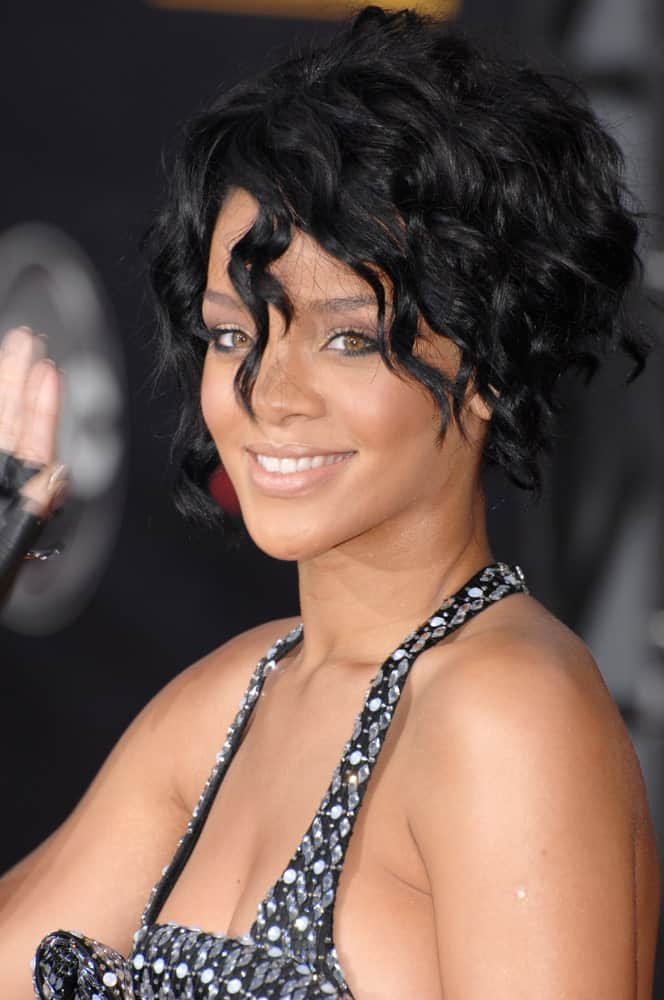 Rihanna paired her gorgeous bejeweled dress with a short and curly raven hair perfectly tousled at the 2007 American Music Awards at the Nokia Theatre, Los Angeles on November 19, 2007.
Click here for Rihanna's hairstyles over the years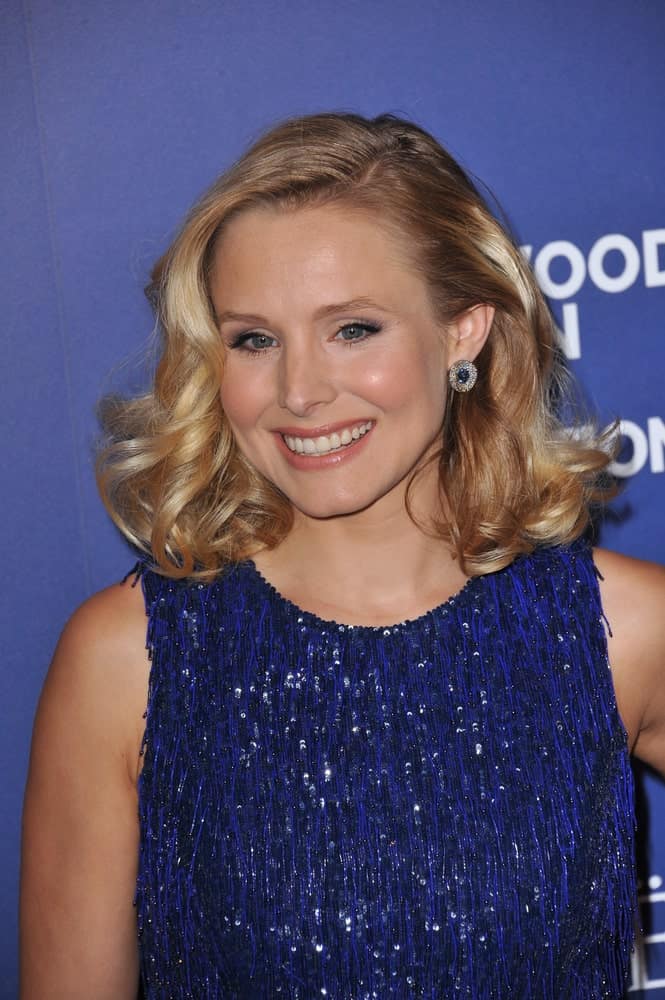 Kristen Bell in a blue sparkling dress that contrasts her blonde voluminous waves during the Hollywood Foreign Press Association's annual Grants Banquet on August 14, 2014.
Click here for Kristen Bell's hairstyles over the years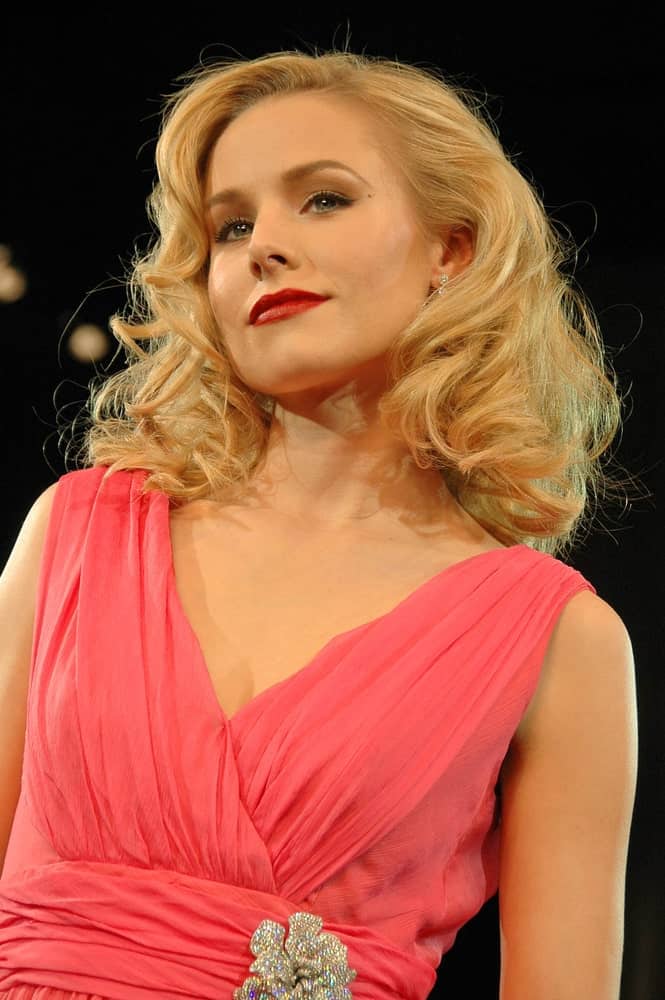 Kristen Bell went for a glam retro look featuring her short side-parted bouncy curls at the Max Factor Fashion Show Benefiting Clothes Off Our Back Charity last March 14, 2007.
Click here for Kristen Bell's hairstyles over the years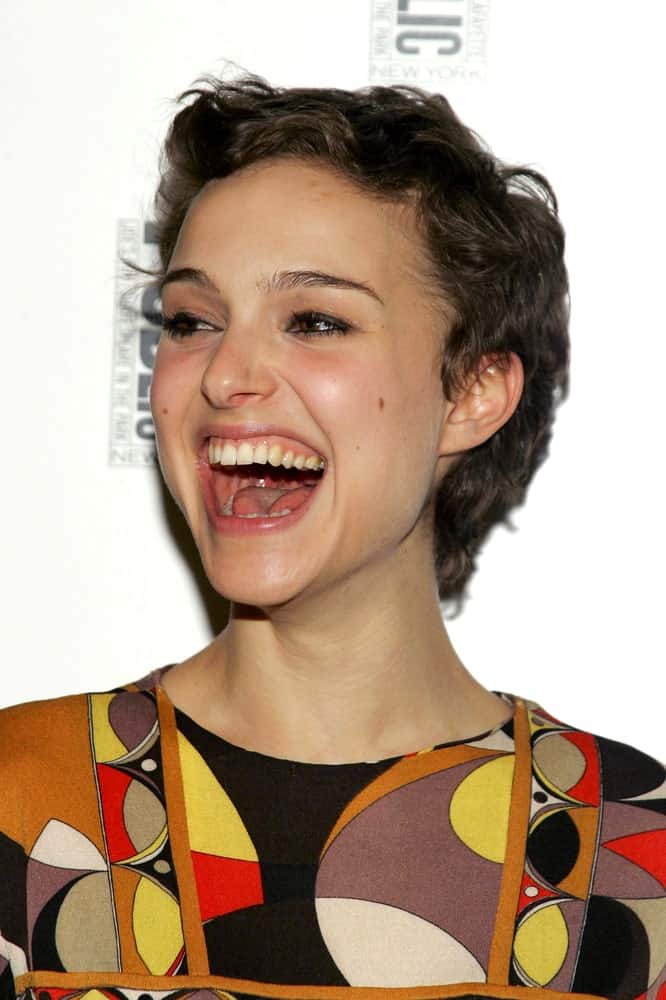 Natalie Portman attended the after-party for The Public Theater Sings A 50th Anniversary Celebration held at The Time Warner Center, New York, NY on January 30, 2006. She wore a colorful outfit to go with her brilliant smile and pixie hair with a tousled wavy finish.
Click here for Natalie Portman's hairstyles over the years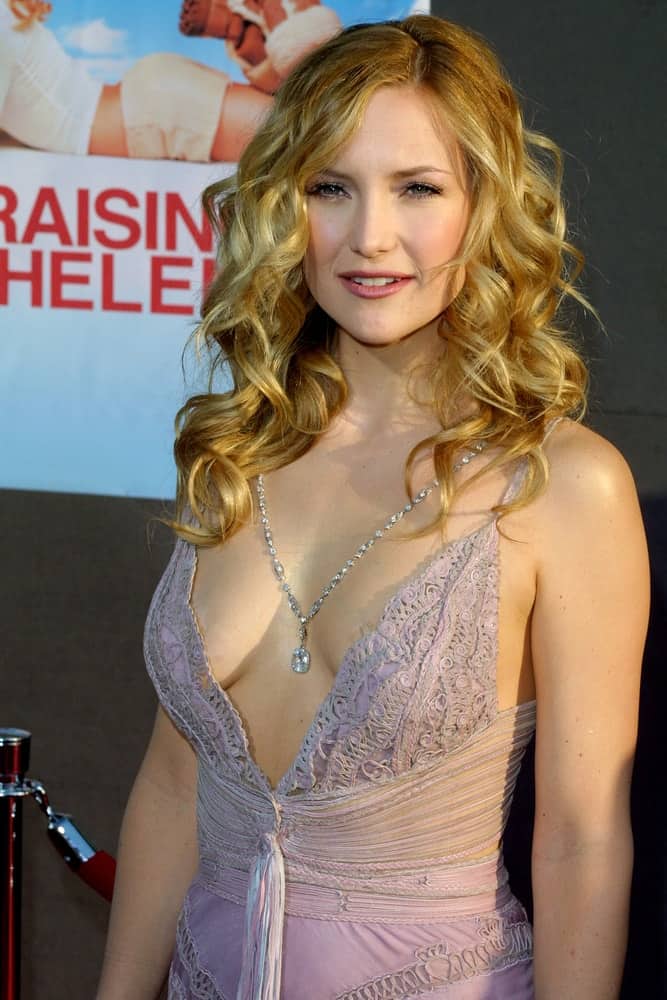 Kate Hudson wore a stunning and sexy dress to go with her tousled sandy blond curls loose on her shoulders at the Los Angeles premiere of 'Raising Helen' held at the El Capitan Theatre in Hollywood, USA on May 26, 2004.
Click here for Kate Hudson's hairstyles over the years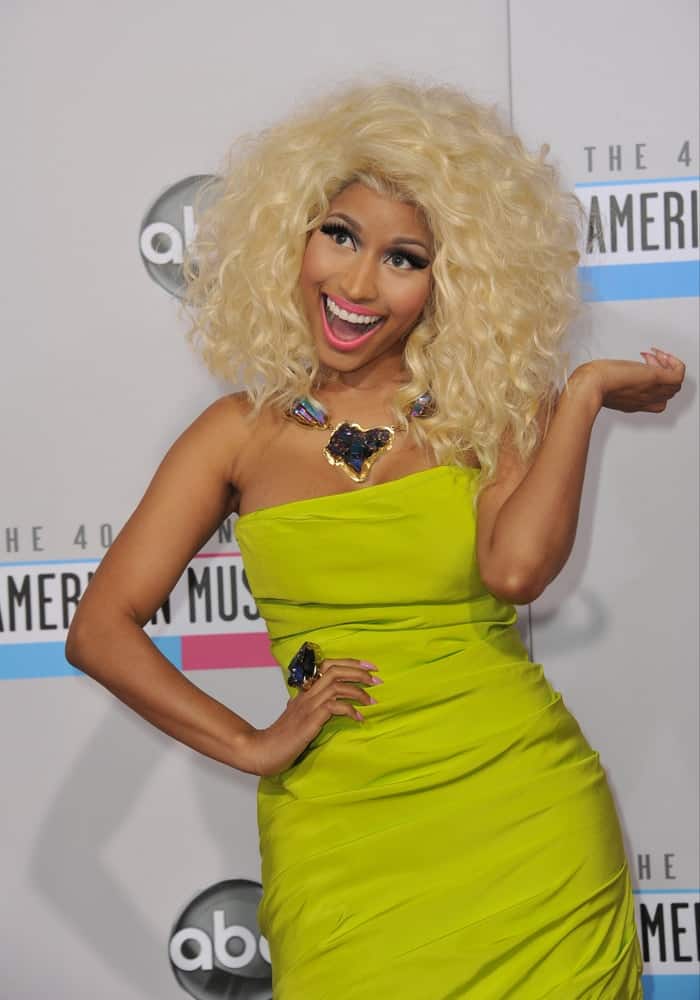 Nicki Minaj was at the 40th Anniversary American Music Awards at the Nokia Theatre LA Live on November 18, 2012, in Los Angeles, CA. She wore a neon green dress that she paired with a blond tousled and curly thick hairstyle.
Click here for Nicki Minaj's hairstyles over the years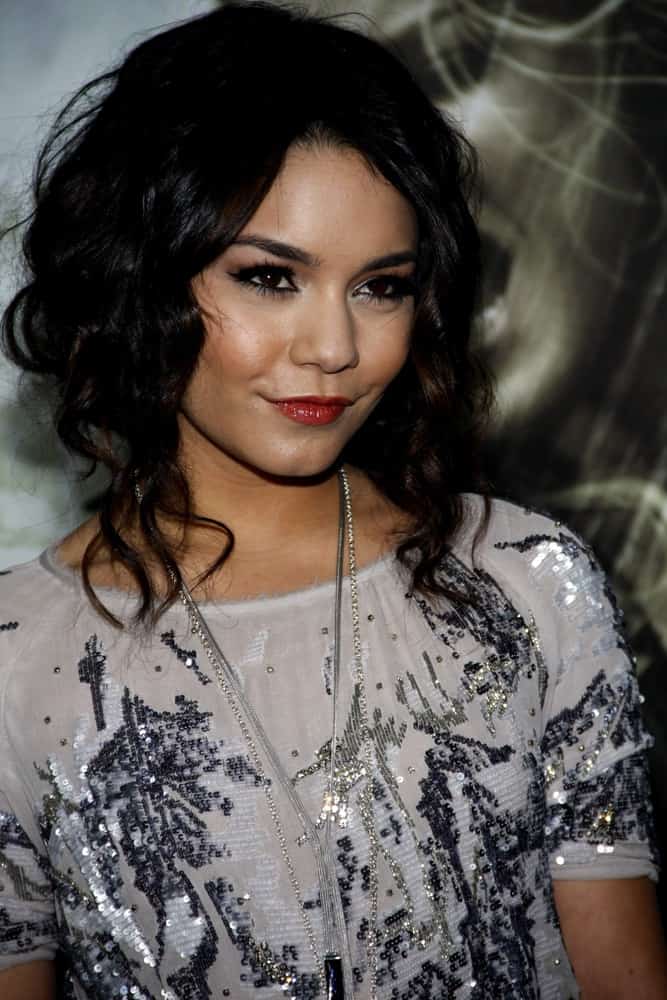 Vanessa Hudgens wore a silver sequined outfit that went quite well with her tousled curly raven hairstyle that has long curly side bangs at the Los Angeles Premiere of "Sucker Punch" held at the Grauman's Chinese Theater in Los Angeles, California on March 23, 2011.
Click here for Vanessa Hudgens' hairstyles over the years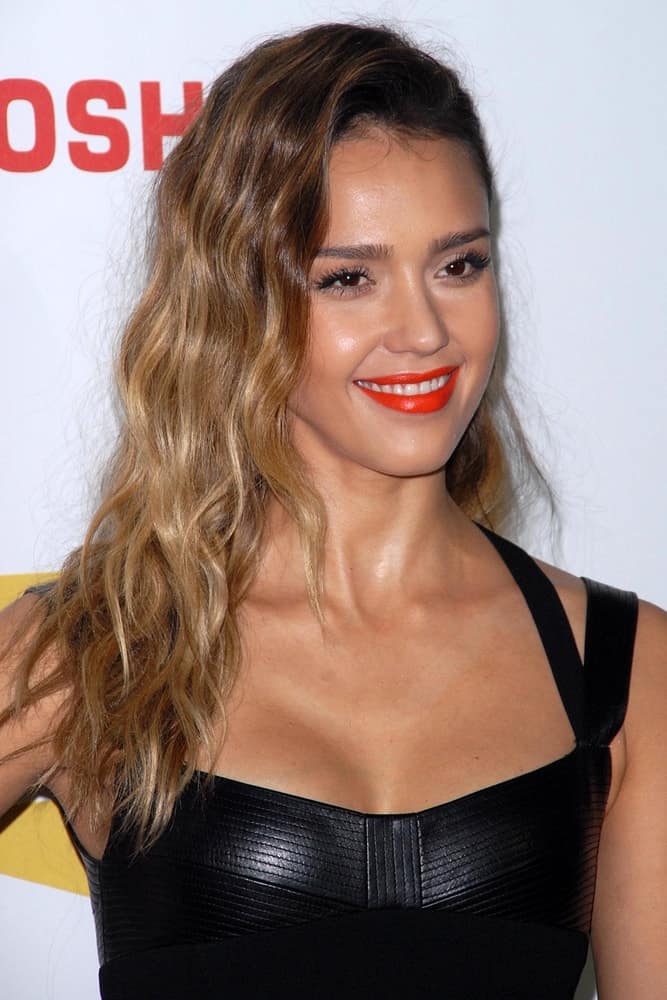 Jessica Alba looked amazing in her black leather dress and long side-swept curly hairstyle that was tousled, highlighted and loose at the Spike TV's Video Game Awards 2012 at Sony Pictures Studios on December 7, 2012, in Culver City, CA.
Click here for Jessica Alba's hairstyles over the years
---
How to Properly Care for Curly Hair
Start by determining what your hair type is and what your curl pattern is. You can then shop for hair care products adapted to your needs. Try using smaller quantities of hair care products and invest in a good detangler that won't damage your hair. You should also use a diffuser when blow drying your hair to avoid frizz and always start from the bottom when you comb your hair.
Learn to Shape Your Curls
Your curls will look even better if you shape them after washing your hair. The easiest way to shape your curls is to divide your hair into small segments. Wind the hair up to create flat circles and attach the circles to your head with some bobby pins. Keep your hair up overnight and you should have perfect curls the next day!
Adopt A Teased-Out Style
Take advantage of your hair's natural volume by creating a teased-out style. Divide your hair into sections and use a comb to tease the underneath layers first. Keep in mind that this look will stay until you wash your hair again. This is a great way to add more volume if you feel that your curls make the top of your hair look flat. Try piling your curls to one side once you have mastered the teasing technique!
Think About a Cropped Hairstyle
Working with long curls can be difficult. A cropped hairstyle is going to frame your face and make your curls the stars of the show. A shorter hairstyle also means less maintenance, and you can easily pull off the perfect curly bedhead look. A curly pixie can be chic, but you can opt for a girly wavy bob if you would like a little more length.
Try Different Topknots
Topknots are a versatile way to style curly hair. You can easily pair them with hair accessories or even create a professional style. Start with a high ponytail and try different ways of attaching your hair on top. You can create a braid and wrap it, or simply create a messy bun.
Tame Your Curls with Braids
If you have naturally curly hair, you absolutely need to learn a few braiding techniques. You can create many different curly women hairstyles once you know how to properly braid your hair type, and this is a great way to tame your curls. You can braid only a section of your hair to reduce the volume and let some of your curls loose or choose to wear your curls in one large braid. If you have shorter hair, you can get the same effect with a twist.