Here's a terrific gallery showcasing a variety of women with fulani braids. All types, lengths and styles. Great ideas for you!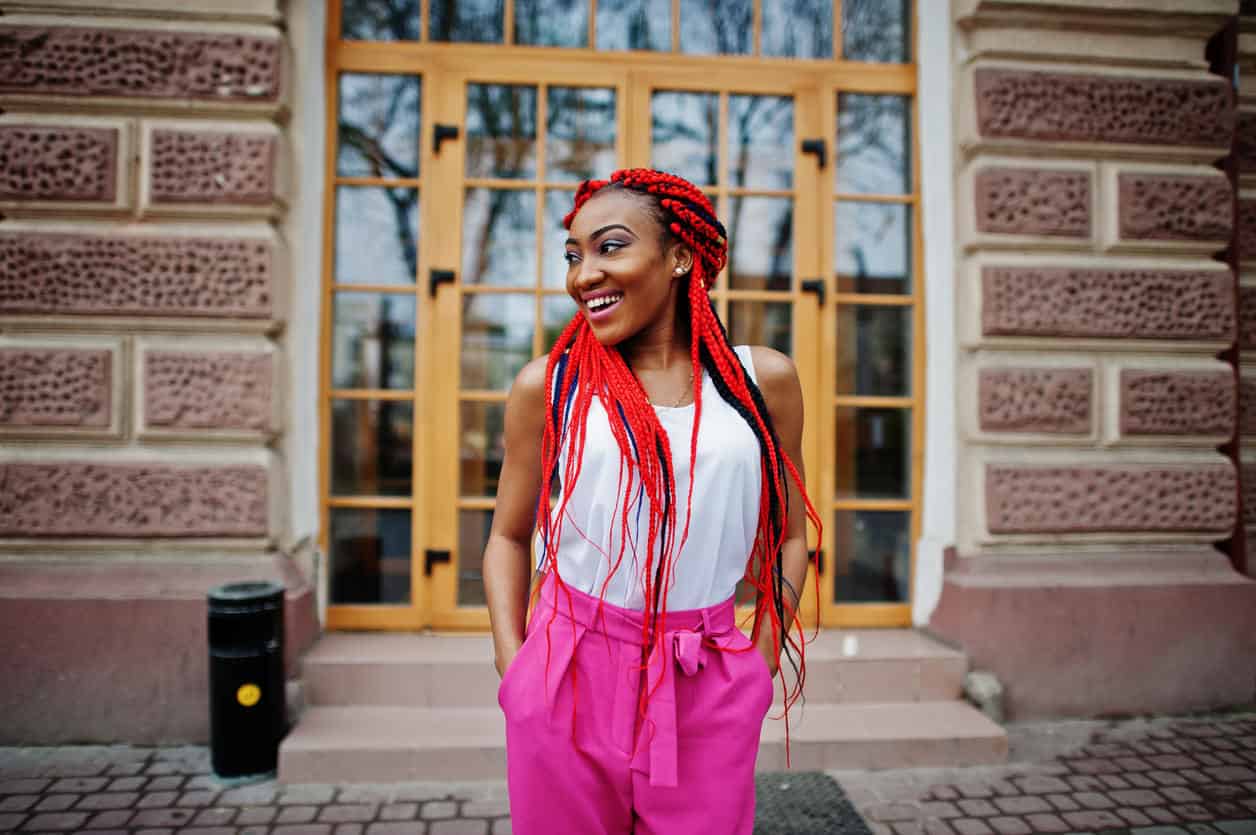 Welcome to our Fulani braids ideas, photos and examples for women. While not a huge gallery, the examples showcased below offer a great deal of variety in Fulani braid styles including various hair lengths and women's ages.
With respect to the mainstream use of this type of braid, it's relatively young. Searches online for this type of braid didn't begin until early 2017. See the trend chart below the gallery.
Alicia Keys' Fulani Braids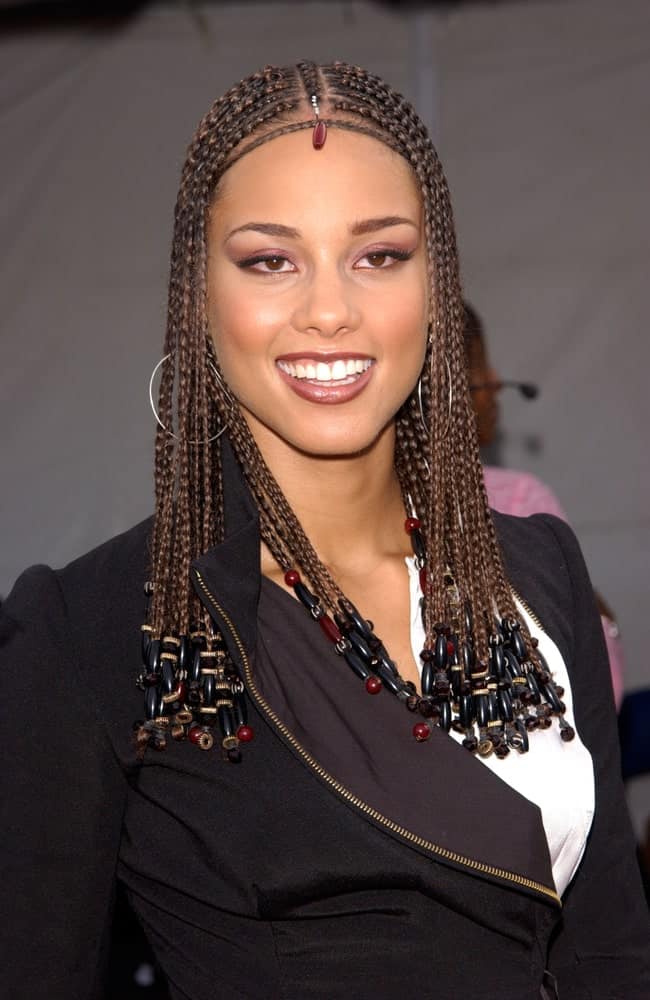 One of the very first celebs to embrace the beautiful traditional hairstyle of the Fulani people was Alicia Keys. The "Girl on Fire" singer has been ornamenting her hair with the long, thin, beaded braids for decades now; however, the look has hit the mainstream masses just a couple of years ago. Here, Keys is sporting chest-length Fulani braids that terminate into red, black, and gold beads. A single red bead also dangles on the middle of the forehead. The look is truly inspiring and a homage to the Fulani people.
Sonequa Martin-Green's Dual-Toned Style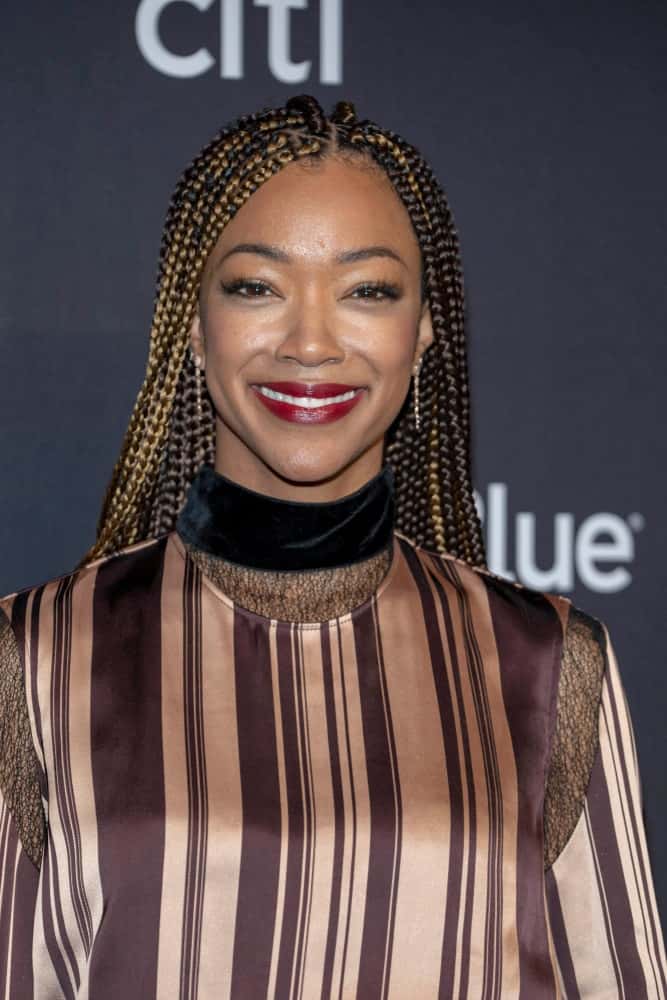 Another beautiful celebrity, Sonequa Martin-Green, was seen rocking Fulani braids at the 2019 Paley Fest. The actress styled her Fulani braids in a minimalistic way. Half her locks remained dark brown while the other half was colored a beautiful burnished gold. The "Star Trek: Discovery" actress chose to forego the traditional shells, beads, and thread decorations in her cascading hair, preferring to show off the beautifully two-toned dangling length of her hair.
Kelly Rowland's Purple and Blue Braids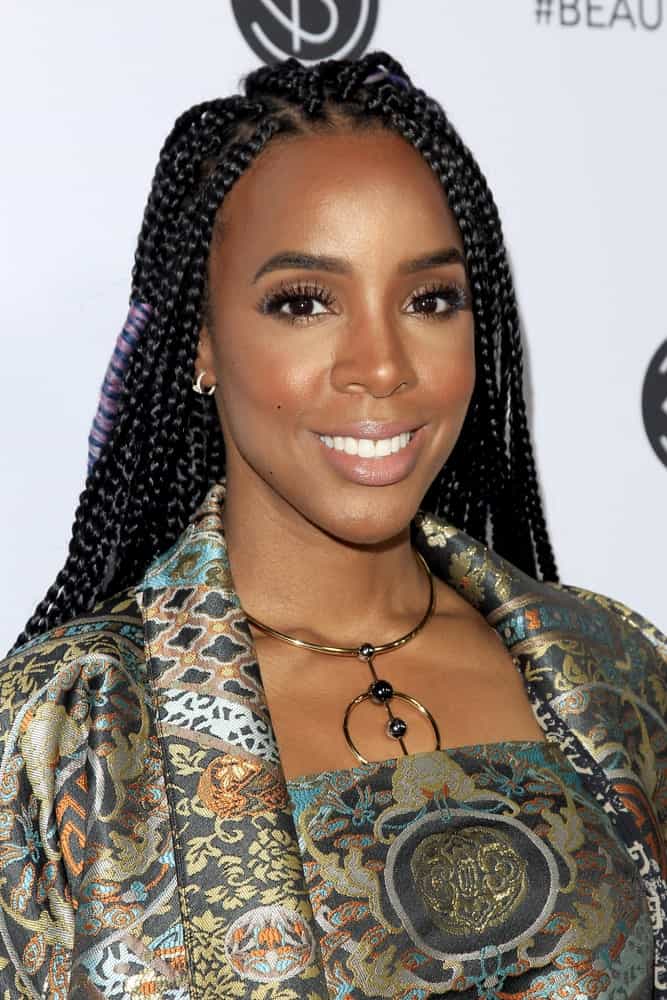 Kelly Rowland paired her colorfully-printed silk dress with Fulani braids at the 5th Annual Beautycon Festival in 2017. The former member of "Destiny's Child" kept her long hair pushed back from her face with the help of multitudes of braids. Most of her braids remained unadorned but she wrapped lilac and blue threads around a few of her side braids for some beautiful accent in contrasting color. This style of braid looks perfect on her.
Kim Kardashian's Minimal Fulani Braids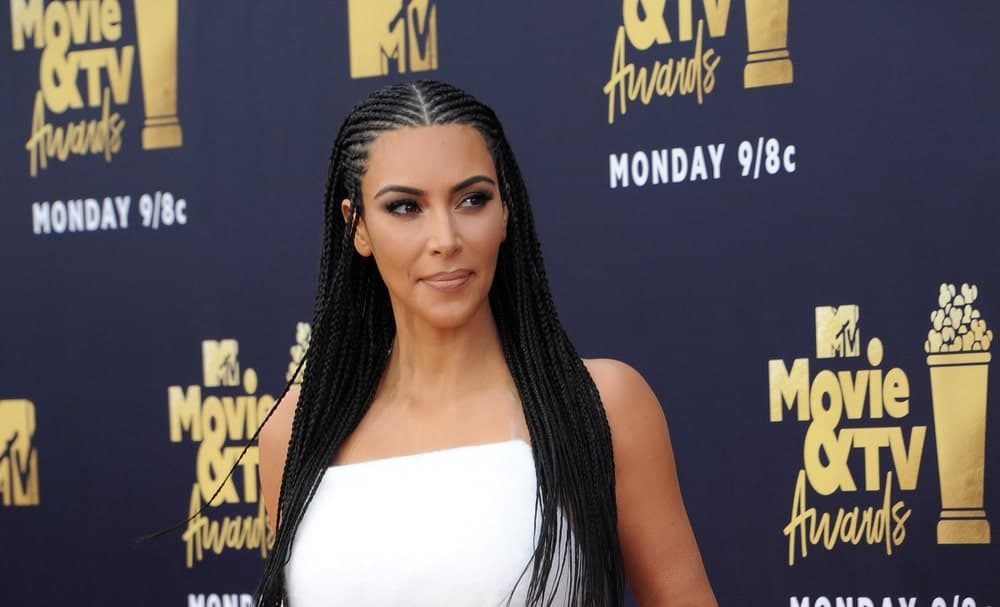 When Kim Kardashian first jumped on the Fulani braid bandwagon, she received a lot of criticism from the African-American community for appropriating their culture. However, it didn't stop Kim from flaunting the traditional braid style. Kim's most famous (or infamous) look came when she appeared at the 2018 MTV Awards with her hair in tight Fulani braids. Even though she was not well-received, the traditional hairstyle certainly looked stunning. Kim did not use any colored beads or shells but let the hair speak for itself.
Click here for Kim Kardashian's hairstyles over the years
Teyonah Parris' Hybrid Fulani Bouffant Bun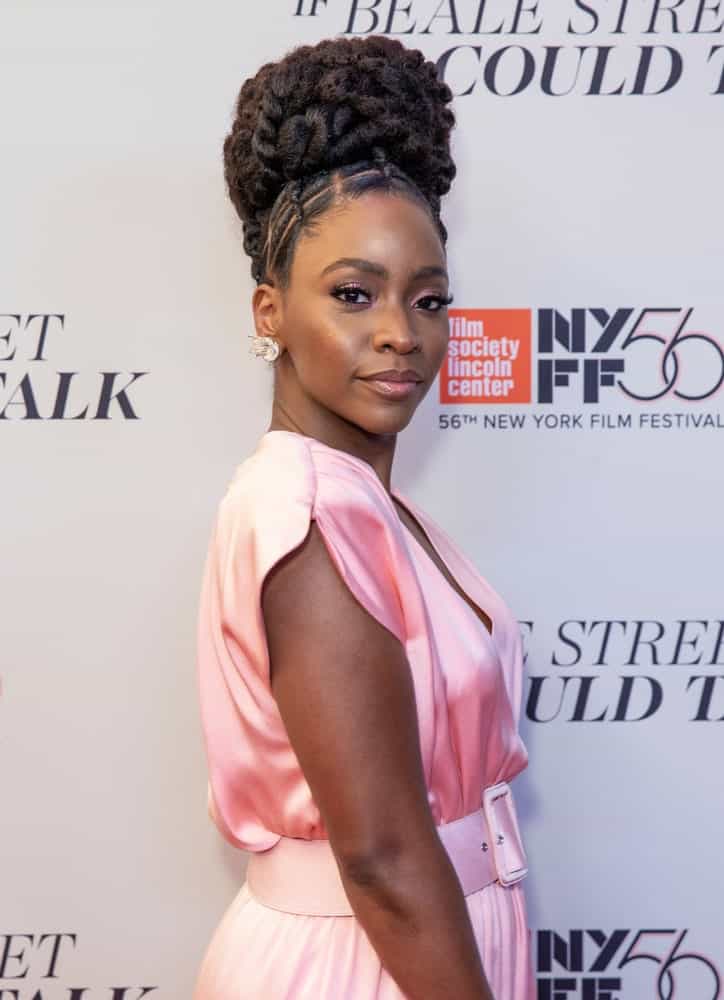 Beautiful actress, Teyonah Parris, debut this stunning look at the 2018 New York Film Festival. The "Survivor's Remorse" actress styled her hair in a very elegant way, opting for only a few strands of Fulani braids at the front of her head, weaved in geometric patterns. The rest of the actress' thick, natural hair was twisted in a thick braid, curled up and turned into a stunning bouffant bun at the top of her head.
Halle Berry's Slick Cornrows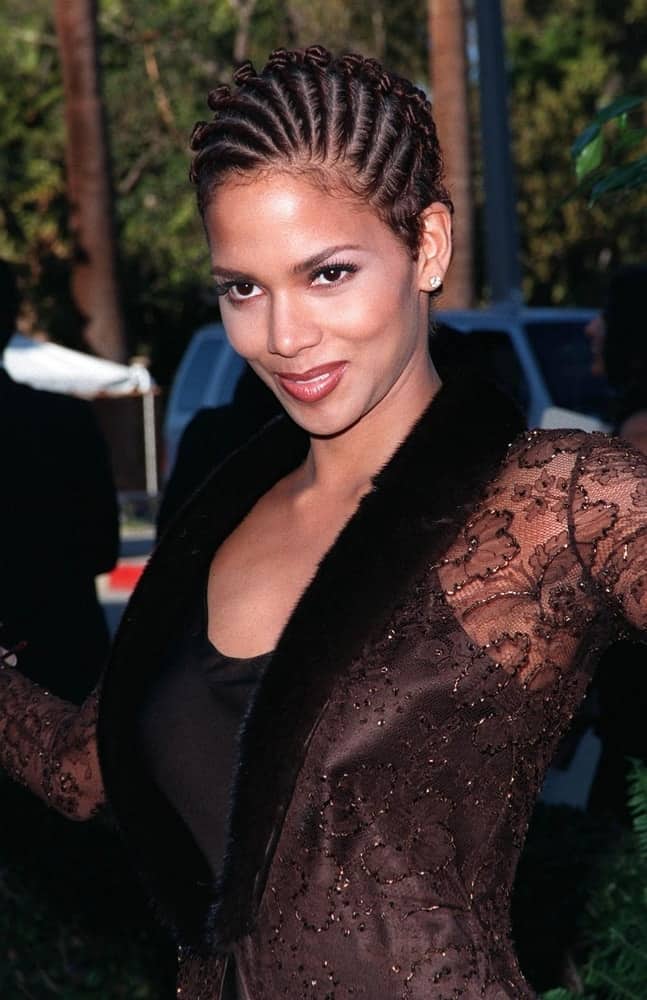 On March 10, 1998, Actress Halle Berry attended the Blockbuster Entertainment Awards in Hollywood where she wore a fashionable black outfit to pair with her cool cornrows hairstyle.
Click here for Halle Berry's hairstyles over the years
Beyonce Knowles' Swirling Fulani Braids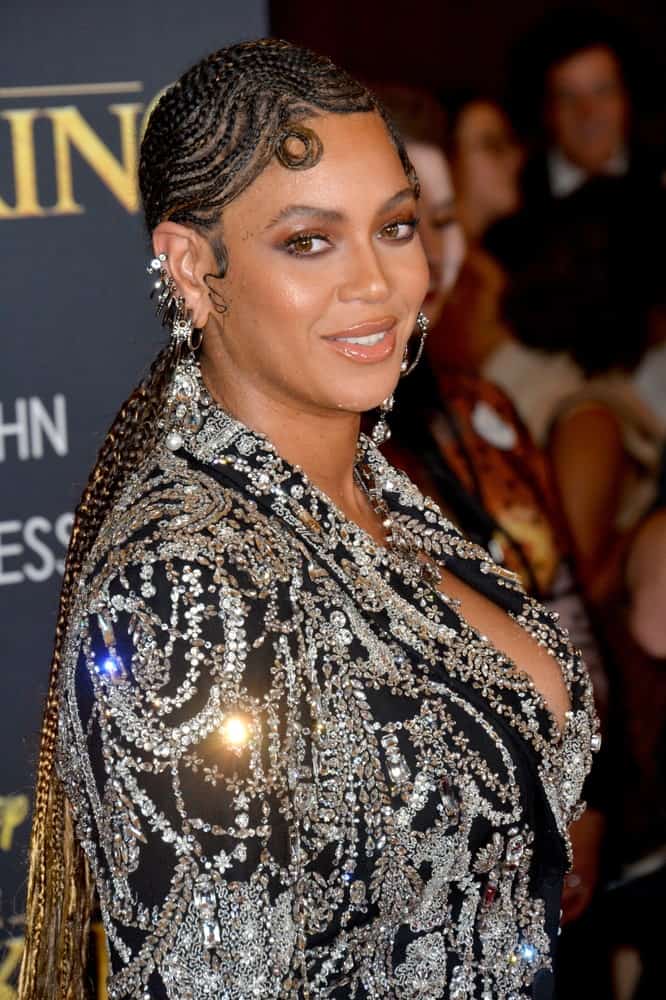 Beyonce Knowles shines in an embellished dress that perfectly goes with her swirling cornrows during the world premiere of Disney's "The Lion King" at the Dolby Theatre on July 10, 2019.
Click here for Beyonce Knowles' hairstyles over the years
Rihanna's Elegant Long Fulani Braids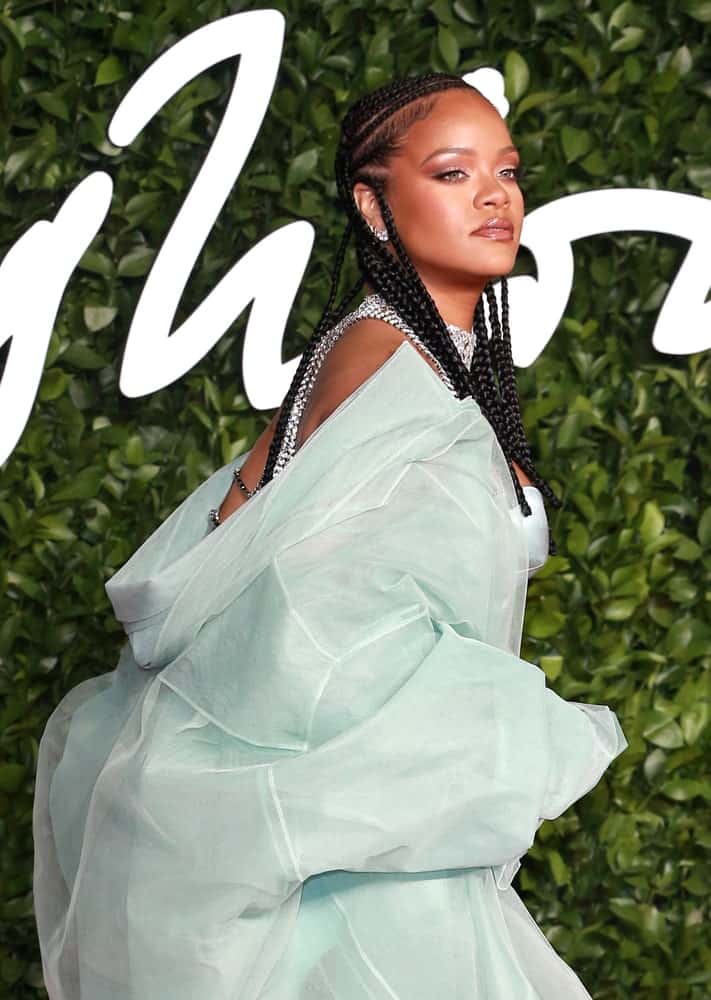 On December 2, 2019, Rihanna wore an elegant light blue gown with her Fulani braids and cornrows when she attended the Fashion Awards at the Royal Albert Hall in London, United Kingdom.
Click here for Rihanna's hairstyles over the years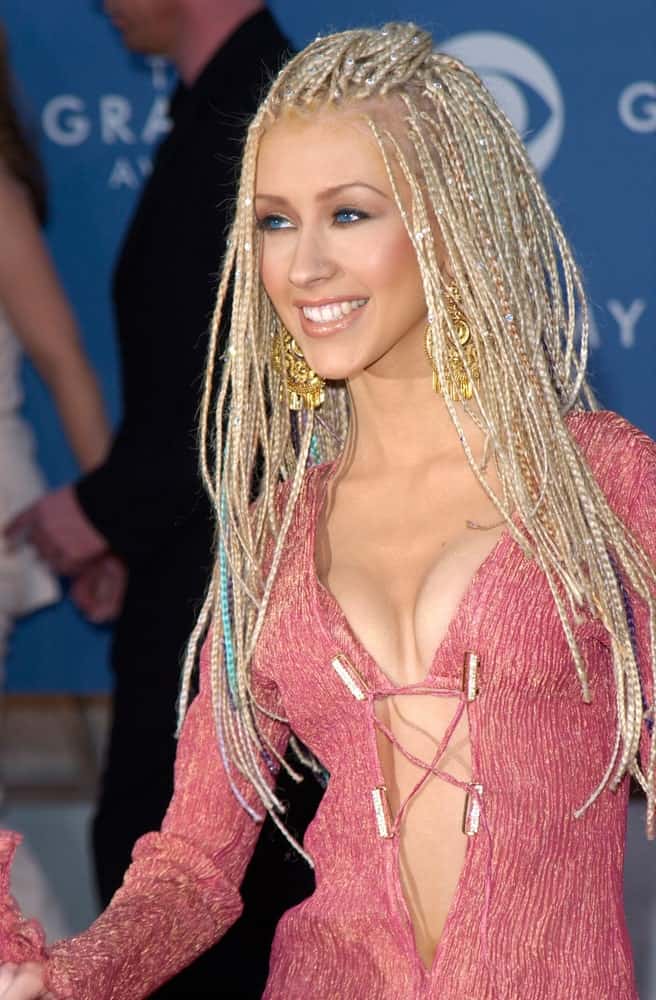 Christina Aguilera was seen wearing multi-colored plaits at the 43rd Annual Grammy Awards on February 21, 2001.
Click here for Christina Aguilera's hairstyles over the years
Rainbow-Threaded Fulani Braids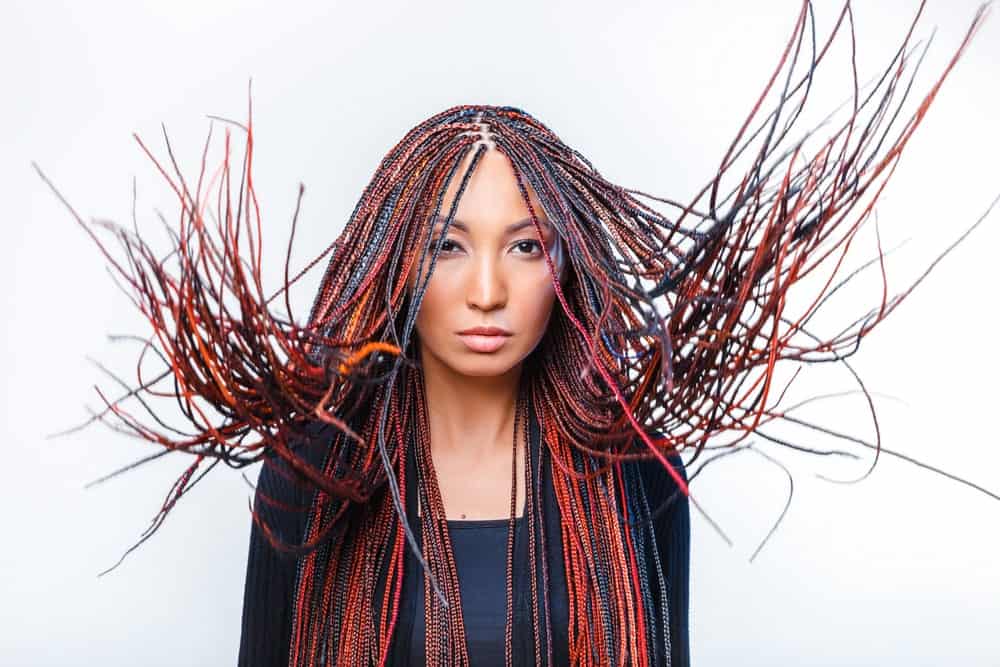 Why go with just one or two colors of thread when you can style your hair with a dozen! Here, this model is donning the Fulani style of braids and her pigtails are especially thin. She decorated each braid with different colored threads, including red, orange, blue, brown and purple. This brightly colorful look is a great style for spring and summer.
Embellished Fulani Braids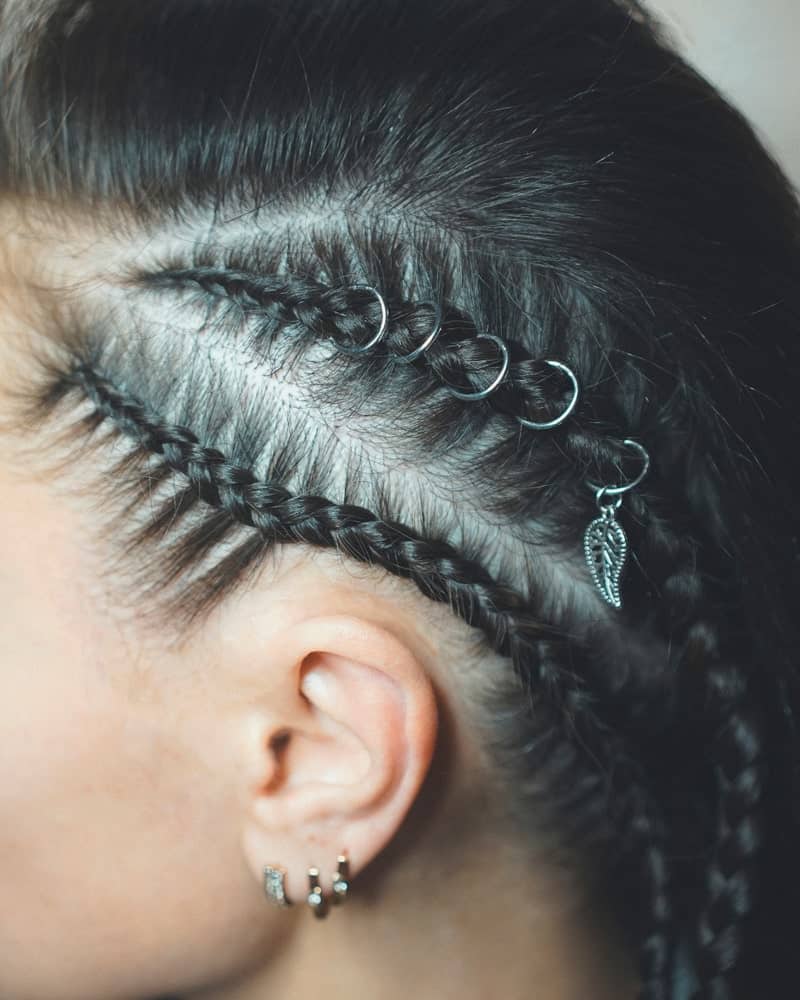 Although some people like to go without ornamenting their Fulani braids with anything, embellishment is one of the major characteristics of this traditional style. You can either cover your braids from roots to tips with beads, threads, ribbons, and shells or you can opt for just minimum ornaments. In the above style, this lady has chosen to decorate a braid on the side of the head with plain silver hoop and a single silver hoop with a leaf-shaped pendant. This look is very fun and cool.
Fulani Braids in a Bun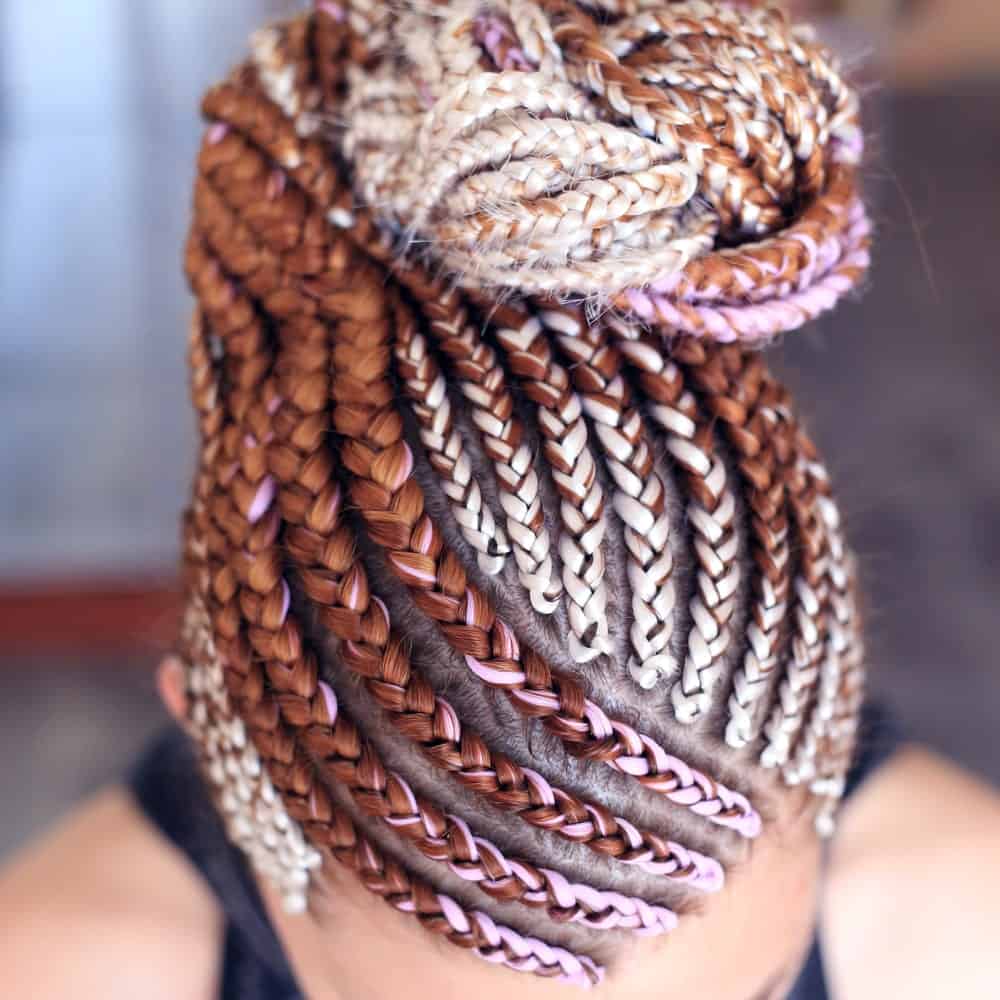 As the lady in the picture shows, you don't need to keep your long braids dangling all the time. She looped her long, dangling braids into a twisted bun onto the back and top of her head. To make the look even more dramatic, she incorporated brown-auburn, pale gold, and candy-pink threads into her hair to make her look stand out.
Fulani Braid Crown with Gold Jewelry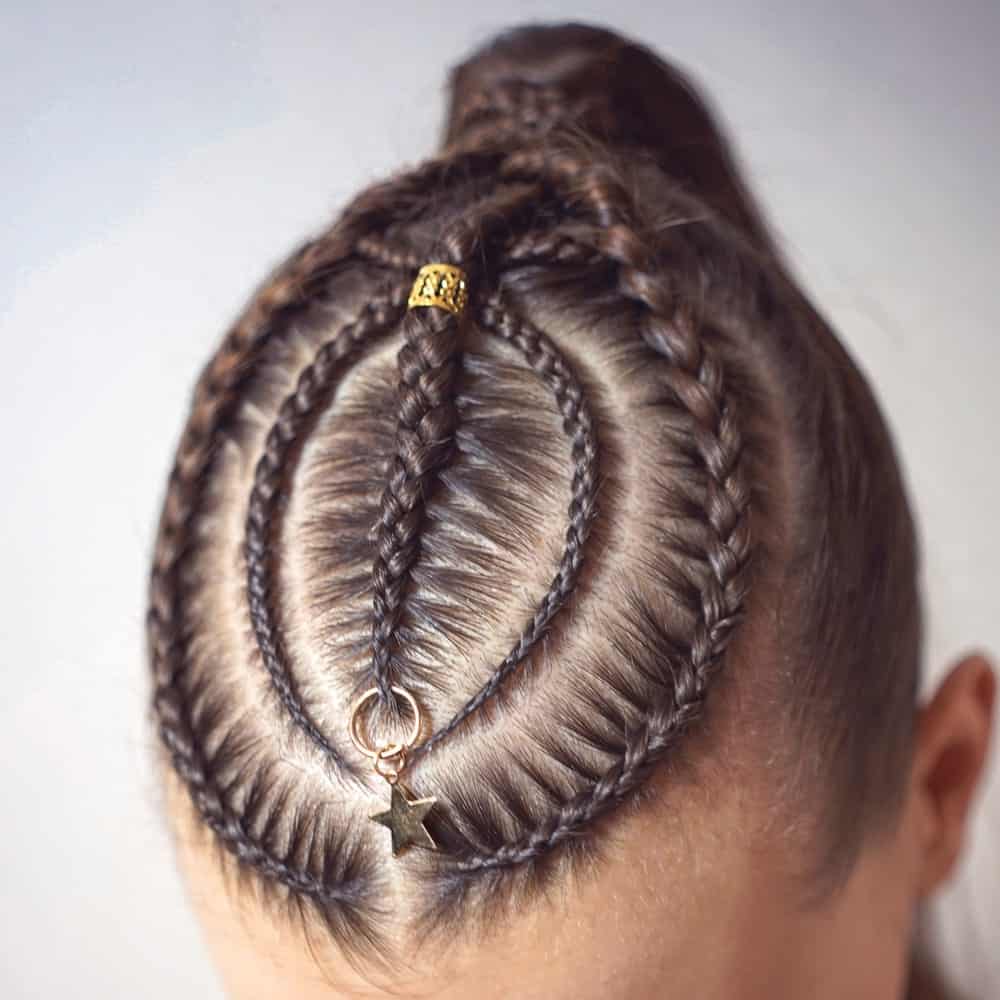 Another style inspired by the Fulani braids is the ponytail style. You do not need to twist your hair into braids from the roots to the end. As this model demonstrates, you can just add corn braids to the crown of your head.  The look works best if the braids are styled in a traditional pattern. Tie the hair into a high ponytail and let the hair from the back of your head flow free. Embellish the style with beautiful gold jewelry rings and your hair is ready for a wedding.
Smurf-Colored Fulani Braids with Twin Buns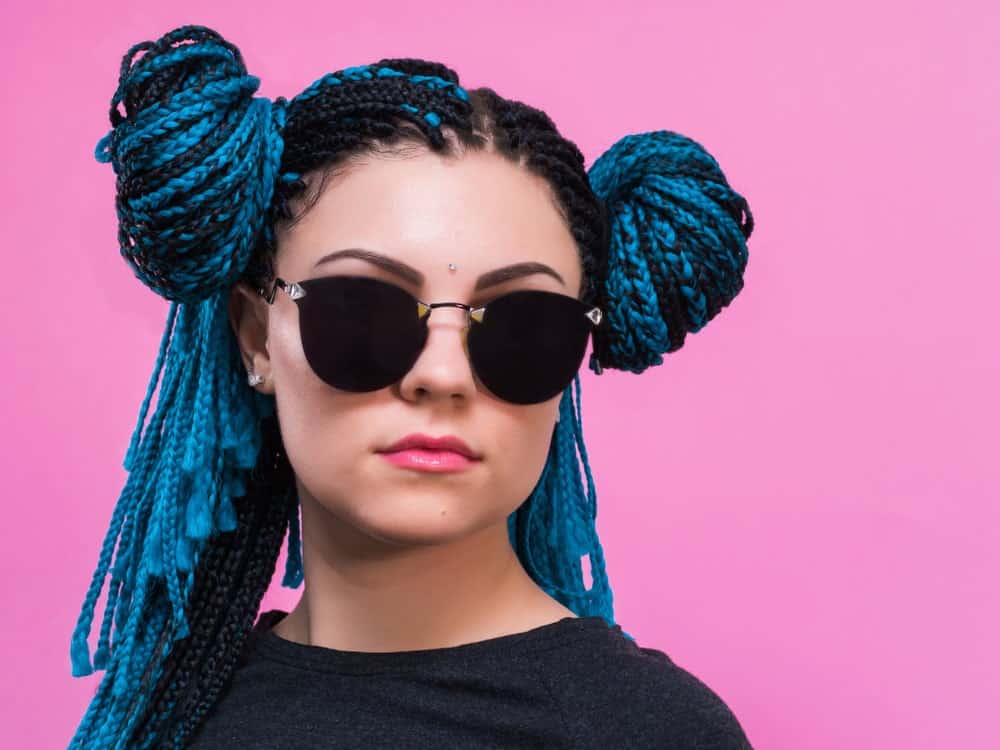 For some extra edgy and hipster vibes, try this fun style. Ask your stylist to twist your hair into Fulani braids and weave it together with Smurf-blue threads and tassels. These tassels can be much longer than the actual length of your hair. However, if you feel that all the extra length is cumbersome, just part your braids into two sections and wrap it into twin buns on the side of your hair, Princess Leia style.
Cheekbone Length Front Half Fulani Braids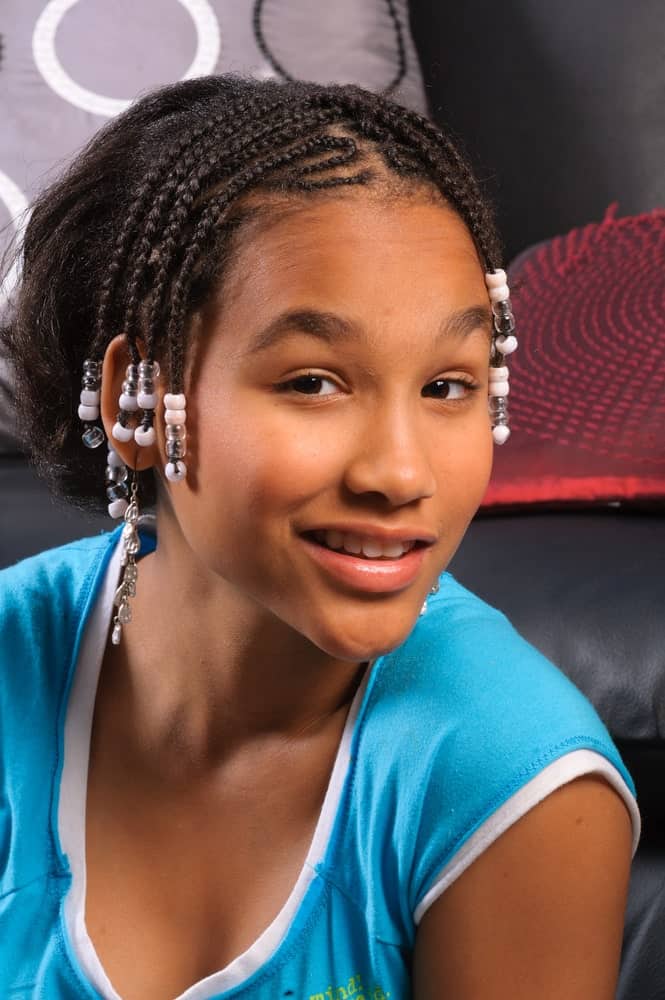 You don't necessarily need to have long hair or add extensions to get the Fulani braid look. Do as this young girl did. Simply add a few locks of cornrows on the front and side of your head and embellish them with pink and white beads. Leave the back part of your hair loose and natural. This style is very quirky and age-appropriate for young girls.
Asymmetrical Monochromatic Fulani Braids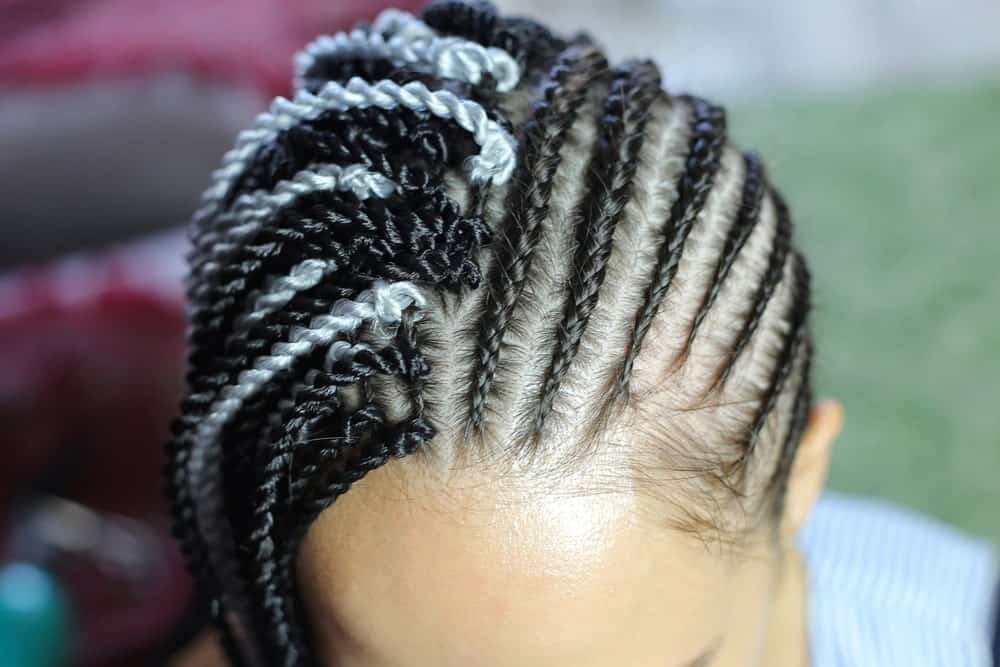 Why only style your Fulani braids one way when you can style them in two different ways! Simply part your hair in the middle and use one side to create braids that are running from the front to the back and the other side to weave braids that are running to the side and down. To add some extra oomph to the style, add some white yarn thread to your dark hair for a very cool and urban monochromatic look.
Half up Style Fulani Braids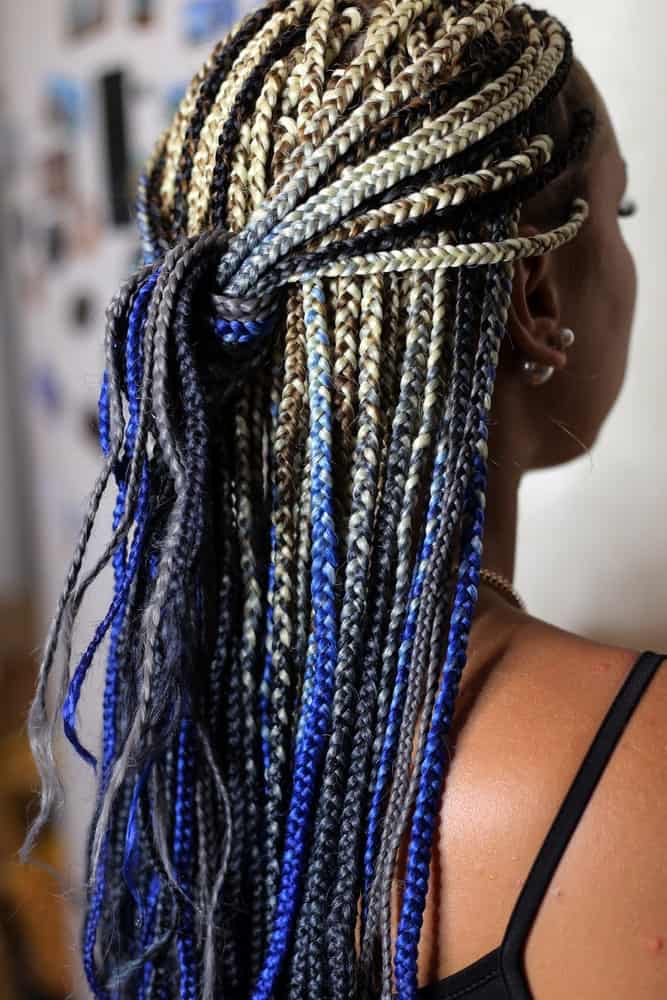 To achieve this stunning blue-and-gold Fulani hairstyle, incorporate multi-colored threads into your braids. Ask your stylist to make very thin plaits in your hair and incorporate them with pale gold, royal blue, and earthy-brown threads. Then pull the braids back from your side and crown and knot them at the back of your head to create a half-up, half-down style.
Millennium Pink Top-Knotted Fulani Braids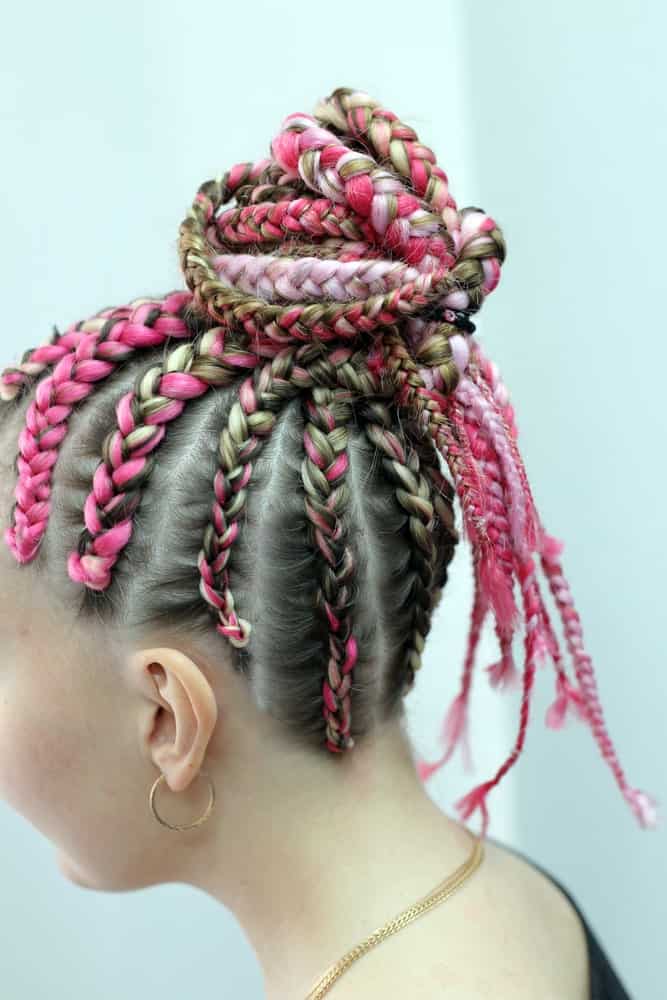 Pink is the color of the Millennials so why not incorporate it into your hair as well? For a more statement look, ask your stylist to paint your hair in various hues of pink instead of just one shade. Then add more pink thread and weave your hair into simple Fulani braids. To keep your dangling locks away from your face, twist them into a cool topknot.
Geometric Tribal Patterned Fulani Braid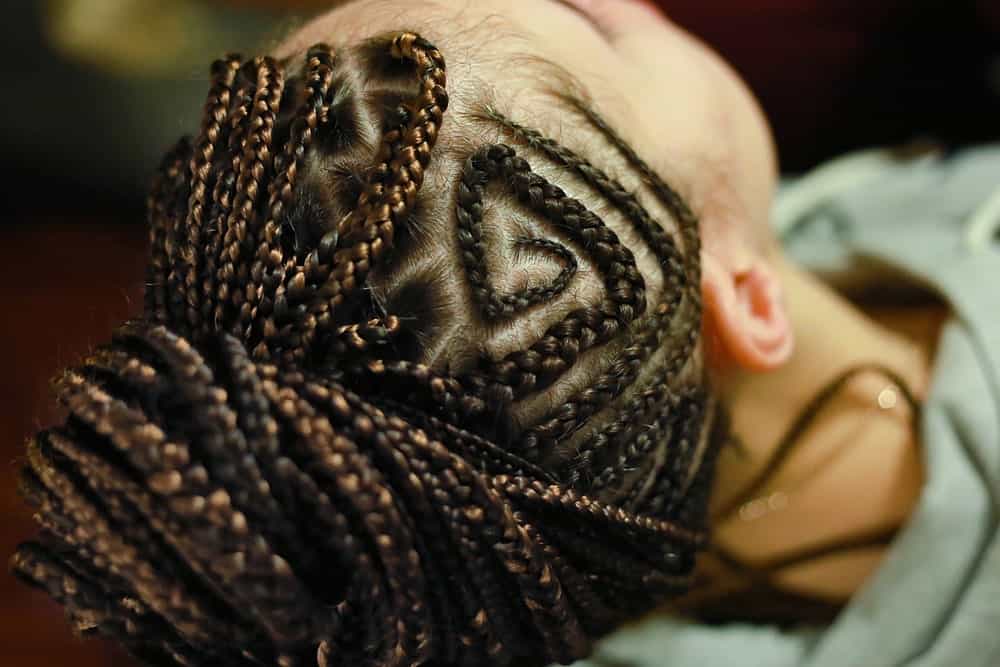 Fulani braids are extremely creative and versatile and incorporate innumerable elaborate tribal patterns. This model is sporting a geometric, maze-like pattern, formed from braids, on the sides of her head. To give some more dimension to her hair, she has added antique gold-colored yarn.  You can keep your braids down for this style or wrap it up in a ballerina bun like this model.
Beaded Pigtail Style Fulani Braids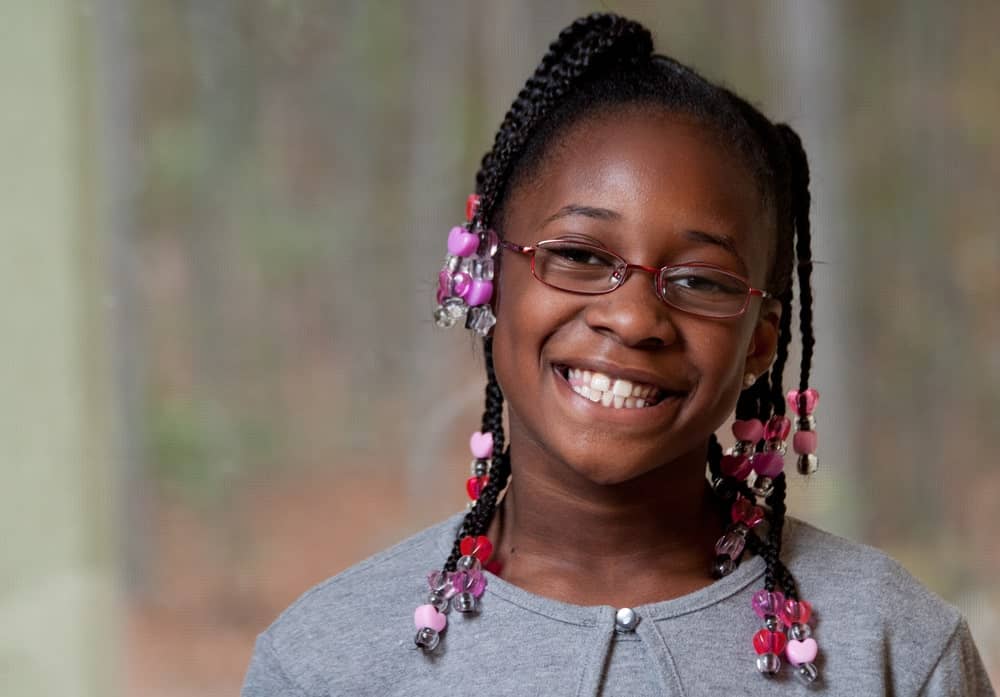 This is one of the favorite looks among young girls. Although the braid patterns are not as elaborate as some other styles, adding lots of colorful beads in varying shapes make this Fulani hairstyle very fun. Just section your hair into two parts from the middle and then weave the hair into Fulani braids. Add cute plastic beads at the end.
Ribbon-Wrapped Patterned Fulani Braids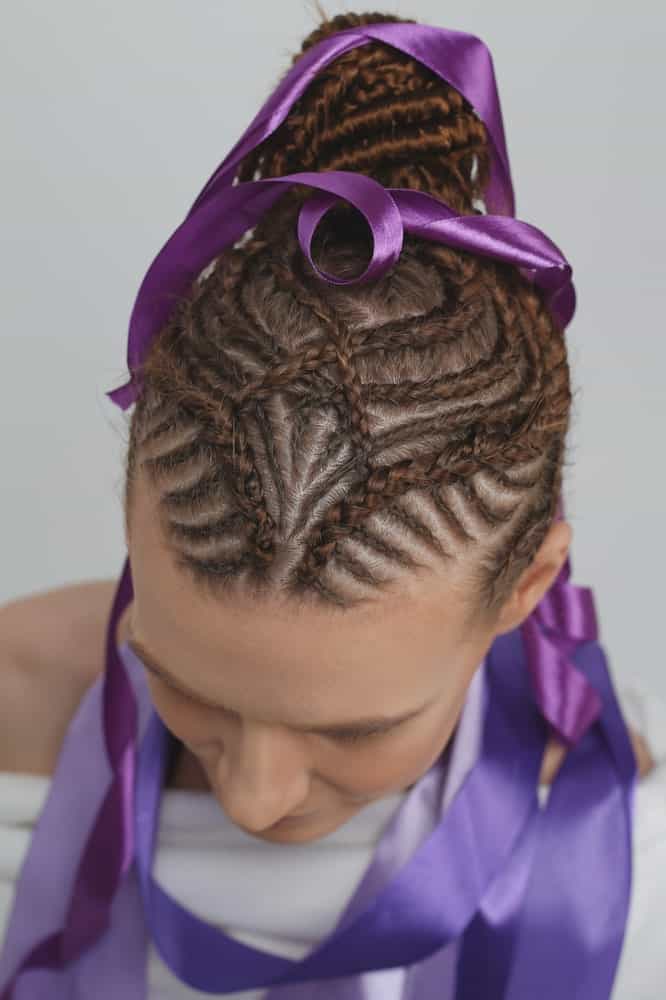 Here is yet another example of the beautiful and intricate hairstyles of the Fulani. The pattern looks so complex and stunning that it doesn't need any further embellishments with yarn, beads, jewelry, or shells. The braids are once again pulled back in a twisted bun. The model, however, has chosen to drape a beautiful royal purple ribbon on top of her head to make the look pop out.
Crowned Fulani Braids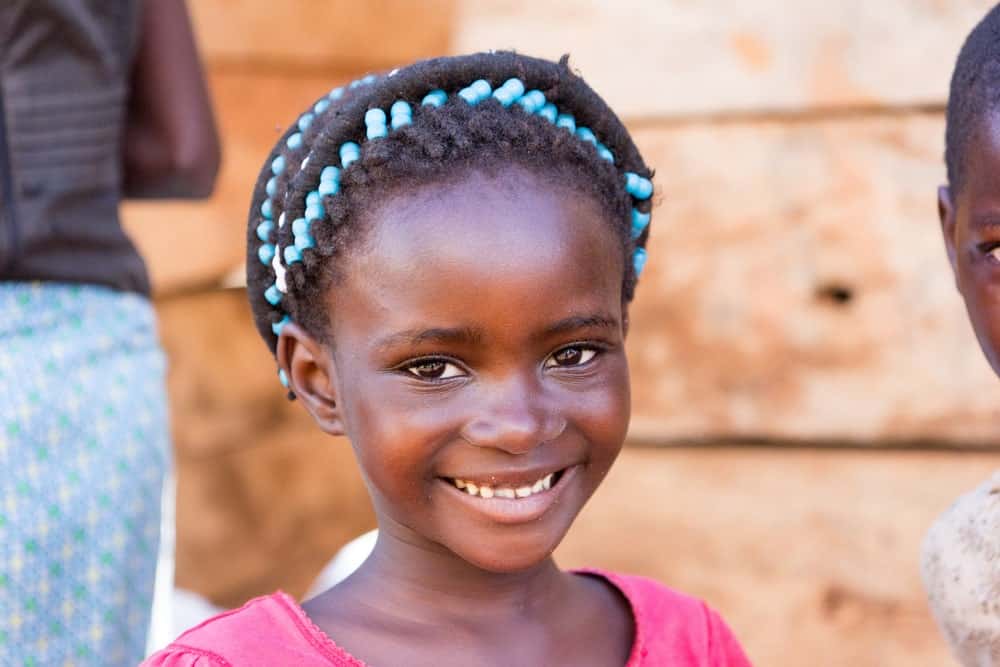 This is a gorgeous style for both young girls and adult females. To get the look, ask your stylist to create cornrows that run from the front to the back of your head. Get your braids embellished with large round blue beads and then make a crown of your locks around your head, as shown in the picture.
Full-Glam Ornamental Fulani Braids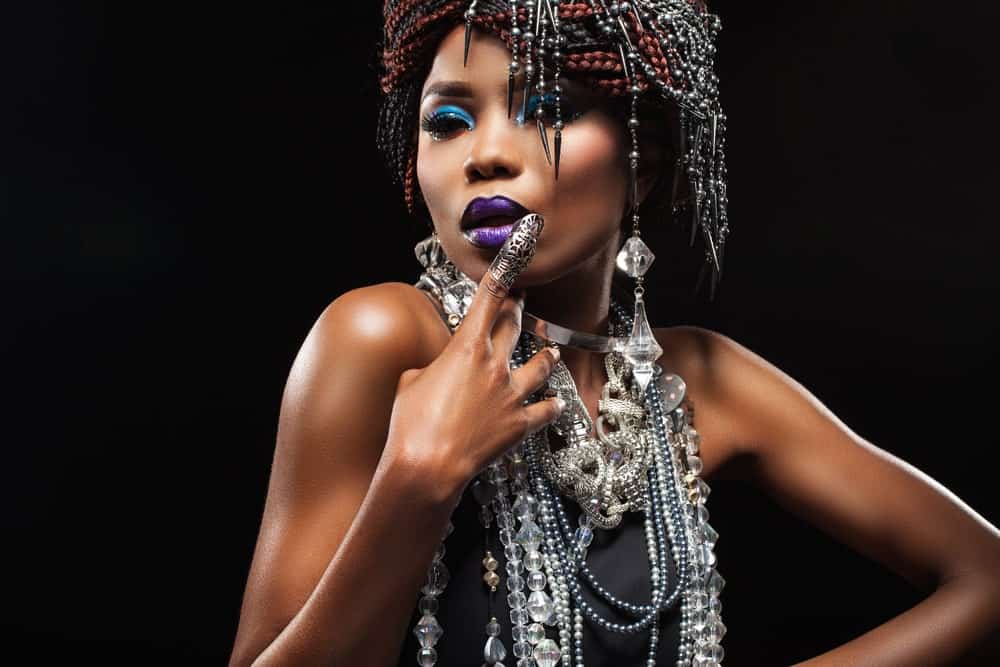 This look is the opposite of the minimal Fulani braid look. Instead, it encourages you to do as much as you want to achieve a fully glamorous look. Here, the model has weaved her Fulani braids with burnished reddish-brown yarn. She has also added numerous silver beads, charms, and dangling