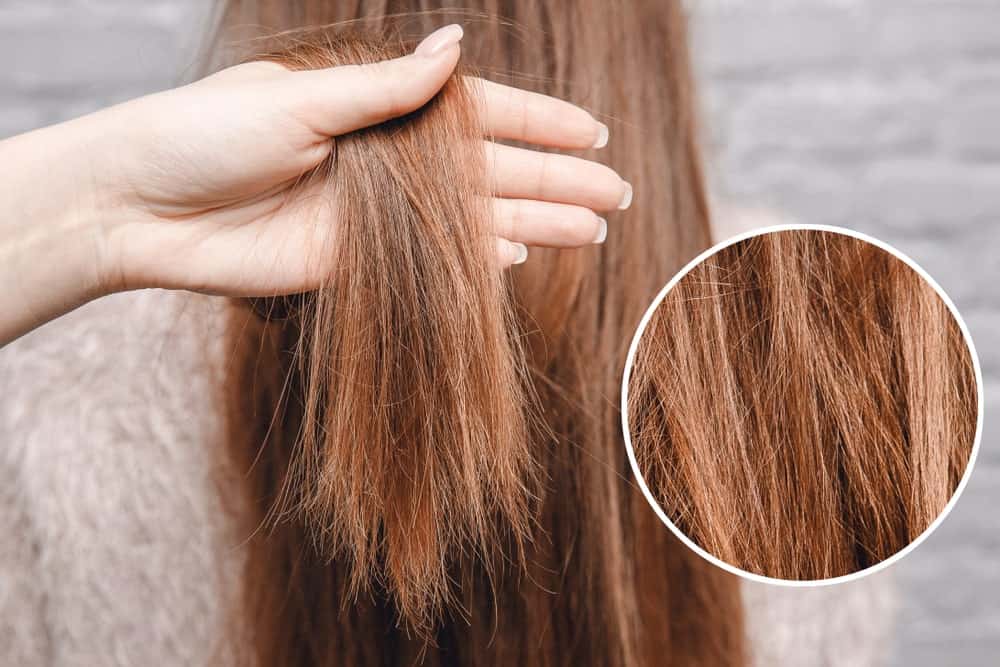 Dry, brittle, overprocessed hair sound familiar? These days we have plenty of options for hair care, but how do you know which one will work best for you?
Truthfully, it takes some research to find products that meet all of your requirements. What works for one person may not work for another. That's why I pulled together this list of the 10 best conditioners for damaged hair to narrow down your choices.
If you need a new conditioner that actually works for you, read on it's probably on this list.
1. 
Nexxus

Keraphix

Conditioner
Jheri Redding, the founder of Nexxus, is an important figure in hair care. Redding revolutionized the industry by recognizing that hair is 90 percent protein. He introduced the concept of pH Balance and was one of the firsts to add vitamins and minerals to shampoo.
Ultimately, Jheri Redding invented a hair conditioner as we know it today.
Nexxus Keraphix Conditioner is one result of the company's research to find a way to restore hair's natural protein, keratin. This conditioner combines keratin protein and black rice to revitalize damaged hair.
For the most part, customers rave about Nexxus Keraphix. With only a handful of exceptions, people say it makes their hair soft and shiny, as well as easy to comb through. On the downside, some customers complain that the conditioner left a residue and made their scalps itch.
In my experience, if you have fine hair, it's best to use a lighter conditioner to avoid these kinds of issues. Keratin protein is heavy and greasy by nature, and you can get too much of a good thing. What this means is that conditioners with this type of protein make them a challenge to rinse thoroughly if your hair is overly absorbent.
Nexxus Keraphix Conditioner works best on course, thick, and curly hair. Or if it's overly processed and damaged.
Pros
Trusted name in the industry
Leaves hair soft and shiny
Good for color-treated hair
Cons
Some complaints of an itchy scalp
May leave a residue
May smell too strong
2. 
Hempz

Triple Moisture
Today hemp-based products are on the rise, and we're beginning to understand the benefits of hemp seed oil for hair. It's rich with the fatty acids that provide protein, nutrients, and minerals that our hair needs to feel soft and healthy. Don't worry, hemp seed oil doesn't contain THC, the psychoactive ingredient found in marijuana.
Even better? It doesn't leave an oily residue on the hair and has a light, nutty scent.
One of my favorites is Hempz Triple Moisture whipped cream conditioner and hair mask. This one is an excellent choice for those of us with fine hair, as it contains natural hemp seed oil as its main ingredient. Customers love the way it makes their hair feel and its' light fragrance. On the downside, a couple of people did experience an itchy scalp, according to Amazon reviews.
Pros
Light fragrance
Leaves hair silky soft
Doesn't weigh hair down
Cons
May cause scalp irritation for some
Stigma regarding hemp
3. Pure Nature
Morrocan

Argan

Oil Conditioner
Argan oil is a natural product extracted from the Morrocan argan tree. Women have used the oil for centuries for skin and hair health. It's packed with vitamin E and other antioxidants that promote hair regrowth. It also tames frizz and doesn't irritate the skin.
No matter your hair type, you may want to give Pure Nature's argan oil conditioner a try. It's an excellent choice if you're searching for a mild conditioner that won't cause an itchy scalp. And it'll leave your hair shiny, bouncy, and fabulously healthy. It works wonderfully for curly hair and won't weigh you down.
One thing to keep in mind is that this one may not be strong enough if you have chemically treated hair.
Pros
Centuries-old natural beauty ingredient
No sulfates
Suitable for all hair types
Cons
May not be strong enough for severely damaged hair
4. WOW Coconut Milk Hair Conditioner
These days we use coconut milk for everything from cooking to removing makeup, and it's especially lovely in your hair conditioner. What's more, coconut milk can make the hair's cuticle stronger, restore moisture, and stimulate hair growth.
WOW, Coconut Milk Hair Conditioner enhances your hair's shine and makes it healthy and manageable. It also contains nettle leaf and saw palmetto extracts to help minimize hair loss.
We all lose some hair naturally, but as we age, some of us experience more drastic hair loss. If your hair is thinning and feeling dry and brittle, then WOW might be your best choice. It's mild and has that delicious coconut scent.
Pros
No

parabens

or sulfates
Natural ingredients
Good for curly hair
Cons
Not the best at

detangling

May not penetrate coarse hair
5. PURE Biology
All of PURE Biology's hair and beauty products are custom-formulated. The company prides itself on being non-GMO, paraben-free, and cruelty-free. Their premium hair growth conditioner contains three popular ingredients for hair health: Biotin, keratin, and argan oil.
Most customers love this conditioner because it gives their hair significant volume and body. Not only that, many users claim that they do, indeed, see new hair growth. That could be a benefit of the biotin since it's known for strengthening the hair's follicles.
On the other hand, some customers complained that it weighed their hair down, as well as making it tangled or frizzy. Truthfully, the combination of keratin and argan oil could be too much for some hair. This one is likely to work best on course hair, or if you're experiencing hair loss.
Pros
Stimulates hair growth
Proven natural ingredients

Non-GMO

,

paraben-free

, and cruelty-free
Cons
May leave hair feeling heavy
Not good for all hair types
6.
L'Oreal

Paris

Elvive

Total Repair
L'Oreal is another name that we've all come to know and trust over the years. When it comes to drugstore beauty products, L-Oreal is generally on the top of the list.
L'Oreal Paris Elvive Total Repair combines protein and ceramides lipids (fats) that help the skin retain moisture and give it a protective barrier from the environment. The combination of nutrient-rich almond, protein, and lipids reinforces the hair's fiber and seals in nourishment.
The result is smooth and shiny hair with no split ends, according to many customers who highly recommend L'Oreal's conditioner. As with some of the other conditioners, this one doesn't work as well on fine hair because it leaves it weighed down and doesn't rinse out thoroughly.
Pros
Smooths hair
Repairs split ends
Locks in moisture
Cons
Not suitable for fine hair
May cause dandruff
Some reports of breakage
7.
Arvazallia

Advanced Hair Repair
The Arvazallia line is known for its premium beauty products, used in professional salons around the world. The company recently made the Arvazallia Professional series suite of products available on Amazon, with a 100% money-back guarantee if you don't love the results.
We already know that argan oil is excellent for your hair because it strengthens your hair follicles and makes the hair smooth and shiny. Arvazallia's advanced hair repair combines argan oil and macadamia oil to prevent hair breakage and improve your hair's strength and elasticity. The conditioner has a fresh floral scent that customers enjoy.
Some people find that this conditioner makes their hair too oily. Additionally, it may not be the best choice for African American hair, according to some reviewers. It does do a nice job on overly dry, processed, and color-treated hair.
Pros
Fresh floral scent
Hydrates
Repairs damage for styling and processing
Cons
Not useful for all hair types
May leave hair feeling greasy
8.
PURA

D'OR

Aloe Vera Conditioner
PURA D'OR offers organic, natural, and plant-based products with minimal ingredients and handcrafted from scratch in small batches. Plus, the company tests all the ingredients for purity even the water goes through a seven-stage purification process.
PURA D'OR's healing aloe vera conditioner relieves dry, damaged hair. It's great for frizzy hair because it has argan oil. Plus, lavender and vanilla give PURA D'OR a unique fragrance that promises soothing comfort. Not only that, but it's also suitable for all hair types.
The largest percentage of people who tried PURA D'OR and left a review on Amazon raved about how soft and manageable their hair felt even after the first use. Unfortunately, a few people had less than great results with an itchy scalp and brittle hair.
Pros
Sustainable and fair-trade practices
Organic, natural, and plant-based products
Smooths frizzy hair
Works for all hair types
Cons
Some reports of an Itchy scalp
May cause dry, brittle hair
9. Silk 18
Silk 18 is a natural keratin treatment. It's sulfate-free and excellent for color-treated and curly hair. In addition to argan oil, this luxurious conditioner boasts shea butter, jojoba oil, and aloe vera. If you have a problem with dry scalp, Silk 18 is a good choice. Customers on Amazon agree, sith comments on how silky soft and tangle-free their hair is after using Silk 18.
Because of the glycerin, it's not for humid climates.
Pros
hypoallergenic
Leaves hair silky and tangle-free
Excellent for dry or damaged hair
Cons
Contains glycerin
Not good for humid climates
10.
OGX

Thick and Full Biotin & Collagen Conditioner
The stand-out ingredients in OGX are biotin and collagen, both of which are essential for healthy hair growth. Much like protein, collagen is one of the building blocks of beautiful skin and hair. Happy customers especially love the volume and shine of this conditioner. Naysayers have the usual complaints.
Pros
Lasting volume
Gorgeous shine
Good for sensitive skin
Cons
Not great for fine hair
May cause build-up