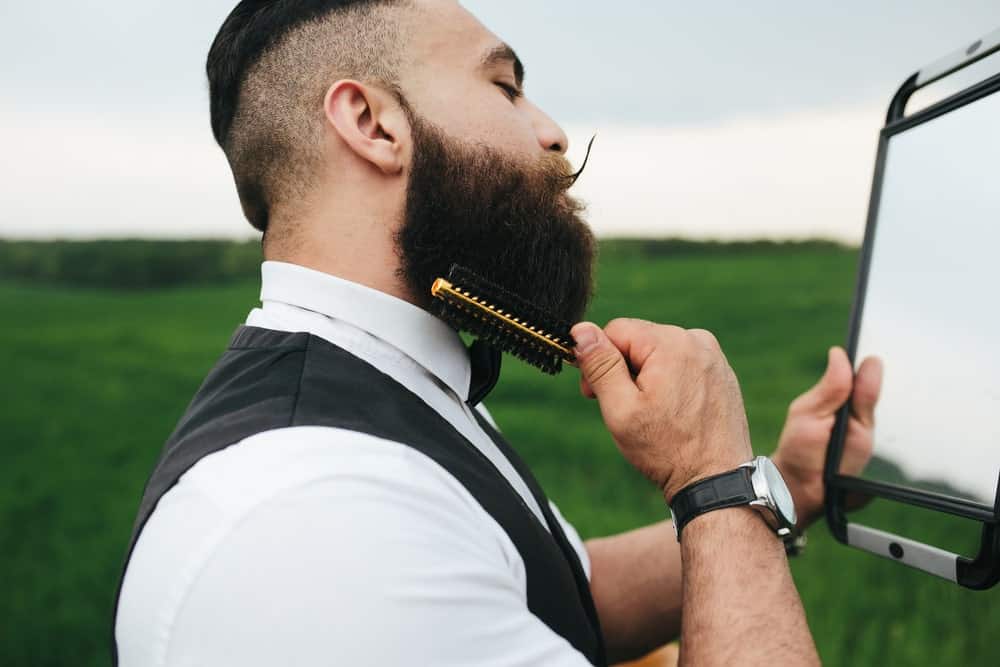 It's a common misconception that you can use just any brush or comb to detangle your beard. While on some level this is true, don't expect to have a neatly groomed outcome. Beard brushes and combs have been perfected over centuries in order to create the perfect finish for your beard. Stuck on which one to choose? Everything you need to know about them is found here!
Beard Brush vs. Comb Chart
Here's a chart comparing the relative popularity of a beard brush vs. comb (based on monthly search volume).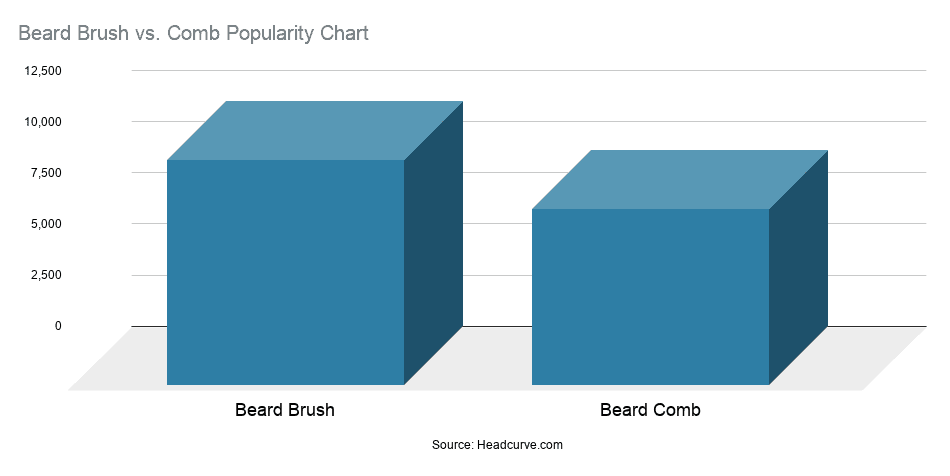 Beard Comb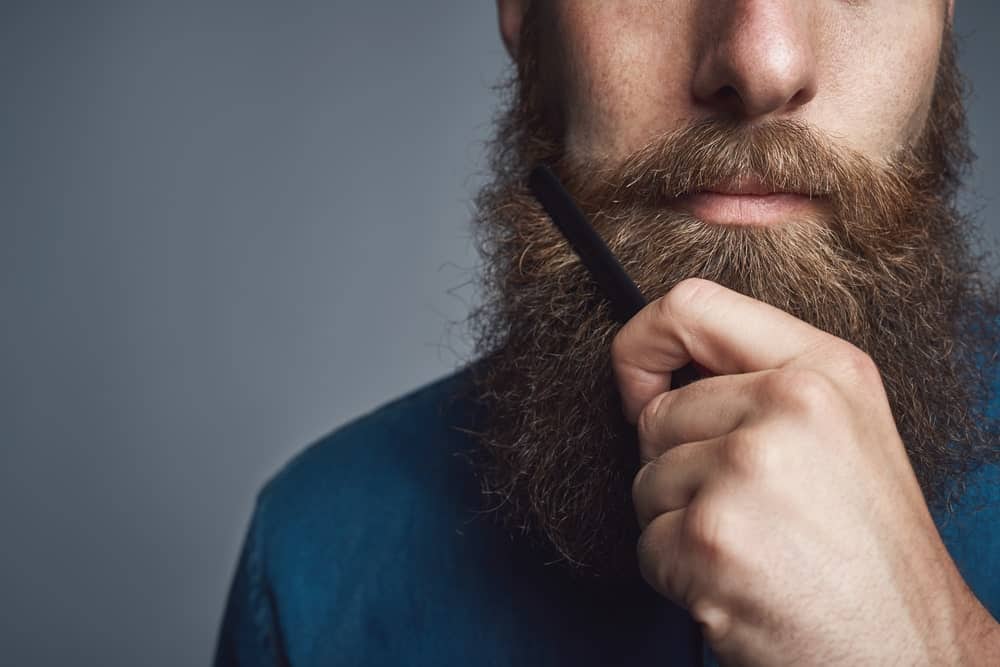 Man with thick beard in a blue shirt, combing his beard.
Beard combs come in a variety of materials and have a much broader price range than beard brushes. They are an excellent choice for those who need less frizz control and who want a multitude of options and styles.
Features
Beard combs look relatively similar to a normal hair comb but come in a variety of materials and sizes in order to suit the user's preference. The basic features of the beard comb include the body and the teeth, which is the area that makes contact with the beard.
Effect
The effect achieved from the beard comb depends on the materials used. For example, wood combs are very popular due to their ability to help minimize frizz as the material does not conduct static. Cellulose acetate is another good option for those who have concern over frizz and breakage, as it is a type of rubber that helps decrease both of these issues. Finally, combs made out of plastic and metal can both give a frizzy effect on your beard and also damage the ends of your hair and pull it out.
Ease-of-Use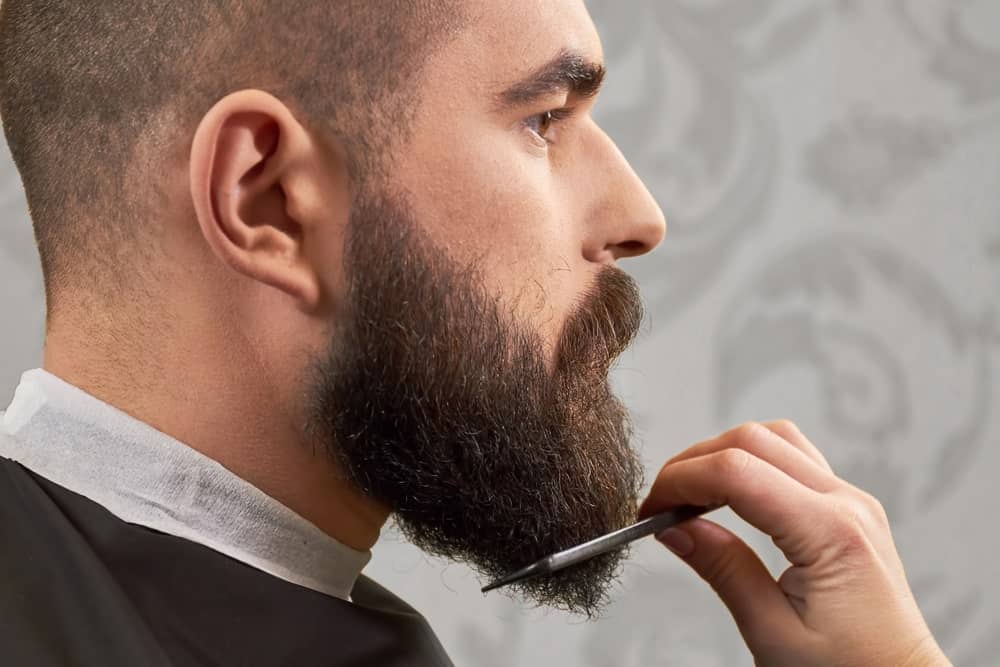 A side view of a man with thick beard in a barber shop, combing his beard.
Beard combs are very simple to use and do not require any specific brush strokes or techniques. For this reason, they are very popular amongst beginner beard care enthusiasts.
Materials
There are a few types of materials used to produce beard combs, and each has its pros and cons.
Wood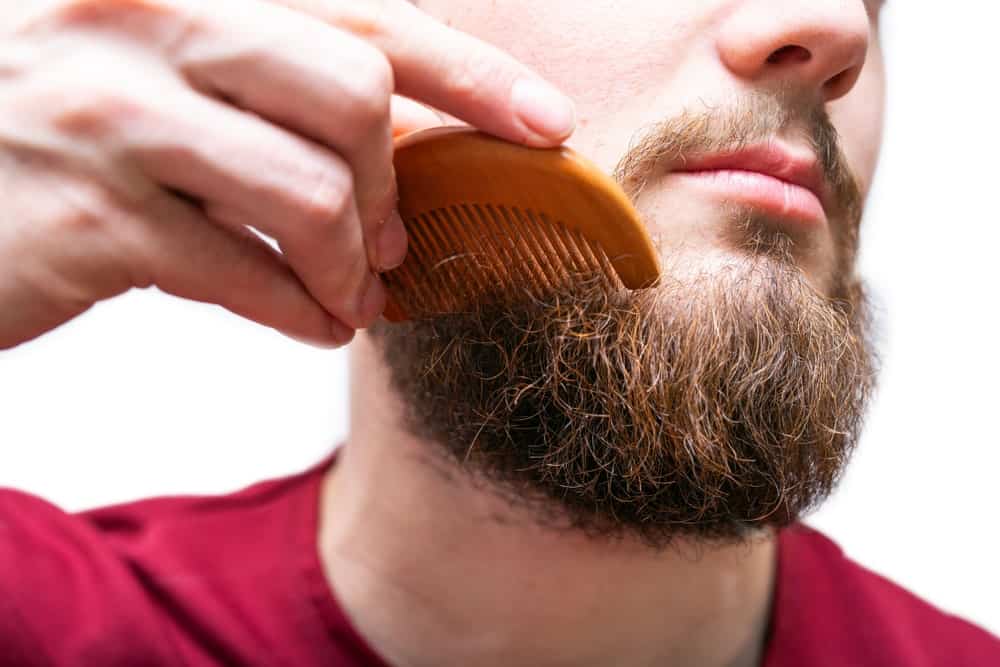 This man in a red shirt combs his beard gently.
Wood is a great choice for beard care due to its ability to reduce frizziness and, to an extent, pull natural oils throughout the beard. It also looks timeless and elegant, which is an added bonus for those who like an aesthetically pleasing combo.
Ox Horn
Like wood, this is another highly sought after material for beard combs. It helps to reduce the damage caused by combing out your beard and also doesn't conduct static for a frizz-free finish.
Metal and Plastic
These materials are great for those who cannot afford the price of ox horn or wooden beard combs. However, the cheap monetary cost may come at the cost of your beard. These pull hair and cause split ends and breakage.
Design Features
The beard comb is composed of a body (usually wood, ox horn, plastic, or metal) as well as the teeth. The teeth are the most important part of the comb and it will often have two "sets". On one end, the teeth will be very close together whereas on the opposite end they will be farther apart. However, some combs only offer one width size. The further apart the teeth of your combs, the easier it is to glide the comb through your beard and will also reduce the amount of frizz and static conducted.
Benefits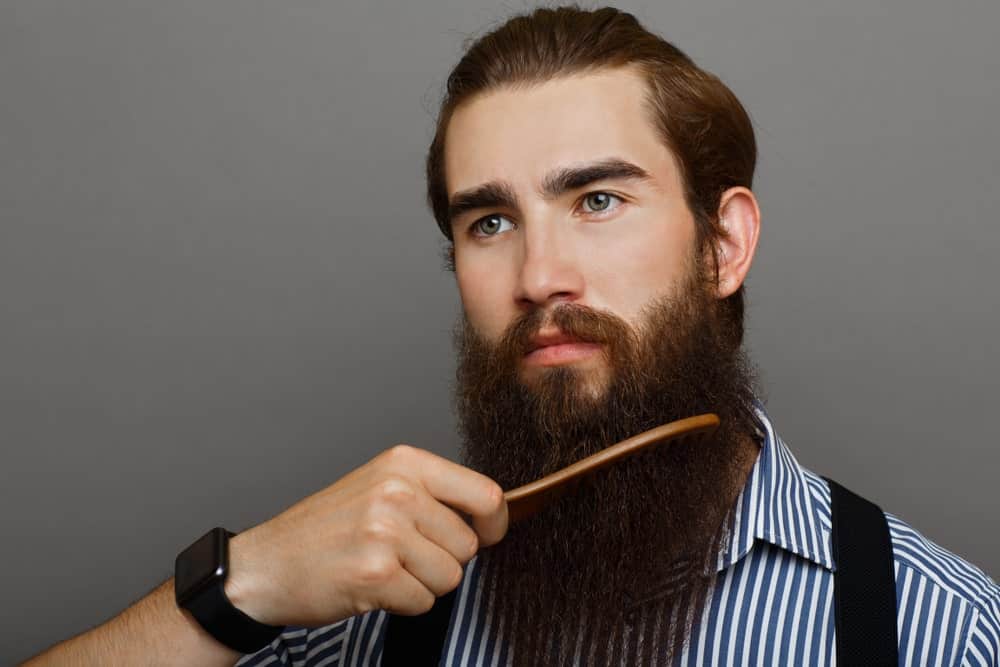 Man with thick and long facial hair, wearing a striped blue and white shirt combing his beard.
Depending on the comb you select, beard combs are more cost-effective and also can help to reduce the amount of frizz that occurs when using a normal hair comb.
History
Like the beard brush, the beard comb has been around for hundreds of years. The first combs were created from wood and ivory, and many of the most popular brands still utilize wood for their combs. In recent years, different material has been used to provide different effects and price points.
Beard Brush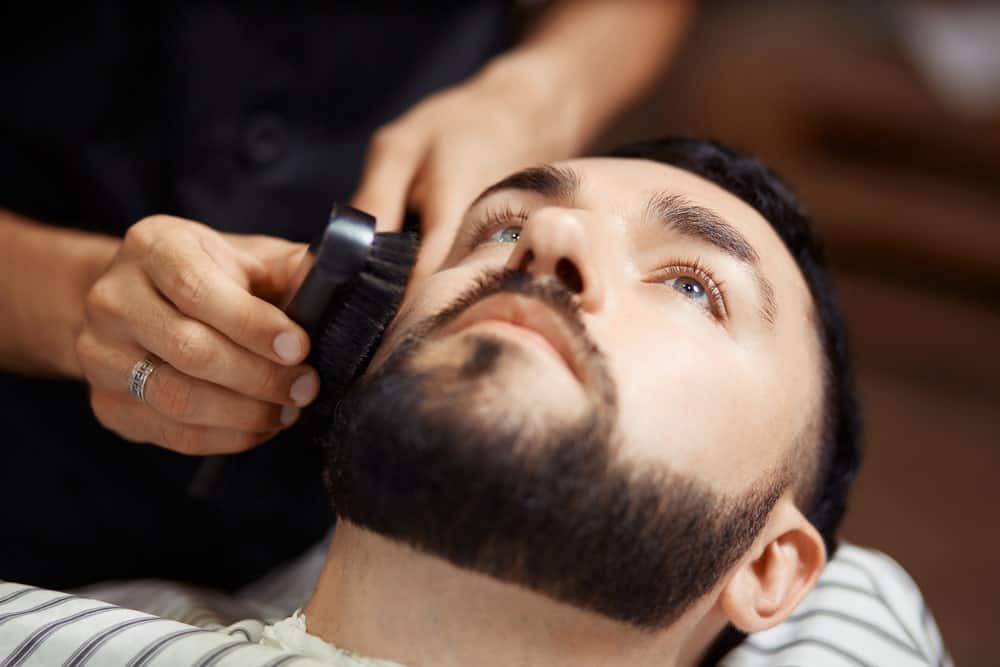 Man lying on a barber shop chair while the barber brushes his well-maintained beard.
A beard brush can be a great tool if you require a certain amount of frizz control. Beard brushes help distribute oil from the base of the hair shaft to the ends, which keeps your beard frizz-free and nourished with your body's natural oils.
Bristles
This is the area of the brush that makes direct contact with your beard. The two types of bristles used in beard brushes can be synthetic or natural, and the desired effect will dictate which beard brush you select. If your beard requires more conditioning and frizz control, a natural bristle brush is necessary.
While they generally cost slightly more than its synthetic partner, it can make the difference between a frizz-free beard and one that looks like you just got in a fight with a grizzly bear. Natural bristle beard brushes are made out of either boar hair or horsehair and distribute sebum evenly throughout your beard.
If your beard is already easy to maintain, you might be able to get away with a synthetic bristle beard brush. These are more cost-effective and are a good option for vegans or animal lovers who do not want to use boar or horsehair bristles. However, if your beard is naturally patchy or prone to breakage, this likely won't be a good fit if a healthy, full beard is what you're after.
Handle
Beard brush handles are made out of plastic or wood and come in different lengths. This feature has no effect on your beard, so it is entirely dependent on your personal preference which type you use.
Some people like the natural look of wood handles, while others like the cost-effectiveness of a plastic one. The length of the handle is also dependent on the user's taste. Longer handles can be more difficult to maneuver for a new brush user but may be required for those with a longer, fuller beard.
Sizing
There is a multitude of sizes to choose from when selecting a beard brush, and when growing your beard for the first time you may find that a small brush is all you need. Not only are they easy to take with you on trips, but they are also much less expensive and can allow you to be able to explore the different types of brushes available to suit your needs.
Effect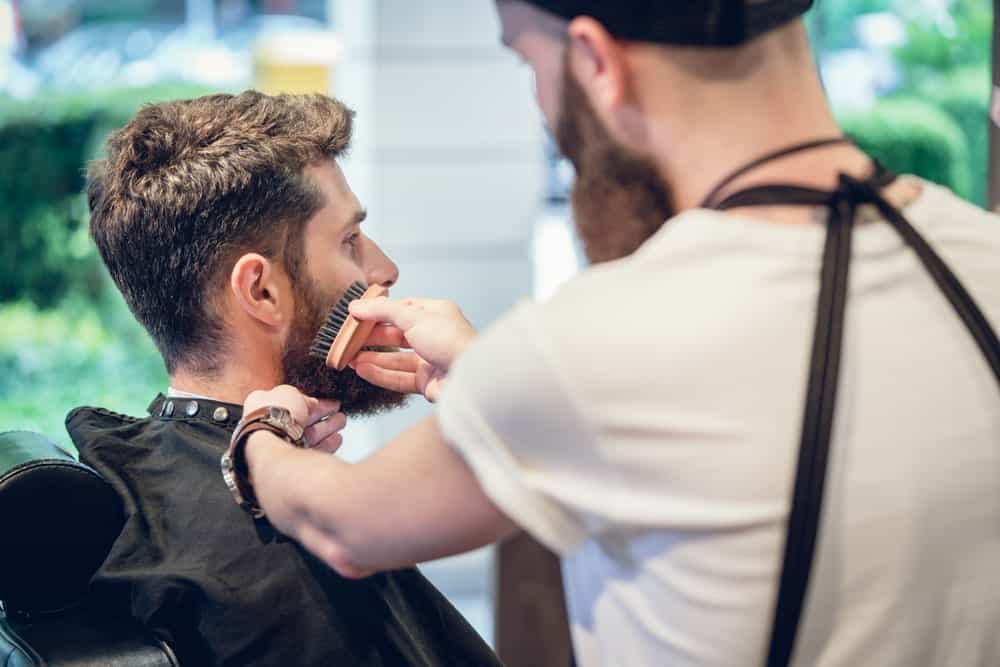 Man in a barbershop with a nice haircut and a well-maintained beard. His barber is brushing his facial hair.
Beard brushes help redistribute oil and are also great for those with patchy beards to help encourage hair growth in the areas that are lacking. If you need some extra, natural conditioning, a beard brush is a great option. Keep in mind the different bristle types when purchasing, so that you can achieve the look you wish to have for your beard.
Ease-of-Use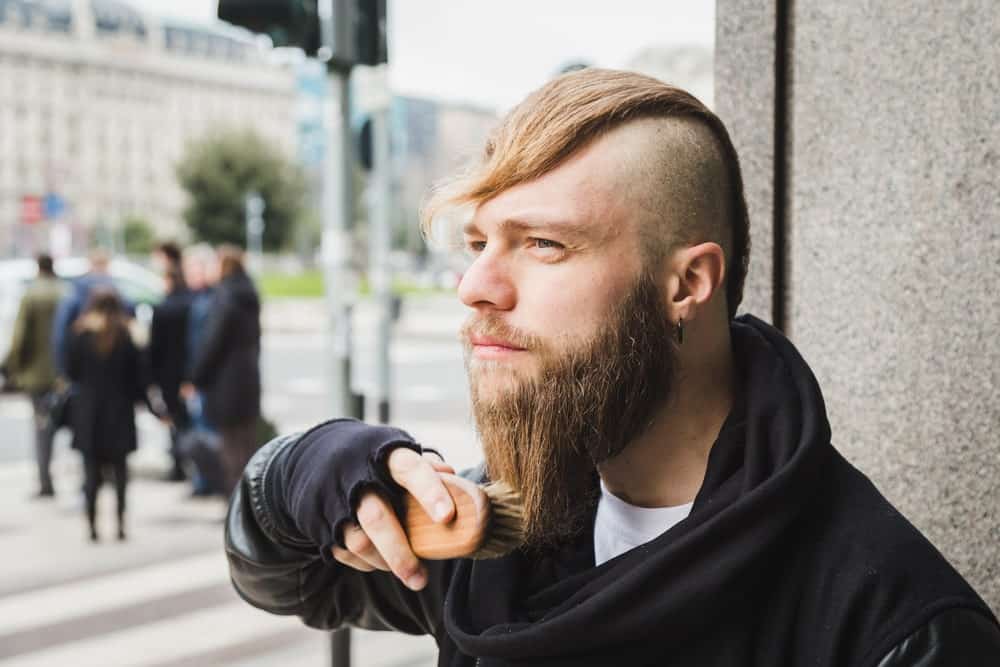 A man outside with a long mohawk swept in front. He's brushing his long beard.
Most professionals swear by boar bristle brushes due to the fact that they are easier to maneuver. Boar bristles are stiff at the base (the area where the bristles meet the body of the brush) and soft at the tips. This provides maximum control for the user to be able to manipulate the hair and distribute the oil evenly.
Materials
The materials used in beard brushes fall into the categories of "synthetic" or "natural". Materials used to make up the handle and body portion of the brush can include plastic or wood, while the materials that make up the bristles can be synthetic or natural (animal hair).
Design Features
With full, long beards coming back into style, companies are creating more unique and user-friendly designs for their beard brushes to appeal to a variety of customers. There are brushes (usually in a round or square shape) that do not have handles at all, and others that have long handles or short handles. Beard brushes also come in many different shapes depending on your style taste.
Benefits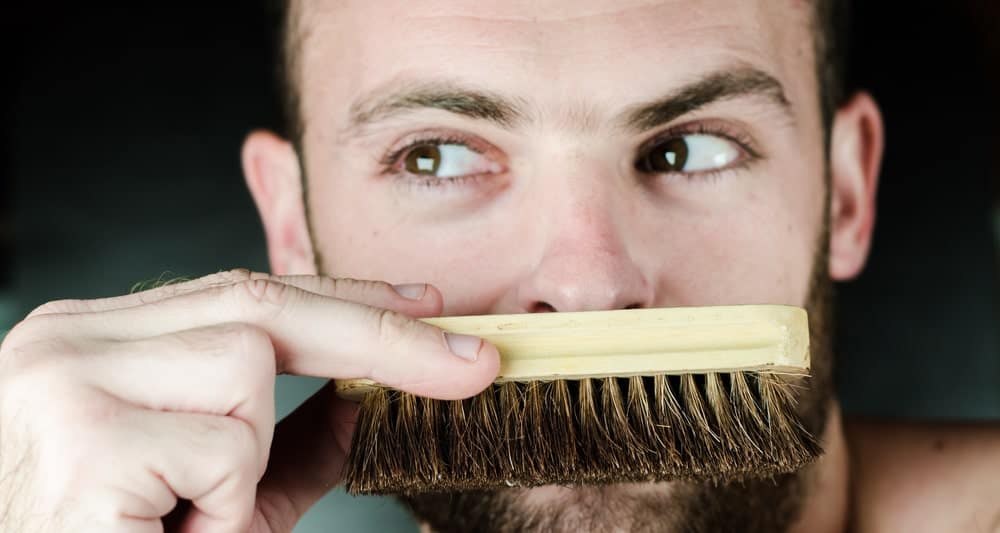 A close-up shot of this man looking sideways and covering his mouth with a beard brush.
The obvious benefit to beard brushes is oil distribution. Men who need to nourish and control frizz in their beard will definitely be more drawn to the beard brush over the beard comb.
History
Beard brushes aren't anything new on the market, in fact, the early ones have been documented as early (and possibly earlier) as the 1700s. In early times, they were a symbol of wealth. Many handles were made out of porcelain, gold, and silver. While today's beard brush bristles are generally made of boar hair, it used to be common to use badger hair.
Due to the badger becoming more endangered, this practice is no longer common in North America, but badger bristle brushes can still be found in certain areas of Asia. Nowadays the most common type of brush has a wooden or plastic handle and boar bristles or synthetic bristles.
Cost Differences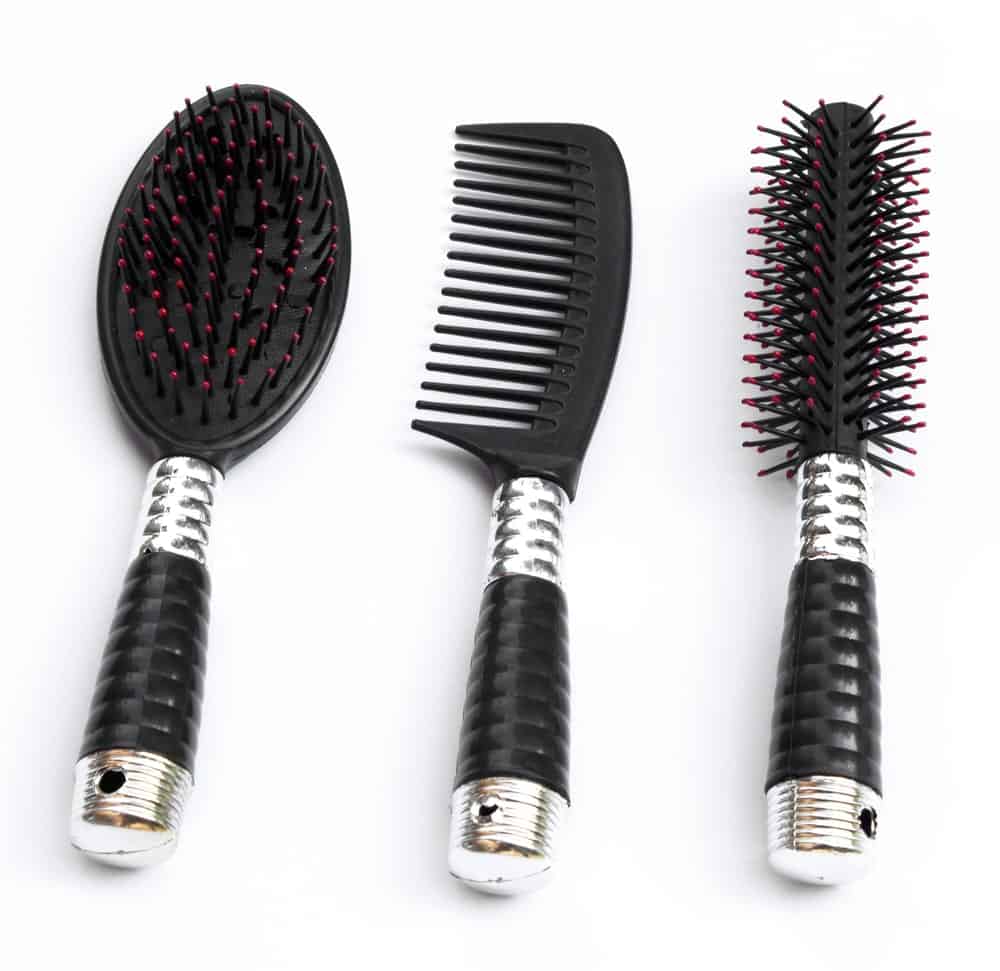 A focused look at a pair of hair brush and a comb on a white background.
Beard brushes can be purchased for around $15-20 on average, while beard combs will run about $10-20 on average.