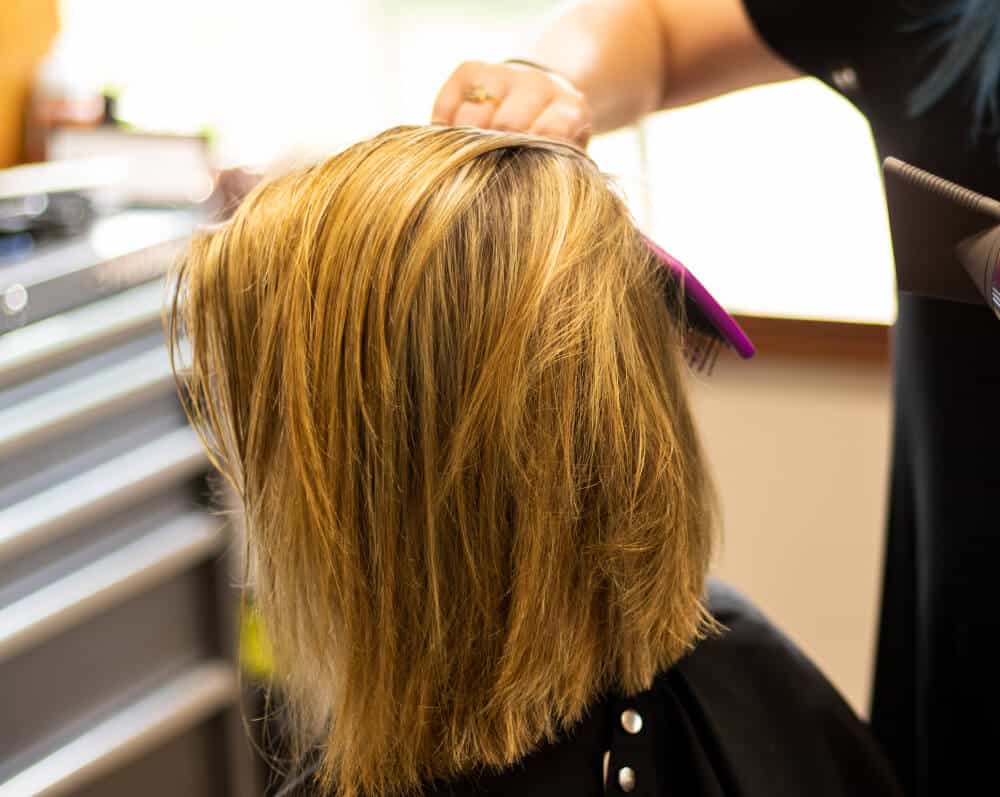 Women have many styling options for a bob cut.  The lengths can vary, but so too can the cut style.  It can be the same length or you can add texture with layers.
In fact these days you'll see many celebrities adding layers to their bobs.
Below is our awesome gallery featuring various celebrities with a beautiful layered bob haircut to get some ideas and up your hairstyling game.
Photos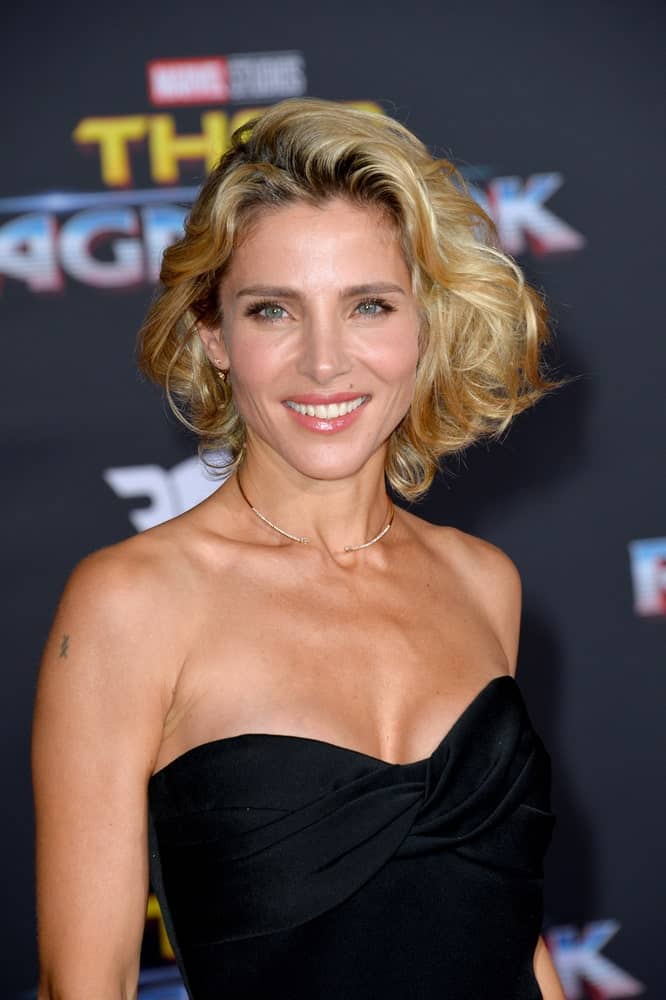 This super trendy layered bob haircut for women sported by the gorgeous Elsa Pataky is somewhat reminiscent of the legendary Marilyn Monroe. However, the extra dramatic curls have been replaced with equally theatrical waves whereas the addition of a prominent balayage gives a greater visual appeal to this modern hairstyle for women with short hair.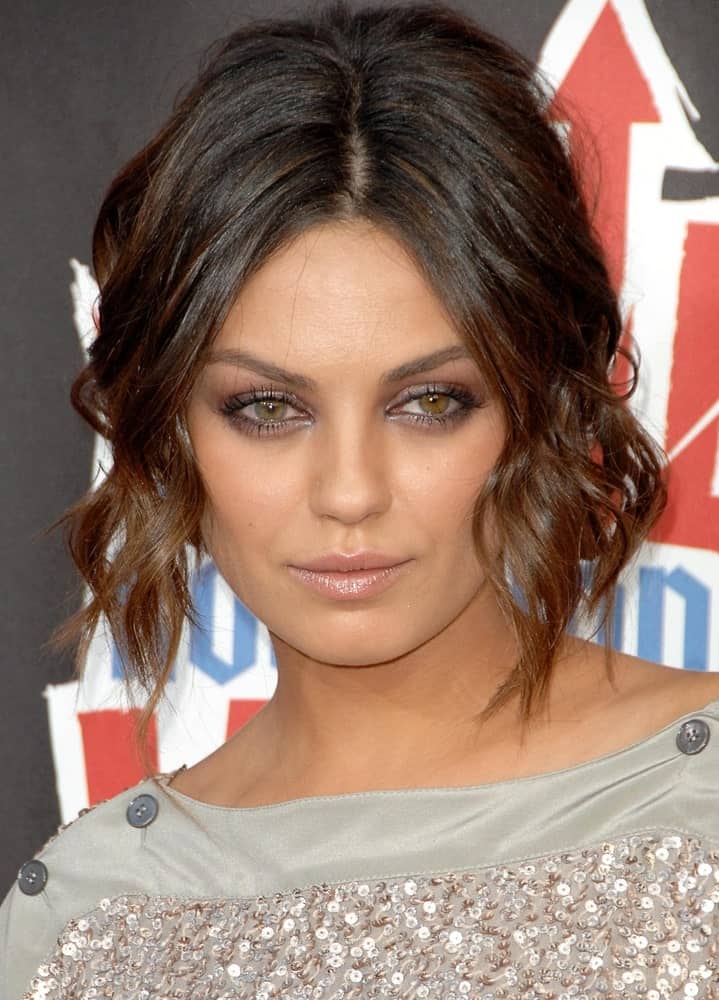 If you love Mila Kunis, then you will also love the hairstyling ideas that she drops every now and then. Rocking a new look quite frequently, the beautiful actress has surely proven the fact that if you go for a bob cut, you will still not run out of ways to style it despite the reduced length. Take notes from this example where we see the Hollywood charmer in a center-parted, deeply angular bob that features wispy, bouncy curls on both sides. Subtle highlights definitely won't hurt either.
Click here for Mila Kunis' hairstyles over the years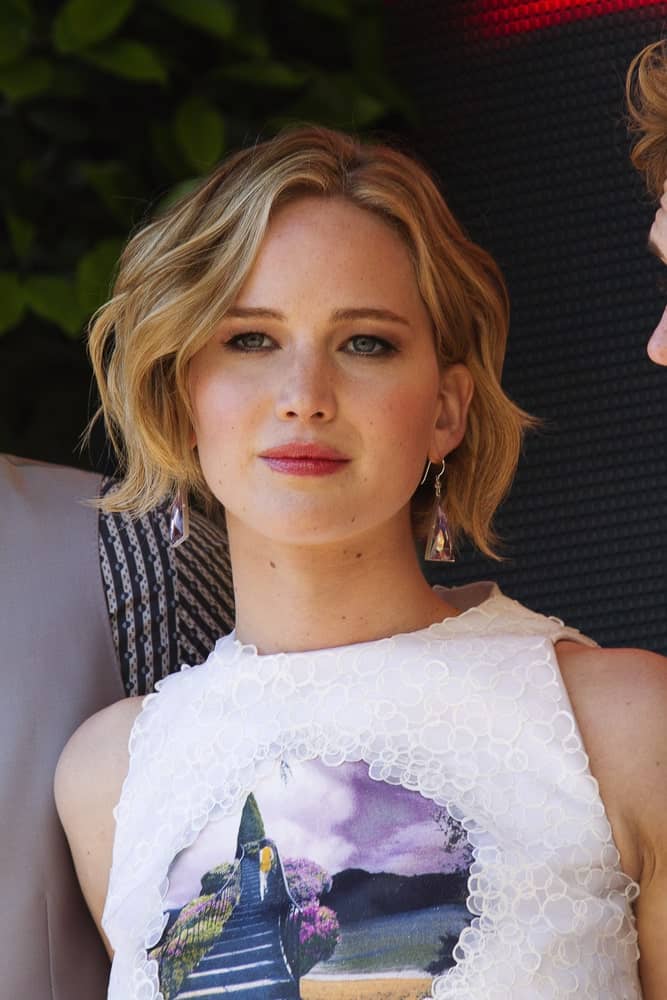 Jennifer Lawrence gives us major hairstyling goals with the different yet stylish hairstyles that she sports quite often. Here we see the smart and witty Oscar-winner in a well-textured and well-highlighted layered bob. Although she has merely worn her hair down, the brilliant strokes of caramel and honey-blonde in her espresso brown hair coupled with the wavy layers make her look effortlessly stylish.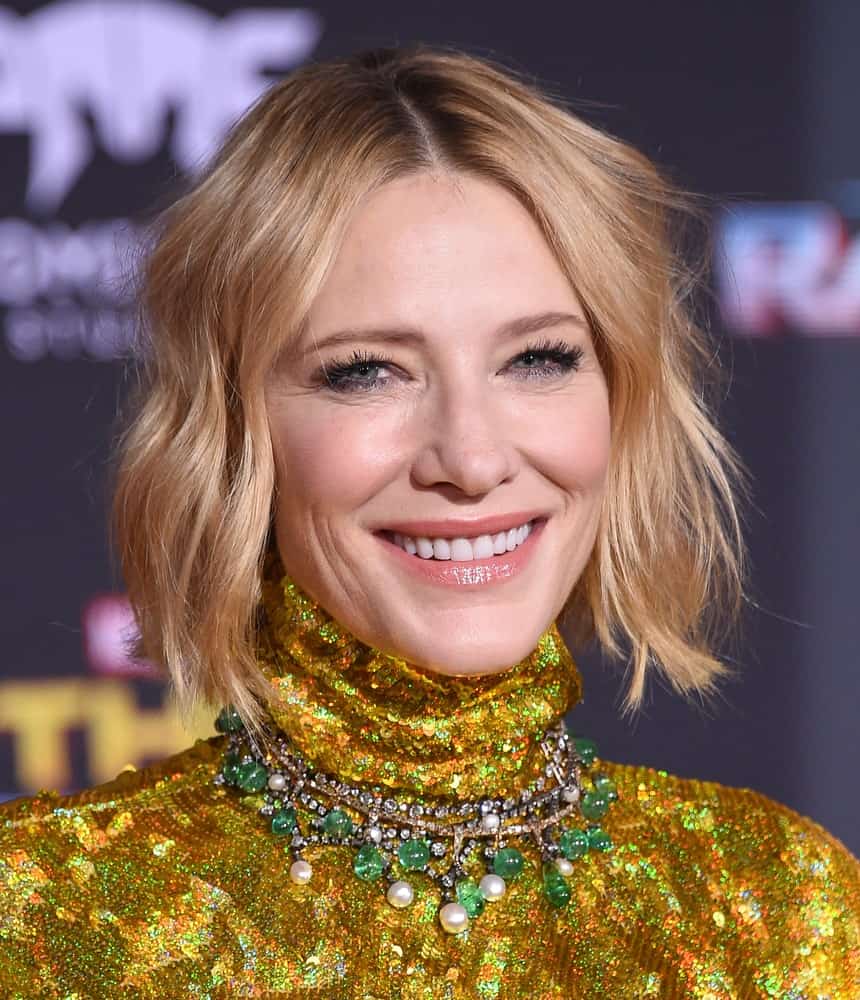 To emphasize your wonderful blonde bob, get choppy layers similar to what the charming Cate Blanchett has done here. A gradual color gradient that turns from deep brown near the roots to luminous golden at the tips further accentuates the look and gives the right mix of beauty and sophistication.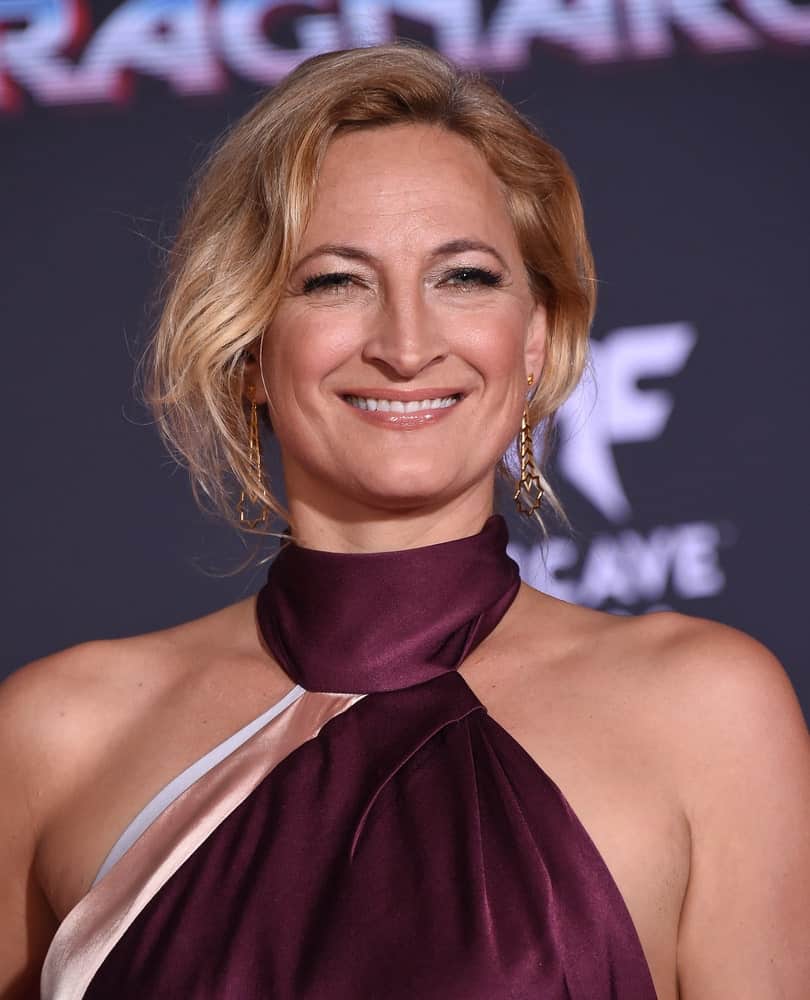 Some people believe that bob cuts are only for the young, college-going girls, but Zoe Bell puts all such notions to shame. Styling her ear-level, deep blonde hair in a casual side-part coupled with wavy layers on each side, she proves that a layered bob haircut perfectly fits women of all ages.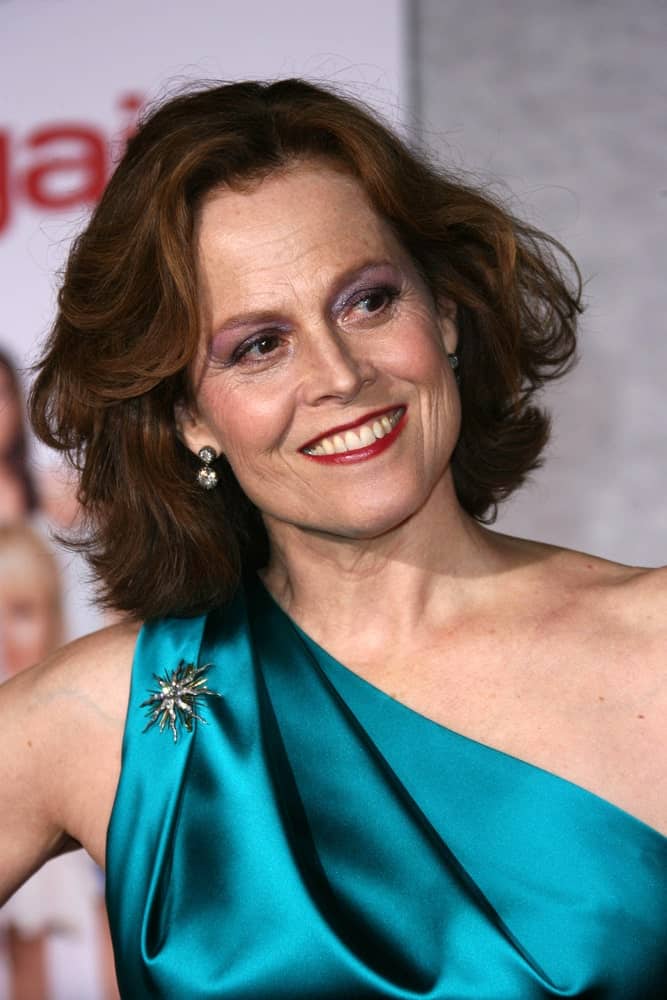 Still not convinced that a layered bob is a go-to style for almost every woman? Then check out Sigourney Weaver looking fresh and energetic in this slightly ruffled, layered short hairstyle.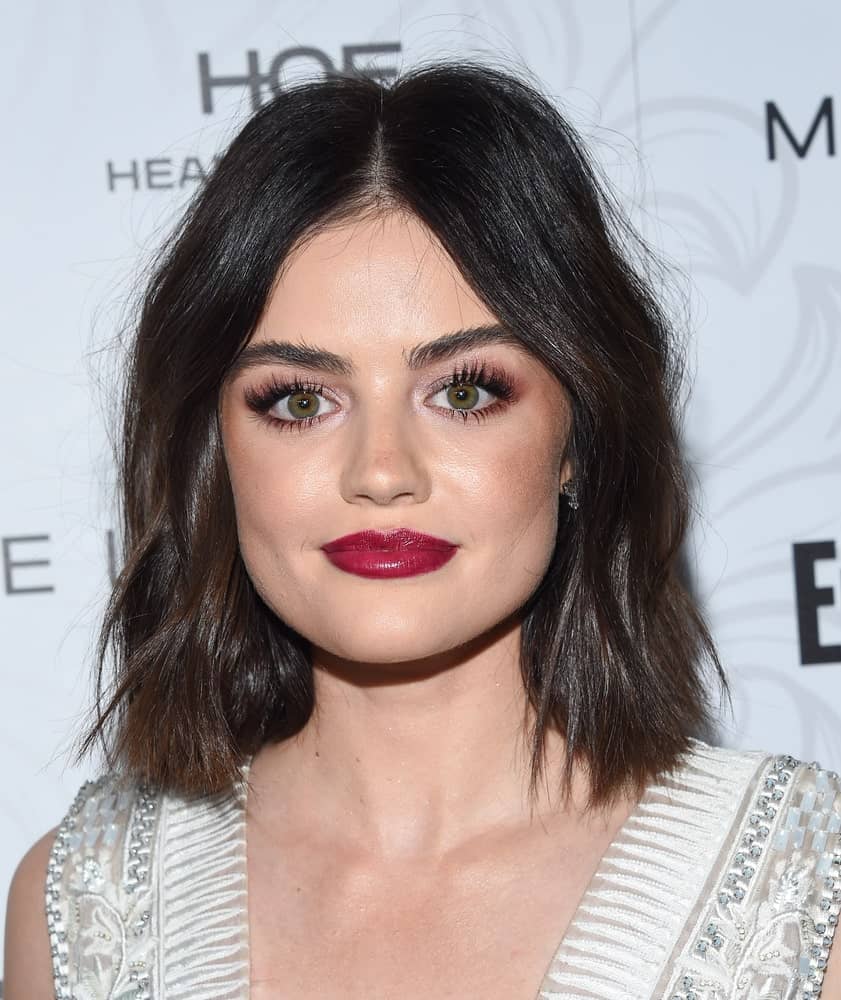 This layered bob haircut for women might not be something particularly new, but it is surely different from the traditional styles in the sense that it consists of Hazel brown lowlights at the tips. The stunning actress, Lucy Hale has chosen a blunt cut for a more hip and edgy style.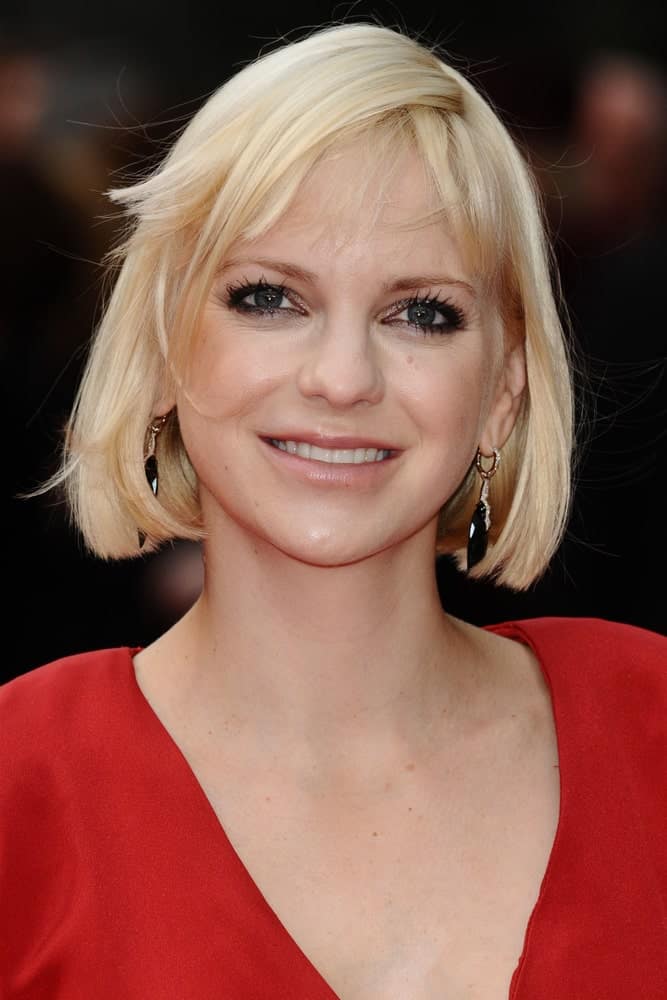 Anna Farris is always a vision in short hair, and here she looks no less than spectacular. While her chin-length bob is neatly trimmed at the same level throughout, she has opted for layers in the bangs which look even more stylish.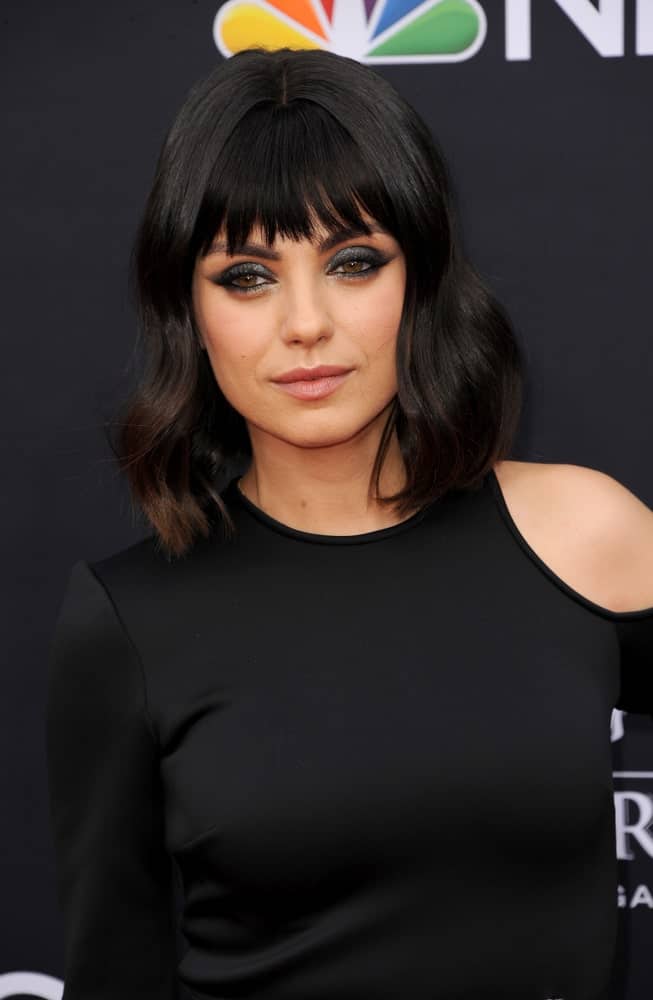 Mila Kunis has always been an advocate of short hair. Here the talented actress has opted for a rather long bob (or 'lob') that extends all the way down to her collarbone. A neat center-part, loose waves ending in feathered layers and eye-skimming, irregular bangs come together in this attractive layered bob haircut for women.
Click here for Mila Kunis' hairstyles over the years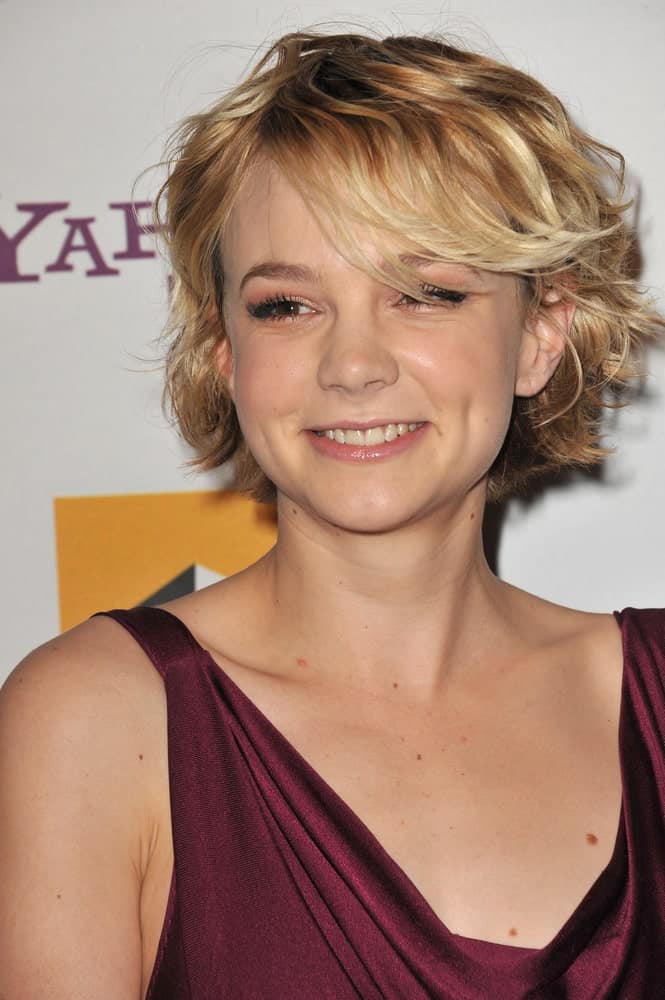 The young and lively Carey Mulligan is seen in a mesmerizing layered bob haircut for women. Notice the remarkable streaks that transform from deep chestnut brown at the roots to pale blonde at the tips. Long, side-swept bangs casually cover the forehead while the uneven layers are maintained throughout the hair to give a relaxed and easy-going look.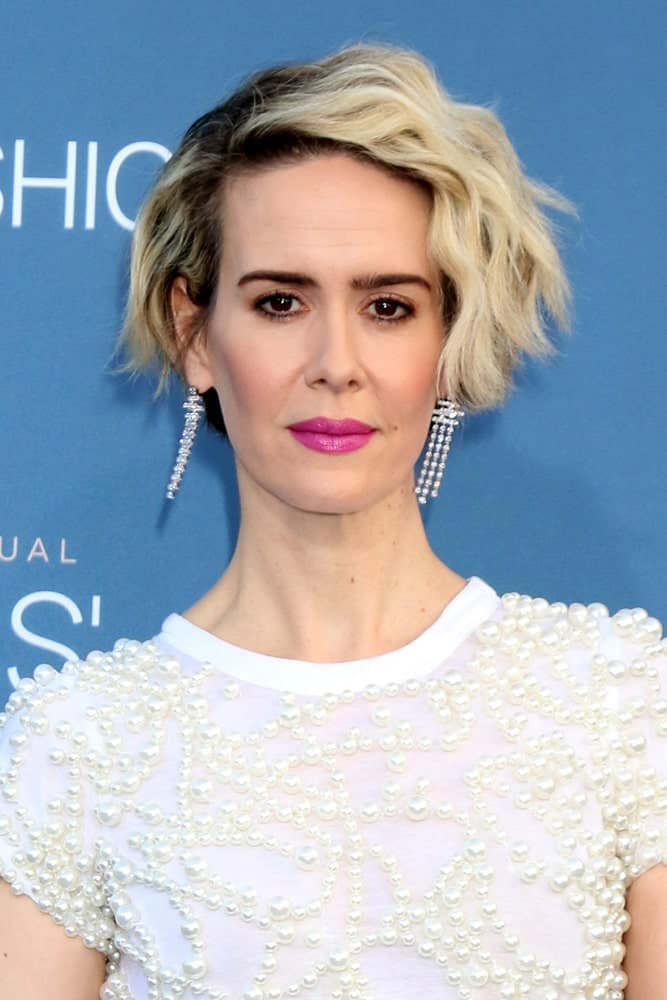 This attention-demanding layered bob haircut for women is guaranteed to turn heads wherever you go. Take notes from Sarah Paulson who has dyed her hair in stark contrasts and brings out the bendy layers by brushing the dyed half over to one side and pushing the other strands behind the ear.
Cate Blanchett has long been a supporter of short hair, and here we see her slaying a bob cut with messy, tousled layers. This layered bob haircut for women perfectly balances decency and style with just some wispy strands.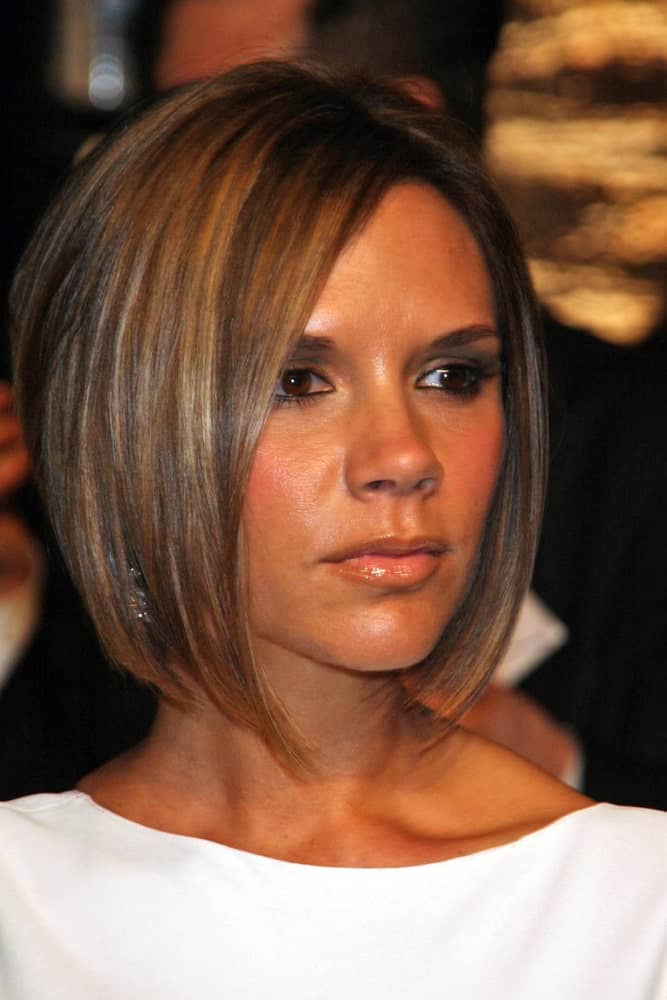 Women all over the world went crazy when the influential businesswoman slash fashion icon, Victoria Beckham, went for this iconic bob. A deeply layered and tilted bob that is longer in the front and shorter at the back not only looks fabulously chic and trendy but also does a great job at 'slimming' your face and highlighting the angles. Ultra-sleek, hand -painted streaks take the exquisite style to a whole new level.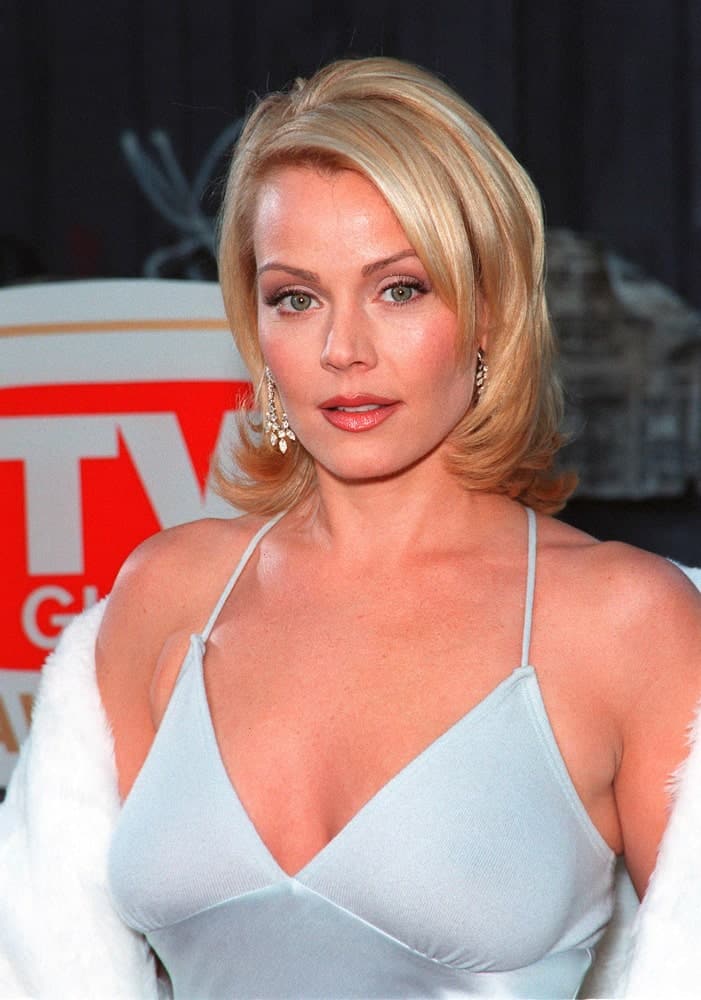 This layered bob haircut for women features long side bangs that have been cut in a slant. The rest of the hair has been slightly curled inwards at the tips to form this simple yet stunning hairstyle for short hair that evokes elegance and grace.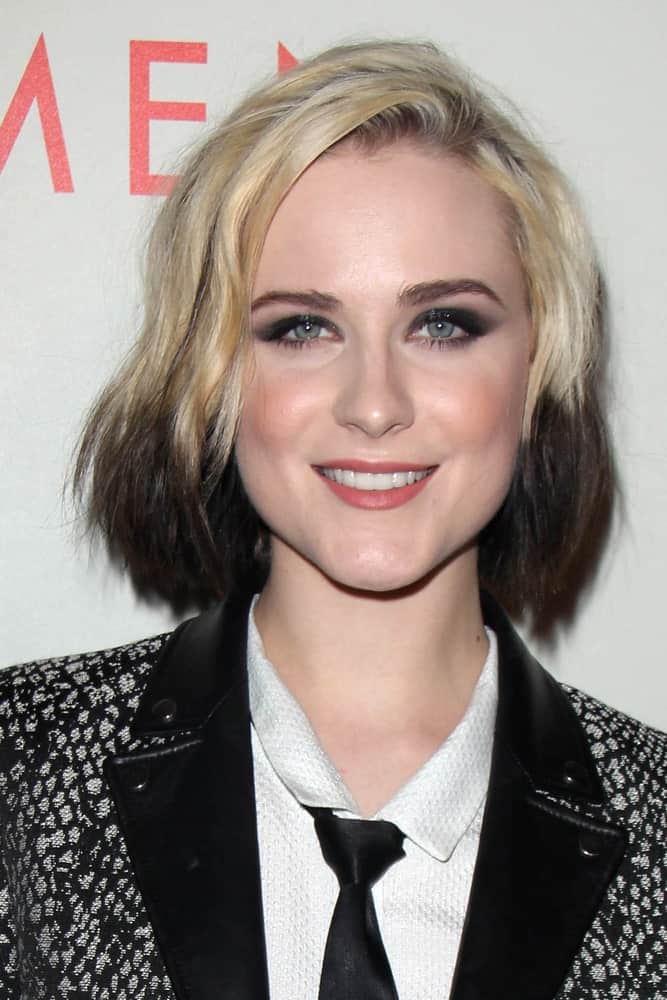 Here we see Evan Rachel Woods looking really mod in this unique and fascinating layered bob haircut for women. Of course, you will need to dye your hair for this one, but if you think that layering short hair will look too diminutive, then you can combine it with eye-catching highlights such as dark Havana brown tips on an ash blonde base color.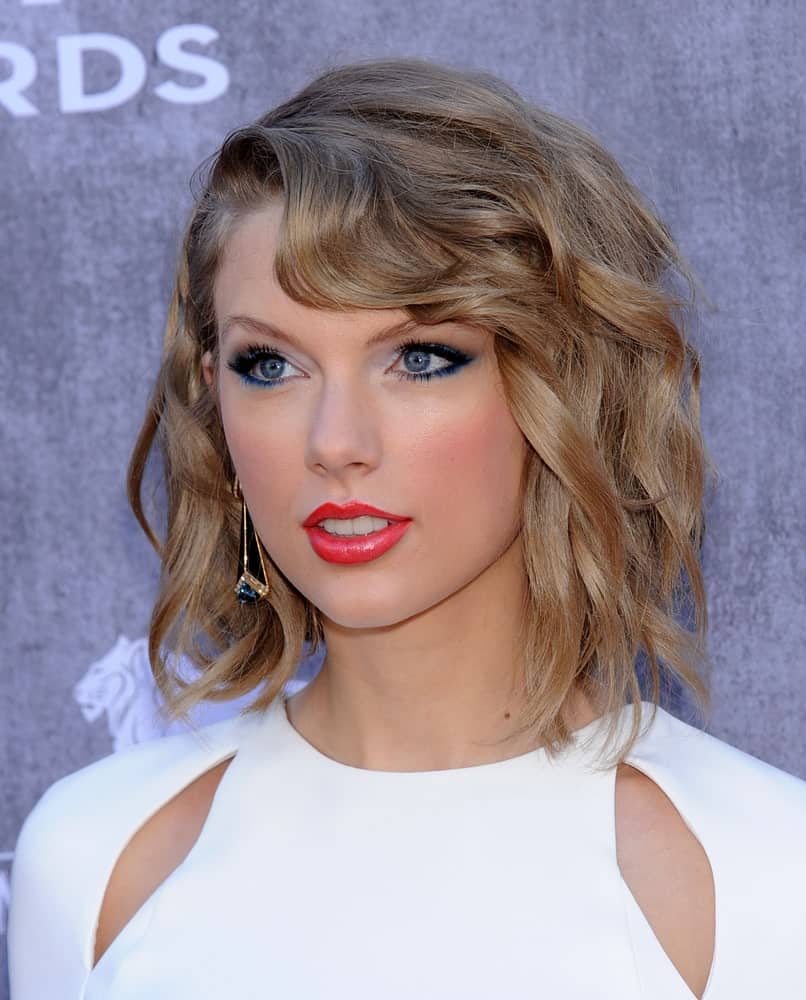 Taylor Swift can never stop playing around with her short hair – but it's not like we are complaining. Dropping major hairstyling ideas for her girls and women alike, she comes with something new that is simply adored by her fans all over the world. For instance, consider this layered bob cut that comprises of wistful, rugged bangs and irregularly chopped locks at the bottom.
Click here for Taylor Swift's Hairstyles over the years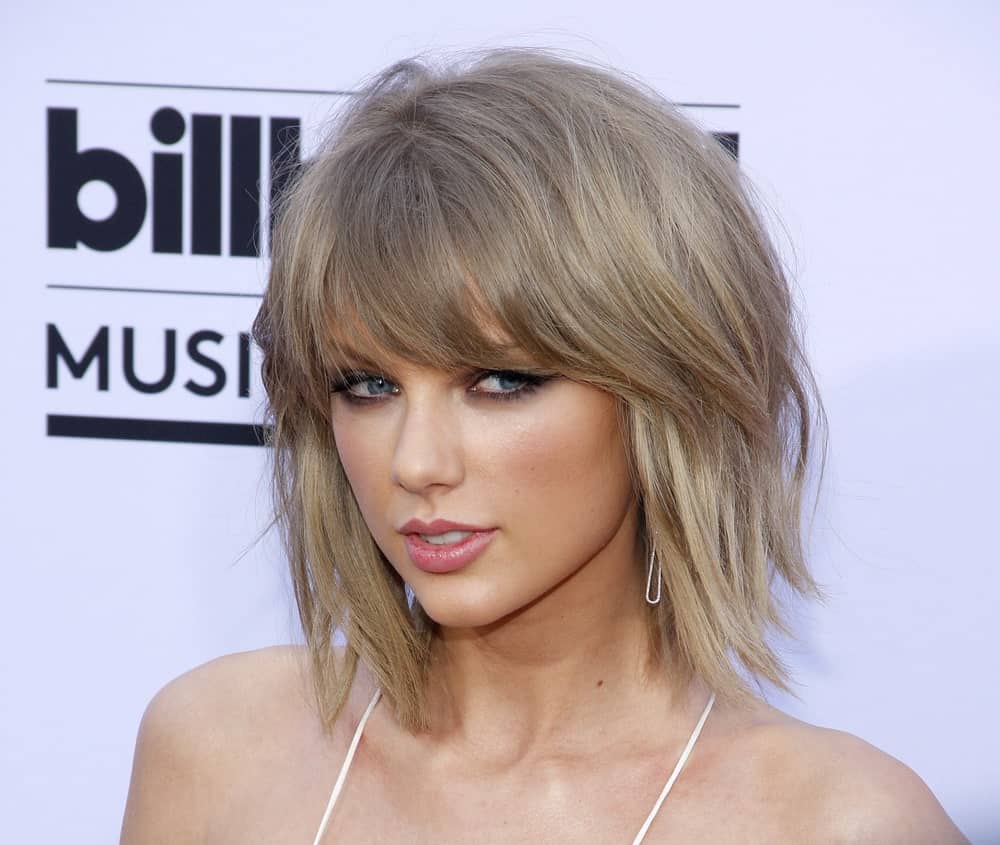 Whether you have curly hair or want extra texture is silky straight hair, merge a layered bob haircut for women with loose coils like the lovely singer has done here. This sophisticated yet trendy hairstyle is simply to die for.
Click here for Taylor Swift's Hairstyles over the years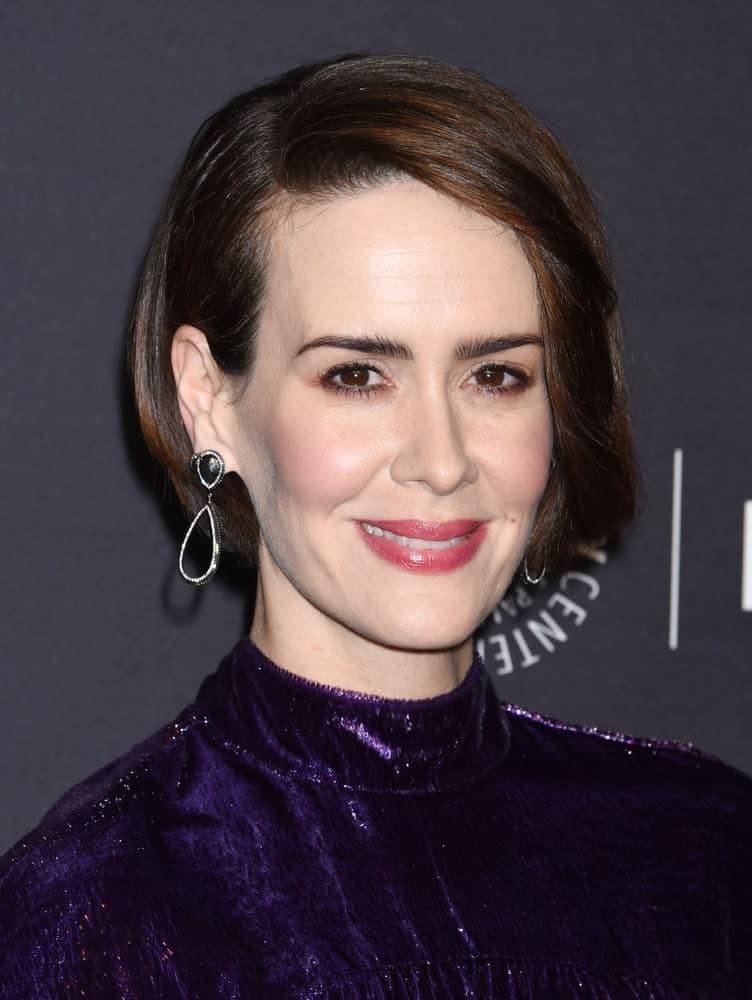 All those who love super straight and ultra-sleek hair will absolutely love this hairstyle. Sarah Paulson looks beyond amazing in this smooth and shiny bob that consists of long, side-swept layered bangs that call for attention, given their gentle change of hues. It has a clean side parting where the hair from one side has been tucked behind the ear while the other side has been set free in front to caress the face mildly.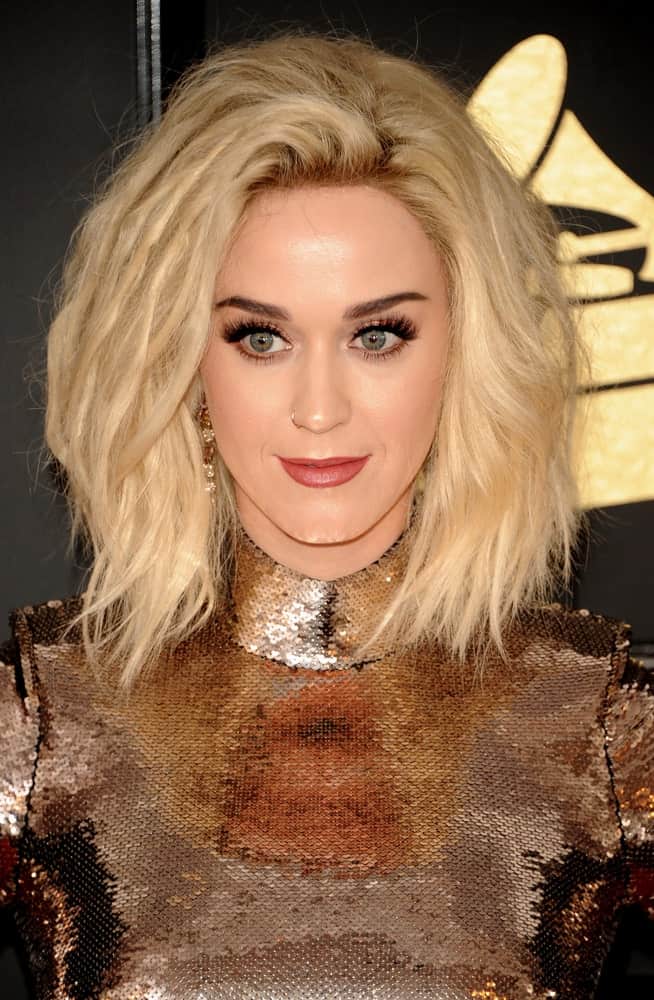 Katy Perry is usually all for vividly colored hair and funky hairstyles. So, when even she boldly embraces the layered bob haircut for women, you too should accept how popular this hairstyle really is. Layers are normally used to reduce the thickness or to cut down on a volumized look but even though she has opted for a lot of layers, the singer nonetheless, manages to retain the fluffed-up appearance.
Click here for Katy Perry's Hairstyles over the years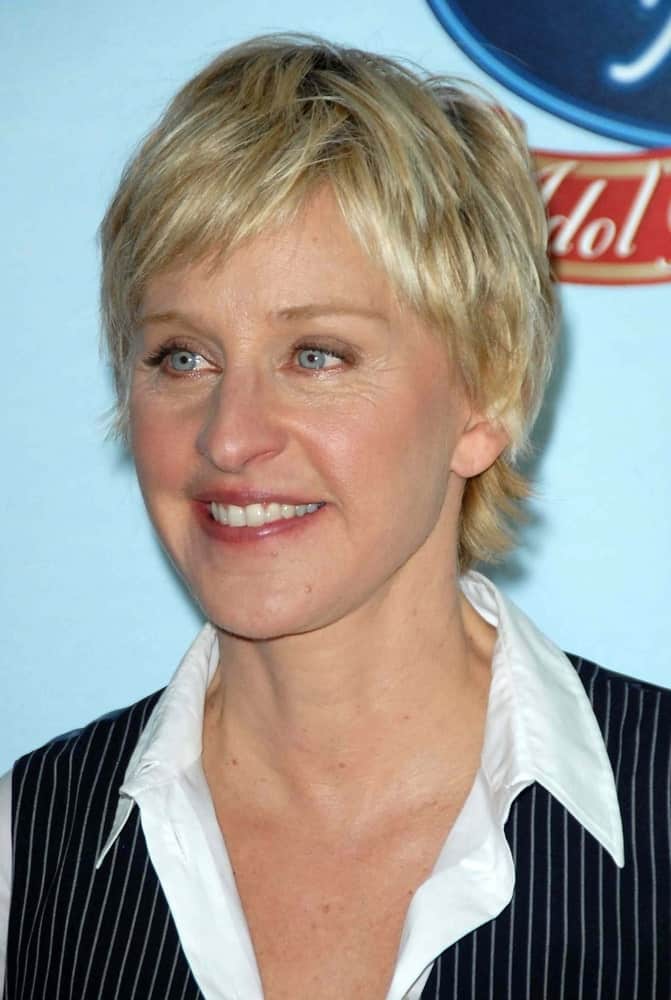 Ellen DeGeneres' extra short bob might have looked too plain if she hadn't gone for those noticeable layers throughout the short strands. Babylightsbring out the texture of choppy layers all the more. If you are looking for a haircut that does not require any further styling yet looks really chic, then this layered bob haircut for women is a good one to consider.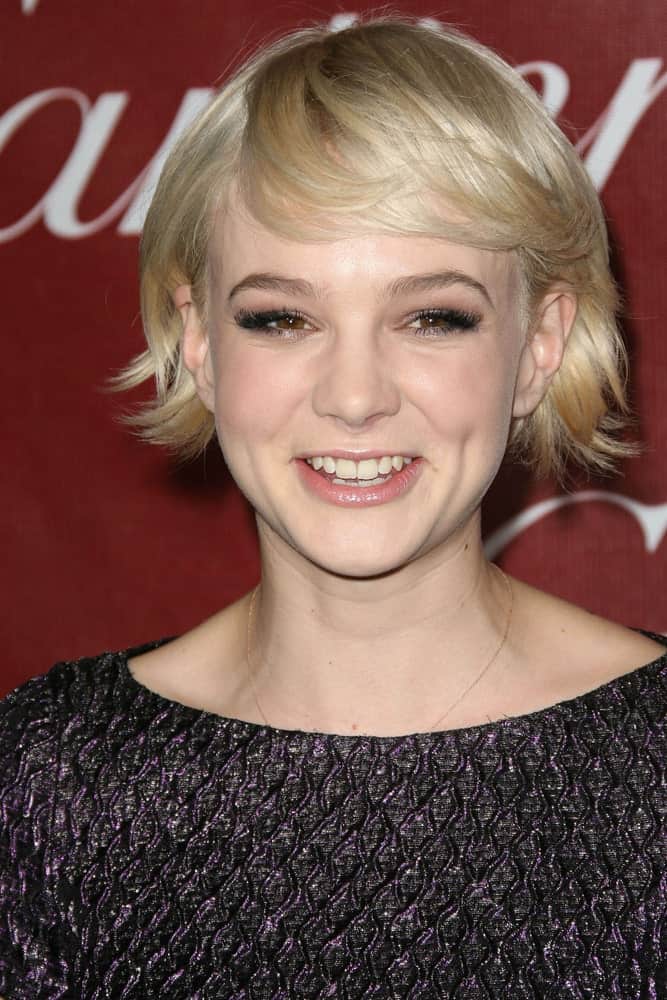 This minimalistic layered bob is worn by the stunning Carey Mulligan where her hair has been cut into feathery strands at ear-level.A similar approach to finishing the short baby bangs together gives her a youthful and playful look.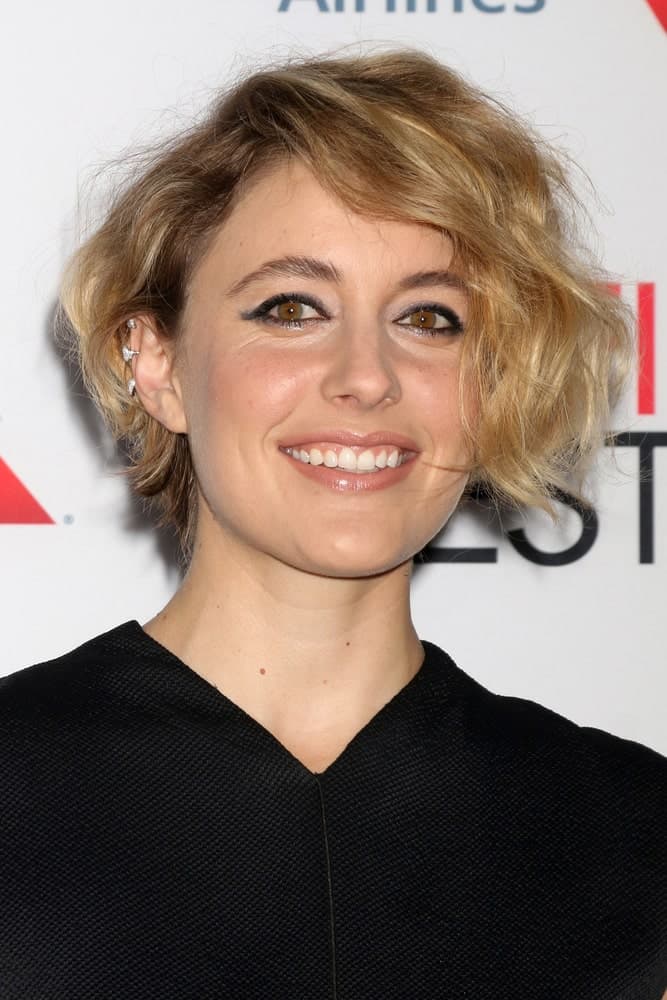 This beautiful layered bob haircut for women features slightly disheveled locks that seem to have been blow-dried. Simple and trouble-free, this easy-going hairstyle is a good style to consider if you spent too much time on make-up but need to make it to the event on time.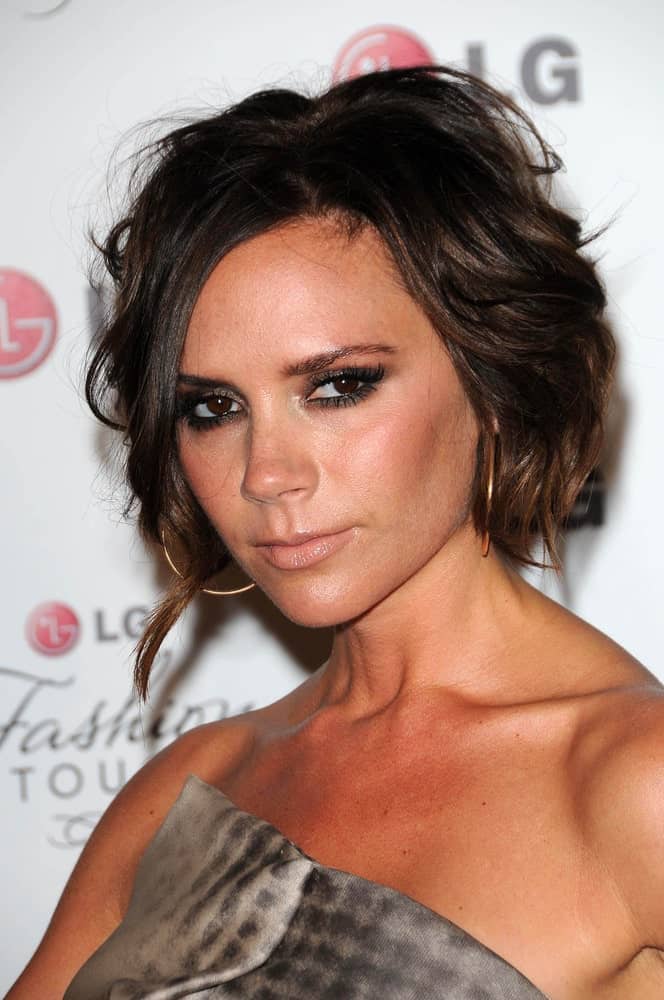 While she is well-known for her famous angular bob, here we see the inspiring woman, Victoria Beckham, rocking a different layered bob haircut. A soft feathered cut emphasized by a lengthy, tousled lock framing the face is a smart way to look bold and stylish.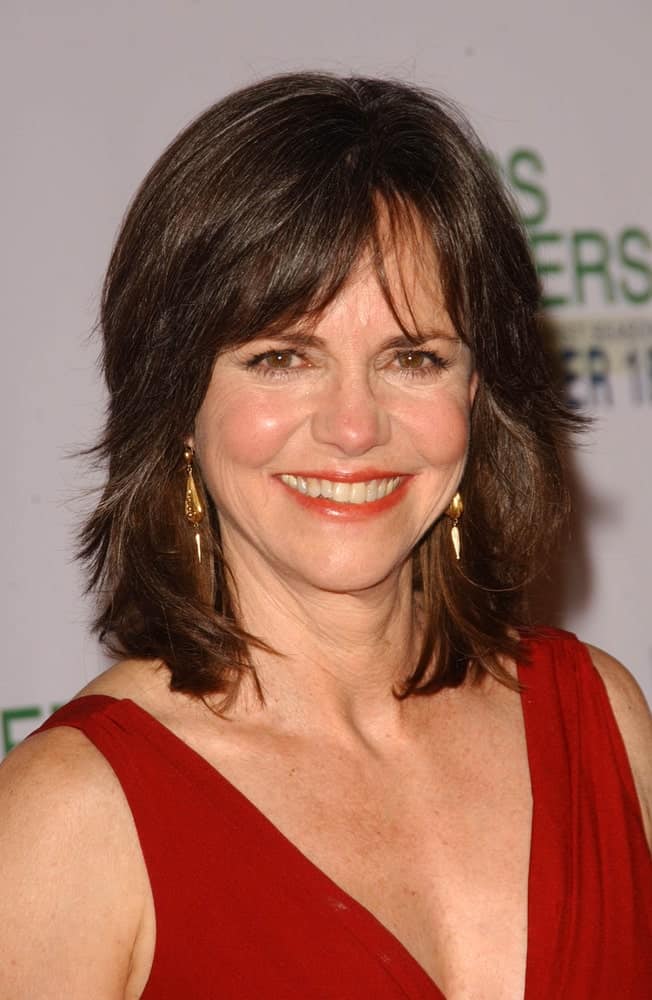 Here we see Sally Field looking a lot younger than her actual age just by wearing her hair in a free-spirited layered bob hairstyle. Curtain Bardot bangs gently cover the forehead, avoiding a plain and bare look whereas the feathery tips give a regal touch.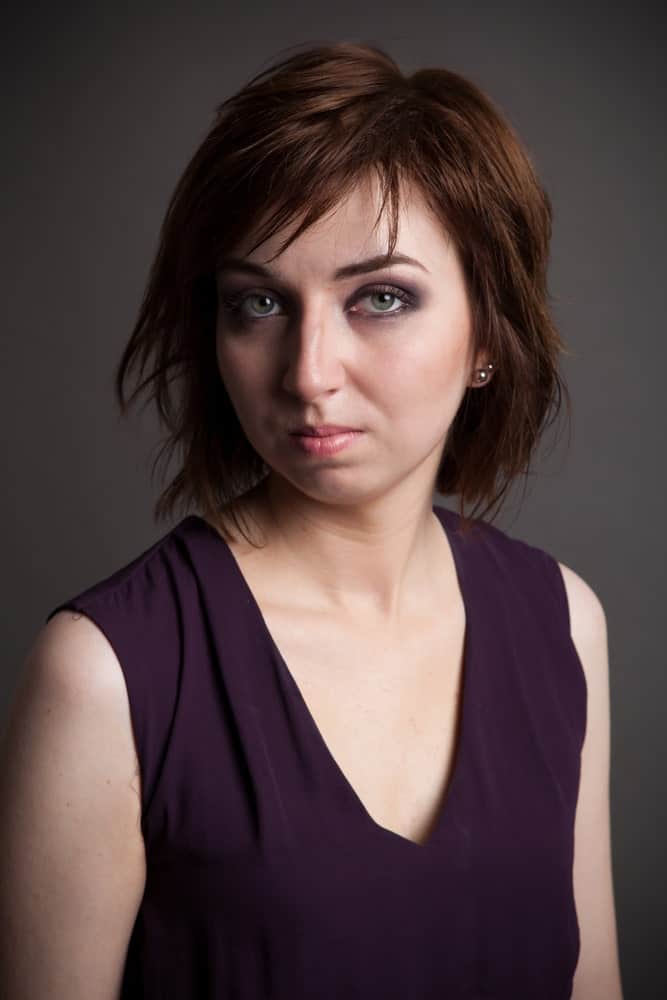 If you are one of those women who are always running short of time or rushing about to get things done, this uncomplicated layered bob haircut is the ultimate answer to all your hair styling woes. Short and precise bangs combined with a feathery touch means all you need to do is comb your hair once, and voila! You are set for the day!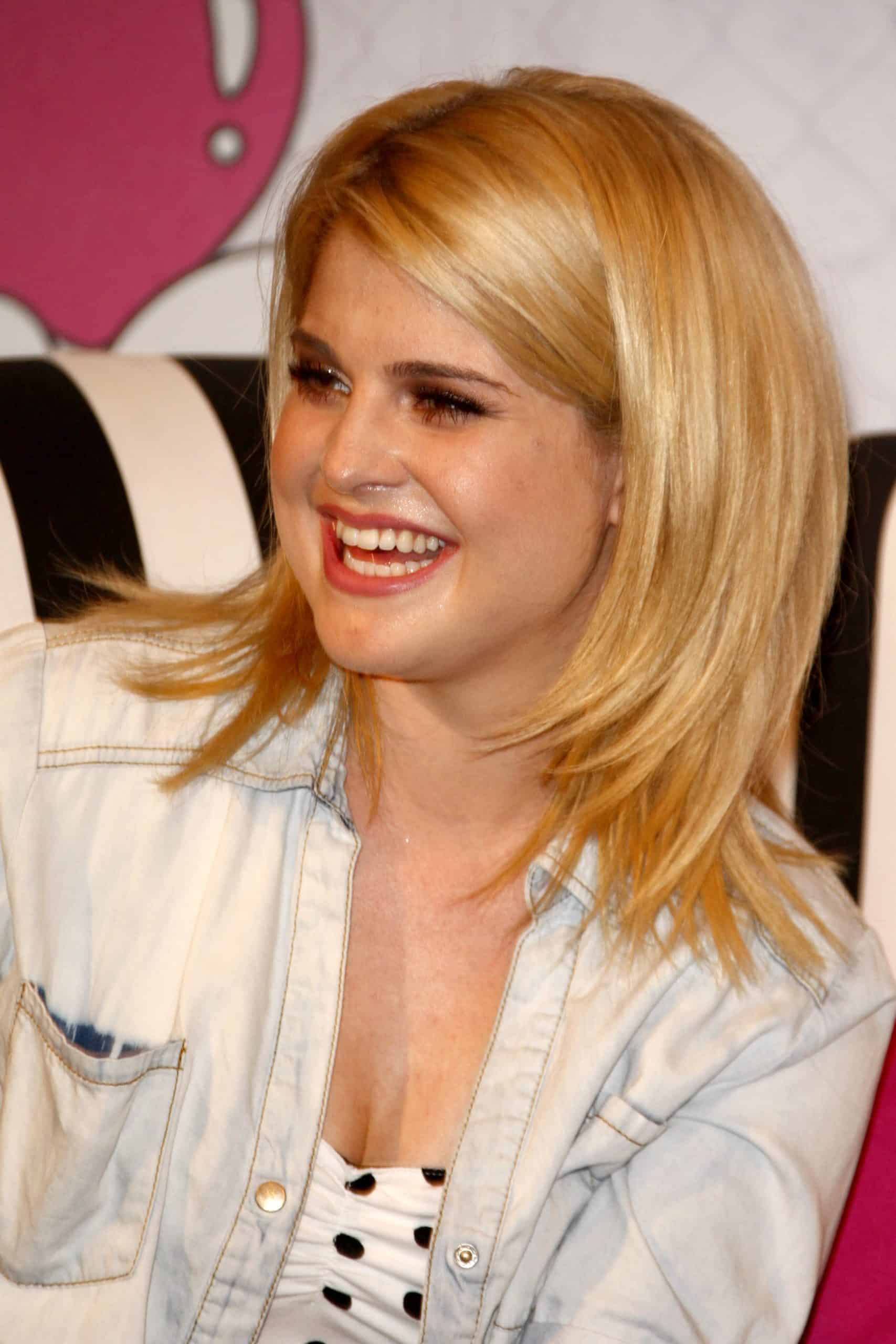 Kelly Osbourne at the Launch of Madonna's 'Material Girl' clothing line on March 24, 2011, looking almost like her teenage days with her long layered bob.
Click here for Kelly Osbourne's Hairstyles over the years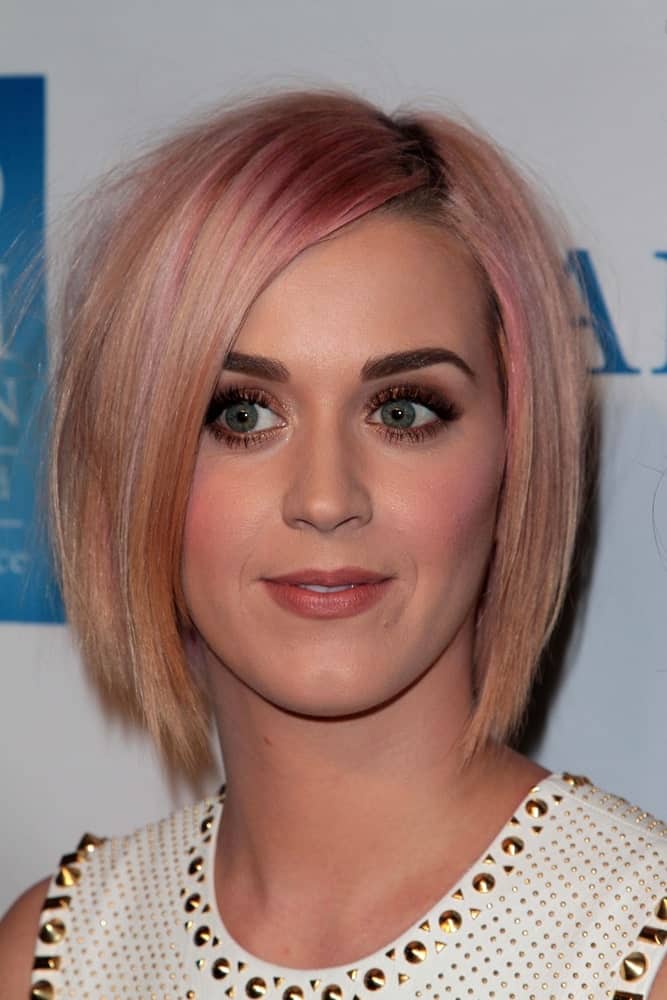 Katy Perry opted for a short layered bob in light pink during the 3rd Annual "Change Begins Within" Benefit Celebration on December 3, 2011.
Click here for Katy Perry's Hairstyles over the years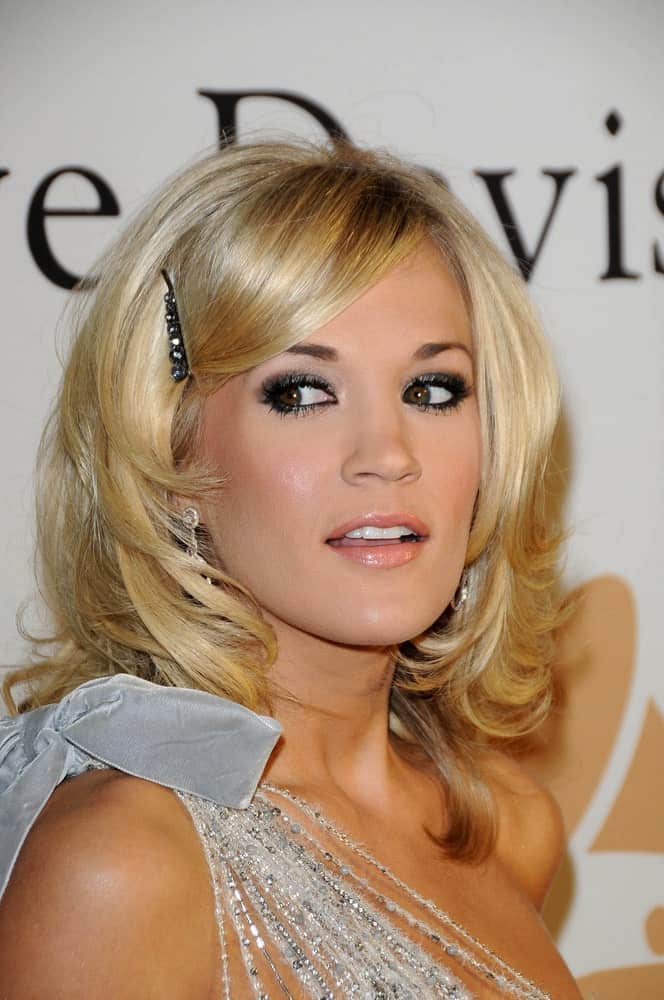 Carrie Underwood complements her short layered locks with a cute pin during The Recording Academy and Clive Davis Present The 2010 Pre-Grammy Gala held on January 30, 2010.
Click here for Carrie Underwood's hairstyles over the years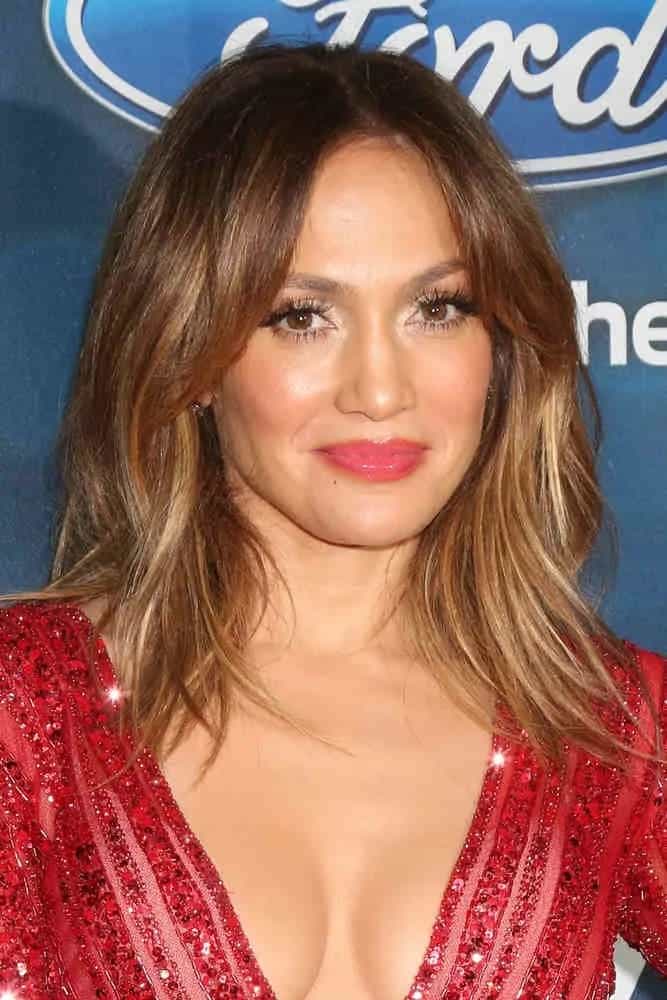 Jennifer Lopez blooms in a bob hairstyle with center-part bangs at the American Idol Farewell Season Finalist Party on February 25, 2016.
Click here for Jennifer Lopez's hairstyles over the years
Christina Aguilera opted for an interesting look with her curls styled in a sleek finger wave plus some layers during the LAX Nightclub Party last September 8, 2007.
Click here for Christina Aguilera's hairstyles over the years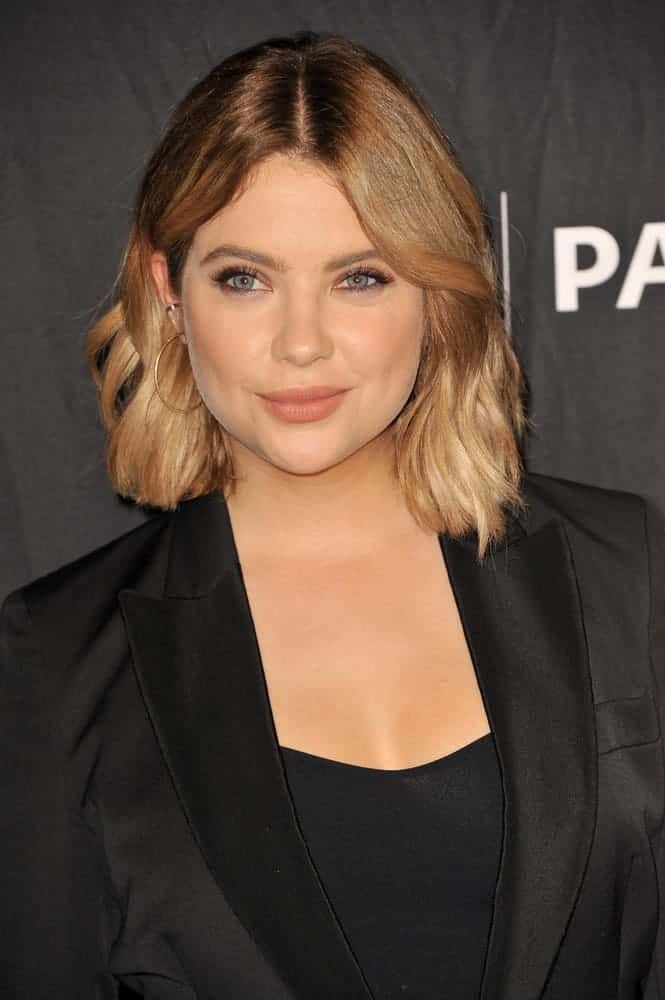 Ashley Benson was at the 34th Annual PaleyFest Los Angeles presentation of 'Pretty Little Liars' held at the Dolby Theatre in Hollywood, USA on March 25, 2017. She wore an all-black smart casual attire to pair with her layered blonde bob hairstyle with a slight tousle and waves.
Click here for Ashley Benson's hairstyles over the years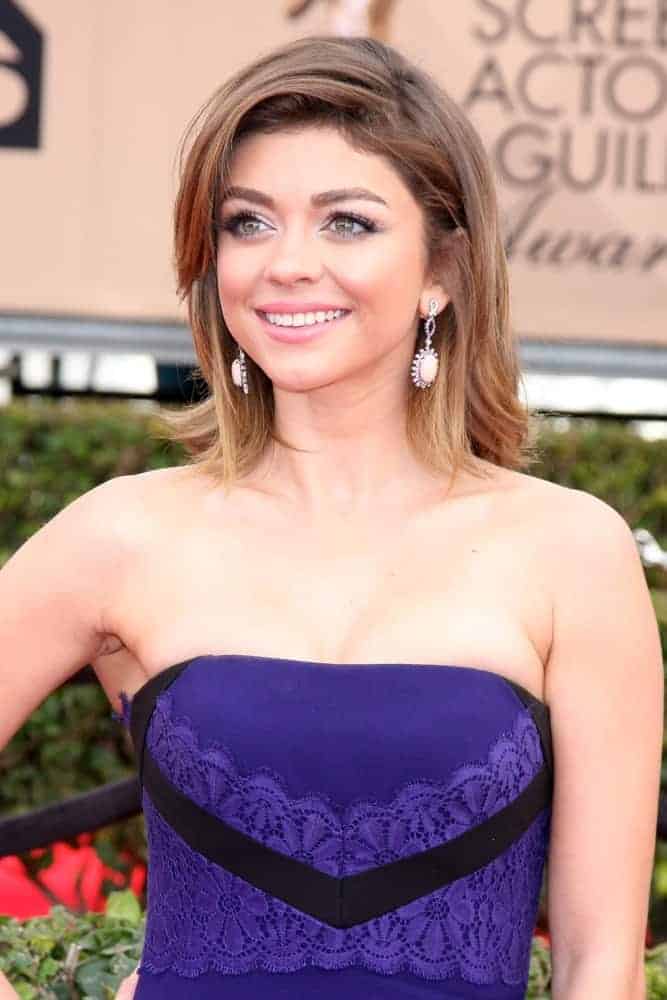 Sarah Hyland attended the 22nd Screen Actors Guild Awards at the Shrine Auditorium on January 30, 2016, in Los Angeles, CA. She was stunning in a strapless purple dress that matches her shoulder-length layered bob hairstyle with long side-swept bangs.
Click here for Sarah Hyland's hairstyles over the years
Rose Byrne was at the Twentieth Century Fox 2015 Presentation at Cinemacon at Caesars Palace on April 23, 2015, in Las Vegas, NV. She wore a stunning polka-dotted outfit with her tousled and wavy shoulder-length bob hairstyle.
Click here for Rose Byrne's hairstyles over the years
Milla Jovovich attended the American Music Awards 2016 on November 20, 2016, in Hollywood, CA. She paired her black dress with a chin-length hairstyle that has dark bangs and layers.
Click here for Milla Jovovich's hairstyles over the years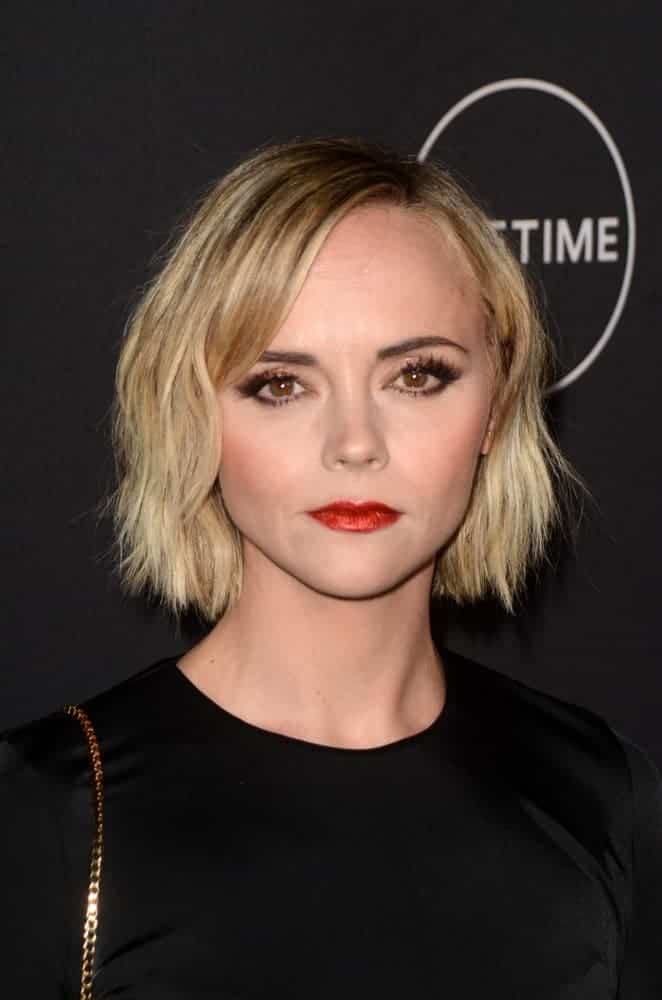 Christina Ricci was at the Lifetime Winter Movies Mixer at The Andaz on January 9, 2019, in West Hollywood, CA. She paired her black outfit with a tousled and highlighted chin-length blonde hairstyle.
Click here for Christina Ricci's hairstyles over the years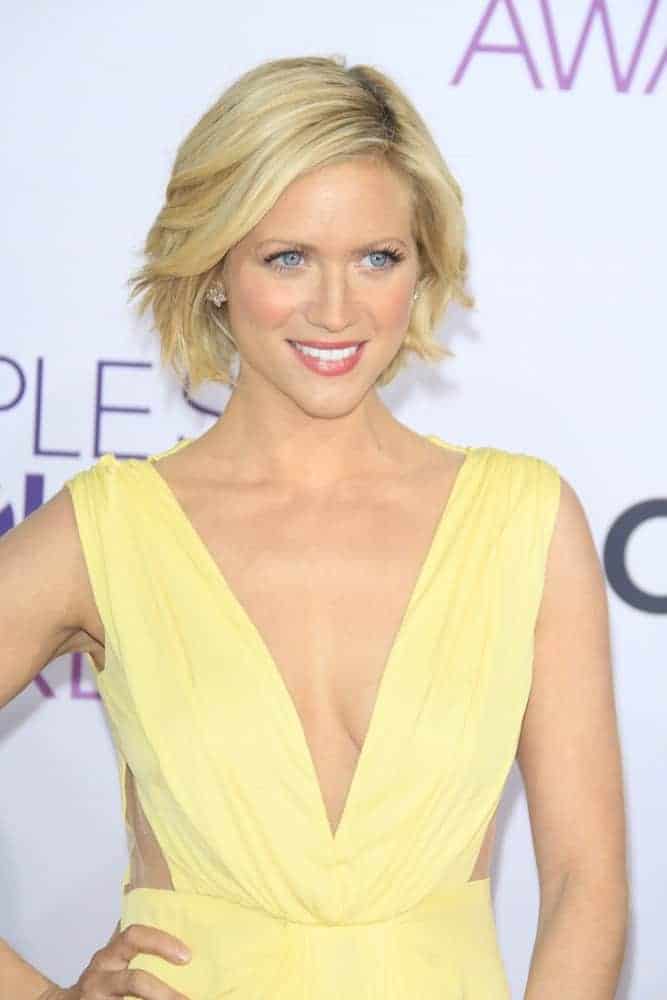 Brittany Snow was at the 39th Annual People's Choice Awards at Nokia Theater L.A. Live on January 9, 2013 in Los Angeles, California. She was stunning in a yellow dress that she paired with her snady blonde chin-length hairstyle that is tousled and layered.
Click here for Brittany Snow's hairstyles over the years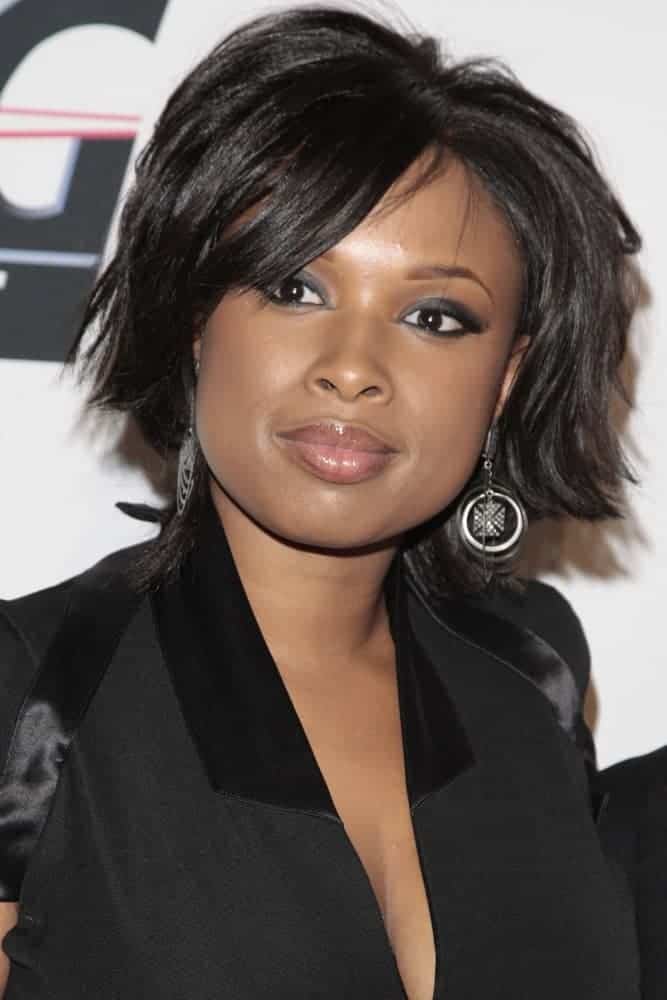 Jennifer Hudson attended the Clive Davis and The Recording Academy present the Annual Pre-Grammy Gala in Beverly Hills, California on February 7, 2009. She paired her black dress with a short chin-length tousled raven hairstyle with layers and side-swept bangs.
Click here for Jennifer Hudson's hairstyles over the years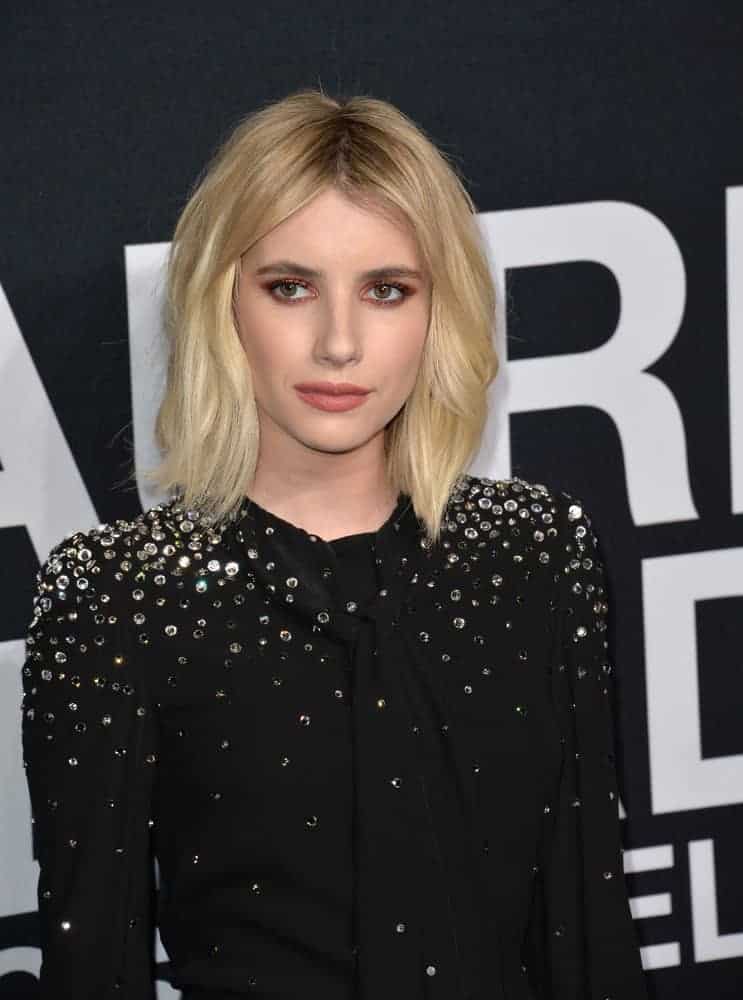 On February 10, 2016, actress Emma Roberts was at Saint Laurent at the Palladium fashion show at the Hollywood Palladium. She wore a sparkly black dress with her shoulder-length tousled blonde bob hairstyle with layers.
Click here for Emma Roberts' hairstyles over the years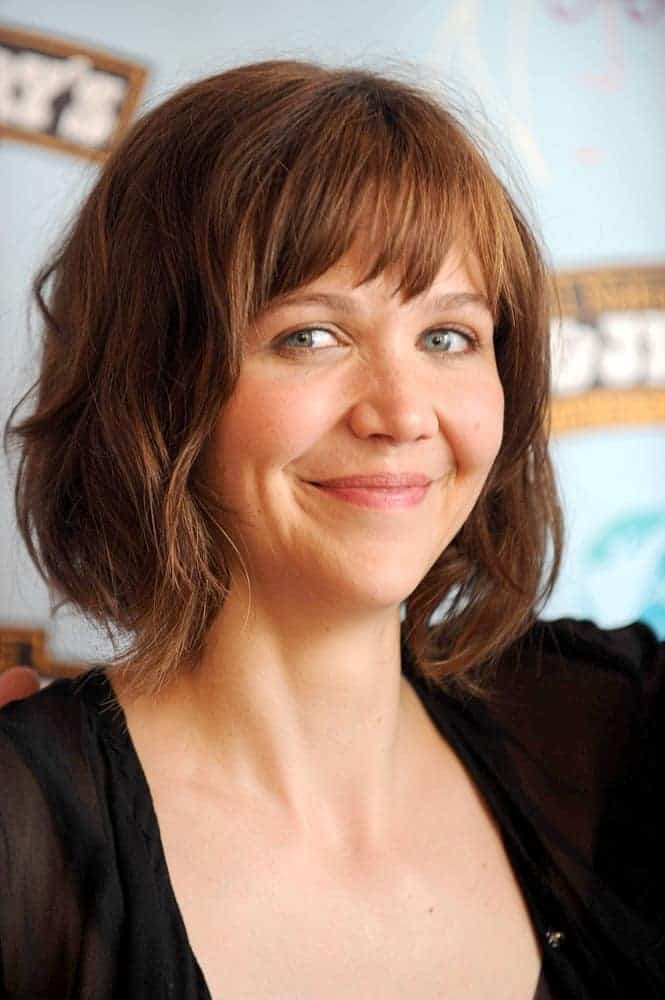 Actress Maggie Gyllenhaal was at the press conference for Ben & Jerry's Ice Cream and Maggie Gyllenhaal Host Peace Bed-In, Ben & Jerry's Times Square Scoop Shop, New York on May 27, 2008. She wore a black dress with her short and layered brown bob hairstyle with short bangs and layers.
Click here for Maggie Gyllenhaal's hairstyles over the years
---
Why add layers to a bob?
There really isn't a "better" option when it comes to layers or no layers with a bob.  It's a personal choice.  What's fun about hair is it grows back so you can try different cuts throughout the years.
If you've had a straight, even bob for some time, why not try adding layers.
Layers add texture to a bob cut.  In some cases, depending on your face shape, layers are a great option. One example is square or round faces because the layers can add a tapering effect which minimizes the wider cheeks (in the case of round faces) or wider jawline (in the case of square faces).
Layers add a casual element to the style too.  It's not quite tousled or loose, which is very casual, but it's not as formal as upstyles or straight even styles.  It falls somewhere in between which can be a great cut for both work and play.
Does color matter?
No.  When adding layers, color doesn't really matter at all.  Layers give the same effect whether blonde, brunette, red, etc.
When layers don't work for a bob
If you have curly or coily hair, bob cuts are not really possible, let alone trying to add layers.  After all, curls or coils add the texture and body on their own.
That said, if you straighten your hair, and do so daily, then you can attempt a bob cut and add layers.  However, that's a commitment because then you're stuck straightening your hair every day, which can be time-consuming and in the long run with frequent straightening with heat, damaging to your hair.
There's a reason you see many celebrity women sporting bobs with layers… it's because it can be a great look for the right face shape and hair type.