The 1990s saw a huge resurgence in long hair for men.
While that wide-scale of a trend has since waned, many men still sport long hair in many styles and hair types.
This is our expansive photo gallery showcasing many different long hairstyles and cuts for men.
Women surely pull off long hair with great finesse and perfection; however, lately, numerous men have been growing their hair long and dare we say, they look super handsome and amazing! The idea of men growing their hair long was initially met with great surprise and skepticism, but as soon as several famous figures like David Beckham and Chris Hemsworth were seen rocking their long hair, the idea turned into quite a fashion statement and symbol.
Many people hesitate in terms of growing their long because it requires so much care and maintenance and can even end up being really difficult to handle. However, the best part about long hair is that you can play with it as much as you want to and can do just about anything with it. You let it loose, curl those locks, turn it into a high bun, braid it or even jazz it up with hair accessories. Whatever you do, you are likely to end up looking terrific!
Just like women can sport long hair in a multitude of ways, men can also wear their hair long in a variety of different styles and cuts. If you have long hair and are looking to style it better, check out this gallery below featuring many celebrities who absolutely rocked their long hair with perfection, grace and sheer panache.
What are good styles for guys with long hair?
As you can see in our gallery above, many styles work for guys with long here.
Here are 7 types of long hair cuts and styles for men
1. Man buns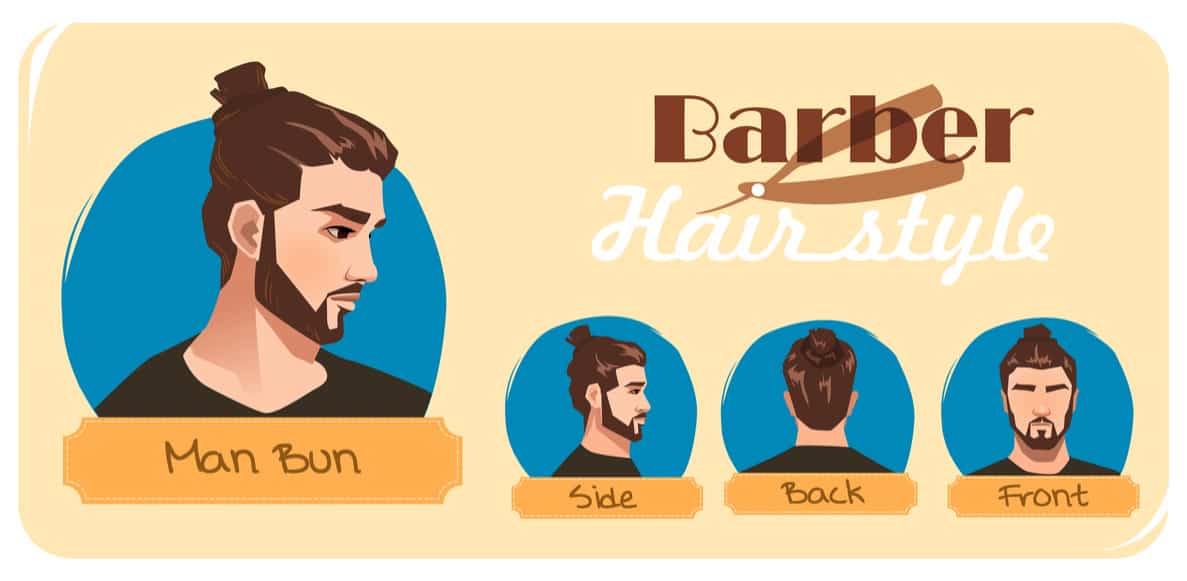 The man bun, which is very popular right now, is when long hair is tied up into a bun so it sits towards the top of the head. They aren't a new hairstyle for men. They've been around for hundreds of years.  Many male celebrities sport man buns. To get a sense when they grew in popularity, the best way is to check Google trends.
2. Braids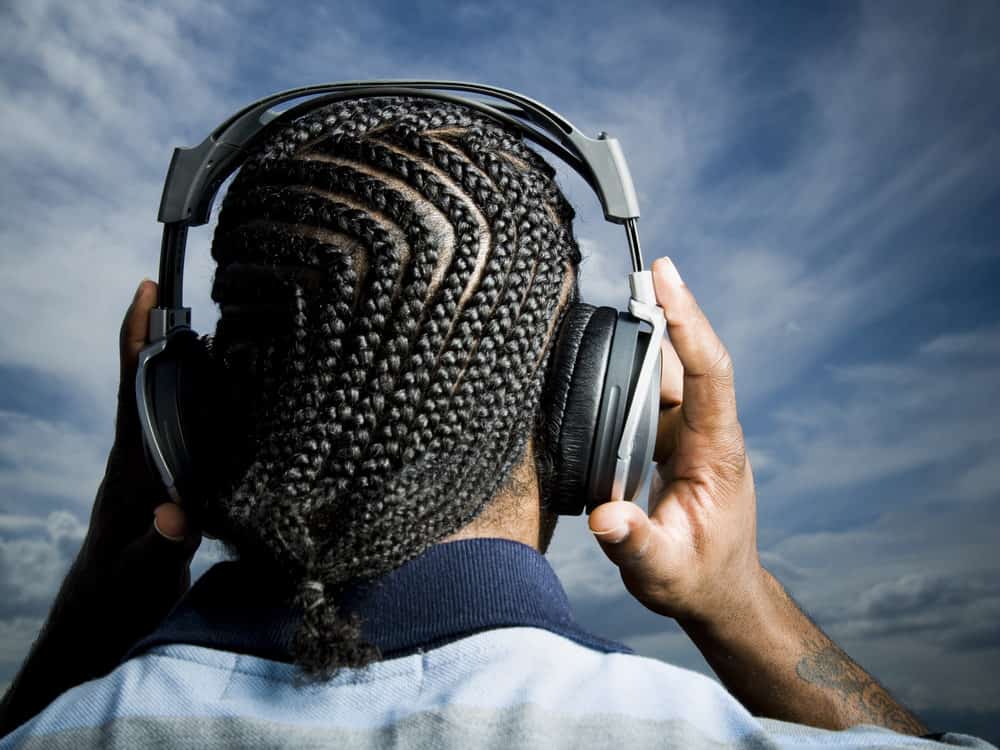 3. Fades
While man buns spiked in popularity, the fade, also super popular, continues a steady trajectory as a popular haircut for men.
4. Ponytail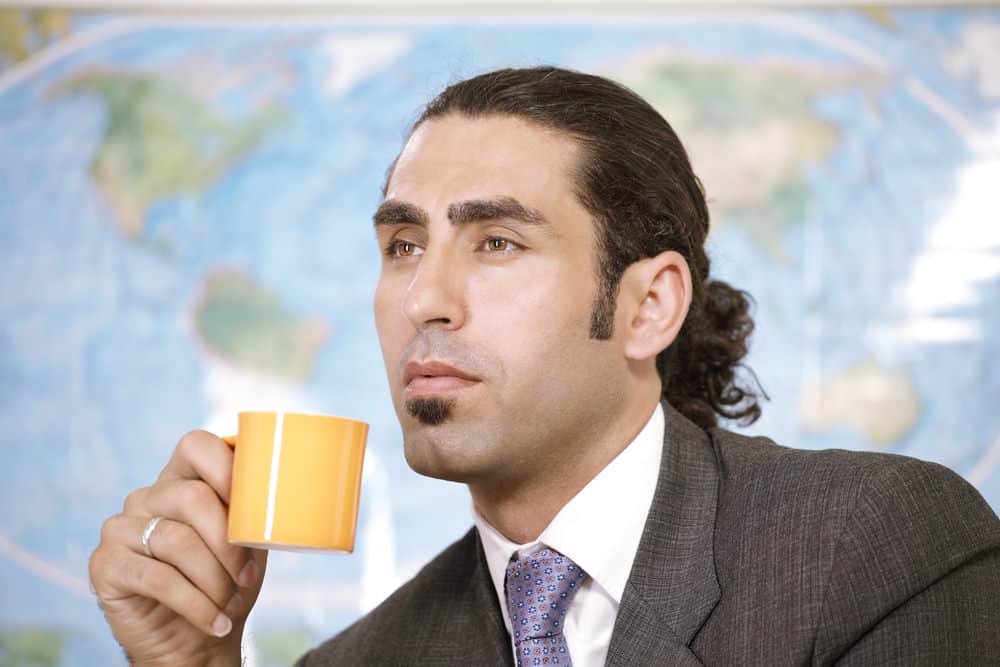 5. Undercut

6. Straight and long

7. Dreadlocks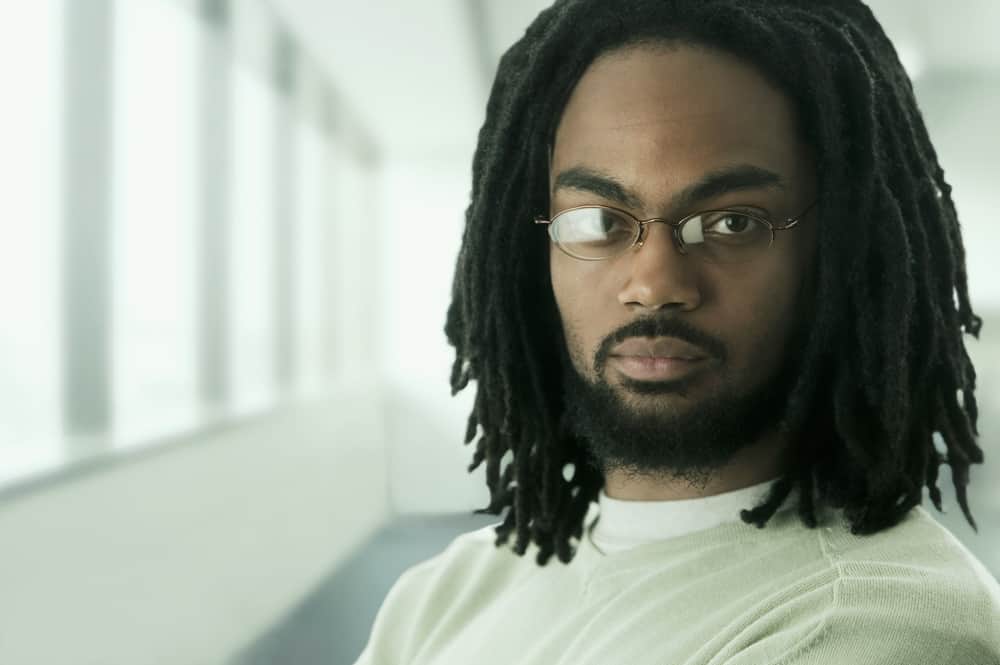 ---
Photo Examples of long Hairstyles for Men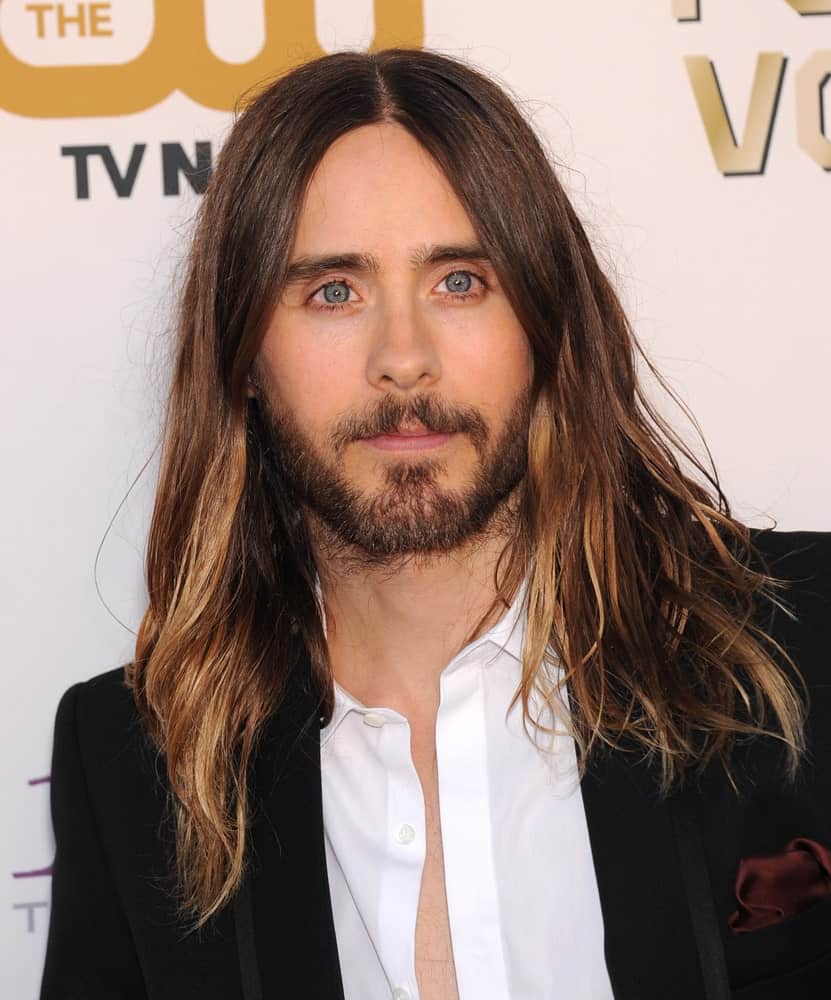 Jared Leto is the first name that comes to mind when you think of men with long hair. His hair here is really long, extending way beyond his shoulders and has a tad messy look. He has parted his hair in the middle where thick locks of highlighted hair fall on both sides. That rough, dark-colored beard greatly complements his long hair and makes him look absolutely dashing.
Click here for Jared Leto's hairstyles over the years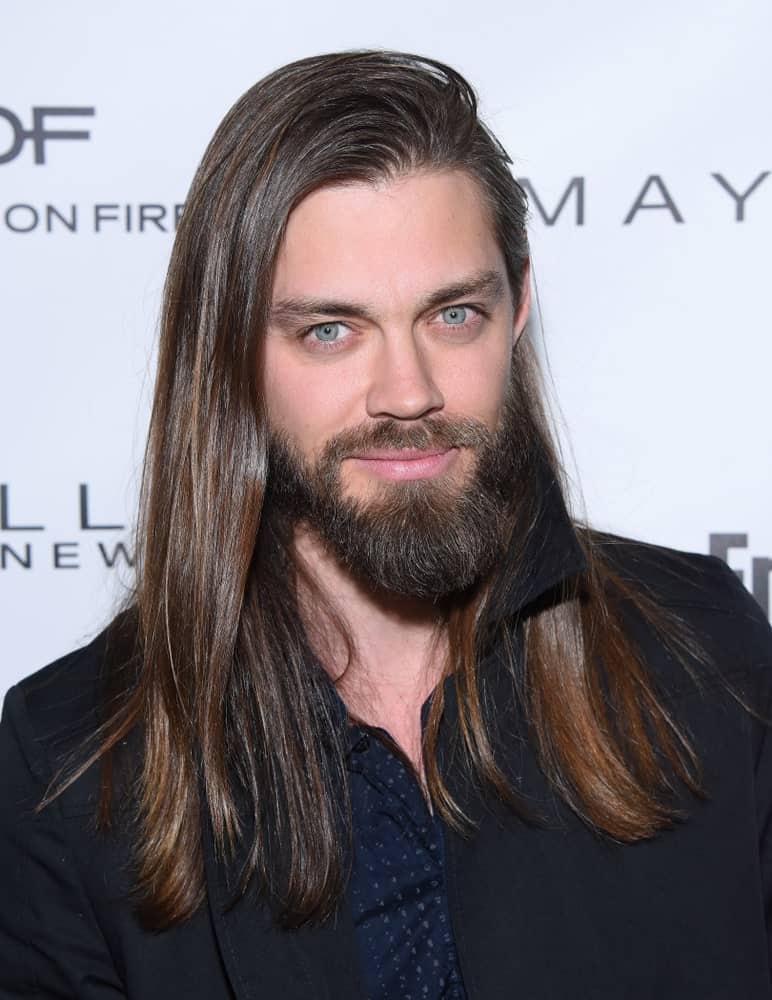 Tom Payne is another great name that you think of when it comes to men with long hair. He pulls off his super long and straight hair with absolute perfection, and it also suits him so well. His hair has been parted from the side that gives it a very voluminous look. The addition of the slightly long beard and mustache looks really classy with this hair making him look truly handsome.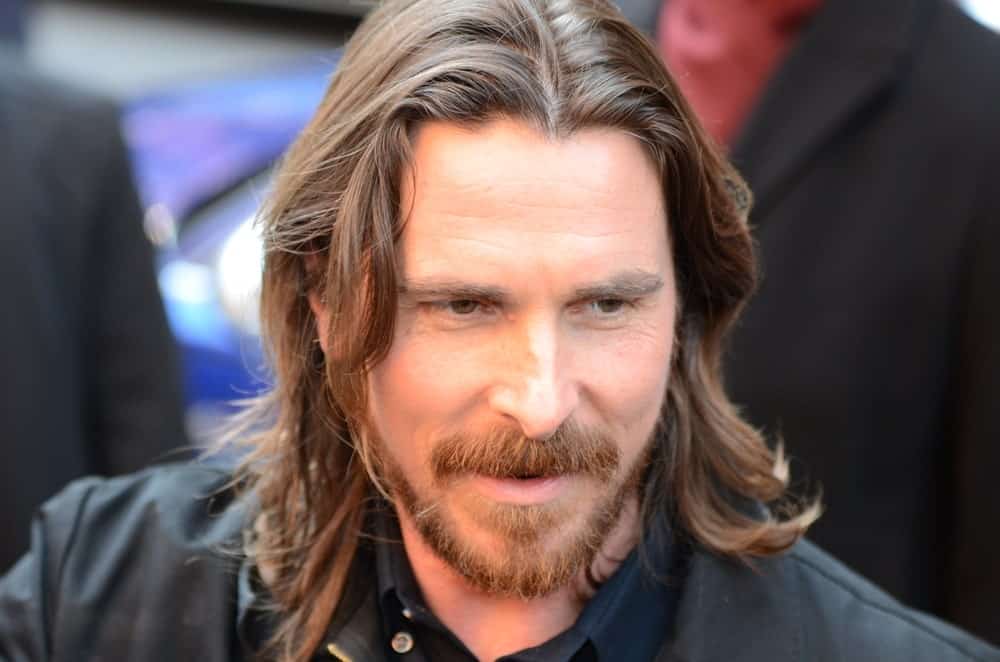 Christian Bale is one of those people who look good regardless of what they do with their hair or face. Here, he is with his hair going all the way to his shoulders with a neat parting in the middle. His hair is a very nice, light shade of brown that looks really amazing with this length of hair.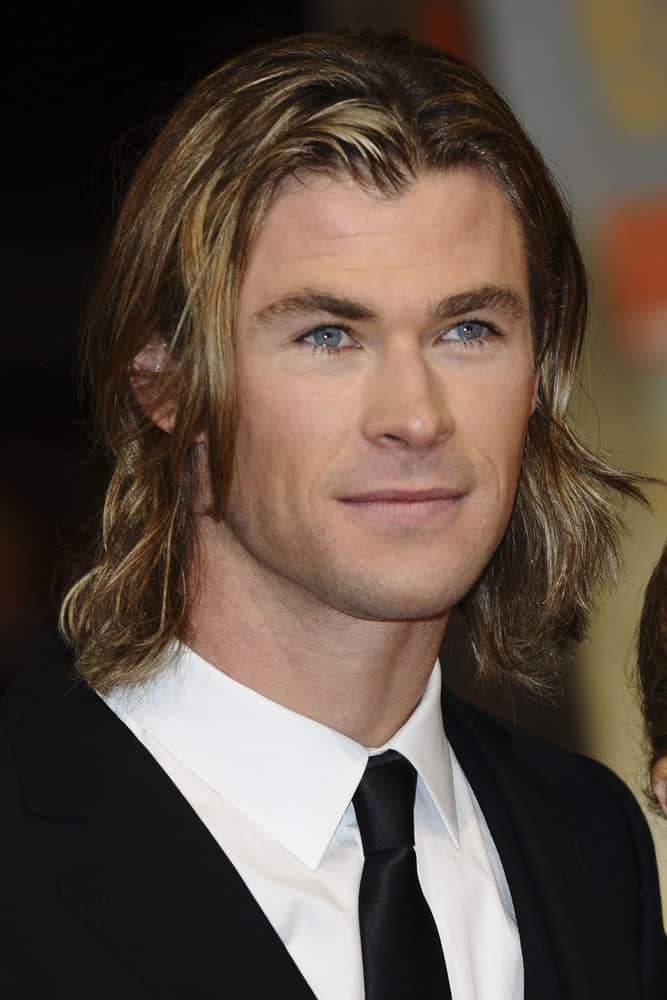 If you have been looking for some amazing long hair inspiration, Chris Hemsworth is here to give you some. He has long wavy hair that has been parted down the middle and is of a very gorgeous shade of dark gold with dark brown undertones. The hair from the front has been cut short and gradually transforms into long hair at the back.
Click here for Chris Hemsworth's hairstyles over the years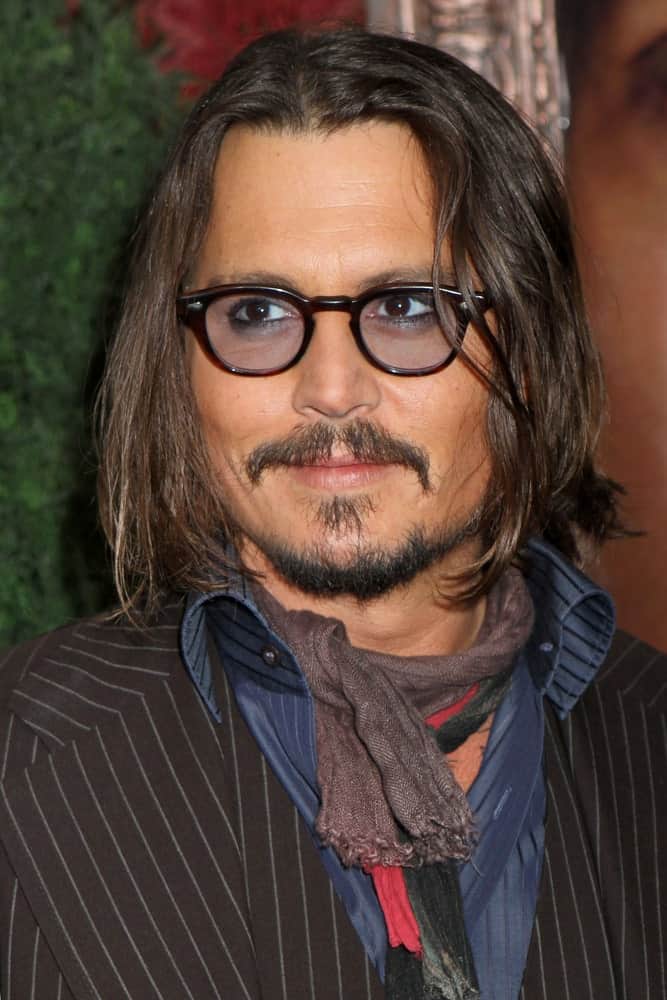 Looking for ways to jazz up your boring long hair? Perhaps you can take a leaf out of Johnny Depp's hair playbook. He has almost shoulder-length hair with a middle parting that he has greatly accessorized with black, thick-rimmed tinted glasses. His beard style perfectly complements his long hair, making him look different and cool.
Click here for Johnny Depp's hairstyles over the years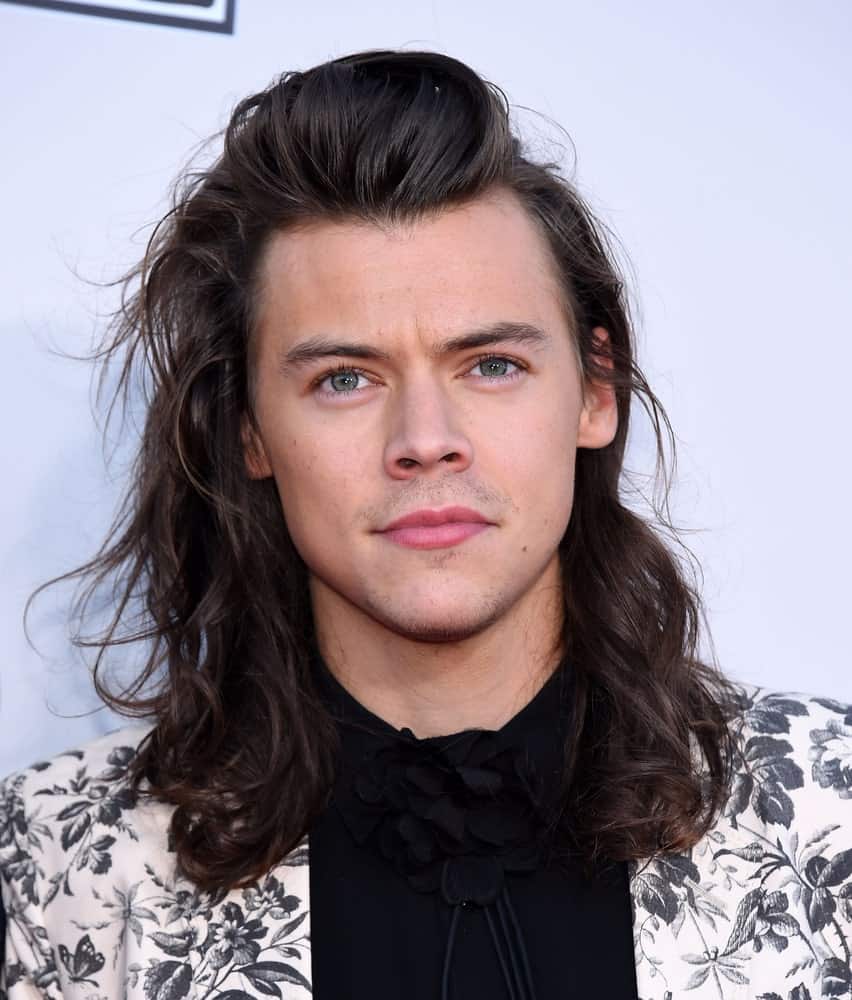 The One Direction singer Harry Styles is the perfect representation of unique hair goals with his super long hair that gently rests on his shoulder. His hair is a tad wavy, and that adds great dimension to it. From the front, he has poofed up his hair. If anything, this is quite a different and funky long hairstyle that looks simply amazing.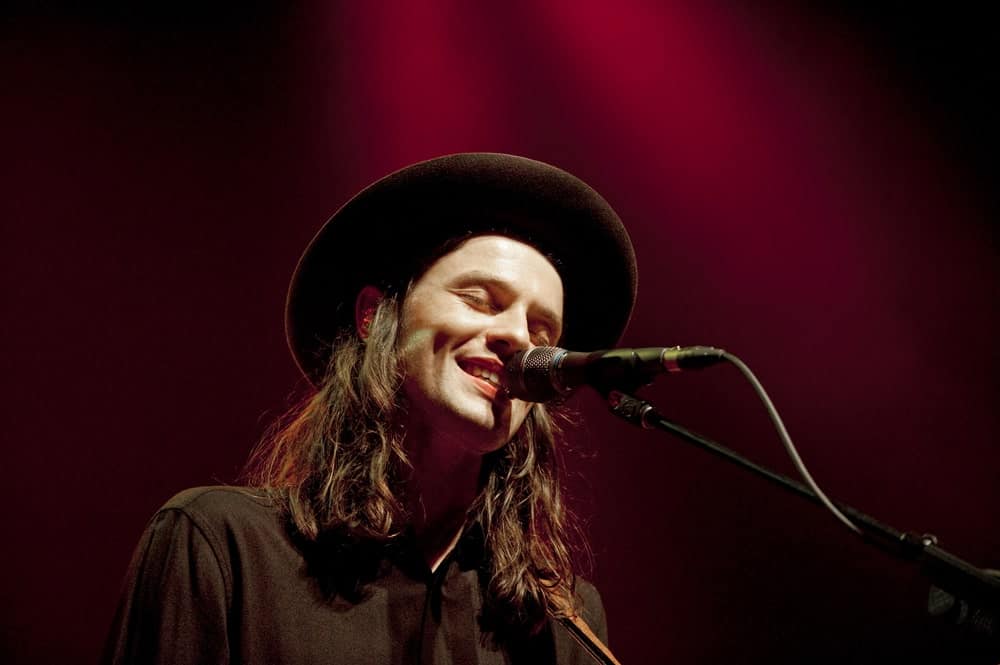 James Bay looks like an absolute rock star here with his uber long wavy hair that has been a colored a beautiful shade of brown. He has accentuated the whole long hair look with a cowboy like a hat that makes him look like he has come right out of a fashion magazine.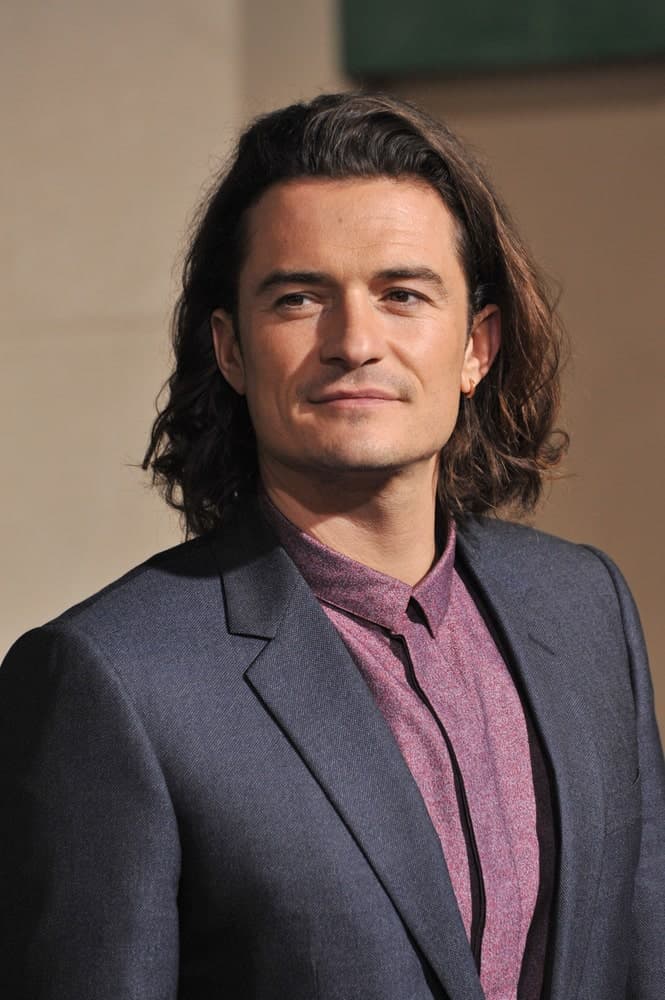 This is the ever-famous and super handsome Orlando Bloom looking like a true gentleman while rocking his shoulder-length hair. He has slicked his hair back a little from the front and then let the hair fall loose on the shoulders. It is the perfect long hairstyle for those who don't want to do much to their hair yet want to look different and classy.
Click here for Orlando Bloom's hairstyles over the years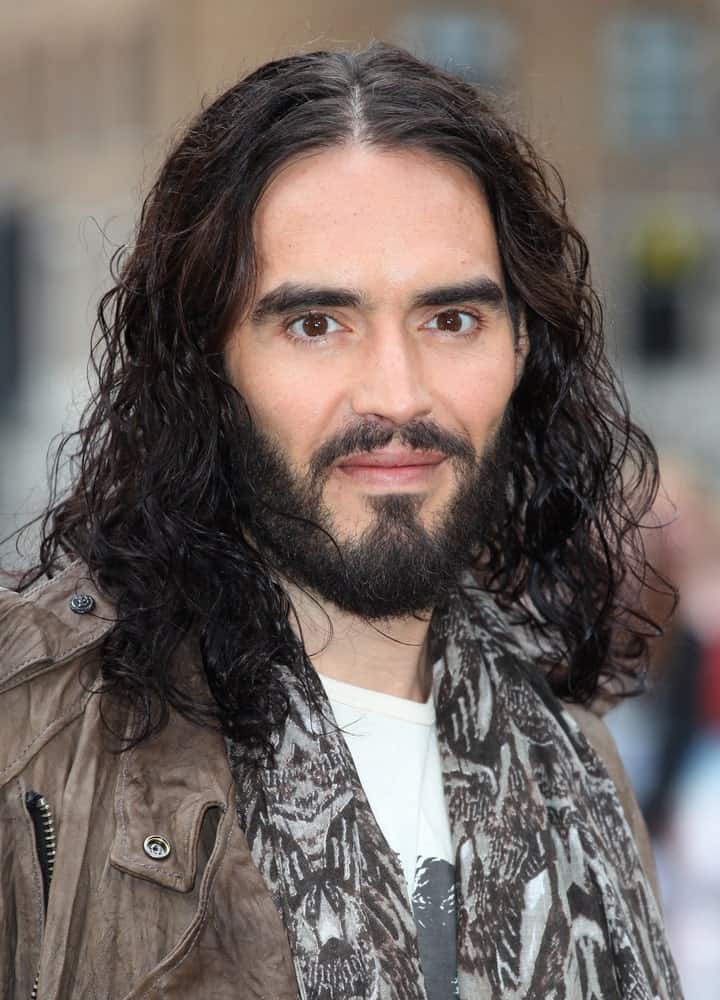 There is probably no one who rocks long curly hair better than Russell Brand! He has really long, curly black hair that falls on both sides of his face through a clean middle parting. The hair seems to have been gelled from the front since it is giving off a very wet, shiny look. The addition of the black beard and mustache further enhances the overall look and give him a very mature, macho look.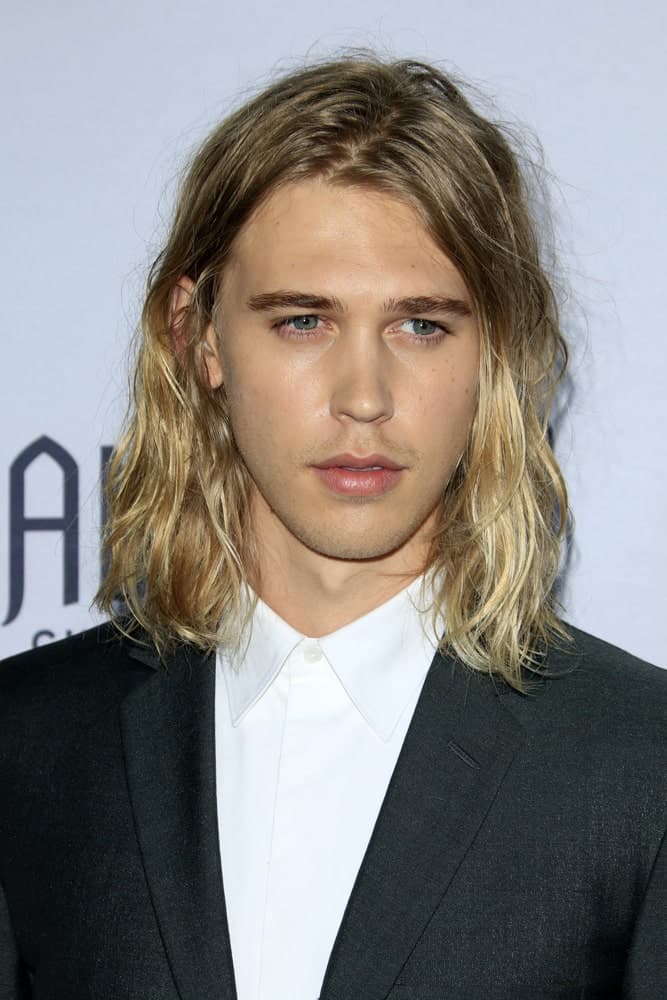 Austin Butler takes long hair to a whole new level with his wavy, long blonde hair that appears to be slightly tousled from the top. What gives it an entirely different look is the color of his hair as it starts off with dark undertones of brown and gold and gradually transforms into a lighter gold-blonde color.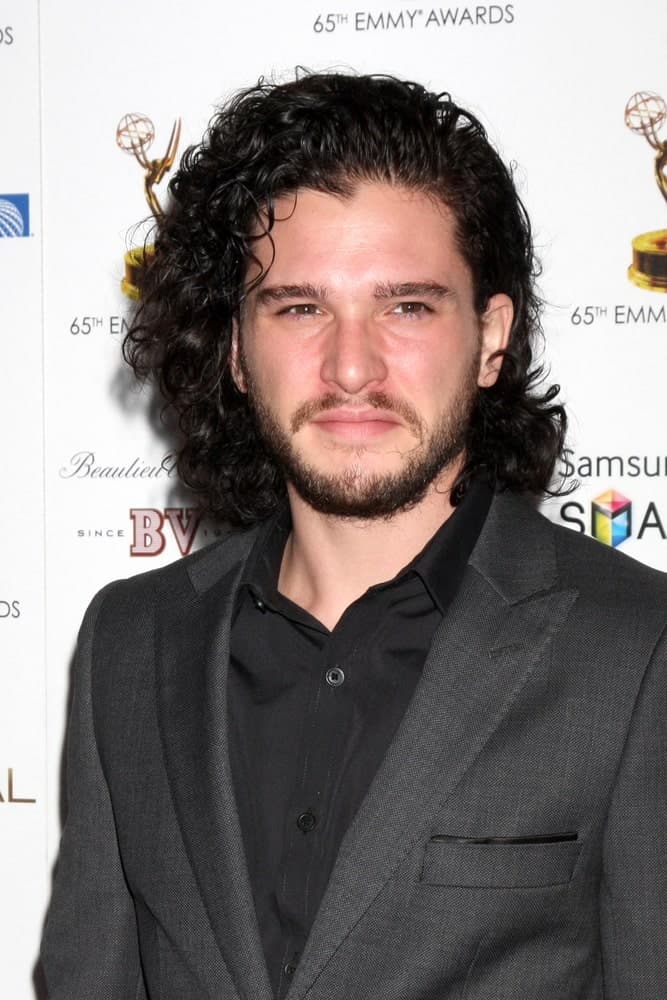 Better known as "Jon Snow," from the hit series Game of Thrones, Kit Harington rocks his dark, long curly locks that make him look like the true poster boy for curly hair. The scruffy beard with the thin mustache greatly adds to the overall look and makes him appear to be suave and sultry!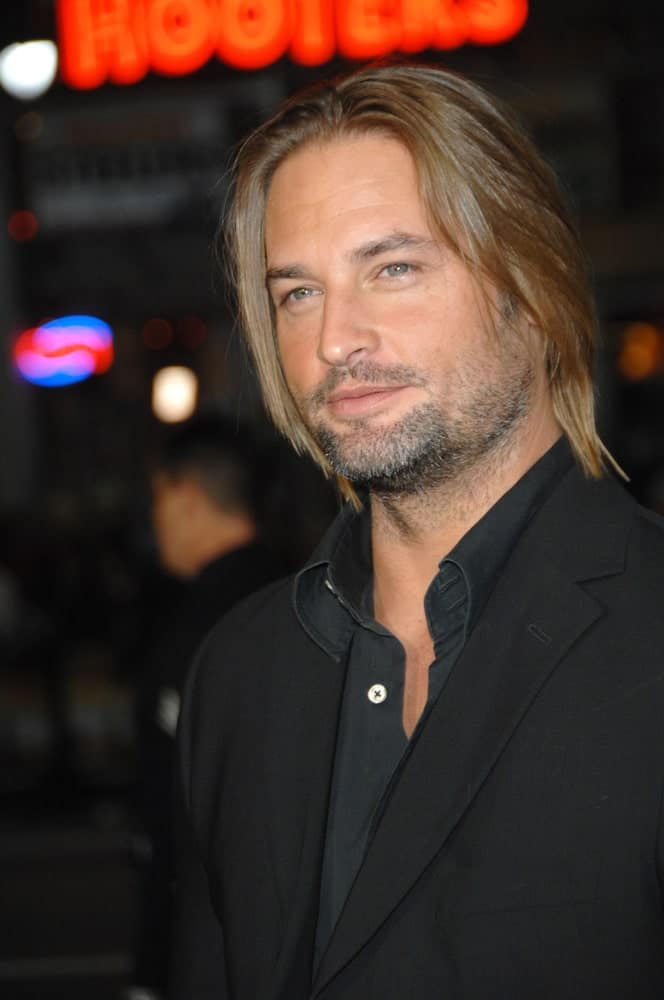 This is an incredibly messy blonde look being sported by none other than the handsome hunk, Josh Holloway. His hair is sleek, straight and long, gently falling on both sides of his face. He has a light, scruffy mustache that goes perfectly well with his long blonde hair.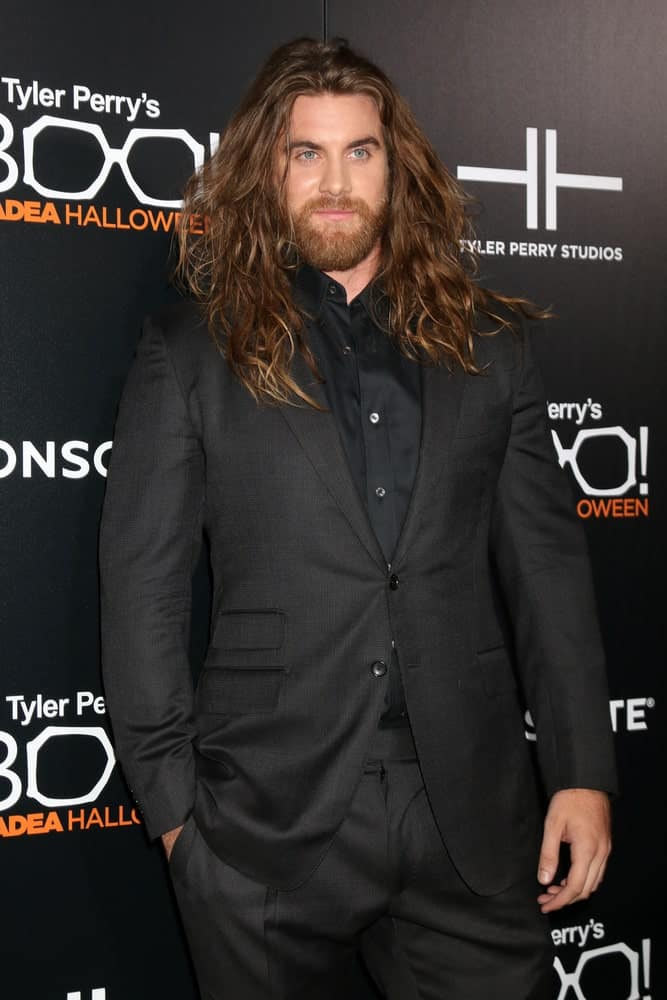 Talk about big, bold and loud – Brock O'Hurn is literally killing this amazing hairstyle with his long, messy and brown tresses that go well beyond his shoulders. His hair is extremely voluminous here. Not only does that add great texture and dimension to it, it just looks simply fantastic! It also gives quite a fierce style statement since he keeps his stunning locks long and flowing.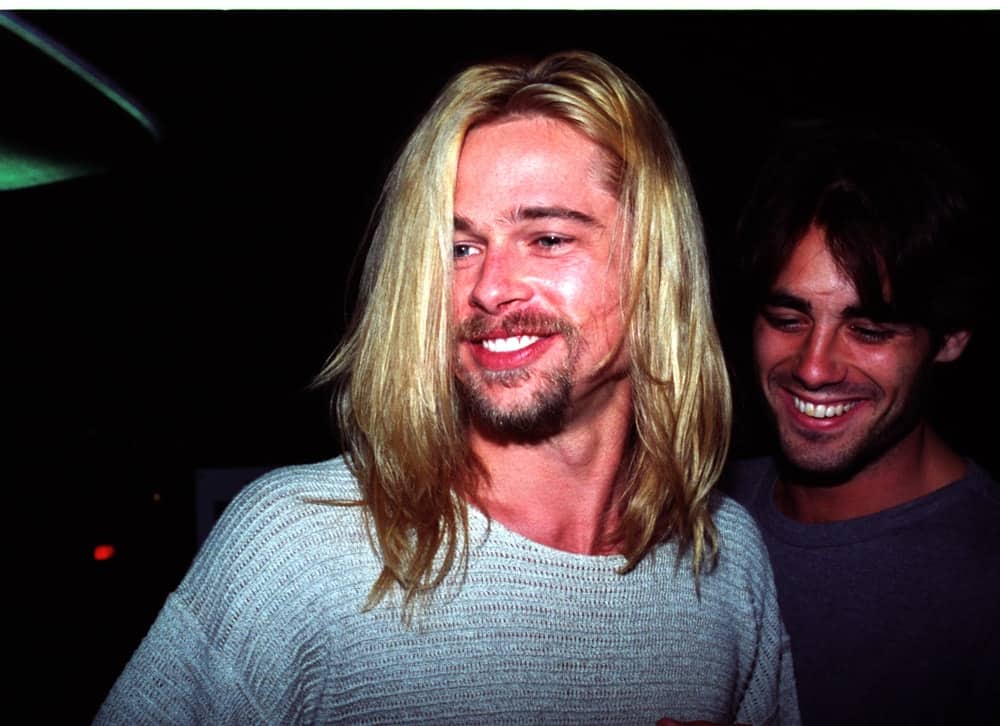 Back on January 25, 1994, A young Brad Pitt with long blond hair and goatee left Roxbury Nightclub with friends in Los Angeles.
Click here for Brad Pitt's hairstyles over the years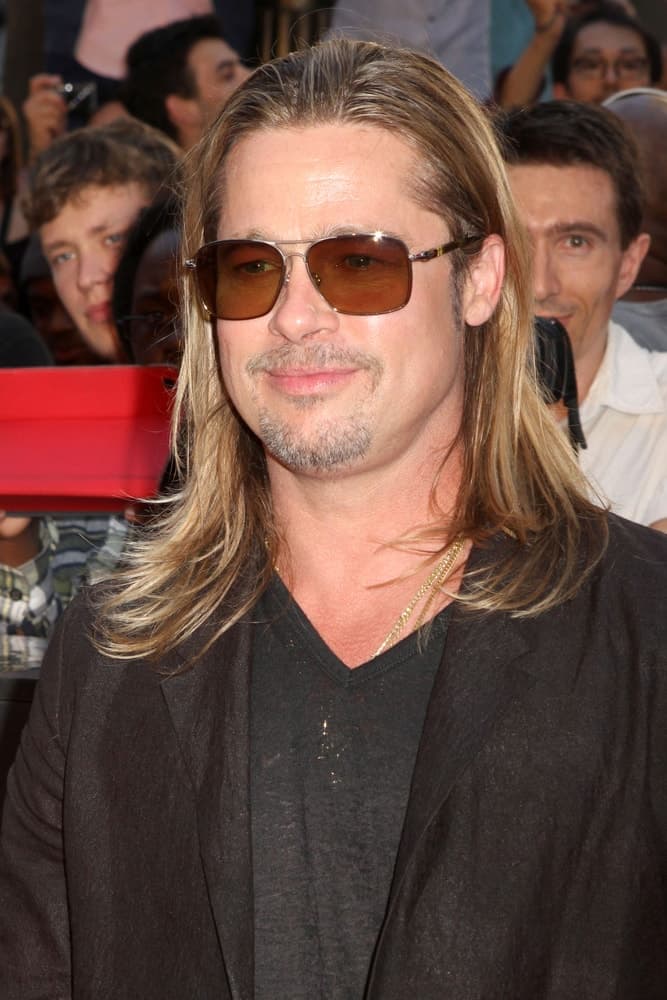 Brad Pitt attended the premiere of "World War Z" in Times Square on June 17, 2013, in New York City. He wore a casual outfit to go with his long highlighted hairstyle and sexy sunglasses.
Click here for Brad Pitt's hairstyles over the years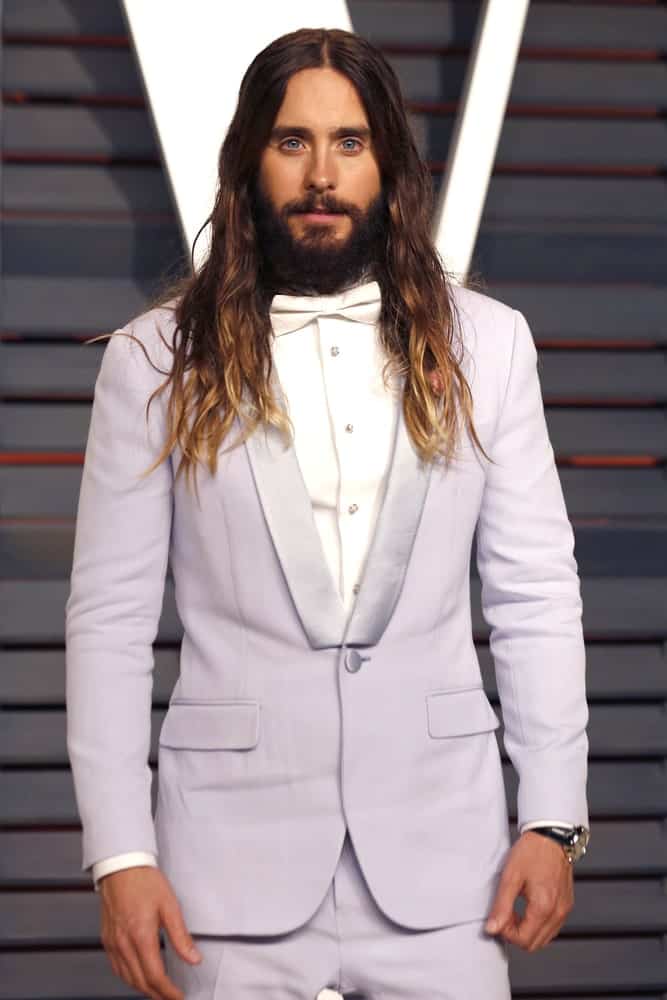 On February 22, 2015, Jared Leto attended the Vanity Fair Oscar Party 2015 at the Wallis Annenberg Center for the Performing Arts with his loose long curls accentuated with tip highlights.
Click here for Jared Leto's hairstyles over the years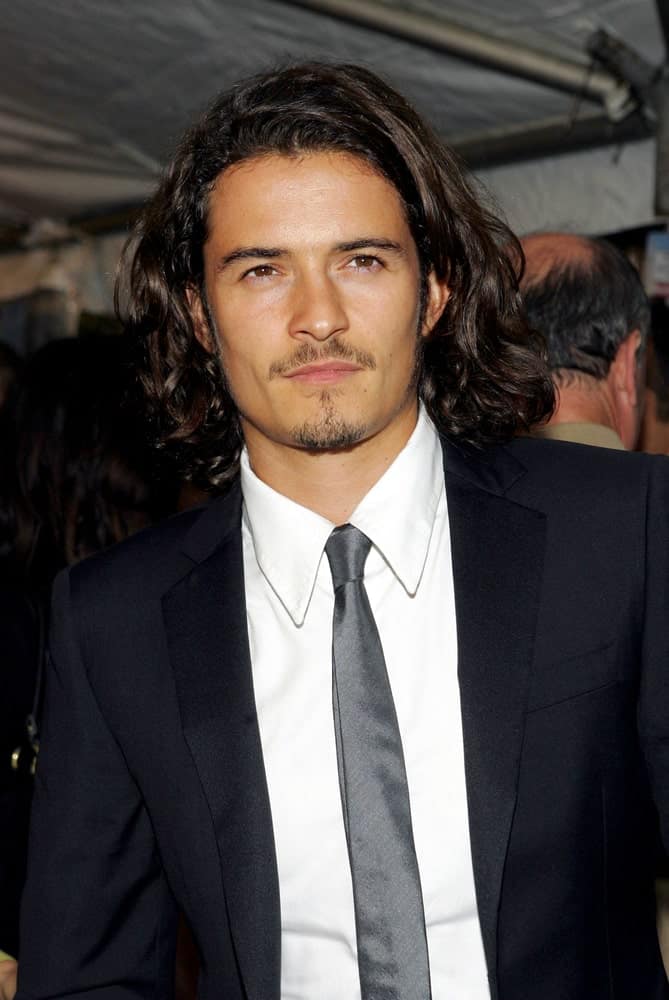 Orlando Bloom sported a side-parted long curly hairstyle and classy black suit at the "Elizabethtown" Premiere, Loews Lincoln Square Theater in New York on October 10, 2005.
Click here for Orlando Bloom's hairstyles over the years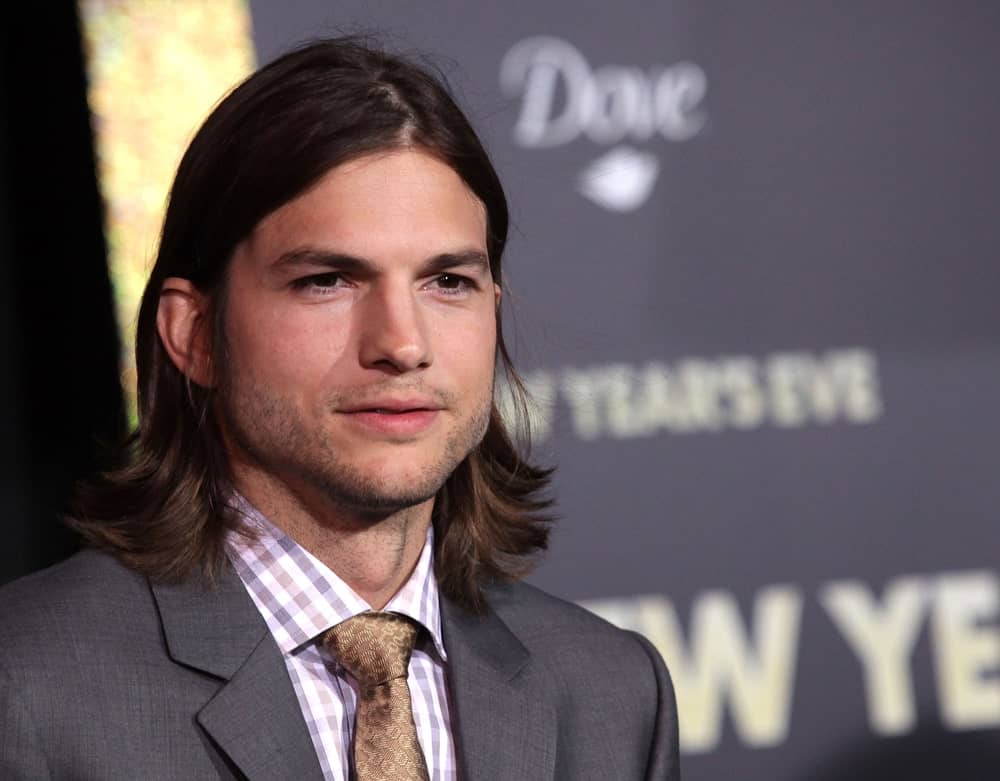 Ashton Kutcher was classy and edgy in his suit and long center-parted hairstyle at the "New Year's Eve" World Premiere on December 5, 2011 in Hollywood, CA.
Click here for Ashton Kutcher's hairstyles over the years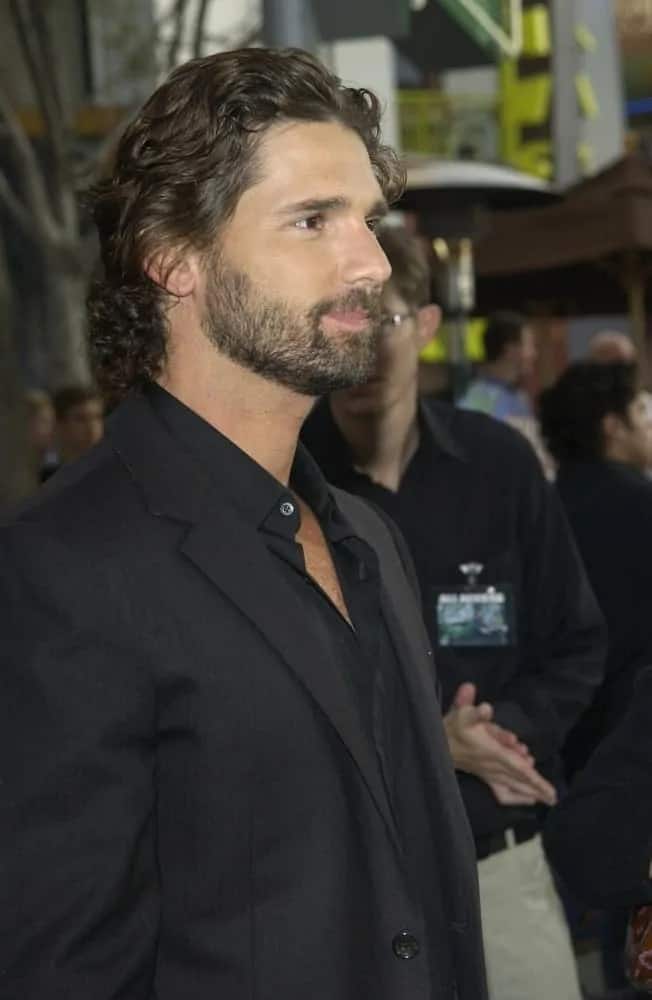 Actor Eric Bana attended the world premiere of his new movie The Hulk at Universal Studios Hollywood on June 17, 2003. He was seen wearing a dark suit with a long and curly dark hairstyle.
Click here for Eric Bana's hairstyles over the years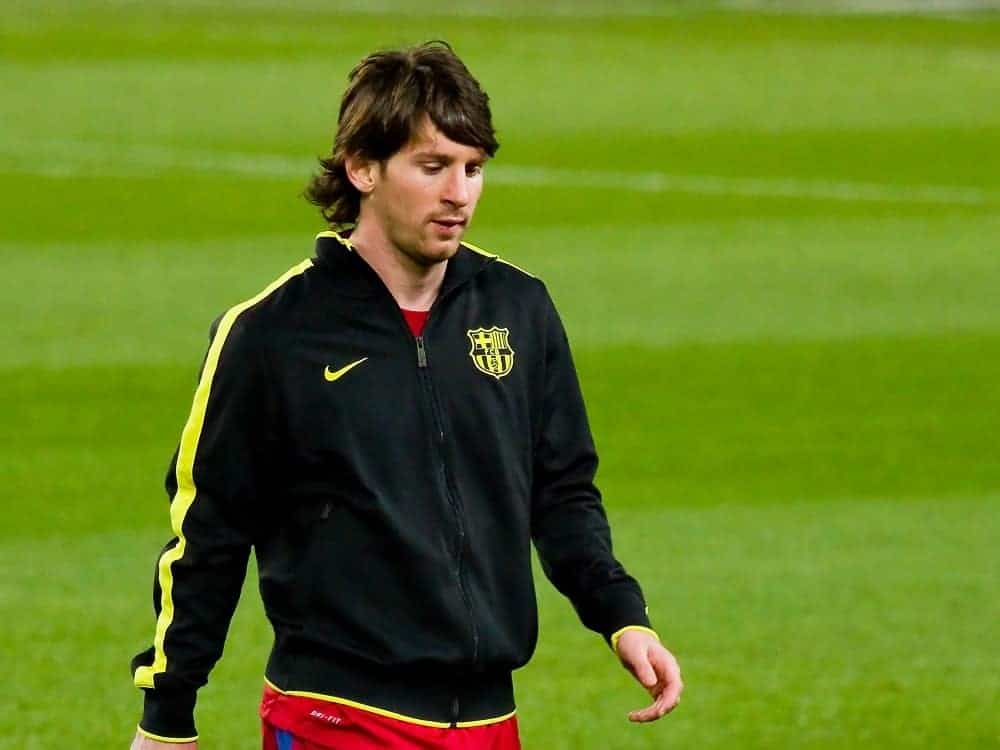 Lionel Messi played during the Spanish Football League match between FC Barcelona and Real Sociedad in Camp Nou Stadium on December 13, 2010 in Barcelona, Spain. He wore a jacket with his long dark hairstyle with bangs.
Click here for Lionel Messi's hairstyles over the years
Shaun White with his long wavy hair in an elegant suit, spotted in New York City attending the Five-Year Engagement premiere on April 18, 2012.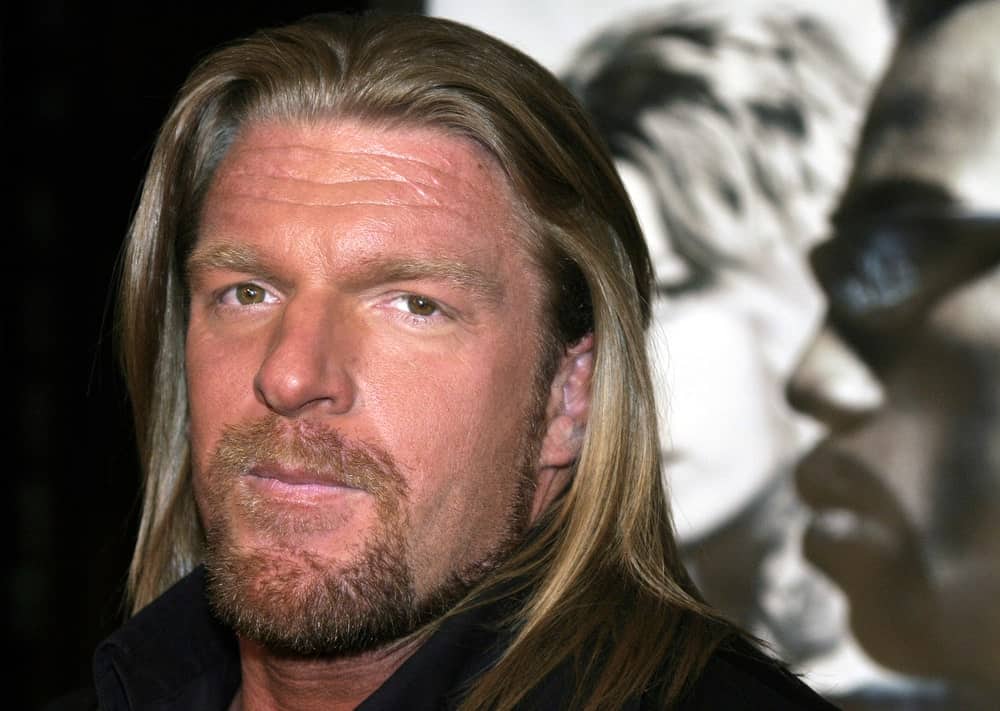 Professional Wrestler Paul Levesque, better known as Triple H with his long blonde hair seen at the Los Angeles premiere of 'Blade: Trinity' on December 7, 2004.
Did you like any of these long hairstyles for men? Long hair is absolutely high maintenance and requires a lot of care, time, and patience. However, if looked after properly, it can make you stand out from the crowd!