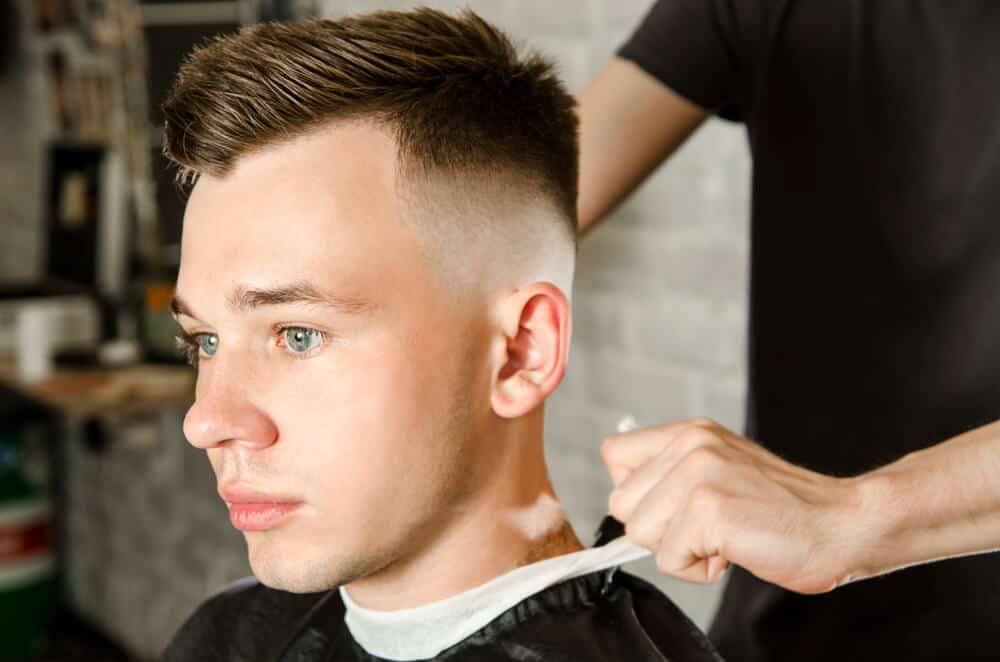 Fade haircut styles for men are one of the most popular cuts these days.  It's been growing in popularity fairly rapidly since 2013.
While there are a variety of different fade cuts, the concept is short sides with longer hair on top.  It's different than an undercut in that the long hair doesn't drape over the shorter hair (much).
There might be several other haircuts and hairstyles for men but it looks like every second person wants to go for a fade haircut. Fade haircuts have been popular for a very long time and it is clear that the trend is not dying down any time soon.
What makes the style so widely demanded at every barber's shop is the fact that it can be sported in various ways and with varying lengths. You can go for a low fade, a high fade, a tapered fade, or customize it whichever way to like.
Check out these useful examples of celebrity-approved, great fade haircut styles for men that have been spotted on screen and at various other events. Most of these impressive male-celebrity hairstyles have also dominated fashion magazine covers all over the world.
The 12 Different Types of Fades
Currently, our search options don't offer different fades (but that may change).  That doesn't mean there aren't variations in the fade haircuts.  There is big time.
Below we set out several common fade styles for men.
1. High fade
The high fade rises up on the scalp where it curves to the crown.
2. Low Fade
The low fade is a very subtle fad cut where the fade is no more than an inch above the ears.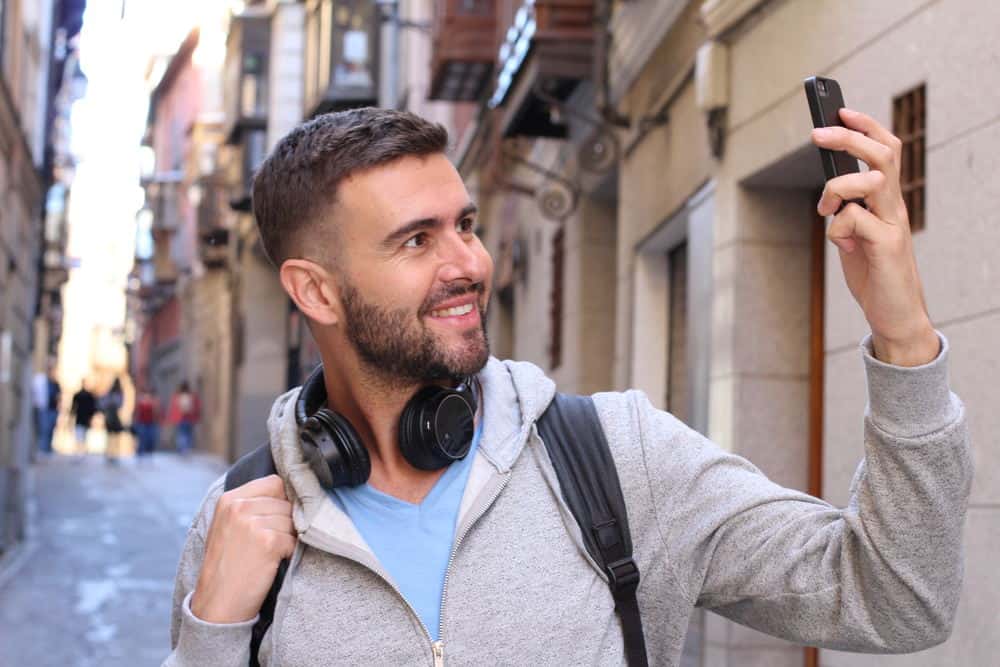 3. Taper Fade
The taper fade is a gradual fade from short to full length from the bottom upward. Below is an example of a taper fade.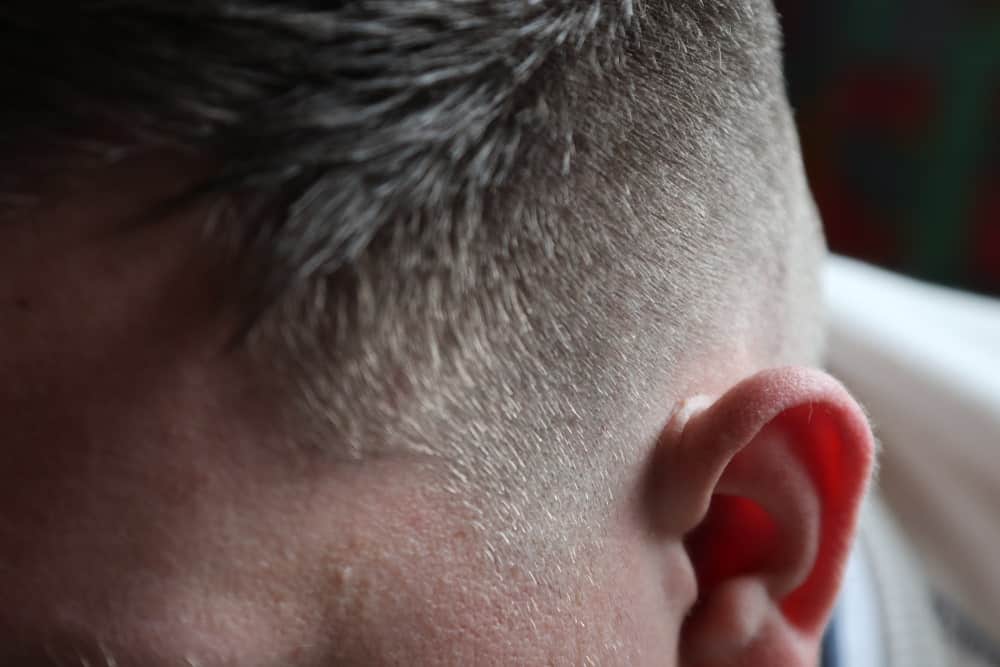 4. Long fade haircut
A long fade is short sides just like the typical fade but with long hair on top.  It's a dramatic contrast between short and long.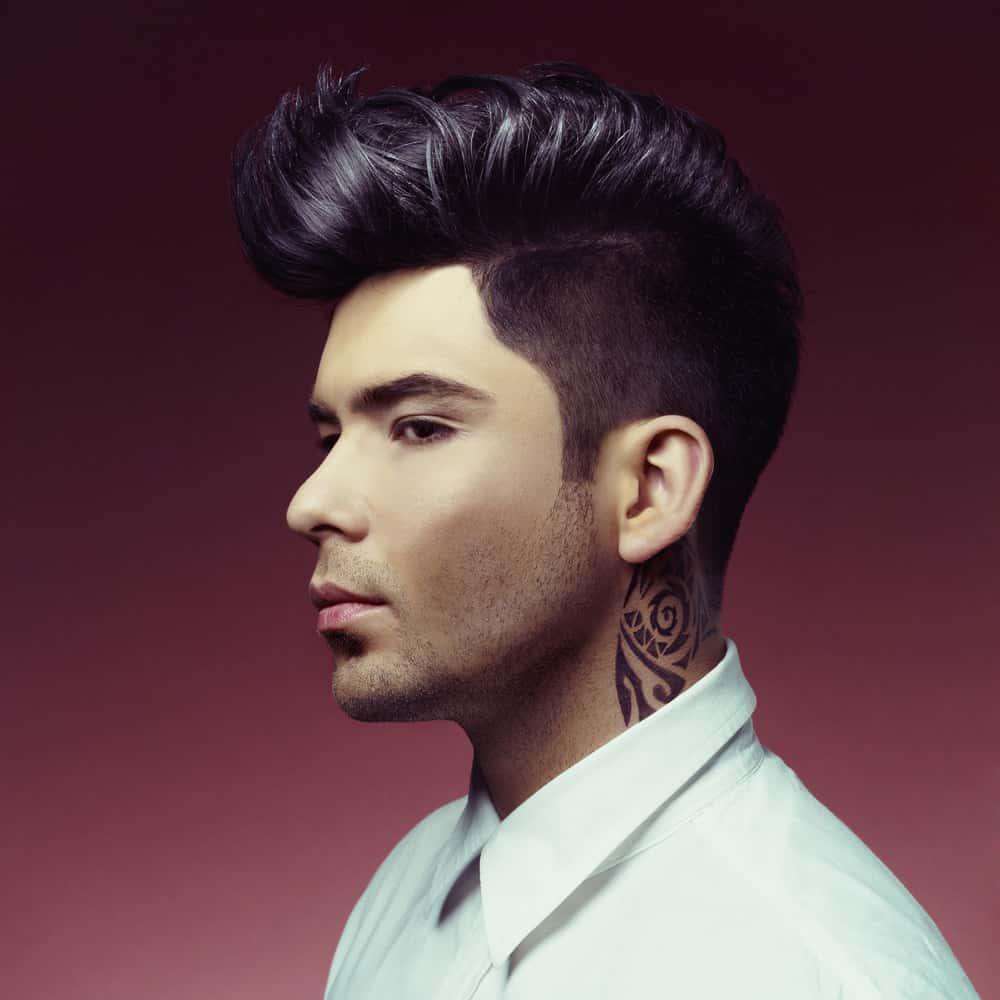 5. Curly Fade
The curly fade is short sides with curly hair on top.
6. Comb-Over Fade
All long hair is swept over the top of the head like the traditional comb-over except in this case there's a full head of hair.

7. Military Fade Haircut
Fade short on the sides and a touch longer on top.

8. Fade with Line

The end of the fade is demarcated with a marked line cut into the hair.  The line can be straight or curve.  One can get creative with the line.
9. Mohawk Fade
Fade short on sides with long narrow hair strip rising tall on top.
10. Fade with Braids
Could be a variety of options, but we showcase an interesting example below where the fade part of the cut is braids pulled back giving the fade effect.

11. Box Fade

Short on sides, longer on top but cut straight across giving the box effect.
12. Side Part Fade
A more traditional cut where the short sides lead to the long hair where it natural parts to the side.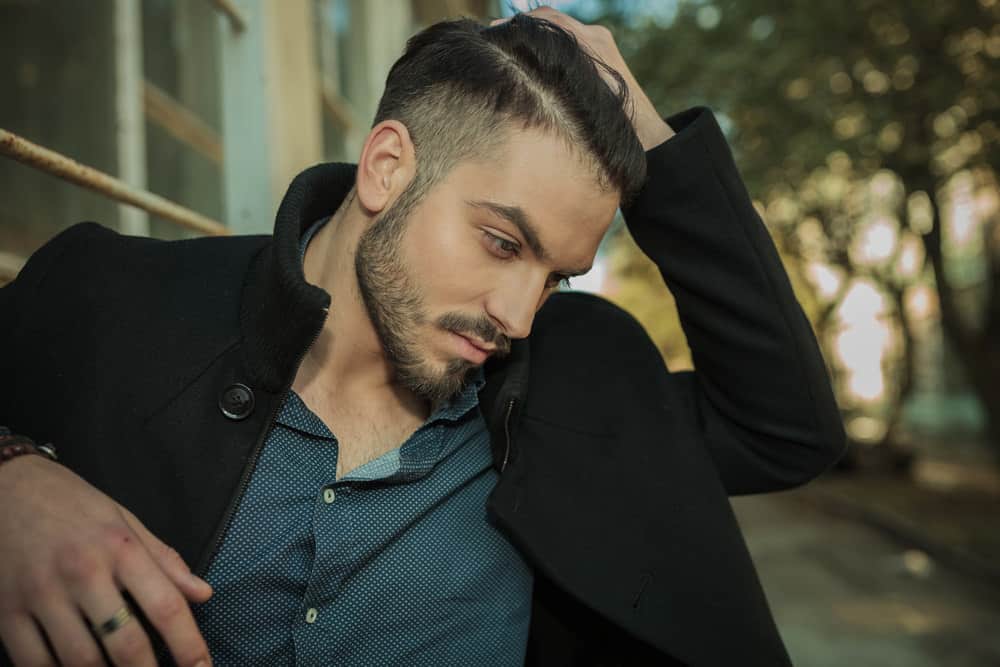 Below is our awesome photo gallery of 500+ fade haircut styles for men – all types including low, high, tapered and more.
---
Photo Examples of Fade Haircuts for Men
David Beckham's Iconic Fade
David Beckham has been a strong advocate of fade haircuts for a very long time. His long-on-top and short-at-sides haircut is one of the most commonly Googled men's haircuts for two obvious reasons. First, because he's David Beckham (duh!). And second, because it features just the right balance of short and shaved hair that looks well-groomed yet is stylish enough to make it magazine-worthy.
Click here for David Beckham's Hairstyles over the years
Adam Levine's Side-Parted Fade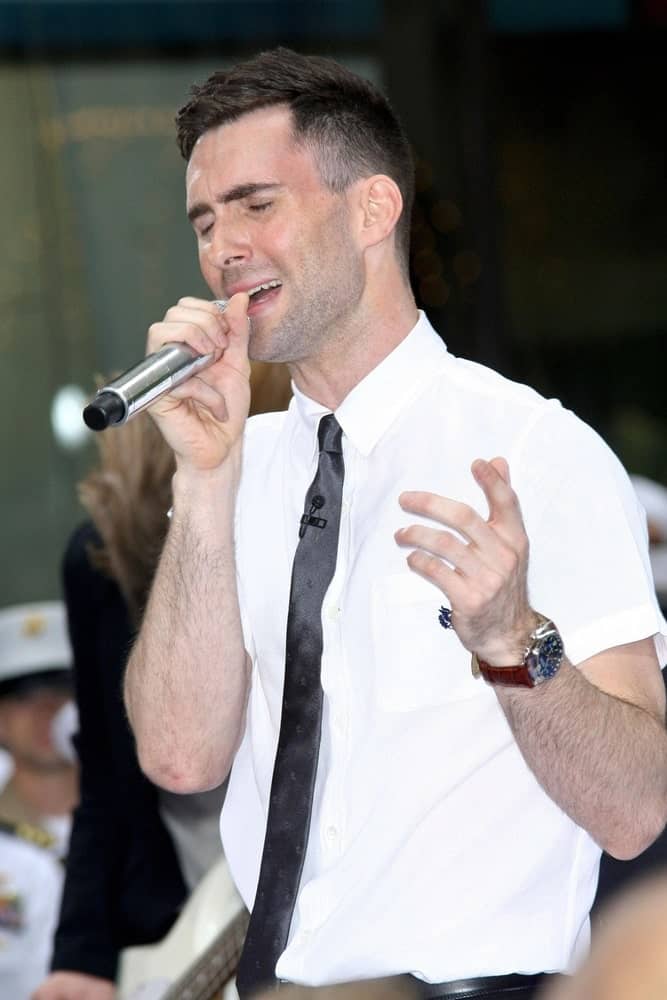 Adam Levine was on stage for NBC Today Show Concert with Maroon 5 held at the Rockefeller Center in New York on May 28, 2007. Levine paired his neat five o'clock shadow with a fade crew cut side-parted hairstyle.
Click here for Adam Levine's hairstyles over the years
Brad Pitt's Military-Inspired Fade

Brad Pitt's military-inspired fade rose to fame when it appeared on screen after the release of the 2014 American War film named Fury. While the film grossed millions of dollars at the box office, it also inspired millions of men and boys across numerous countries to shave off half their heads in Brad Pitt-style. Although the actor himself gave up the look shortly after the filming was complete, this impressive haircut is still one of the most sought-after styles given how tough and sturdy it makes one appear.
Click here for Brad Pitt's hairstyles over the years
Jimmy Butler's Impressive Haircut for Unruly Locks

Men with coarse or extra curly hair need not despair because the NBA star, Jimmy Butler, provides a great hack to tackle those unruly locks – go for a fade haircut. Shaving off the edges, the player let the thick and coiled locks nest only above his head to achieve a fairly neat and manageable hairstyle. This fade with twisted locks clicked fellow sportsmen so much that almost half of the basketball league copied Butler's haircut.
Cristiano Rolando's Functional Fade

Talk about fashion with function and the football heartthrob, Cristiano Ronaldo seems to know the essential tricks of the trade. The star-player normally sports a neat and tidy fade haircut that not only keeps the hair from hindering the view when he's in action on the field but also gives him a touch of class and sophistication at all times.
Ronaldo's Fancy Fade Haircut

Does a plain fade haircut for men seem too simple for your taste and liking? Try combining the look with something more mod like a striking hair dye or bleaching off the tips like Ronaldo does every now and then.
David Beckham's Undercut-Like Fade

Although this style comes closer to an undercut than a fade haircut, it still deserves a special mention in our list nonetheless because it was not just adored by the skilled footballer/ fashion icon himself (he sported it for years after all) but also loved by his fans worldwide. Beckham styled the longer strands at the top in a slicked-back manner rather than letting them drape over the sides for a more refined and luxe look.
Click here for David Beckham's Hairstyles over the years
Joel Maden's Mohawk Style Fade

Fade haircuts are one of the most versatile hair styling options for men because it gives them enough volume to experiment and style their hair in whichever way they like while still maintaining an overall short look. For instance, note how Joel Maden has coupled his fade haircut with small Mohawk at the top while the sides are neatly trimmed for a clean yet trendy look.
Ryan Reynolds' Professional Fade Haircut

Take some inspiration from Ryan Rodney Reynolds if you are looking for a minimalistic, no-fuss hairstyle for men – one that doesn't demand much time and attention but still makes you look smart and handsome. The side hair is shaved off just as in a buzzcut whereas the pinnacle is cropped to a length that provides enough volume but hardly requires you to even brush it even once – it's just manageable on its own.
Sergio Ramos' Clean Shaved Fade

Football players normally prefer really short haircuts because the thicker the hair, the hotter they feel. And they run plenty enough to sweat buckets. This is one of the main reasons why many footballers opt for a buzzcut or a crew cut. Whether you are looking for a short hairstyle for a similar reason or are just a football fanatic in search of iconic styles to copy, consider Sergio Ramos fascinating fade haircut that features a spiky crown with clean-shaved sides.
Brad Pitt's Slicked-Back Fade

While his military-themed fade haircut for men made it big time, Brad Pitt's slicked-back fade haircut is relatively less known. The style is not particularly new but is still favored amongst men looking for an uncomplicated and trouble-free haircut that can make them look effortlessly stylish. Slathering some gel and brushing your center hair all the way is also useful if you are growing your hair out after a buzzcut or a minimalistic fade that you might have gotten at some earlier time.
Click here for Brad Pitt's hairstyles over the years
Zayn Malik's Two-Toned Fade

The band might have broken apart but there definitely came some good out of it – like a couple of good soundtracks and some hair styling ideas for the fans. Zayn Malik's extremely orderly fade features an impressive cut that rests most of his jet-black hair at the top and slowly clears out near the ear such that it forms a spectrum of dark black and dull gray shades.
Justin Timberlake's Curly Fade
Justin Timberlake was at the *NSYNC Star Ceremony on the Hollywood Walk of Fame on April 30, 2018, in Los Angeles, CA. He went with an edgy short fade curl look to match his thick beard and rocker chic outfit.
Click here for Justin Timberlake's hairstyles over the years
Justin Bieber's Slicked Back Fade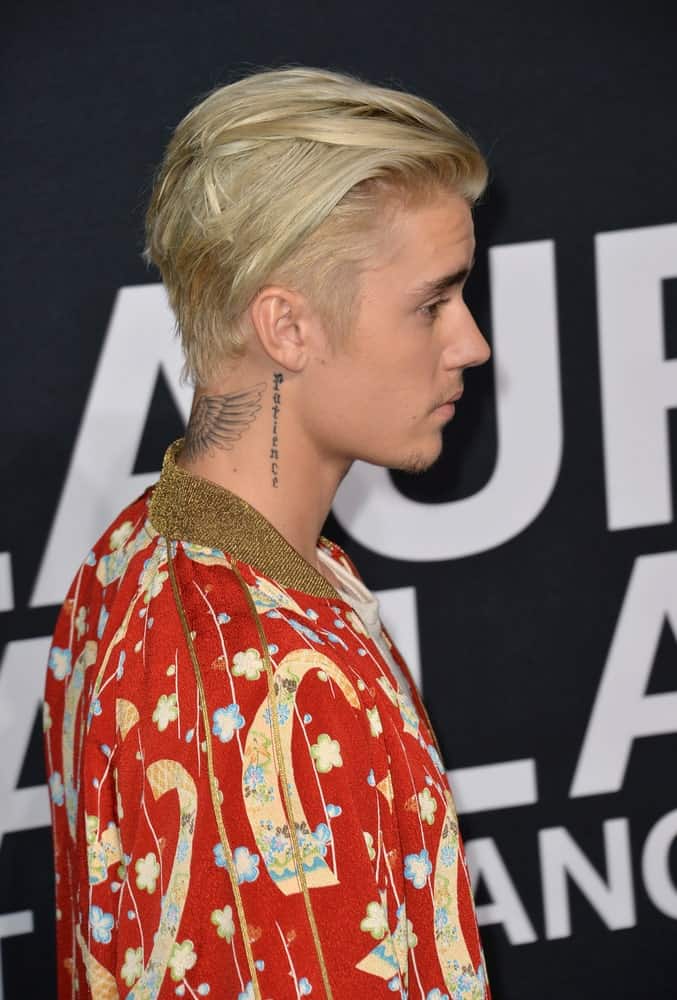 The singer arrived at Saint Laurent at the Palladium fashion show on February 10, 2016, with a long slicked back hair where sides are kept short to accentuate his tattoos.
Click here for Justin Bieber's hairstyles over the years
David Beckham's Brushed Up Fade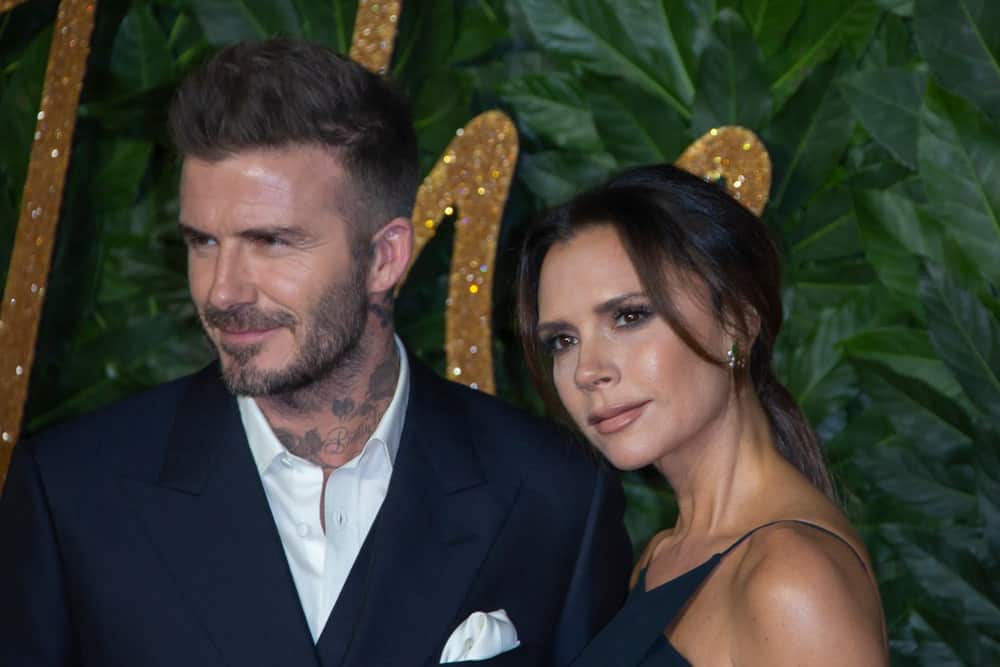 David and Victoria Beckham were spotted at The Fashion Awards 2018 on December 10th in London, England. David sported his iconic fade haircut that goes perfectly with his tight beard.
Click here for David Beckham's Hairstyles over the years
Channing Tatum's Combed Over Fade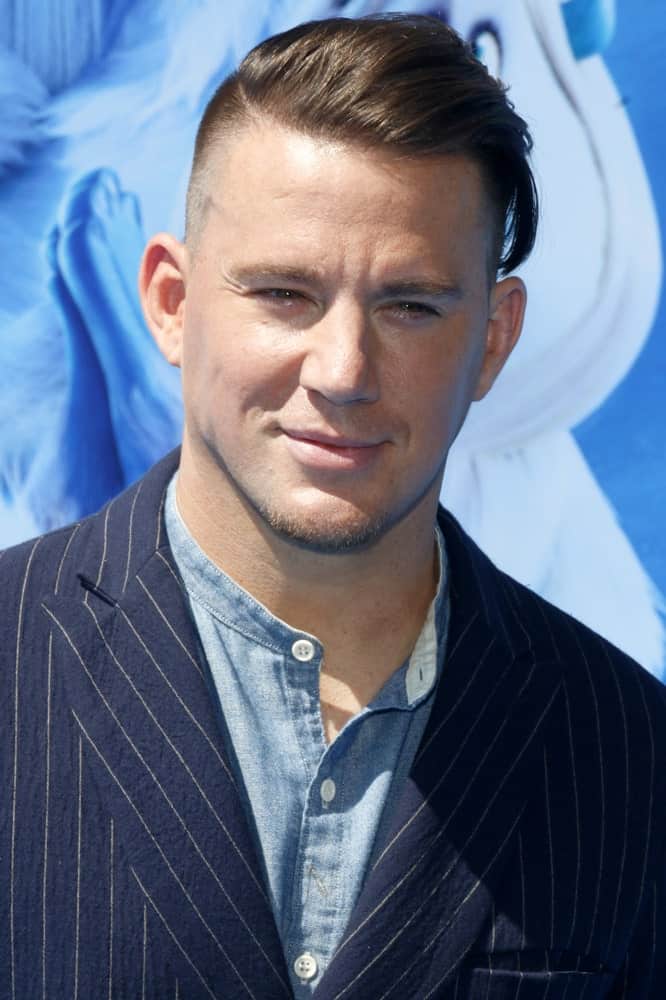 Channing Tatum made an appearance at the Los Angeles premiere of 'Smallfoot' held on September 22, 2018, in a striped suit and a long comb over hairstyle plus a low fade.
Click here for Channing Tatum's Hairstyles over the years
Zac Efron's Fade Plus Frontal Spikes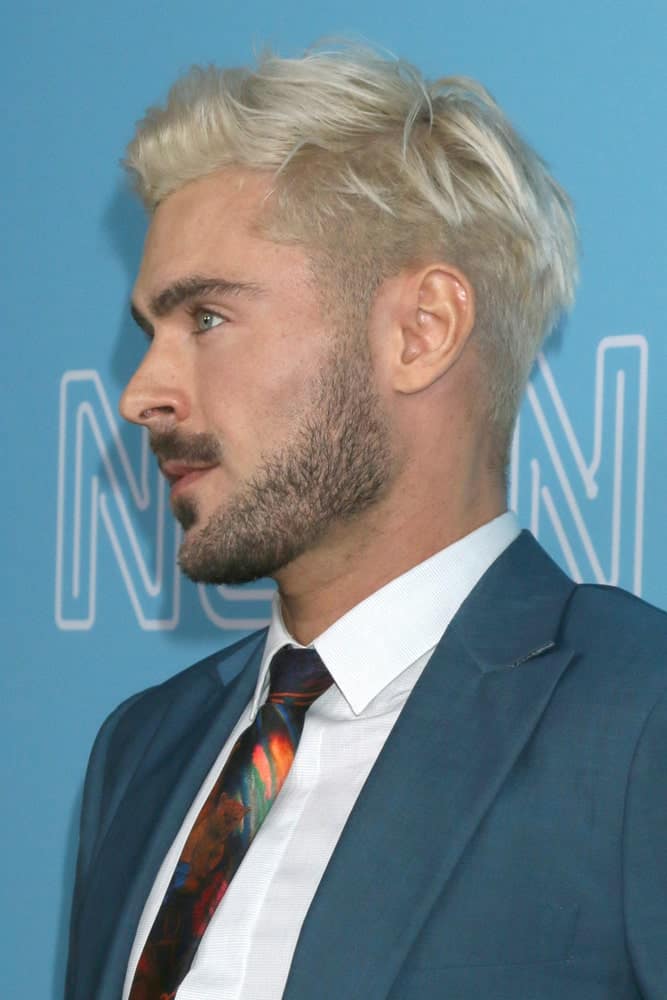 Actor Zac Efron pulled off a fade haircut styled with frontal spikes during "The Beach Bum" Premiere at the ArcLight Hollywood on March 28, 2019.
Click here for Zac Efron's hairstyles over the years
Chris Evans' Side-Parted Fade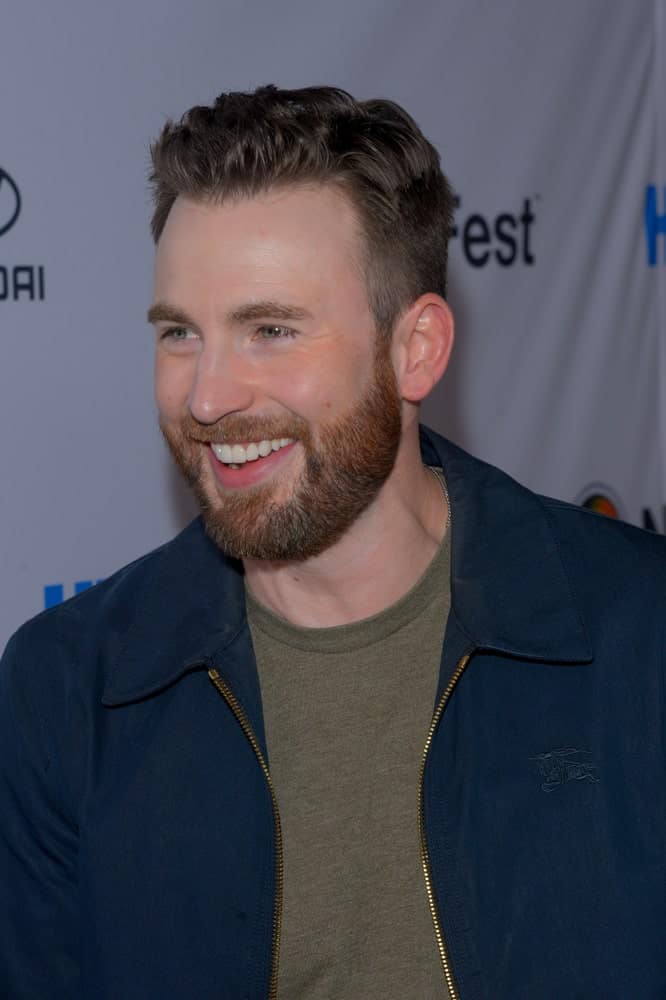 Chris Evans flashed his bright smile with his casual outfit and side-parted fade hairstyle at the opening night screening of "Sell By" during NewFest Film Festival at SVA Theater on October 23, 2019, in New York City.
Click here for Chris Evans' hairstyles over the years
Ryan Gosling's Crew Cut Fade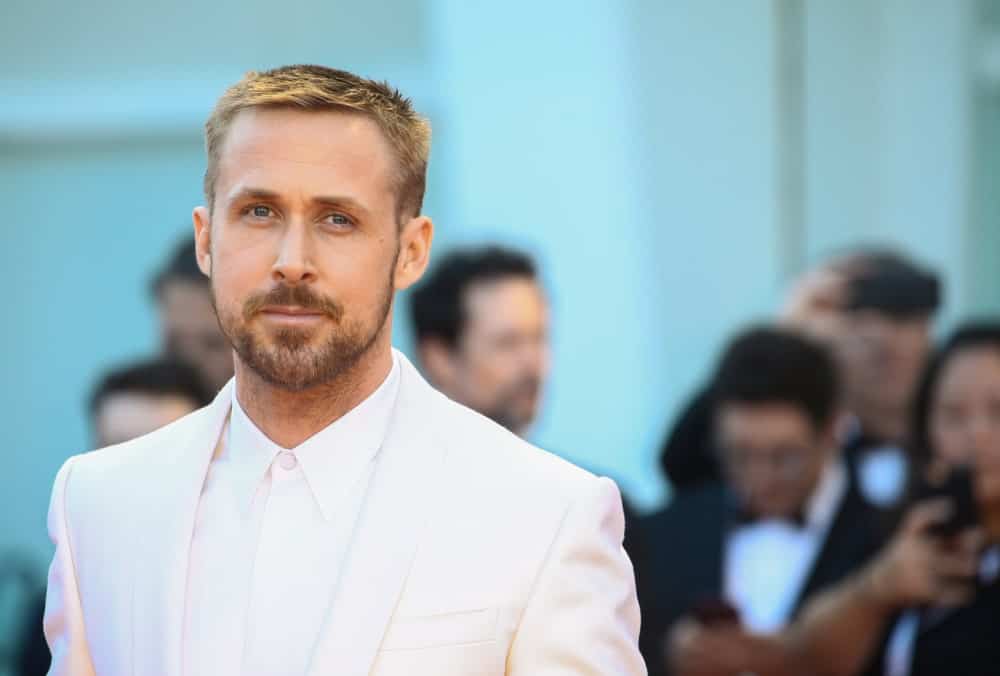 Ryan Gosling walked the red carpet of the 'First Man' screening during the 75th Venice Film Festival on August 29, 2018 in Venice, Italy. He wore an all-white suit with his short sandy blond hair in a side-parted crew cut fade hairstyle.
Click here for Ryan Gosling's hairstyles over the years
Chris O'Donnell's Short and Subtle Fade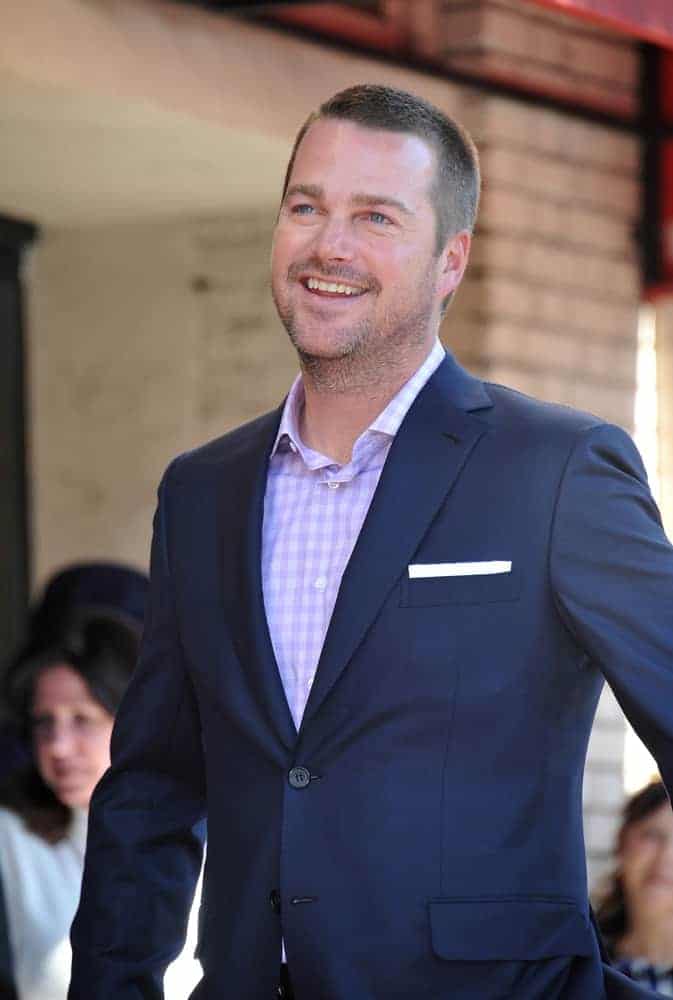 On March 5, 2015, actor Chris O'Donnell was at the Hollywood Boulevard where he was honored with the 2,544th star on the Walk of Fame. He wore a navy blue jacket over his button-down shirt and topped it with a dark brown short crew cut with a slight fade on the sides.
Click here for Chris O'Donnell's hairstyles over the years
Lionel Messi's Spiked Fade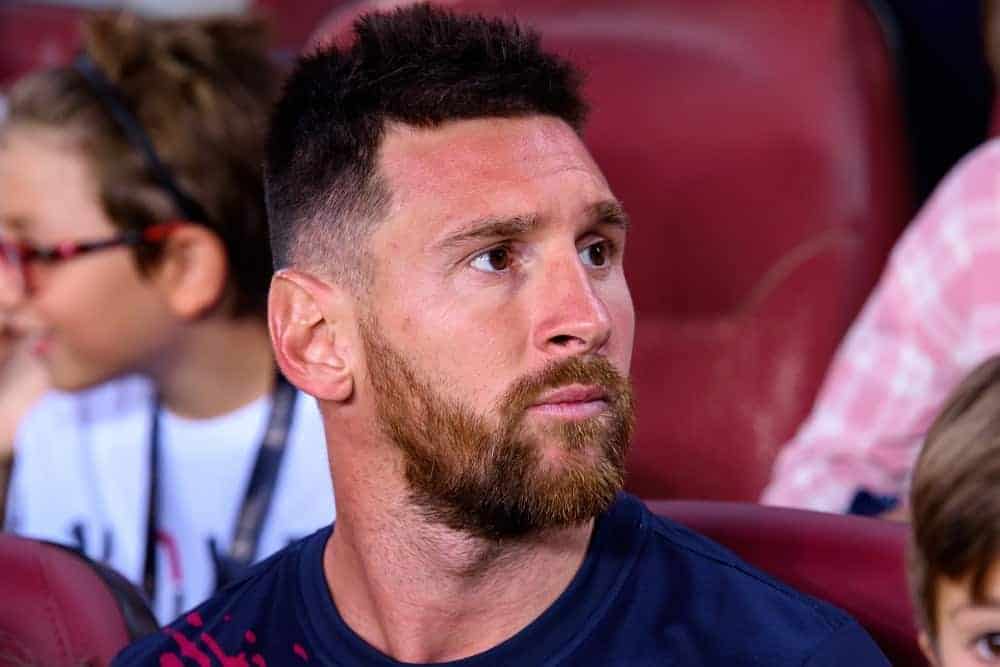 Lionel Messi sat with the spectators at the La Liga match between FC Barcelona and Real Betis at the Camp Nou Stadium on August 25, 2019 in Barcelona, Spain. He wore a sports shirt with his short and spiked fade hairstyle.
Click here for Lionel Messi's hairstyles over the years
George Clooney's Grey Fade with Side-Part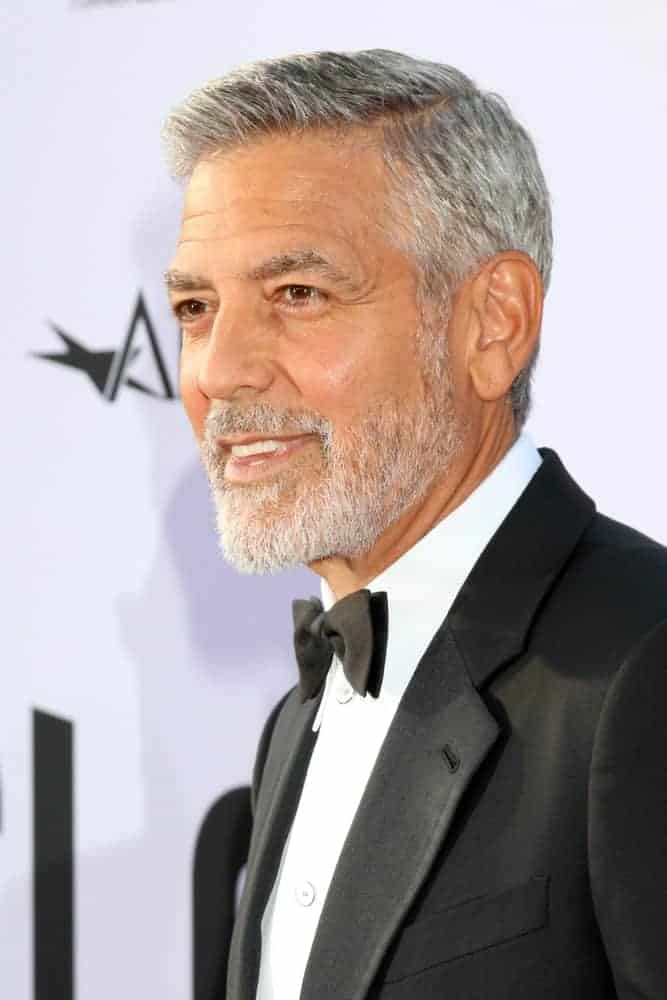 George Clooney attended the American Film Institute Lifetime Achievement Award to him at the Dolby Theater on June 7, 2018 in Los Angeles, CA. He came wearing a classic tux with his gray side-parted fade hairstyle.
Click here for George Clooney's hairstyles over the years
---
Fade Haircut with a Touch of Fancy

Looking for ways to add a bit more texture and dimensions to an otherwise plain fade haircut for men? Ask your barber to leave the top tresses long enough to form a small ponytail at the crest. However, ponytails for men are often frowned upon in some countries or even in certain groups of people, so watch out before trying one.
Classic Fade Haircut

If you prefer the typical fade haircut for men which does not require any hair gel, blow-drying or any other fancy techniques to style it properly, then you can easily avoid such elaborate fades by going for this classical fade haircut. Completely shaved at the bottom and leaving a maximum of two-inch-long strands at the center, it's safe to say that this conventional fade will never go out of style.