A collection of photos featuring many different types of multi-colored hairstyles for women. You'll love the many styles and hair types.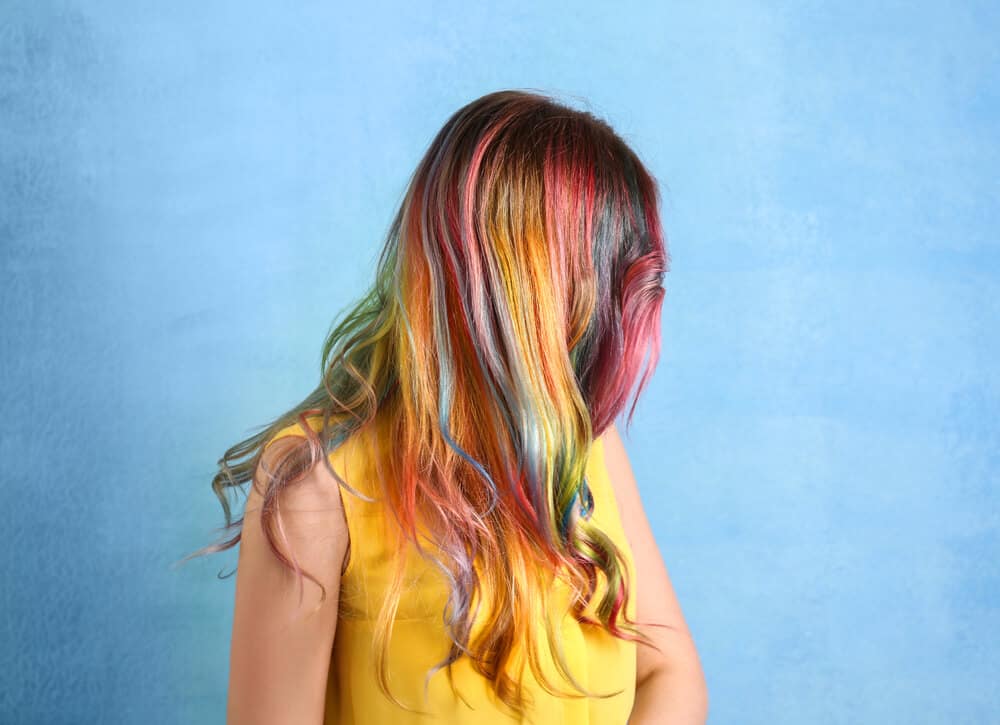 Welcome to our exciting gallery featuring women with multi-colored hairstyles.
Do you like the color but can't decide on a single hue? Multicolored women hairstyles are a thing, and you should think about adopting these trends as more hair stylists offer these styles and know how to get great results every time.
Being able to mix and match your colors means you can create something that is truly unique. The key is to choose your colors wisely and ask yourself what kind of result you want.
Pink and Lavender Highlights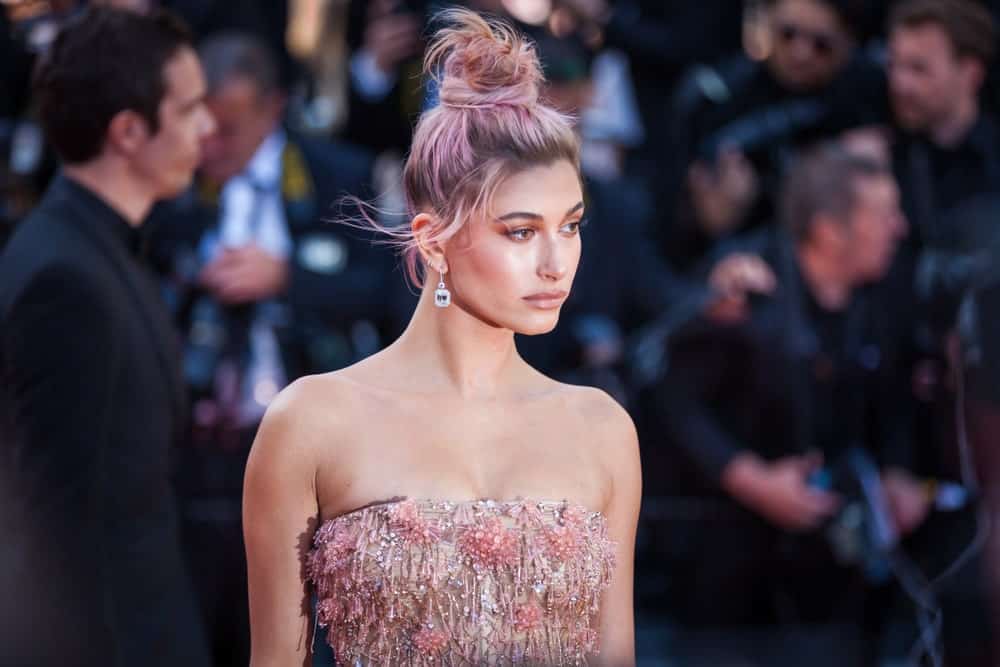 Hailey Baldwin gave her ash blonde hair subtle pink and lavender highlights and twisted it up into a ballerina top knot. The artfully-painted color was elegant enough to rock with a ball gown and to attend the Cannes Film Festival.
Edgy Neon Highlights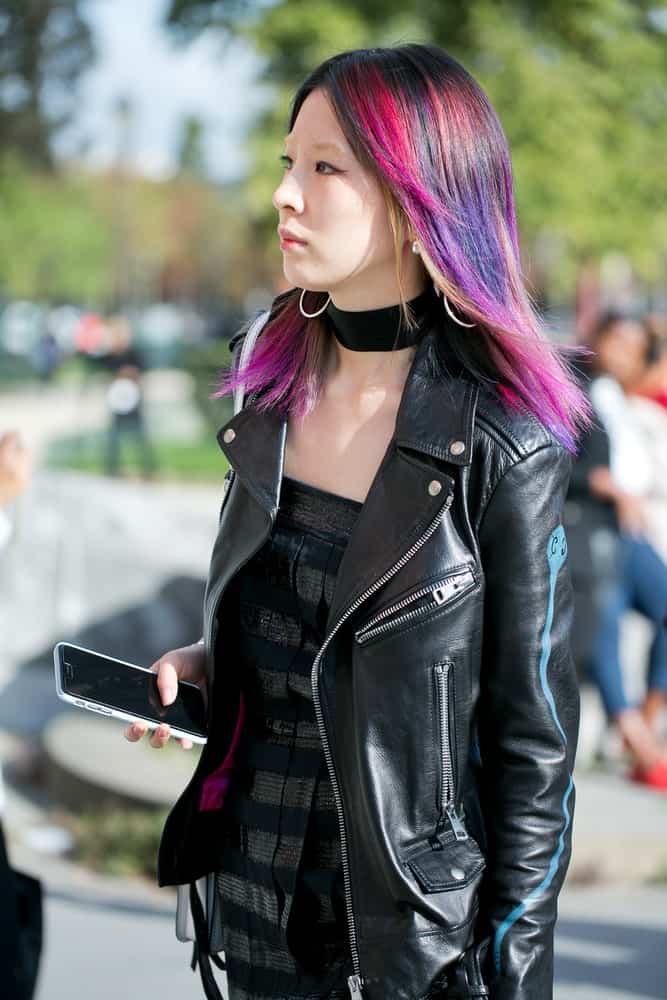 Model Irene Kim is a constant source of hair inspiration, both in Korea and the United States. Here, Kim has brightened up her dark locks with edgy neon hues of vivid purple, pink, red and blue. Paired with a leather jacket, her hair gives her a perfect edgy look.
Rainbow Dreadlocks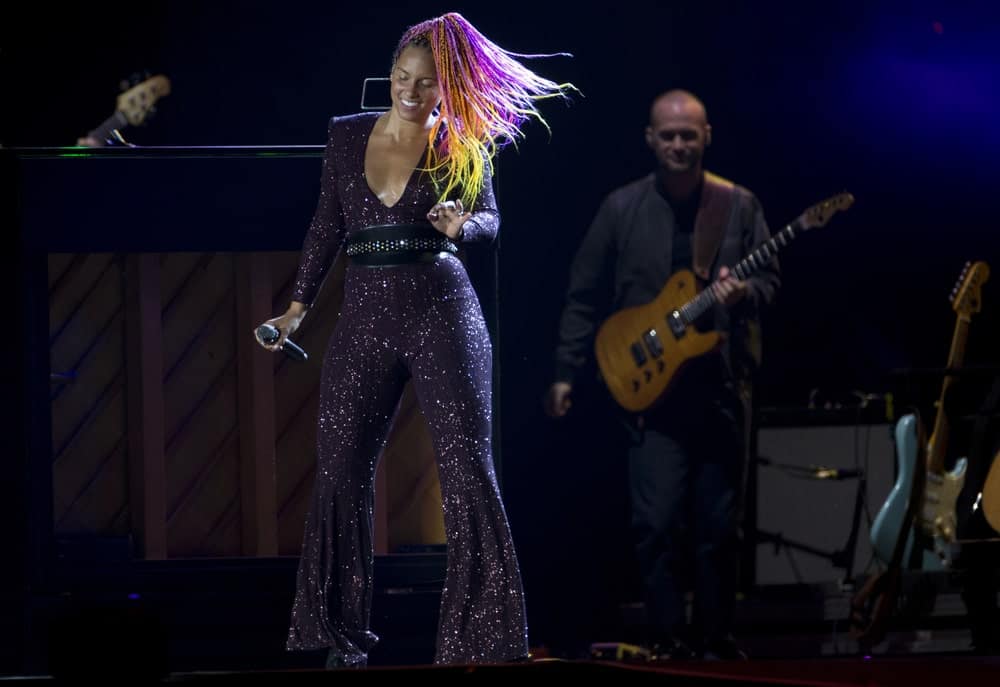 Alicia Keys' shows you how to dress your dreadlocks. The "Girl on Fire" singer rainbow-colored braids are a blend of bright purple, yellow, and pink hues that go wonderfully with her shimmery black outfit. This is the perfect hairstyle to brighten up a monochromatic look.
Millennium Pink Ends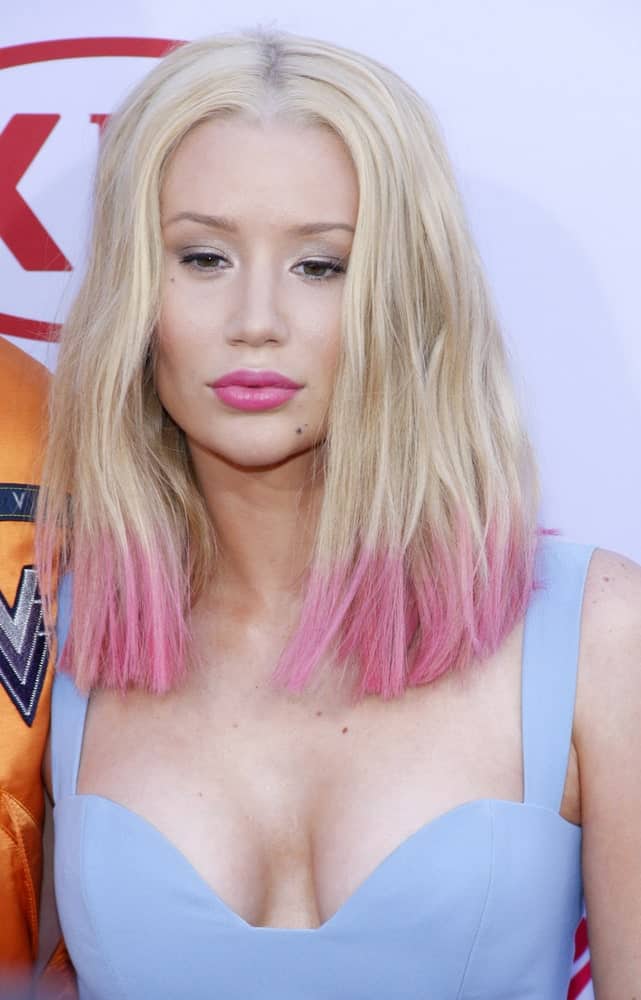 Iggy Azalea has experimented with a lot of hairstyles and this particular multi-colored hairstyle is one of her best looks. The rapper kept the top of her naturally blonde but dip-dyed the ends with a millennium pink color. Not only does the style brighten up her face but it also makes her look younger.
Parrot Locks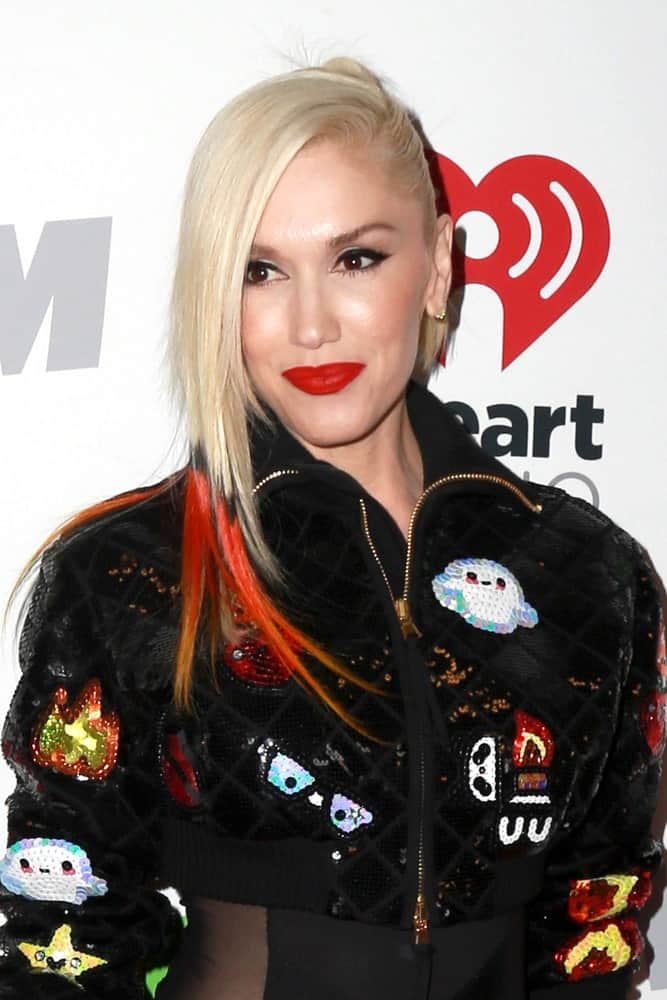 The ever-youthful Gwen Stefani loves to play with her hair although she usually keeps her hair color in the range of blondes. Here, the singer has dip-dyed the ends of her long fringe with black and brilliant orangey-red, paying tribute to the beautiful tropical parrots. The look is totally in tune with the rockstar.
Click here for gwen Stefani's hairstyles over the years
Half Blond and Half Strawberry Blond Hair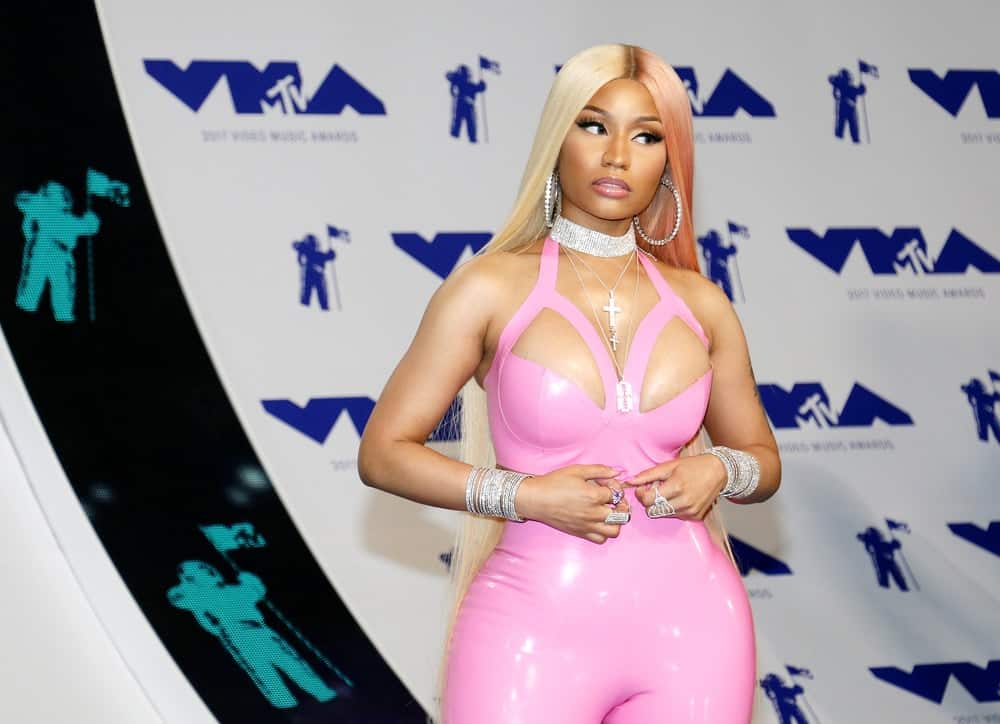 Nicki Minaj wore a body-hugging pink latex jumpsuit that she paired with her long and straight loose blond hairstyle at the 2017 MTV Video Music Awards held at The Forum in Inglewood, USA on August 27, 2017.
Click here for Nicki Minaj's hairstyles over the years
Mint and Lime Green Hair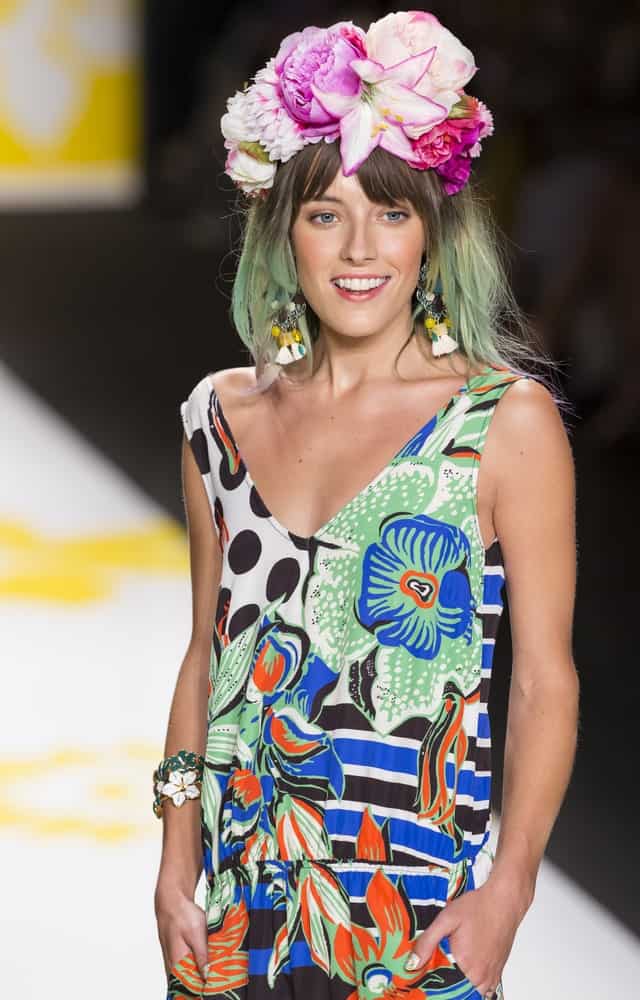 Model Chloe Norgaard gives tribute to nature as she walks the catwalk in mint and lime-green hair, adorned with a wreath of flowers. The model has her hair cut to shoulder length in a simple medium-length bob and rocks the style with a floral-printed dress. This is a wonderful look for spring.
Green-Dipped Blonde Hair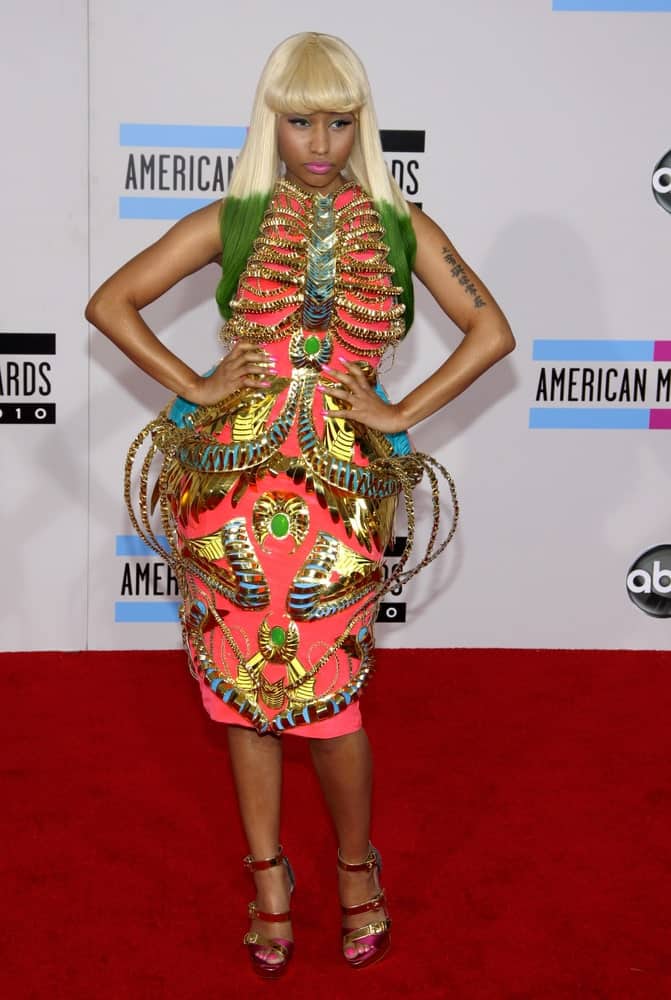 Hair chameleon, Nicki Minaj, is known for her out-of-the-world hairstyles which she loves to dye in every color imaginable. Here, the rapper has her thick, long hair relaxed and styled with curling bangs. To give it a dramatic look her solid block of blonde hair has been dip-dyed with the dark green color that perfectly complements her vibrant outfit.
Click here for Nicki Minaj's hairstyles over the years
Blue-Dipped White-Blond Hair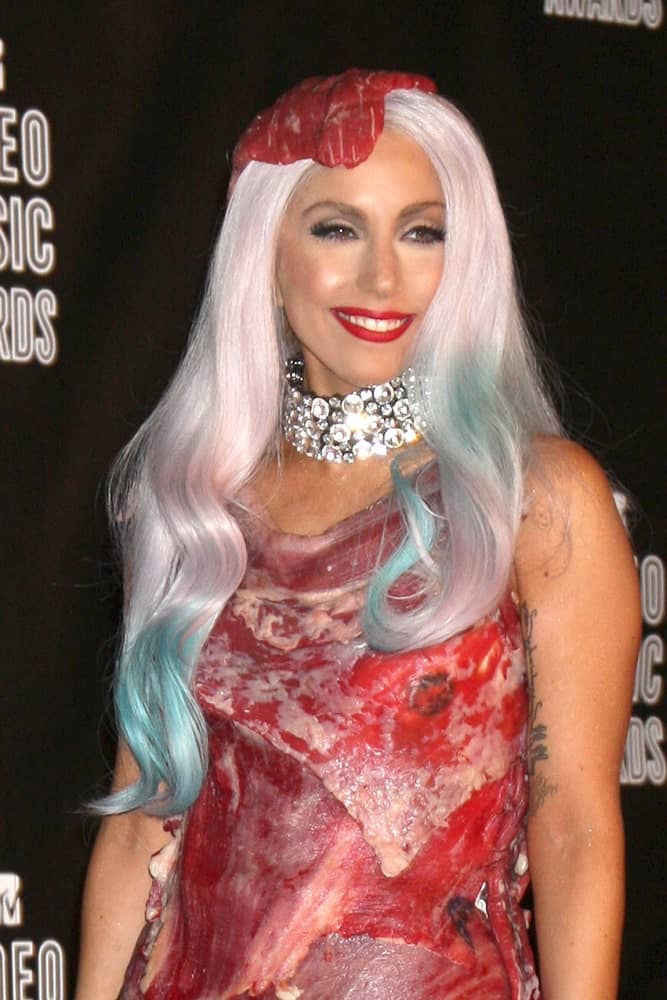 Lady Gaga was at the 2010 MTV Video Music Awards at Nokia – LA Live on September 12, 2010, in Los Angeles, CA. This was one of her controversial looks. She wore a dress and headdress made of raw red meat that she paired with a long wavy platinum blond hair with blue dyed tips.
Click here for Lady Gaga's hairstyles over the years
Half Blue and Half Platinum Hair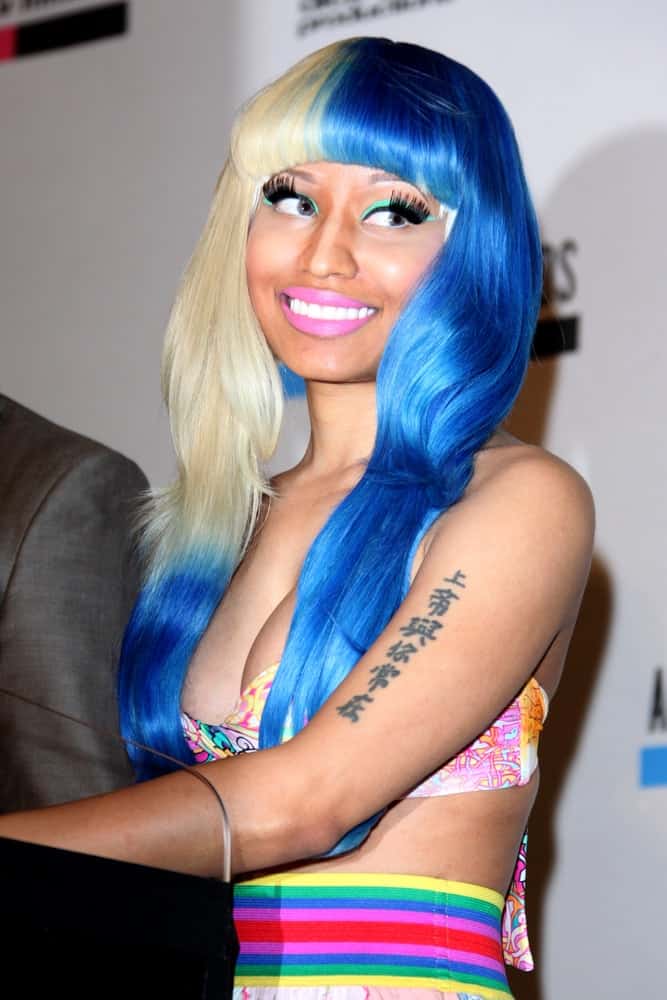 Nicki Minaj attended the 2011 American Music Awards Nominations Press Conference at the JW Marriott Los Angeles at L.A. LIVE on October 11, 2011, in Los Angeles, CA. She was quite stunning in her sexy and colorful outfit to pair with her blue and white long hairstyle with blunt bangs.
Click here for Nicki Minaj's hairstyles over the years
Yellow Tips on Blond Hair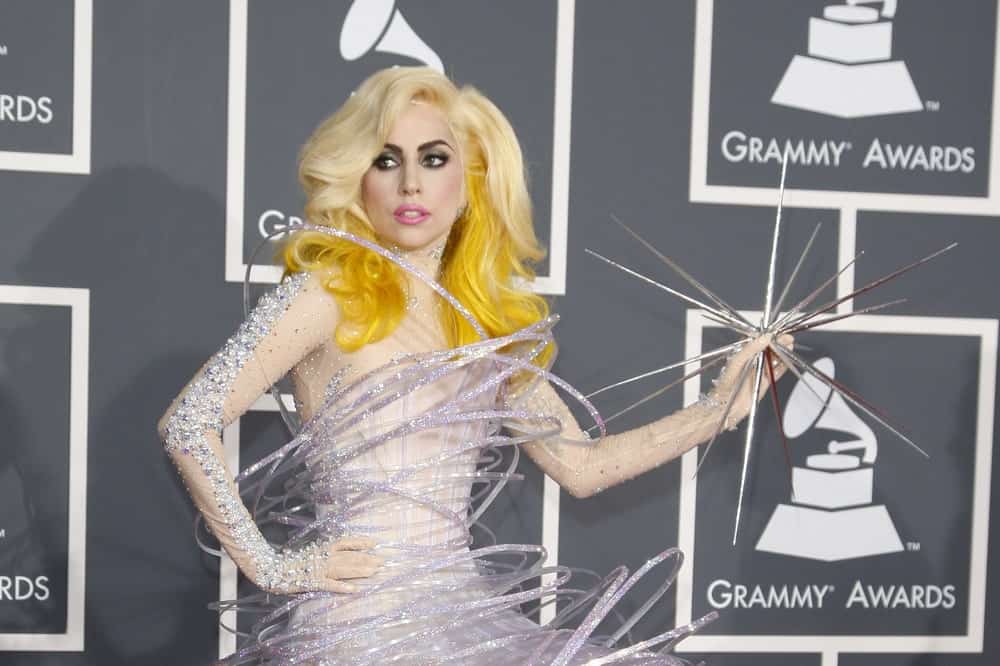 Lady Gaga was at the 52nd Grammy Awards at Staples Center in Los Angeles, California on January 31, 2010. She wore a star-themed artistic dress that complemented her loose and tousled blond hair with yellow dye at the tips.
Click here for Lady Gaga's hairstyles over the years
Black and Blond Hair with Bangs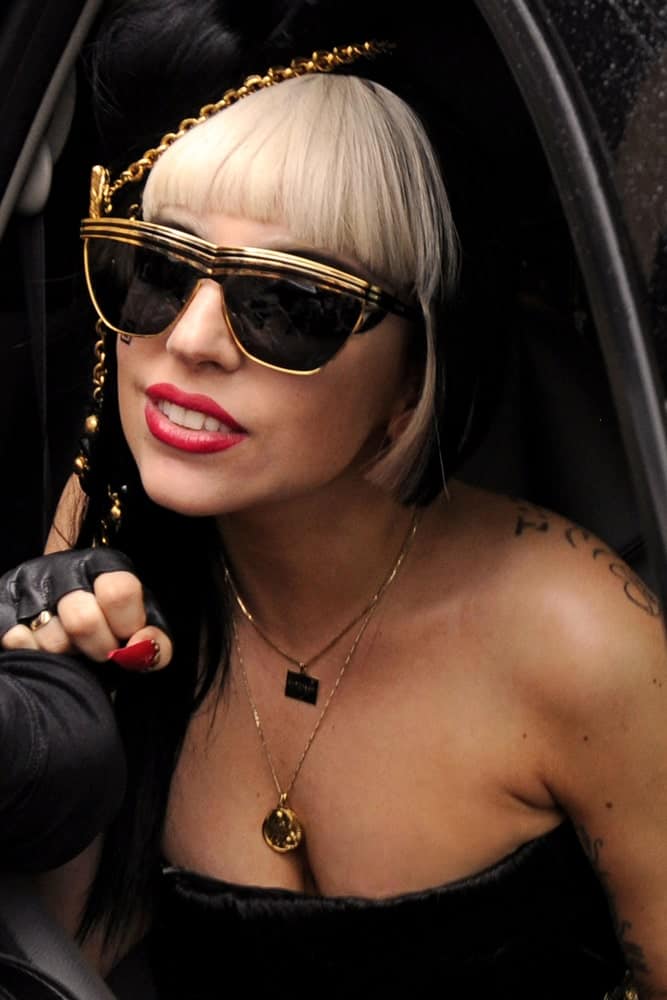 Pop superstar Lady Gaga greeted her "Little Monster" fans while leaving the View television show outside ABC Studios on May 23, 2011, in New York City. She was stunning in her black strapless dress that went well with her cool sunglasses and unique hairstyle that has blunt bangs and partly dyed blond.
Click here for Lady Gaga's hairstyles over the years
Multi-Colored Beehive Bun with Bangs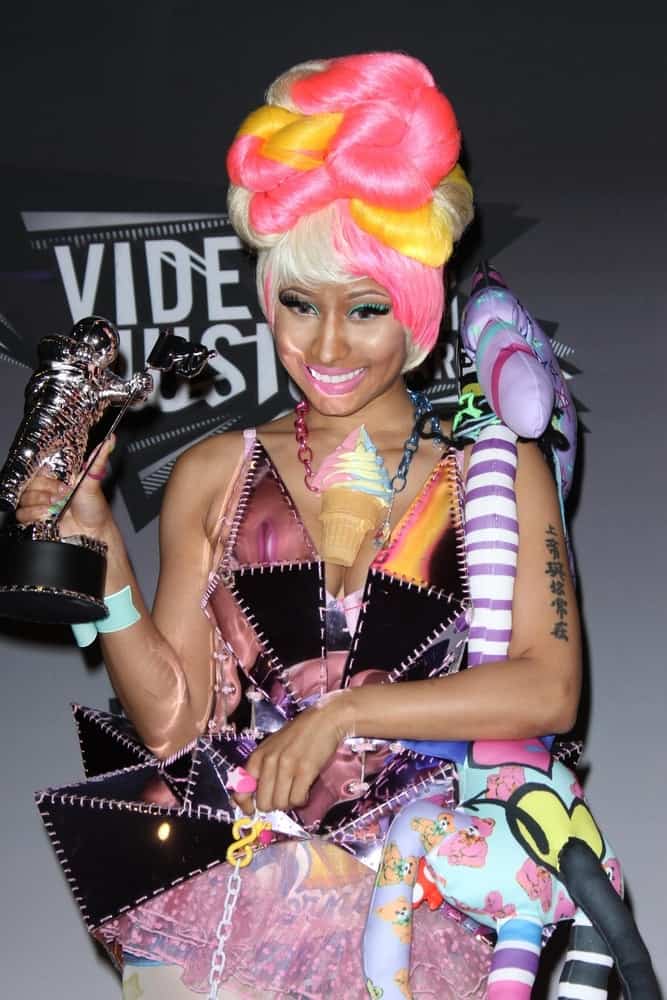 Nicki Minaj flaunted her hard-earned trophy at the 2011 MTV Video Music Awards Press Room in Nokia Theatre LA Live, Los Angeles, CA on August 28, 2011. She wore an artistic and colorful outfit that she paired with an equally colorful beehive bun hairstyle with bangs.
Click here for Nicki Minaj's hairstyles over the years
Red and Raven Tousled Waves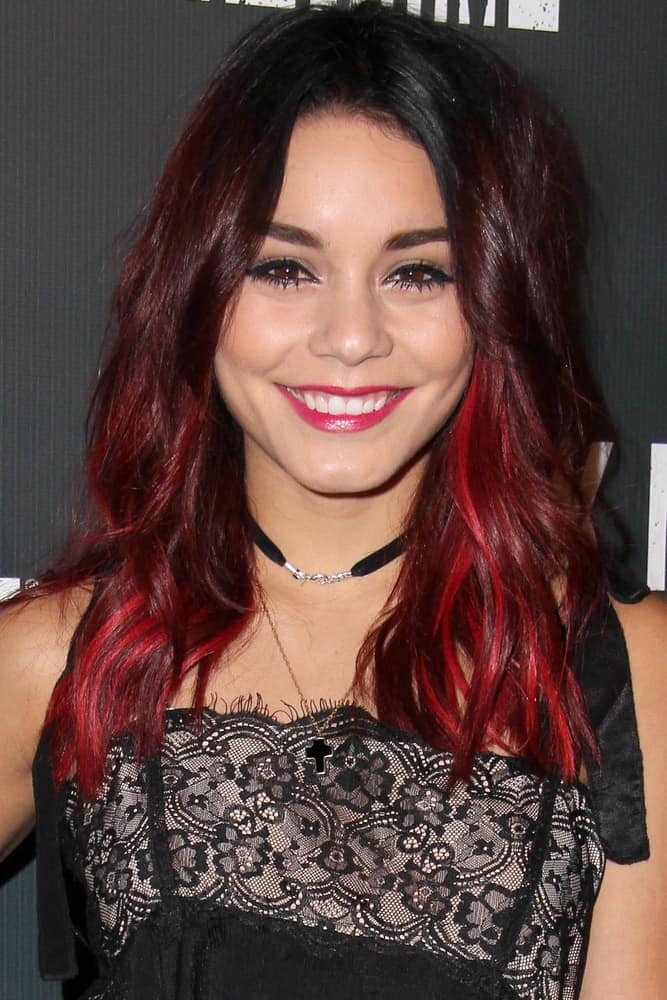 Vanessa Hudgens was at the Knott's Scary Farm Celebrity VIP Opening at Knott's Berry Farm on October 3, 2014, in Buena Park, CA. She came wearing a black embroidered outfit that went quite well with her wavy and loose tousled shoulder-length hairstyle with red highlights.
Click here for Vanessa Hudgens' hairstyles over the years
Green and Raven Ponytail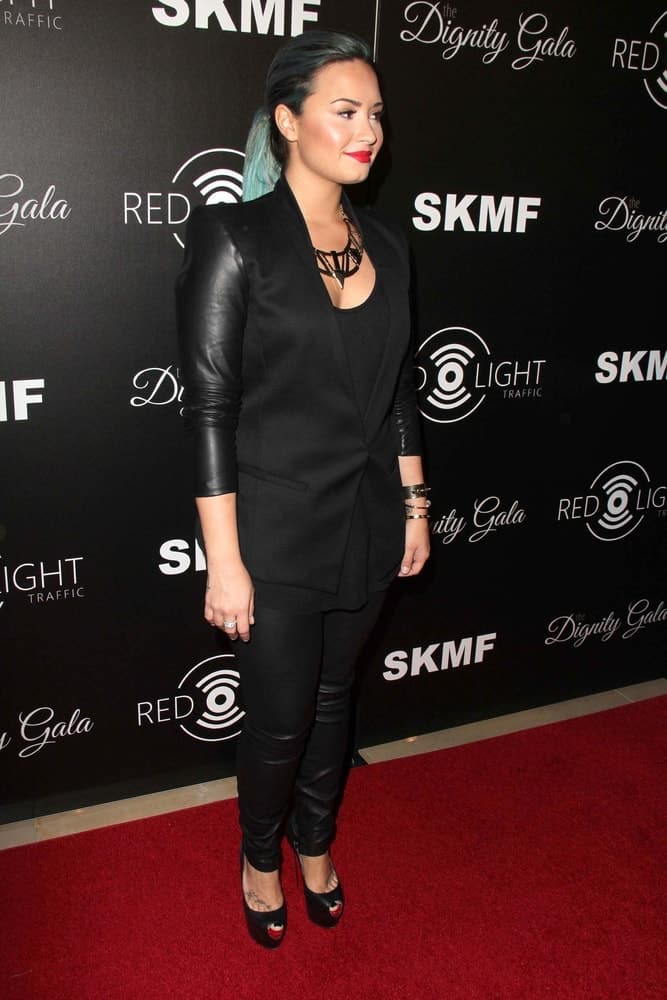 Demi Lovato's red lips paired quite well with her black leather outfit and tight ponytail with blue highlights at the Dignity Gala and Launch of Redlight Traffic App at Beverly Hilton Hotel on October 18, 2013, in Beverly Hills, CA.
Click here for Demi Lovato's hairstyles over the years
Straight Neon Rainbow Ombre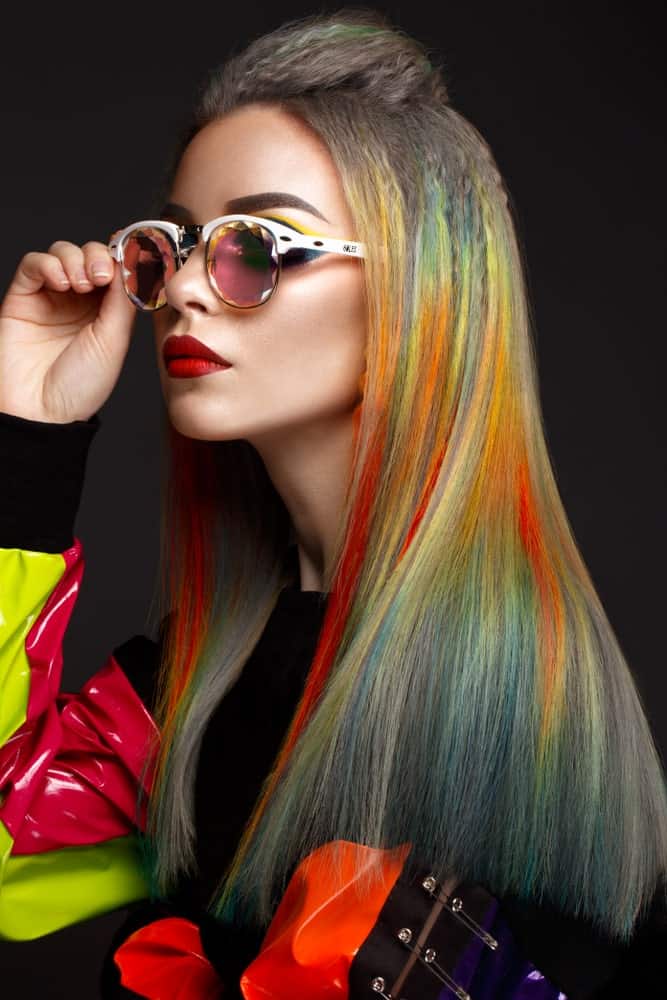 Why chose one or two colors when you can choose five different ones? The rainbow hair color looks good on everyone, be they light-skinned or dark, have straight hair or curly. This model has painted her hair in a variety of colors in bright neon hues while leaving her natural blonde hair untouched at the roots.
Smoky Black and Red Hair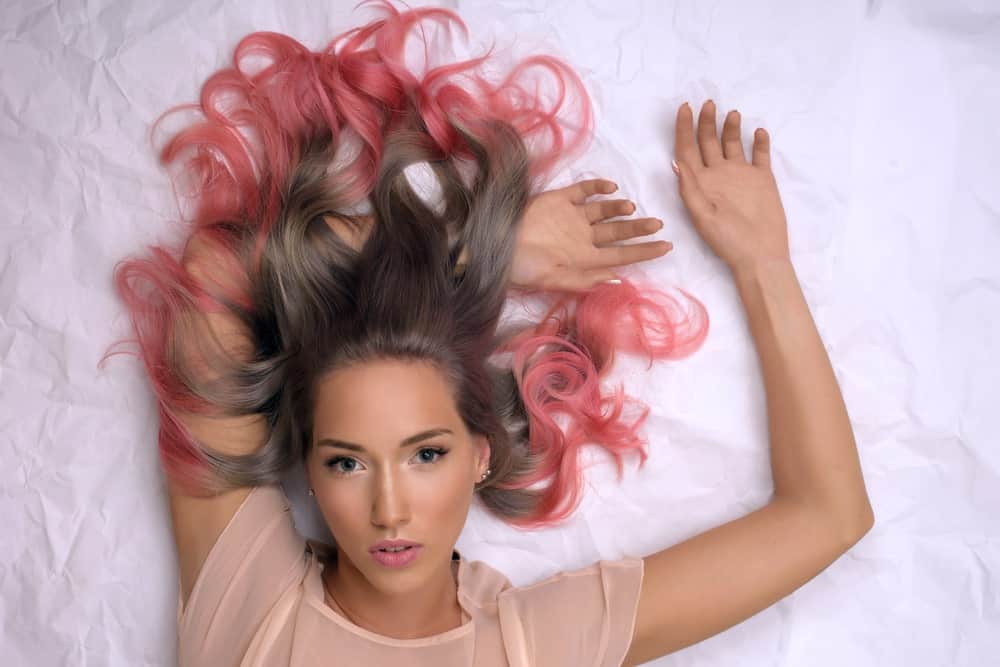 Black and red have always made a smoking hot combination. Try this abrupt ombre style where you color your hair an ashy black from the roots to the middle and then abruptly transition the hair to a faded red tone.
Perfect Rainbow Bob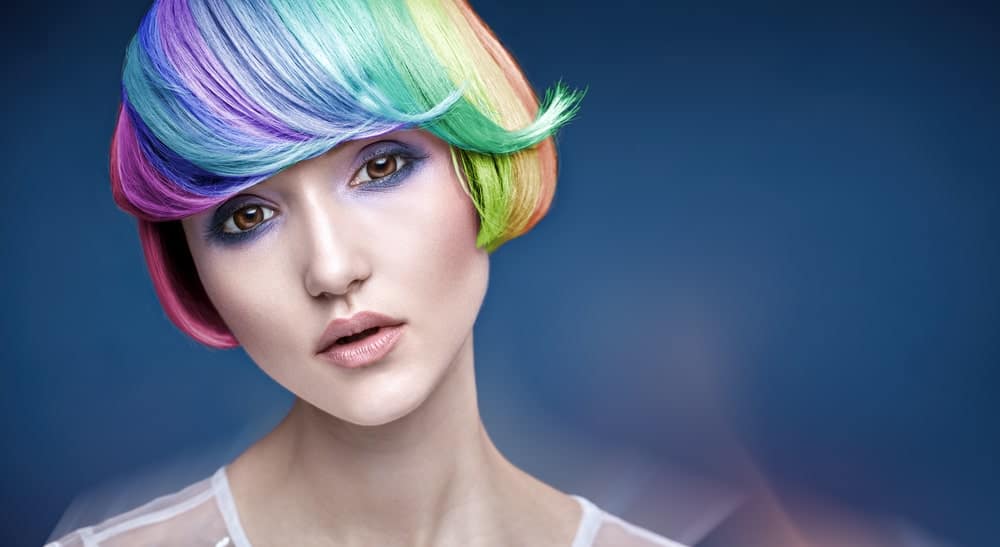 This is an example of a perfect rainbow bob. This model's hair has been meticulously painted with all the colors of a rainbow in a perfect gradient. This is a very fun and summery look and is perfect for going to events like Coachella and Burning Man. But make sure you can invest time in maintaining this beautiful look.
Unicorn Locks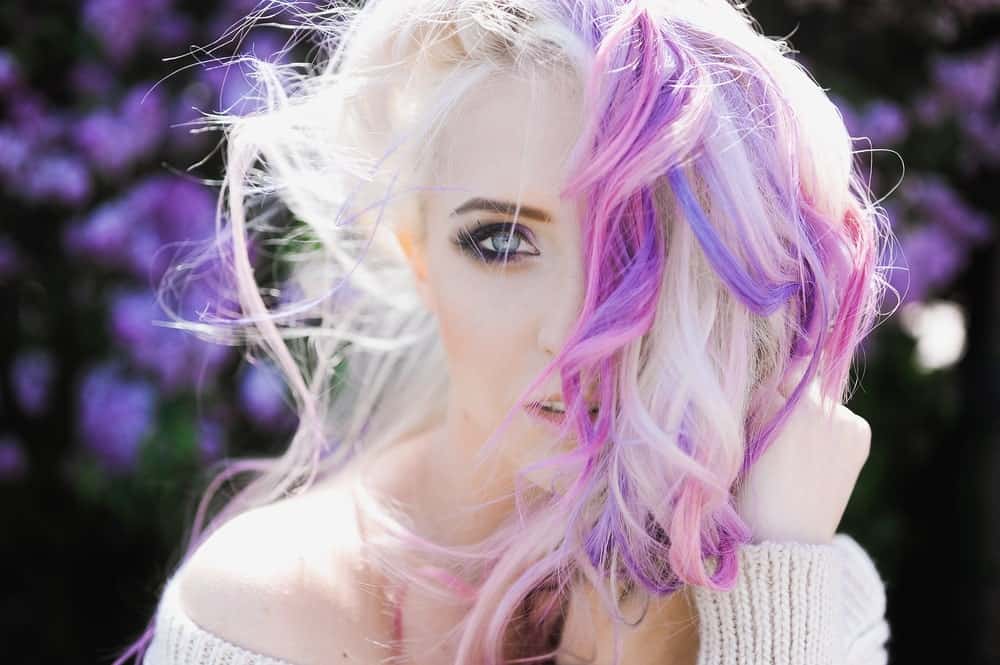 This model's platinum blonde locks blended with pink and purple strands are the perfect homage to the mythical creature, the unicorn. The hairstyle looks particularly good on people with very fair skin, although it works great with all skin tones.
Smurf Blue and Candy Floss Waves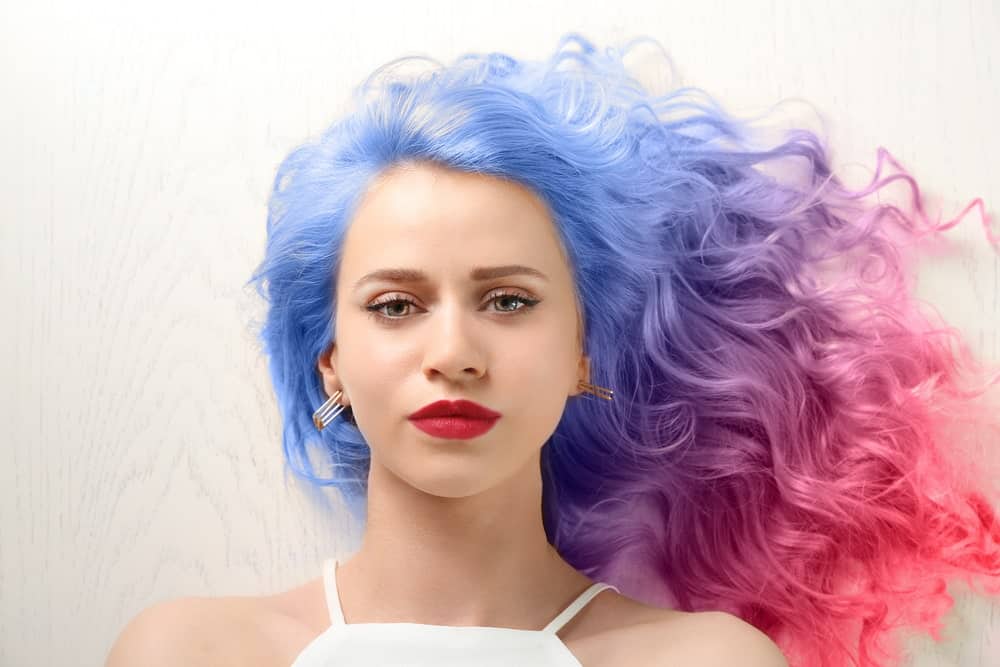 This wavy ombre starts from the roots with a perfect Smurf blue color and blends with a candy pink hue in the lower half, giving the hair in the middle a beautiful lavender shade. Since this model has super fine hair, it looks fluffy and soft and reminds one of cotton candy.
Springtime Hair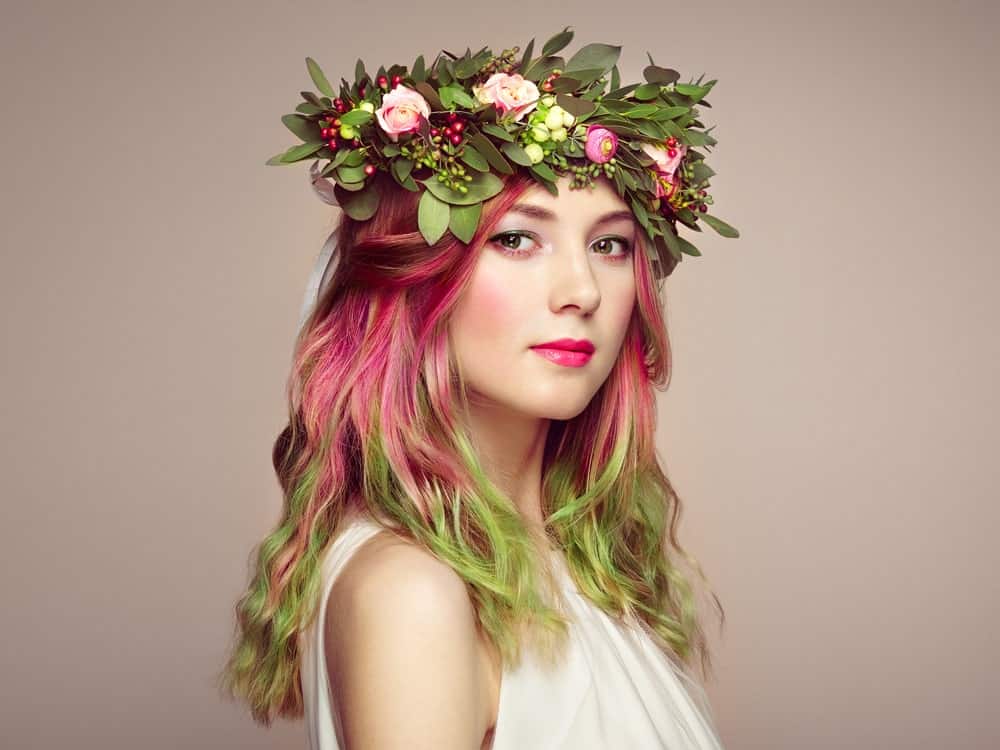 Green and pink are the perfect colors for springtime, but why stop at just clothing? Dye your hair in these spring color as well. The look is very cute and flirty and can take years off any one's face. However, like most multi-colored hairstyles, it will need regular visits to the salon to maintain.
Choppy Fairy-Colored Dipped Lob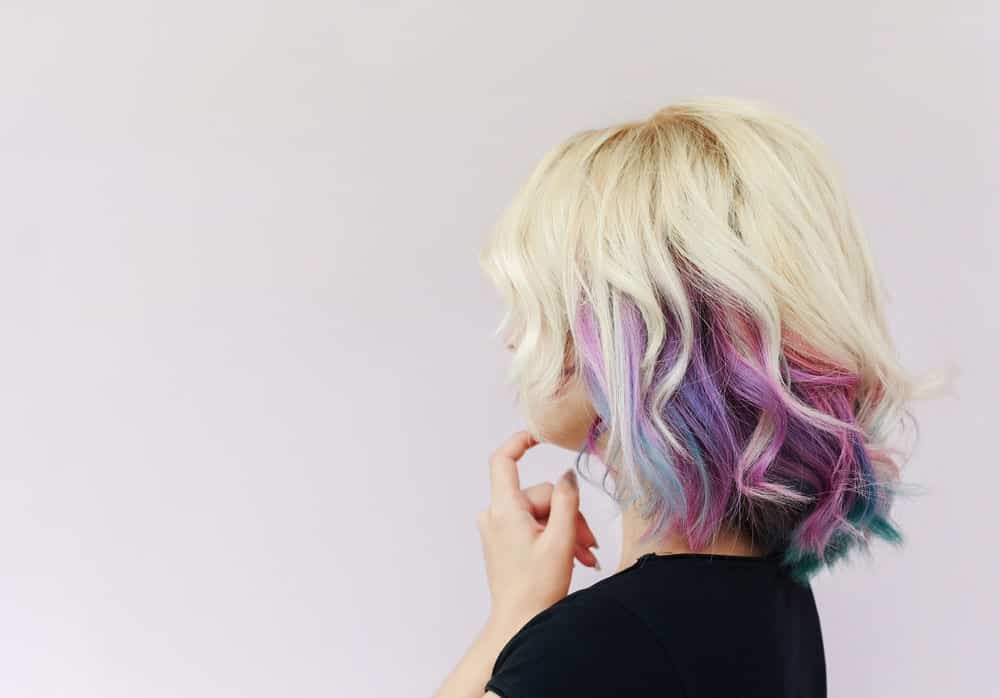 Here is another one of the rainbow hair looks! This time, however, the soft pink and purples are paired with the darker, edgier hues of blue and green colors. With a choppy lob, this gives the model a slightly edgy look.
Brilliant Jewel Blue Bob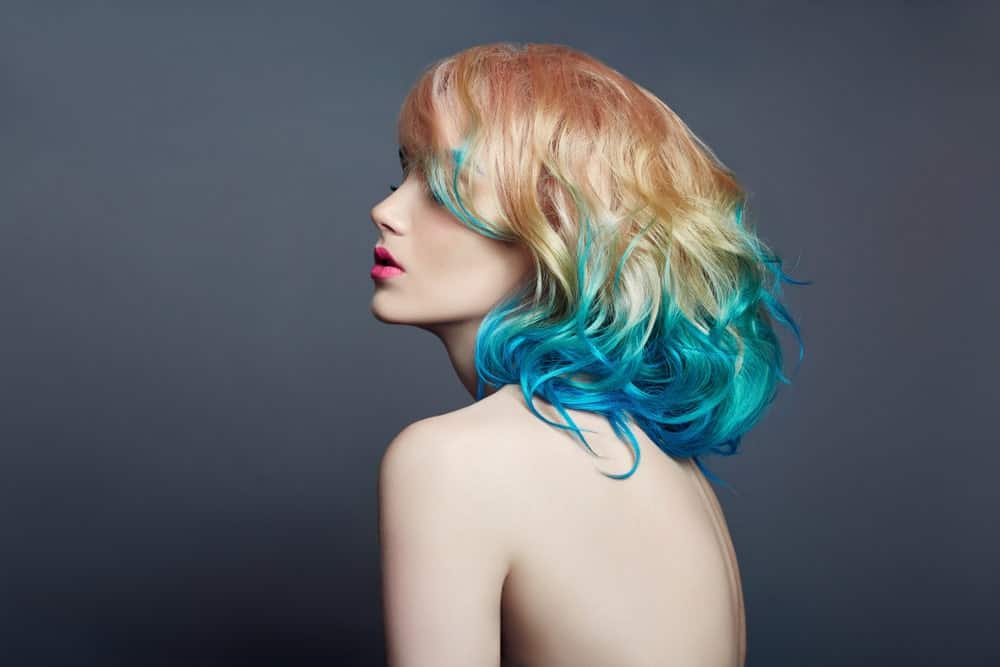 This mermaid-style hair look shows off a variety of jewel-blue colors, including shades of bright turquoise and sapphire. Although most of the color is situated on the bottom half of her hair, tendrils of the blue color have bled up. The model's hair has been given further dimension by coloring her roots a strawberry blonde, which graduates to a lighter blonde before it meets the blue.
Cotton Candy Anime Hair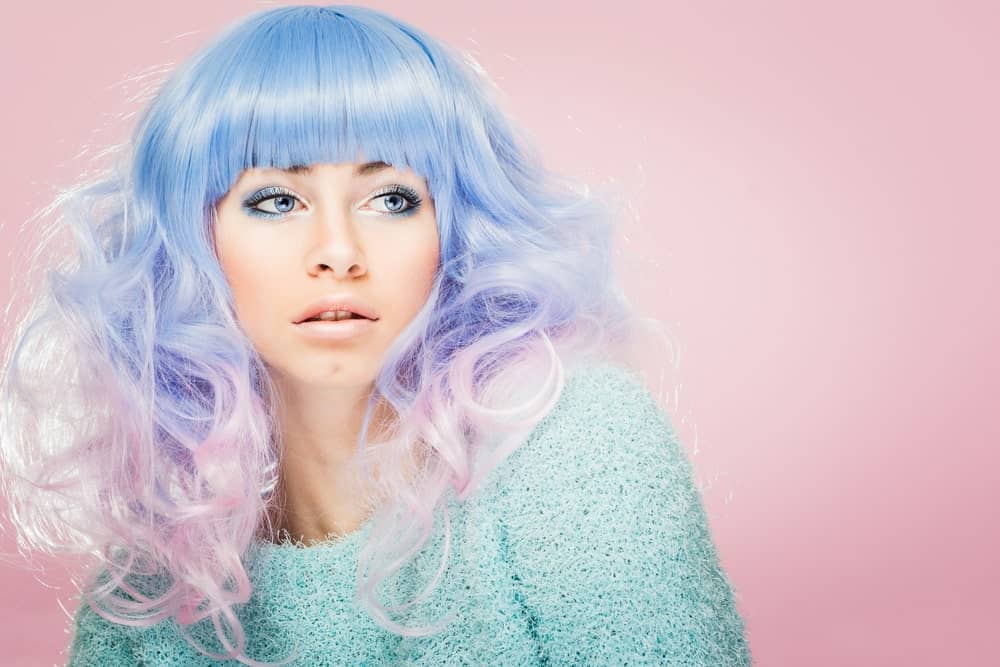 This is a very flirty and adorable look for ladies with superfine hair.  This model rocks pastel periwinkle and candy pink hair which melt together in the middle to give a soft lilac shade. The colors make her hair look like cotton candy and the style is popularized by anime characters.
Honey Gold and Chocolate Brown Hair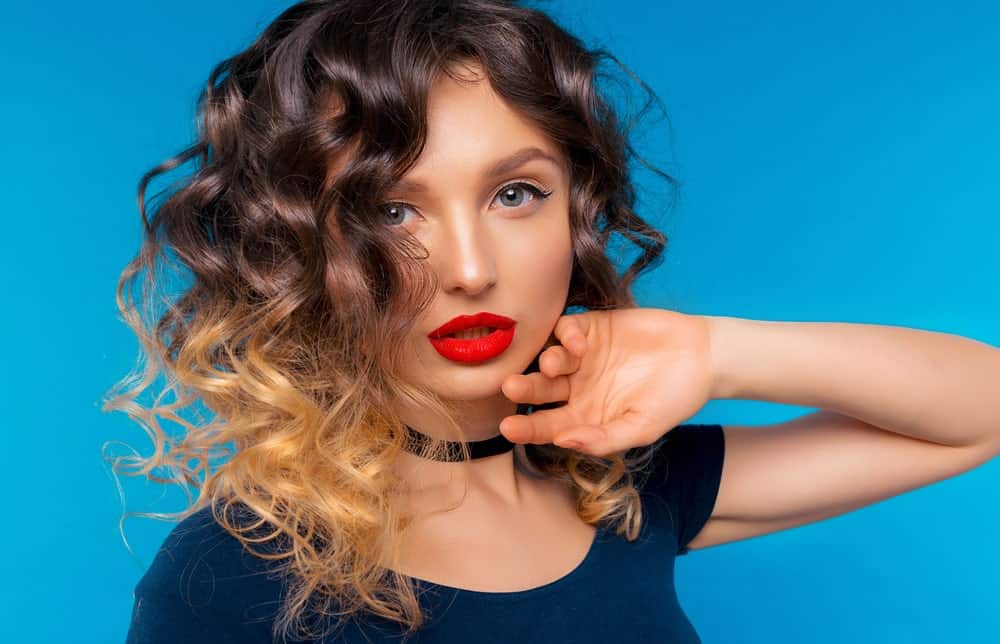 Multicolored hair doesn't mean you should employ fantasy colors. Natural tones work great if you want a multihued hairstyle as well. This young woman has an artistic ombre that starts from a black color, graduates to a dark chocolate brown and then abruptly changes to a honey gold color at mid-length. The cool and warm temperatures of the color make this style perfect for women with all skin tones.
Silver and Magenta Ombre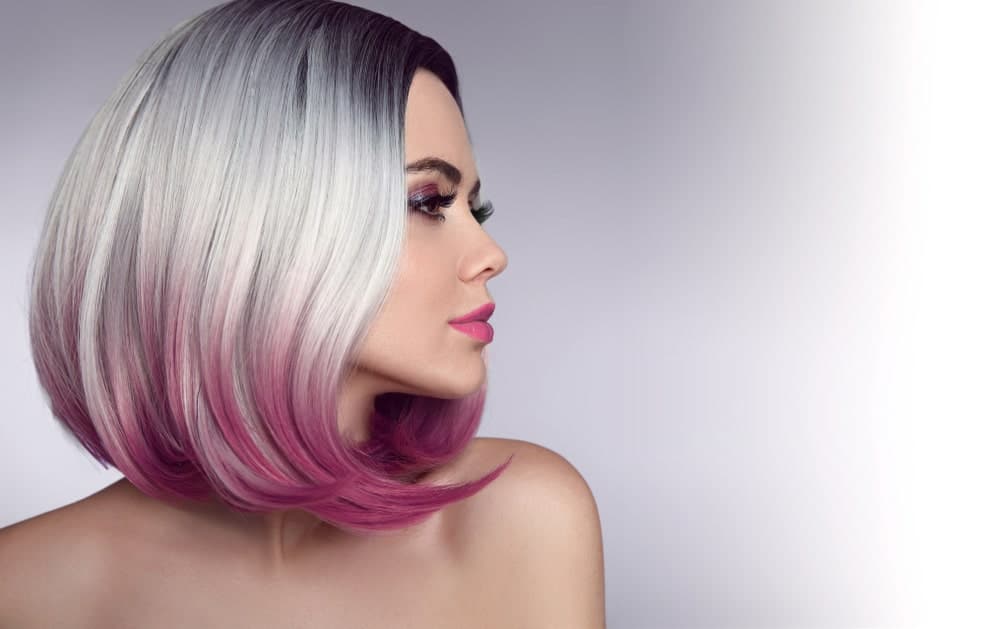 Silver hair color is all the rage these days. Pair it up with another rocking hair color, like purple, and you will turn heads wherever you go. Here, this model has dip-dyed her silver-toned hair with a matte magenta color and styled it into a very stylish shoulder-skimming bob.
Emerald Mermaid Hair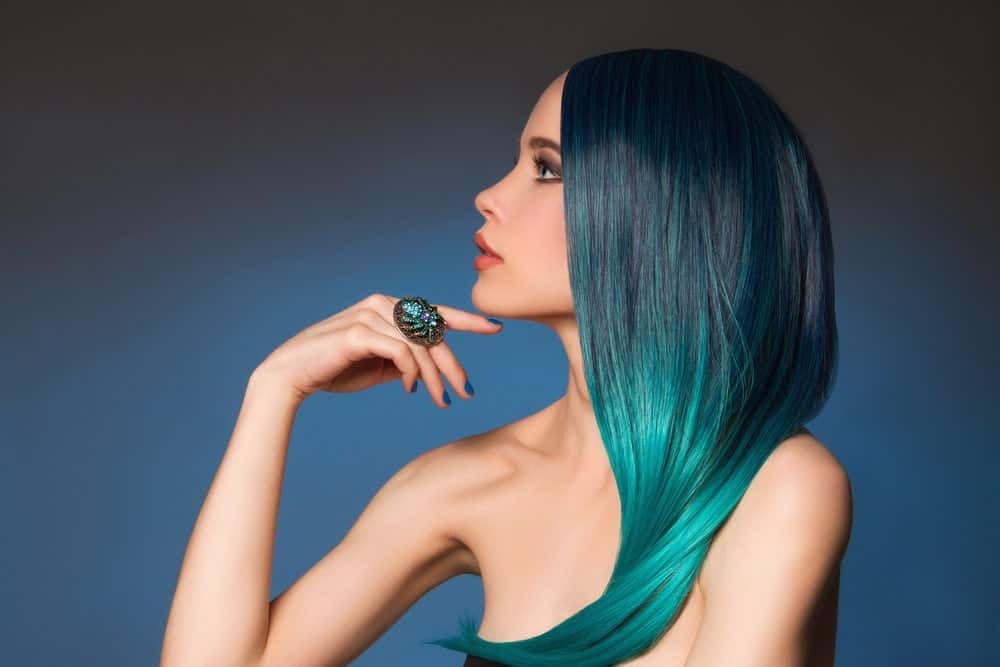 Jewel tones hair colors are trending with the masses these days, Here, this model sports a beautiful ombre which starts with a very dark green emerald tone at the top and graduates to lighter jade green color from the middle to the end. This is a perfect mermaid hair look.
Piece-y Rainbow Dye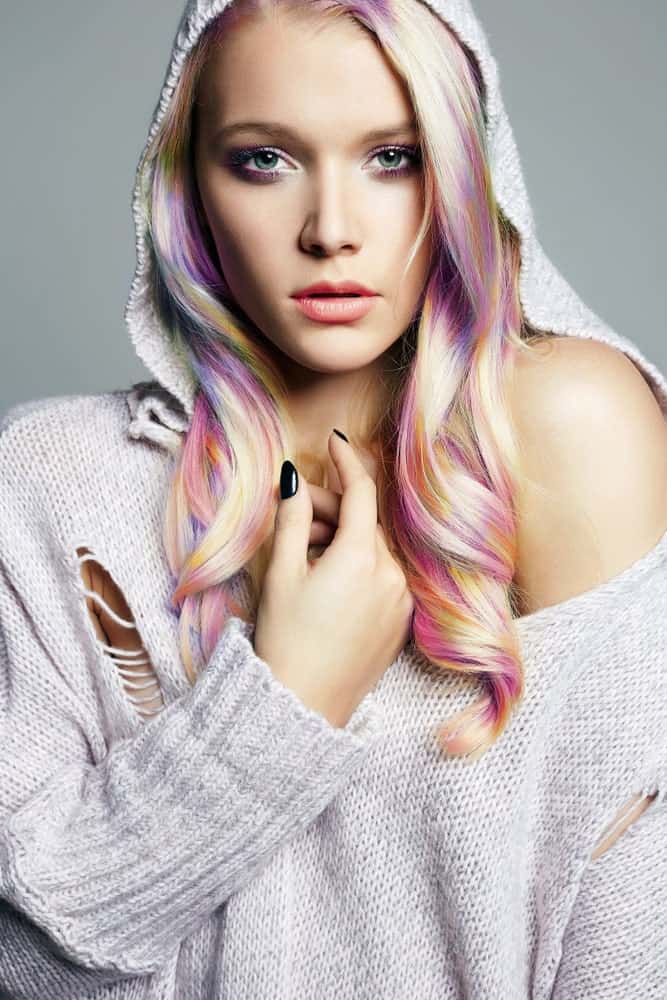 This is one of our favorite types of mermaid hairstyles. Unlike the classic ombre, where one hair color bleeds into the next in a seamless way, this technique takes sections of individual locks and dyes them in contrasting colors. The result is this piece-y effect where every color of the rainbow stands out in pieces in every lock. This style is also very high-maintenance and will take hours and hours to get. It is worth the effort though.
Red Roots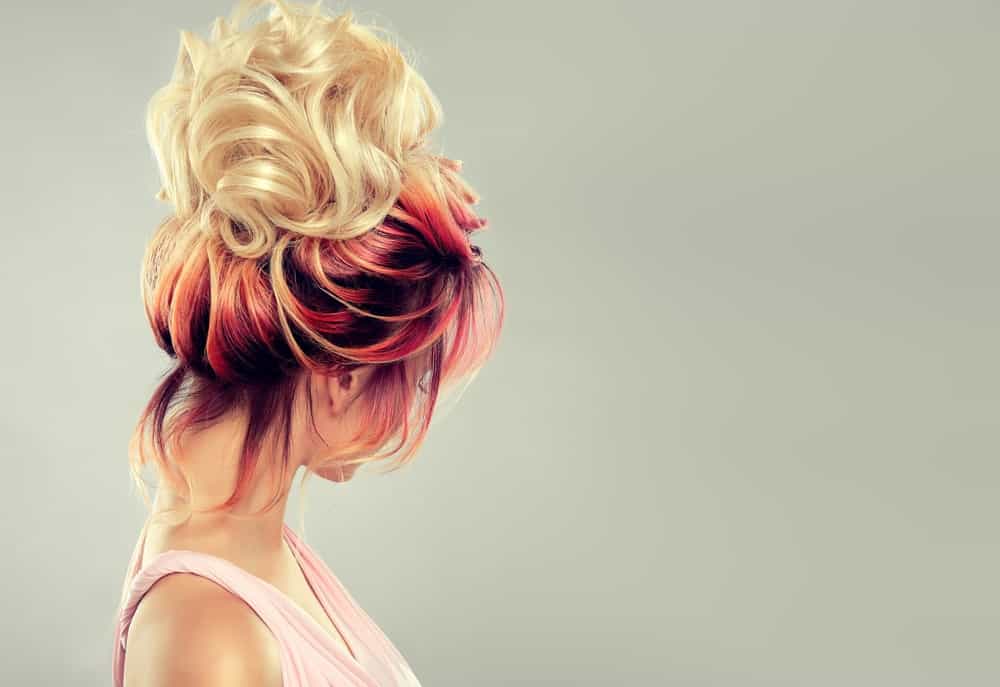 To achieve the look, get your stylist to color your hair an unusual red color from the roots to mid-length. Leave the rest of your hair its natural color or dye it a bright blonde, as shown by the model above. This hair technique works great with updos.
Dark Mermaid Curls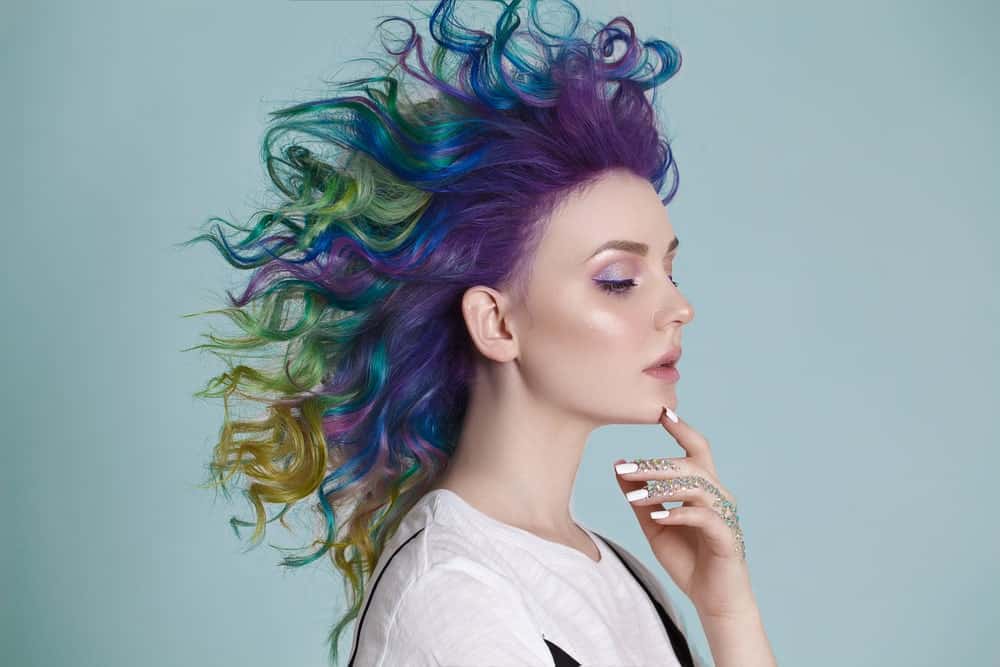 Unlike the fiery colors in the mermaid-style hair above, this hair technique employs darker, more mysterious jewel tones, like dark violet, royal blue, seaweed green, and sandy gold. If you want to go for a dark, edgy mermaid look, these are the colors for you!
Old Glory/Superman Bob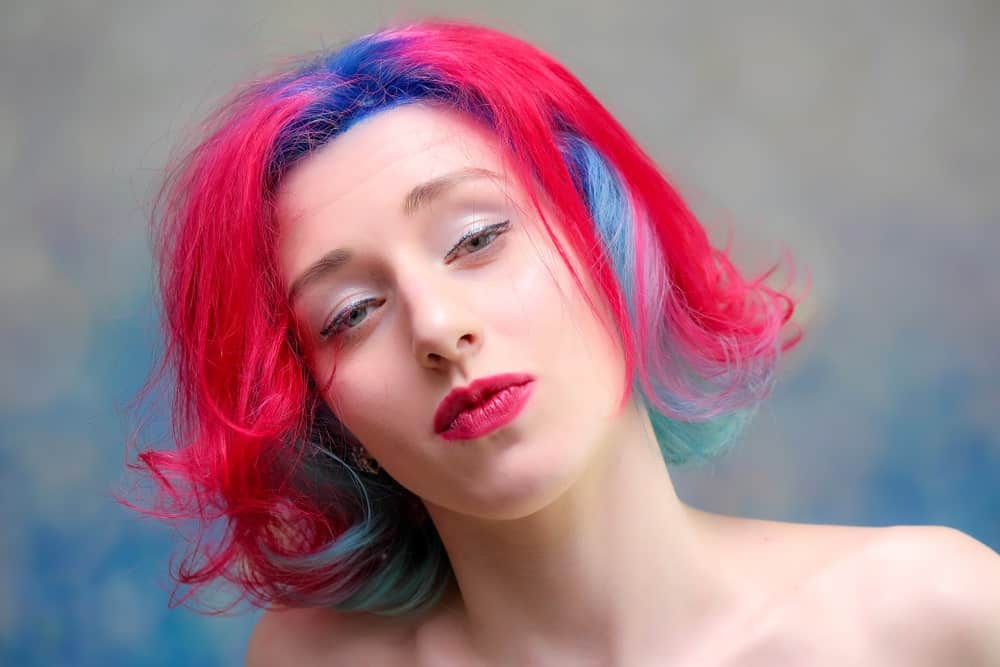 If you love the primary colors flaunted by Old Glory and Superman, this is the perfect style for you. Keep your roots a royal blue while dyeing the rest of your hair a bright, ruby red. To give your hair some dimension, color a few strands in your red hair blue too. This is a fun and vibrant look for the summer.
Raven Black and Purple Ponytail
Kelly Osbourne on 16th of December 2012, sporting a long purple hair in a ponytail with bangs swept aside.
Click here for Kelly Osbourne's Hairstyles over the years
Purple and Blue Sky High Pony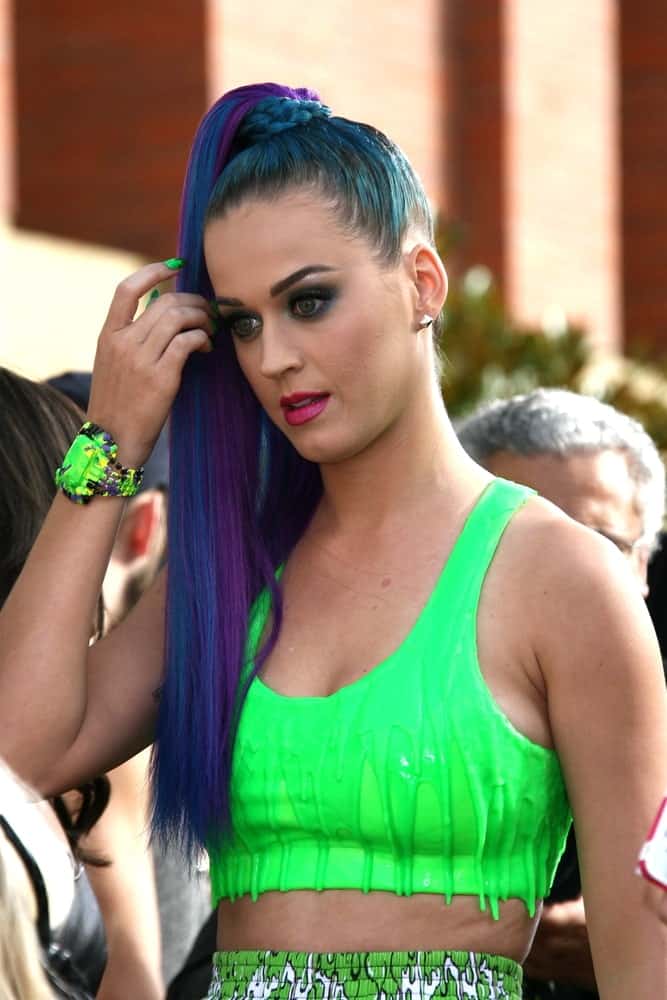 Katy Perry rocked a sky-high braided ponytail accentuated with blue and purple hues during the 2012 Nickelodeon Kids' Choice Awards held at Galen Center, Los Angeles on March 31, 2012.
Click here for Katy Perry's Hairstyles over the years
White and Blue Curly Pixie
Rihanna's raven pixie hair was curly and swept up with a few tendrils highlighted at the 2008 MTV Video Music Awards at the Paramount Pictures Studios in Los Angeles, CA on September 7, 2008.
Click here for Rihanna's hairstyles over the years
---
Multi Women Hairstyles with Two Colors
If you are new to dying your hair, it might be best to stick to using two different colors. You can either mix a more original color with your natural hair color or opt for a style that mixes two colors.
Classic Black Underneath Layers
This is a simple but efficient way to mix colors. Get some dark or deep brown underneath layers and some lighter hues at the top. You can opt for a blonde color, a light brown hue or choose something more original like pastel pink. This style is amazing for a short bob!
Balayage Or Ombre Hair
These techniques allow a stylist to create a gradient effect on your hair. A balayage or ombre style will blend the color with your natural hair color or with another hue you selected. You can use more than two hues if you have some length, but it might be best to stick to two colors for a shorter hairstyle. These styles look particularly good with layers, feathered hair, waves, and curls.
Bolder Multi Women Hairstyles
There are no limits to what you can do with hair dye. There are always new trends popping up, such as rainbow or mermaid hair.
Learn to Style Your Multicolor Hair
The great thing about using several hues of hair due is that your hair will look very different depending on how you style it. Learn different types of braids, such as French, Dutch, or fishtail braids so you can easily create a style where different colors are intertwined. If braids aren't your thing, you can use twists or simply do your hair up to reveal different hues.
Unicorn and Mermaid Hair
You have probably seen these colorful trends on social media. Getting mermaid or unicorn hair is one of the boldest ways to use hair dye, but the result is definitely fun and original. Keep in mind that getting one of these hairstyles is a long process since your stylist will have to dye several strands individually. Mermaid's hair uses blue, green, teal, silver and other similar colors while unicorn hair emphasizes pastel pink and purple hues.
Short Rainbow Styles
Short hair and bright colors are a strong fashion statement. Rainbow hair consists of dying several strands of hair in bright hues, usually on a pixie cut. You can create a gradient, get a rainbow effect or dye the hair more randomly to create something unique. Rainbow hair is really fun when paired with the faux-hawk look or with a side-swept style!