Have dry hair? It's annoying and difficult to get that perfect style. Check out these 10 shampoo suggestions for combatting dry hair. You'll love them.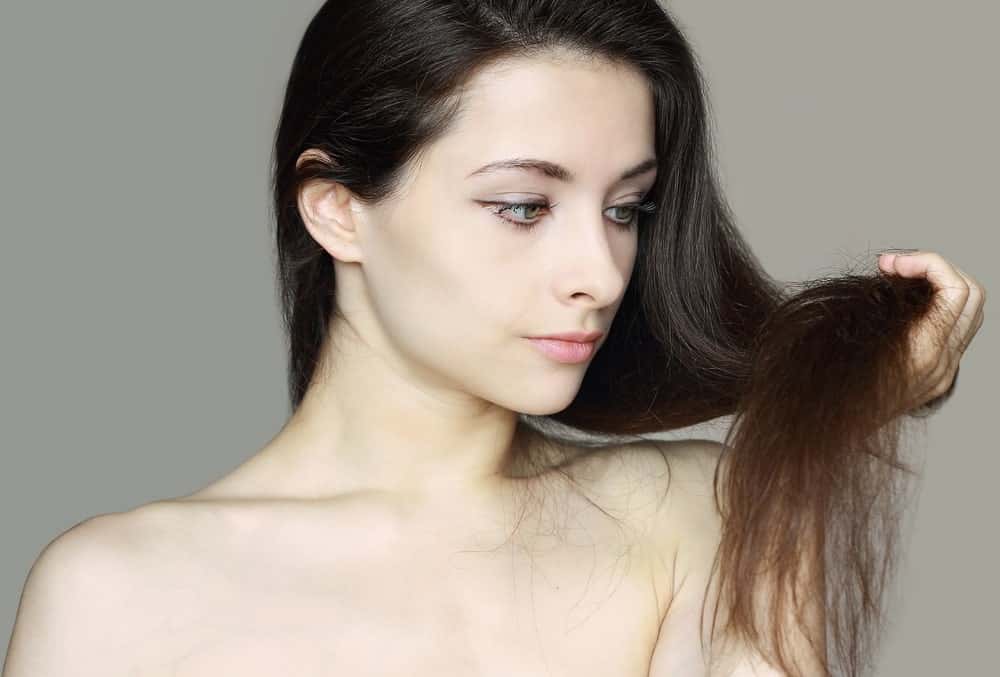 For those of us that struggle with dry, brittle, frizzy hair with damaged ends and/or breakage, our hair can be a source of stress rather than our an appearance showcase. It's difficult to find a shampoo that can thoroughly clean without stripping hair of its delicate moisture balance regardless of your hair texture. While it might be tempting to ditch the suds for good, but the reality is that shampoo does more than just cleanse your hair. It cares for and conditions your scalp as well. A clean scalp contributes to the growth of healthy hair; finding the right product that will nourish your entire scalp will also help to fortify the mane you are trying so hard to protect.
Standard shampoo is designed to strip the hair, which robs it of its delicate moisture balance. Hair is supposed to have natural oils on and around the shaft; it serves as a natural barrier between a harsh environment and your hair follicle. The key to success when caring for dry hair is to find a product that cleanses gently, without stripping hair of its natural oils.
Your hair history plays a part in its moisture balance as well. If you have had a lot of chemical treatments or dyes over the years, your hair is bound to be a bit more on the dry side. Look for mild cleansers that are free from sodium chloride, formaldehyde, and drying sulfates; while the need for each person is different, here are 10 best shampoo options for dry hair that have hydrating attributes to tame your mane and tone down your potential for split ends.
Below is our list, all of which you can buy online but chances are you can buy one or some at your local drugstore. Please note that our list is for dry hair, it is not focused suggestions for dry shampoo.
1. Redken All Soft Argan Oil Shampoo For Dry Damaged Hair
Redken's All Soft is a hair softening shampoo that comes with the brand's patented RCT (root, core, tip) Protein Complex. Just after a few washes you will notice the hydrate results; your dry hair will look and feel visibly workable, as well as softer. It contains a hefty list of ingredients that are all designed to combat dry hair, like the soy protein that helps seal in moisture and boost the body of your hair. Arginine, an amino acid, conditions hair by stimulating the scalp through increased blood blow and even promotes hair growth.
Sepicap, an amino acid combination, is activated through heat and helps restore the look of the ends of your hair. Argan oil is a must-have for dry hair, and tends to be a favorite choice amongst stylists and beauty gurus. The oil goes down deep into the hair fiber to restore lost silkiness. Many consumers may feel intimidated by the ingredients, and may even want to put the bottle down from the list of sulfates, but Redken assures its buyers that the RCT Protein Complex will negate any amount of over-stripping to your hair.
Customer reviews report that the product leaves hair noticeably softer and shinier, especially when paired with a conditioner. Some customers say that the product also leaves wavier hair a bit straighter. One of the reasons that customers love this product is that it isn't too heavy compared to competing brands and leaves hair feeling light and fresh. Others have complimented the smell of the shampoo and have also said that the product helps replenish the scalp after it has been damaged from heavy treatments in the past, like coloring. Reviewers with dry or thick hair recommend the product, but reviewers with thin or oily hair might be better served with another competing product.
2. Rahua Hydration Shampoo
Rahua's Hydration Shampoo comes in a conveniently small container, but don't let that dissuade you from purchasing it; it packs a punch to quench your dry hair. For those who are conscientious of all-natural products, this shampoo is made from 100% naturally-derived ingredients, making it perfect for those who seek a cleaner daily beauty regime.
The shampoo is formulated with rare Amazonian oils like rahua (where the company got its name from!), sacha inchi, and morete oil. Rahua oil, from the rare ungurahua nut, is one of many oils used for helping dry hair, as well as nourishing skin. Sacha inchi oil comes from the Inca peanut but is actually a seed harvested from within its star-shaped fruit pod. It contains essential fatty acids like omega-3, omega-6, and omega-9. It works as an emollient that leaves skin and hair soft without being greasy. It's great for those with itchy skin, too. Morete oil is rich with vitamins A, C, and E, as well as fatty acids and even carotenoids (an antioxidant that improves the skin).
It also improves hair and skin. Combined together, the three will help fortify weak, damaged hair while simultaneously moisturizing from root to end. It also includes the well-known aloe vera that will bring back your hair to renewed vibrancy. The scent left by the shampoo is an exotic aroma of passion fruit and mango. Customers with very dry hair praise the gentleness of the product compared to competitors. Customers with normal, oily, or straight hair might not get as many benefits from the product, since they don't necessarily have curly or wavy hair.
3. Ouidad Curl Quencher Moisturizing Shampoo
When it comes to curly hair, there are so few brands out there that cater to that particular hair type. We're left unsure what products to use, as there are many kinds of shampoos but not all are necessarily made for curly hair in mind. That's where Ouidad and their line of products, including their hydrating shampoo come in.
Ouidad Curl Quencher creates a luxurious lather that gives curls the moisture it needs without weighing it down from added build-up, which causes stress to the hair shaft. It's delicate enough for all types of curls, and even safe for color-treated, chemically straightened curls, and perms. The formula of the shampoo is blended with a variety of nutrients like chamomile, corn oil, amino acids, vitamins A, E, and pro-vitamin B5 to target dryness, which also adding body and shine at the same time. Biracial customers with tight or kinky curls love the product for how well it works with their type of hair. Even for customers without kinky hair, the product helps loosen up and moisturize the hair in order to make detangling a simple process.
Customers with short cuts and curly hair praise it for how well it restores luster to their curls and makes them looser and bouncier. Some customers have reported that the product loosened their curls up enough that they were able to de-tangle their hair with their fingers, without using any brushes!
4. Paul Mitchell MarulaOil's Rare Oil Replenishing Shampoo
Ever since its creation in 1980, the Paul Mitchell hair care company has become a popular brand that many stylists and consumers swear by. It's no surprise that this company carries a line specifically targeting dry hair, and returning lost moisture your hair so desperately craves.
With a name like "Rare Oil," you know immediately you're going to be pampered by luxurious hair care. Marula oil is native to Africa, and while they were once rare, that's no longer the case due to active cultivation of the marula tree. Marula oil contains both linoleic, and oleic acid. Linoleic acid is known to keep the scalp healthy, while also stimulating it for hair growth. Oleic acid softens hair up. Both help retain moisture throughout your hair, and keep it that way well after washing. This is the shampoo for the types that love extra fragrance to linger in their hair all day. Some of the perfume notes are sparkling lemon, orange, pear, violet, white jasmine, cedarwood, sandalwood, white musk–just to name a few of the many included.
The light moisturizing effect of this product makes it a big hit with customers with dry, wavy hair. With additional anti-aging and color protection effects added into the mix, it helps preserve the hair from damage and protect natural color, heal damage from prior color treated hair and heavy product use, and restore natural moisture from the scalp. With regular treatments with the product, hair is hydrated over time and restored to a natural, healthy state. Customers with extra fine hair also say that the product doesn't leave their hair feeling greasy or heavy, and only increases volume and silkiness. Competing products that are a bit heavier tend to do worse with heavier types of hair, so this is a great choice for people with normal or ultra-fine hair.
5. Moroccanoil Moisture Repair Shampoo
Moroccanoil remains one of the first companies to push the use of argan oil in their hair care products. Argan oil is a high quality oil packed full of antioxidants, essential fatty acids, and vitamin E that can be applied to either your hair, or skin to make it supple. While they have a variety of products for all hair types, the recommended shampoo for dry hair is Moroccanoil Moisture Repair Shampoo.
This is the perfect addition to give your hair some well needed TLC. It works well with all hair types: straight, wavy, curly, coiled, you name it, it's formulated for that. It naturally works best on damaged hair that's been weakened by chemical processing, coloring, or just general heat-relate styling like flat irons. On top of argan oil, it also contains the naturally occurring keratin, a protein that strengthens hair. Included is its infusion of chamomile, jojoba extracts, lavender and rosemary on top of the iconic perfumey Moroccanoil scent. One customer reported that, even after extensive protein treatments by their hairdresser, the hairdresser recommended the product to restore damage from various heavy chemical treatments as well as sun damage.
The product left the customer's hair feeling softer, thicker and looking more lustrous. The moisture repair shampoo helps restore dry and damaged hair to a natural, healthy state. While it might seem expensive to some customers, it is actually a competitively-priced product. Some customers experience a major difference in the health and appearance of their hair within just two uses. Stylists recommend letting the product soak into the hair for three minutes before washing it off, in order to let the full effects flourish. Because many repair treatment shampoos and conditioners have a strange smell, customers deeply appreciate that the Moroccanoil shampoo has a very pleasant, light smell produced by the natural ingredients.
This product is a great choice for people who have experienced UV damage from sun exposure or people who have gone through extensive chemical treatments which damaged their hair and scalp in the past.
6. Soapberry For Hair, Awakening Peppermint
This is all the best parts of nature's cleansers in one bottle. Awakening peppermint is an amazing cleanser/conditioner for all hair types, but specifically for dry hair, as it breathes new life into tired strands. Soapberries, a close cousin to the lychee fruit, have antiseptic and antimicrobial properties, and they lather naturally. The addition of invigorating peppermint gives a pleasant odor and cooling sensation, and it balances the Ph of the scalp, giving you healthy, glowing hair.
7. Awapuhi Wild Ginger Moisturizing Shampoo
This sulfate-free formula will seal moisture in to even the most damaged ends, making it luxuriously soft and manageable. While some might be put off by its price, loyal customers say they have never had softer, shinier hair, thanks to the addition of protein-rich keratin. This is gentle enough for daily washers, yet offers a satisfying lather and deep clean desired by all.
8. Deva Curl No-Poo
Specifically designed for afro-textured curls, this "no-poo" cleanser is a great way to transition to shampoo-less life. This moisture-rich cleanser is enriched with growth-stimulating botanicals that fight the development of dry ends every time you apply to your hair. The no-nonsense cleansing action seals in moisture and helps your hair look and feel its best.
9. Pureology Strength Cure
This strengthening shampoo is designed to fight split ends by saturating the hair shaft from root to tip. Despite the fact that it is sulfate free, it offers a thorough clean without drying out your silken tresses. Strength cure will repair hair bonds, seal in moisture, and restore bounce and vibrancy to tired hair, taking ten years off its appearance. Safe for all types of chemically processed and colored hair, it will infuse your entire scalp with antioxidants, making it perfect for Ph balance and ultimate shine.
10. Majestic Pure Argan Oil Shampoo
For those of us that are on a bit of a hair budget, this one is a premium choice for attaining soft, beautiful hair at a fraction of the price of salon products. Immerse your thirsty strands in this wonderful formula containing fatty acids, carotene, and natural and essential oils to seal the deal. This formula works well for all hair types and scalp conditions, providing gentle cleansing and ultimate moisture protection in one product. With a unique blend of argan, almond, avocado, jojoba, coconut, and tea tree oils, this is an amazing way to restore youthful shine and moisture to hair while you gently and thoroughly cleanse.
There is no need to lament anymore over dry, brittle, damaged hair. With these 5 best shampoo options for dry hair, you will uncover your strongest, most beautiful mane in no time. With regular use, dry and damaged hair will be a thing of the past, and your luxurious locks will inspire confidence as your inner beauty and outer beauty unite. Enjoy your new look!
What about coconut oil?
It's a natural oil that can help with dry hair but we chose to focus this article on shampoo options.