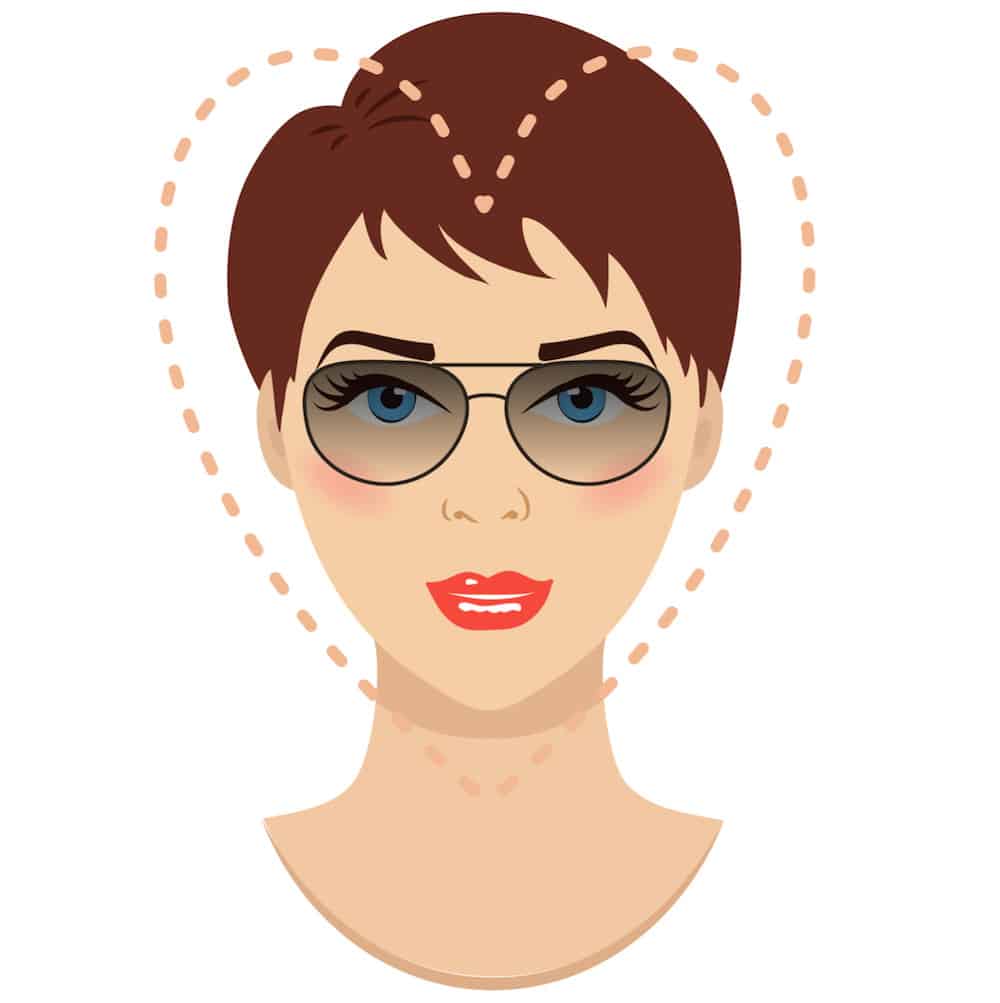 Welcome to our article and gallery showcasing many great hairstyles and cuts for women with a heart-shaped face.
Below scroll through dozens of examples and then check out 24 specific types below that.
Photos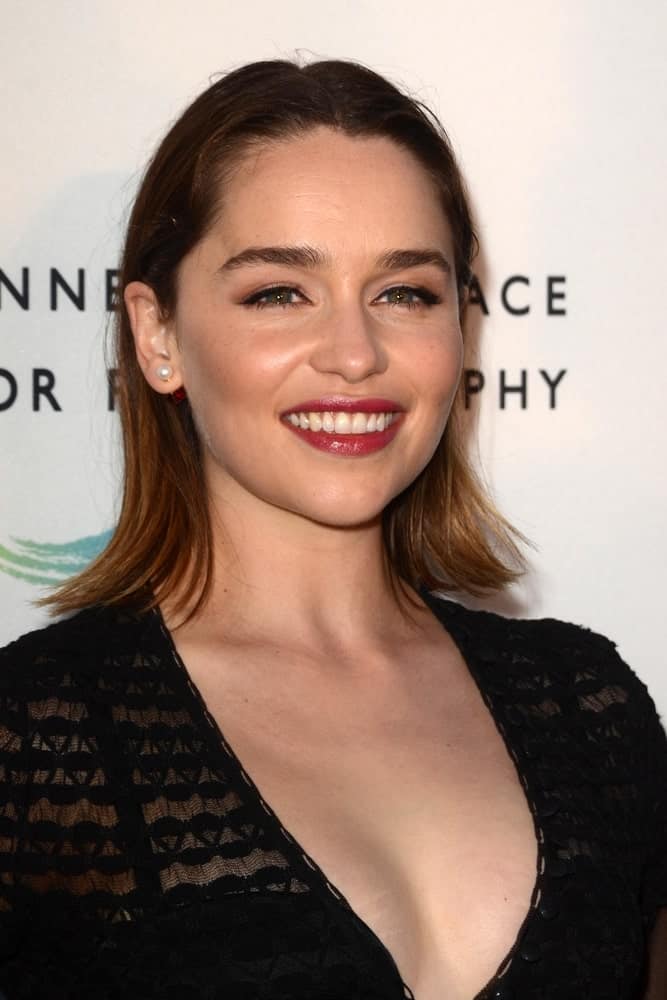 Emilia Clarke in her medium straight hair at the Annenberg Space for Photography 2016. She is looking really classy and sophisticated in her black see-thru dress and straight bob cut hair.
Click here for Emilia Clarke's hairstyles over the years.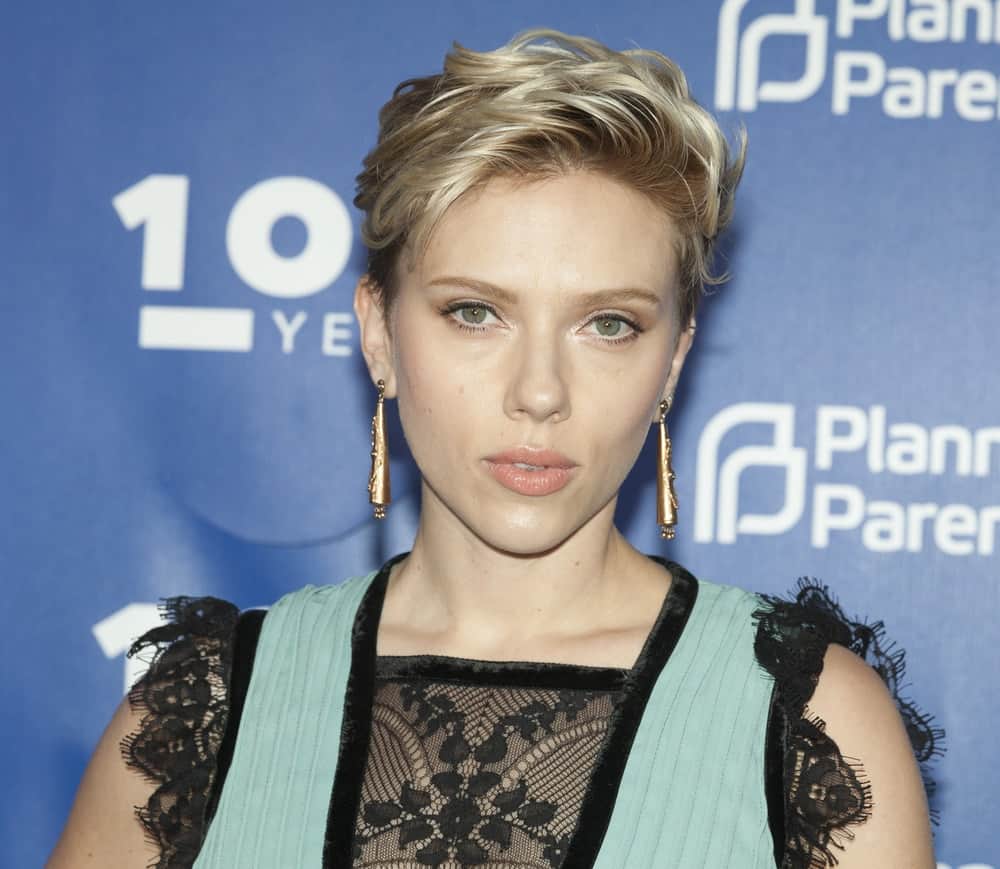 On May 2, 2017, Scarlett Johansson attended the Planned Parenthood 100th Anniversary Gala at Pier 36. She was lovely in her blue and black outfit to complement her short, undercut side-swept tousled hairstyle that looked quite stylish.
Click here for Scarlett Johansson's hairstyles over the years
Actress Kristen Bell opted for a long wavy bob cut during the NBC Universal TCA Summer Press Tour 2016 held last August 2nd in Beverly Hills, CA.
Click here for Kristen Bell's hairstyles over the years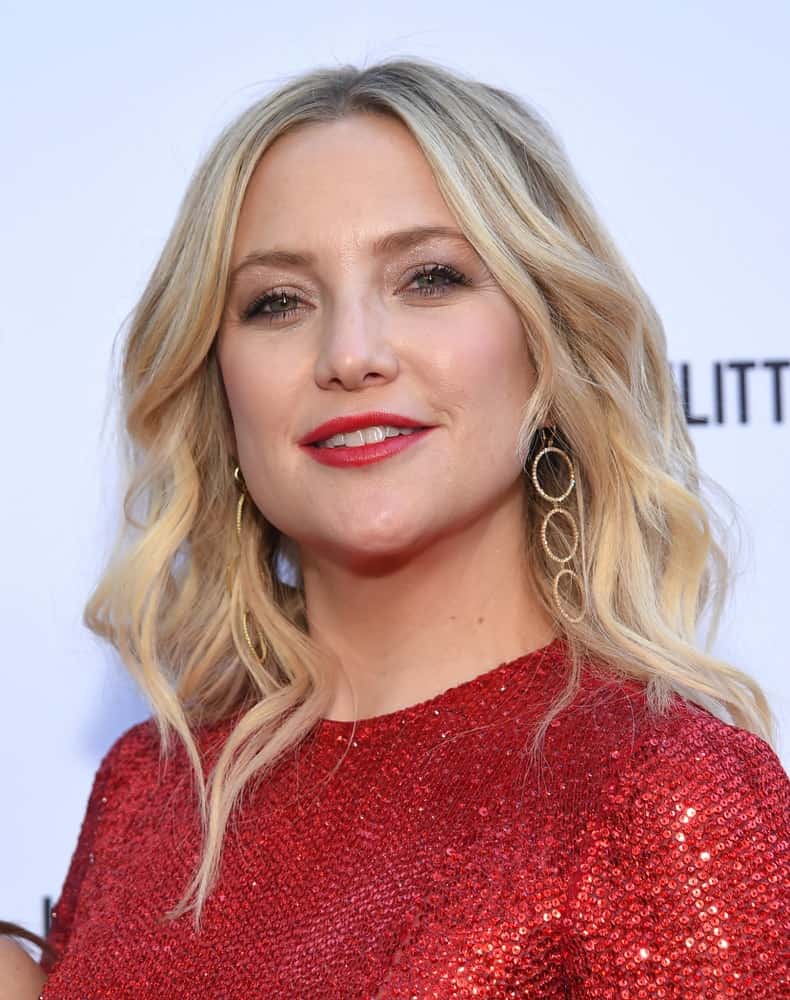 Kate Hudson attended The Daily Front Row 5th Annual Fashion LA Awards on March 17, 2019, in Beverly Hills, CA. She was wearing a charming red sequined dress that worked well with her medium-length highlighted wavy hairstyle loose on her shoulders.
Click here for Kate Hudson's hairstyles over the years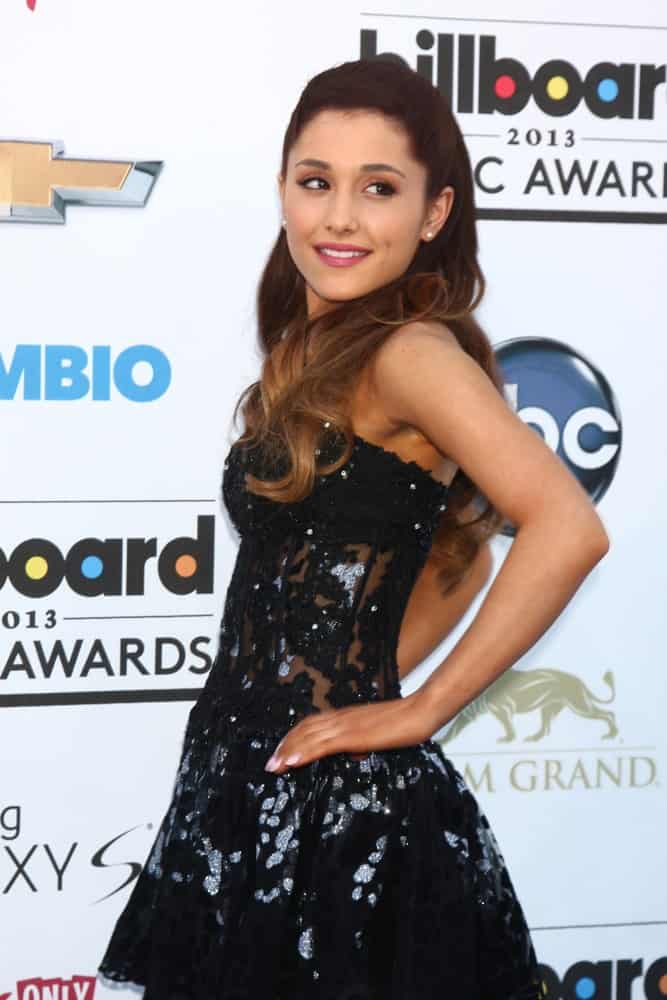 Ariana Grande looks gorgeous in a black mesh dress and a half upstyle hairstyle that she wore at the 2013 Billboard Music Awards Arrivals last May 19, 2013.
Click here for Ariana Grande's hairstyles over the years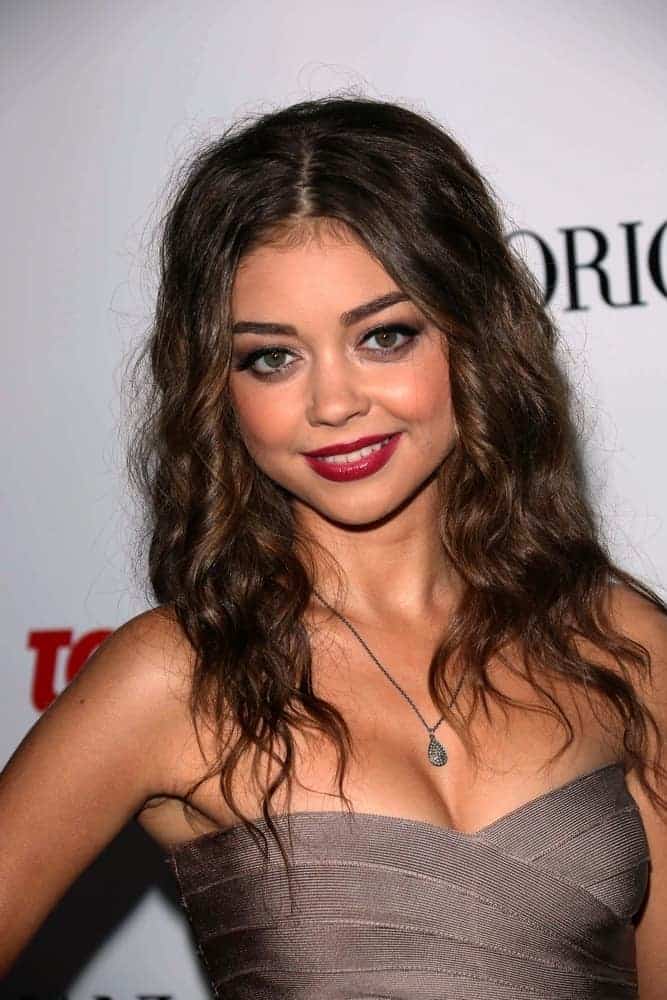 Sarah Hyland attended Teen Vogue's 10th Anniversary Annual Young Hollywood Party in Private Location on September 27, 2012, in Beverly Hills, CA. She wore a fashionable gray strapless dress and topped it off with a loose and tousled curly brunette hairstyle.
Click here for Sarah Hyland's hairstyles over the years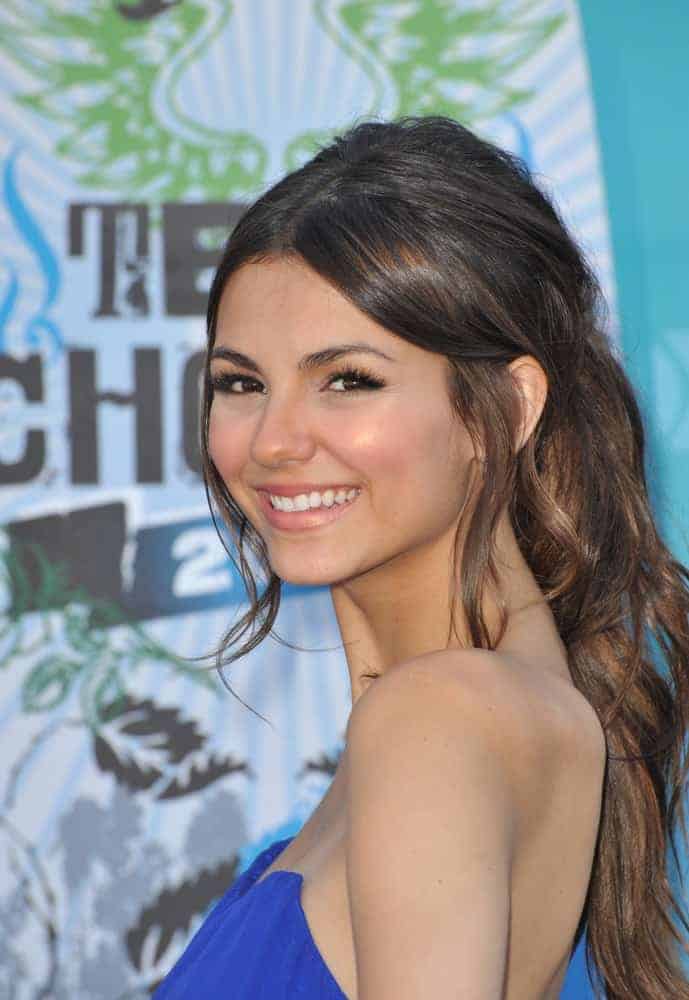 On August 8, 2010, Victoria Justice was at the 2010 Teen Choice Awards at the Gibson Amphitheatre, Universal Studios, Hollywood. She wore a blue strapless dress that she paired with her wavy and highlighted ponytail with loose tendrils.
Click here for Victoria Justice's hairstyles over the years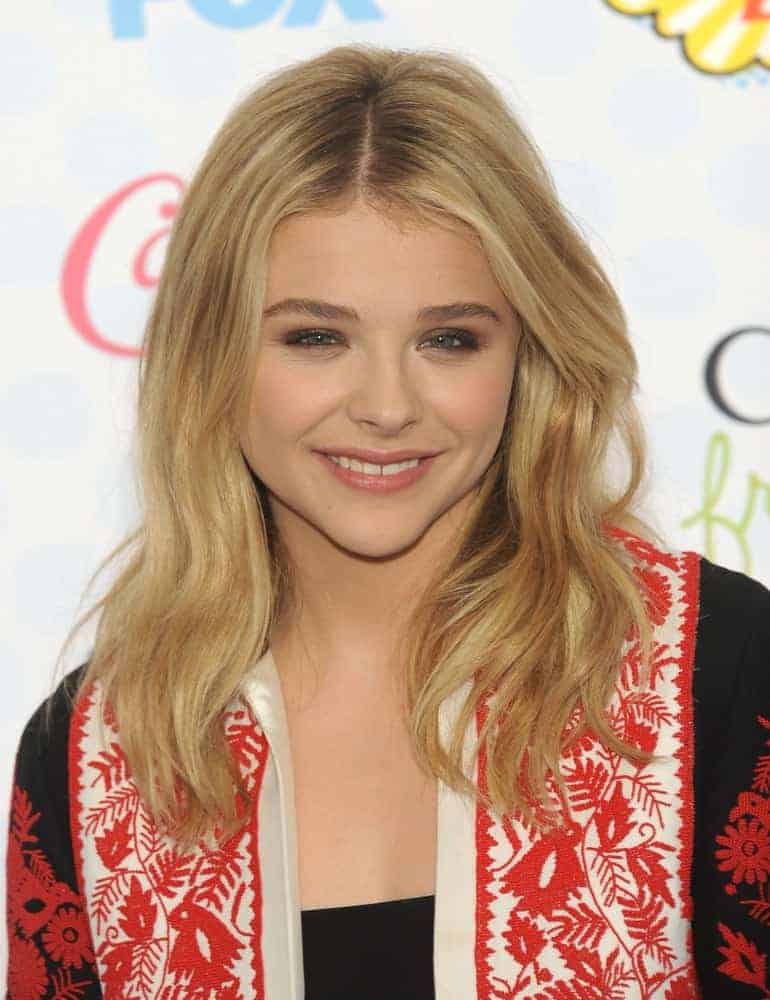 Chloe Grace Moretz attended the Teen Choice Awards 2014 on August 10, 2014, in Los Angeles, CA. She wore a colorful smart casual outfit with her shoulder-length loose and tousled sandy blonde layers.
Click here for Chloe Grace Moretz's hairstyles over the years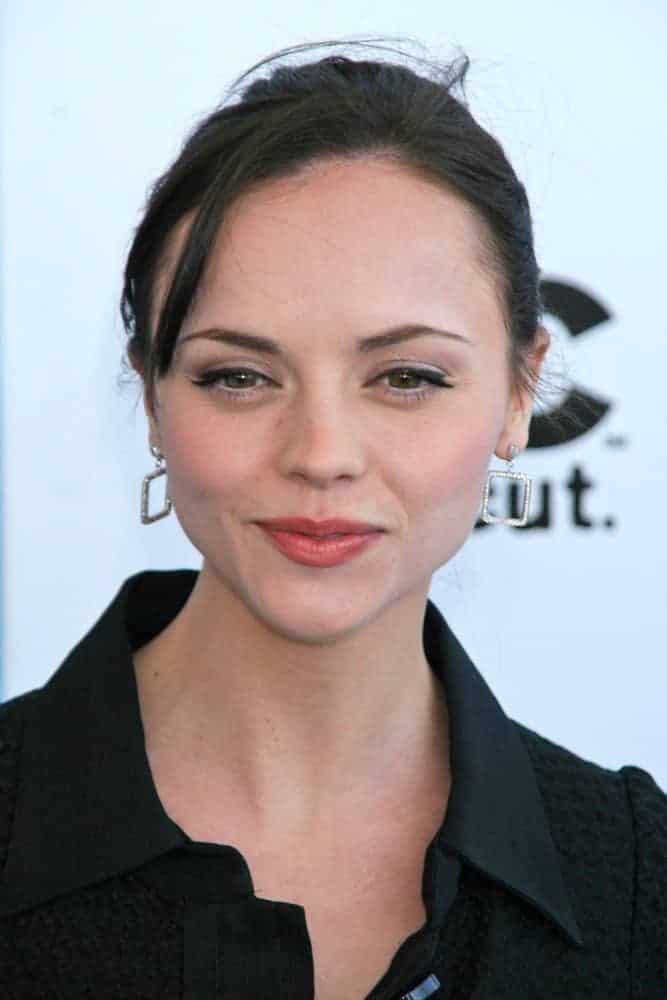 Christina Ricci was at the 2007 Film Independent's Spirit Awards in Santa Monica Pier, Santa Monica, CA on February 24, 2007. She paired her black dress with a messy raven bun hairstyle with loose tendrils and bangs.
Click here for Christina Ricci's hairstyles over the years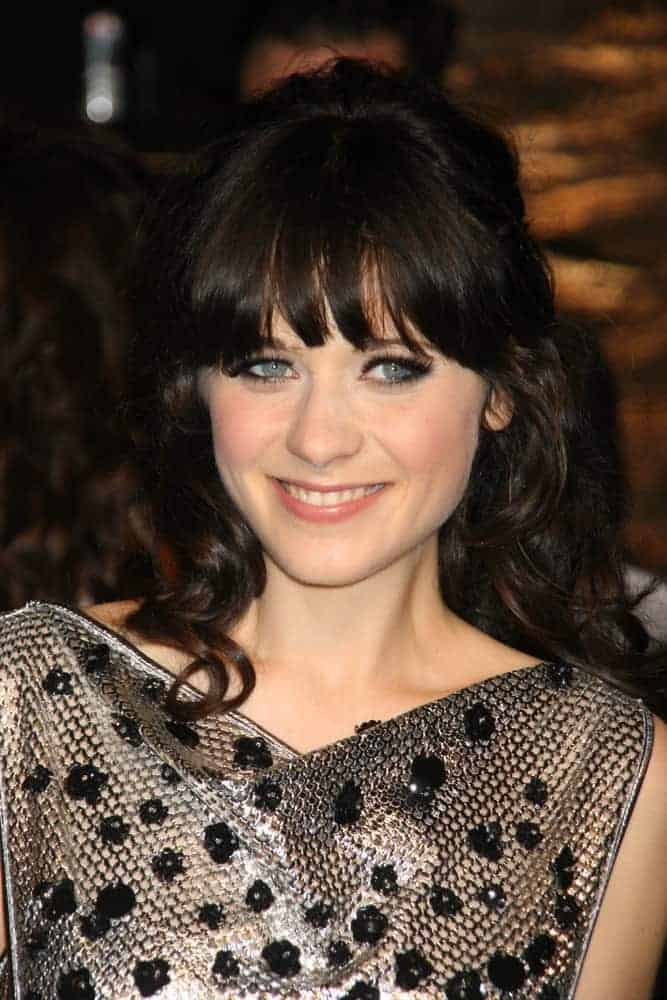 Zooey Deschanel attended the 2007 Vanity Fair Oscar Party at Morton's in West Hollywood, CA on February 25, 2007. She was seen wearing a lovely gray dress with her long and curly raven hairstyle that has bangs and a slight tousle.
Click here for Zooey Deschanel's hairstyles over the years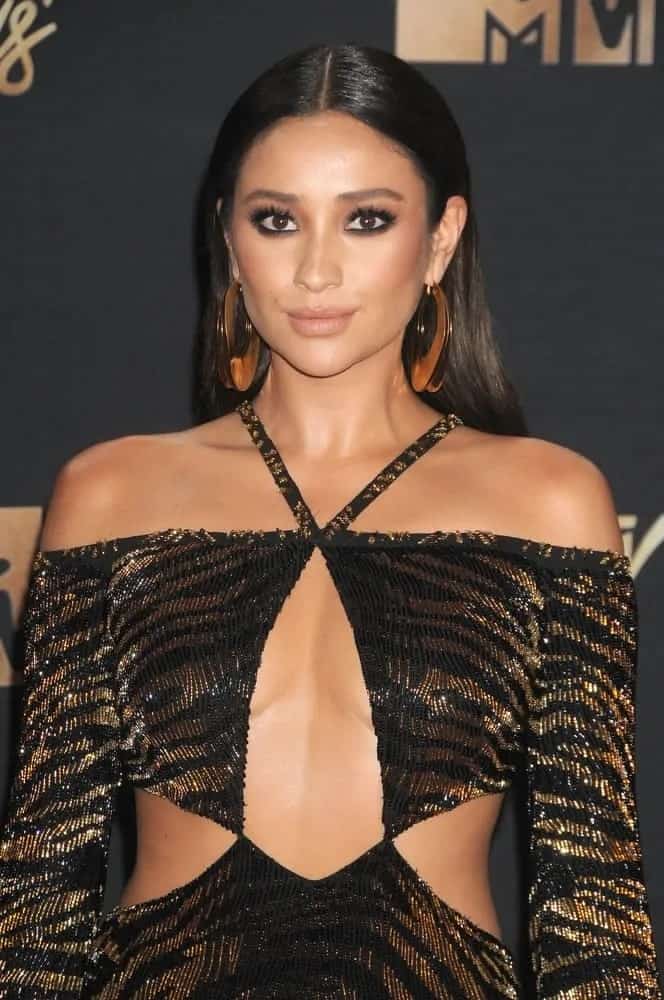 She oozes glamour in a stylish middle-part pin-straight back at the 2017 MTV Movie & TV Awards on May 07, 2017.
Click here for Shay Mitchell's hairstyles over the years
24 Types of hairstyles for women with a heart-shaped face
1. Long Layers
Try a long style with a few layers near the bottom for interest. Keep the texture smooth by using a pomade or serum to style it. If you're still falling flat, use a blow dryer and a round brush to blow the style out. Turn the round brush from the bottom while applying heat to the top.
2. Angled Bangs
Have the stylist angle your bangs so that they get progressively longer. Sweep them to the side for a bit of softness. This will give the illusion that your face carries about the same width all the way down. Angled bangs are part of lots of different styles for this particular face shape.
3. Chin-Length Textured Bob
If you're looking for something shorter, try a chin-length bob. Add texture with sea salt spray or mousse to keep the fly-aways under control. Adding this bit of wave and interest helps to focus attention on facial features.
4. Pixie with Long, Angled Front
Chop your locks into a pixie for no-nonsense style. Try keeping the front longer and angle it just as you would with a longer cut. Keeping the angle at the front will create the same kind of softness with the pixie's sass. The back of the pixie can be as long or short as you please. You might even consider shaving the back and fading it into a longer length on top.
5. Textured, Shoulder-Length Cut
Try a mid-length shoulder cut with some of the same tricks to add volume. Keeping more length will allow for more softness around the face, and the potential for a variety of different hair accessories like clips and pins.
6. Long, Side-Swept Style
If you prefer more length, keep your hair as long as you please while adding the angled bang. You might also throw in a few long layers for volume. When you flip your hair, it will have a cascading effect. Try sweeping your bangs to the side with a french braid if you need your hair out of your way for work, school, or exercise. Often, the braid will appear softer than a ponytail or bun.
7. Blunt Fringe
Try cutting bangs all to the same length just above the eyebrows for some blunt fringe. You might pair this with some length through the rest of the cut. You can play with the length of the fringe for variations on the same look.
8. Long Bob with Fringe
A long bob with fringe in a blunt or pieced style adds interest to the eyes. The classic shape of the cut sets the tone for the look. Play with the location of your part to mix things up.
9. Smooth Waves
Use a wand or curler to add some waves to the bottom of your style. Start at the beginning of the second main layer to create a transitional effect. Make sure to condition your hair in between heat treatments for protection from breakage.
10. Textured Pixie
Add some pizzazz to your short cut by adding curls, waves, scrunching, or whatever your inner texture-queen dictates for the day. You might take advantage of added texture particularly during times of added humidity.
11. Classic Pixie
Try a short, classic pixie shape with fringe across the forehead and a tapered shape at the back. This look works regardless of hair type or texture.
12. Middle Part Bob
Try a neck-length bob with a defined middle part for a classic silhouette.
13. Inverted Bob
Stack the back of your bob and keep it shorter than the front to create some volume and angles. You might even sweep the front of the bob away from your face by pinning it or tucking it behind the ears.
14. Curled Bob
Curl your bob to add some softness around the eyes and face. The size of curls typically coincides with hair length. Try some mid-size curls with a bob.
15. Shoulder Length Shag Cut
Create shorter layers near the top of the cut that transition to longer layers near the bottom. Pair the shoulder length shag with some bangs for all-over texture.
16. Long, Straight Layers
Keep your layers sleek and long without much texture for a smoother look.
17. Blunt, Smooth Bob
You might try the same effect with a bob by keeping the entire cut the same length and smoothing out any leftover texture.
18. Complete Color
Pick a fun hue like blue and go for a complete color look. Consult a professional to select exactly the right shade for your complexion. Lots of different options are available to suit your unique taste. Some types of dye even wash out over time so that you can try lots of different looks.
19. Ombre Style
Try an ombre look with lighter hues at the bottom while you're waiting for roots to grow out or playing with new shades. Consult a professional to pick exactly the right style and hues for your undertones.
20. Below-the-Jaw Bob
Try leaving your bob slightly longer to add volume to the bottom of the face and to balance out the top.
21. Slicked Side Bang
Slick your bangs to the side of your face for a definitive, angular look.
22. Darken It Up
Try darkening your hair shade rather than lightening it for the fall and winter seasons. Play with different hues to bring out your facial features.
23. Control the Texture
Use pomade or serum with lots of different styles or play with leave-in conditioner after a shower to lock in moisture and keep styles sleek.
24. Shades of Red
Try an auburn or honey-colored look to add a little warmth for fall.