Longing for that smooth, silky and shiny hair? We give you the best shampoo options for that gorgeously glossy hair. Hair without the proper moisture appears to become dull and lifeless. Bring back your hair's natural radiance with these top shampoos.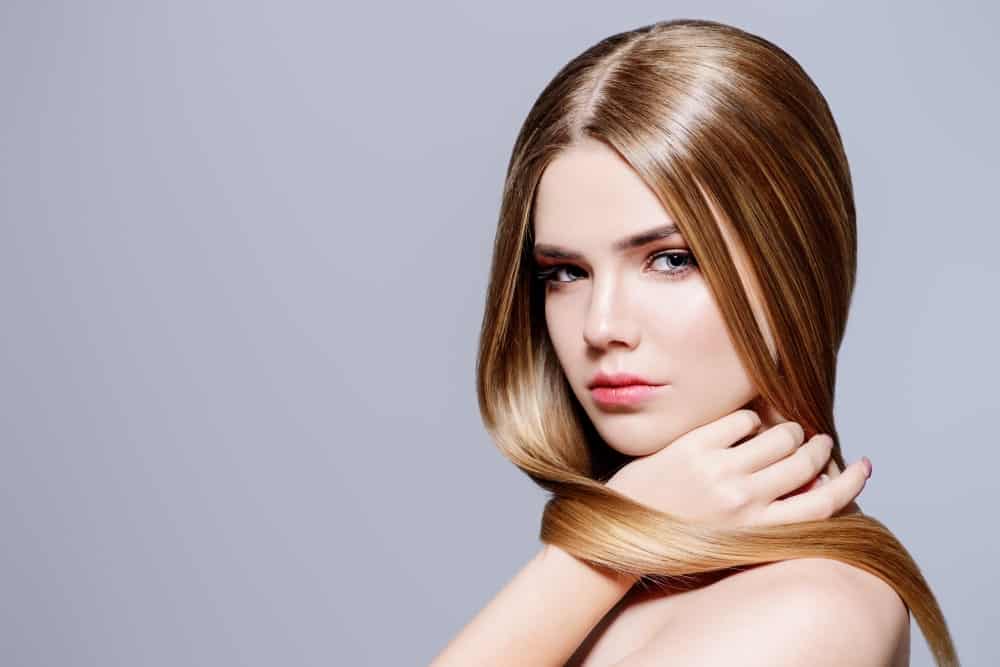 Every woman wants to know the secret to shiny, smooth hair. Many women follow Marcia Brady's example of brushing their hair with 100 strokes to make it shiny and lustrous. However, experts now recommend brushing your hair less to keep breakage and split ends to the minimum.
Shiny hair comes from your hair's overall health and products like shampoos play a good part in nourishing, conditioning, and protecting your hair. But before we move on to some of the best shampoos in the market that guarantee shiny hair, there is one thing we need to consider – the ingredients in our shampoo.
A lot of shampoos come with questionable additives like sulfate compounds, SLS and SLES, triclosan parabens, and silicones. Even salon quality shampoos may contain some of these ingredients. However, it is important to understand that not all of these ingredients are necessarily bad for your hair type.
For example, shampoos with sulfates can dry out already dry, damaged, tightly curly or color-treated hair. But for individuals with oily hair, small amounts of sulfate compounds may actually do a better job of thoroughly cleansing their hair. As for ingredients like silicone, they may be found in some shampoos to smooth flyaway hair and allow easy combing. Generally, light-weight silicone does not typically leave any residue and evaporates away but if it still concerns you, you can treat your hair with periodic clarifying treatment.
However, if you are still very concerned about these ingredients, you can look for shampoos with 100% natural ingredients. Unfortunately, you may find these shampoos may not perform as well and leave your hair tangled and frizzy.
Here we have gathered a list of shampoos that result in the healthy scalp which can give you shiny and glossy hair.
Herbal Essences Shine Collection Shampoo
Herbal Essences Shine Collection Shampoo leaves your hair healthy, bouncy, and shiny. The luxurious shampoo is a blend of aloe vera, chamomile, and passion flower extracts with zero percent silicone. The shampoo gently cleanses your hair and returns it to its natural, shiny appearance. The smell of this shampoo is also heavenly.
This shampoo is a heaven-sent for people with dry, dull, and damaged hair as it turns their locks soft, smooth, and frizz-free. The shampoo retains the natural oil in your hair, which makes your hair look shiny. It also helps minimize breakage and allow hair to grow longer and stronger.
Olaplex No. 4 Bond Maintenance Shampoo
With a bottle that looks like it has come straight from a high-tech, sterile laboratory, it is no wonder Olaplex No. 4 Bond Maintenance Shampoo gives you miraculous results. The shampoo has a creamy, reparative formula that makes your hair shiny and soft. The shampoo is highly moisturizing and protects hair from everyday stresses like frizz, split ends, and damage, resulting in less hair breakage and more strengthened hair bonds. It is also good for color-treated hair.
The shampoo also contains no sulfates, parabens or phthalates that can dry out normal to dry hair. The Olaplex No.4 Bond Maintenance Shampoo is good for straight, wavy, curly, coiled, and tightly coiled hair. What's great about it is that you only have to take a small amount and a little goes a long way.
OGX Thick & Full Biotin & Collagen Shampoo
A lot of women, especially those with straight and fine hair, suffer from lack of volume that makes their hair look limp. With OGX Thick & Full Biotin & Collagen Shampoo, you can now have thick and shiny hair.
Formulated with Provitamin B7 and collagen, this amazing shampoo plumps up the hair follicles of limp hair, adding thickness, volume, dimension, and health to your hair. With the help of hydrolyzed wheat proteins, the OGX shampoo strengthens and smoothes out your hair, making it sleek and shiny.
This shampoo is cruelty-free, which means it does not contain any animal-based ingredients and was not tested on animals. It also contains a sulfate-free formula.
Oribe Shampoo for Brilliance & Shine
Oribe Shampoo for Brilliance & Shine comes in a royal midnight blue bottle and just looking at it gives you a feeling of luxury and elegance. However, apart from the gorgeous packaging, the shampoo inside it contains body-building polymers which offer thickness and uplifting volume. The rich botanical extracts leave your hair looking full, soft, shiny, and healthy.
The foaming shampoo contains liquid silk and sweet almond proteins, which nourish dull hair and give it a shimmer. They also help retain your scalp's natural oils and maximize moisture retention.
This light-weight luxurious formula is crafted without using sodium chloride or parabens. It offers further protection against ultraviolet radiation and is keratin and color-treatment safe.
Fekkai Brilliant Glossing Shampoo
Fekkai Brilliant Glossing Shampoo promises to create a decadent spa-like experience for your hair. With its luxuriant lather and fresh floral garden scent, the Glossing shampoo turns dry and dull hair super shiny and soft.
Its translucent formula is infused with sun-ripened olive oil with Omega-3 complex, which reduces hair loss and increases the hair density. For best results, gently massage your scalp to get the blood flowing and to rejuvenate and nurture your hair follicles.
This shampoo is used in the iconic Frederic Fekkai salons and is used by celebrities for brilliant, lustrous, and radiant hair.
R+CO Television Perfect Hair Shampoo
The name of the shampoo itself gives its benefits away. The R+CO Television Perfect Hair Shampoo is the perfect cleansing and volumizing agent if you want to mimic the hair of TV celebrities.
Its key ingredients include juniper berries, which maintain a healthy pH balance in your scalp and add moisture and lift to your hair. It also soaks up greasy impurities and residue from your scalp and hair and detoxifies your follicles. The glycerin in the formula helps retain moisture in your locks and the babassu seed oil has restorative properties that deep conditions your scalp and hair.
This shampoo gives you camera-ready hair with the perfect volume, natural-looking shine, and softness. This shampoo is cruelty-free and does not contain potentially damaging ingredients like sulfates an parabens.
It's A 10 – Miracle Shampoo Plus Keratin
It's A 10 Hair Care Miracle Shampoo now comes with combined keratin protein. This truly miraculous shampoo delivers the intense protection and conditioning that comes from ingredients like keratin, panthenol, sunflower seed extracts, linseed oil, and Chinese tea leaf extract.
With It's A 10 Hair Care Miracle Shampoo, you can create a spa experience right at home. The panthenol is a very effective hair strengthener and the Chinese tea leaf extract offers essential nutrients and antioxidants to ensure hair health. The linseed oil is a complex and deep-conditioning moisturizing agent and the sunflower seed extract works as natural protection against the harmful UV rays.
With their combined powers, this shampoo prevents breakage, treats heat-damaged hair and creates volume and shine in your hair.
Kerastase Discipline Bain Fluidealiste Shampoo
Kerastase Discipline Bain Fluidealiste Shampoo not only gently washes away grimy impurities, but it is also specially designed to be color-safe. It protects treated hair from frizziness and humidity for up to 3 whole days. The pro-keratin formula inside the shampoo restores hair bonds and hair strength.
Rich with a wheat protein, amino acids, and ceramide R, the Fluidealiste Shampoo makes your hair strong, sleek, and shiny by creating an even surface on your hair and a hydrophobic layer, which repels humidity. The optimal nourishment does not weigh down hair but keeps it soft and bouncy.
It is also great for heat-damaged hair.
Living Proof No Frizz Shampoo
One of the biggest enemies of smooth and shiny hair is frizz. With Living Proof No Frizz Shampoo, you can keep your hair frizz-free, smooth, and shiny.
Living Proof No Frizz Shampoo is infused with a patented Healthy Hair Molecule (OFPMA), instead of silicone. It helps prevent the buildup of dirt and oil and keeps your hair cleaner for long. It also blocks humidity and smoothes out hair. As a result, hair static and frizz is minimized without compromising the healthy natural curls.
The formula does not contain sulfates SLS and SLES, parabens or silicones and is cruelty-free. It also has a fresh, citrus and fruit fragrance.
Biolage Ultra Hydrasource Shampoo
Dry hair causes frizz, damage, and lack of shine. Biolage Ultra Hydrasource Shampoo contains the benefits of aloe vera, which quenches the thirst of your hair follicles, locks in moisture and gives you soft, smooth, and shiny hair. After just one application, hair is 15X more moisturized than before.
Customers report that their hair feels silkier and stronger after using Biolage Ultra Hydrasource Shampoo and there is an observable reduction in frizzy hair, split ends, brittle hair, and dryness.
We know it can be quite a chore to find a shampoo that gives you all the benefits that result in soft and shiny hair. However, with the above products, you cannot go wrong and women with all hair types will find at least one shampoo that is perfect for their hair.