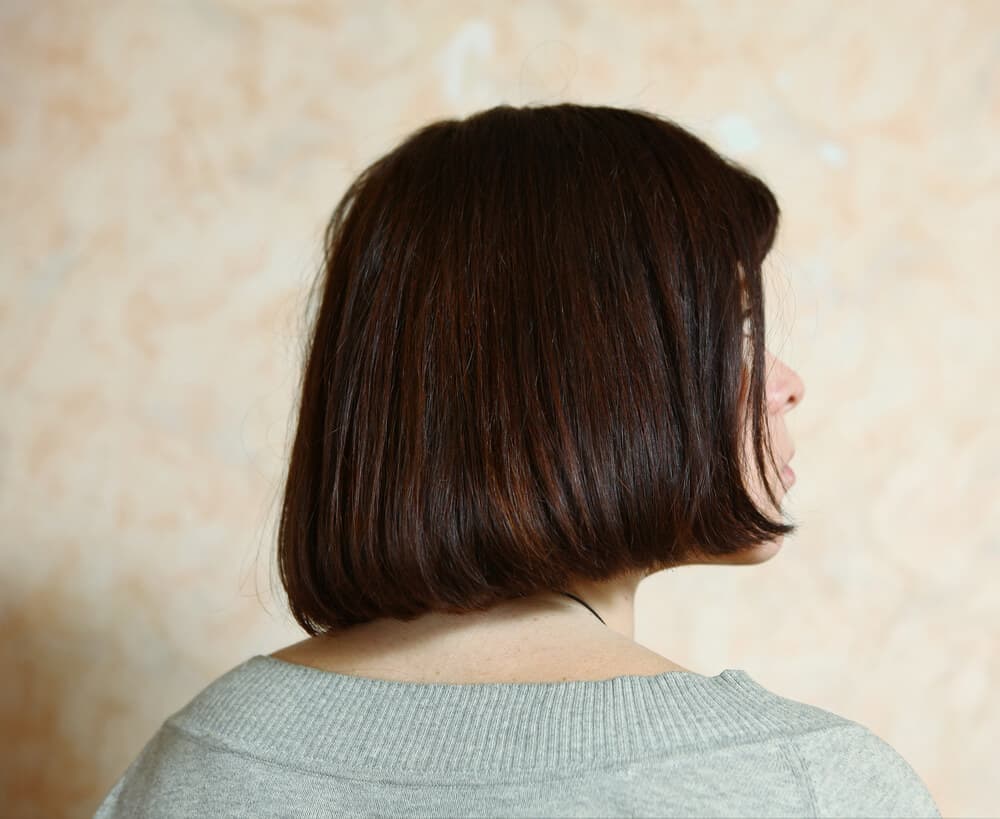 Thick hair can be great.  Really thick hair can be a type that causes frustrations.  Really thick hair can have a mind of its own offering little opportunity to get it styles the way you want.
While thick hair can be great for long hair, it can also be great for a short cut.  In fact, a short cut can help make managing unruly thick hair easier.
Below we set out our gallery showcasing stylish hairstyles for women with thick hair.
Short hair never really goes out of style and it is probably one of the many versatile kinds of hairstyles. You can get a sleek angled bob, a funky pixie-cut or perhaps, turn it into a chic lob. Whatever you do with your thick, short hair, chances are that it will probably always end up looking spectacular and iconic.
Below is a list of some of the most unique, stylish and funky short hairstyles that will truly take your entire look to a whole other level.
Photos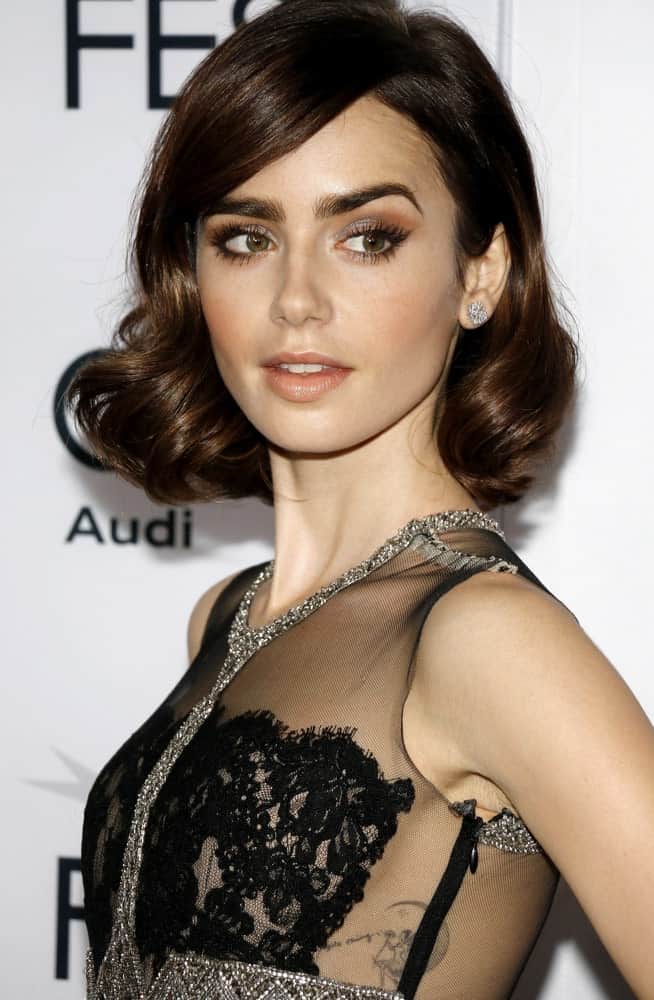 This stunning and petite actress not just created a buzz in the entertainment industry but gave us some major hair goals, too. Lily Collins looks spectacular in this short bob with a subtle side parting locks of hair at the bottom that have been styled into soft wavy-curls.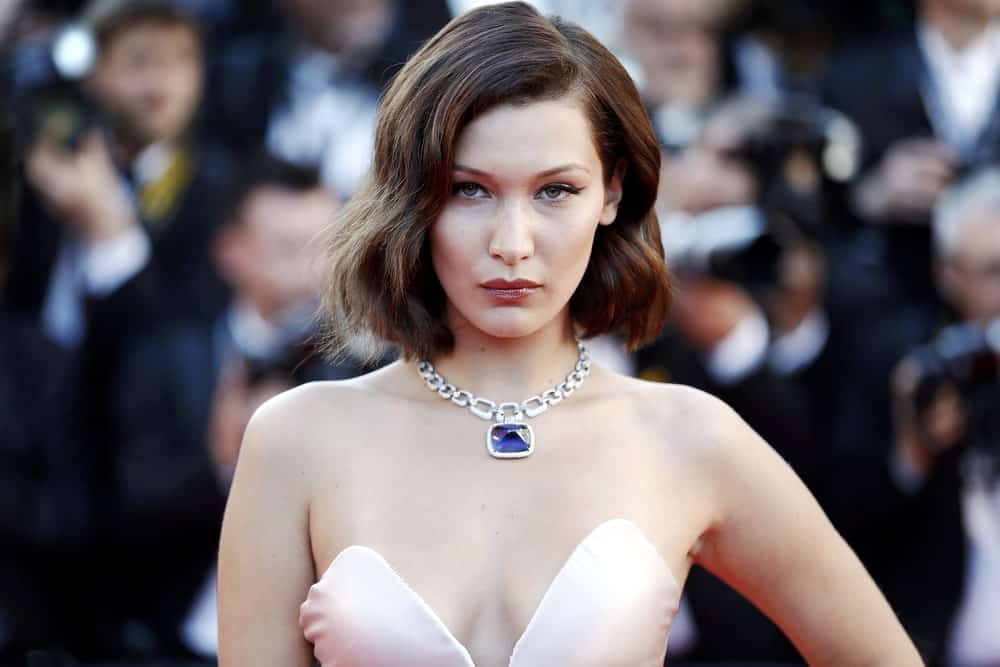 This is the beautiful Bella Hadid absolutely rocking her short hair that has been cut into a short angled bob. Although simple, there is a very obvious wave going on in the middle of the hair that gives it a little dent. If anything, it takes the look to a whole new level, making it super chic and unique.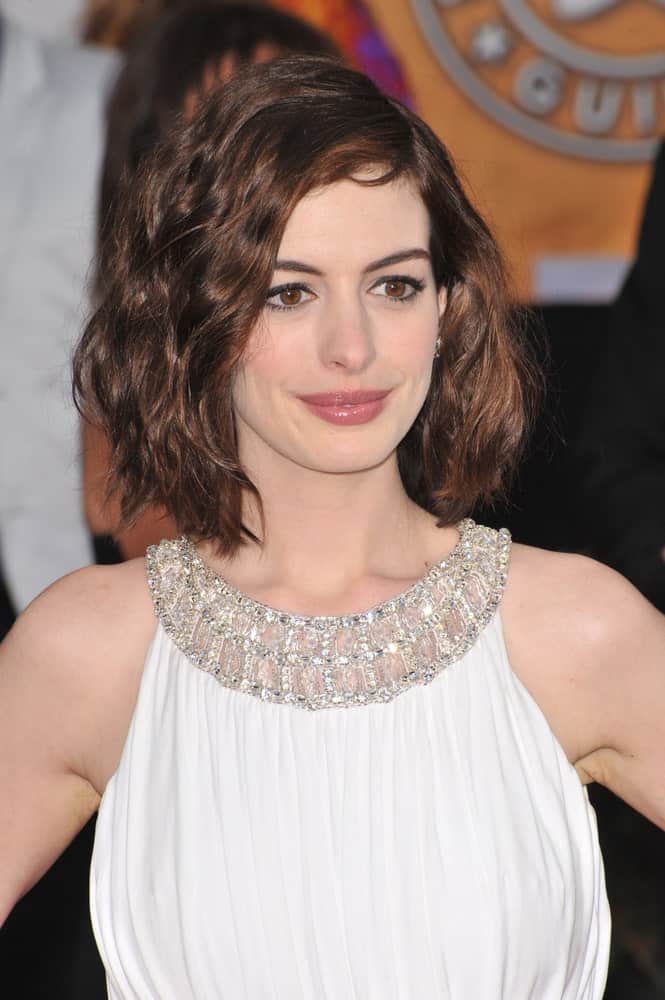 Anne Hathaway looks like the epitome of beauty and grace is this hair style. This is a slightly longer bob with a side parting and hair that has been transformed into slightly messed, ruffled waves-like curls that anyone can pull off effortlessly.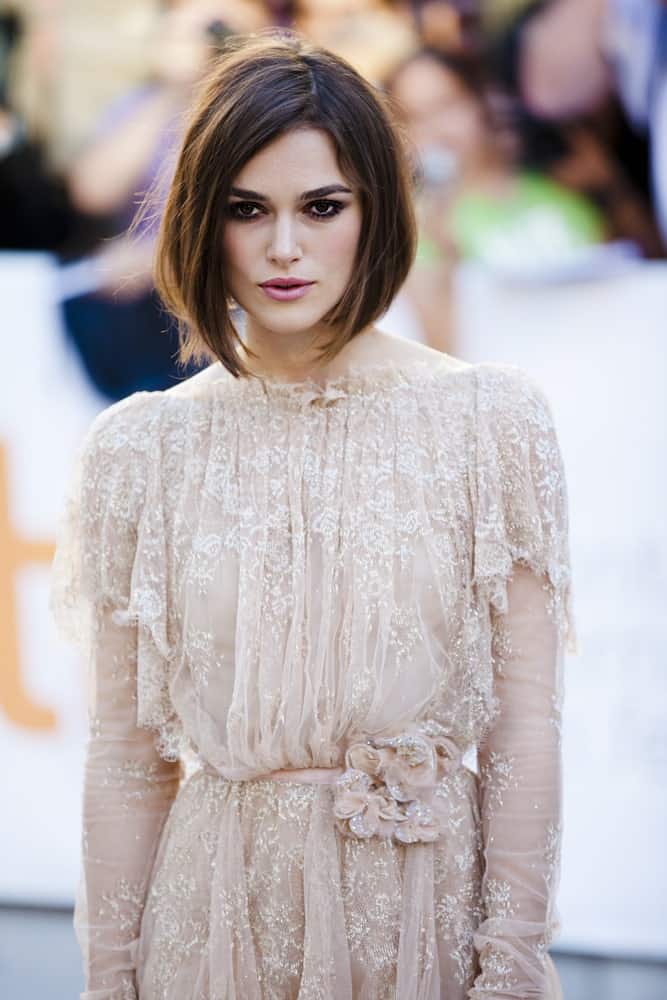 After the movie Pride and Prejudice, Keira Knightley had left quite a mark on her fans' hearts with that perfectly sleek, chiseled jaw-line and gorgeous hair. She looks even beautiful in this simple yet stunning shirt hairstyle that is again a short bob but with super straight and pointed ends. The hair has been parted slightly to the left that gives it some volume and an elevated look.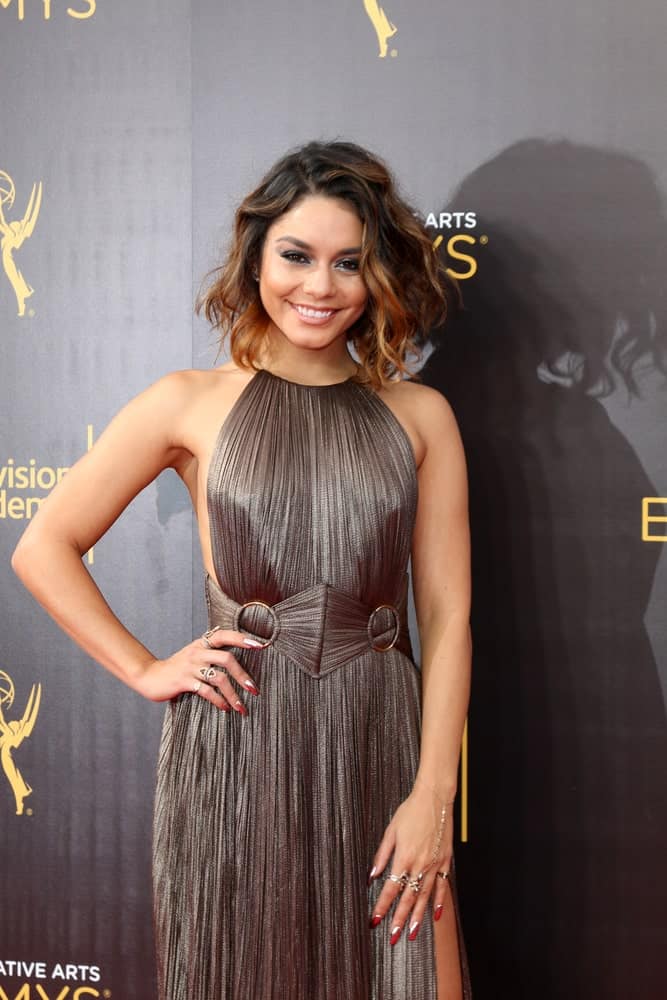 Vanessa Hudgens, the High School Musical's favorite star looks dazzling in this dress and the chic hairstyle that simply accentuates the overall look. This is another short bob hairstyle that is yet so distinct from the rest. The hair has been parted in the side and the short locks have been styled in a mixture of waves and loose curls that give the hair a lot of volume and dimension.
Click here for Vanessa Hudgens' hairstyles over the years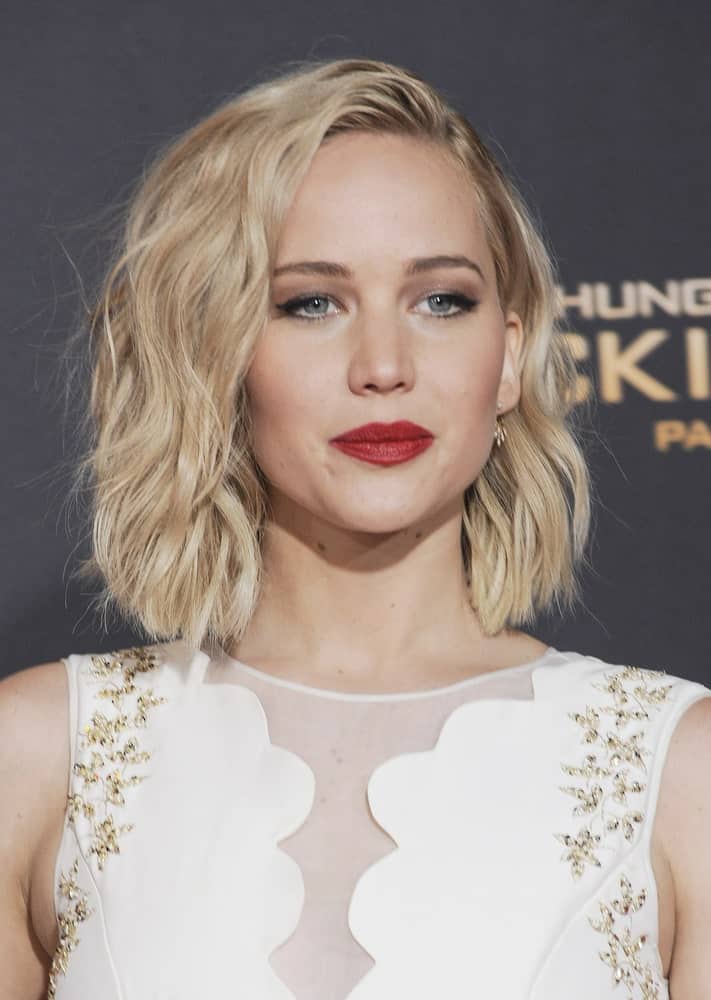 The Hunger Games star Jennifer Lawrence never fails to give us some wonderful hairstyle ideas and here she does it again with side-parted short hair that has been styled into ruffled waves. These waves make the hair look super voluminous, and also give it some extra texture.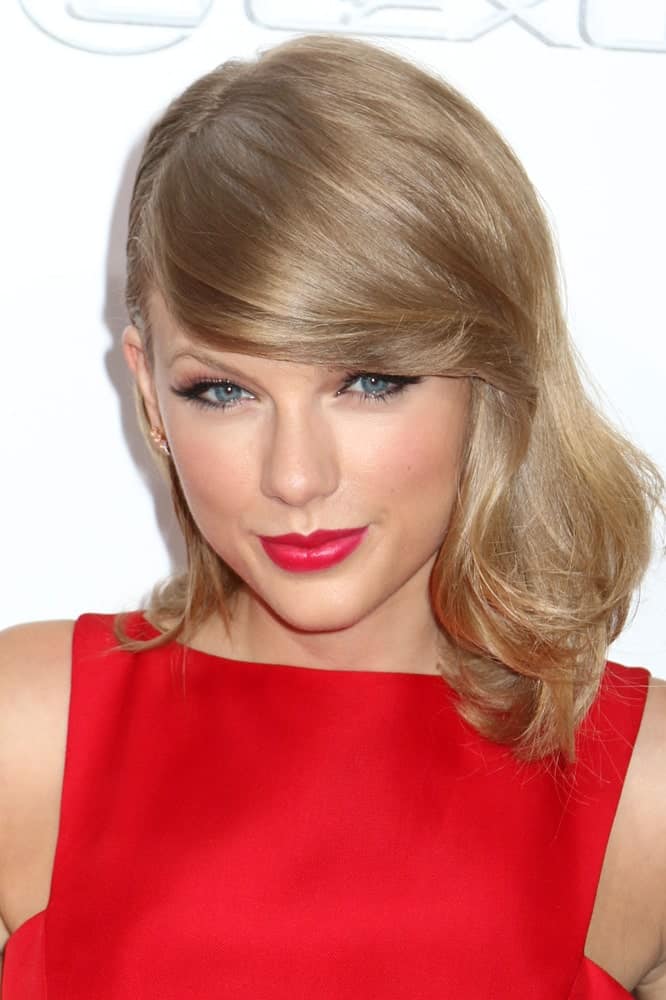 With her mesmerizing voice and striking blonde hair, Taylor Swift has always left people in awe and love. She looks like a true diva in this blood-red dress and a killer hairstyle. All the hair has been beautifully piled towards one side, covering most of the forehead. The ends have slight waves going on that make the hair look extra voluminous and uplifted.
Click here for Taylor Swift's hairstyles over the years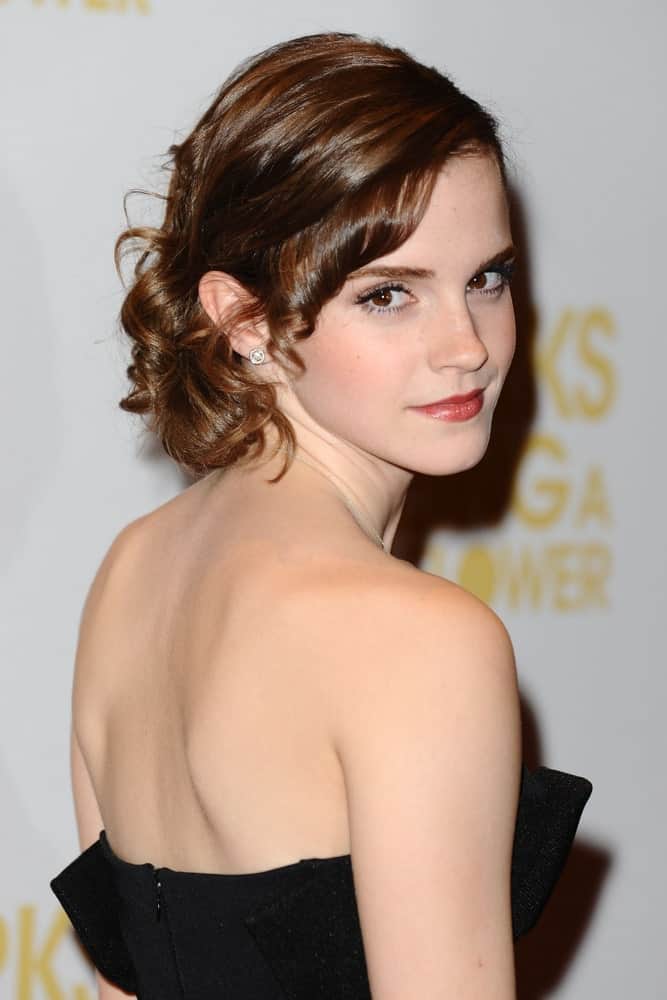 Perhaps, take a leaf out of Emma Watson's hair book and give your short hair a whole new look. This is a simple and elegant hairstyle that has been styled into soft curls, all of which have been piled towards the back of the head. The front has a single lock of hair that has been twisted which gives the hairstyle quite a distinctive look.
Click here for Emma Watson's hairstyles over the years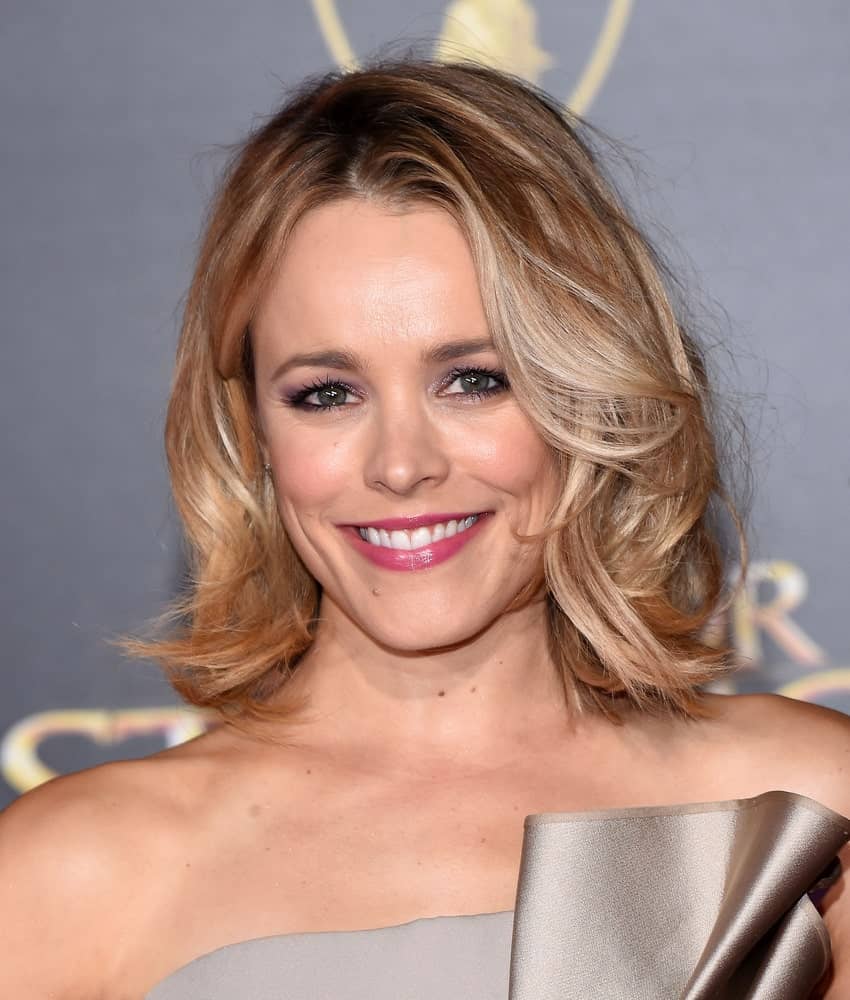 Rachel McAdams manages to pull off a super simple looking hairstyle in the most stunning and stylish manner. This is yet another shoulder-length bob with layers of slightly wavy hair falling on top of each other. Although quite similar to a few other bob hairstyles, this one still stands out and looks really pretty.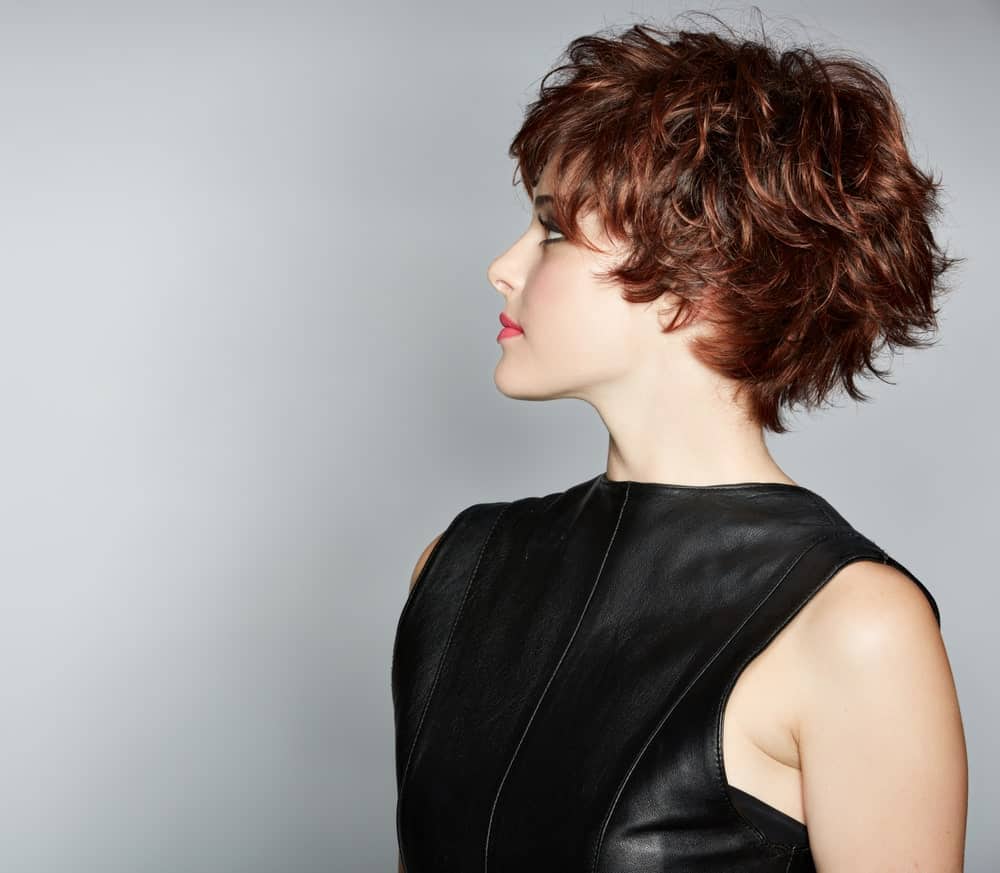 This is a classic, ruffled and messy-looking short hairstyle that looks absolutely chic and funky. Although this one of those hairstyles that are slightly harder to pull off, it is just gorgeous. This hairstyle has layers of short hair that resemble a pixie-cut and the layers seem to have been styled randomly so they graciously fall on top of one another.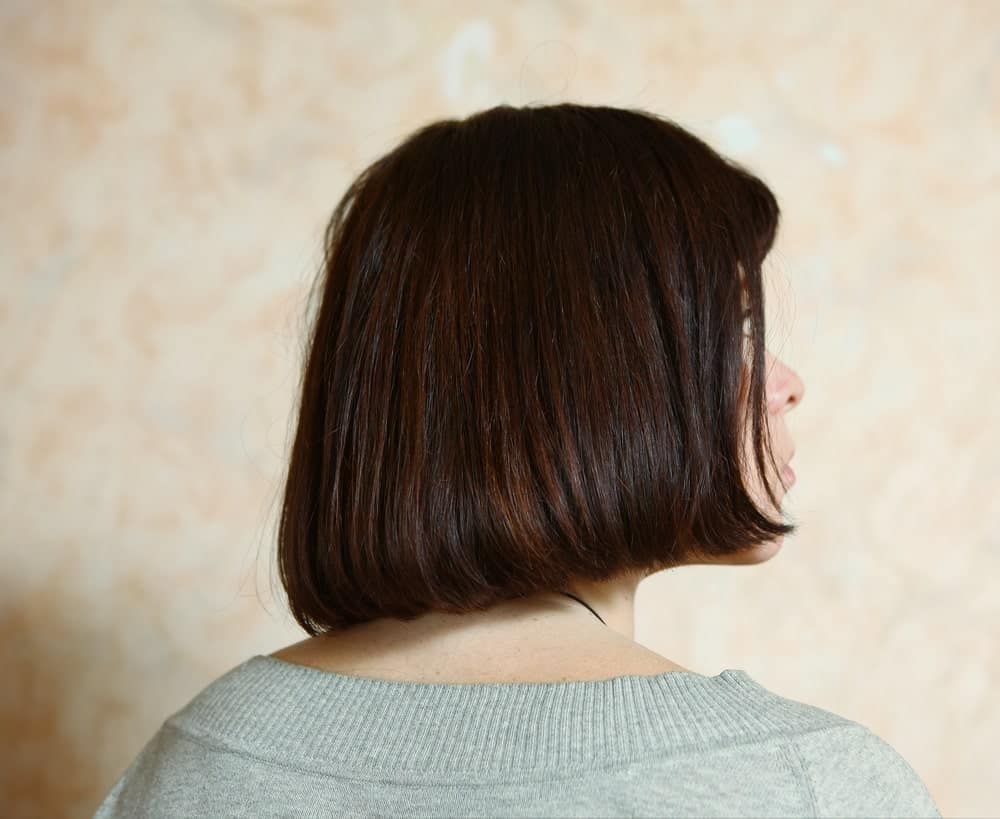 If you are one of those who like to keep their hair game simple yet stylish, this hairstyle might just work for you. It is a slightly angular bob with super straight and sleek hair that fall on the nape of the neck.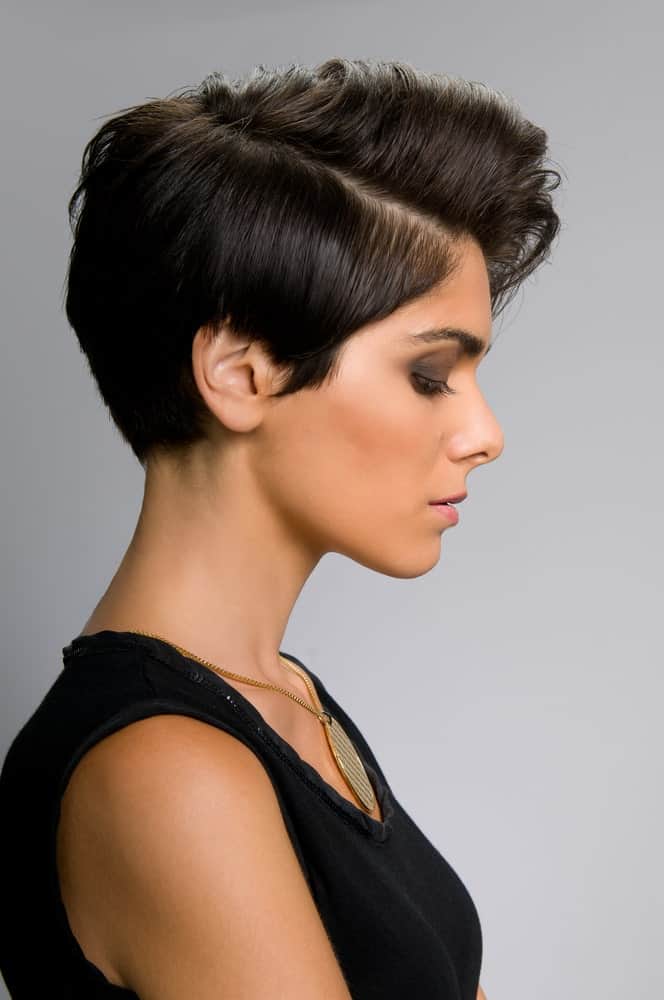 Not everyone fancies going big and bold with their hair but if you are a risk-taker, this hairstyle is for you. It is another classic pixie-inspired cut with a neat side parting. The hair from the top has been poofed a little to give it more volume and texture and the hair at the back has been set in a gelled-back manner to give it a clean, sharp look.
This has to be one of the most breathtaking short hairstyles for thick hair. The hair from the front has been straightened a little with a side parting. The back, however, is where the actual hair game begins. All the hair at the back has been curled into soft and gorgeous curls that elegantly fall on the neck and simply lay on top of one another effortlessly.
This is yet another short bob but it is still quite unique and modish. It is a simple-looking bob but the hair at the end has been slightly curled inwards to give the hair added texture and dimension.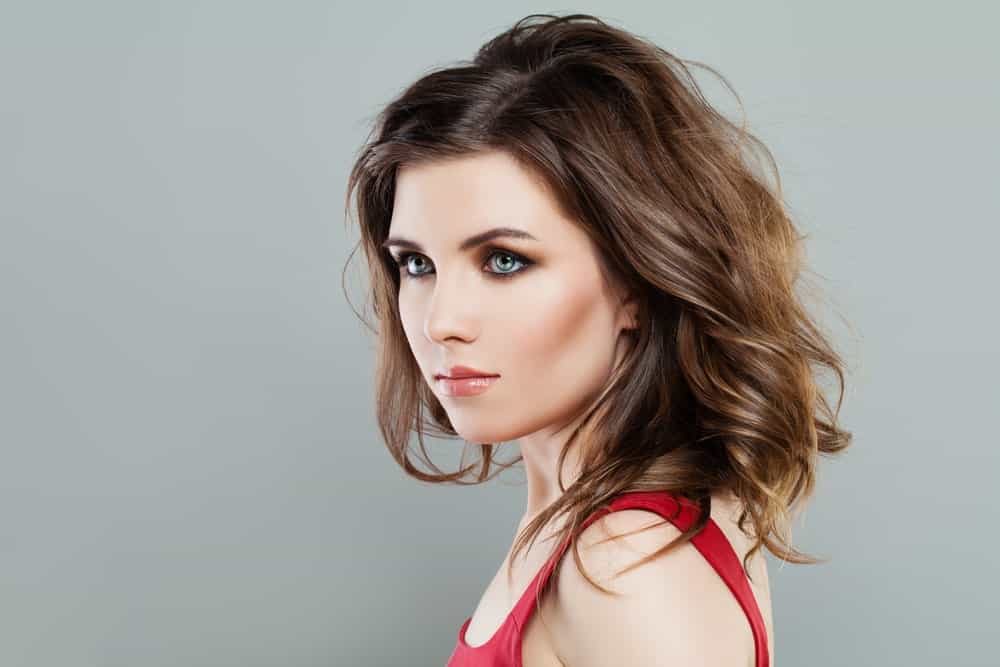 This is a super voluminous long bob that is little towards the messy and ruffled side. There is a slight parting followed by tousled hair that elongates into soft wavy curls.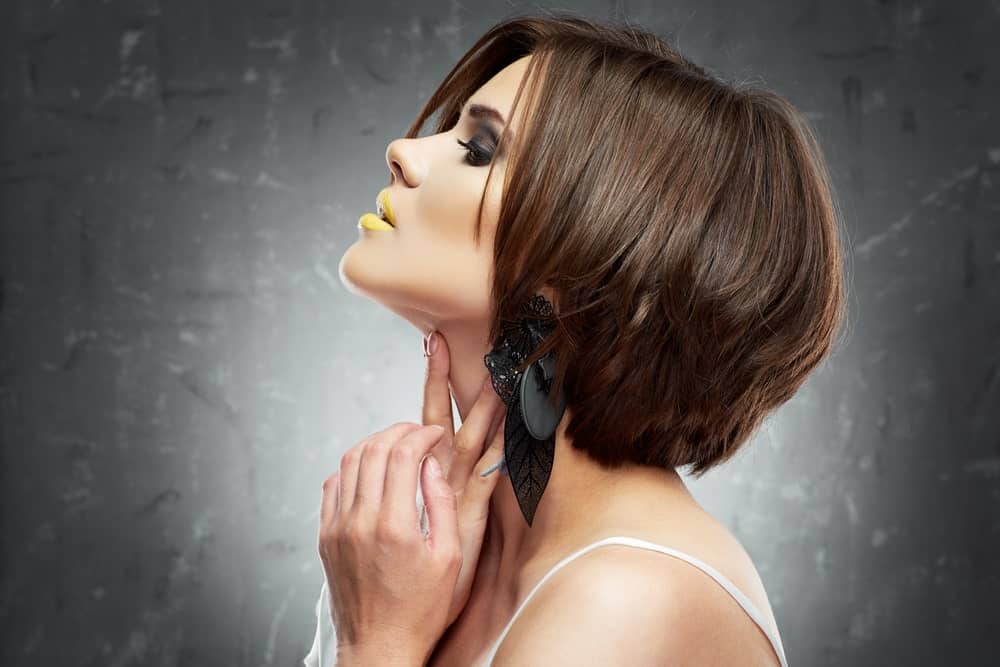 Thick and short hair has never looked as amazing as this. This is an absolutely terrific-looking hairstyle which seems to be a hybrid version of a bob and a pixie-cut. It has numerous layers of sleek, straight hair falling on top of one another and ending towards the bottom of the neck.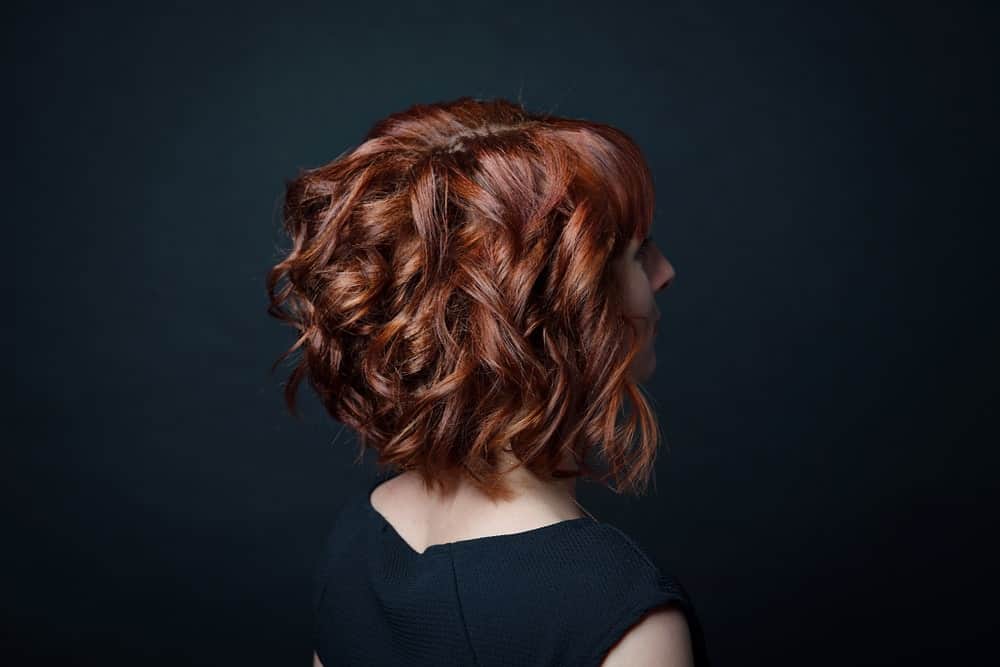 Those who love a little drama going on with their hair will absolutely love this hairstyle. This is full of short and voluminous layers of hair going all around that have been curled and twisted all over. While the front has slightly longer layers falling on either side, the back has shorter and bouncier curly layers resting on top of each other gracefully. This has to be one of the most beautiful voluminous and textured hairstyles of all time!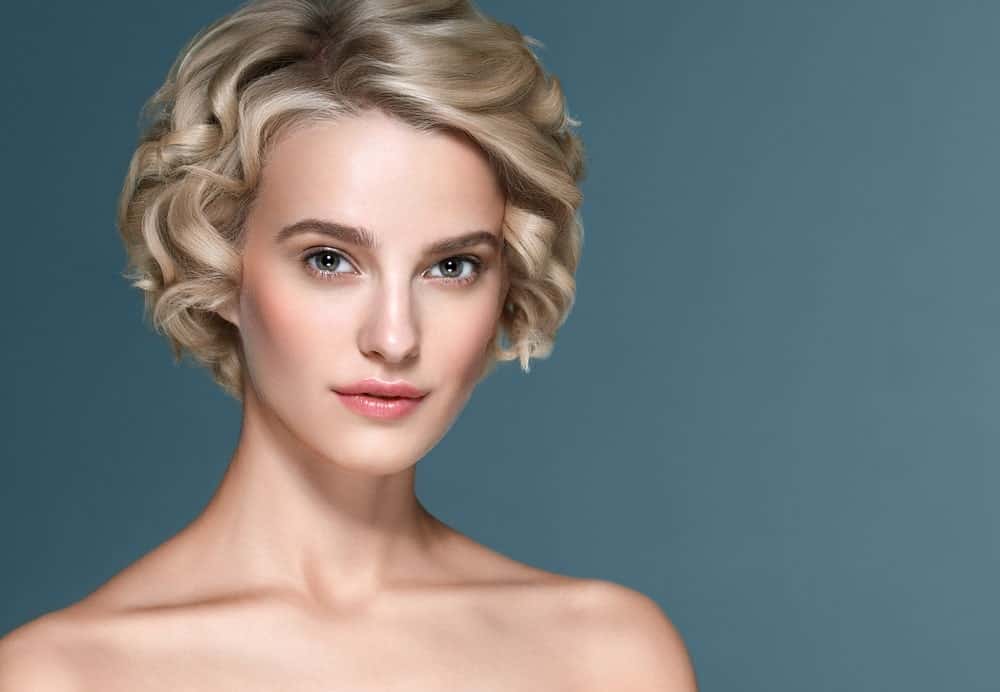 Another classic short hairstyle, this is an uber-short pixie-like bob with small tight curls going all over the head. While it does look like it has come right of the ancient era, it still looks super chic and modern.
Have you picked your favorite short hairstyle yet?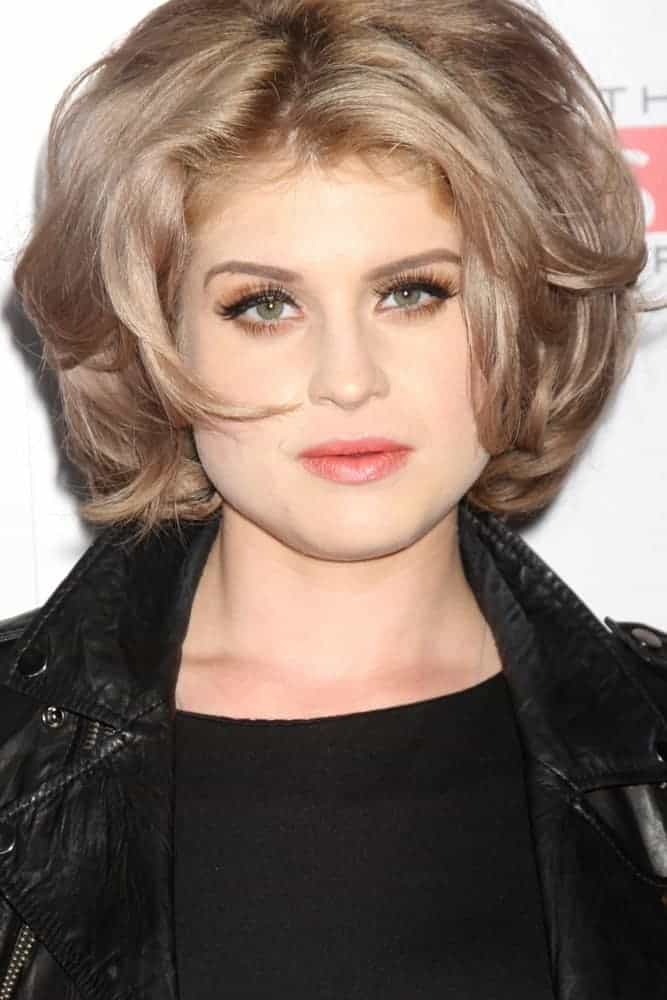 Kelly Osbourne with her stunning look on 19th of August, 2010, perfect during her visit at the "Keeping Up With the Kardashians" Season 5 Premiere Party.
Click here for Kelly Osbourne's hairstyles over the years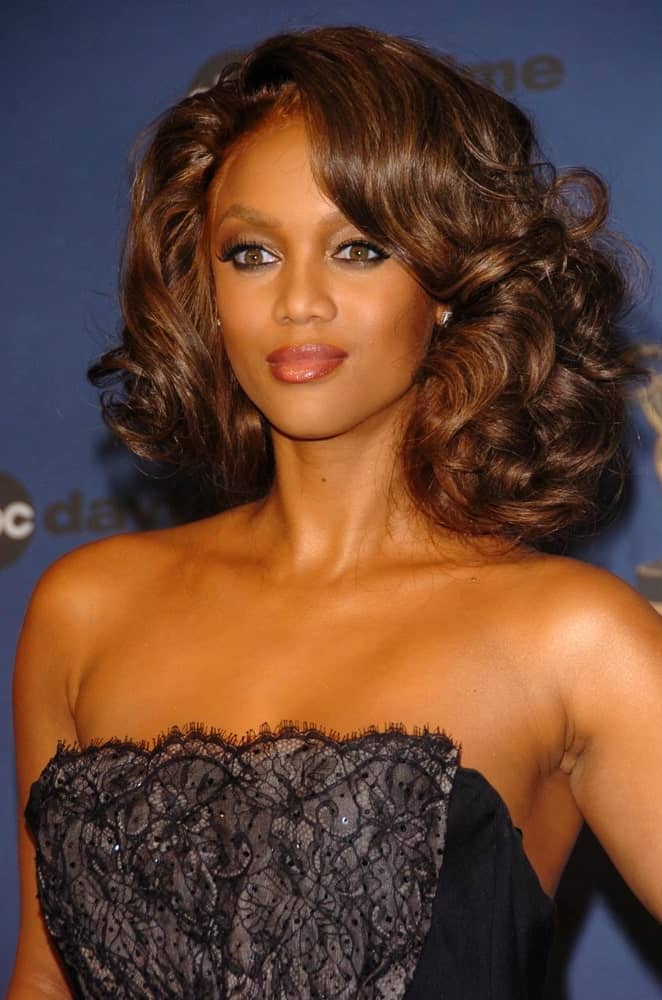 Tyra Banks was quite lovely with her sexy black dress and vintage curly side-swept hairstyle in the press room at The 33rd Annual Daytime Emmy Awards at Kodak Theatre on April 28, 2006, in Hollywood, CA.
Click here for Tyra Banks' hairstyles over the years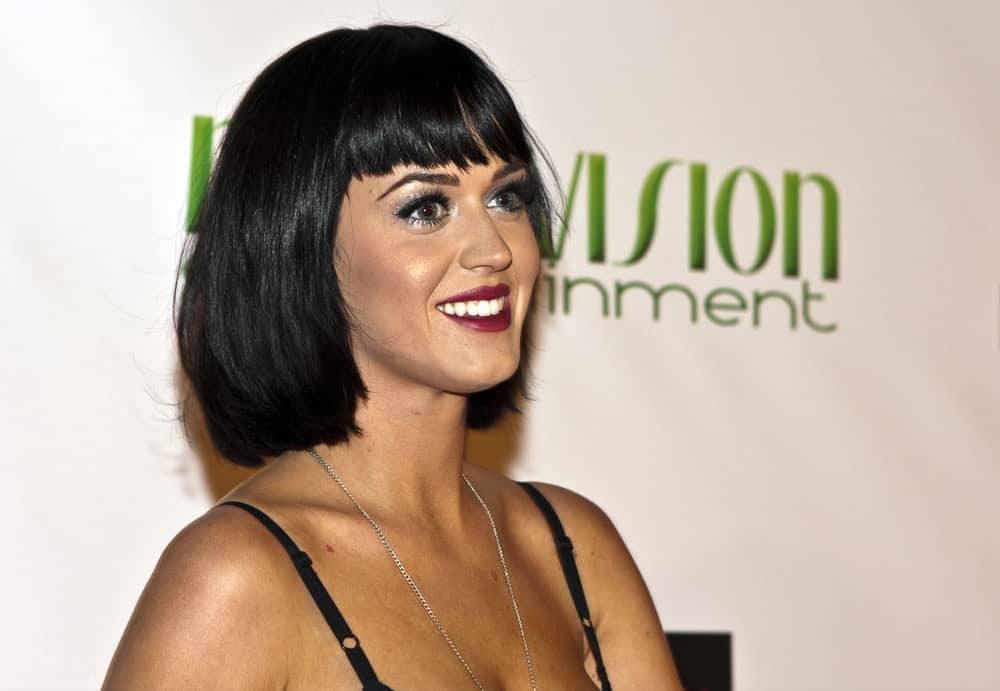 Katy Perry had a thick bob cut with eye skimming bangs at the Gridlock 2008/2009 New Year's Eve party at Paramount Studios on December 31, 2008.
Click here for Katy Perry's hairstyles over the years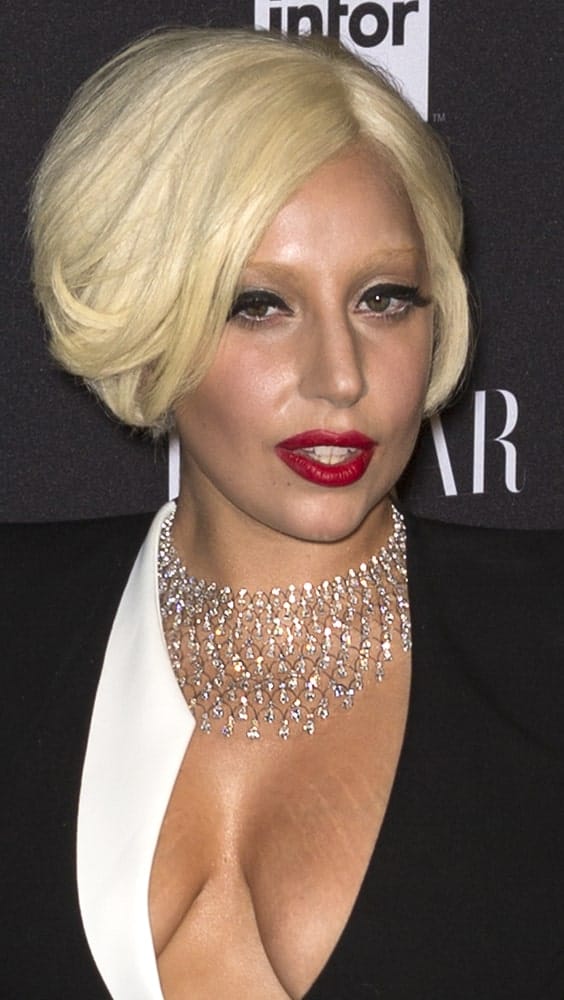 On September 05, 2014, Lady Gaga attended the Harper's Bazaar ICONS Celebration at The Plaza Hotel. She came in a lovely black and white smart casual outfit, gorgeous diamond necklace and a short tousled bob hairstyle.
Click here for Lady Gaga's hairstyles over the years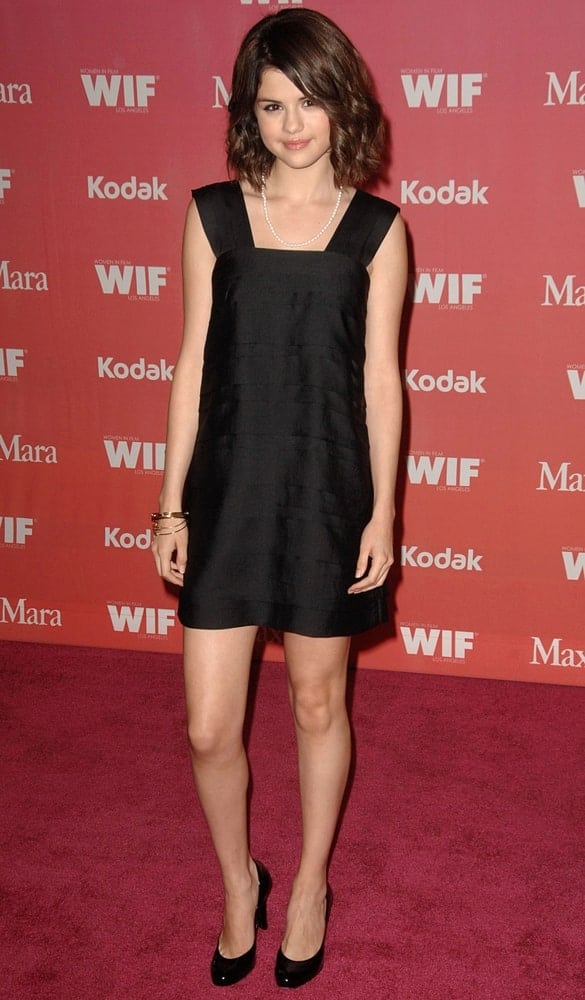 Selena Gome kept it simple and classy in her H&M dress and short curly bob hairstyle at the Women in Film Los Angeles 2009 Crystal and Lucy Awards, Hyatt Century Plaza in Century City, Los Angeles on June 12, 2009.
Click here for Selena Gomez's hairstyles over the years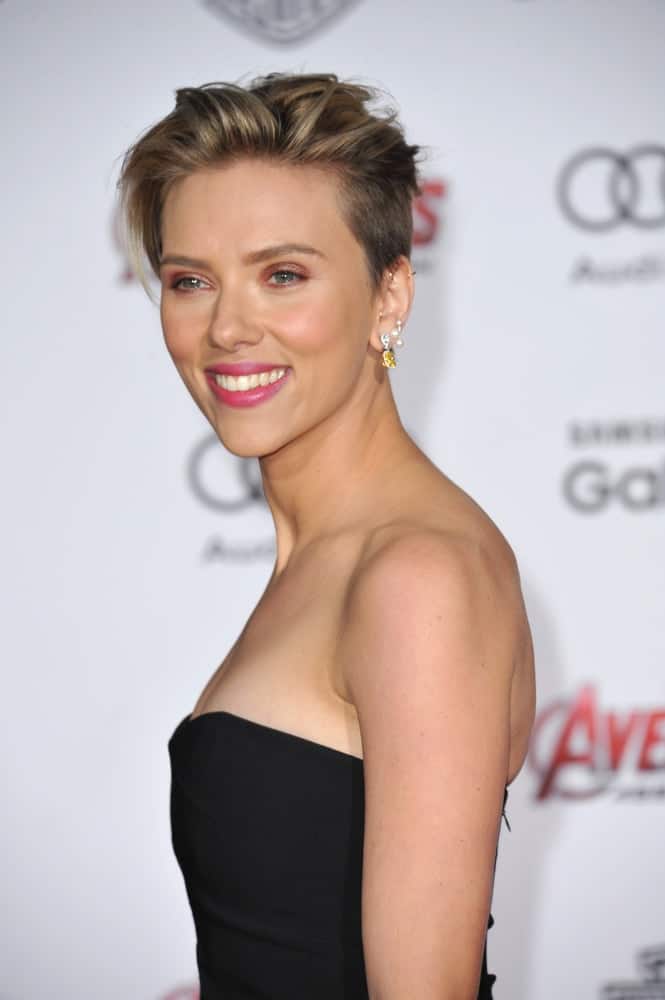 On April 13, 2015, Scarlett Johansson was at the world premiere of her movie "Avengers: Age of Ultron" at the Dolby Theatre, Hollywood. She wore a sexy strapless black dress to go with her undercut pixie hairstyle with a tousled side-swept finish.
Click here for Scarlett Johansson's hairstyles over the years
Halle Berry attended the 'Extant' Premiere Party on June 06, 2014, in Los Angeles, CA. She wore a stylish metallic gray dress that she paired with her raven pixie hairstyle with side-swept wispy bangs.
Click here for Halle Berry's hairstyles over the years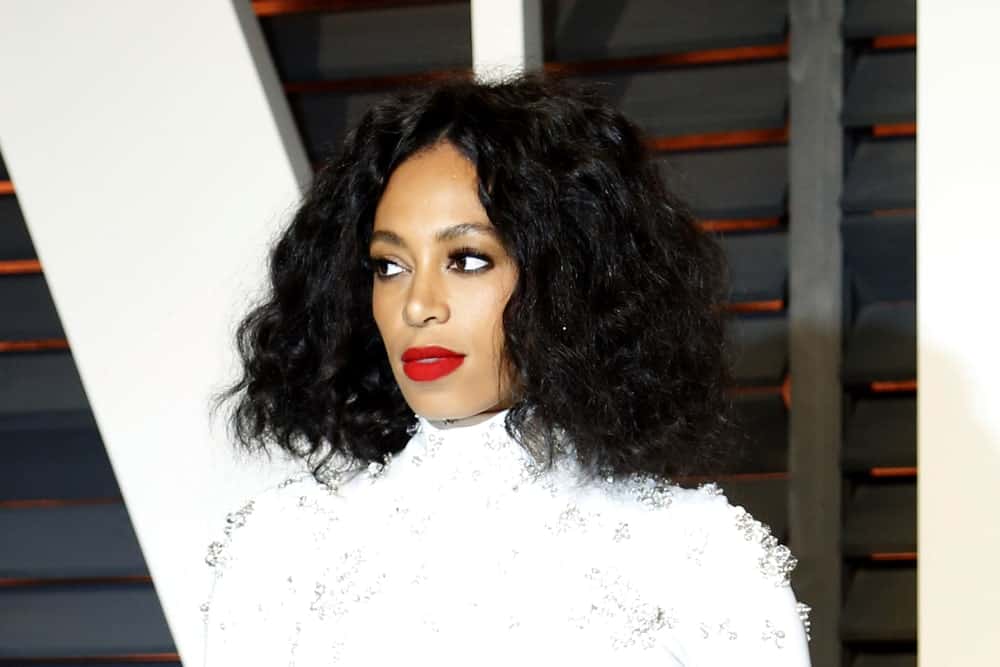 Beyonce Knowles opted for black tousled short curls paired with a bold lipstick during the Vanity Fair Oscar Party 2015 at the Wallis Annenberg Center for the Performing Arts on February 22, 2015.
Click here for Beyonce Knowles' hairstyles over the years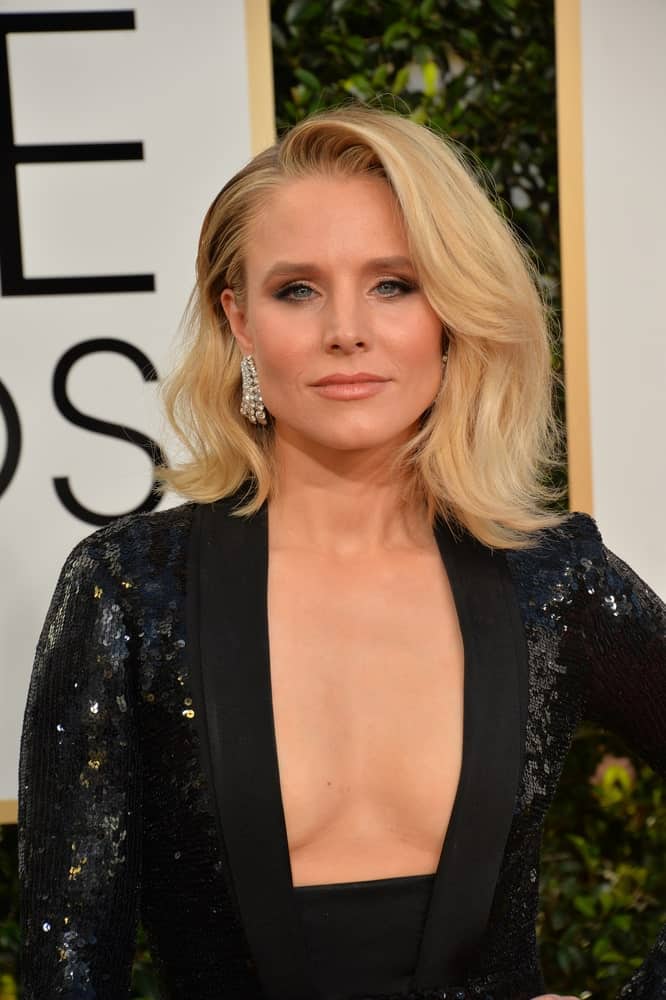 Kristen Bell in a sexy black dress that she paired with voluminous side-parted waves as she attends the 74th Golden Globe Awards at The Beverly Hilton Hotel, Los Angeles last January 8, 2017.
Click here for Kristen Bell's hairstyles over the years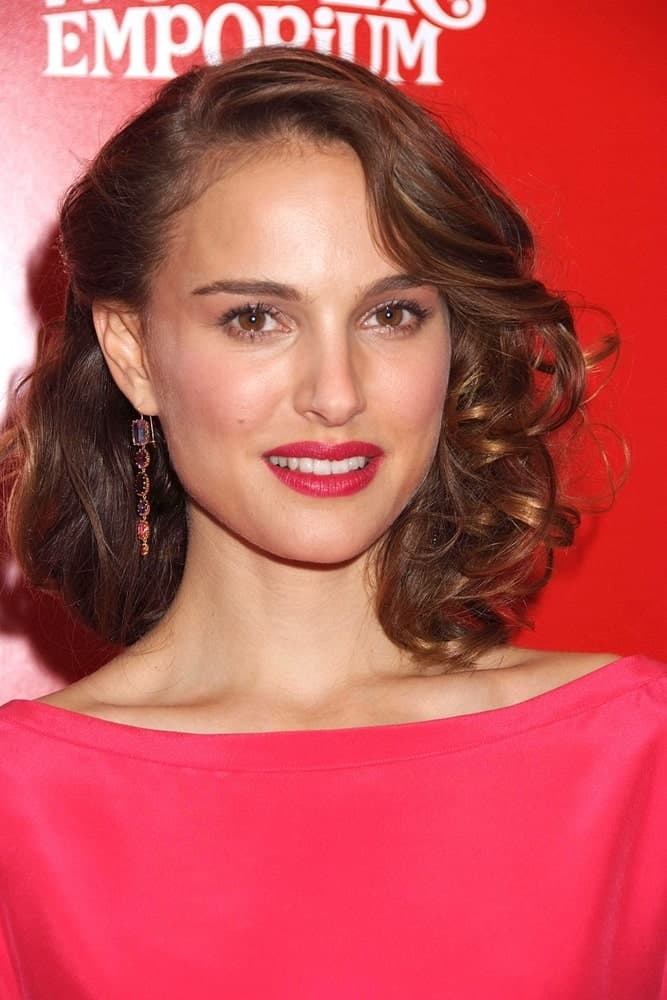 Natalie Portman paired her simple pink outfit with a tousled half-up curly hairstyle with long side-swept bangs at The New York Premiere of MR MAGORIUM'S WONDER EMPORIUM in New York, NY on November 11, 2007.
Click here for Natalie Portman's hairstyles over the years
Vanessa Hudgens was at the premiere of "Captain America: The First Avenger" at the El Capitan Theatre, Hollywood on July 19, 2011, Los Angeles, CA. She was charming in her tan sheer outfit to go with her brushed-back short raven hairstyle.
Click here for Vanessa Hudgens' hairstyles over the years
---
What short haircut styles work for thick hair?
It depends on whether your hair is straight, wavy or curly.  If curly, the actual extended length of the hair will be longer than if straight, yet still look short.
1. Bob Cut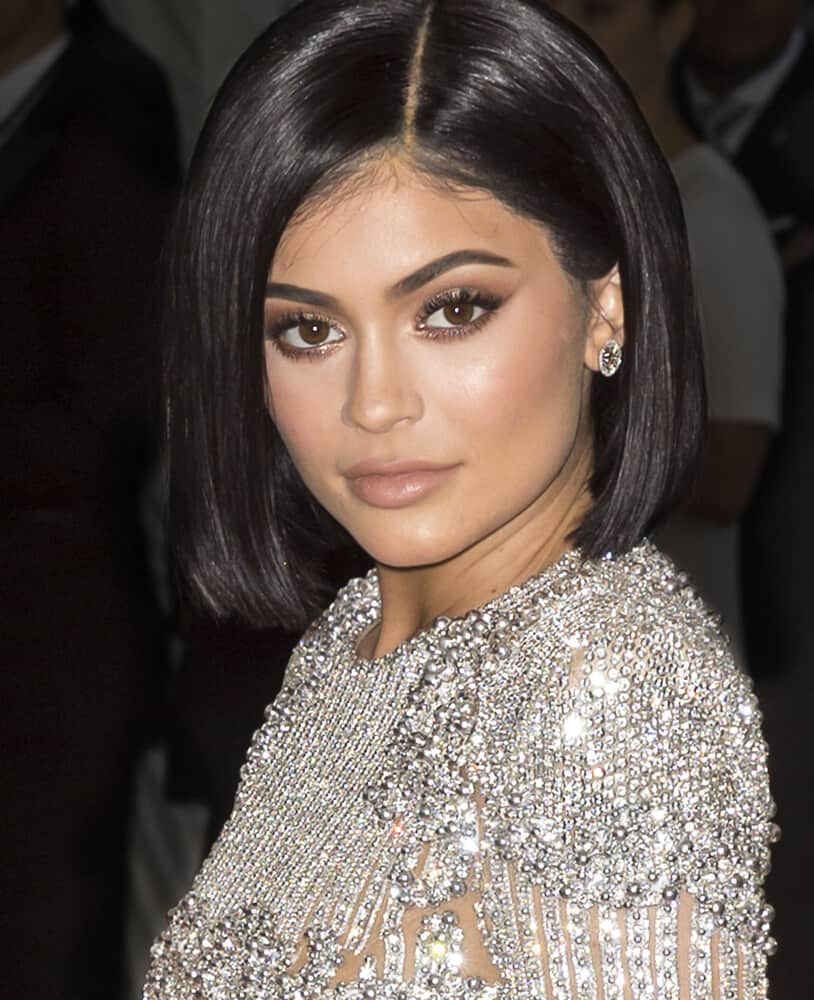 Thick hair goes well with the classic, straight bob. Adding a bit of shine using hair sprays and serums will create a beautiful dimension especially when you have dark hair.
---
2. Bob with Bangs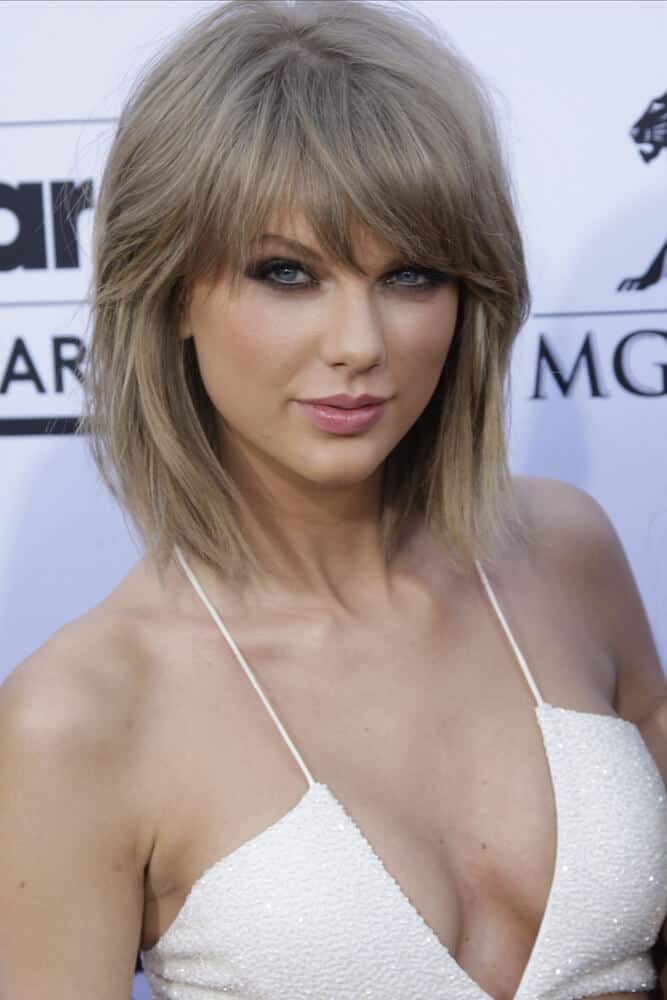 One benefit of having thick hair is the control to style it according to the shape of your face. If your chin is quite pointy, you might want to balance it off by creating an illusion of a narrow forehead, with the use of bangs.
Click here for Taylor Swift's hairstyles over the years
---
3. Layered Bob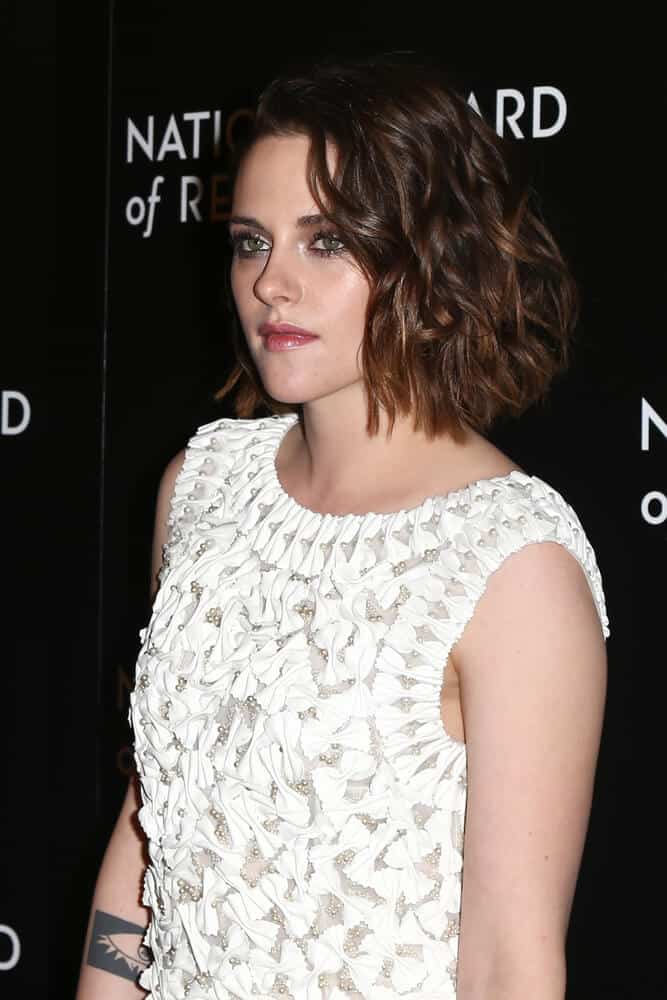 Subtle layers help reduce the dullness of thick hair cut in a plain and straight manner. A layered cut also gives a nice volume to your hairstyle.
---
4. Loose, Messy Bob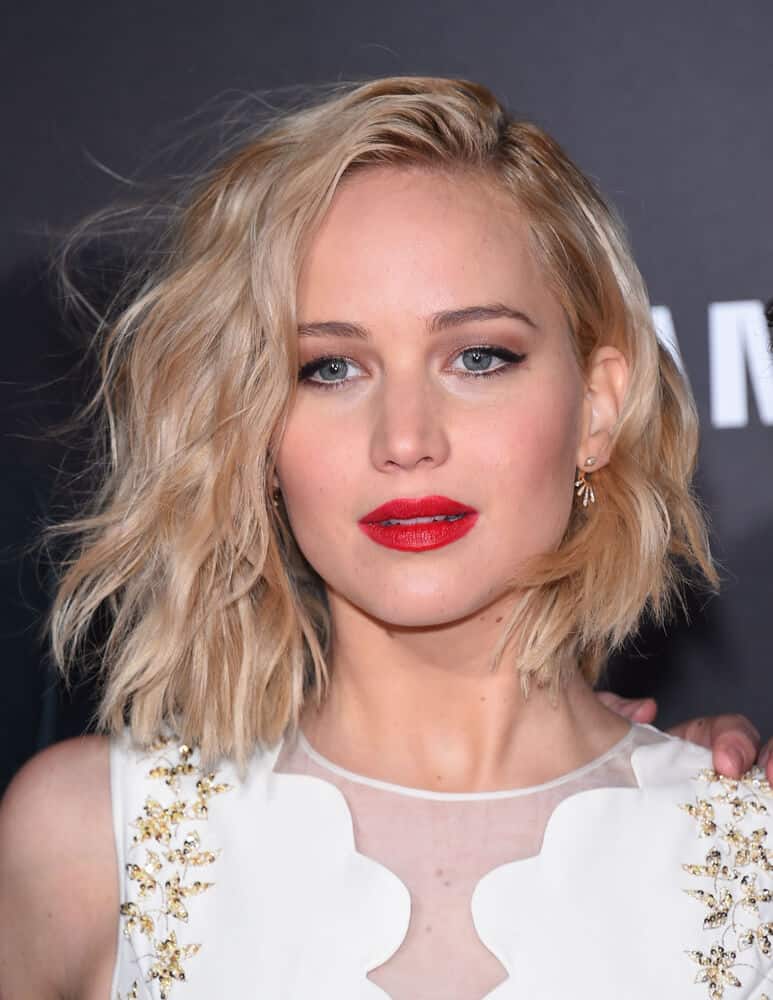 Tousling the hair gives it life and volume. A messy bob on thick hair helps in exhibiting the flow of strands for a stylish finish.
---
5. Standard Pixie Cut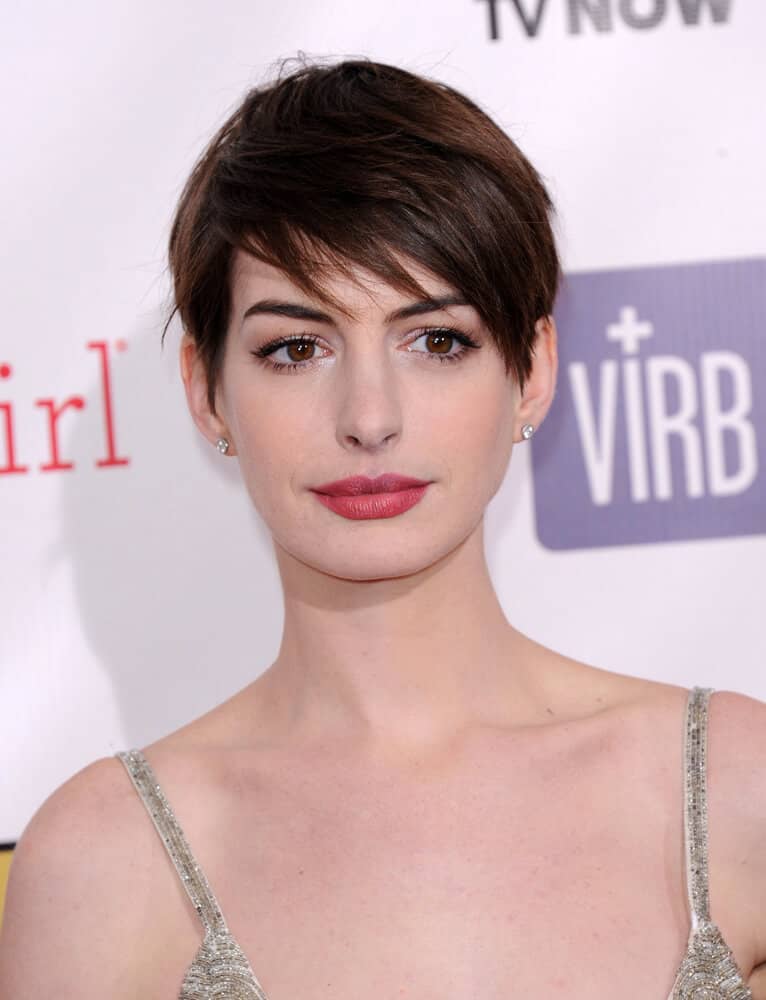 Thick hair might be too bothersome and heavy so others tend to cut their hair really short. A pixie cut is quite convenient and lightweight, hassle-free indeed.
---
6. Side-Swept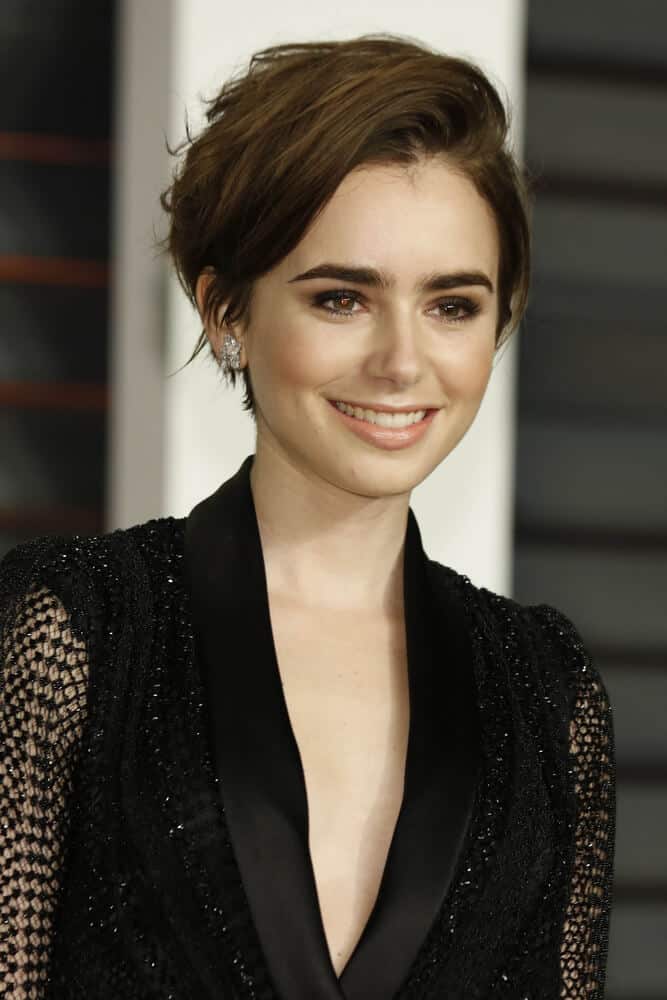 A side-swept, short haircut looks edgy and elegant at the same time. Others are too scared to try some short hairstyle because they want a very feminine look but guess what, you can achieve that finish by styling it with attitude.
7. Vintage Look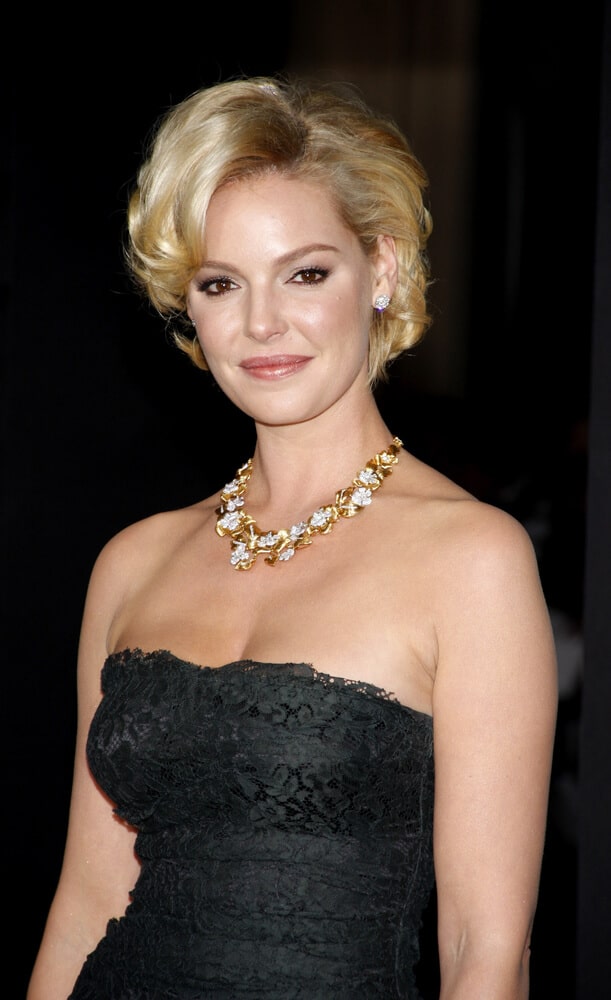 Thick hair looks gorgeous on vintage looks! When the strands are thick, waves and curls are more visible and emphasized.
---
8. Dyed Hairstyle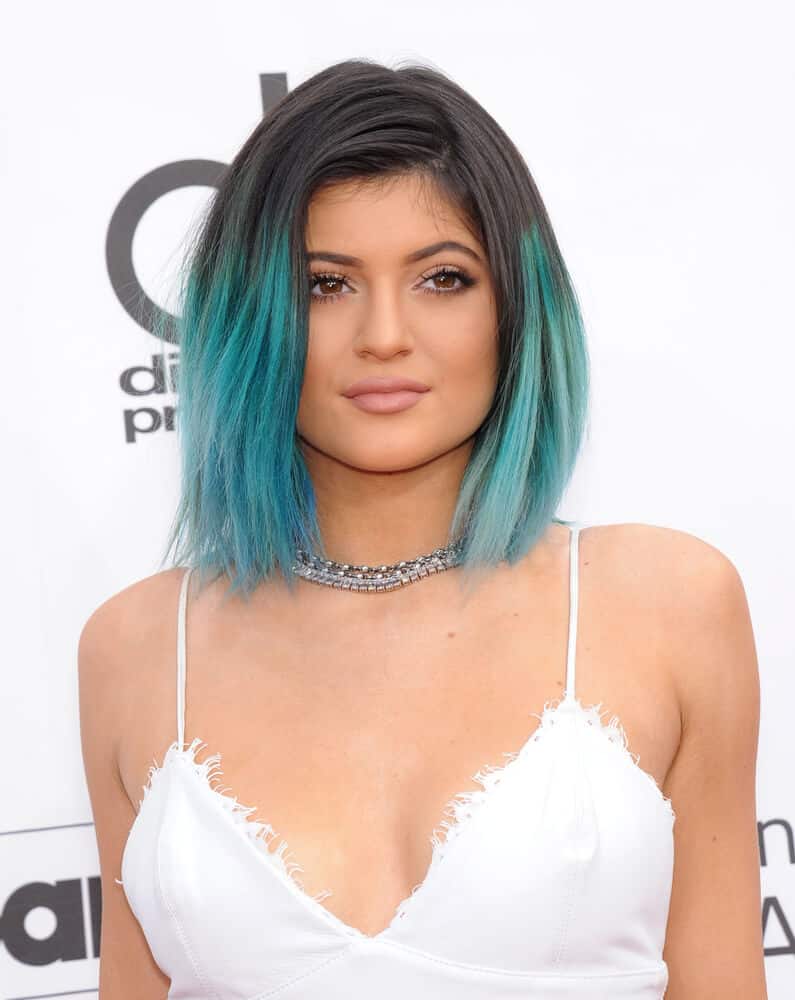 A shade that is too dark creates the illusion of thicker hair. If you want to lessen the "thickness", try dyeing your hair with lighter tones and shades.
---
Pros and Cons of Short, Thick Hair
Pros
It's faster to dry than long thick hair.  Thick hair generally takes longer to dry.
More manageable than long thick hair, especially if unruly when long.
Thick hair can withstand more product/styling than thin or fine hair.
Cons
When short, you're limited with the number of styles you can apply on any given day.
It can be difficult to get behave, at least compared to finer hair (which isn't without problems either).
Need to get it cut more frequently to maintain the style.