Get inspired for white hair with these 20 different types of white hairstyles for women - mostly platinum blonde but also sheer white.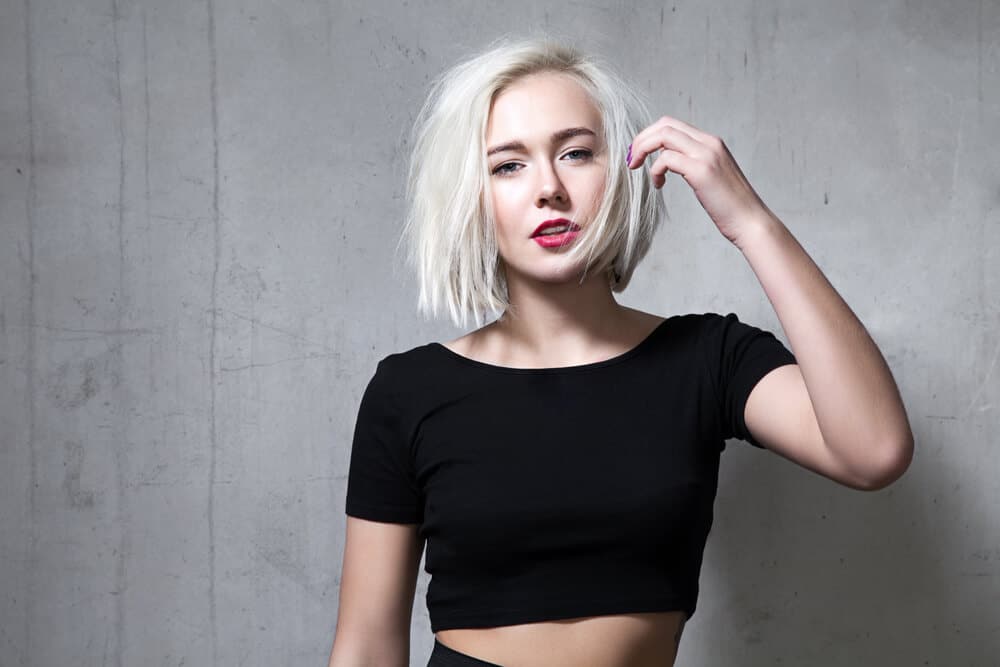 Welcome to our gallery featuring women with white hairstyles.
Bleaching your hair is a bold move but you won't regret it.
A lot of women opt for ombre or balayage styles that combine white with another color. The icy white hue that almost borders on blonde is a popular trend right now.
These hairstyles will also work for you if your hair is naturally changing color.
Lady Gaga's White Ballerina Bun
When it comes to hair and makeup, Lady Gaga is a style chameleon. The singer and actress usually sport long and thick platinum waves. However, in this red carpet look, Lady Gaga has gone the extra mile to make her hair even paler to an almost silvery-white color. She has twisted it up in a chic ballerina bun to show off her perfect makeup.
Click here for Lady Gaga's hairstyles over the years
Pink's White Faux Hawk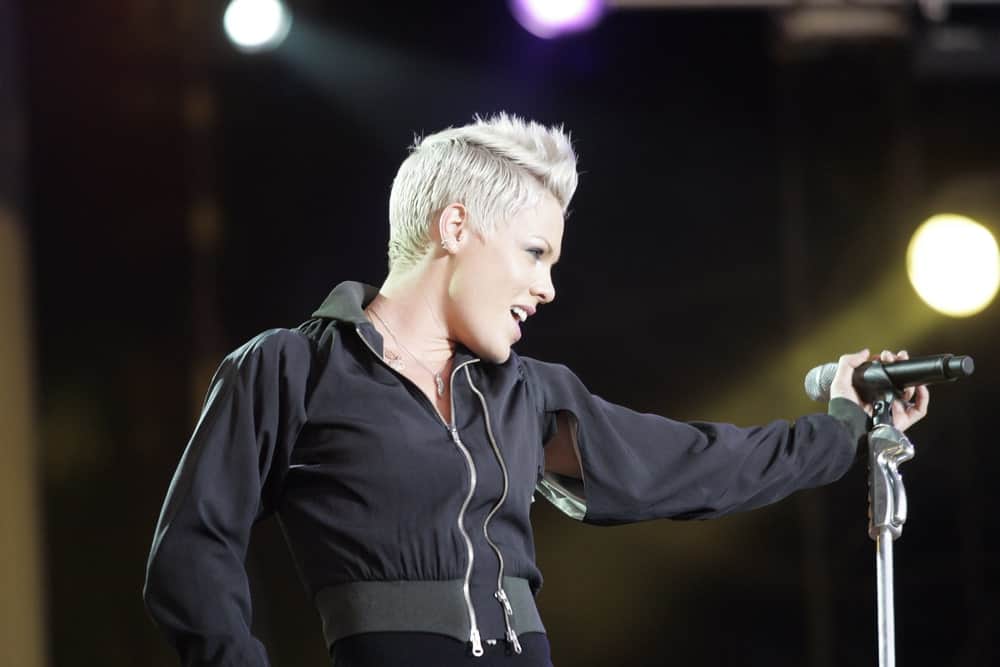 For women who prefer short hair, there are numerous ways to style it. Take a look at Pink's style. The singer has always flaunted short hair but this is one of our favorite looks. Pink has styled her platinum white hair into a super-stylish faux hawk, which goes perfectly with her black outfit and soft makeup.
Gwen Stefani's White Blonde Subtle Pompadour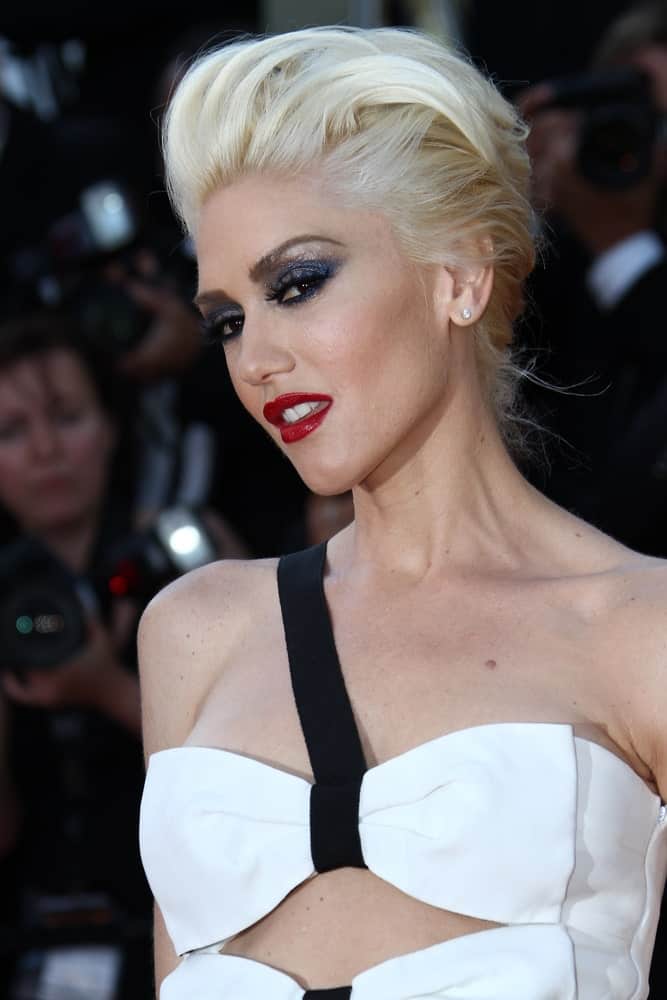 If you have super fine but thick white hair like Gwen Stefani, you can style it in a way that keeps those loose strands off your face. Take some styling products and sweep it through your front hair, pushing it back in an effortless pompadour. This will put more focus on your face.
Click here for Gwen Stefani's hairstyles over the years
Kristen Stewart's Ivory Buzz Cut
Did you know that white hair could look this good even in a buzz cut? If you are not a fan of long hair and like a little breeze on your neck, it's time you chop off those long locks – just like Kristen Stewart. Just keep a few millimeters of your hair and color it white to give you a super-edgy look. This hairstyle does wonders for defining your jawline.
Michelle Williams' Mia Farrow Pixie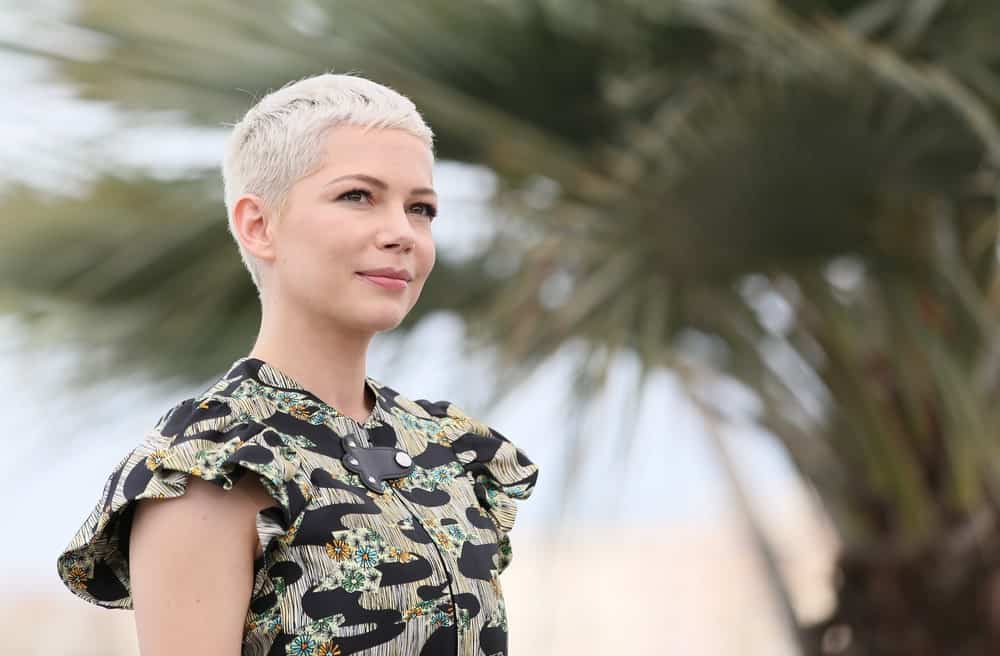 Once upon a time, Mia Farrow got a lot of flak for chopping off her long blonde hair. However, her iconic hairstyle is all the rage these days and has spawned a million copy cats. Michelle Williams chose this wonderful hairstyle and had her stylist dye her hair super-light, for a no-fuss, ever-ready look.
Helen Mirren's Red-Carpet Look
With her flawless fashion sense, Helen Mirren can easily put most actresses half her age to shame. During the Cannes Film Festival, the legendary actress showcased her beautiful natural white hair with an ear-length bob cut, casually parted from the side. This hairstyle is perfect for occasions where you feel like flaunting your beautiful jewelry.
Emmylou Harris' Feathery Layers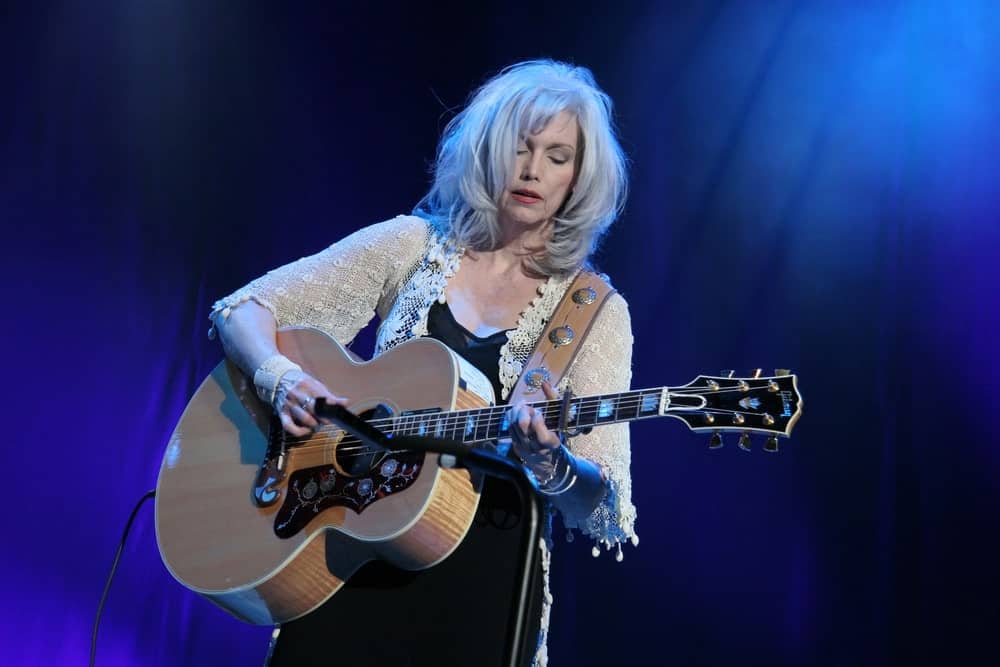 Another mature beauty, singer-songwriter, Emmylou Harris, has never let the age scare her away from what she does best. The beautiful country singer has embraced her naturally white hair, which remains thick and luxuriant as always. Here, Harris opted to give her hair thick feathery layers curling inwards and soft wispy bangs swept to the side.
Miley Cyrus' Pompadour Undercut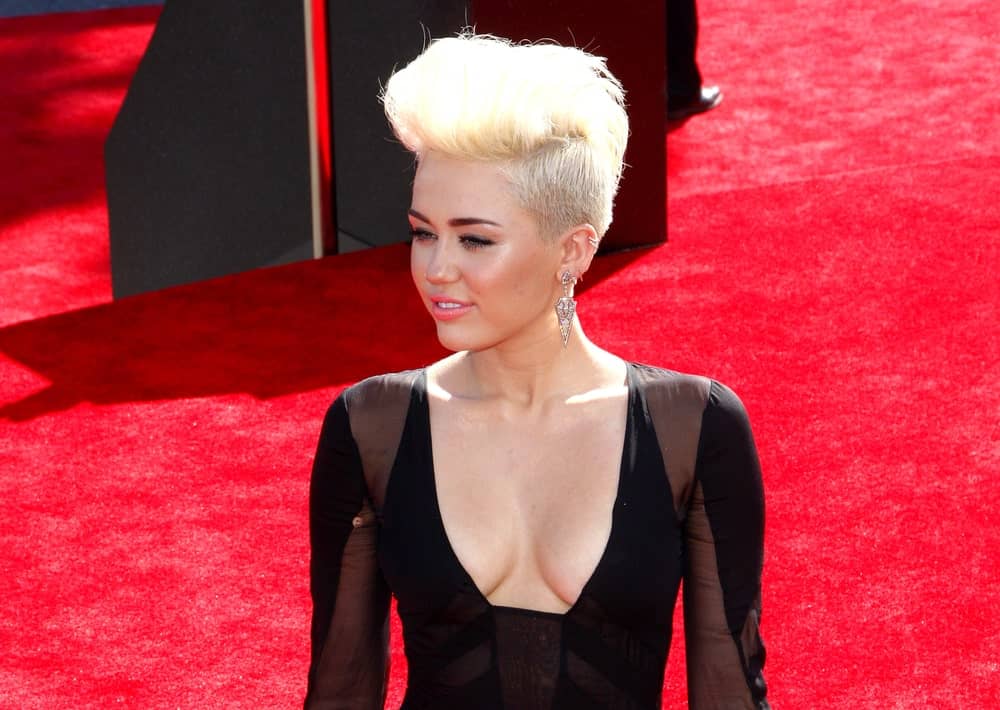 Miley Cyrus was quite iconic with her gorgeous sexy dress and white-blond undercut swept up into a tall pompadour hairstyle at the 2012 MTV Video Music Awards held at the Staples Center in Los Angeles, United States on September 6, 2012.
Click here for Miley Cyrus' hairstyles over the years
Elaborate White Braided Up-Twist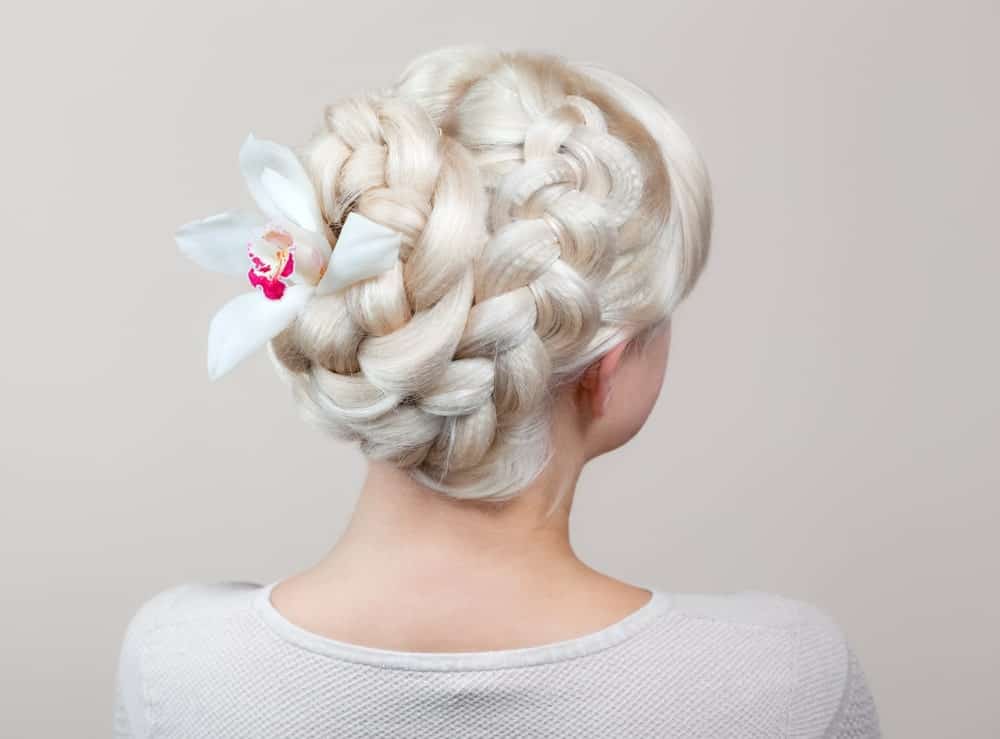 Since paler than pale hair is all the rage these days, many girls are opting to walk the aisle with platinum or white-dyed hair. For a great wedding look, those with long hair can create beautiful and elaborate updos. This style features two thick braids that start from the crown of the head and coil at the back to make an easy-to-do yet elaborate looking hairstyle.
White French Braid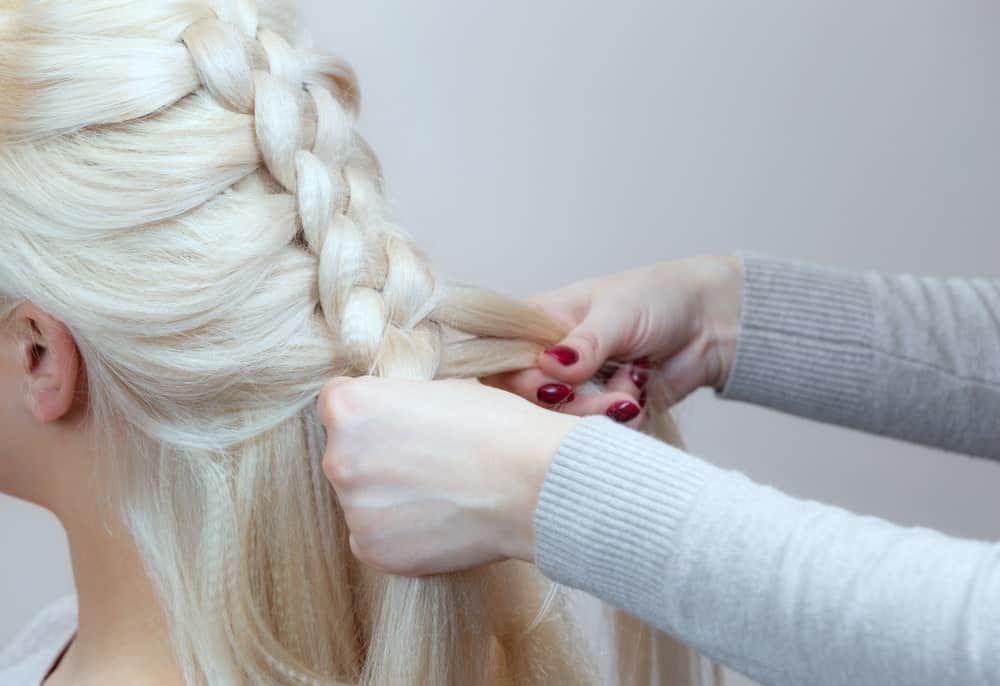 French braids still remain one of the most favored styles of braids among celebrities and the public. This beautiful style involves starting the braid form the crown and incorporating more hair to each strand as you go down. This evergreen style is perfect for all occasions.
White and Magenta Ombre Bob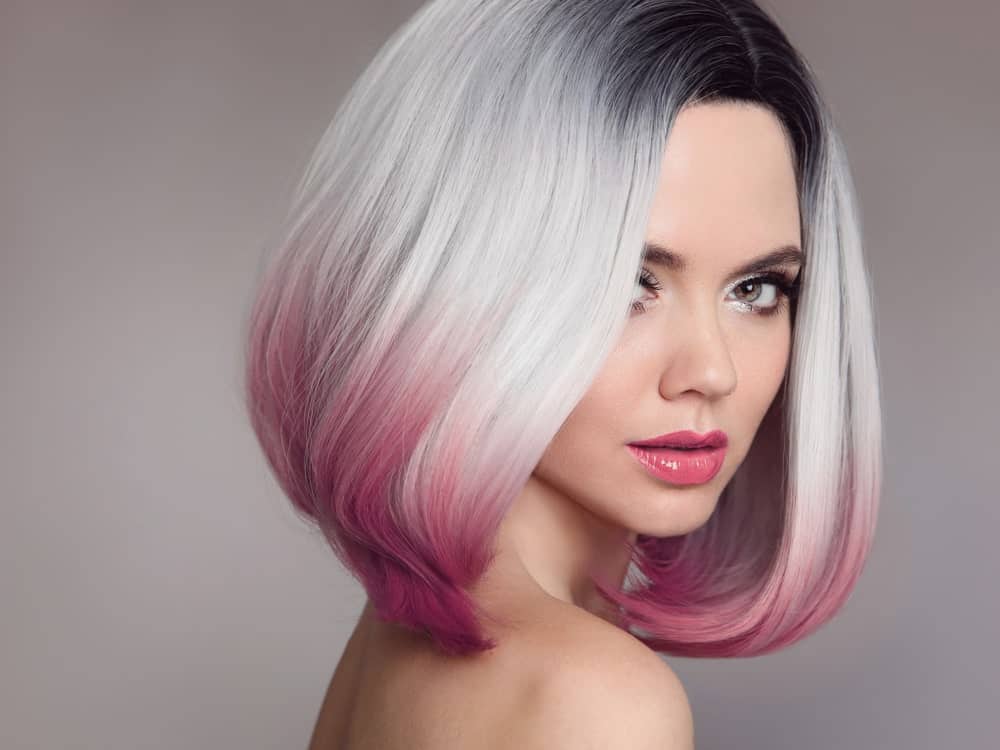 Fantasy colors are trending these days. That means, experimenting with as many vibrant colors as you want. White and silver hair remains one of the most popular colors of 2019 but why have just one color when you can have two or even more? This model's ombre started with silvery-white hair but descended to a magenta-pink hue at mid-length. You can dip-dye your hair one or more colors. The choice is yours.
Brilliant White Angled Bob with Blunt Bangs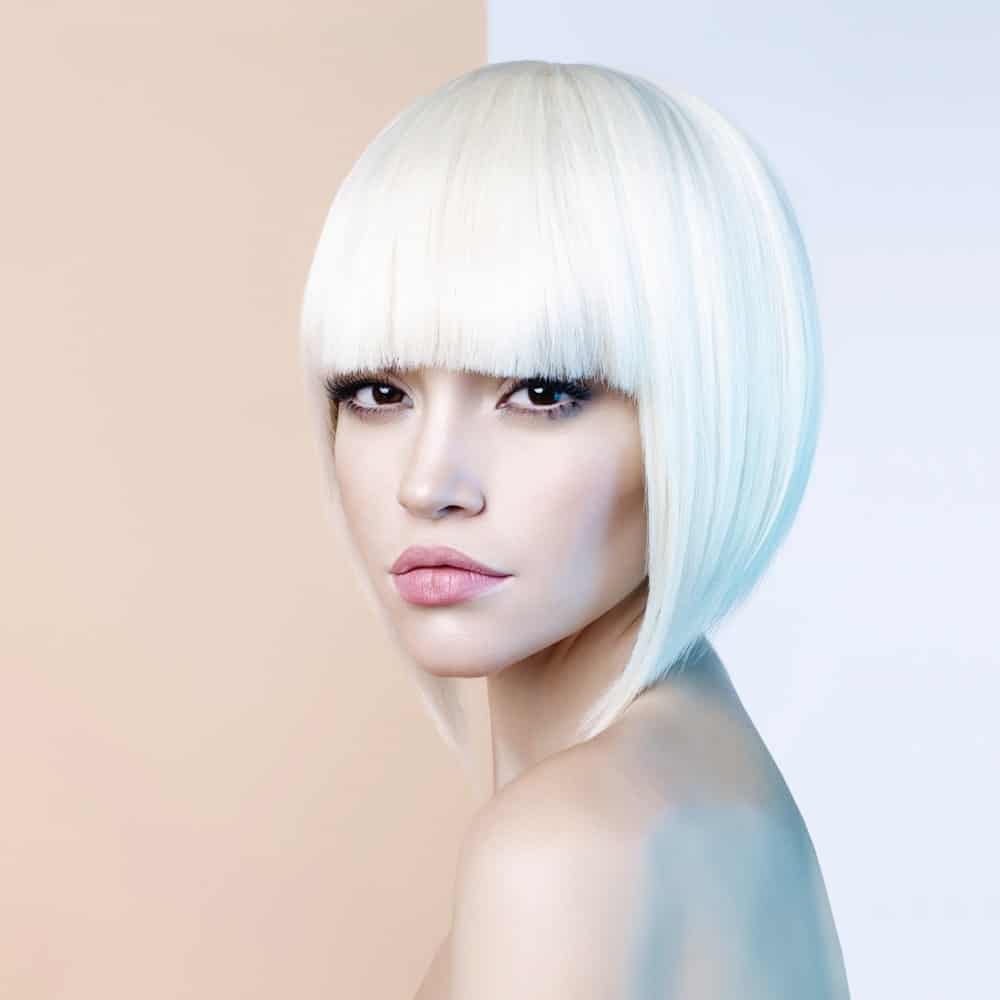 For a sophisticated and futuristic look, make your hair go a brilliant white. Get your stylist to cut it into an angled bob, which ends an inch or two above your shoulders. Perfect the look with straight blunt-cut, eyelash-skimming bangs.
White Feather Style with Short Bangs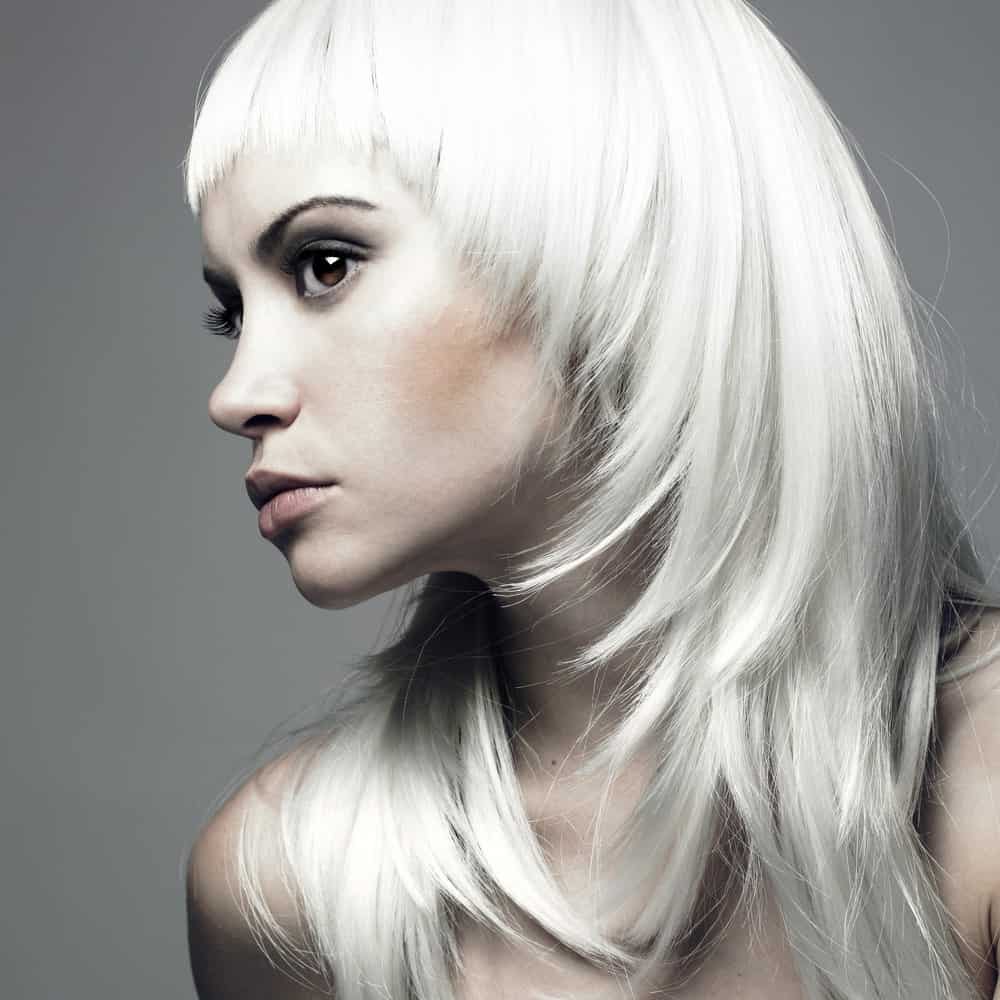 If making multiple visits to the salon to upkeep your hair doesn't faze you, this hairstyle is for you. The style is a blend of long razor-cut feathery layers from beneath the jawline and skull-cap hairstyle from above. This is a very modern hairstyle suitable for all occasions, but it requires regular trimming and maintenance.
Classic White Bob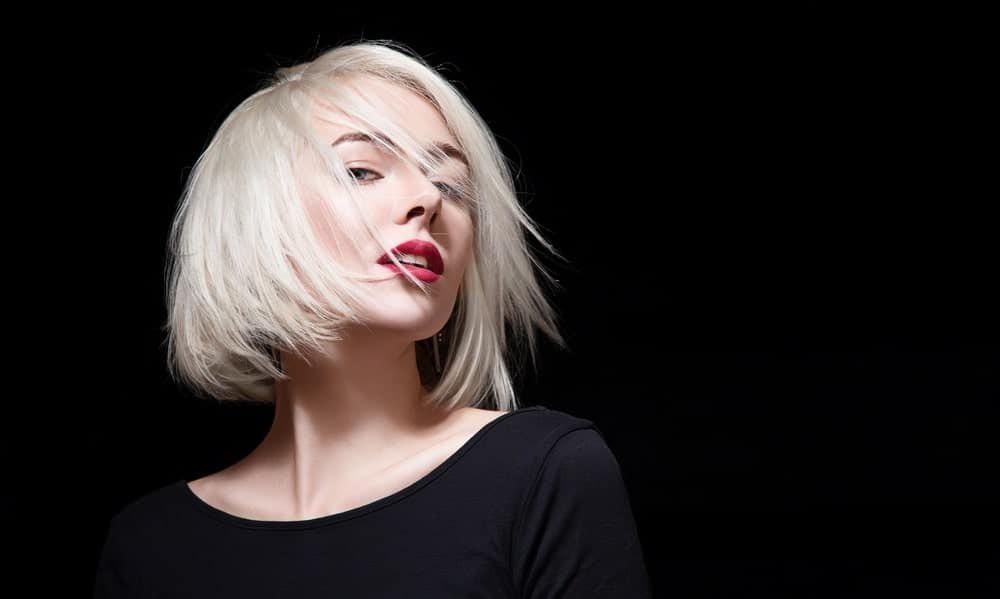 The classic bob cut has made a comeback with a bang and it doesn't seem like it will be leaving any time soon. To give her bob a modern twist, this model has colored it ice-white. Pair it up with red lips to create that oomph factor.
Turquoise Roots with Choppy Lob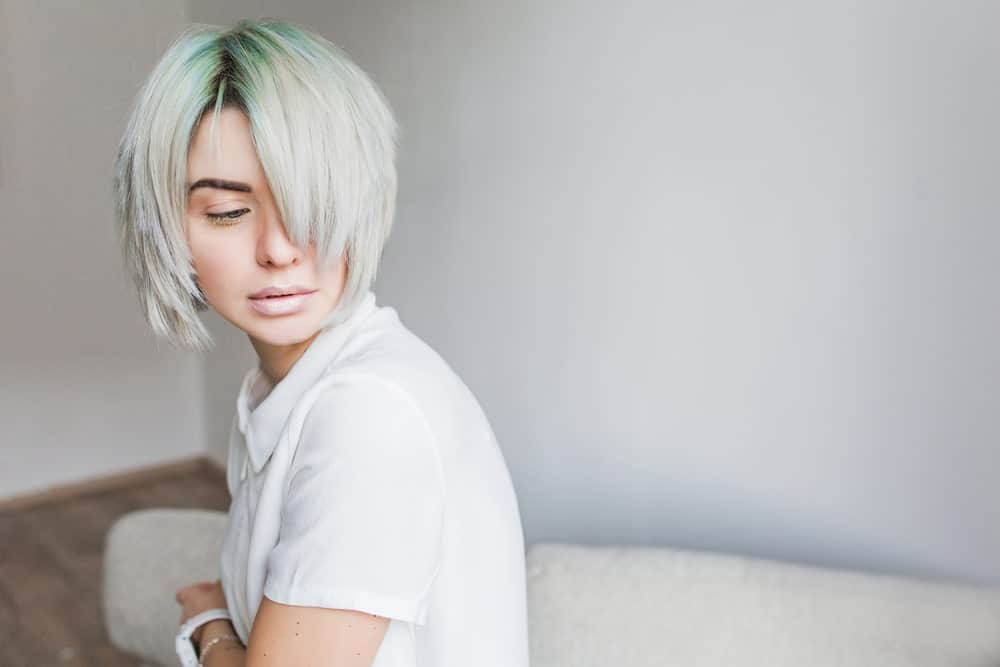 For those who embrace their grunge side, try this great look. Choppy lobs with jagged asymmetrical layers give lots of volume and drama to your hair. Dye your hair dove-white and add some bright turquoise dye just to the root of your hair to perfect the look.
White Beehive with Loose Ponytail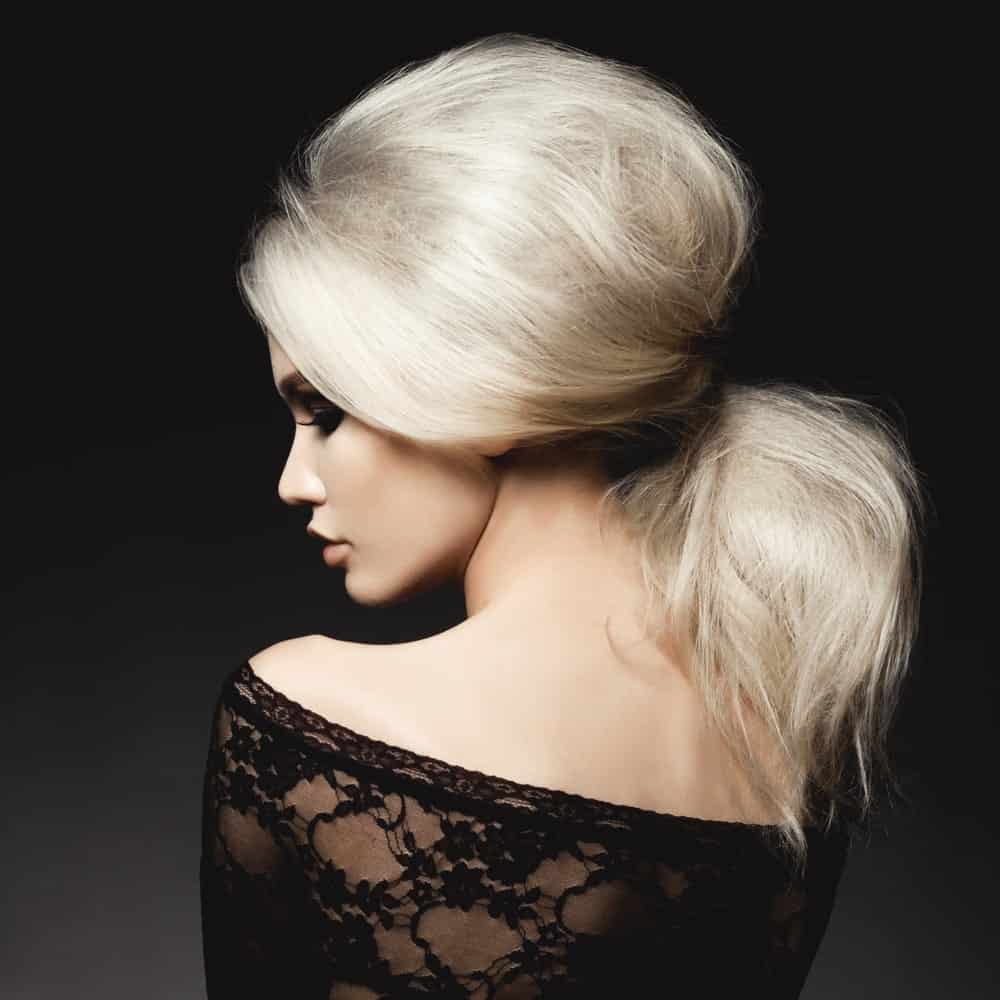 For mid-length to long hair, this ponytail style is one of the best ways to flaunt your white hair. Part your bangs in the middle and tease your hair to make a beehive, Brigitte Bardot style. Then gather the rest of your flowing hair into a ponytail. Add some texturizing spray or a bit of backcombing to give your ponytail some volume.
Shoulder Length Bob with Feathery Bangs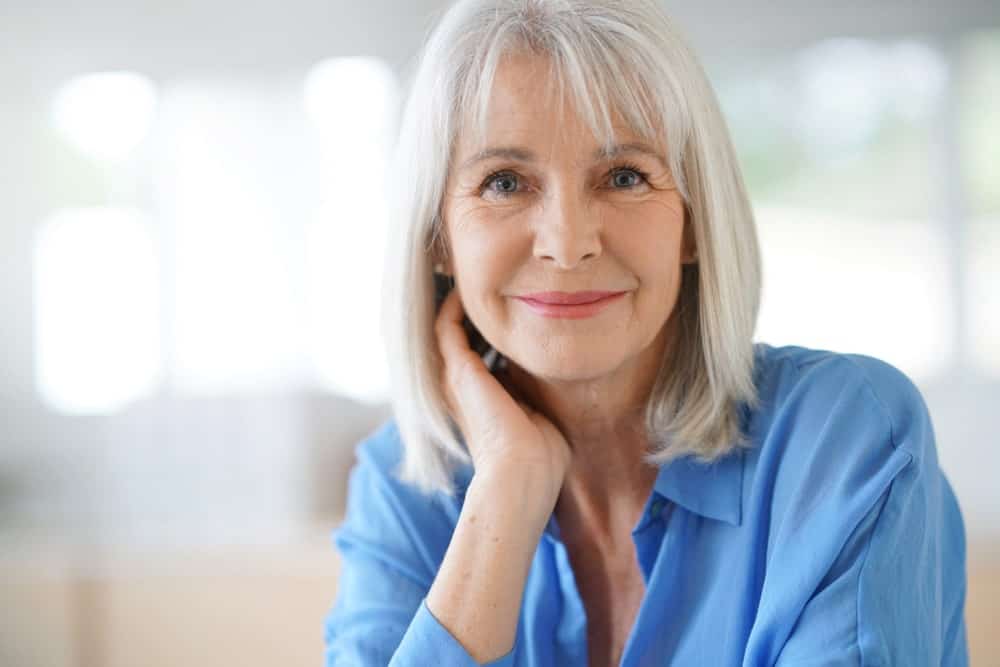 This is a great style not just for mature women, but for women of all ages, to get that adorable youthful look. Just ask your stylist to cut your hair into a straight, shoulder-length bob and add some wispy eye-skimming bangs. This style is also great for women with thinning hair and is easy to maintain.
Blunt Cut Textured Lob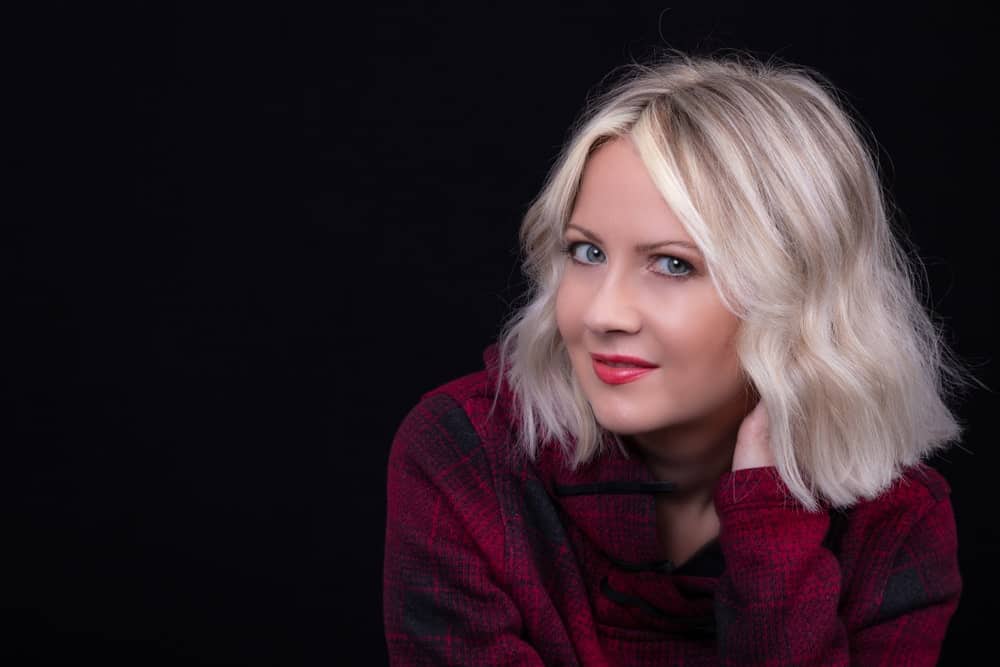 Bobs are very "in" these days and are getting exceedingly versatile and creative. Here, this model has her hair cut in a simple jaw-skimming bob cut, parted in the middle. However, to give it some dimension, she has added some texturizing products, as well as, pale blonde and ashy highlights to her white hair.
Slicked Back Style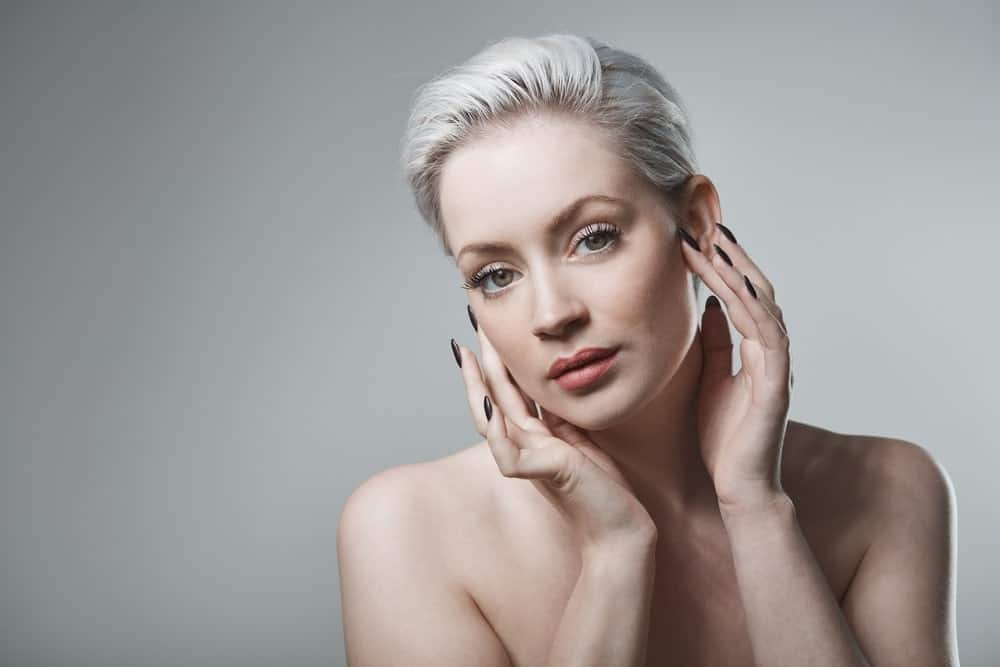 The slicked-back look is elegant and edgy at the same time. What's so great about it is that it looks good with both short and long hair. Here, this model is sporting short white hair, with long front bangs. However, she has slicked back her fringe up and over the side. This hairstyle is perfect for those who want to flaunt their cheekbones.
Side Swept Bangs With Pixie Cut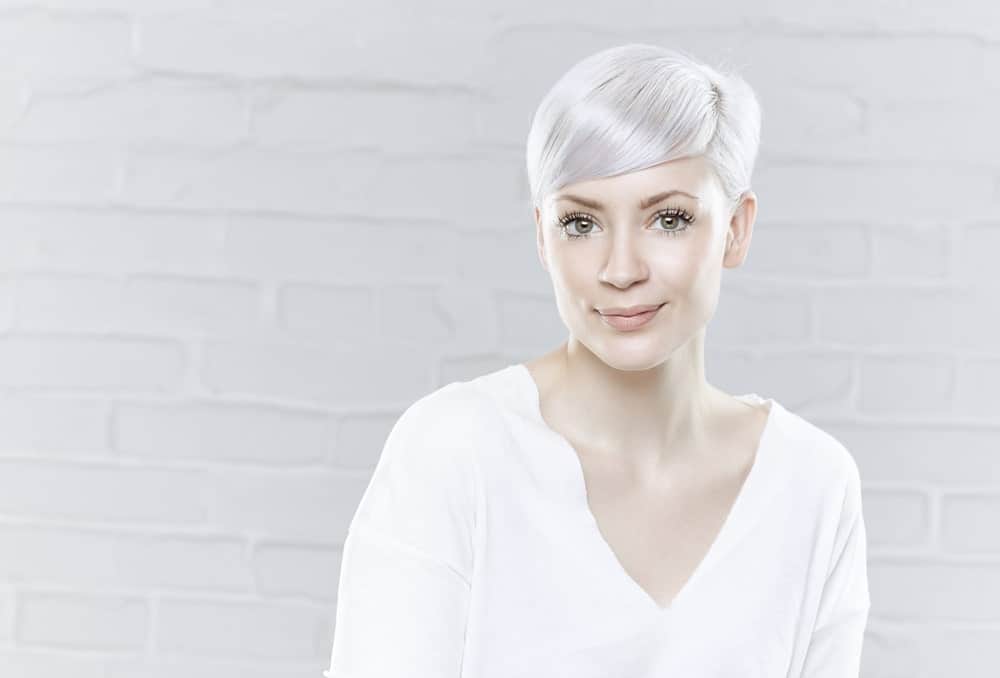 Here is an example of another super-short hairstyle; however, this one features longer hair in the front that is styled in adorable slanting bangs across the forehead. The shiny white hair puts the wow factor in this style. This is a great look for those who want to highlight their eyes and jawbone. The side-swept bangs with a pixie cut also take years off one's face.
White Waves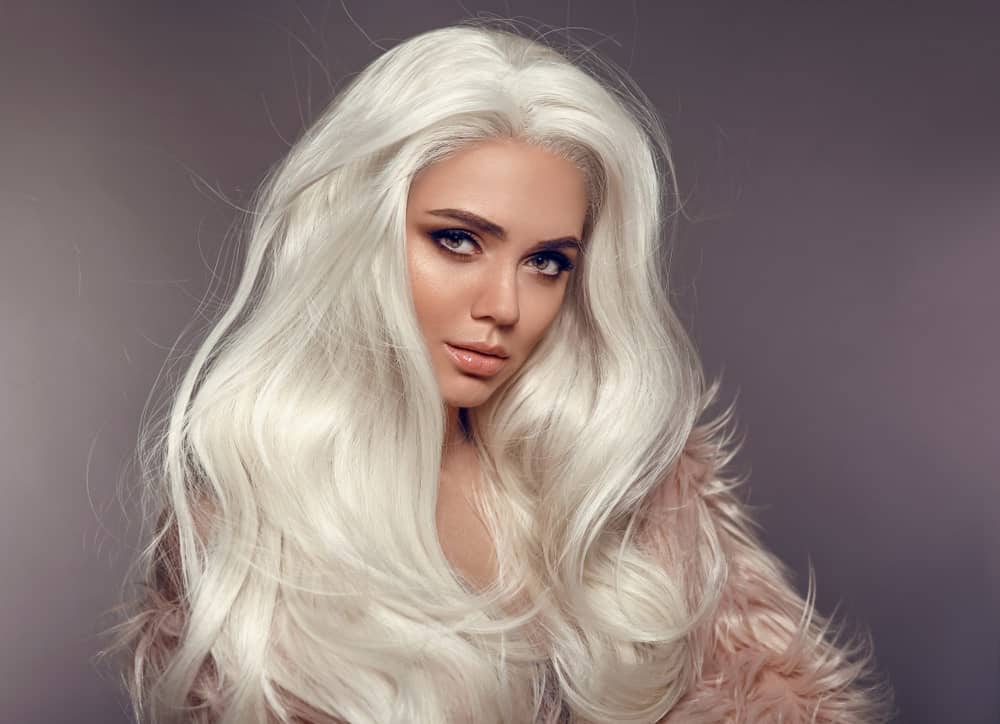 Here is an example of another super-short hairstyle; however, this one features longer hair in the front that is styled in adorable slanting bangs across the forehead. The shiny white hair puts the wow factor in this style. This is a great look for those who want to highlight their eyes and jawbone. The side-swept bangs with a pixie cut also take years off one's face.
---
Keep Some Length
A lot of women opt for shorter hairstyles once their hair starts turning grey. However, white hair can look amazing with some length. The key is to take good care of your hair to avoid split ends and dryness.
The key to making your long hair look good is to get some layers. This style adds some texture and is really versatile. You can choose where the layers start and how much length between each layer.
You don't have to wear your hair loose. Medium or long layered hair will look great in a ponytail or in a braid. You can also have some fun with colorful hair accessories.
If you opt for an icy white or platinum hue, keep in mind that these colors look amazing with straight hair. This could be a good alternative if you don't want white women's hairstyles with layers.
Opt for a Bold Short Cut
There are plenty of arguments in favor of cutting your hair short. Getting a short cut can be a drastic change if you are using to wearing your hair long, but it requires a lot less maintenance. There are plenty of ways to make your white hair look glamorous if you want a shorter cut. Try to find a hairstyle that creates some structure while leaving a little bit of length in some sections to draw attention to the gorgeous hues and reflects your bleached hair.
Asymmetrical pixie cuts
If you like pixie cuts but still want to keep some length, think about getting an asymmetrical cut. This look will create a really fun effect if you opt for a balayage and mix white with another hue for the longer section of the cut. There are a lot of different styles in this category, and you should easily find one that matches your personality.
Undercuts
Undercuts are bold and edgy. This style looks really original when combined with silver, icy white or even platinum hues. The short side of the cut will create a different texture and make the white hair appear a little darker. The longer strands of hair will look lighter and you can usually style these strands in many different ways to have some fun with your undercut.
Pixie quiff
Pixie quiff is an interesting choice. This style is very short on the sides and in the back and long at the top. This is perfect if you like white women hairstyles that remain versatile. You can do a lot of things with the longer hair at the top, including using styling products to get a spiky look or choose to wear this hair done to create a side bang.