Check out these 48 different types of copper hairstyles for women in a variety of hairstyles, lengths and hair types.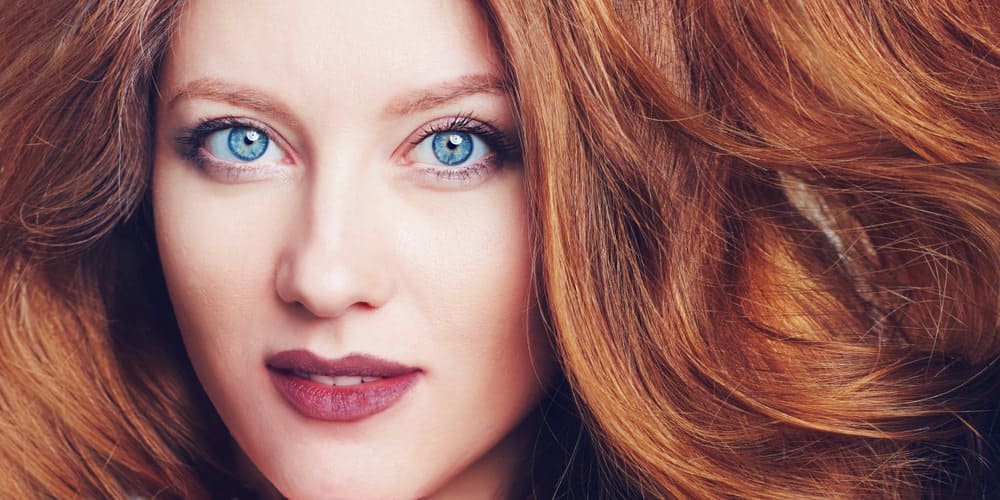 The color of copper refers to any reddish-brown color that resembles the commonly known metal, copper, an element found directly in nature without needing any sort of extraction from the ore itself.
For copper women's hairstyles, this shade is a specific type of the broader category of red hair, and typically refers to shades that are more often found on natural redheads, as opposed to women who have chosen to dye their hair an actual red shade.
While copper has many variations, such as copper rose or copper penny, any choice that a person wears or chooses is always a bold choice that makes the individual stand out in any occasion. Some may refer to copper-toned hair color as reddish-brown, falling near the shades of auburn, but with stronger red highlights instead of a strong brown undertone that can be found in auburn hair.
Women with hair of any shade, who have healthy hair, may find that their hair is impressively strong. In fact, one strand of healthy human hair is stronger and can bear more weight than a comparable strength of the element, copper, that has the same diameter.
Welcome to our 2023 gallery featuring women with copper hair color.  This includes a
.huge variety of hairstyles, hair types, and length.
Photos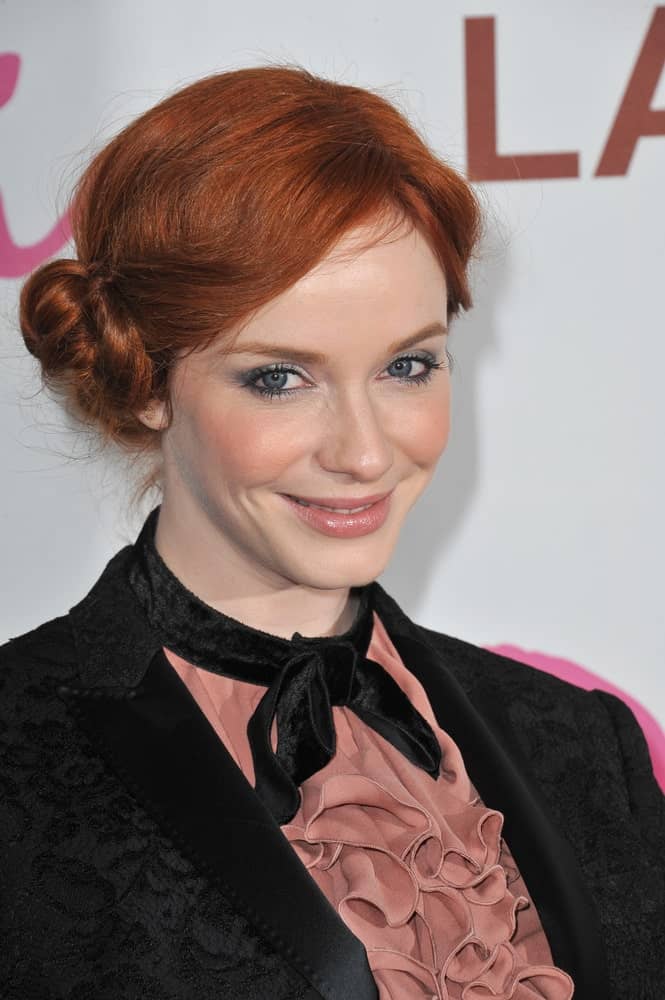 Christina Hendricks rocks her natural copper hues with a classy side bun and side-swept bangs. It's a classy look while still giving off an effortless vibe, just like her charm.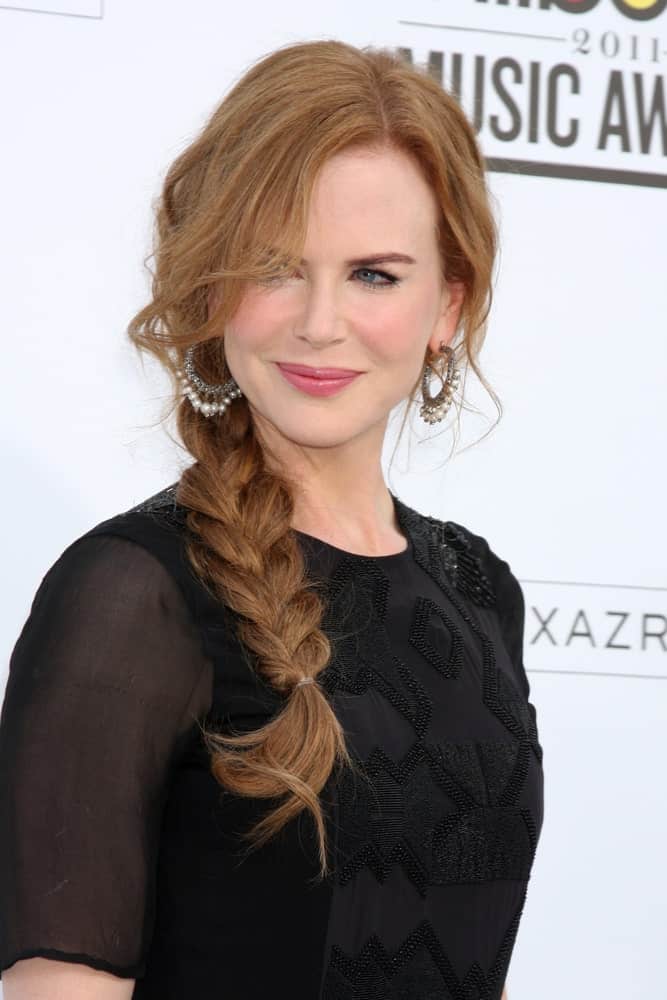 A loosely tied braid with some wavy face-framing layers makes Nicole Kidman's light copper hair stand out even more and we're loving it!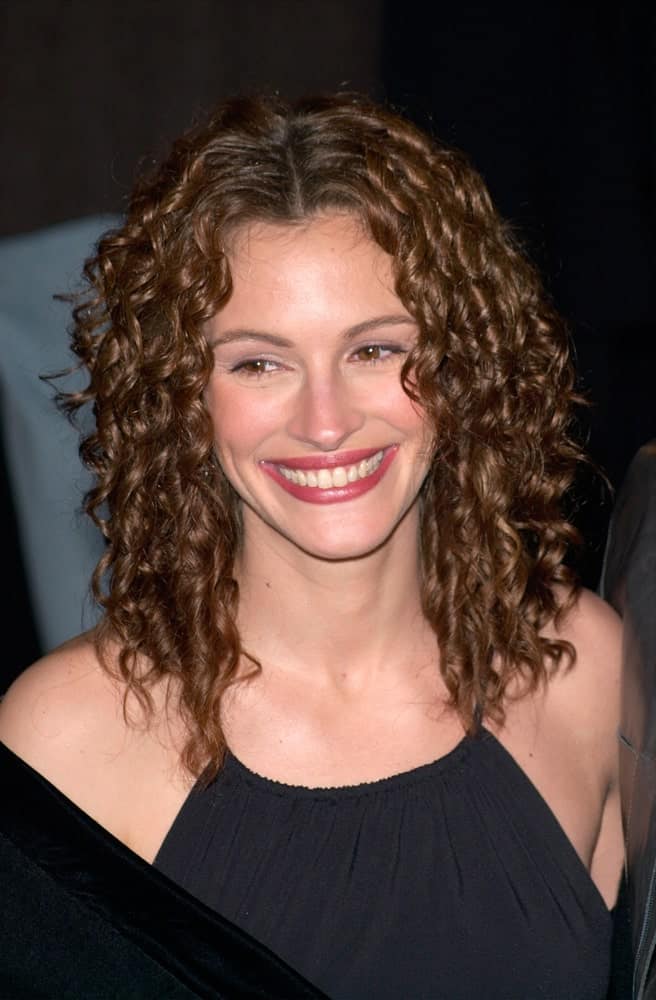 Julia Robert's dark copper locks look absolutely gorgeous with tight curls and a middle parting. It's a great hairdo that enhances the different shades in your hair color.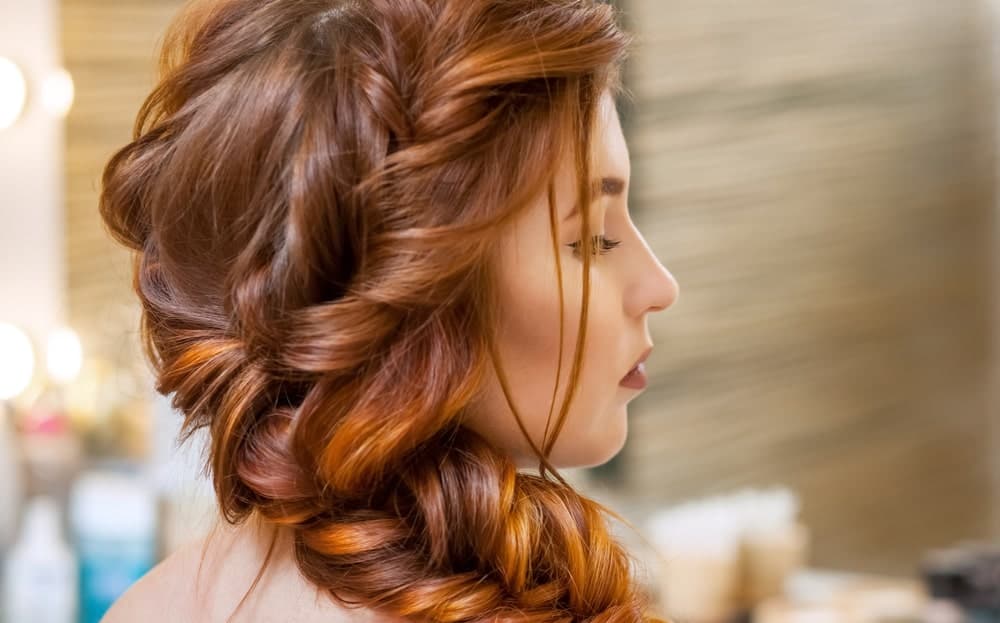 A flowy, thick fishtail braid looks beautiful with any hair color but like the hairdo above, this one is also a great option to show off the different shades in your hair – especially if you have highlights/lowlights.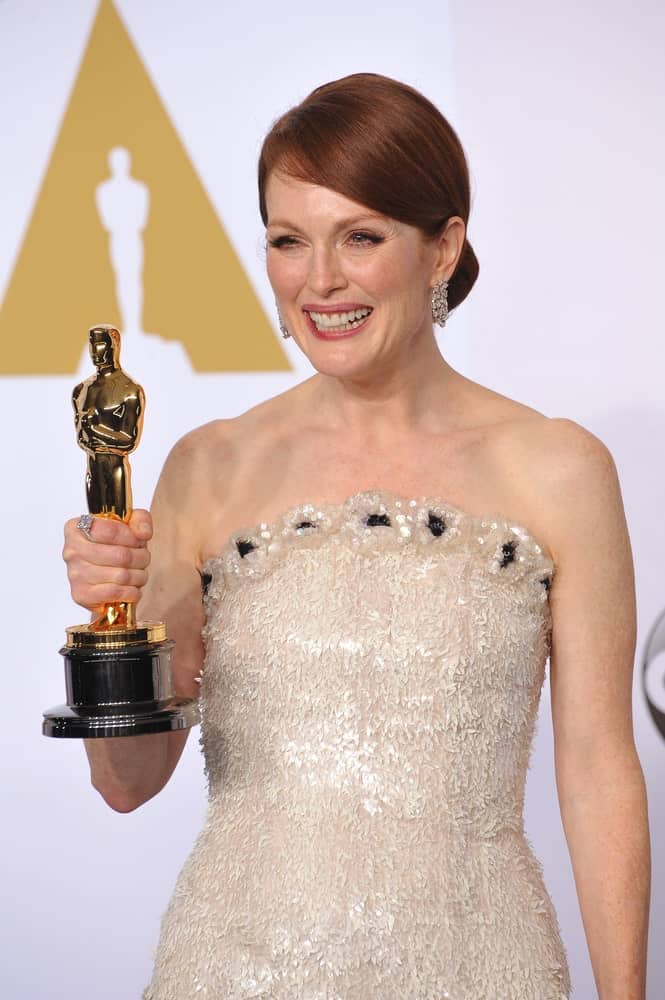 Julianne Moore keeps it sleek and classy for the Academy Awards with a side-swept, neat bun. It's the perfect hairstyle for formal gatherings and never goes out of style!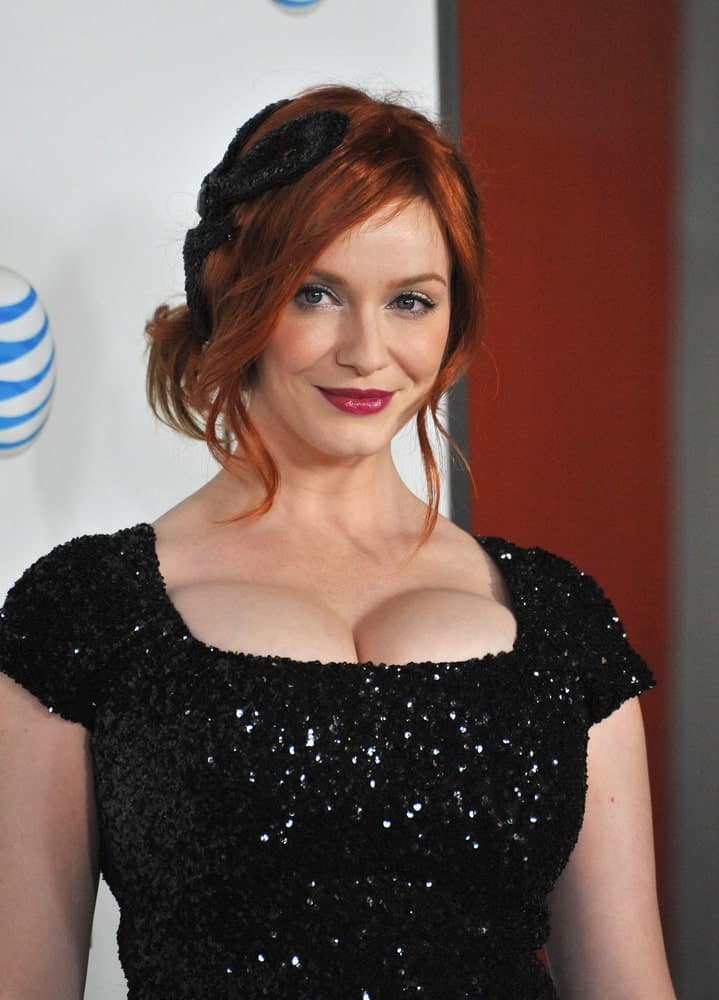 If you want a slightly more glamorous bun, you should take a leaf out of Christina Hendricks' book. She loosens up the bun and lets a few face-framing strands hang in loose curls for a more laid back, stylish effect.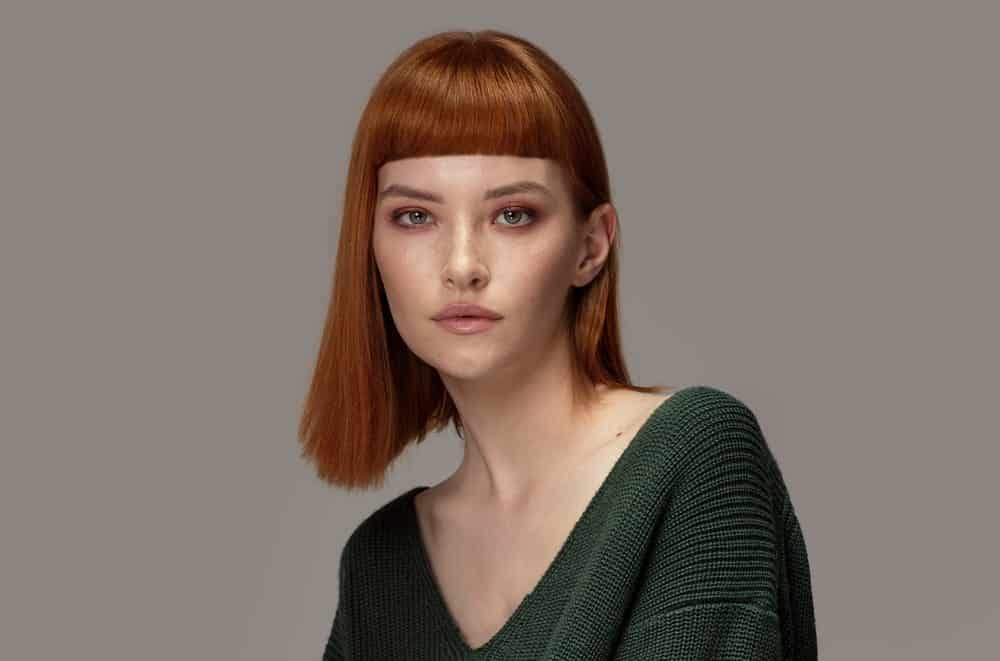 If you have short hair and want something that says 'high fashion', why not try an edgy fringe? It'll look like you've just stepped off the runway.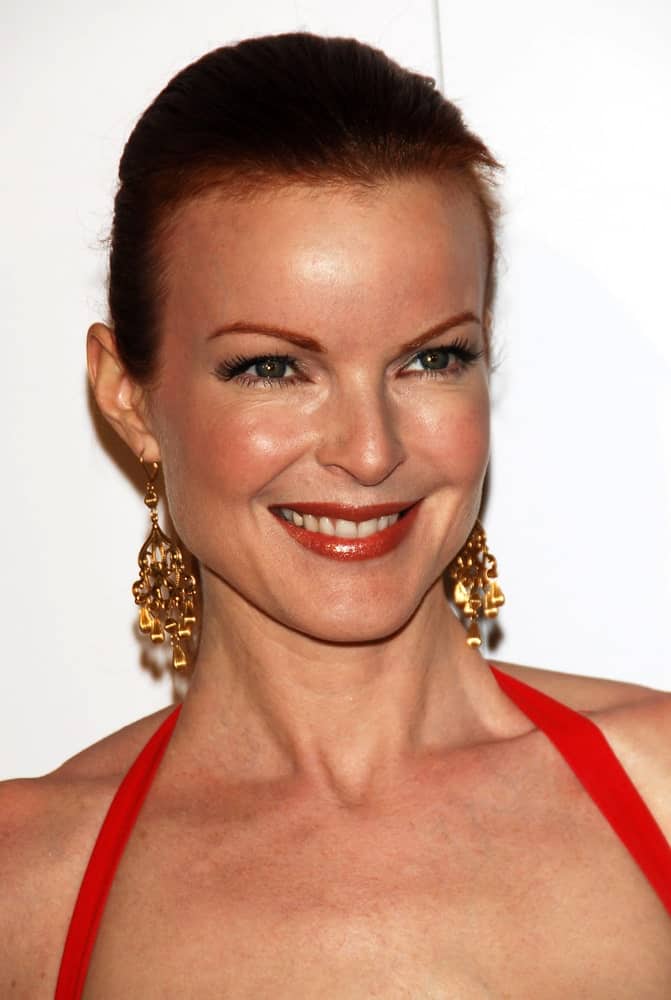 If you want to go even shorter, you can always rock a buzzcut as Marcia Cross does here. It's edgy, chic, and probably requires significantly less effort to maintain!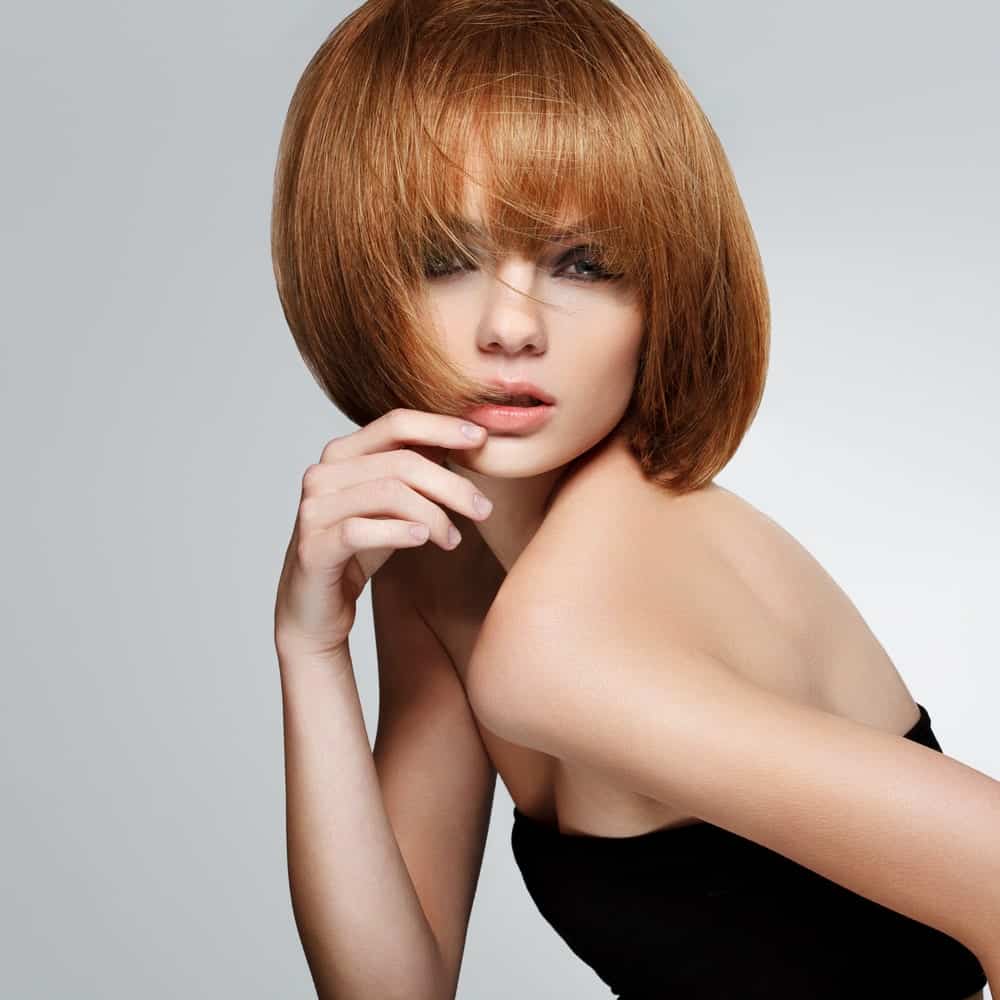 If you want to keep your hair short and want to keep bangs without looking too edgy, try this beautiful rounded hairdo. It'll give a nice softness to your face and will add tons of volume!
Molly Ringwald shows us how side-swept bangs and a short bob are a great combination for copper-haired folks who wear glasses.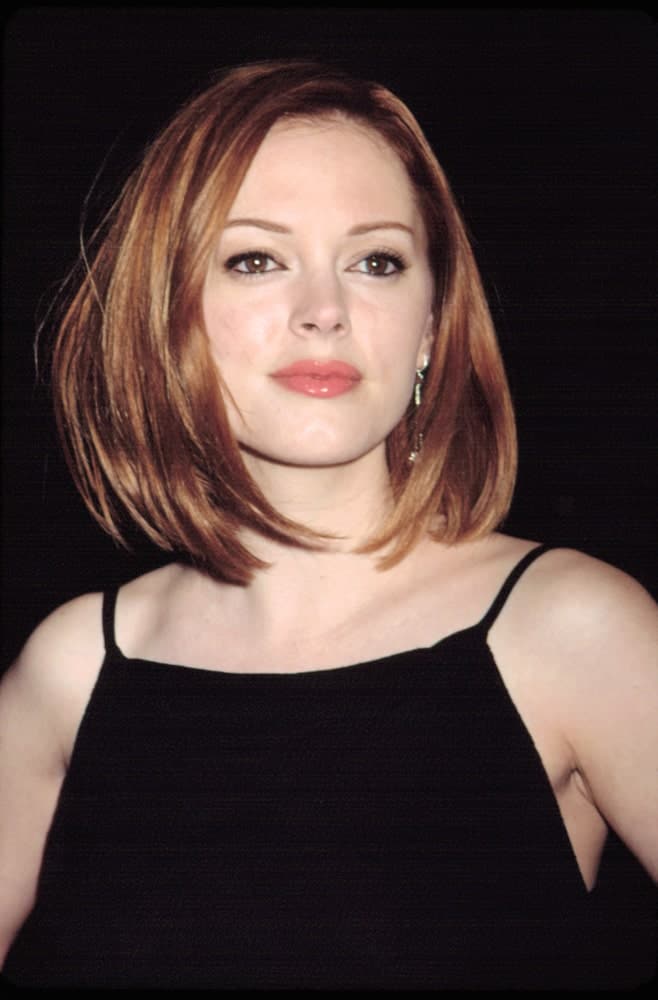 You don't need to have bangs with your bob. Rose proves that with her neat, even layered bob cut. Styling your hair like this frames your face beautifully and looks incredibly graceful.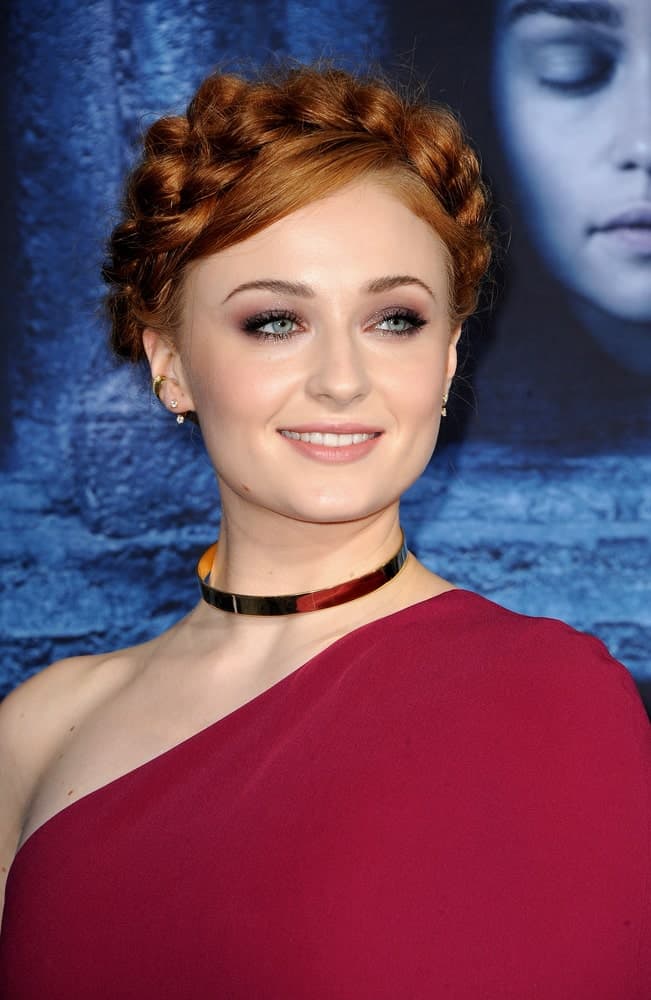 A great way to style longer hair while making sure the color stands out is by making a braided headband. Sophie Turner shows all how a thick braid wrapped around the head looks elegant while still being trendier than simple buns.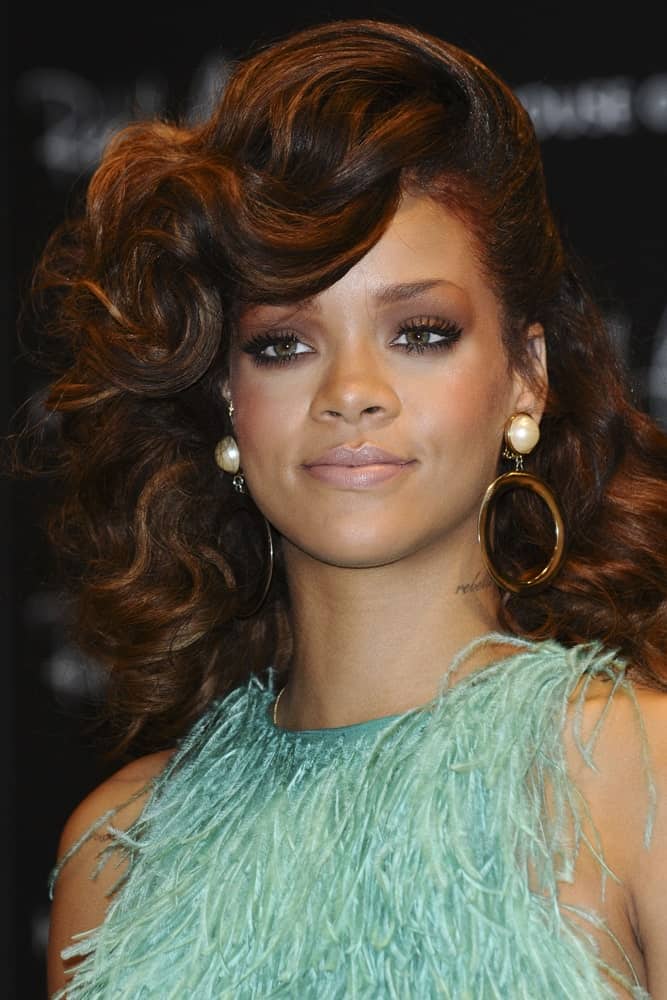 If you want your copper stands to have tons of volume, you can consider layering curls at the top of your head like singer Rihanna does here. It makes a very glamorous statement!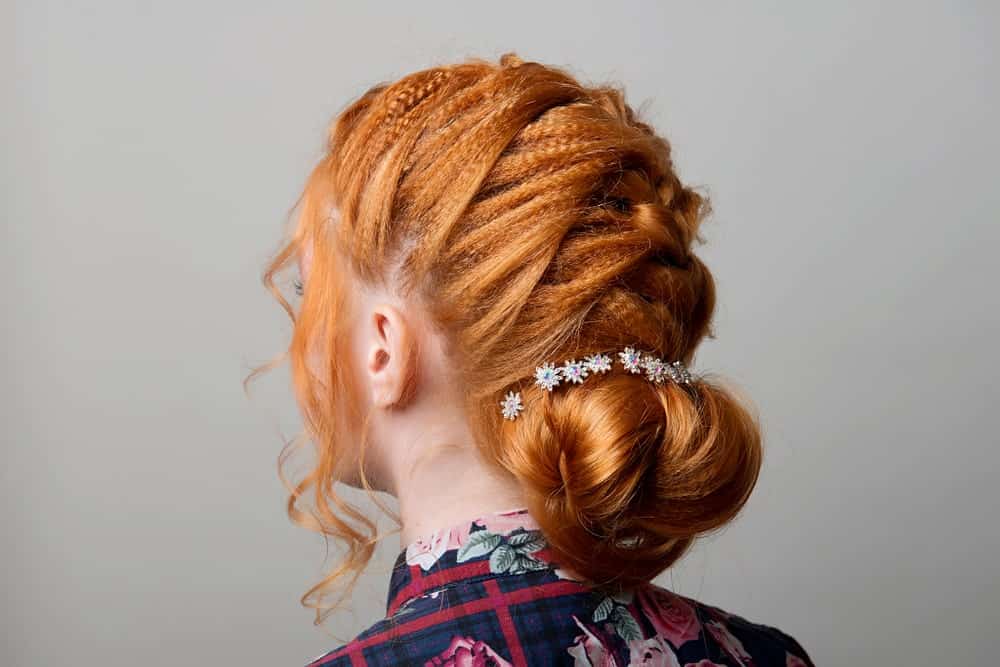 If your hair has dreadlocks, you could consider this beautifully textured updo that braids down the back of the neck and finished with a soft bun at the base.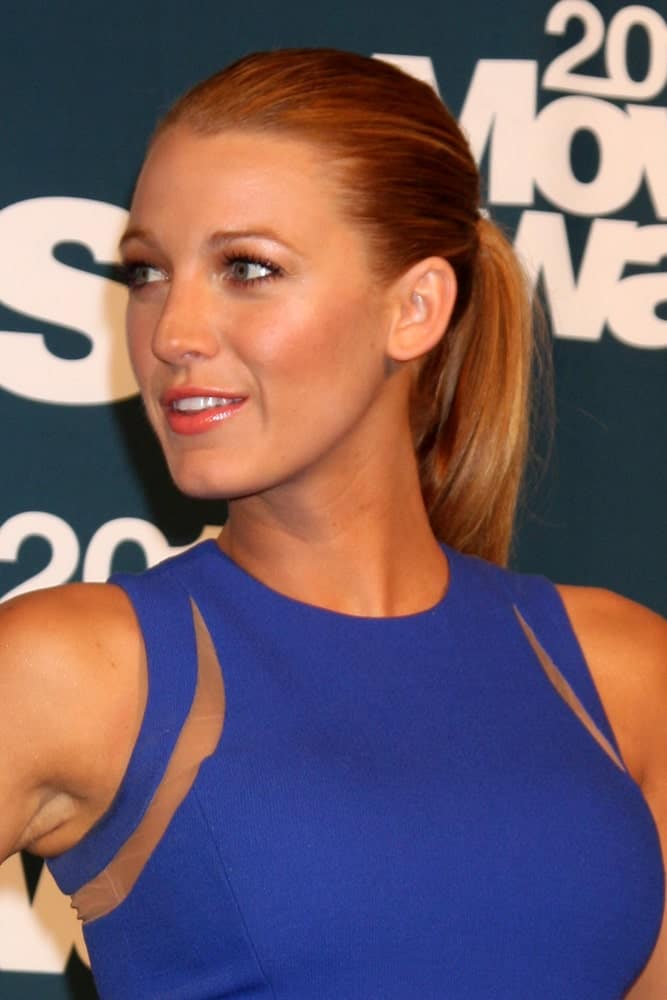 A sleek ponytail never goes out of style. Blake here shows us how a classy ponytail can bring out the different hues of your hair the way they're helping her dark copper highlights to show through the lighter shades.
Click here for Blake Lively's hairstyles over the years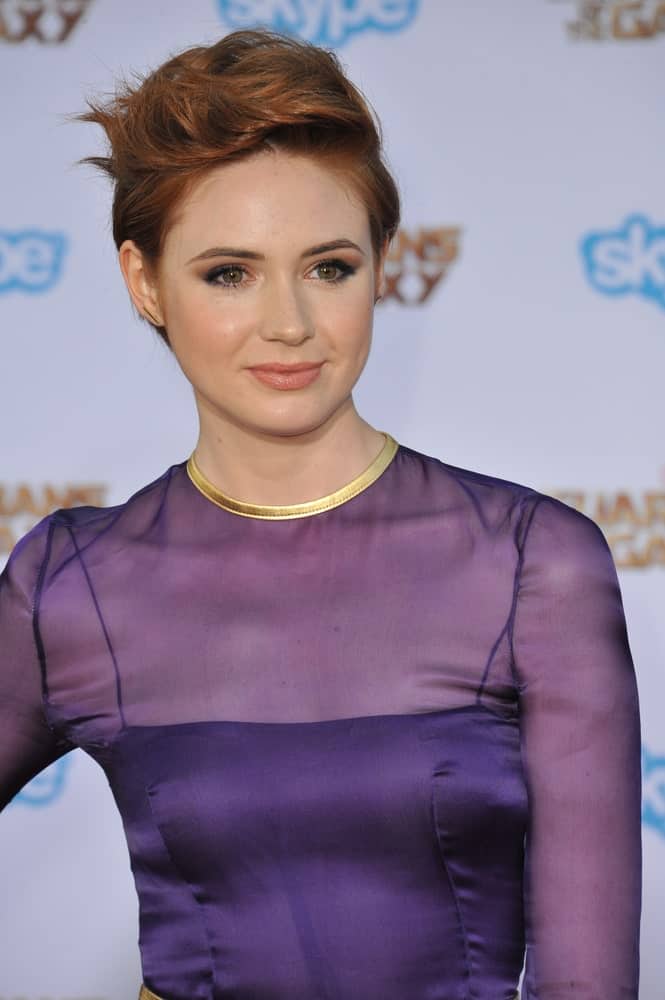 Karen Gillian's hair is naturally a gorgeous shade of copper. She styles it here with a trendy short updo that adds waves to the top of her head while keeping the sides sleek and straight.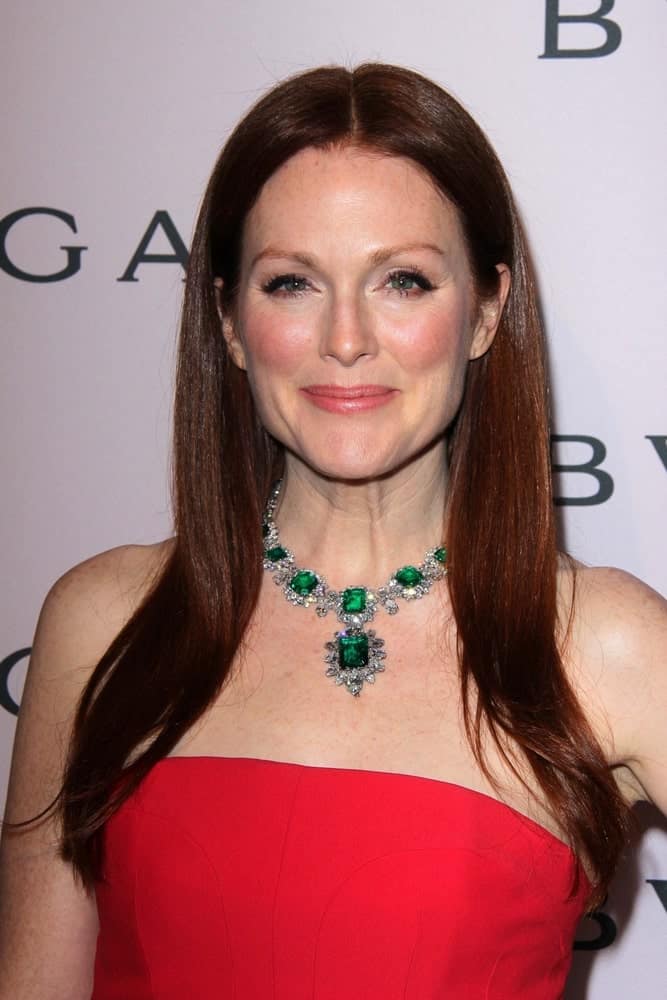 A simple middle parting and sleek straight hair go great together and are a great hairstyle option if you want to keep the focus elsewhere like her necklace here.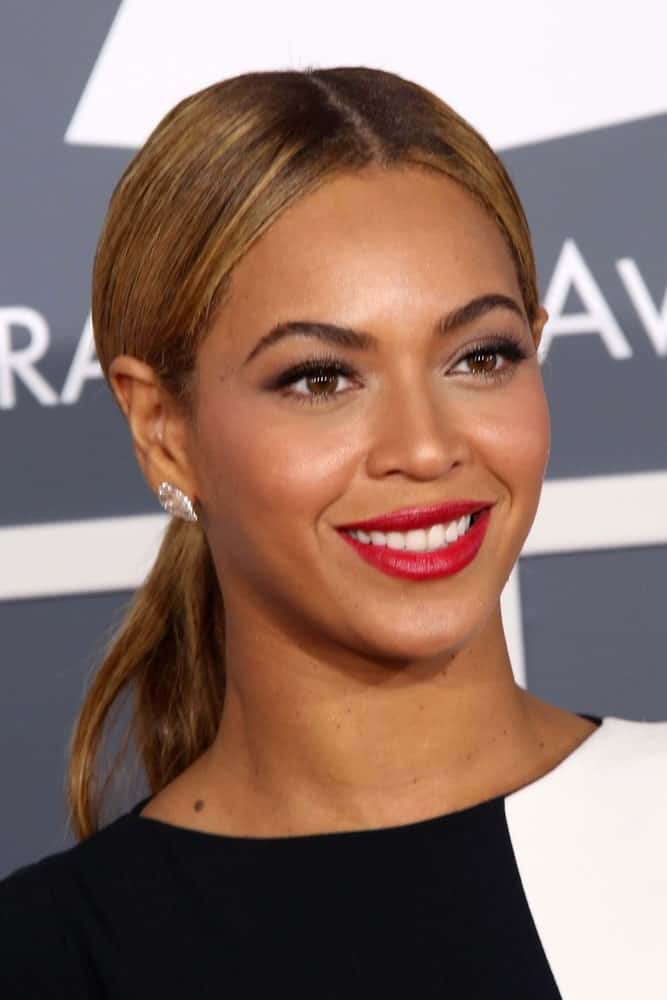 Beyonce rocks a middle parting here as well but pulls her hair back into a ponytail so her earrings can shine. A great choice for keeping your face the main focus!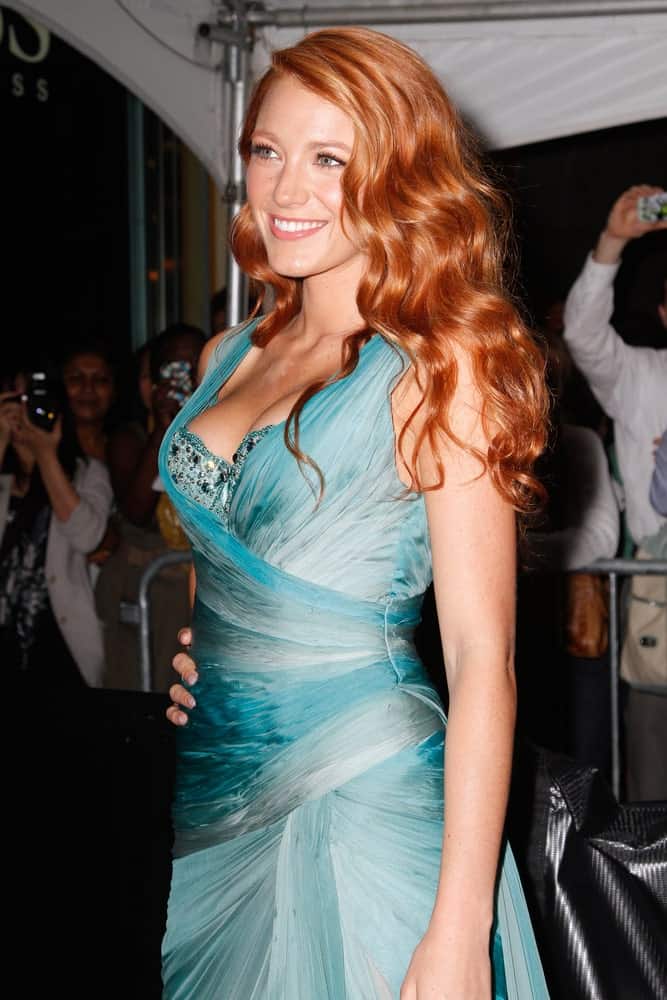 Is there anything quite as classic as Old Hollywood glamour? These Hollywood curls look absolutely stunning on Blake's rose-gold copper-toned locks. And there are so many ways you can style them!
Click here for Blake Lively's hairstyles over the years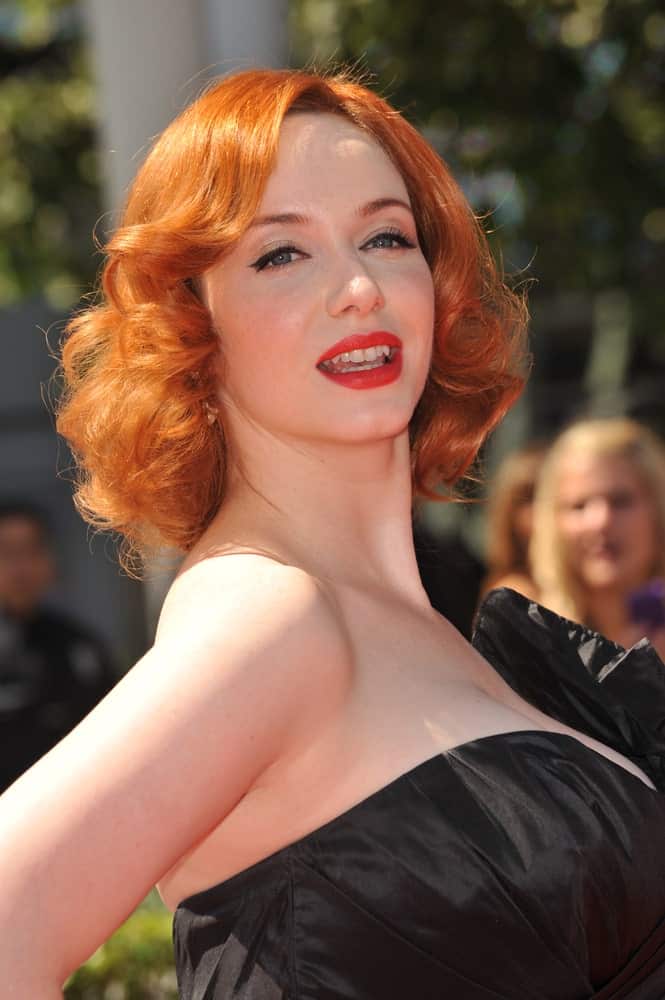 Hollywood curls look gorgeous on short hair too. They add a very Marilyn Monroe touch to your overall look. Pair them with some side-swept bangs and you'll look every bit as glamorous as Christina Hendricks does here!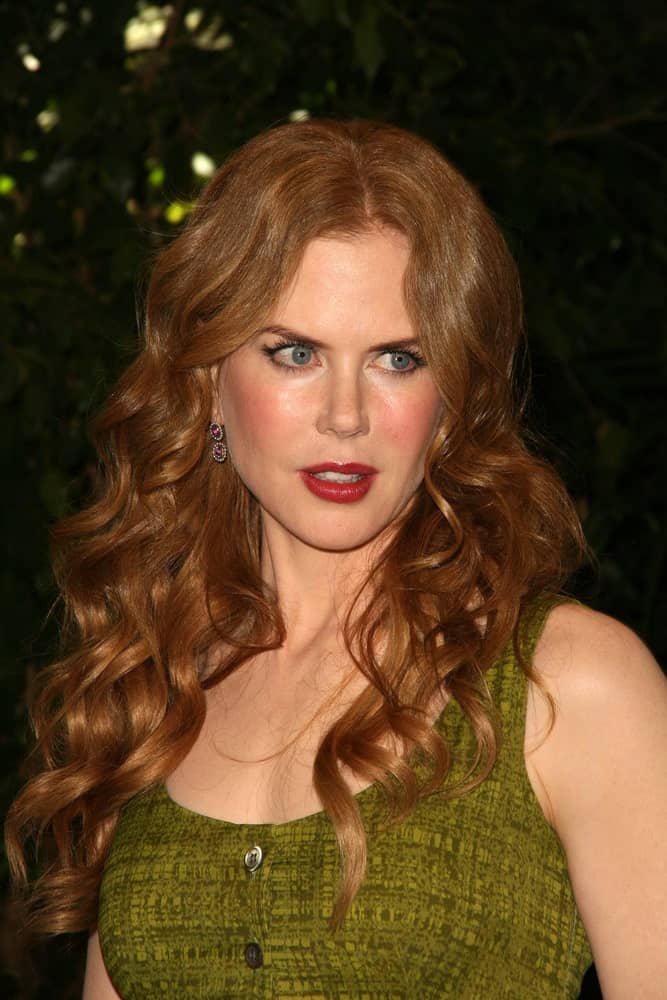 Looser curls are a style on their own. You can choose to leave them flowing freely with a simple center parting for a chic, Victoria's Secret model look.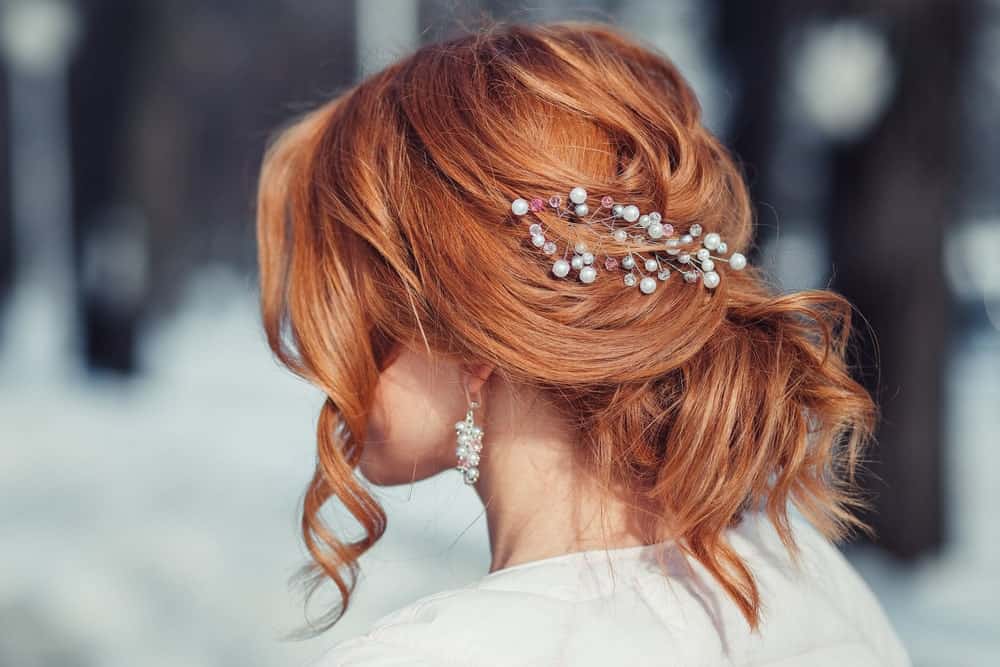 If you're looking for a more formal hairstyle, consider this twisted bun with soft curls framing the face and a hair accessory to top it off. Pearly white and gray accessories go great with copper hair.
Simple, but striking – Christina Hendricks's voluminous hairstyle is something medium length hair people should take inspiration from. She adds lots o f height with backcombing and lets her bangs frame her face. The effect is simple, yet incredibly striking.
If you're not a fan of backcombing, you can always leave it out like Emma Stone does here. You can pin back your hair at the crown for a half-up, half-down effect that looks stunning.
Click here for Emma Stone's hairstyles over the years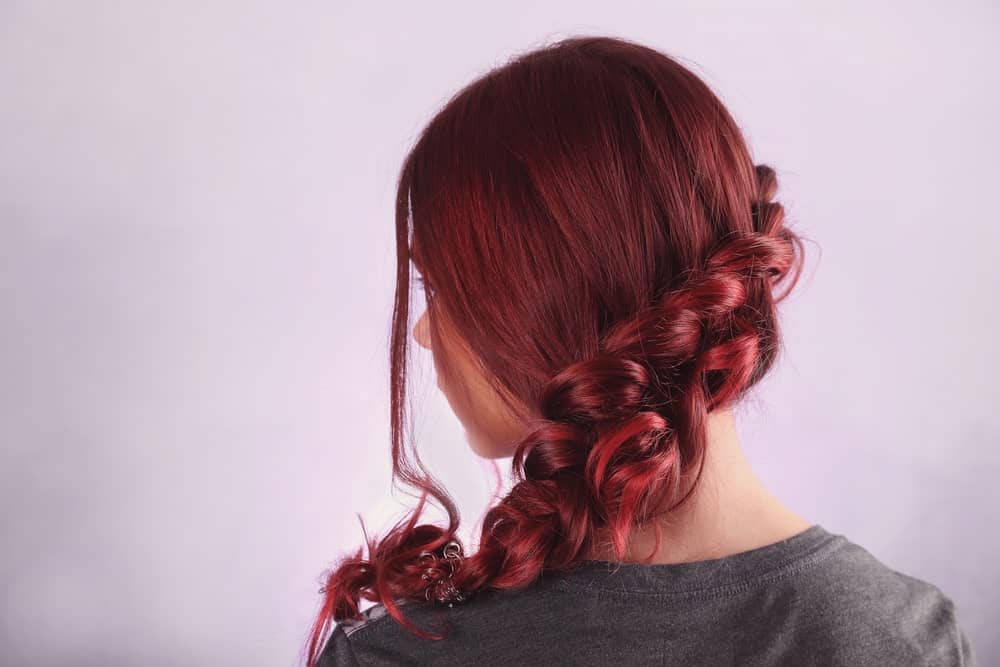 A thick, flowing braid down the side of your head is a great way to showcase the fiery undertones of the hair.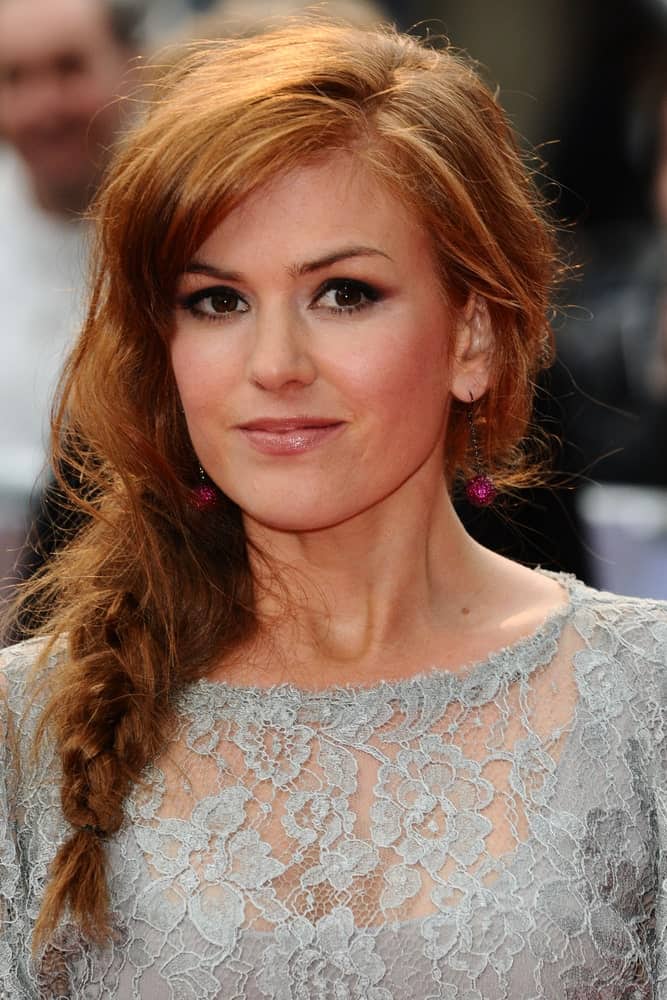 If very intricate braids are not your style, try a simpler fishtail braid for a more casual and effortless finish as Isla Fisher does here. Leaving a few strands loose gives the look a softer finish.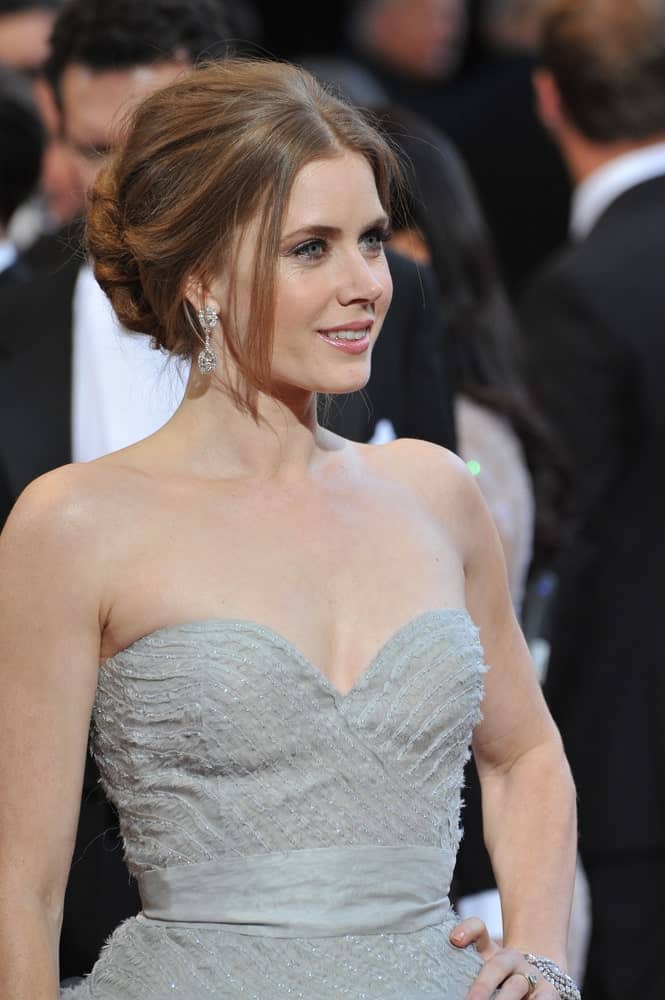 If you're looking for something to wear to prom or a wedding, this sleek, elegant updo that Amy Adams is sporting, is the perfect option! There's just the right amount of backcombing and a single, stray left to frame the face.
Click here for Amy Adams' hairstyles over the years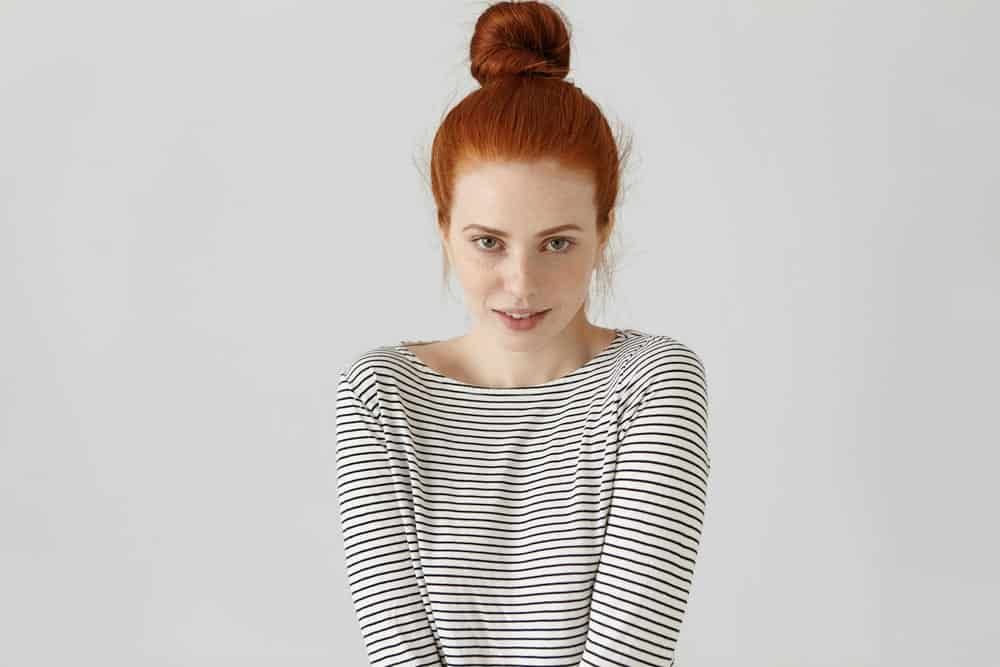 If you want something easy-going and youthful, try styling your hair in a tight top bun with a few baby hairs pulled out. It's a great look for any hair color and works great with longer hair that you want to keep out of the way.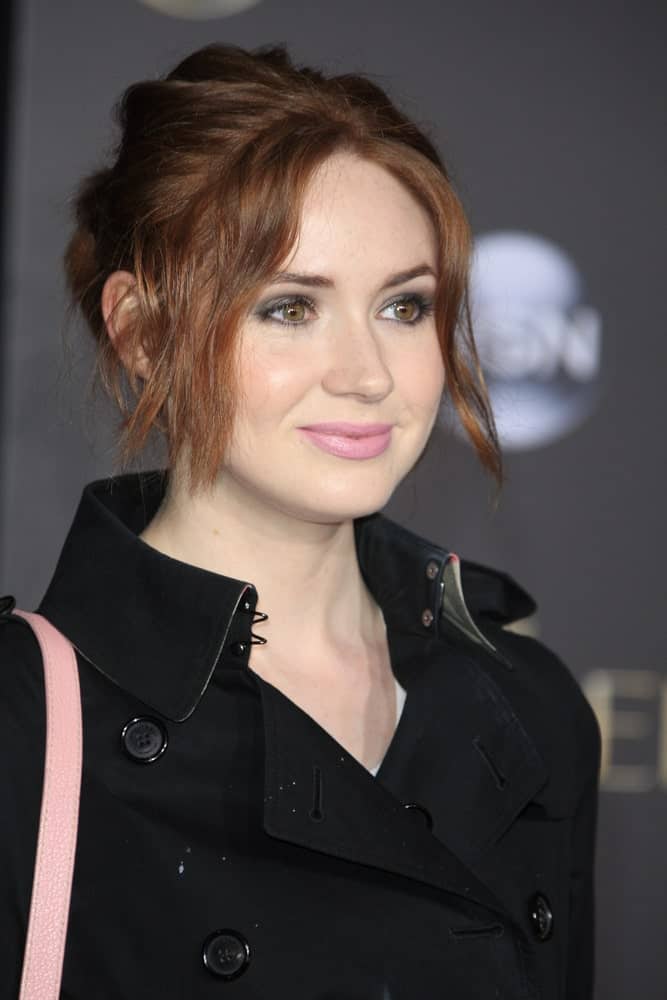 Karen Gillian sports face-framing bangs and a messily swept-back bun for the premiere of Cinderella. It may be a premiere, but this a great hairstyle option for movie nights, both in house and at the theatres. Casual, simple, yet stylish!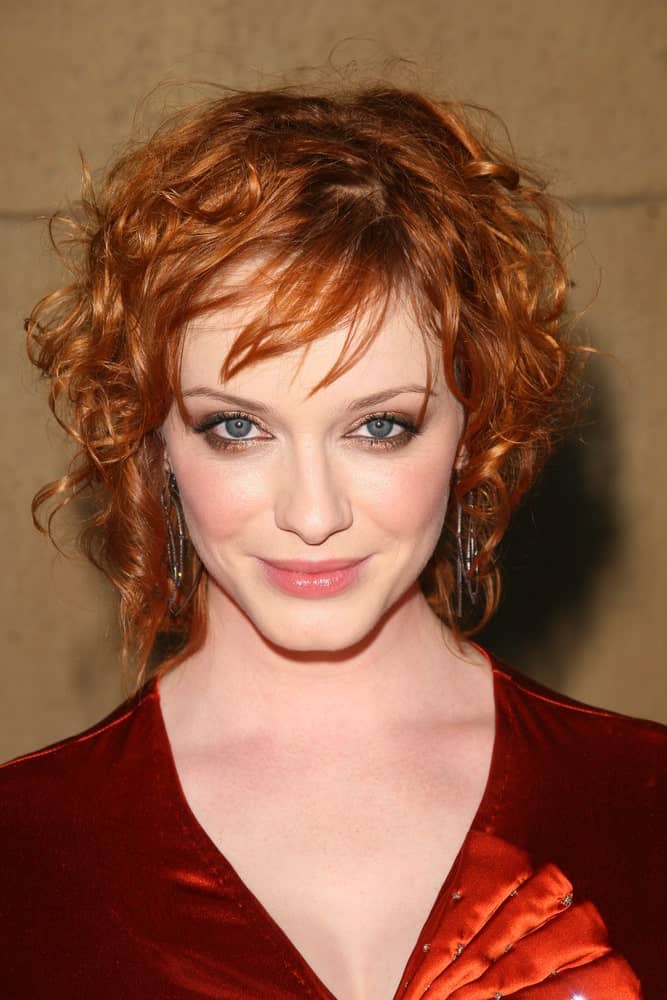 An angled bob for curly copper hair can give a very artistic, carefree look to any face shape!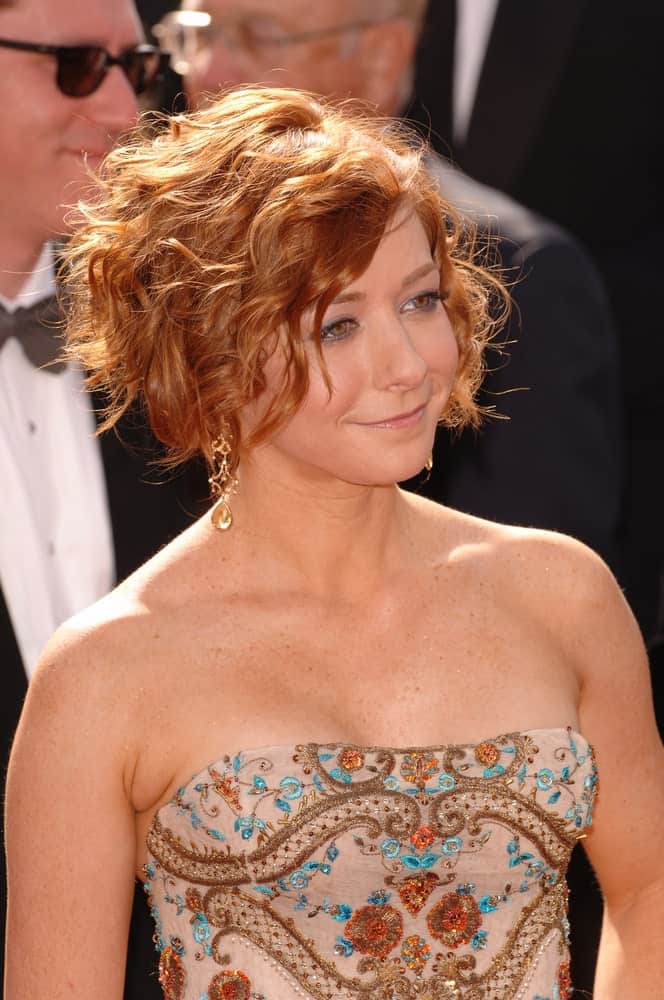 If you have curly hair and want a long bob, you can consider getting short bangs to add some frame to your face – especially if you have a sharper jawline as Christina Hendricks does in this picture.
Who says messy curls can't look elegant? Christina Hendricks once again rocks her copper hair at the Golden Globe Awards and somehow manages to makes messy curls piled on top of her hair look extremely glamorous.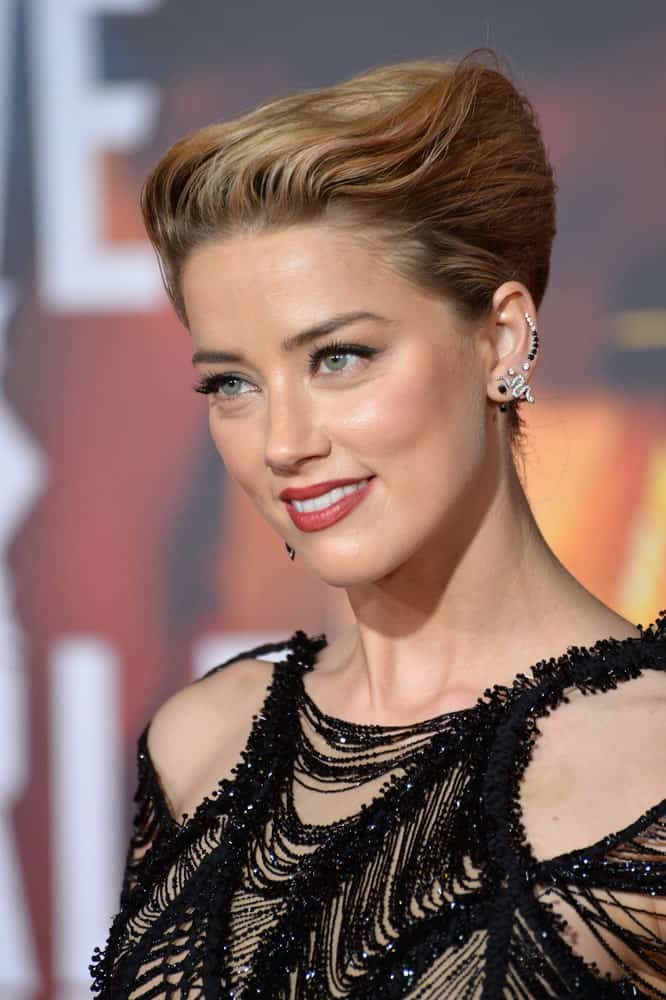 This angled, gravity-defying hairstyle is one of our trend favorites. Stand apart from the crowd like Amber Heard does with an elegant, wavy angled updo.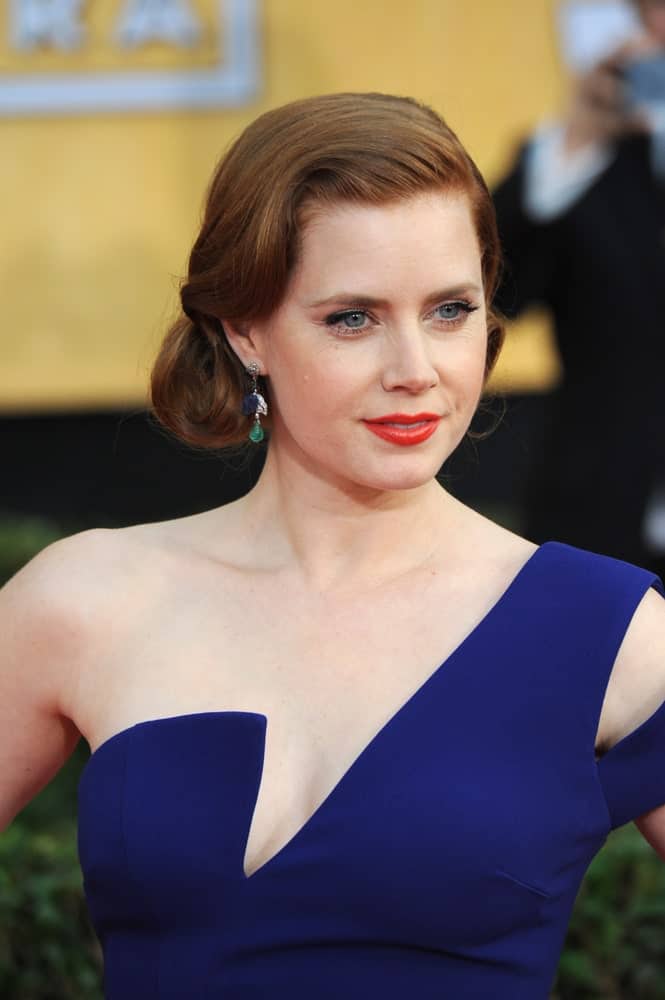 Take a simple side bun and make it look just a tad bit classier with a single, well-placed wave-like Amy Adam sports here on the red carpet. The soft curve of the hair before it's pinned back, adds character to an otherwise sleek hairstyle.
Click here for Amy Adams' hairstyles over the years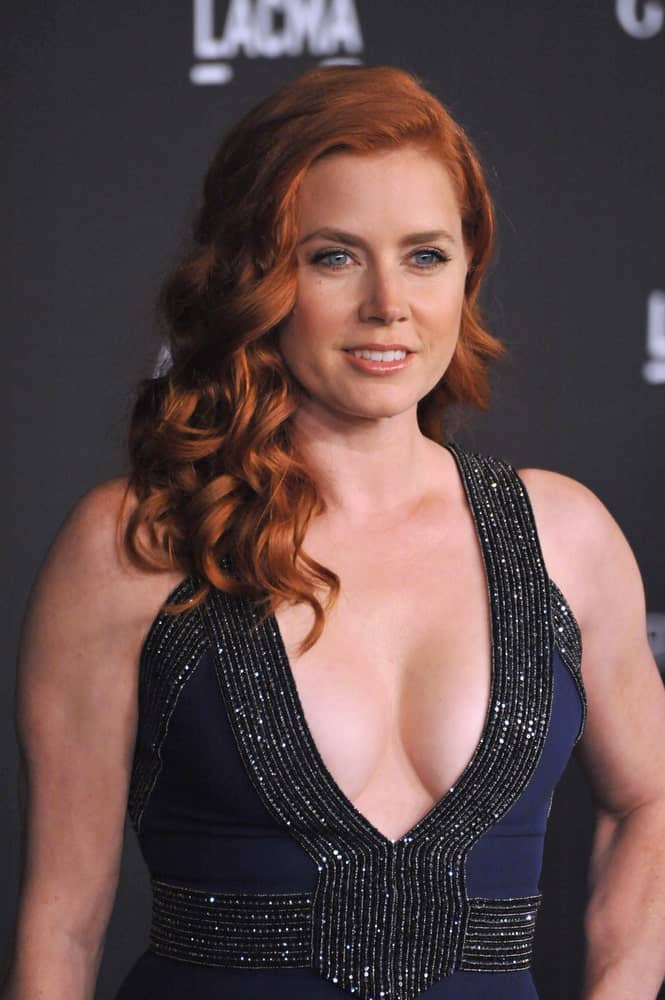 Sometimes all you need is soft curls swept to the side and you're good to go!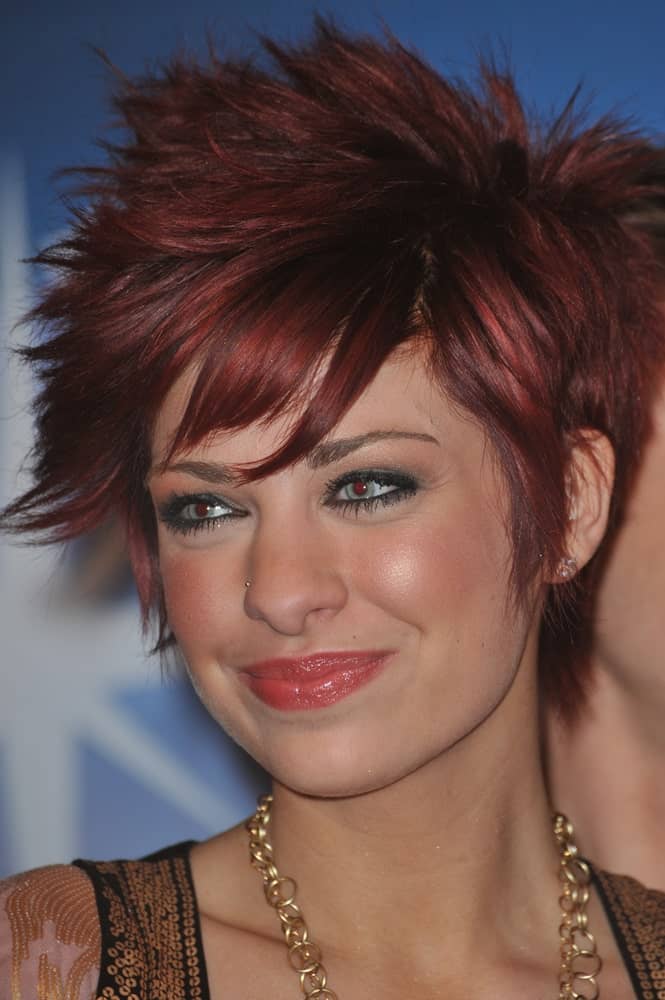 If you want a vampy, edgy look, try a hairdo with lots of spiky layers and bangs sweeping down your forehead. It'll give a very rock star look, we promise.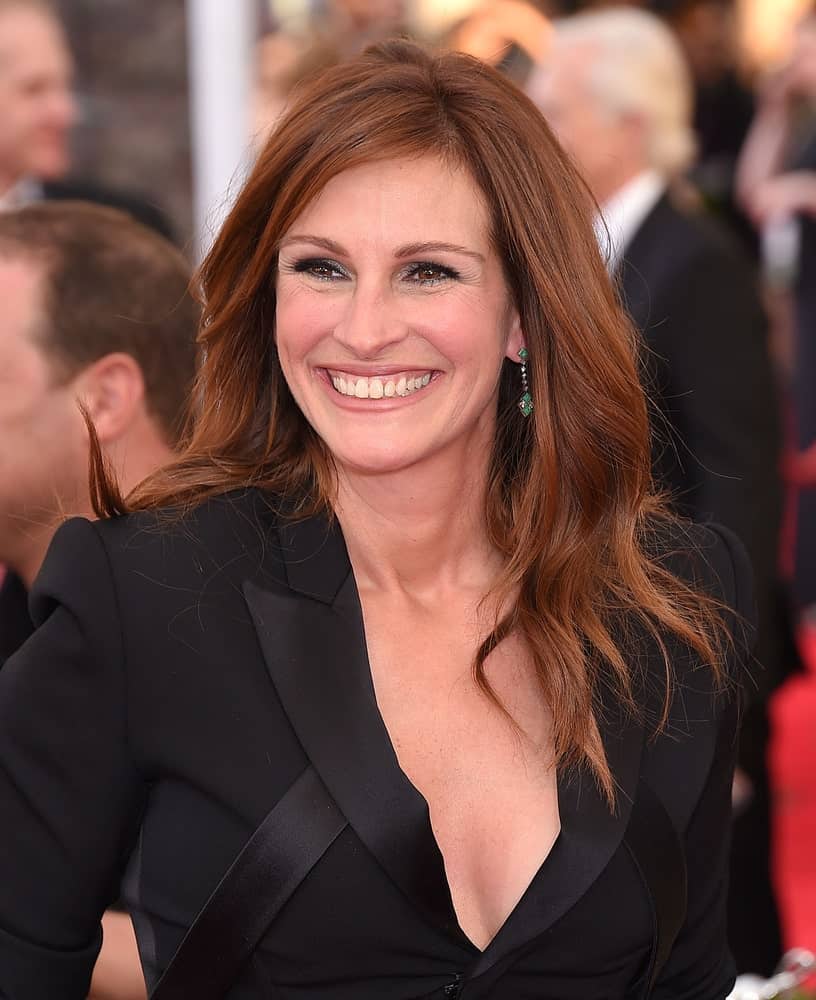 Copper hair has such a great hue that sometimes, even leaving it casually parted to the side without elaborate curls or braids can still look glamorous. Just look at how well Julia Roberts pulls it off here!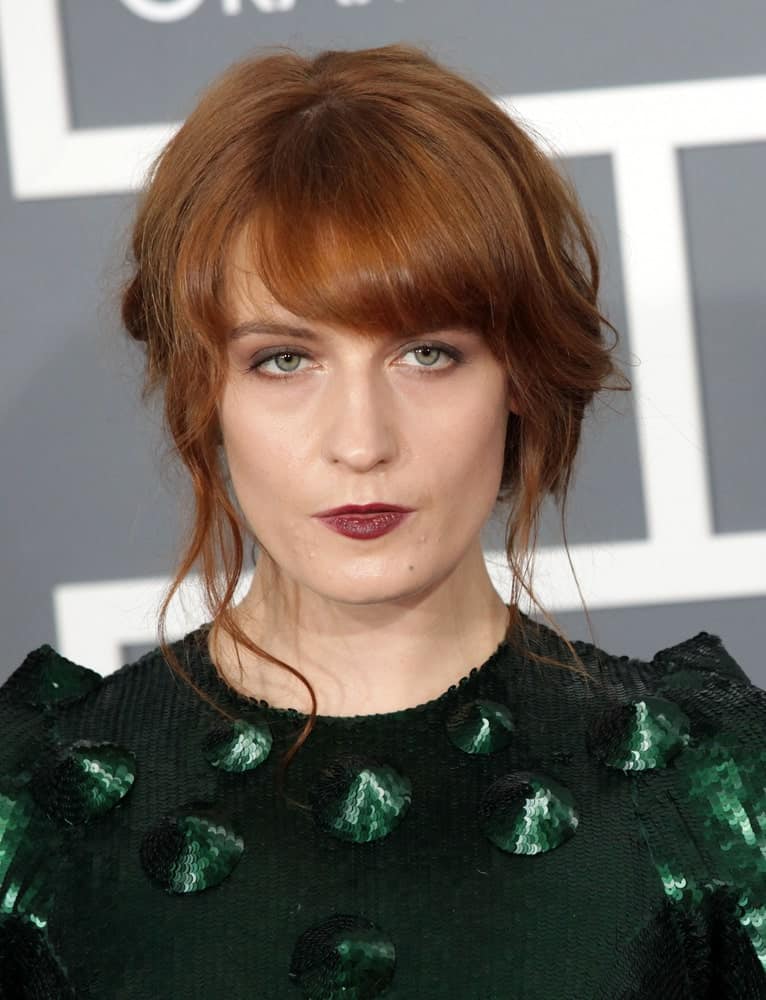 For a more dramatic effect, style your bangs wider like Florence does here. It gives the illusion of thicker hair and we love the finished look!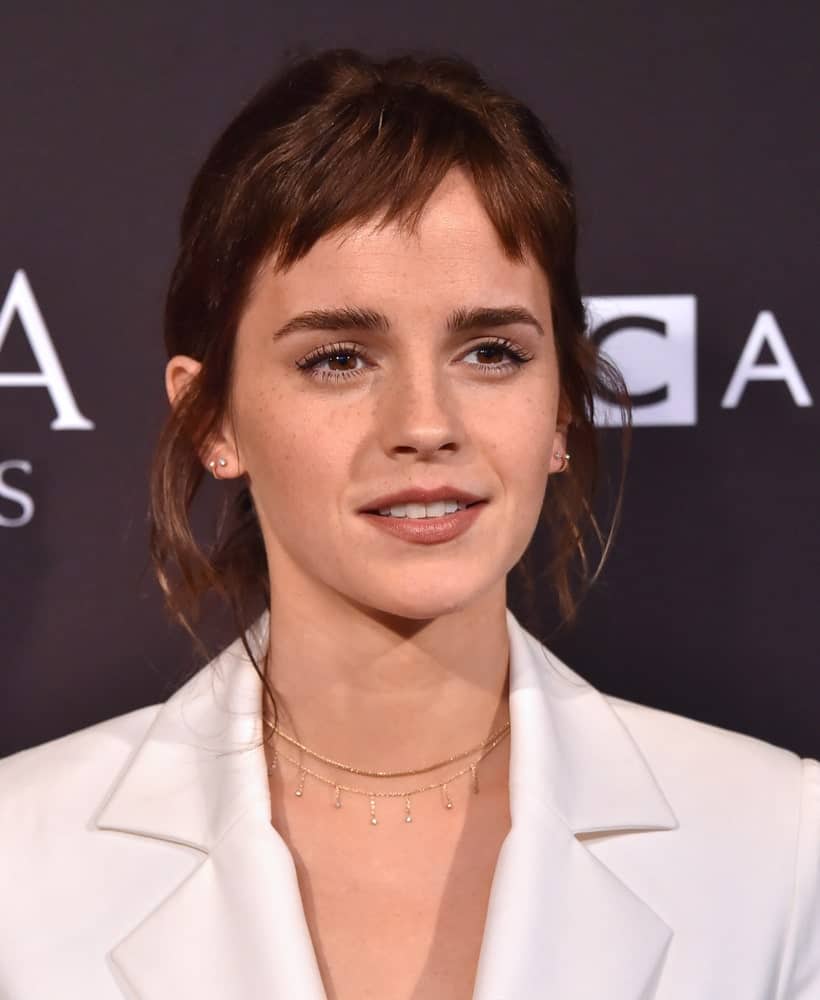 Emma Watson's signature copper hair was a signature part of her character on Harry Potter but in real life, the actress opted for a short, edgy fringe and buzz cut and we think it could look incredibly trendy on anyone!
Click here for Emma Watson's hairstyles over the years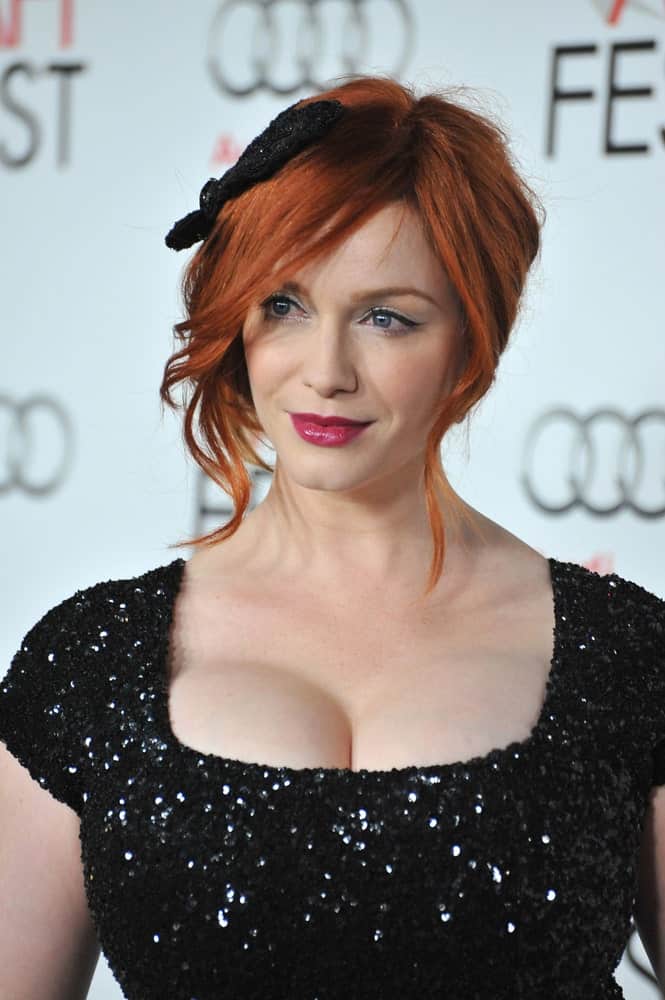 Recall that we mentioned pearly accessories go great with copper hair. Well so does black! Add a simple, chic headband like Christina Hendricks does here for a polished finish.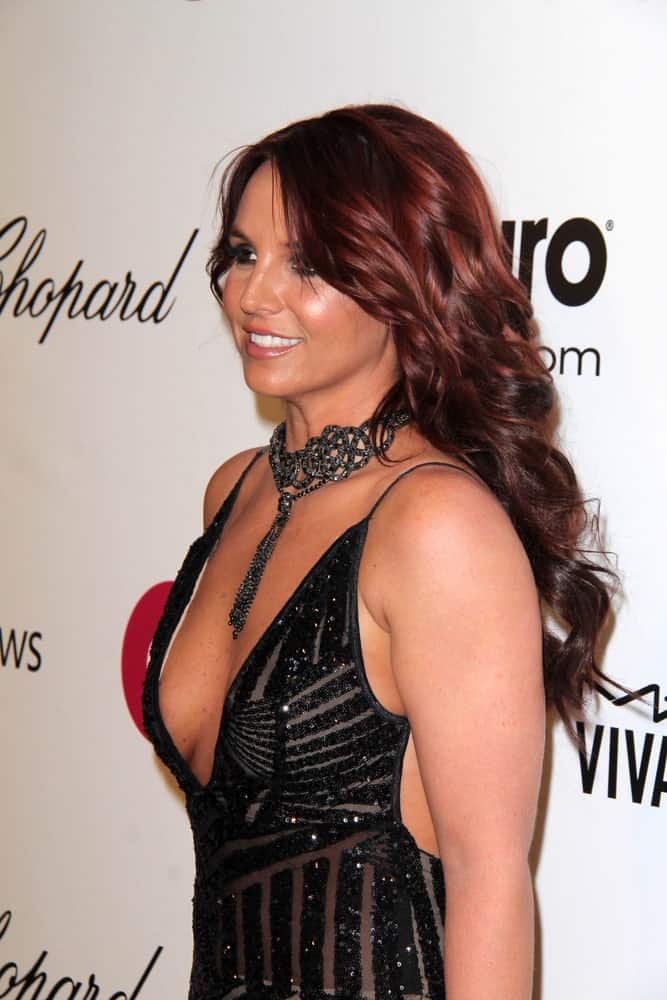 The singer attended the Elton John AIDS Foundation's Oscar Viewing Party on March 3, 2014, with long copper hair defined with thick, big curls.
Click here for Britney Spears' Hairstyles over the years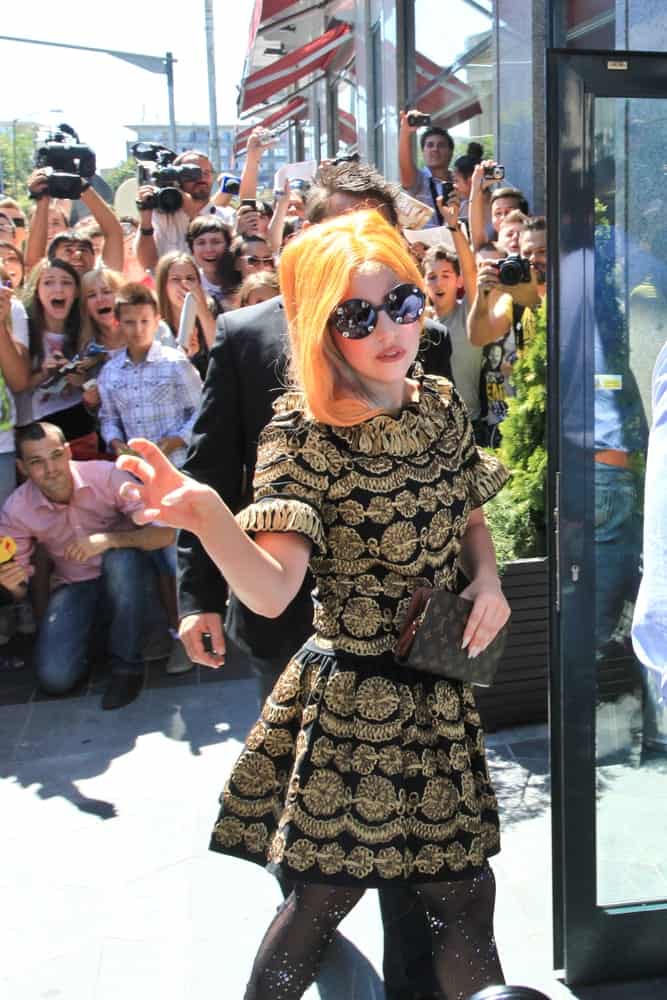 American singer Lady Gaga went with a red-orange tone to her shoulder-length straight hair and sweet cocktail dress when she arrived at the Hilton Bucharest on Aug 15, 2012.
Click here for Lady Gaga's hairstyles over the years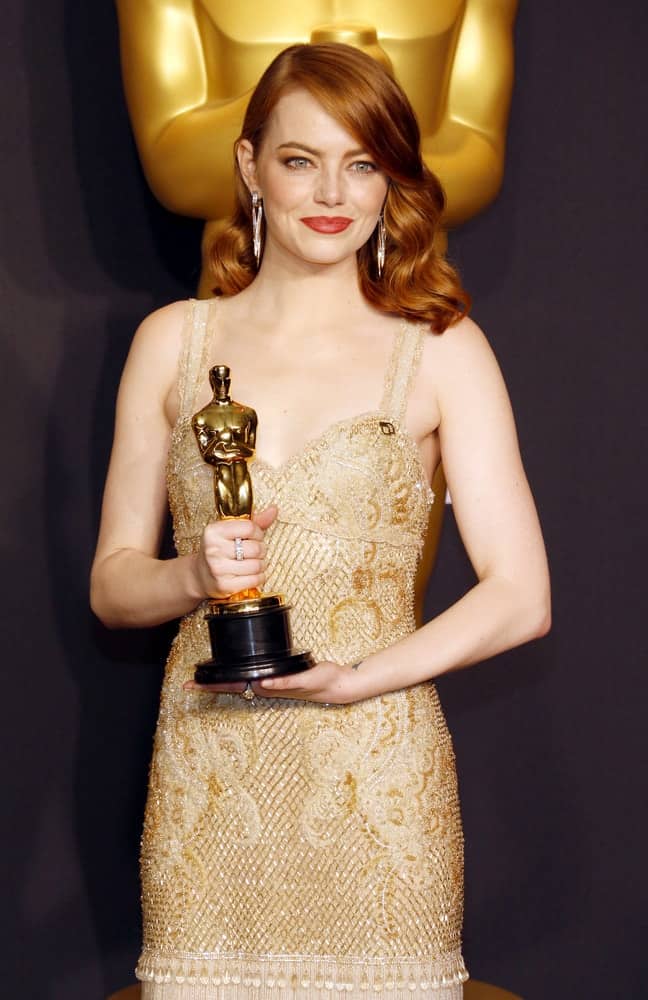 Emma Stone was practically brimming with pride as she holds her trophy at the 89th Annual Academy Awards at the Hollywood and Highland Center in Hollywood on February 26, 2017. She wore an elegant vintage dress with her red side-swept waves.
Click here for Emma Stone's hairstyles over the years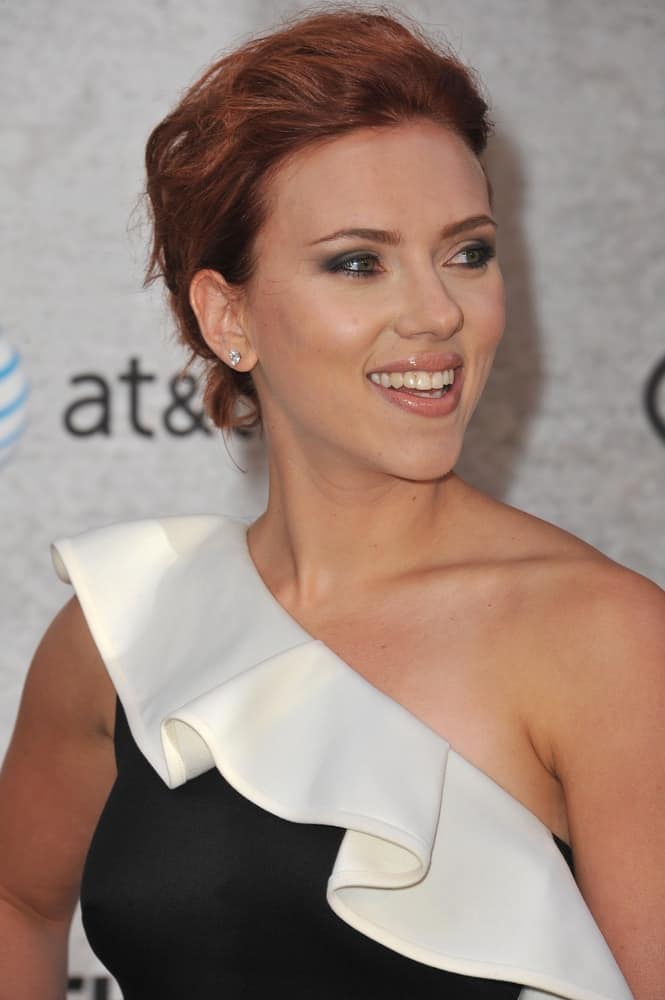 Scarlett Johansson paired her one-shoulder black and white dress with a tousled and messy bun hairstyle with a slight pompadour look at the Spike TV's Guys Choice Awards 2011 at Sony Studios in Culver City, CA on June 4, 2011.
Click here for Scarlett Johansson's hairstyles over the years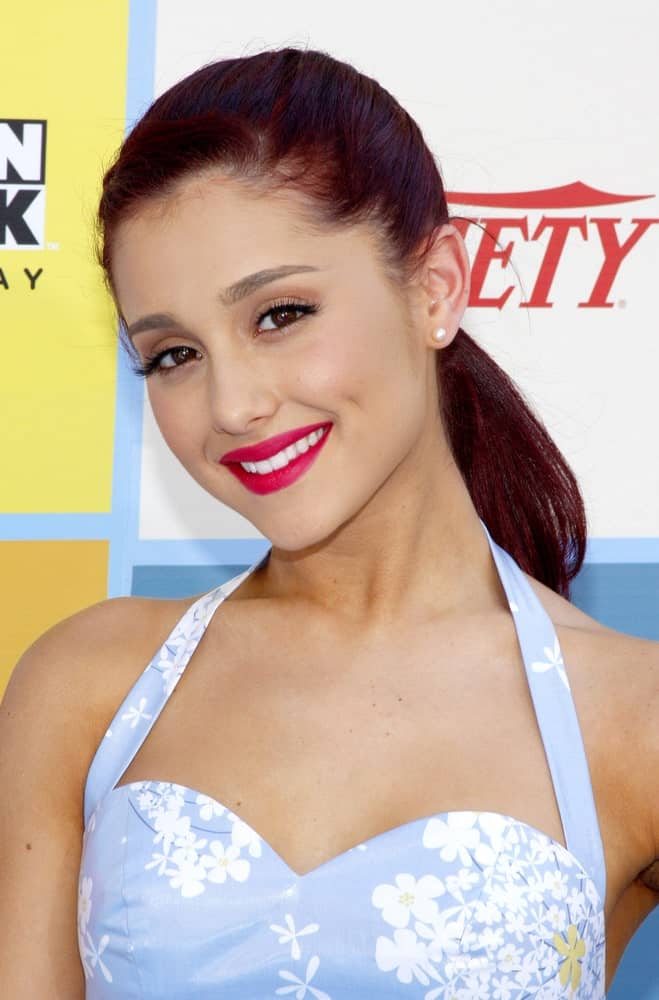 Ariana Grande flashed a sweet smile with her low ponytail at the Variety's Power Of Youth held on September 15, 2012. She finished the look with a blue halter top and a bold red lipstick.
Click here for Ariana Grande's hairstyles over the years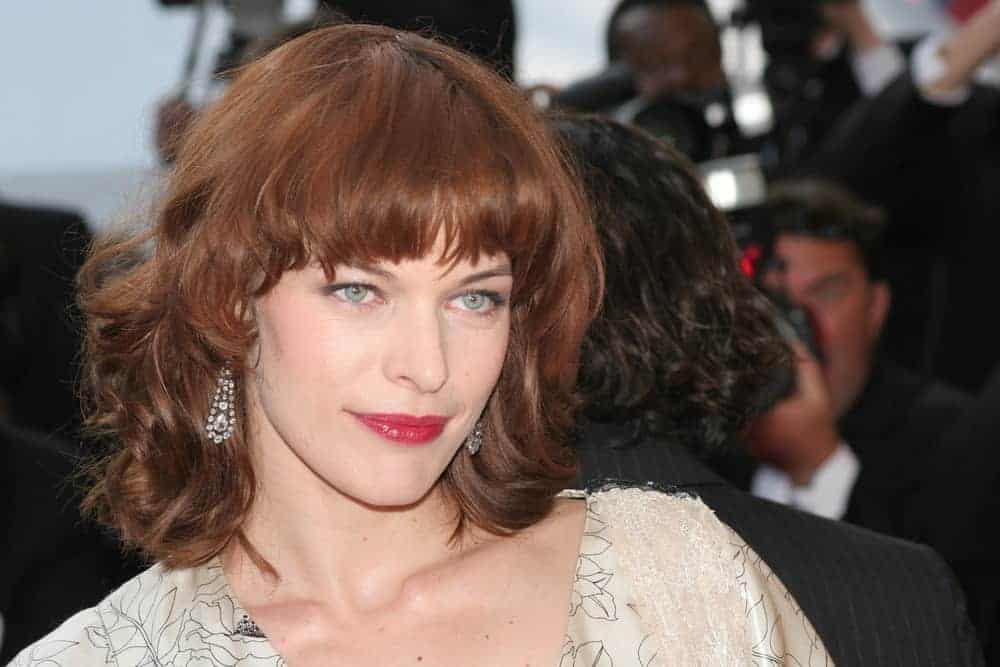 Milla Jovovich attended the screening of 'Three Burials of Melquiades Estrada' at the Grand Theatre during the 58th Cannes Film Festival on May 20, 2005, in Cannes, France. She was stunning in her beige dress and tousled shoulder-length hair with bangs and a reddish tone.
Click here for Milla Jovovich's hairstyles over the years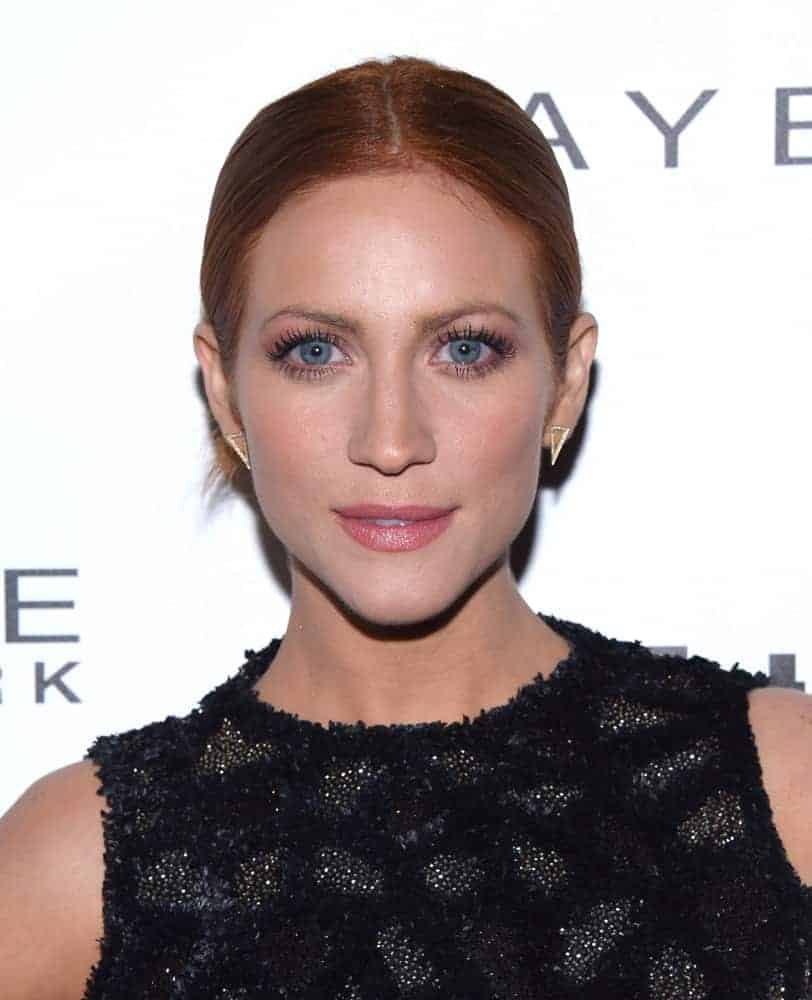 Brittany Snow attended the EW Magazine honors SAG Nominees on January 20, 2018 in West Hollywood, CA. She was seen wearing a lovely black dress to pair with her slick bun hairstyle.
Click here for Brittany Snow's hairstyles over the years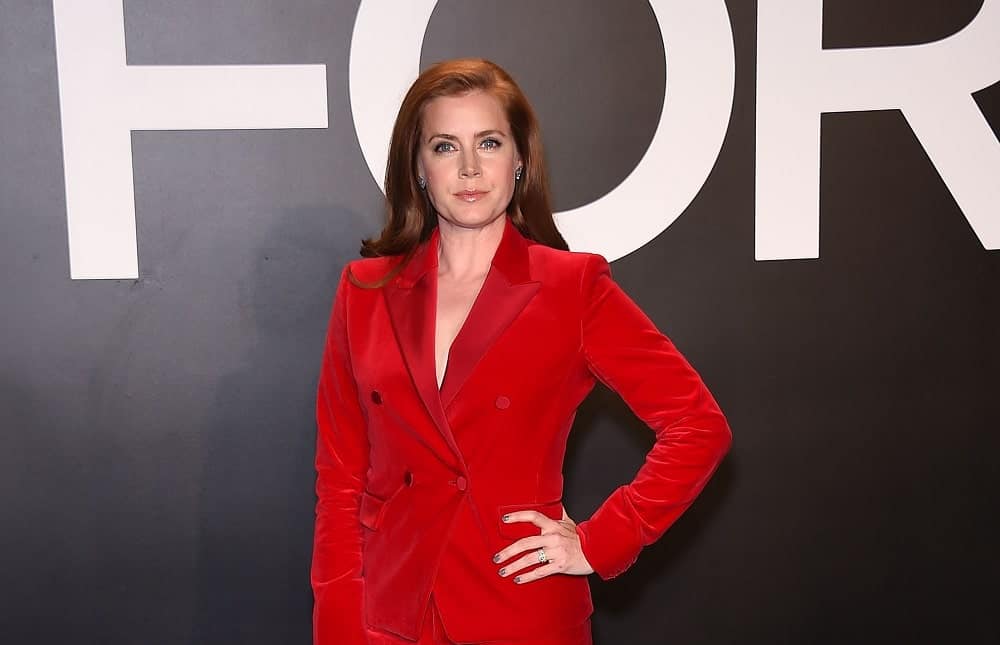 Amy Adams attended the Tom Ford Autumn/Winter 2015 Womenswear Collection Presentation on February 20, 2015 in Hollywood, CA. She paired her red smart casual outfit with a long and straight loose red hairstyle.
Click here for Amy Adams' hairstyles over the years
---
Which Shade of Copper Should You Choose?
If you have porcelain skin with pinkish undertones, your best choice will likely be a bright copper color that has soft and golden highlights mixed into the shade. It can be worn best with medium textured hair that lays straight or wavy, and can quickly be pulled into an elegant updo or worn loose and long.
Alternately, fair-skinned women who tend to wear pink and green colors the best may choose a copper penny color with flecks of bright gold woven through the hair. This color looks especially vibrant and exciting with short or pixie cut hair but can shine in any length, and it is easiest to maintain with hair that is naturally wavy or straight and textured somewhere between medium and fine.
Getting Your Hair Dyed Copper
If you are considering getting your hair dyed copper, whether your hair is naturally red, blonde, or even dark brown, it may help to understand the process that goes into correctly dying hair to match your desired color. The process will change, depending on your natural hair and personal hair history (if you have dyed your hair previously), so most women prefer to go into their salon armed with the knowledge of what to expect and how long the process should take.
For blondes and natural redheads, getting copper tones added in order to bring light and excitement to your hair is a somewhat straightforward process, where the dye is simply applied and then rinsed out after a period of time. However, for individuals with naturally dark hair or previously dyed hair, the stylist will probably want to lift the natural dark shades out of the hair first, a process which can take as long as an hour, before adding the dye, so the color attaches and stays vibrant for longer.