68 super cool different types of pixie haircuts and styles for women. This hand selected collection includes all hair colors and hair types.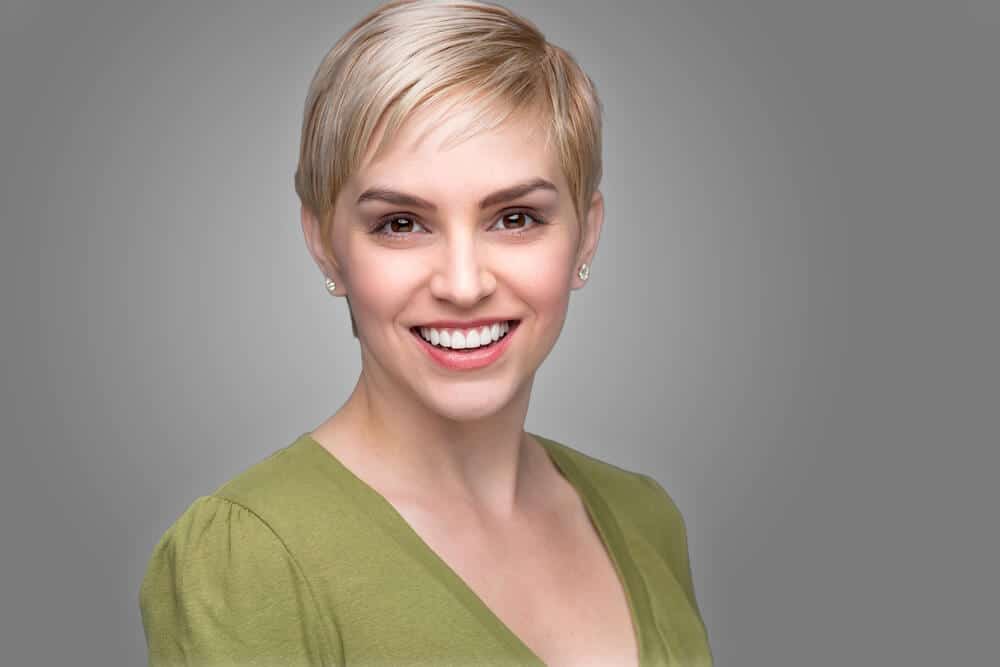 Welcome to our 2023 pixie haircuts for women.  Scroll down to check out many examples.  We put 20 per page so just click the paginated numbers to see more.
We add more pixie hairstyle photos every week so be sure to check back often.
The pixie cut is not just a fashion statement; it is a symbol of women empowerment and first made an appearance in the 1920s, when women dared to break the mold of femininity by slashing their hair shorter than ever. Unfortunately, the trend died down in the following decades — until Audrey Hepburn in 1953.
Hepburn received an Oscar for her performance in the rom-com "Roman Holiday" — which she performed with her hair lobbed off. The short hair was a crucial element of the film; however, the hairstyle gained a lot of notoriety and in the following years, supermodel Twiggy and most noticeably, actress Mia Farrow chopped their hair off in similar fashion.
Since then, hundreds of Hollywood stars have sported the pixie haircut, including Halle Berry, Madonna, and Emma Watson.
98 Pixie Haircuts for Women
Pixie Haircut With Eye-Skimming Bangs
This young woman is sporting a classic pixie cut look. However, her side-swept bangs are a bit longer and almost touch her eye, giving her a super-hip look.
Pixie Hair With Longer Sides
This pixie haircut is coupled with a few wisps of longer hair on either side. This variant of the pixie cut gives this young woman a youthful, playful look.
The Mia Farrow Haircut
Mia Farrow earned a lot of shocked gasps when she chopped off her blond hair during the shooting of "Rosemary's Baby." However, her liberating hairstyle, portrayed by the young woman above, is now considered an iconic fashion statement.
Side Parted Brunette Pixie Haircut
Ginnifer Goodwin of the "Once Upon a Time" fame has more often than not sported pixie haircuts. The super-short bob with side parting suits her small-boned features very much.
Slicked Back Pixie Haircut
The young woman shows you can wear your pixie cut gelled back. This is a no-fuss look ideal for the office or for any formal event.
Pixie Cut With Extra-Long Bang
This young woman' short brown hair is balanced with extra-long bangs in the front, falling freely over her eyes. This particular hairstyle gives her a very K-pop boy band member look.
Pixie Hair With Spiky Front
Gorgeous actress Halle Berry has been rocking her iconic pixie look since the 1990s. In this image, she styled the front of her hair with spikes, giving her a very edgy look.
Click here for Halle Berry's hairstyles over the years
Pixie Cut With Jagged Bangs and Shaved Back
Rihanna, a trendsetter in Hollywood, is famous for her pixie cut which was extremely short in the back and the sides — almost like a buzz cut — but was softened by long, jagged bangs on the front.
Click here for Rihanna's hairstyles over the years
Feathered Pixie Cut
Unlike the super-straight classic pixie cut style, the feather pixie cut has the added benefit of giving your hair a bit of volume because of its feathery, fluffy texture. This one perfectly highlights this young woman's cheek and jawbones.
One Length Pixie Cut
This pixie cut has hair of one length all around the head creating a feathered look, especially around the forehead. This provides a very flattering look that highlights the jawline.
Shaggy Pixie Cut
You can achieve a shaggy, multi-layered look with this kind of pixie haircut. Not only does this style provides your hair with volume, it also looks super chic and is one of the most trendiest looks in Hollywood.
Grunge Pixie Cut
This wonderful hairstyle is super-short, almost shaved at the back. However, the top and front are comparatively quite long and can be styled into tousled, loose curls. Coupled with the black and silver hair color, this style has a very grunge look.
Posh & Fluffed Up Pixie Cut
This haircut has long bangs on the front that reach the eyebrows. The back is quite short though and the top of the pixie cut is fluffed up to give a posh yet casual look.
Punk Vibe Pixie Hair
Want to get that punky, rockstar look. This pixie haircut is the perfect style for you with its pale silver strands and long, sharp frosted spikes in the front.
The 60s Vibe Pixie Haircut
This particular pixie hairstyle has not cut down on the thickness of the hair, only its length. If you want to get that 1960s actress look, with a full crown of hair, only shorter, this is the haircut for you.
Combed Back Pixie Hair
This type of pixie hairstyle works best with people who have longer front bangs. All you need to do is sweep the bangs back for this ultra-elegant look.
Curly Pixie Haircut
You can achieve one of the most youthful looks with a pixie cut. Make sure your pixie cut is slightly longer and then style it in a mass of curls around your head.
Afro Pixie Cut
Did you know that you can get the coolest pixie cut if you have tight kinky curls? Just check out this young woman rocking the look.
Soft Tousled Pixie Haircut
This type of hairstyle is short at the back but has longer hair in the front and the sides. You can style the hair in tousled, tossed waves for a casual look.
Pixie Lott's Asymmetrical Pixie Cut
Nobody is more deserving of a spectacular pixie cut than someone names Pixie. The English singer nailed the cropped look by curling her long top and front hair to one side, while keeping hair on the other side straight and slicked back.
Choppy Pixie Haircut
This style of pixie has choppy, unequal-sized hair, giving the cut more definition and volume. The pixie haircut on this young woman is a feathered dream.
Reverse Mullet Pixie Cut
This pixie cut is super-short in the back and longer in the front, like a reverse mullet or tellum. This is a perfect compromise for those people who want to keep their hair off their nape but also want to frame their forehead.
Baby Bird Bangs Pixie Cut
This little pixie cut sported by Emma Watson after she wrapped up her work on the "Harry Potter" franchise features tiny super-short strands, like feathers on a baby bird and was her most iconic hairstyle to date.
Click here for Emma Watson's hairstyles over the years
Feathery Fringe Pixie Cut
This young woman's fringe is grown out slightly longer and adds softness to her ace because of its feathery texture.
Millie Bobby Brown's Tucked Back Pixie Cut
The phenomenal young actress who portrays the character of "11" on "Stranger Things" has the most adorable pixie cut. Her hair is just long enough on the side so that it tucks back behind the ears.
Faux Bowl Pixie Hair Cut
The bowl pixie haircut style does not fit everyone but actress and model Agyness Deyn pulls it off to perfection, with her bleached blonde, dandelion soft hair.
Pixie Hair With Razor Straight Bangs
Check out this sharp bowl cut plus pixie look by Christina Ricci. The razor straight bangs frames the actress's eye and lend some angles to her heart-shaped face to perfection.
Wispy Pixie Cut

Halle Berry's textured and wispy pixie hair cut is all thanks to her beautiful naturally curly hair. The actress has kept her bangs long in the front and short on the sides for an edgy look.
Click here for Halle Berry's hairstyles over the years
Multi-Toned Pixie Hair
This young woman is rocking the pixie hair cut look with her multi-tonal hair color, featuring strawberry blond, lavender, orange and pink shades.
Retro Wave Pixie Cut
Jennifer Lawrence has tried a lot of pixie hairstyles but this one is one of her best. The actress has added some waves and highlights to the front of her hair and swept it back on top of her head. The sides and the back remain straight ad dark.
Click here for Jennifer Lawrence's hairstyles over the years
Elegant Pixie Pompadour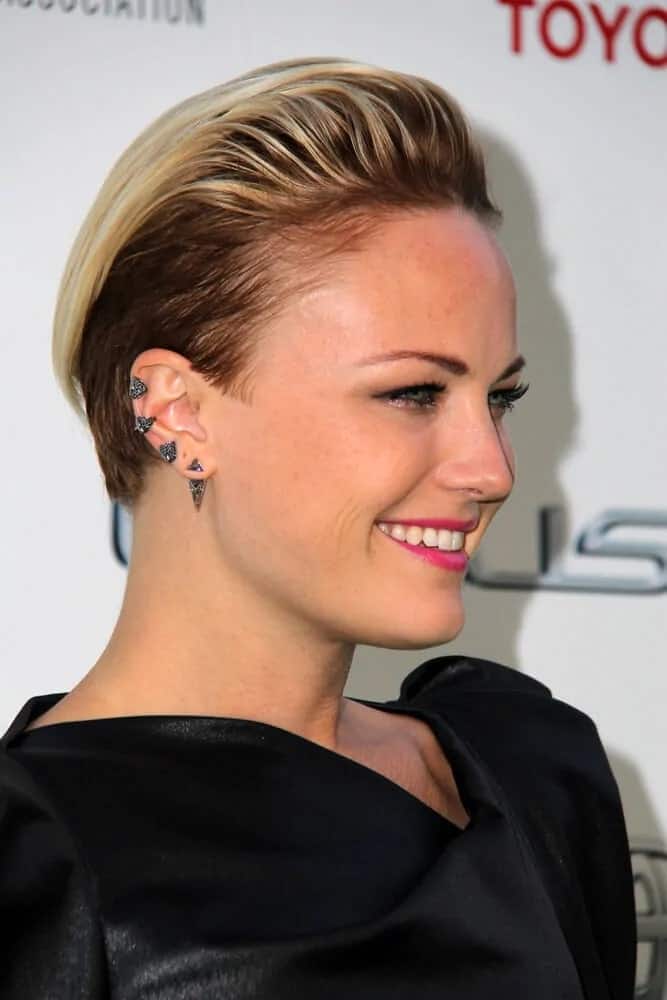 The actress was confidently elegant with her pixie hairstyle that was slicked back with a bit of pompadour look during the 2014 Environmental Media Awards.
Click here for Malin Akerman's hairstyles over the years
Edgy Side-Parted Pixie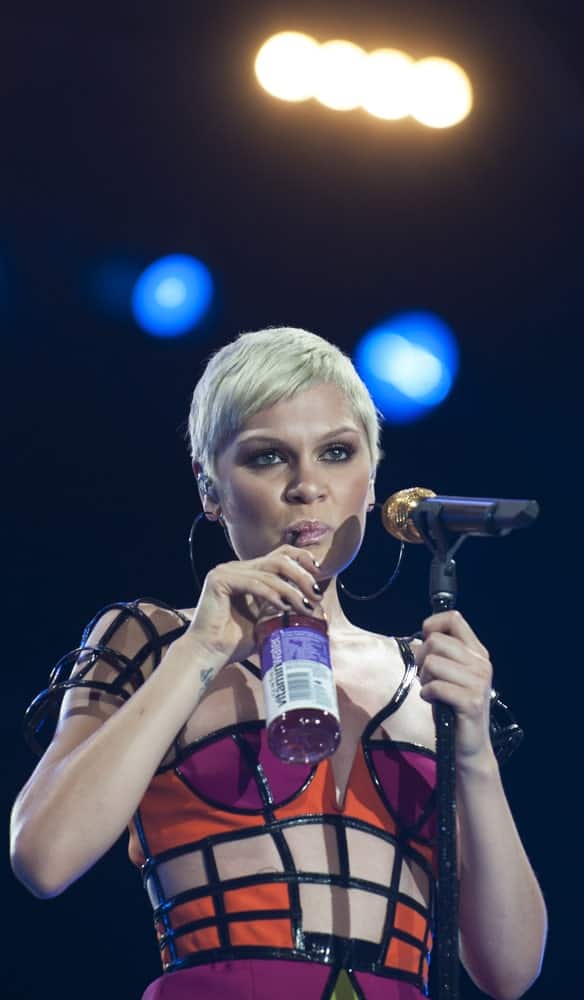 British singer Jessie J wore her short platinum blond hair in a side-parted hairstyle with a colorful dress during her performance at the Rock in Rio 2013 festival last September 15, 2013 in Rio de Janeiro, Brazil.
Click here for Jessie J's hairstyles over the years
Sexy Spiked Pixie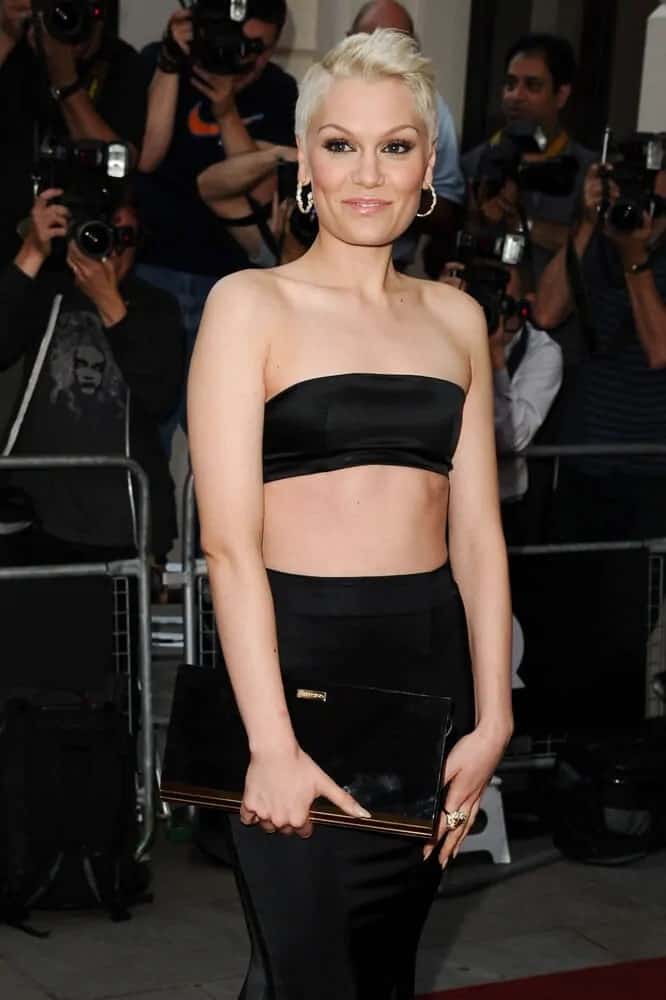 During the 2013 GQ Men Of The Year Awards at the Royal Opera House, Jessie J attended with her short platinum blonde hair contrasting her all-black sexy outfit.
Click here for Jessie J's hairstyles over the years
Side Swept Pixie
Charlize Theron sported her blonde pixie with side-swept bangs at the 3rd Annual Hollywood Film Awards last November 3, 2019. She completed the look with a black netted top inlaid with gem embellishments.
Click here for Charlize Theron's hairstyles over the years
Sleek and Neat Pixie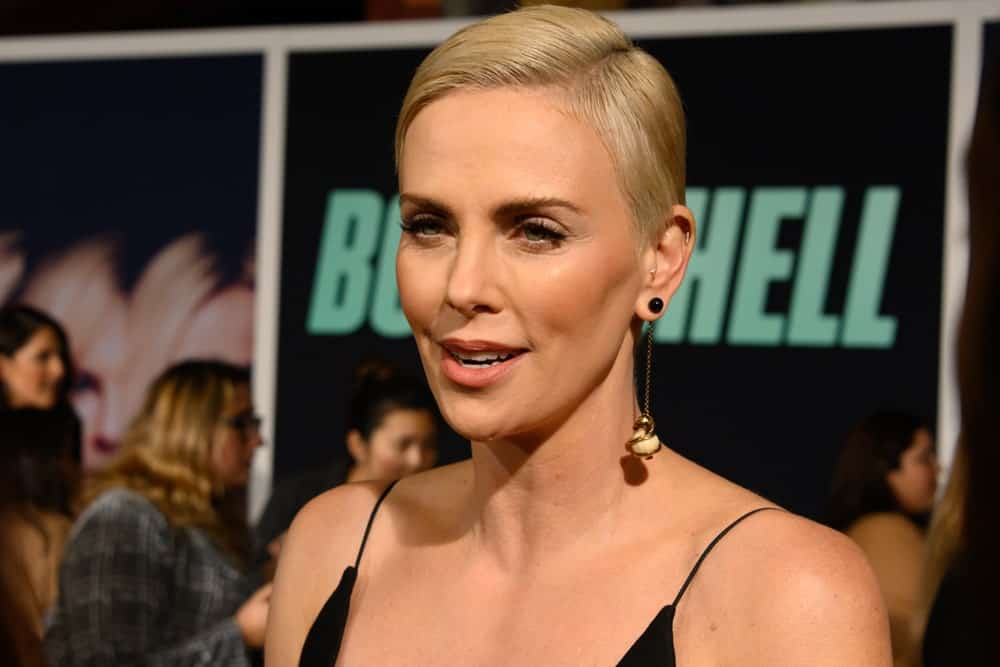 The actress attended the Special Screening Of Liongate's "Bombshell" at Regency Village Theatre on December 10, 2019, with a neat side-swept hairstyle accentuating her dangling earrings.
Click here for Charlize Theron's hairstyles over the years
Deep Side-Parted Pixie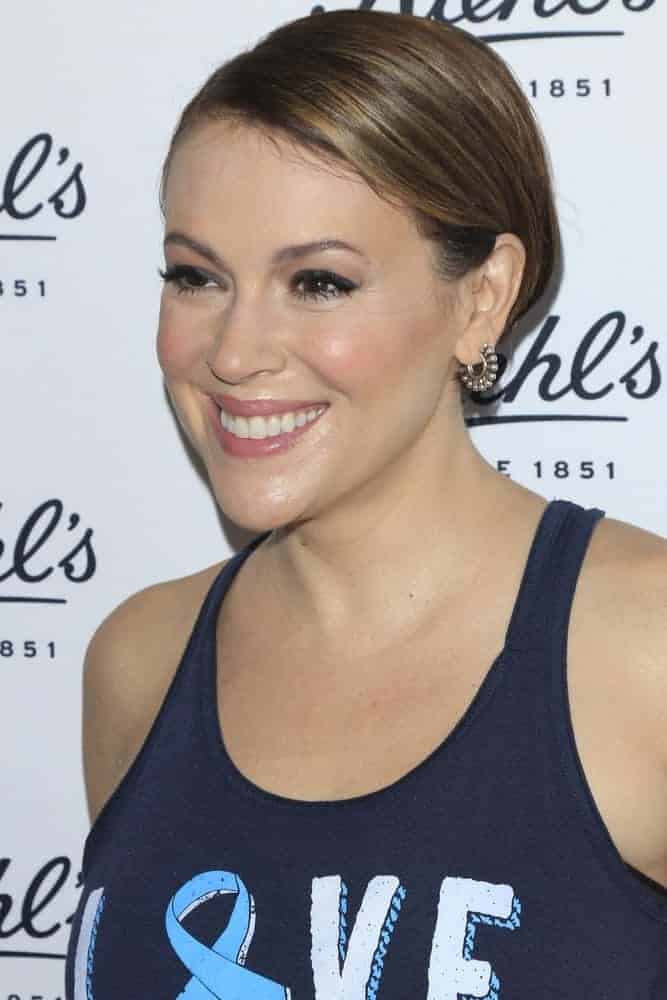 The proud mom of two went super short in a pixie cut with a deep side part at the Kiehl's LifeRide for Ovarian Cancer Research on September 22, 2016.
Click here for Alyssa Milano's Hairstyles over the years
Messy Highlighted Pixie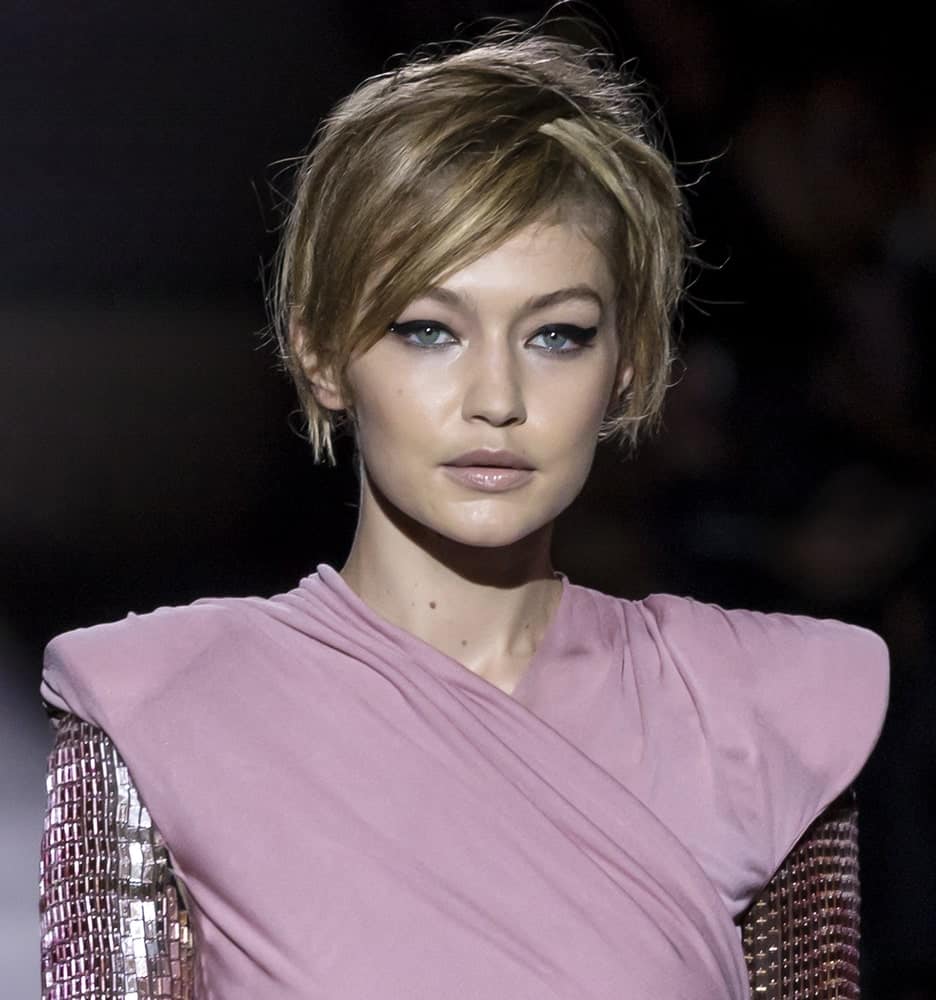 On September 06, 2017, Gigi Hadid had a short hairstyle with messy side-swept bangs when she walked the runway at the Tom Ford Spring Summer 2018 fashion show during the New York Fashion Week.
Click here for Gigi Hadid's hairstyles over the years
Blond Bowl-Cut Pixie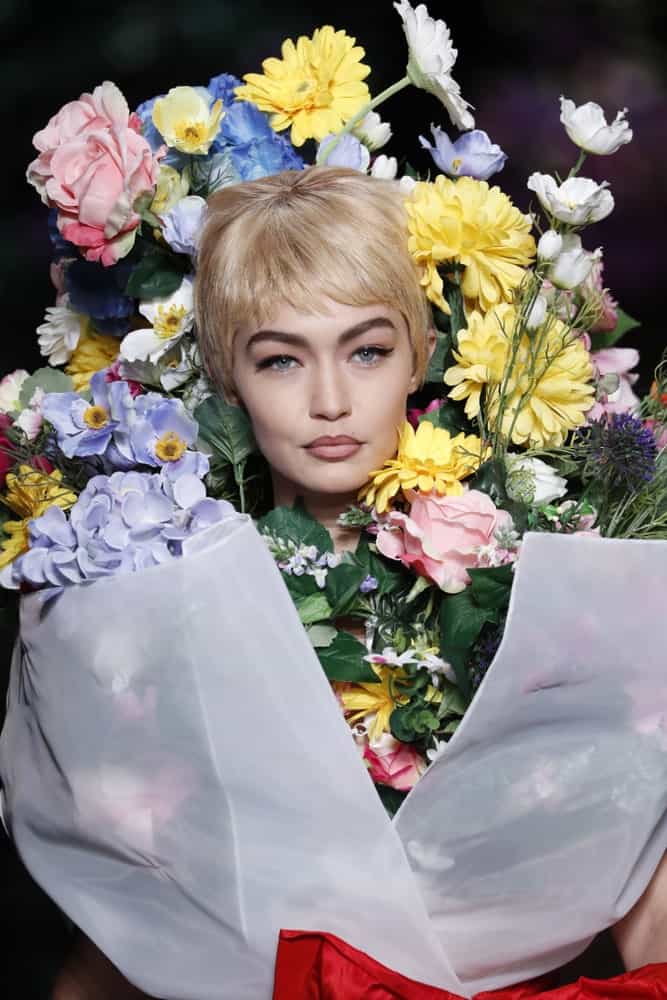 Gigi Hadid was dressed as a bouquet of flowers with her blond pixie hairstyle at the runway of the Moschino Spring/Summer 2018 fashion show on September 21, 2017, in Milan, Italy.
Click here for Gigi Hadid's hairstyles over the years
Vintage Curly Pixie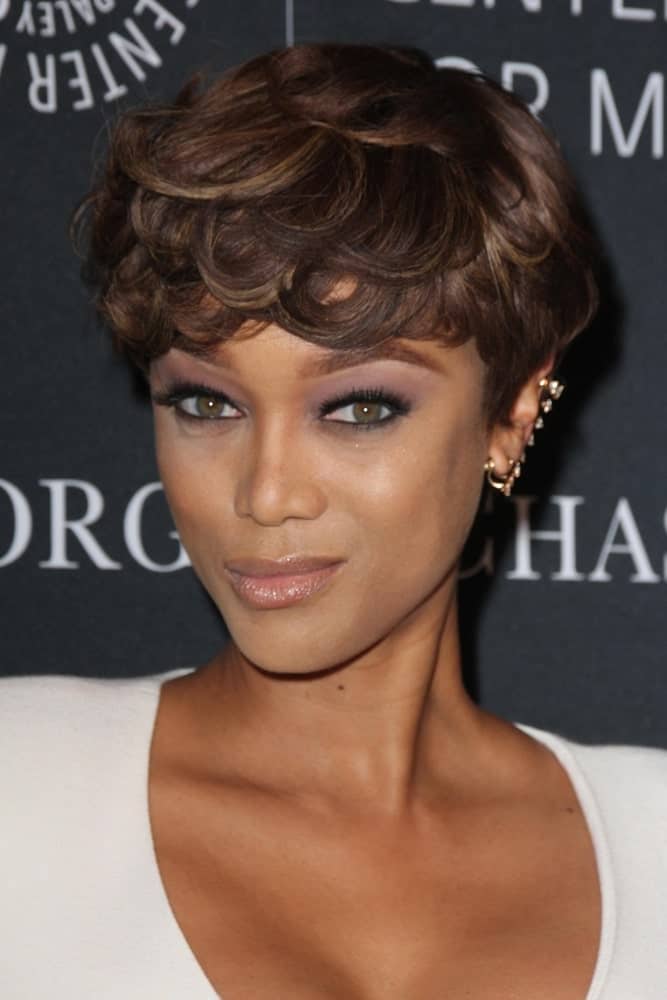 Tyra Banks' beautiful pixie hairstyle was curly and tousled perfectly at the Paley Center's Hollywood Tribute to African-Americans on TV at the Beverly Wilshire Hotel on October 26, 2015, in Beverly Hills, CA.
Click here for Tyra Banks' hairstyles over the years
Edgy Highlighted Pixie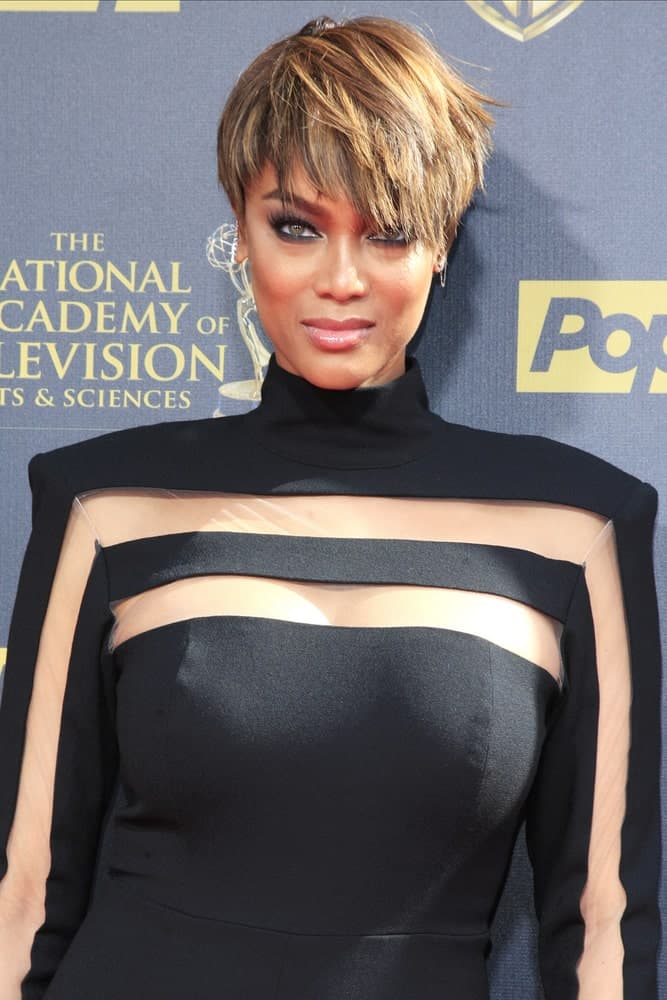 Tyra Banks cut her hair short into a pixie cut and styled it with highlights and a slight side-swept look at the 42nd Daytime Emmy Awards Gala at Warner Bros. Studio on April 26, 2015, in Burbank, California.
Click here for Tyra Banks' hairstyles over the years
Pixie with Long Side Bangs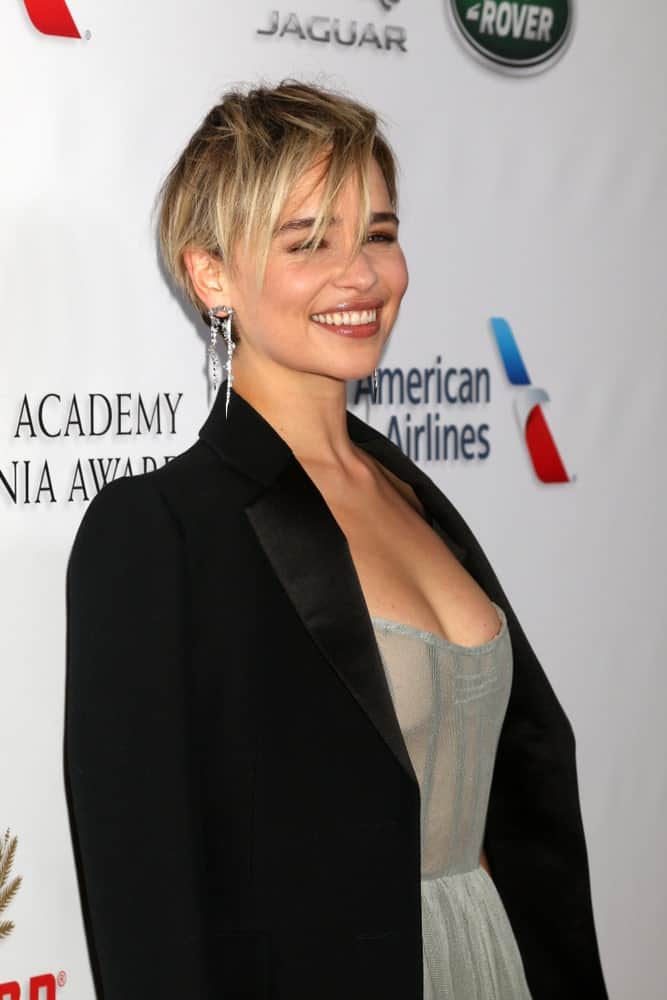 Emilia Clarke at the 2018 British Academy Britannia Awards at the Beverly Hilton Hotel on October 26, 2018, in Beverly Hills, CA.
Click here for Emilia Clarke's hairstyles over the years.
Black Side-Parted Pixie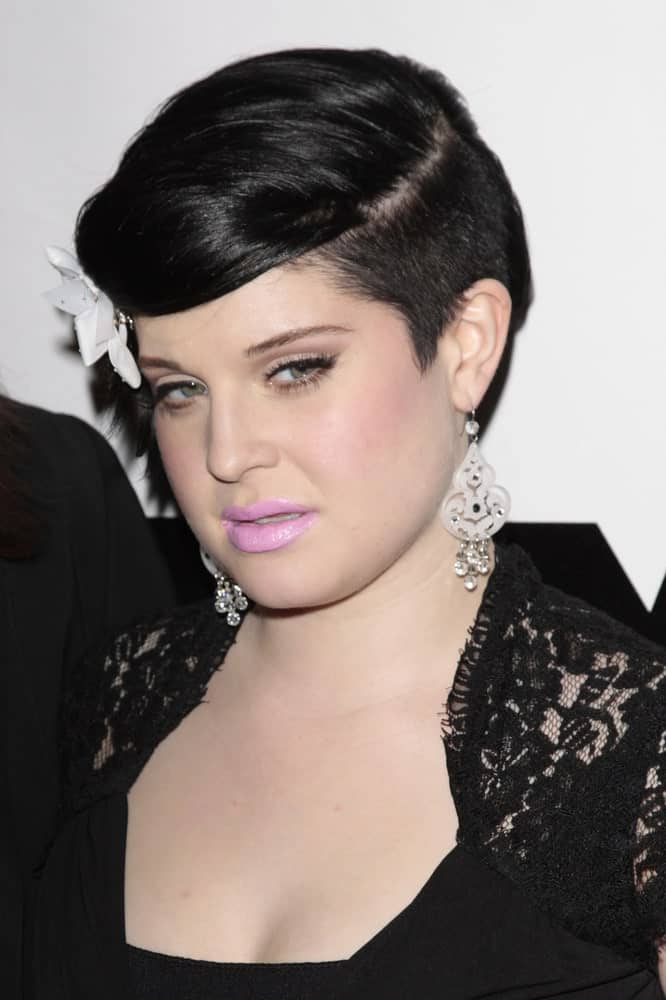 On January 13 in 2009, Kelly Osbourne was seen back to her black hair, but this time she added a bold vibe to her style.
Click here for Kelly Osbourne's Hairstyles over the years
Blonde Feathered Pixie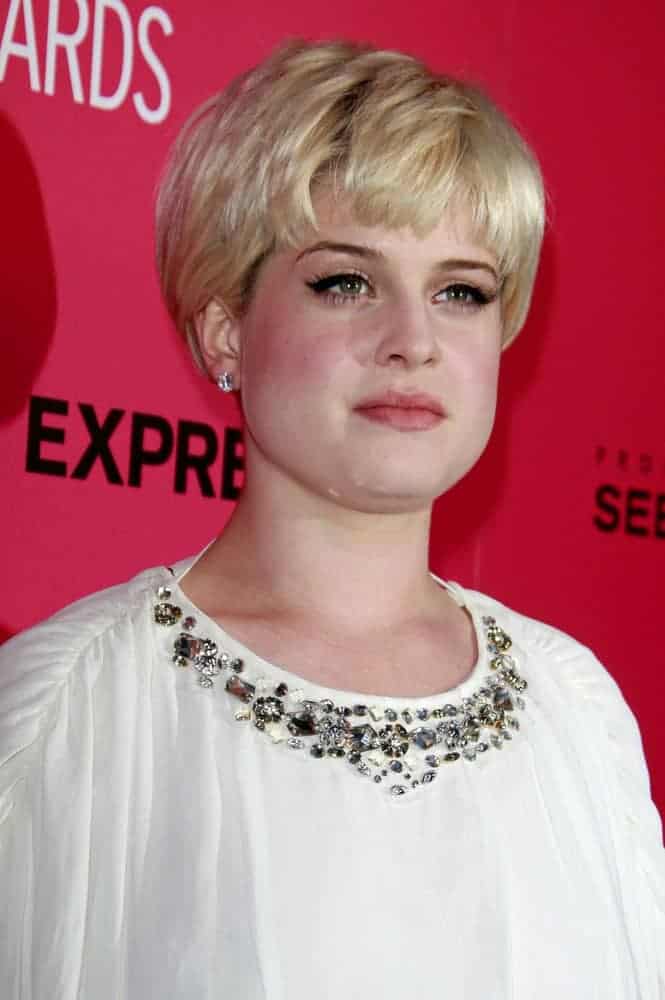 Kelly Osbourne with her short blonde pixie hairstyle spotted at Hollywood Life's 6th Annual Hollywood Style Awards at the Armand Hammer Museum in Los Angeles, California, 11th of October.
Click here for Kelly Osbourne's Hairstyles over the years
Spiked Blond Highlighted Pixie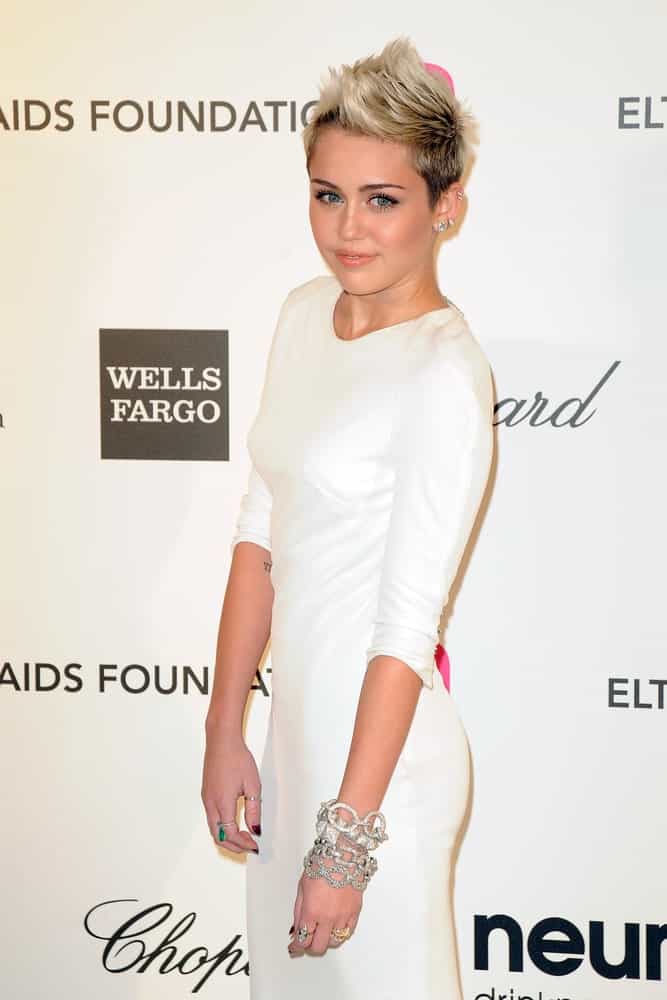 Miley Cyrus emphasized her lovely eyes with her white classy dress and highlighted spiky hairstyle when she arrived at the Elton John Aids Foundation 21st Academy Awards Viewing Party at the West Hollywood Park on February 24, 2013, in West Hollywood, CA.
Click here for Miley Cyrus' hairstyles over the years
Soft Tousled Platinum Pixie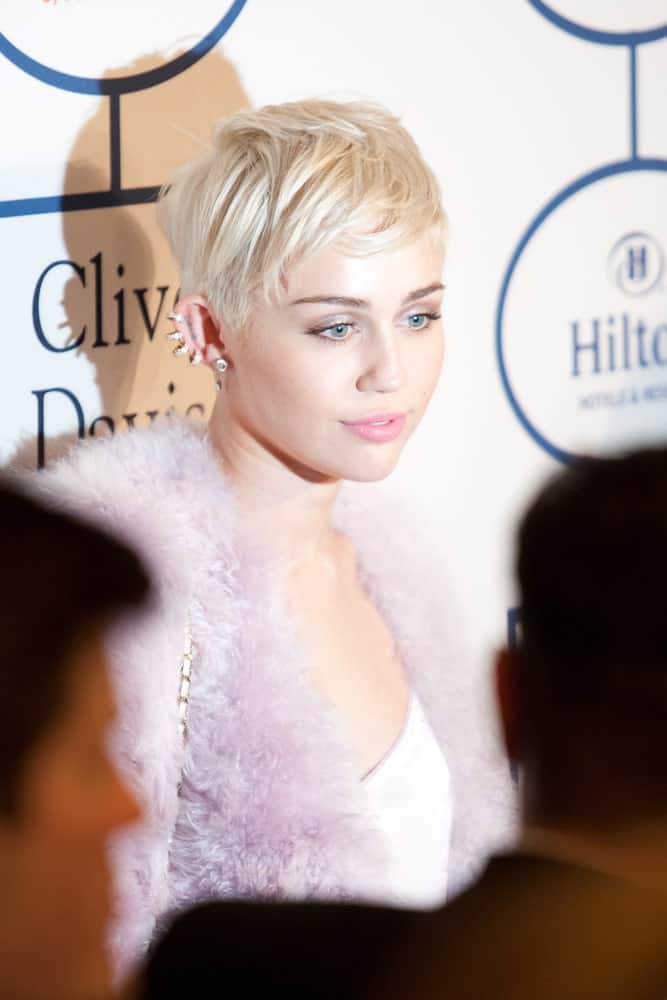 Miley Cyrus looked quite lovely with her short platinum blond hairstyle that is tousled to perfection to a lovely side-part look at the Clive Davis and The Recording Academy annual Pre-GRAMMY Gala on January 25, 2014 at the Beverly Hilton in Beverly Hills, California.
Click here for Miley Cyrus' hairstyles over the years
Pixie with Short Blunt Bangs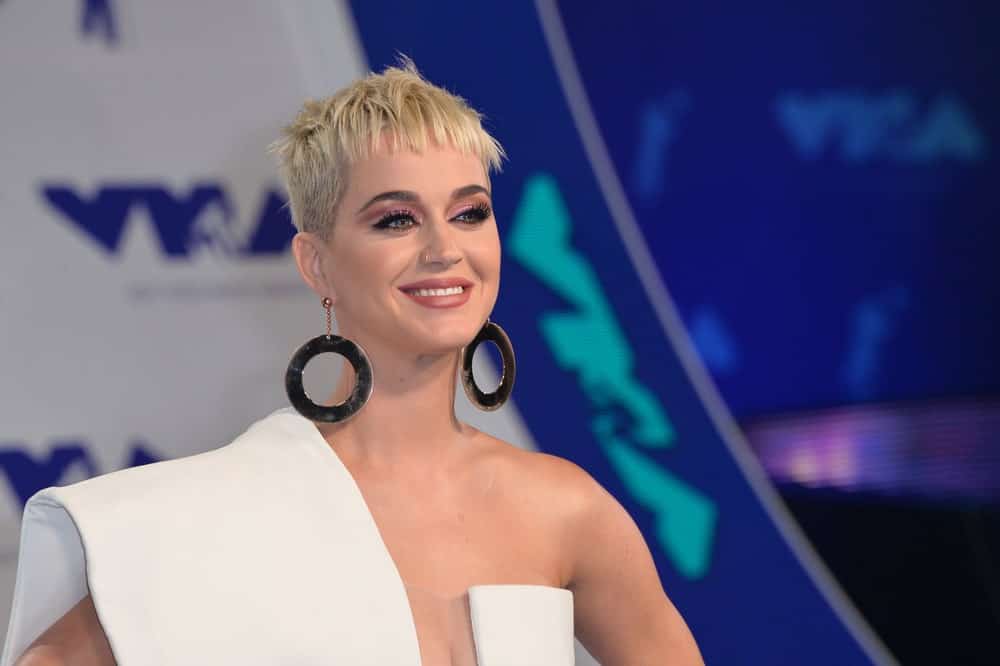 Katy Perry looked sleek in a blonde pixie with short blunt bangs during the 2017 MTV Video Music Awards at The "Fabulous" Forum held on August 27, 2017.
Click here for Katy Perry's Hairstyles over the years
Side-Swept Pixie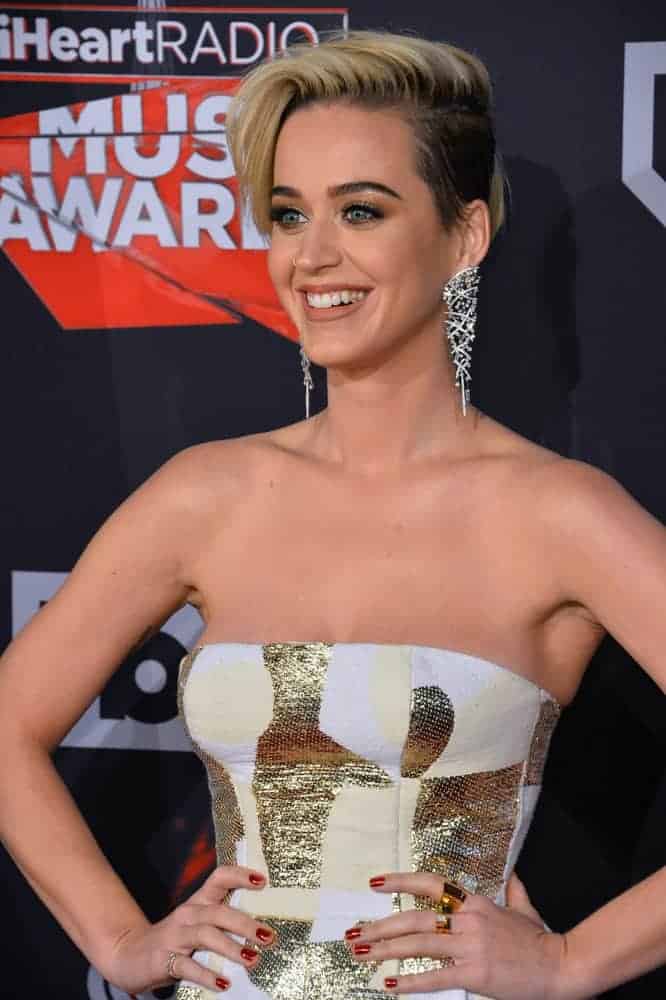 Katy Perry's appearance marks at the 2017 iHeartRadio Music Awards because of her dramatic new pixie cut side-swept hairstyle and a stunning strapless metallic Getty Atelier dress that's actually a pantsuit! No wonder why she's the crowd's favorite that day!
Click here for Katy Perry's Hairstyles over the years
Long Side-Swept Pixie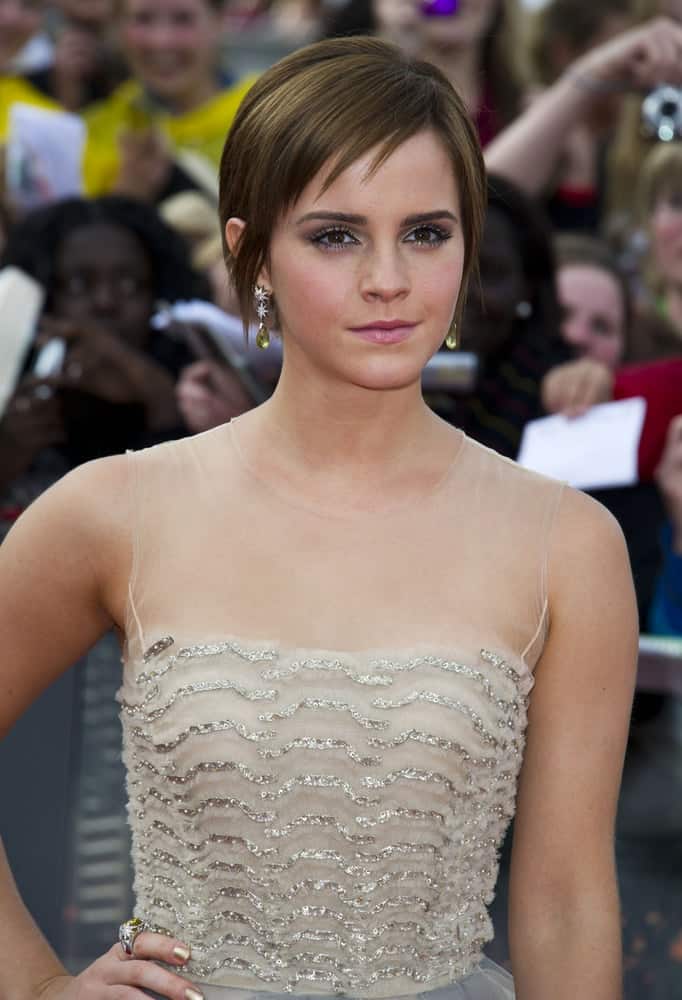 Emma Watson wore a fashionable and stylish detailed dress with her side-swept pixie hairstyle at the World Premiere of 'Harry Potter & the Deathly Hallows part 2' in Trafalgar Square, London on July 7, 2011.
Click here for Emma Watson's hairstyles over the years
Undercut Side-Swept Pixie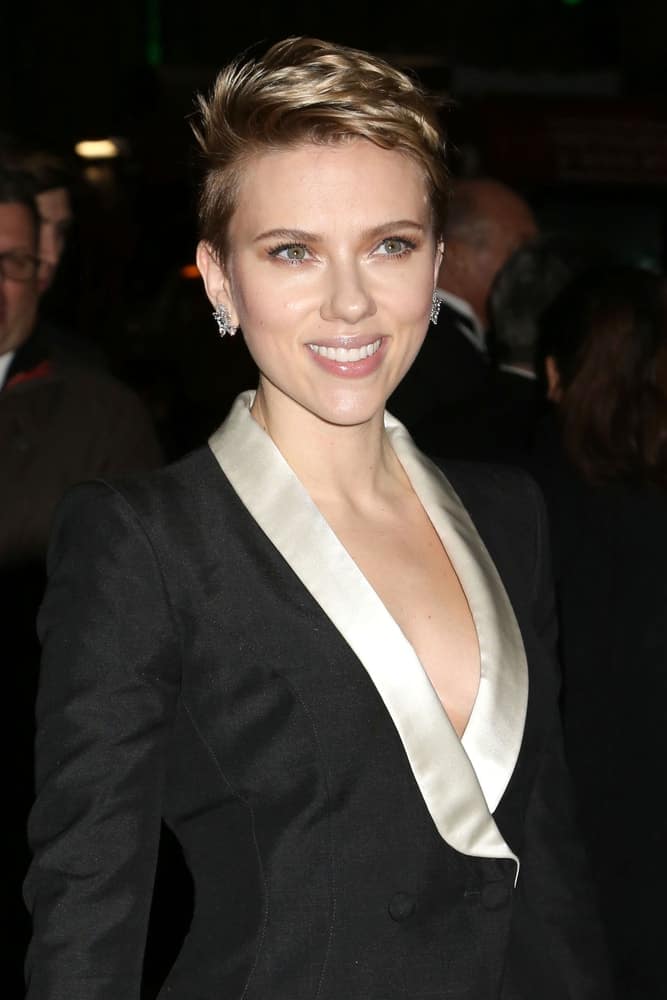 Scarlett Johansson had an undercut pixie hairstyle with a side-swept tousled look when she attended the amfAR Gala at Cipriani Wall Street on February 8, 2017, in New York.
Click here for Scarlett Johansson's hairstyles over the years
Spiked Raven Pixie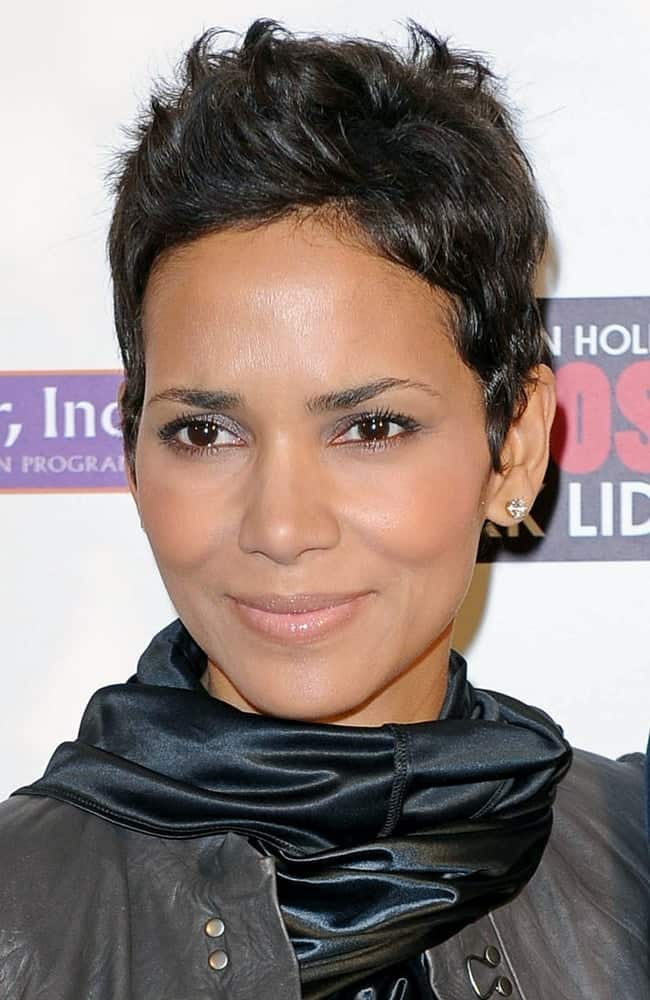 Halle Berry's casual all-black winter clothes paired quite well with her spiked pixie hairstyle at An Evening of Awareness Benefit for the Jenesse Center, Crosby Street Hotel in New York, NY on November 16, 2009.
Click here for Halle Berry's hairstyles over the years
Side-Swept Sandy Blond Pixie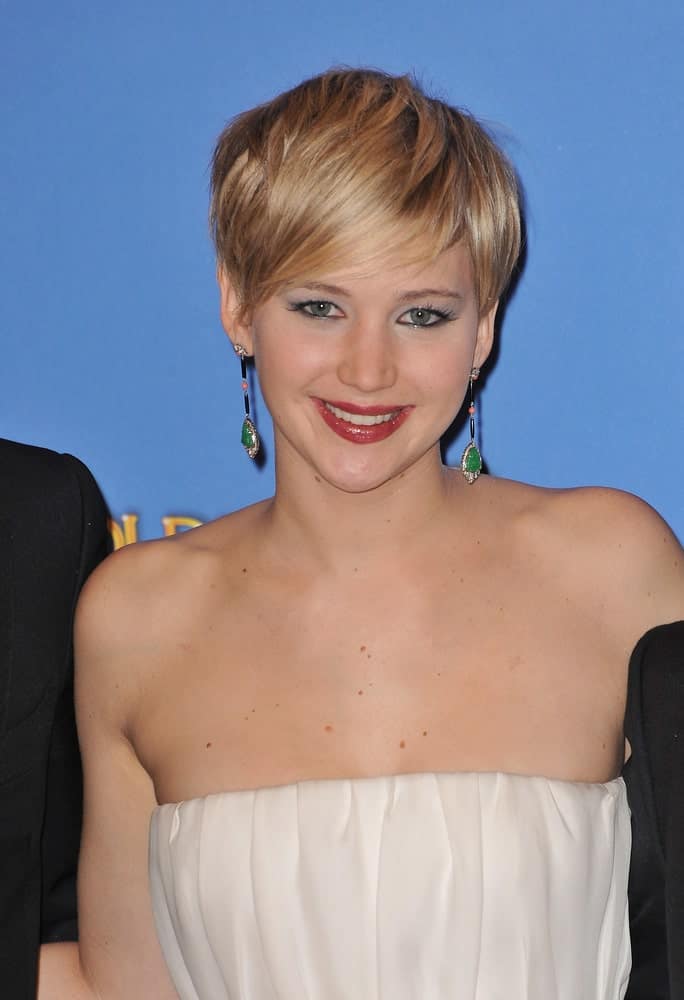 On January 12, 2014, Jennifer Lawrence highlighted her neckline and lovely earrings with a strapless white dress and a blond pixie hairstyle with long side-swept bangs in the press room at the 71st Annual Golden Globe Awards.
Click here for Jennifer Lawrence's hairstyles over the years
Side-Swept Raven Pixie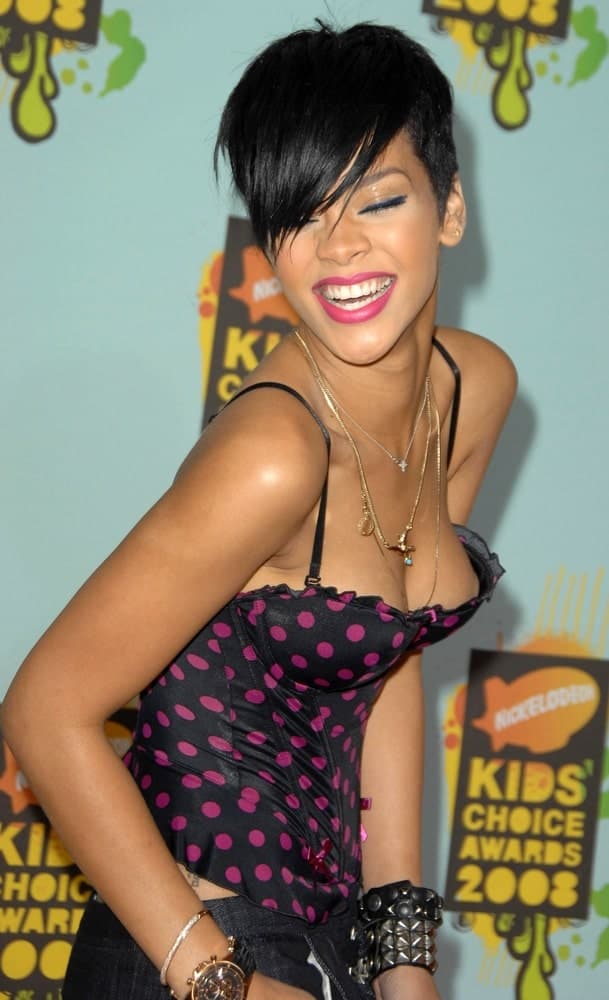 Rihanna flashed her lovely smile in a polka-dotted H&M top and raven pixie hair with long side-swept bangs at the Nickelodeon's 21st Annual Kids' Choice Awards, UCLA's Pauley Pavilion in Los Angeles on March 29, 2008.
Click here for Rihanna's hairstyles over the years
Tousled Side-Swept Pixie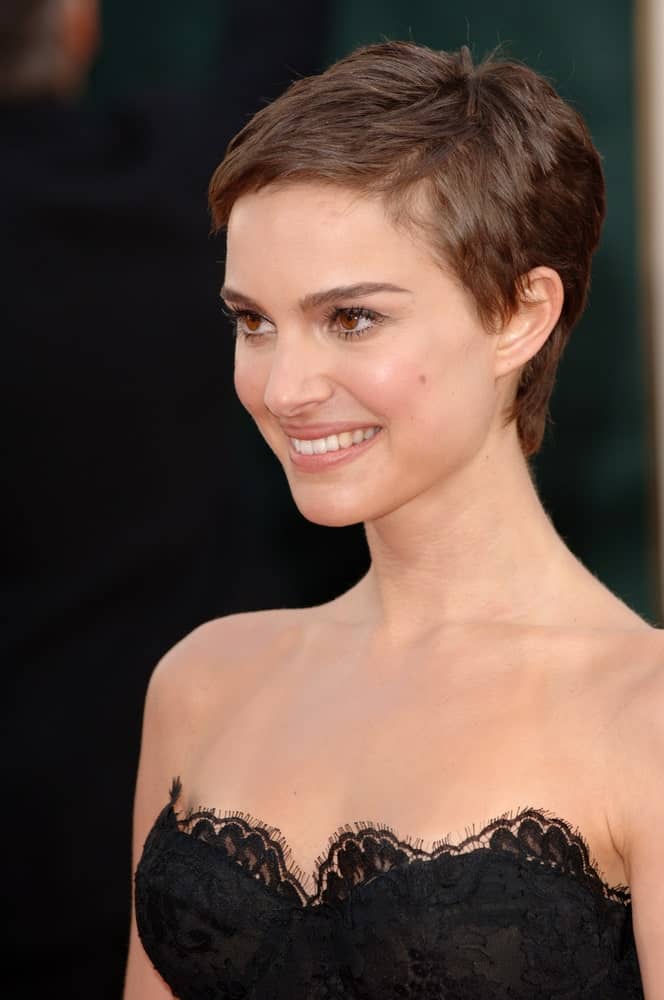 Natalie Portman was at the 63rd Annual Golden Globe Awards at the Beverly Hilton Hotel on January 16, 2006, in Beverly Hills, CA. Her stunning black strapless dress went perfectly well with her dark brown pixie hairstyle with short side-swept bangs.
Click here for Natalie Portman's hairstyles over the years
Highlighted Blond Pixie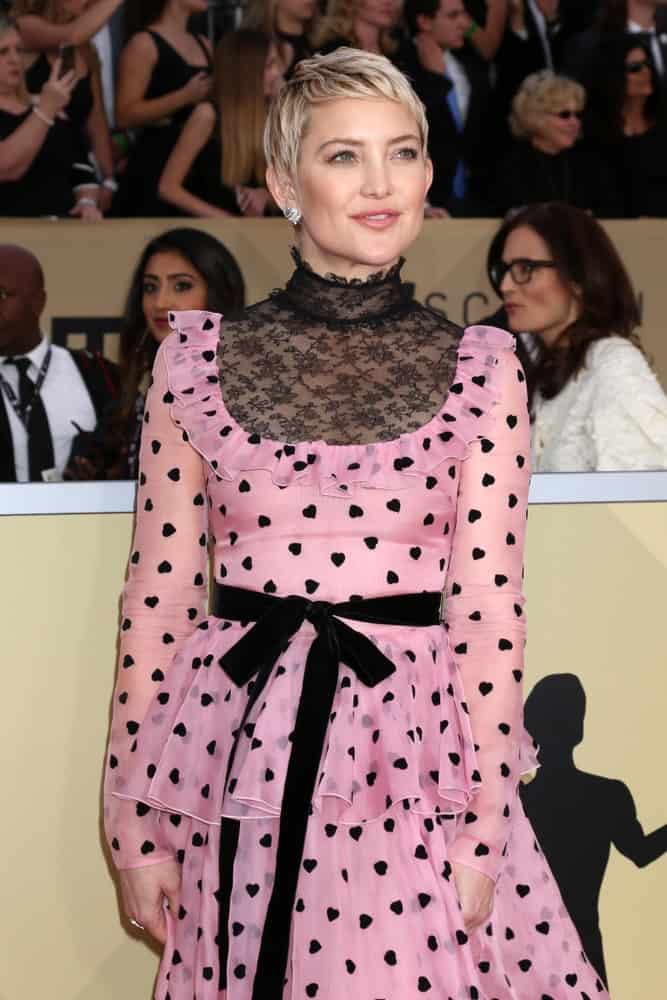 Kate Hudson wowed everyone with her elegant patterned pink dress and highlighted blond pixie hairstyle with short side-swept bangs at the 24th Screen Actors Guild Awards – Press Room at Shrine Auditorium on January 21, 2018, in Los Angeles, CA.
Click here for Kate Hudson's hairstyles over the years
Side-Swept Pixie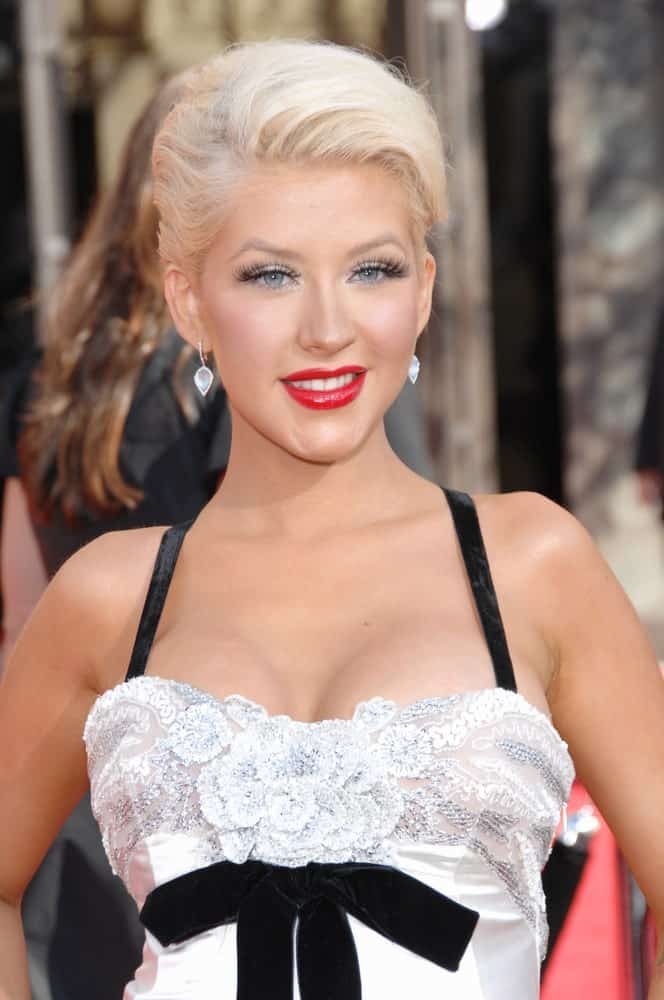 On September 16, 2007, Christina Aguilera chopped off her blonde locks into a pixie at the 59th Primetime Emmy Awards at the Shrine Auditorium.
Click here for Christina Aguilera's hairstyles over the years
Brushed Up Pixie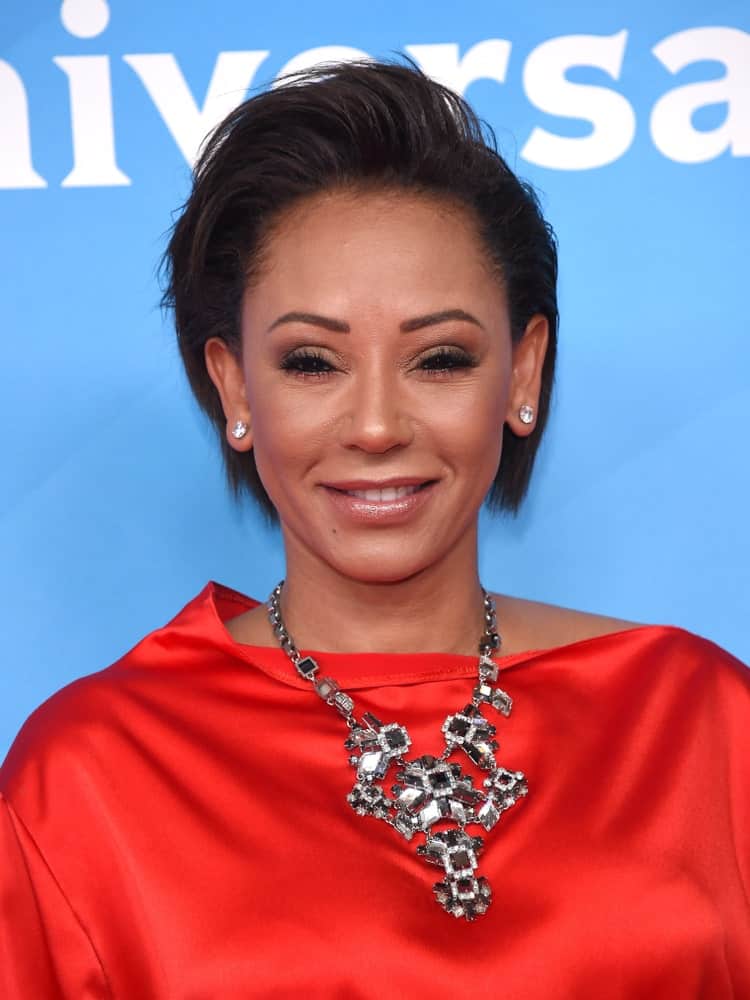 Mel B brushes up her dark pixie and paired it with a statement necklace at the 2018 NBC Universal Summer Press Day held on May 2, 2018.
Click here for Mel B's hairstyles over the years
Blonde Pixie with Bangs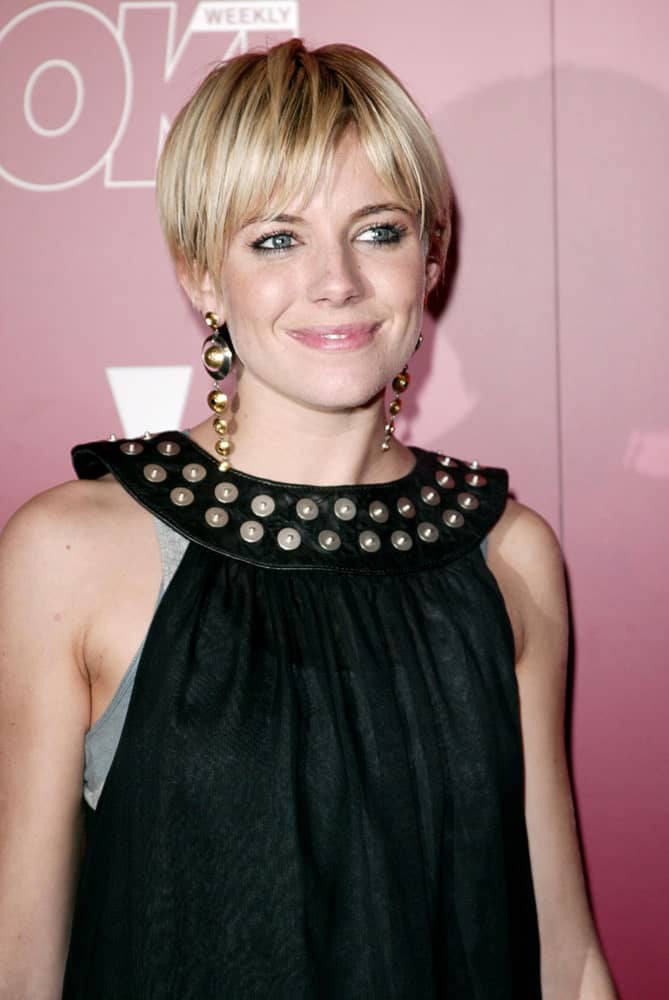 Sienna Miller looking all young and fresh in a blonde pixie with bangs at The Weinstein Company 2006 Pre-Oscar Party held on March 04, 2006.
Click here for Sienna Miller's hairstyles over the years
Long Side-Swept Pixie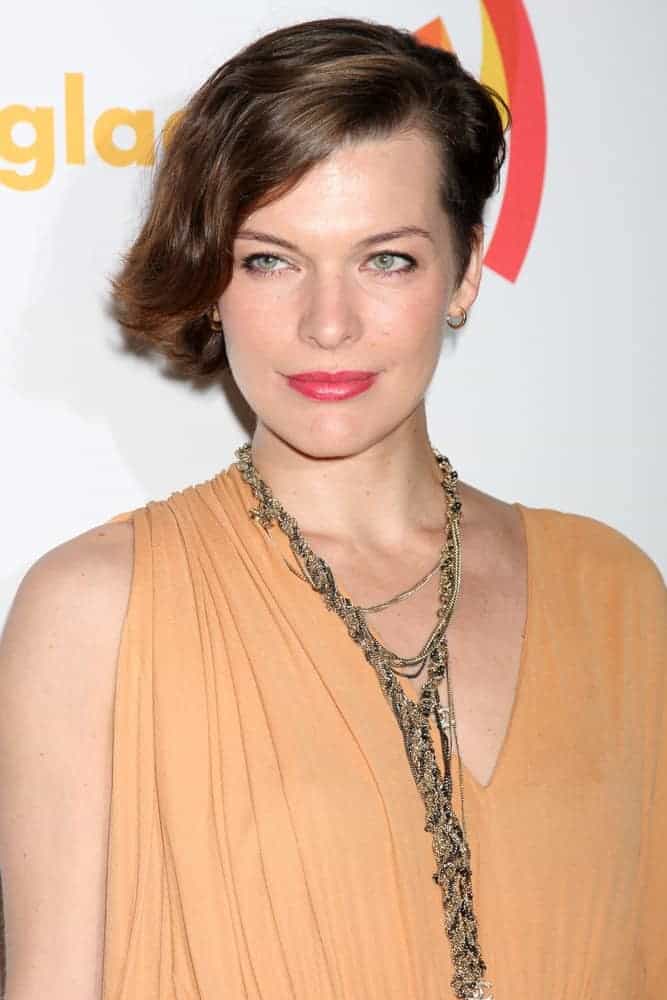 Milla Jovovich was at the 23rd GLAAD Media Awards at Westin Bonaventure Hotel on April 21, 2012, in Los Angeles, CA. She was charming in her simple beige dress, red lips, and chin-length brunette hairstyle that is side-swept.
Click here for Milla Jovovich's hairstyles over the years
Tousled Pixie with Side Bangs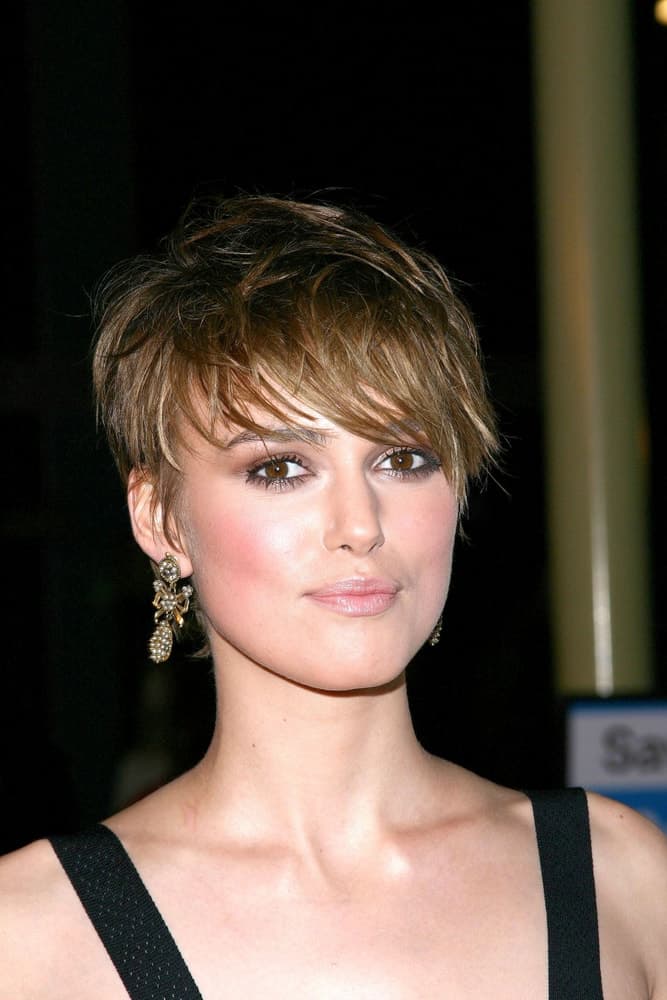 Keira Knightley was at The Jacket Premiere, Pacific ArcLight Theaters, New York, NY on February 28, 2005. She came in a simple black outfit to pair with her tousled and side-swept pixie hairstyle with highlights.
Click here for Keira Knightley's hairstyles over the years
Shiny Raven Pixie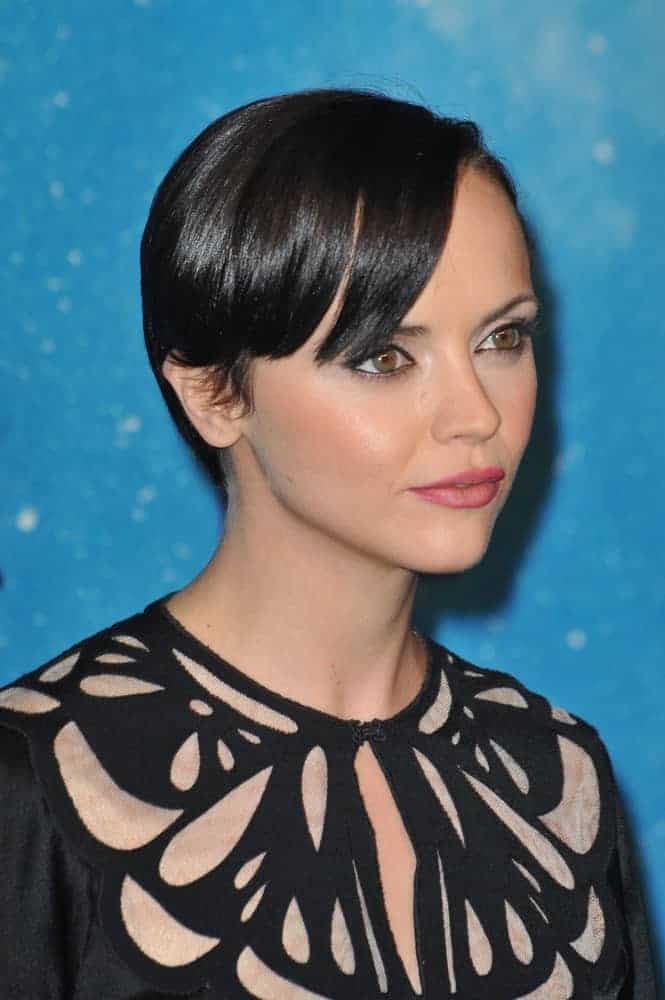 Christina Ricci was at the 2009 Spike TV Scream Awards, at the Greek Theatre, Los Angeles on October 17, 2009. She was stunning in a patterned black dress that she topped with an edgy raven pixie hairstyle with side-swept bangs.
Click here for Christina Ricci's hairstyles over the years
Slicked Back Pixie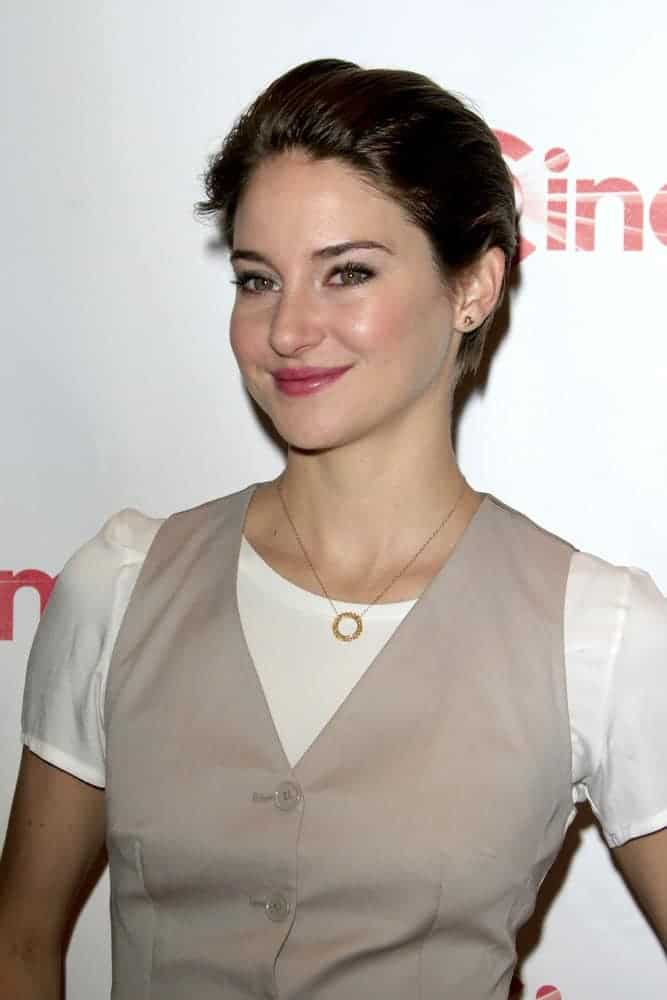 Shailene Woodley attended the 20th Century Fox CinemaCon 2014 Photo Call at Caesars Palace on March 27, 2014, in Las Vegas, NV. She wore a vest over her white blouse and paired it with a slicked-back raven pixie hairstyle.
Click here for Shailene Woodley's hairstyles over the years
Pixie Plus Short Bangs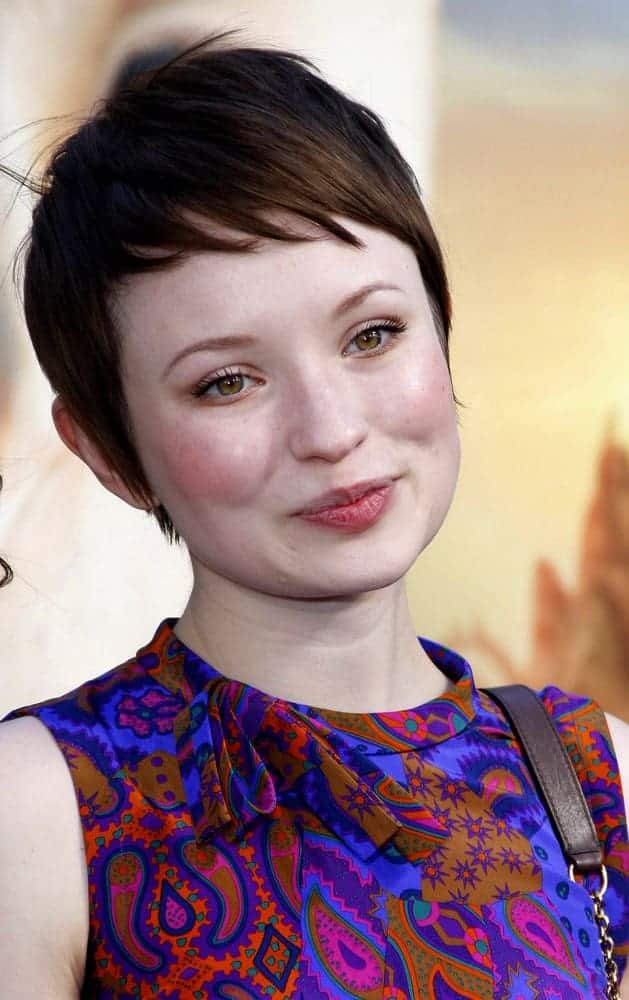 Emily Browning attended the Los Angeles premiere of 'Legends of the Guardians: The Owls of Ga'Hoole' held at the Grauman's Chinese Theater in Hollywood on September 19, 2010. She wore a lovely colorful dress to match her short pixie brunette hairstyle that has side-swept short bangs.
Click here for Emily Browning's hairstyles over the years
Side-Part Raven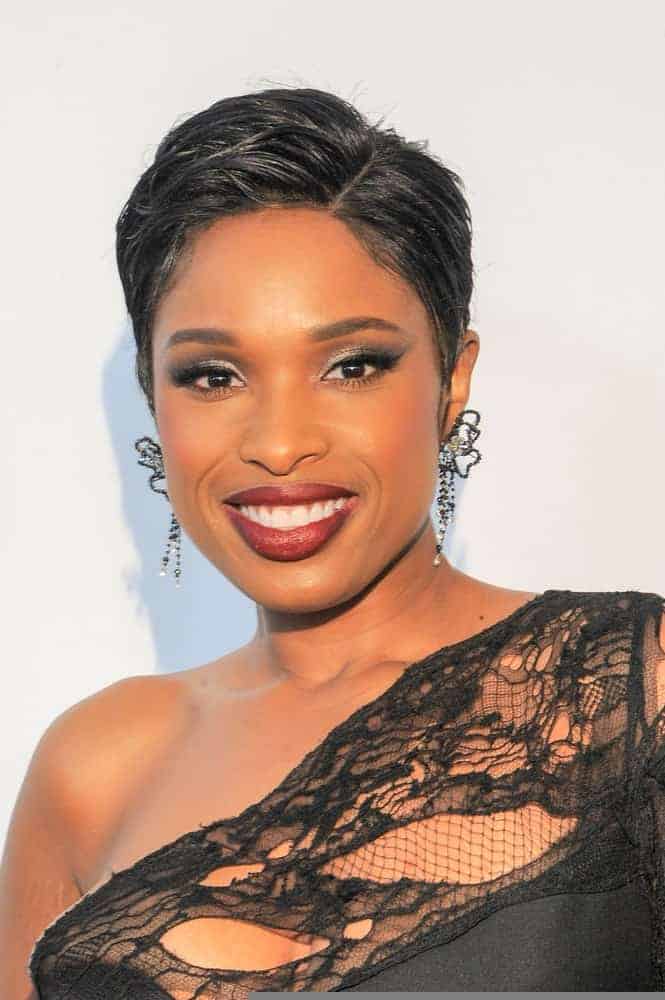 Singer Jennifer Hudson attended 'Clive Davis: The Soundtrack Of Our Lives' world premiere at Radio City Music Hall on April 19, 2017 in New York City. She was seen wearing a stunning black dress with her side-parted raven pixie hairstyle.
Click here for Jennifer Hudson's hairstyles over the years
Feathered Pixie with Short Bangs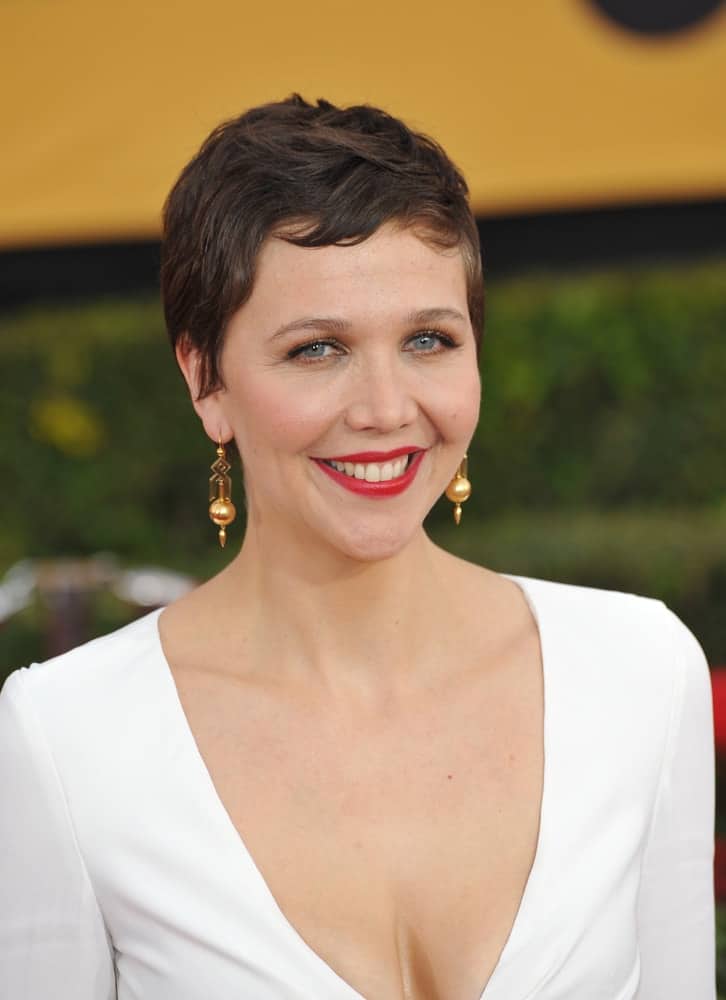 On January 25, 2015, Maggie Gyllenhaal was at the 2015 Screen Actors Guild Awards at the Shrine Auditorium. She paired her sexy white dress with a short pixie brunette hairstyle with short bangs.
Click here for Maggie Gyllenhaal's hairstyles over the years
Pixie Cut Slicked Crimped Waves
This immaculately crimped and slicked-back pixie cut gives off a very '20s style vibe. This is a great style for people with straight and fine hair.
Rocker Chic Pixie Cut
This stunning pixie cut has been achieved with choppy cuts, curling irons and lots of pomades. The haircut gives a very edgy and cool look and also emphasized the jawline.
Mophead Glam Pixie Cut

Who knew that the mophead look could be so glamorous? This pixie hairstyle provides a lot of texture and gives this young woman an effortless look.
Curly Top Pixie Haircut
This cropped haircut requires a full head of hair. The top and sides of the hair can be curled into a mass of coils while the back remains straight and feathery.
Razorcut Pixie Hair
This razor-cut pixie hair resulted in sharp straight lines of hair down the sides and on the front. The cut defines the cheekbones and give the woman a gamine look.
Sharp Bowlcut Pixie Hair
The young woman is sporting a pin-straight pixie hairstyle. The front of the hair is quite long and frames her eyes and cheeks beautifully.
Pixie Haircut with Angled Bangs
This angled pixie bangs look even more endearing if they are super-short, separated and piece-y. To get this effect, ask your stylist to thin out your bangs.
Tomboy Pixie Haircut
This pixie haircut is short all over in the style of "commes des garcon," as the French say. This is a very flattering look for girls who want to show off their eyes and cheekbones.
What is a pixie cut?
It's a short haircut for women.  The hair is cut above the ear, although some pixie styles will drop below the ear on the side or front.
A well-done cut of this sort will be well-layered showing off the shape of the head or parts of it.  It creates the same appearance as slicking back hair in the sense that there isn't much body beyond the scalp.
One might say it's a "guy's" haircut, but it's not in most cases.  Pixie cuts are done in a way that uniquely for women.
Types of Pixie Haircuts
Wedge Pixie
In this version, the hair on the top and sides is kept longer. This makes the pixie look voluminous and gives it a shape similar to that of the classic wedge. Wedge pixies are popular because they let women wear their hair short without sacrificing volume.
Classic Pixie
In the classic pixie, the hair is cut very short on the neck and sides, with slightly pointed front pieces in front of the ears and a feathered top layer on the crown. The pixie is a classic haircut that has endured for generations.
Bob Pixie
In a bob pixie, the hair in front is left long, falling over the cheeks and usually cut at a slant. It creates the illusion of long bangs. The back of the hair is left very short and close to the neck.
Undercut Pixie
This style uses undercutting to give the pixie a boxy, square shape. It involves cutting the neck and nape hair very short. The hair ends are cut sharply to emphasize the boxy shape.
Disconnected Pixie
Pixies usually hug the head closely. In this type, the hair on the sides is left slightly longer and cut in layers. This creates a tousled look that keeps the basic pixie length and shape.
Feathered Pixie
In this cut, the top hair is cut into soft layers that lie like feathers on the hair. This gives an asymmetrical edge that adds interest to the haircut.
Choppy Pixie
Short, sharp layers define the texture on this version of the pixie. The layers give this cut a shaggy look. It's a modern update on the classic. Styling the layers upward adds some edge.
Bowl-Cut Pixie
This dramatic haircut uses undercutting on the nape and sides. It leaves the top hair longer and chopped into layers, creating an edgy look that gives the hair lift.
Tapered Pixie
Using a tapered cut on the ends gives this pixie a softer edge. The hair is left slightly longer and the cut is less defined. The result is a less boxy, more subtle shape that looks more like a traditional short haircut.
Tinkerbell Pixie
In this cut, wisps of hair in unequal lengths are left peeking out along the nape, across the top and over the ears. The result is a slightly spiky, tousled style reminiscent of a fairy's hairdo.
Best Hair Type for Pixie Haircut
Straight
Straight hair is ideal for pixie cuts. A good cut will require almost no styling on straight hair. Straight hair looks good in a classic pixie because straight hair emphasizes the cut's smooth shape.
Straight hair can sport any pixie cut, but if your hair is thin or fine, a very close crop might emphasize that. If you think your hair is too fine or straight to hold a shaped style, choose a pixie cut that has some lift to it like a bowl-cut or a wedge pixie.
Wavy
Wavy hair will give a natural lift and tousle to a pixie cut. Women with wavy hair often seek out short styles as a way to emphasize their wave and get some control. A pixie cut on wavy hair tends to look softer than the same cut on straight hair.
Wavy hair and curly hair can add a whole new element to a pixie cut. Bangs are a good choice with this cut as they allow the hair to add interesting natural texture. The best pixie haircuts for wavy hair are the tousled pixie, shaggy pixie or wedge pixie.
Curly
You can wear a pixie cut if you have curly hair. In some cases, women actually opt for a short cut because it cuts off their curls and makes their hair easy to manage. Curly hair looks good when it's super-short because the hair retains enough body to make the cut look full instead of flat.
Depending on the cut you choose, you can either flatten the curls or get a cut that will make them spring out. Some curly hair develops tighter, more defined ringlets when it's cut. This gives a whole new look to the pixie. The cut will prevent the hair from looking like a curly mop. The best pixie cuts for curly hair are the tapered pixie or the classic pixie.
Thick
Thick hair will feel lighter when cut short. Short cuts are excellent for thick hair because the hair's thickness keeps the cut from looking flat or skimpy. These cuts will have natural bounce and movement. They'll also be easy to style.
The one problem that might occur is the short hair looking boxy or bulky if it's thick. To avoid bulkiness, choose a pixie cut that has a smooth look. A bowl-cut or wedge pixie might look boxy. A Tinkerbell pixie or classic pixie are good choices for thick hair.
Fine
A short haircut can disguise the thinness of fine hair but it's important to choose the right shape. Women with fine hair look best in pixie cuts that leave some pieces long, like a tousled or tapered pixie. A classic pixie with the bangs left long is also a good choice for fine hair.
Coarse
Some women with coarse hair look to short cuts as a way to help keep the hair smooth. The right shape of cut is important to keep the cut from looking stiff. Coarse hair will look best with a pixie cut that has layers to allow some movement. A layered pixie, choppy pixie or a Tinkerbell pixie are good choices for coarse hair.
Best Face Shapes for Pixie Hair Cuts
Oval
Women with oval faces are lucky because they can wear almost any haircut. A short cut like a pixie will flatter your face shape and show it off. A classic pixie is a striking choice that will show off your features. A pixie cut with some lift on the top and sides will also be flattering to you.
Square
If you have a square face, the best short haircuts for you will have some softness, especially on the sides. Your goal is to soften the shape with tendrils and fullness.
You should look for pixie cuts that have a softer edge. A classic pixie cut or a bowl-cut pixie might look too severe on a square face. You don't want to look boxy. Better bets would be a wedge pixie, a feathered pixie, a disconnected pixie or a slightly longer pixie with tousled layers.
Rectangle
Does your face resemble a rectangle? You may have been told that certain styles make your face look like a square. These include long, straight hair and super-short cuts. Any haircut can be adapted to be flattering to your face shape.
The best styles for you will include bangs. Another good styling tip is to look for haircuts that have softness and fullness on the sides. You'll look best with a bowl-cut pixie, a bob pixie or a wedge pixie.
Round
Many women with round faces believe that a short haircut won't flatter them. In reality, you can look good with short hair. Hair that falls to the middle of your face can make your cheeks look slimmer.
For the best look, avoid cuts that are voluminous on the sides as these can add weight to your face. A classic pixie, shaggy pixie or feathered pixie are all flattering to round face shapes. Look for movement and height at the top or in the length to get the best look.
Triangle
Triangle-shaped faces are narrow at the forehead and wider at the jawline. If you have this face shape, you want a haircut that will balance your features.
Your most flattering cuts will be slightly longer pixie cuts. Ask for a cut that ends at your chin and has bangs, loose layers or other strands that can sweep your face. Your most flattering pixie cuts will be the disconnected pixie or the bob pixie.
Diamond
The opposite of triangle shapes, diamond-shaped faces are narrow at the jawline and wide at the forehead. You can wear almost any pixie cut with this face shape. The shortness of the cut will balance your face.
For the best results, your haircut should be shorter. Ask for a cut that ends above the chin. The most flattering cuts will hug your head loosely. The best pixie cuts for you are the wedge pixie, bowl-cut pixie or Tinkerbell pixie.
Heart
Heart-shaped faces usually come with noticeable cheekbones. Play that feature up by wearing a haircut that falls in soft waves. Heart-shaped faces can look angular. Soften that look with a cut that incorporates layers, tendrils, and other soft elements.
As far as pixie cuts, you'll look your best in a disconnected pixie, an undercut pixie or a classic pixie with bangs cut in.
Oblong
Oblong faces can look too long if they're framed by the wrong haircut. You want a haircut that balances that length with volume at the sides. A short haircut is more flattering than long hair on an oblong face. Ask for a pixie cut that has fullness on the sides. Your best choices are the bowl-cut pixie, undercut pixie or wedge pixie.
Maintaining a Pixie Cut
This is one huge advantage, which is it's easy to manage, style and maintain.  It's short so there's not much management involved. Moreover, it dries quickly as well.  This type of cut is for the woman who likes to make a statement and enjoys a no-fuss lifestyle.  It's a bit of a minimalist style.
Enough length for curls or waves?
Yes, as you'll see above, there are pixie cuts with waves and curls.  While it's a short style, women with wavy or curly hair can easily incorporate those waves and curls into a pixie cut.
For younger women?
While many older women opt for a pixie cut, it's also popular for younger women too.  I quite like the shortness of it for some women and so it can be a terrific option for young and old alike.
How to choose?
I think choosing a particular pixie style is hard.  There are so many and they really do look different even if similar length.  It's all about the layering, which areas are kept long, the direction of the sweep as well as face shape, color and hair type.